Canadian wildfire smoke disrupting air quality for millions of Americans: 'Can travel deep into the lungs'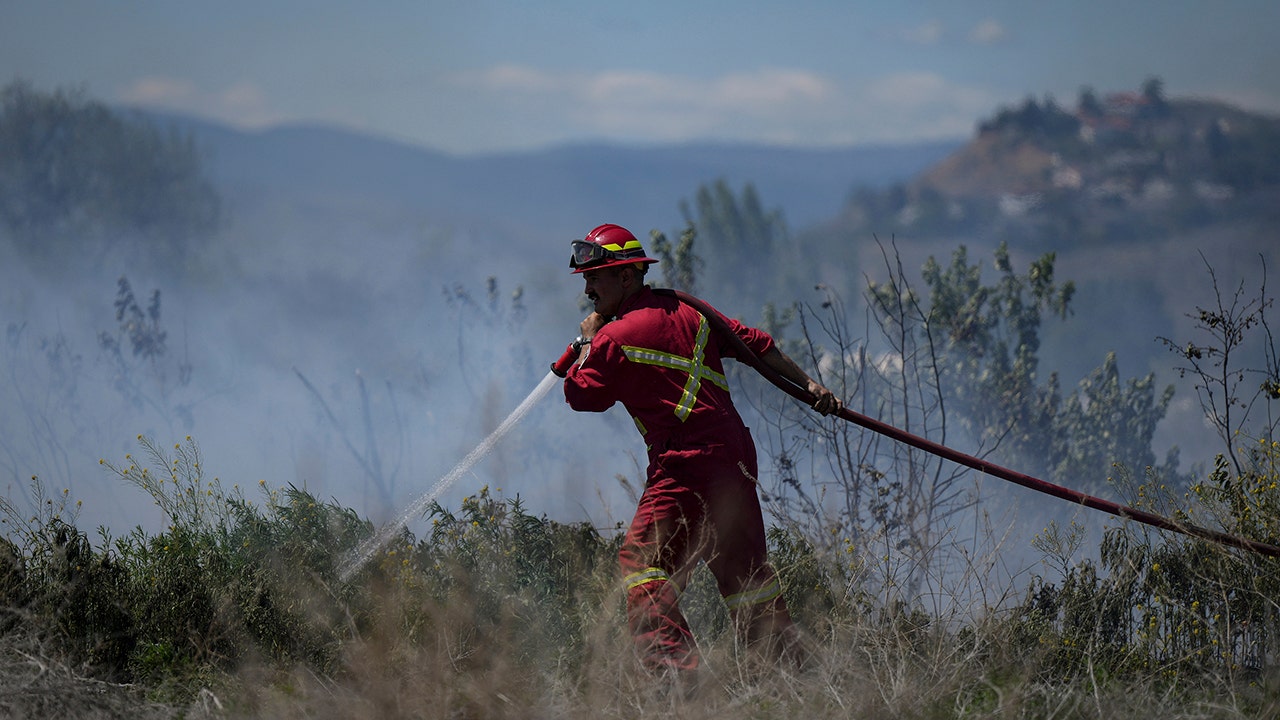 The air quality in the New England states may be unhealthy for millions of Americans right now — especially for those with underlying medical conditions — due to a surge in Canadian wildfires in Quebec and Northern Ontario, according to a recent Environmental Protection Agency (EPA) press release. 
"Areas predicted to exceed the federal air quality standard for 24-hour particle pollution level concentrations on June 6 are: Connecticut, Massachusetts, New Hampshire (central, south and western parts of the state), Rhode Island, and Vermont," the release said.
Satellite images show toxic smoke drifting near the surface of the air from Chicago and Indianapolis to Cincinnati and Wisconsin — suggesting people were breathing in the harmful air from Wisconsin to West Virginia on Sunday, per recent reports.
NOVA SCOTIA WILDFIRE SENDS EAST COAST AIR QUALITY PLUMMETING
And on Tuesday, people in the Northeast, including in New York and the New York City area, were breathing in "unhealthy" air as the region was blanketed in smoke from the Canadian wildfires, according to numerous reports — prompting air quality alerts for the Big Apple and much of the Northeast, according to Fox Weather.
Local officials have advised New Yorkers to limit any strenuous outdoor activity and urged those who have trouble breathing to stay inside.
New England smoke may "linger" over the next few days — but the locations could change, so the EPA recommended that people stay in touch with the EPA New England's Air Quality Index (AQI) for the most current air quality conditions.
"Wildfires increase air pollution in surrounding areas and can affect regional air quality."
"Larger and more intense wildfires are creating the potential for greater smoke production and chronic exposures in the U.S., particularly in the West," the EPA told Fox News Digital.
"Wildfires increase air pollution in surrounding areas and can affect regional air quality."
RAIN BRINGS HOPE IN BATTLING WILDFIRE IN NOVA SCOTIA AS EVACUATIONS CONTINUE
A previous 2016 study discovered that people who lived in New England over age 65 had a higher risk of premature death from particle pollution.
Fox News Digital interviewed a lung expert about the issue — and the EPA to explain how wildfire smoke is harmful to our health and give some helpful tips to stay safe when around it.
'So dangerous it can shorten your life'
Particle pollution is a mixture of very small solid and liquid particles in the air that people breathe in every day, according to the American Lung Association.
"It is so dangerous that it can shorten your life," the lung association noted on its website.
"Wildfire smoke produces very small particulate matter (PM) — 2.5 microns and smaller, that can travel deep into the lungs," said Dr. Baljinder S. Sidhu. 
Previous research, which examined air quality in 545 counties in the U.S. between 2000 and 2007 found that people — especially women and people who lived in urban and densely populated areas — increased their life expectancy by approximately four months on average due to cleaner air. 
WILDFIRES MAY THREATEN INPATIENT HEALTH CARE FACILITIES IN MANY CALIFORNIA COUNTIES, STUDY SAYS
These particles are often too small to actually see, but the air becomes opaque when levels are high.
Scientists classify the particles as coarse, fine and ultrafine, depending on their size.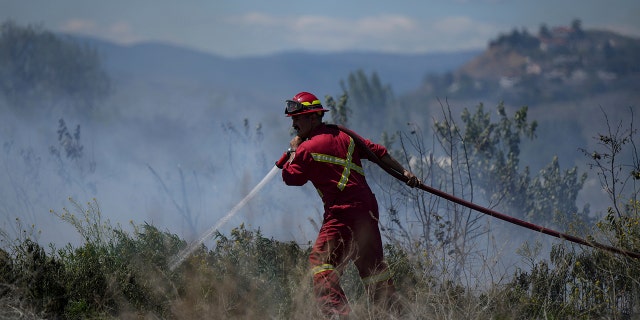 Coarse particles are between 2.5 microns and 10 microns in diameter, fine particles are 2.5 microns in diameter or smaller and ultrafine particles are smaller than 0.1 micron in diameter.
"Wildfire smoke produces very small particulate matter (PM) — 2.5 microns and smaller, that can travel deep into the lungs," said Dr. Baljinder S. Sidhu, a pulmonologist and sleep specialist who is the co-owner of Pacific Coast Critical Care Group in Southern California.
"Children, pregnant women, and the elderly are especially vulnerable to smoke exposure."
Recent research found that fine particles specifically from wildfire smoke may be more toxic to people, up to 10 times more harmful on human health than fine particles from other sources.
What are the effects of smoke?
"The effects of smoke from wildfires can range from eye and respiratory tract irritation to more serious disorders, including reduced lung function, bronchitis, exacerbation of asthma and heart failure, and premature death," the EPA said.
"Children, pregnant women, and the elderly are especially vulnerable to smoke exposure," the agency added.
"Emissions from wildfires are known to cause increased visits to hospitals and clinics by those exposed to smoke."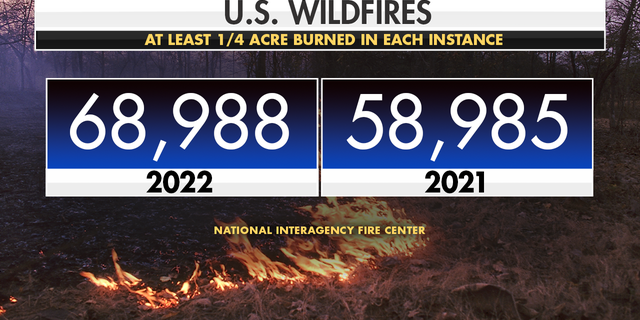 The body's natural defenses are able to cough or sneeze out the larger coarse particles, but they are not able to expel the smaller fine or ultra-fine particles, according to the American Lung Association's website.
Some of the particles get "trapped" in the lung, but some are so small that are able to pass through into the bloodstream, the association added.
Regardless of the size of the particles, any size of the particles can all be harmful to your health, the American Lung Association added.
"We also encourage you to reduce your exposure outdoors during smoke events to reduce how much smoke you inhale," the EPA said. "Limit your outdoor exercise when it is smoky, or choose lower-intensity activities to reduce your smoke exposure," the agency added.
During days when the air is full of wildfire smoke, Dr. Sidhu recommended that people stay indoors and keep windows closed. 
"When indoors, take steps to keep your indoor air cool and clean."
The air quality can rapidly change due to smoke, the EPA noted.
CLICK HERE TO SIGN UP FOR OUR HEALTH NEWSLETTER
"The Air Quality Index is a total measure that includes PM, ozone, NO2, CO and sulfur dioxide," Sidhu added.
"It has been well studied that levels over 100 can lead to increased exacerbations of asthma, COPD and other respiratory ailments in all ages, but particularly children and the elderly."
The EPA encouraged people to stay up-to-date on current air quality and forecasts. 
During days when the air is full of wildfire smoke, Dr. Sidhu recommended that people stay indoors and keep windows closed. "Using a N95 mask can filter 95% of PM 0.3 [micron size] and larger," he said.
If driving, adjust the air conditioner controls so that the air is being recirculated, he said.
He also advised that people make sure their vehicle's cabin air filter is in good working order and suggests considering upgrading to a HEPA filter.

The 12 Best Foundations for Mature Skin That Will Cover + Repair Flaws
Sign Up
Already have an account? Login
Forgot your password?
Get back to the Sign In

Use left and right arrow keys to navigate between menu items.

Use escape to exit the menu.
Ask a doc: 'What should I know before getting a breast lift?'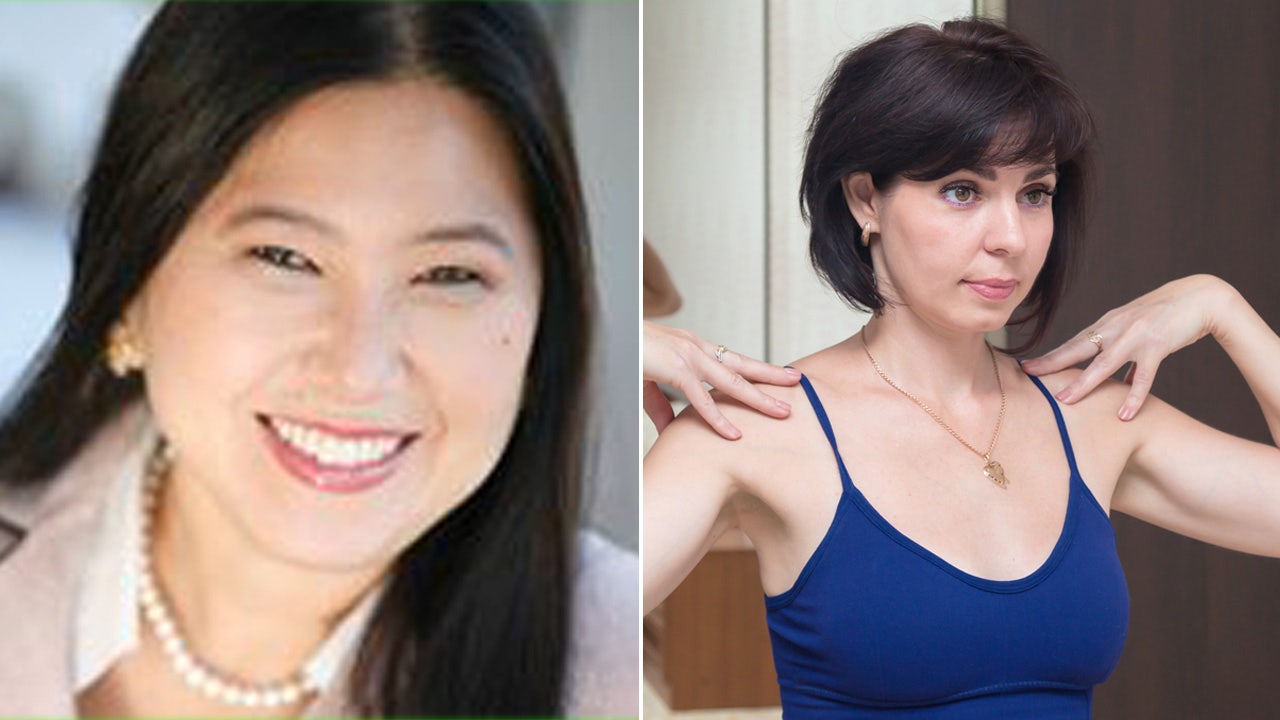 A growing number of women are opting to reverse gravity by getting a surgical breast-lift procedure.
The prevalence of breast lifts has risen 70% since 2000 — twice the growth of breast implant surgery, according to new statistics from the American Society of Plastic Surgeons.
"A breast lift — or 'mastopexy' — is a procedure in which excess skin is removed to tighten the breast envelope," said New York-based plastic surgeon and breast reconstruction specialist Dr. Constance M. Chen in comments to Fox News Digital. 
BBL NOT ALWAYS A-OK: WHY THE BRAZILIAN BUTT LIFT IS ONE OF THE DEADLIEST PLASTIC SURGERIES EVER
"This also repositions the breast tissue and the nipple-areolar complex higher on the chest wall."
Why do women opt for breast lifts?
All women's breasts change with time and gravity, Chen noted. 
"As women get older, it is typical and natural for the skin to lose elasticity and for the breasts to drop," she said. 
Breastfeeding is the biggest cause of this, she said; but occasionally some women who did not breastfeed may find that their breasts droop over time. 
"Menopause is also a factor, because dense, glandular breast tissue is replaced by fat — and fatty tissue is softer and less firm," Chen said. 
ARE YOU AWARE OF THE DANGERS OF LIP INJECTIONS?
"If a woman is unhappy about sagging breasts, the only way to fix it is surgery," the doctor said. "A well-fitted bra can provide support for a better look in clothes, but exercises to firm the underlying chest muscles won't impact the breast tissue itself." 
In most cases, a mastopexy will not change the size of the breasts, even though the result may make the breasts appear fuller and rounder, according to Chen.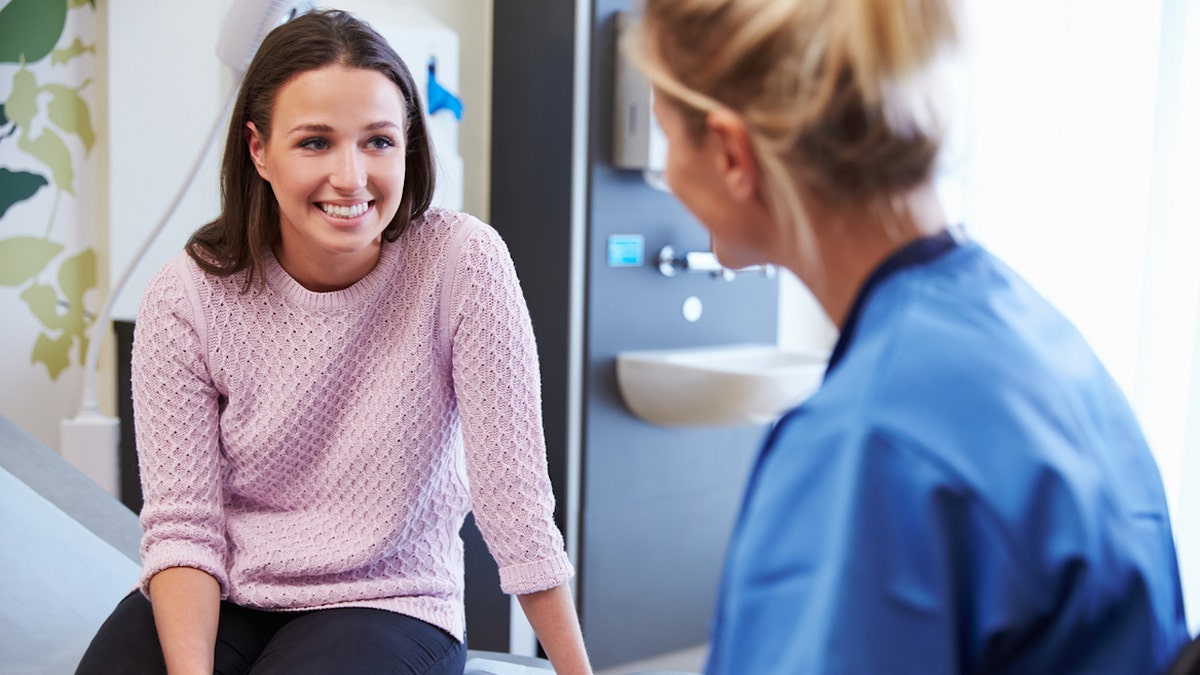 "In cases where a woman wants larger or smaller breasts, additional procedures such as augmentation or reduction can be done in conjunction with a breast lift," she said. 
Dr. Brian Reagan of CosmetiCare, who practices in San Diego, California, said many patients come to his practice for lifts after they have children — usually a few months post-breastfeeding.
"The breasts will change for months after breastfeeding, so we want to wait a minimum of three months," he told Fox News Digital.
Types of breast lifts
There are several different mastopexy procedures depending on the degree of lift needed, Chen advised.
A "crescent lift" is the least invasive procedure. In this case, a crescent of skin at the top of the nipple-areolar complex is removed to improve the position of the nipple, Chen said. 
MALE HEALTH CARE LEADERS COMPLETE 'SIMULATED BREASTFEEDING CHALLENGE' AT TEXAS HOSPITAL: 'HUGE EYE-OPENER'
"The crescent lift is called for when the breasts are basically perky, but the woman wants her nipple-areolar complex adjusted upward slightly," the doctor noted. 
"In cases where a woman also wants bigger breasts, the crescent lift can be performed in conjunction with breast augmentation."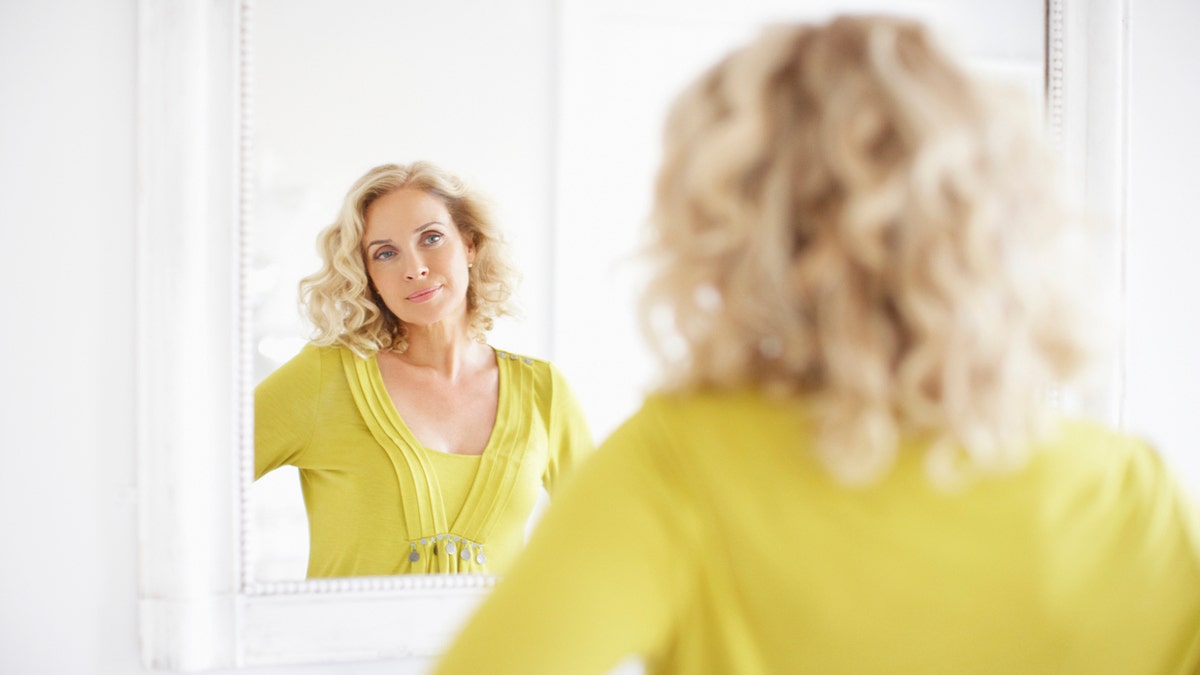 A "Benelli lift" is also used to provide a small lift for barely drooping breasts. 
"Here, a doughnut-shaped incision is made around the nipple-areolar complex, and the skin is tightened," Chen said. "While this kind of breast lift is less invasive than a full lift, it can have the side effect of flattening the breast. An implant can be used to improve the projection of the breast."
A "lollipop lift," or a short-scar vertical mastopexy, is used when the breast tissue itself needs to be positioned higher on the chest wall, the doctor noted. 
ABORTION CHATBOT CHARLEY HELPS WOMEN END THEIR PREGNANCIES: 'LET'S GET STARTED'
"The short-scar vertical mastopexy refers to the limited scars around the nipple-areolar complex and then vertically to the fold below the breast, which looks like a lollipop," Chen said. "In this procedure, more breast skin is removed, and the underlying breast tissue is repositioned to significantly change the breast shape and lift it up." 
Finally, an "anchor lift" — or the traditional Wise-pattern mastopexy — adds a horizontal scar along the crease below the breast to the same scars of the vertical mastopexy, which allows for reshaping and repositioning of the tissue.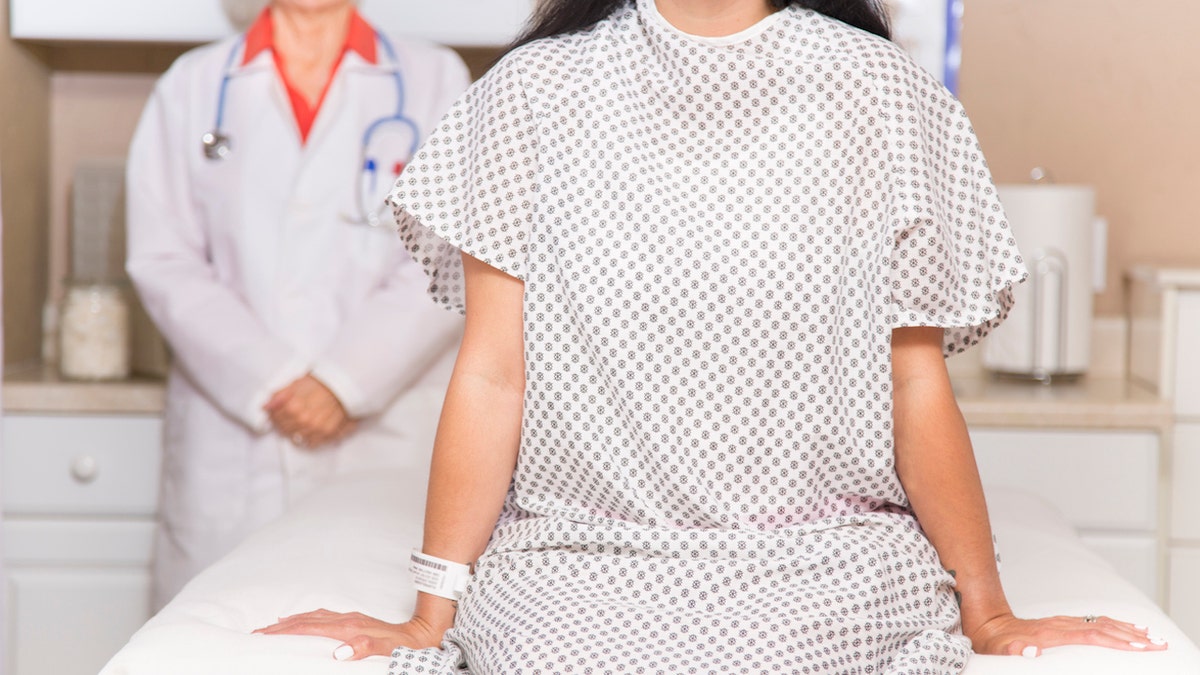 "This is an older procedure used by older surgeons not trained in the vertical mastopexy, who are particularly prone to using it when there is significant sagging in large breasts," Chen noted.
The vertical and the Wise-pattern mastopexies are both full breast lifts that are equally effective in creating a perkier, more youthful result, according to Chen. 
PREGNANT WOMAN WITH BRAIN CANCER REFUSES ABORTION: 'KILLING MY BABY WOULDN'T HAVE SAVED ME'
"The vertical mastopexy is also called the 'short-scar mastopexy' because it eliminates the horizontal scar in the inframammary fold," she said. "It is an improvement on the anchor lift."
She added, "The full mastopexy is the most commonly performed breast lift, because it is usually the appropriate technique for someone who wants a noticeable change to their breast appearance."
Risks of breast lifts
Every plastic surgery procedure comes with some degree of risk — and breast lifts are no exception.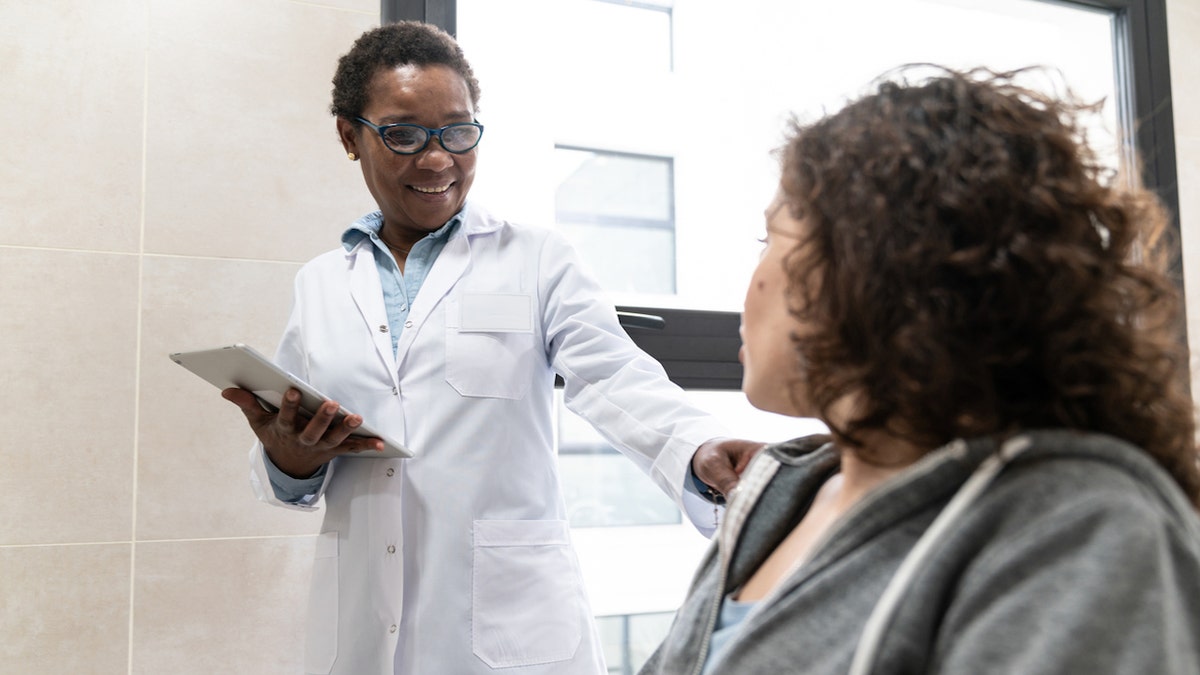 Reagan said the main risks associated with breast lifts are a decrease in nipple sensation, potential loss of tissue (including the nipple) and poor scarring.
Due to elevated risk, there are certain groups of people who are not good candidates for the procedure, he said.
CLICK HERE TO SIGN UP FOR OUR HEALTH NEWSLETTER
He advises against smokers getting a breast lift, for example.
"Actively smoking can cause delayed healing and possible open wounds," Reagan said. 
He recommends kicking the habit at least six to eight weeks prior to surgery.
People who have existing medical issues, such as high blood pressure or diabetes, are also not good candidates, the doctor warned.
"The ideal candidate is someone who is healthy, has no medical issues and has deflated, droopy breasts," he said.
For more Health articles, visit www.foxnews.com/health. 
Broasted Chicken: All You Need For Crispy-Outside, Juicy-Inside Fried Chicken Is *This* Genius Lid Technique
When it comes to fried chicken, we've heard so many different tricks and family secrets for getting the crunchiest and juiciest bites, from soaking in buttermilk to using a special blend of seasonings. And here's another twist that recently caught our attention: "broasting." This method uses pressure cooking and deep-frying to cook every part of the chicken evenly. The result: fried chicken that's less greasy, yet is still moist and coated in a deliciously crispy crust. It's the secret behind so many restaurant's amazing fried chicken, and while traditional broasting uses a one-of-a-kind machine that simultaneously steams and fries, you don't need an appliance to create broasted-style chicken — simply using a sturdy skillet and lid will do the trick. Here's the scoop on broasted chicken and an easy recipe to make the next time you're craving this comfort food classic!
What it means when chicken is "broasted"
Broasting is different from traditional, open pan-frying methods as it involves a special pressure fryer (don't worry, though, you don't need this as you'll learn below). Brian Jupiter, executive chef and owner of the restaurants Frontier and Ina Mae Tavern in Chicago, notes that this machine fries the chicken in a closed environment. This creates steam and pressure that seals in the meat's juices. It also prevents sudden drops in oil temperature that could cause the chicken to become greasy. "Broasting pressurizes the chamber of frying oil, allowing temperatures to stay consistently high for a certain amount of time," he explains. "This creates a lighter and even crisper texture on the chicken."
Jupiter adds that broasting was invented by engineer L.A.M Phelan in the 1950s. He designed equipment that pressure-fried chicken quickly and thoroughly, and his machine was eventually mass-produced specifically for restaurants and fast food chains, where broasting remains a staple method for frying large batches of chicken. But, you don't need a clunky and pricey broasting machine to achieve the same golden brown and succulent results at home.
How to mimic the broasting method
A key aspect of broasting is steam, which is generated when the fryer is covered and the pressurized settings are applied. Although it's tricky to create that same level of pressure in a normal skillet, cookbook author Pam Anderson says you can mimic the method with just a lid. The trick: "As soon as I get all my chicken pieces in the skillet, I cover the skillet for the first half of cooking time, then uncover it for the second half.".The lid traps in moisture and heat to steam the meat while helping maintain a consistent oil temperature. Removing it halfway through lets the skin get nice and crispy.
Food writer and biochemist Shirley Corriher also swears by covering the pan during the first half of the frying process. "Covering the skillet does make a racket, though — it's the drops of condensed moisture dropping into the oil that create all that carrying-on," she says. This is why it's a good idea to have an oil shield like BergKoch's Splatter Screen (Buy from Amazon, $10.99) handy to prevent grease from splattering and making cleanup more of a hassle.
Hungry for broasted-style chicken? If so, we've got the perfect recipe for you!
A delicious broasted-inspired chicken recipe
Our Southern Fried Chicken recipe takes inspiration from the broasting method to create moist dark and white meat. Additionally, this recipe coats the chicken in self-rising flour instead of all-purpose for an even crunchier crust. Clearly, this recipe has all the makings for a finger-licking batch of fried chicken that your crowd will love!
Southern Fried Chicken
Ingredients:
2 qts. vegetables or canola oil
2 tsp. garlic powder
1 tsp. salt
½ tsp. pepper
3 eggs
½ cup hot pepper sauce, such as Tabasco
1 cup self-rising flour
1 (3 to 4 lb.) chicken, cut into 8 pieces
Directions:
Active: 30 mins
Total time: 1 hr
Yield: 6 servings
In large pot or deep fryer, heat oil over medium-high heat until very hot but not smoking, about 350°F. Place rack over large rimmed baking sheet.
In small bowl, combine garlic powder, salt and pepper. In shallow bowl, whisk together eggs and hot sauce. Spread flour in shallow dish or pie pan.
Heat oven to 200°F. Sprinkle all sides of chicken pieces with garlic mixture; dip each piece into egg mixture, letting excess drip off back into bowl, then coat with flour, shaking off excess.
Place first batch of chicken in skillet, cover and cook 8 to 10 minutes. Remove lid, flip and cook another 8 to 10 minutes or until golden brown and internal temperature registers 165ºF. (Check chicken after 5 minutes; if browning too quickly, flip pieces and reduce heat to medium).
Transfer cooked chicken to rack on baking sheet. Place baking sheet in oven to keep warm while frying remaining chicken. Serve with favorite sides and enjoy!
---
To whip up more hearty classics at home, check out the recipes below:
Loretta Lynn's Famous Chicken and Dumplings Recipe Is Southern Comfort in a Bowl
Move Over Fudge Sauce — Chocolate Gravy Offers a Taste of True Nostalgia and Comfort
Celebrity Chef Gina Neely's Secret to Making Okra Less Slimy — Plus 5 Easy Okra Recipes
Woman's World aims to feature only the best products and services. We update when possible, but deals expire and prices can change. If you buy something via one of our links, we may earn a commission.
Questions? Reach us at shop@womansworld.com
BOGO Never Felt So Good
Whether you're looking to sleep better, have less anxiety, get pain relief or simply unwind the mind, these award-winning CBD Gummies from Sky Wellness do just the trick! Available in a variety of flavors, don't miss this special BOGO offer. Learn more at SkyWellness.com.