Breakingviews – Planet Fitness races against rate hikes
NEW YORK, Sept 18 (Reuters Breakingviews) – Planet Fitness (PLNT.N) is struggling to adapt to a high-interest-rate diet. After 13 years, boss Chris Rondeau on Friday abruptly stepped down from the $4 billion gym chain, sending shares to their lowest level in three years. With growing debt-servicing costs crimping franchisees, the company can't outrun rising rates unless its next coach reconsiders rock-bottom prices.
Under Rondeau, Planet Fitness benefited from a post-pandemic exercise rebound, notching annual sales growth of over 40% in the last two years as location count expanded by 13%. But last month, it lowered projections for further growth, blaming boosted construction costs that have left franchisees under heavy debt burdens, doubly painful given the higher cost of interest.
Allowing franchisees to hike prices might be unpopular for a company that prides itself on accessible dues. The price of a base membership hasn't budged from $10 a month despite inflation. But rival Life Time (LTH.N) has shown it can work, having jacked up dues by 12% per location since 2019. Its stock is up 32% this year, while Planet Fitness's is down by roughly the same amount. Life Time boss Bahram Akradi said his old approach of keeping prices low was a "mistake." Planet Fitness can fix the same error. (By Anita Ramaswamy)
Follow @Breakingviews on X
Capital Calls – More concise insights on global finance:
S4 misery offers reality check on tech exuberance read more
Lonza's CEO churn adds to company's ailments read more
Ford's boss evokes empty threats in union battle read more
H&M looks out of sync with shoppers' reality read more
Deliveroo lacks tasty recipe for takeover call read more
Editing by Jonathan Guilford, Sharon Lam and Aditya Sriwatsav
Our Standards: The Thomson Reuters Trust Principles.
Opinions expressed are those of the author. They do not reflect the views of Reuters News, which, under the Trust Principles, is committed to integrity, independence, and freedom from bias.

China Focus: Young vacationers opt for fitness over feasting
BEIJING, Sept. 30 (Xinhua) — Instead of indulging in holiday food binges, a growing number of young Chinese people are sparing the time for fat-burning activities amid the rising craze for sports.
The phenomenon can be seen in the choices of many vacationers during this year's eight-day National Day Holiday, which started Friday.
After wrapping up a 5-km bike ride, Zhao Lele, from south China's Guangdong Province, was thrilled to cycle through the forests of Changbai Mountain, in northeast China's Jilin Province, sharing the journey with a group of friends.
"Appreciating the pleasant view while doing sports is popular with young people nowadays. This healthy 'slow-paced travel' is exactly what we need to step back from the fast-paced chaos and stress in urban life," said Zhao.
As the young generation pays more attention to health, many scenic spots have been promoting the "sports plus tourism" concept to lure young consumers.
A lake resort in the city of Jilin organized more than 20 sports activities for tourists, such as frisbee, hiking, tennis competitions and swimming. "In addition to these activities, we have also built a 1.9-km jump trail for mountain biking. The wide range of activities we offer has helped us gain in popularity," said Huang Zhongrui, head of the resort's marketing department.
Keeping fit is also a preferred choice for those who don't have any travel plans during this year's National Day Holiday.
Early on the first day of the holiday, a Pilates studio in Jilin's provincial capital Changchun was packed with practicers. "I'm usually too busy and the holiday is the right time for me to do some exercise," said Chen Yun, an automotive engineer.
Liu Shuang, who is in charge of the studio, has witnessed the change in people's ideas about exercise.
"In the past, holidays were very much our off-season. However, since more and more Chinese are paying attention to maintaining a healthy lifestyle, we've been getting busier during holiday periods in the past two years," said Liu, adding that all the training sessions provided by 15 coaches during the holiday were fully booked in advance.
Such developments reflect the increased stress placed on fitness and sports in modern China. Believing that people's health is one of the most important indicators of modernization, Chinese authorities have elevated nationwide fitness to a national strategy and designated Aug. 8 as National Fitness Day since 2008, when the country hosted the Beijing Olympic Games.
A series of sports events, including the Chengdu University Games and the ongoing Hangzhou Asian Games have further ignited people's passion for sports activities.
In Shuangyang Township, east China's Shandong Province, a national grassroots basketball tournament known as the "Village Basketball Association" attracted thousands of participants and basketball fans.
"More people are coming to watch the games during the holiday," said a villager Kong Jian. He hopes such activities can be organized more often, enriching villagers' lives while also helping to mobilize people to participate in the national fitness campaign and promote rural revitalization.
To support the national fitness campaign, China has accelerated the construction of sports venues and public fitness facilities. The country has proposed the promotion of "15-minute fitness circles" in urban communities, providing physical exercise facilities that residents can reach within 15 minutes.
Liu Xinyuan, a college student in Zhifu District in the city of Yantai, Shandong, often plays basketball with friends at a nearby court during the holiday. "It's convenient and the court is quite good," said Liu Xinyuan.
Since 2023, the district has put into use nearly 100 pieces of fitness equipment in 14 communities, with a total of 8,000 public sports facilities now available across the district.
"We will build a smart fitness plaza in the future to bring more convenience for the masses," said Liu Meiyu, deputy director of the sports center in the district.
Doing sports has also become a new way in which families can come together.
Early Friday, Fan Chunming kickstarted his holiday by participating in a running activity with his relatives, friends and colleagues.
It took Fan nearly 40 minutes to finish the 6.3-km run. "It's very satisfying. I can enjoy the beautiful scenery while exercising," Fan said. "We are on a tight work schedule and running together provides a rare opportunity for us to get together. It's quite meaningful," Fan added.
A survey on national sports venues showed that by the end of 2022, more than 500 million people in China were taking regular exercise. In the meantime, there were over 4.2 million sports venues across China, covering a combined area of 3.7 billion square meters. ■
Brain health: Cardio and strength training preserve cognition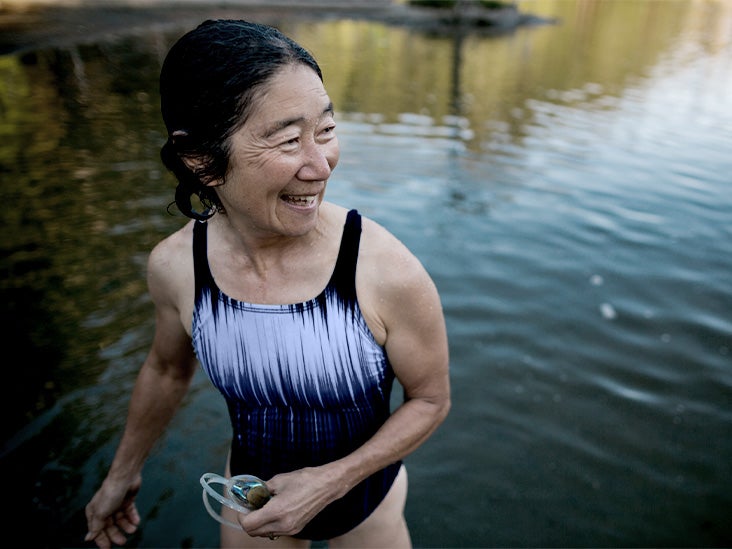 Engaging in both aerobic exercise and strength training can improve cognitive performance in populations aged over 80 years, a new study suggests.
Participants who performed only cardio/aerobic exercise fared no better than people who were sedentary at mental acuity tests.
The study underscores the value of being physically active as long as possible as one reaches their later years.
A new study from the McKnight Brain Research Foundation, published in the journal GeroScience, finds that for people aged 80 years or older, a combination of cardio/aerobic exercise and strength training may improve cognition.
The study found that people who combined these two types of exercises exhibited higher cognitive performance than people who were sedentary and people who performed cardio exercise alone.
Individuals who engaged in cardio exercise along with strength training — regardless of duration and intensity — were more mentally agile, quicker at thinking, and also had a stronger ability to shift or adapt their thinking as necessary.
The study involved 184 cognitively healthy individuals who were 85 to 99 years old, with a mean age of 88.49 years. Of this group, 98 were women. Their exercise regimens were self-reported, with 68.5% participating in some form of exercise.
Individuals were divided into three groups: people who were sedentary, people who did cardio exercise alone, and people who did both cardio exercise and strength training.
The cognition performance of participants was assessed according to the Montreal Cognitive Assessment battery of tests, designed to measure mild cognitive decline and early dementia signs.
The cardio plus strength training group had the highest overall cognitive performance scores.
The cardio plus strength training group scored significantly better than the sedentary group on coding and symbol search tests.
The cardio plus strength training group also scored significantly better than the cardio-alone group on symbol search, letter fluency, and Stroop Color-Word tests.
The cardio-only group's test results were the same as the sedentary group.
"Aerobic and strength training are clearly helpful for older adults, even at an advanced age," said Dr. Eric Lenze, professor and chair of psychiatry at Washington University School of Medicine, not involved in the current research.
"It's not unusual," noted Dr. Lenze, "to slow down with aging, but some degree of physical activity, like regular walking, is important for maintaining function — staying out of the nursing home!"
"Strength training can add to this benefit by keeping elders able to, for example, get up off the toilet. [Such capabilities] are vital for staying independent," Dr. Lenze pointed out.
Brain health coach and director of the FitBrain Program at Pacific Neuroscience Institute in Santa Monica, Ryan Glatt, also not involved in the research, warned of the risks associated with a sedentary lifestyle:
"The risks of sedentary behavior include sarcopenia (loss of muscle mass), reduced physical functioning, an increased risk of falls and fractures, and cognitive impairment."
A cross-sectional study such as this looks only for associations. It cannot establish a causal link, such as one between cardio plus fitness and mental acuity. As Dr. Lenze put it, "the authors themselves were careful to describe this as exploratory."
"It's not clear how helpful [the exercises] are for improving cognitive function like memory, though," Dr. Lenze added.
He noted, nonetheless, that both types of exercise "would be expected to improve brain health broadly by improving insulin sensitivity, reducing risk for heart attacks and strokes, and keeping people overall more active."
Glatt suggested it may be that the two forms of activity affect different areas of the brain, saying: "Previous research has found that exercise benefits the brain in similar ways. However, certain types of exercise have been found to affect certain brain regions."
"For example," said Glatt, "prior research has found that resistance training can benefit the function and structure of the frontal lobe, while aerobic exercise can benefit the function and structure of brain regions responsible for memory, such as the hippocampus."
Cardio and aerobic exercises are essentially the same exercises viewed from different perspectives. Both increase a person's heart rate while increasing the amount of oxygen the body uses.
For this reason, cardio/aerobic exercises can improve heart health and lung function.
Examples of cardio/aerobic exercise include walking, running, cycling, and swimming, or the use of cardio equipment such as rowing machines, elliptical trainers, treadmills, and stair climbers.
Strength training, or resistance training, involves causing your muscles to contract against some form of external resistance. Such resistance might be weights, resistance, bands or medicine balls, for example.
The goal of strength training is to increase muscle mass and power, gain joint flexibility, and strengthen bones.
For people in their 80s or 90s, care must be taken to avoid injury when exercising.
Glatt said: "Everyone, regardless of age, can have different levels of physical functioning. It is therefore important to seek out guidance from a physical therapist or qualified fitness professional."
Dr. Lenze recommended exploring The National Institute on Aging website (NIA) for ideas about exercises that are appropriate for the elderly, although it is still wise to consult a fitness professional before beginning any new exercise program.
NIA suggests that older individual:
begin slowly with low-intensity exercises
properly warm up before and cool down after exercise
remain aware of surroundings when outside
hydrate — drink water — before, during, and after exercise, even when one does not feel thirsty, as older individuals can be less sensitive to sensations of thirst
take care to exercise in appropriate clothes and shoes
discuss an exercise plan with your healthcare provider to avoid exacerbating specific health conditions.
Rochester fitness fair for those with multiple sclerosis set for October
ROCHESTER — An opportunity for those with multiple sclerosis and their caregivers to learn about group fitness and other physical activities is coming up soon in Rochester.
The nonprofit EA Therapeutic Health will host its MS Fitness Fair from 9 a.m. to noon on Saturday, Oct. 14.
"Often, people living with MS find exercise to be difficult and a bit scary to manage alone due to the physical complications of the disease," said Melanie Brennan, founder and CEO of EA. "However, exercise, with symptom management in mind, is extremely beneficial for improved symptom tolerance. At this MS Fitness Fair, volunteer medical and therapy professionals will be leading the group to safe and effective exercise progression to help attendees move better, feel better, and live better."
The free fair will take place at EA's facility at 2530 North Broadway Ave.
The organization hosts fitness classes and events for people living with conditions that cause mobility challenges, such as Parkinson's disease and surviving a stroke.
"Our impacted community specific classes at EA provide a place for people with similar stories and experiences to support each other in their health improvement journey," Brennan said.
Walk-ins are welcome, but attendees can register in advance through
EA's website.
Our newsroom occasionally reports stories under a byline of "staff." Often, the "staff" byline is used when rewriting basic news briefs that originate from official sources, such as a city press release about a road closure, and which require little or no reporting. At times, this byline is used when a news story includes numerous authors or when the story is formed by aggregating previously reported news from various sources. If outside sources are used, it is noted within the story.