LSU's Angel Reese not with team after being benched earlier in week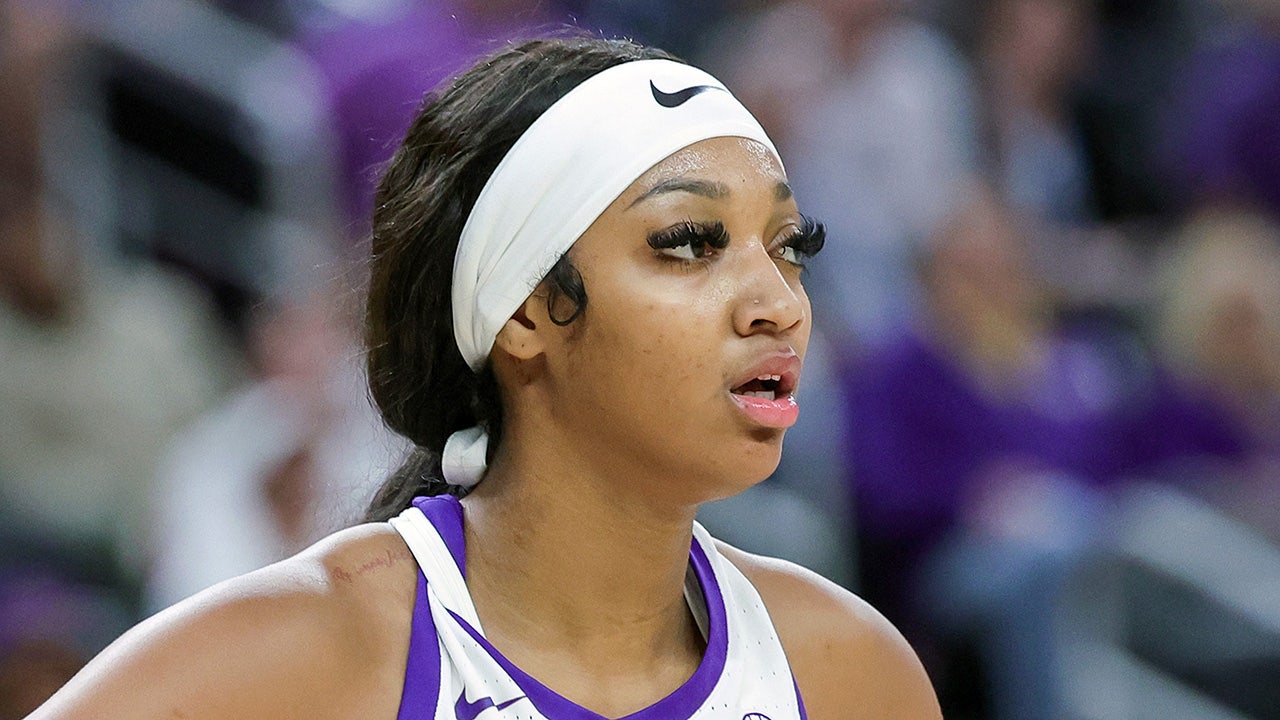 Just three days after being benched in the second half, Angel Reese was not with LSU during their win over Southeastern Louisiana on Friday.
Reese did not play the final 20 minutes of the reigning champs' game against Kent State, which was a 109-79 victory. She had 11 points and five rebounds in 13 minutes.
Head coach Kim Mulkey characterized Tuesday's move as a "coach's decision" and did not elaborate, and after Friday's game, she remained bleak on the subject.
CLICK HERE FOR MORE SPORTS COVERAGE ON FOXNEWS.COM
"Angel was not in uniform. Angel is a part of this basketball team, and we hope she's back with the team soon. I'm not gonna answer any more than that," she said.
Reese had started LSU's first four games, during which the Tigers went 3-1, and averaged 17 points and 10.3 rebounds during those games.
OutKick reported earlier this week that there was a possibility that Reese had been suspended, but LSU has not said so.
OutKick contacted Reese's agent Jeanine Ogbonnaya, so said she didn't "have much information."
Mothers of members on the team have recently feuded, including Reese's and Flau'jae Johnson's.
ANGEL REESE MAY HAVE BEEN SUSPENDED AFTER BENCHING, AND SOCIAL MEDIA DRAMA
Reese's mother, Angel Webb Reese, criticized Johnson for poor word usage on Instagram.
"You definitely know about grammar errors when your daughter got a 2.0-or-less grade point average," Johnson's mother, Kia Brooks, responded. "Stop being petty, fake and hateful, and take responsibility for you and your daughter's actions."
Reese, nicknamed the "Bayou Barbie" and known for her eyelash extensions and pink finger nails, led LSU to its first national title in women's basketball last season. She also has parlayed her popularity into name, image, and likeness endorsements valued at more than $1 million, making her one of the top-earning female college athletes. 
The junior garnered criticism when she pointed to her ring finger and did the "you can't see me" celebration in front of Iowa's Caitlin Clark in the closing seconds of the national title game. Clark previously did the taunt and said she had no issues with what Reese did.
CLICK HERE TO GET THE FOX NEWS APP
Reese led the Southeastern Conference in both scoring (23 points per game) and rebounding (15.4 per game) last season, becoming just the fourth player to lead the league in both categories.
Her 34 double-doubles that season set an NCAA record and her 23 consecutive double-doubles to begin last season broke Sylvia Fowles' previous LSU record of 19.
The Associated Press contributed to this report.
Follow Fox News Digital's sports coverage on X and subscribe to the Fox News Sports Huddle newsletter.

Georgia plans $127M rail terminal northeast of Atlanta
The Georgia Ports Authority will spend $127 million building a new inland terminal for moving cargo by train between Savannah's busy seaport and Gainesville northeast of Atlanta.
NYC PROPOSES $15 FEE FOR DRIVERS ENTERING MANHATTAN'S CENTRAL BUSINESS DISTRICT
The state authority's governing board voted Tuesday to approve the funding, which includes a $46.8 million federal grant. Known as the Blue Ridge Connector, the terminal will link northeast Georgia to the Port of Savannah by rail across roughly 250 miles, giving shippers an alternative to moving cargo by truck through Atlanta.
"Every container moved by rail will avoid a 600-mile roundtrip by truck between Savannah and the Gainesville area," Georgia Ports Authority CEO Griff Lynch said in a news release. "That's a massive benefit to cargo owners seeking to reduce their carbon footprint."
It will be the third inland terminal operated by the state authority, which also has them in Murray County south of Chattanooga, Tennessee, and in rural Bainbridge in southwest Georgia. The new facility is expected to open in 2026.
CLICK HERE TO GET THE FOX NEWS APP
The Port of Savannah is the fourth-busiest U.S. seaport for cargo shipped in containers, large metal boxes used to transport retail goods from consumer electronics to frozen chickens. Savannah handled 5.4 million container units of imports and exports in the fiscal year that ended June 30.
PIAA football Class 4A championship game preview: Aliquippa vs. Dallas | Trib HSSN
By: Don Rebel
Tuesday, December 5, 2023 | 11:48 PM
---

Previous

Next
The second of six PIAA championship games features several standout juniors as District 2 champion Dallas, fresh off a double overtime victory over defending champion Bishop McDevitt, battles WPIAL champion Aliquippa, which is in the state title game for a third straight year.
This is the 35th year of the PIAA football playoffs, which began in 1988.
Since then, the state championship games have been played at one site the last 31 years, first at Mansion Park in Altoona, then at Hersheypark Stadium in Hershey, and this is the second year the games take place at Cumberland Valley High School in Mechanicsburg.
Here are some Class 4A anniversaries:
• 35 years ago in 1988: Central Catholic defeated Cedar Cliff, 14-7
• 30 years ago in 1993: North Hills edged Central Bucks West, 15-14
• 25 years ago in 1998: Central Bucks West crushed New Castle, 56-7
• 20 years ago in 2003: North Penn knocked off Central Catholic, 37-10
• 10 years ago in 2013: St. Joseph's Prep beat Central Catholic, 35-10
• Five years ago in 2018: Cathedral Prep rolled past Imhotep Charter, 38-7
• Last year: Bishop McDevitt 41, Aliquippa 18
Aliquippa (13-0) vs. Dallas (15-0)
7 p.m. Thursday, Chapman Field at Cumberland Valley
Coaches: Mike Warfield, Aliquippa; Rich Mannello, Dallas
2023 March to Mechanisburg: Aliquippa defeated Latrobe in the quarterfinals, Mars in the semifinals and McKeesport in the WPIAL championship game, then beat Selinsgrove in the PIAA semifinals; Dallas defeated Wallenpaupack in the quarterfinals, Nanticoke in the semifinals and Valley View in the District 2 championship game, then beat Monsignor Bonner-Archbishop Prendergast in the PIAA quarterfinals and Bishop McDevitt in the semifinals
Last week: Aliquippa 52, Selinsgrove 32; Dallas 26, Bishop McDevitt 23 in double overtime
Players to watch: John Tracy, Aliquippa (Sr., 6-0, 160, RB/MLB); Brady Zapoticky, Dallas (Jr., 6-0, 190, QB/DB)
Team notes
• Aliquippa: The Quips earned a third straight trip to the PIAA Class 4A championship game thanks in large part to a strong running attack they showcased in a 20-point win over Selinsgrove in the state semifinals last weekend. Senior running back John Tracy enjoyed a breakout performance with 270 yards rushing on 15 carries and four touchdowns, including a scoring reception, plus junior Tikey Hayes ran for 153 yards on 13 carries and two scores. Senior quarterback Quentin Goode threw for 104 yards and a TD.
• Dallas: The Mountaineers knocked out the defending PIAA 4A champion Bishop McDevitt in a PIAA semifinals thriller last week in double overtime. Junior quarterback Brady Zapoticky threw for 118 yards and two touchdowns, one of which came on a 5-yard pass to Nate Malarkey in the first overtime. Rowan Laubach booted a 26-yard field goal in the second overtime to send Dallas to the PIAA finals. Zapoticky has thrown for 1,879 yards and 25 touchdowns this season while fellow junior Dylan Geskey leads the Mountaineers in rushing with 1,473 yards and 27 touchdowns.
Historic factoids
• This is the first meeting between Aliquippa and Dallas.
• The Quips are 18-8 in the PIAA playoffs. They are 4-5 in state championship games with victories in: 1991 over Hanover, 27-0; in 2003 over Northern Lehigh, 32-27; in 2018 over Middletown, 35-0; and in 2021 over Bishop McDevitt, 34-27. Aliquippa's losses were in 1988 to Berwick, 13-0; in 2000 to Mount Carmel, 26-6; in 2012 to Wyomissing, 17-14; in 2015 to Southern Columbia, 49-14; and in 2022 to Bishop McDevitt 41-18.
• The Mountaineers are 6-3 all-time in PIAA postseason games. They are 1-1 in state championship games, beating Washington in 1993, 31-7, and losing to Thomas Jefferson in 2019, 46-7.
• Aliquippa is 1-1 all-time against District 2 teams while Dallas is 1-1 all-time against WPIAL teams.
Tags: Aliquippa
Cowboys in Miami: Country Bay brings Southern vibes to the Sunshine state – The Miami Hurricane
Miami is known for its wide variety of music scenes, hosting festivals like Ultra, Rolling Loud and III Points. Aside from that, Miami is the source of the 2016 SoundCloud rap explosion that helped bring Florida rap into the mainstream.
Apart from contributing to the electronic and rap scenes, Miami has always been a hub for Latin music, covering everything from Reggaeton to Salsa. The question arises: could a country music festival thrive and sell in South Florida?
The answer to that is a resounding yes.
In its inaugural year, the Country Bay Music Festival was held on Nov. 11-12 next to the abandoned Miami Marine Stadium, was famous for hosting boat races and concerts for Jimmy Buffet, Ray Charles, Queen and other legendary acts.
Headlined by Thomas Rhett and Sam Hunt, the lineup also featured respected country artists such as Lainey Wilson, Randy Houser, Lee Brice, Chris Young, Elle King, and Chris Lane.
Some of the festival's unique features included a swimming pool in the VIP area, yacht parking to enjoy the festival sounds from the comfort of your boat and carnival rides available to the general public.
Various food vendors serviced the two-day festival, including Miami Street Tacos, Turkey Legs, La Cantrina, The Cook Miami, Lumpia Bros and Miami favorite, Burger Trap. Festival grounds exuded a more mature atmosphere with the several bars and tobacco vendors, along with sponsorships from Jack Daniels, Coors Light, White Claw and Zyns.
Despite the raging Miami sun, numerous attendees showed up in full-on western gear with their cowboy boots and hats.
The crowd's energy was incredible with everyone being very kind and respectful, challenging stereotypes that those from urban areas might hold about country enthusiasts.
The easy-going energy l reminded me of growing up in Texas. It almost felt like I was transported out of Miami until I bought a twenty-dollar drink and reality set back in.
Even more surprising was the number of people line dancing to country classics like "Country Girl (Shake It)" by Luke Bryan and songs like "Low" by Flo Rida.
It was one of my favorite experiences — along with the Coors Light Boots and Beer Garden, the only place to watch the UM vs FSU game. The unique atmosphere resembled the lively scenes in Tallahassee as alumni and fans gathered to cheer for their teams.
Once UM lost, most fans left the bar and went to watch Lainey Wilson give one of the festival lineup's best performances.
Currently the "it girl" of country music, Wilson came off an amazing year in which she toured with Luke Combs and snatched five CMA awards for her album, "Bell Bottom Country."
The Louisiana native came out in her signature bell bottoms and put on a marvelous show that included her hit "Watermelon Moonshine," which the entire crowd sang while holding up their phone flashlights.
She also included her rendition of the 4 Non Blondes track "What's Up?" and her collaboration with HARDY "Wait in the Truck." Wilson ended her set with "Heart Like a Truck," leaving a lasting impression on the crowd with her amazing set.
After Lainey's set, the Miami sun had set and the on-site carnival was lit up like a Las Vegas strip. The ferris wheel gave incredible views of the festival and the Miami skyline.
Thomas Rhett came out and started off his headlining setlist with "Vacation," then went on to perform hits such as "Look What God Gave Her," "Unforgettable" and "Die a Happy Man." He also brought out Nate Smith to do a rendition of Rhett's track, "Beer Can't Fix."
The second day was just as exciting, with both BRELAND and Blanco Brown having some of the more entertaining performances. Both have been known in the country scene for their combination of country melodies with hip-hop beats and flows.
BRELAND performed his viral hit "My Truck" and Brown rocked the crowd with "The Git Up."
A performance from Elle King lit up the place as she performed her multi-platinum hit "Ex's and Oh's" along with crowd favorites, "America's Sweetheart" and "Jersey Giant."
Off stage activities included a mechanical bull inside the Ford Blue Saloon. Jack Daniels had a cornhole game that gave out prizes such as sunglasses, iron on patches, phone stands1 and koozies.
Zelle opened up a "Purple Paradise," which was part art installation and part viewing experience at the festival, allowing you to enjoy elevated views around some of the most colorful backdrops.
After exploring more of the festival, Lee Brice held an electrifying show that included an ludicrous drum solo during a cover of Boston's "Foreplay" accompanied by water jetpacks and fireworks by the yacht dock.
It was then time for the final headliner of the weekend: Sam Hunt. Even though Hunt has only released two formal albums, he's been quite the superstar with a plethora of singles and features that have helped cement his reputation as one of country's best singers.
Hunt came out immediately flowing into some of his biggest hits such as the dynamic "House Party" as well as the anthemic "23." Hunt had one of the most perfect sounds at this festival as his pop-like approach to country engaged the crowd. His set was filled with modern classics such as "Body Like a Back Road" as well as covers of country staples like "Take Me Home, Country Roads."
After Hunt's set, a firework display officially called for the end of the inaugural Country Bay Music Festival. If the banner next to the exit didn't make it obvious enough, next year's festival will be held on Nov. 9-10, 2024.
Country Bay offered a comprehensive experience, with admission covering access to rides, food stands and giveaways. The kindness of attendees stood out, fostering a hope that this festival will become a staple in Miami's rich musical tapestry.