Cal State Fullerton enters NCAA regionals confident it 'can play with anybody'
The Titans took batting practice at Goodwin Field on a still, cloudy day on the Cal State Fullerton campus.
The calm before the storm, Wednesday was a typical scene in preparation for an upcoming game. Except that practice represented the Titans' final home tuneup before they were to hit the road for the Stanford Regional, the first playoff appearance for the program since 2018.
"It's pretty surreal," junior infielder Caden Connor said. "I mean, we've worked our entire time being here. It feels really good for the guys that came back, trusted the coaching staff."
Added senior infielder Zach Lew: "Fullerton has a special place in my heart and going to the postseason has definitely been a long time coming for me."
The Stanford Regional begins Friday, with the Titans playing Texas A&M (36-25) of the Southeastern Conference at 7 p.m.
The Titans (31-22, 20-10 Big West) finished second in the conference to UC San Diego (21-9). The Tritons, however, are in the midst of a four-year Division I reclassifying period and are, therefore, not eligible for NCAA playoff competition until the 2025 season.
Fullerton punched its ticket to the postseason by beating Cal Poly in its penultimate regular-season game to claim the automatic NCAA bid from the Big West. The Titans were led by second-year coach Jason Dietrich and players who identify as blue collar.
"Play the game the right way and play hard," Connor said. "We'll do anything it takes to win a baseball game. I mean, the three-hole hitter will get a bunt down if he has to."
Connor and pitcher Tyler Stultz said it was the team's first game of the season, a win against Stanford, no less, that helped set the tone for the kind of team they are. During that Feb. 17 game, the Titans went from being tied 1-1 after four innings to beating the Pac-12 school 8-1.
"The atmosphere on the field during that series was really crazy," Stultz said. "It almost felt like playoffs to open our season."
The Titans lost the three-game series with Stanford, and dropped their next multigame matchup against Michigan before taking two of three games against Texas in March, which helped bolster Fullerton's confidence.
"We were like, 'OK, yeah. We can play with anybody,'" Stultz said.
Though, in reflecting on the season, Dietrich said it was not one moment or set of games that defined Fullerton's 2023 playoff push.
"I think it's just the body of work that they've done," Dietrich said. "I knew and the coaches knew that we had a group of guys that were pretty hungry."
There are nine active Fullerton players who have an extra year of eligibility because of the COVID-19 pandemic, which canceled the season in 2020 after 16 games. Lew and Stultz are two of four players using that extra year this season. Lew's freshman season was 2019. Connor and four others could exercise the extra year to return for next season.
The 2022-23 roster also had 17 returning and 22 new players.
"Our job, we felt, was just to build chemistry, get them to know each other," Dietrich said. "And teach Titan baseball and the tradition of Titan baseball. So it was exciting to start the season to see where we're at.
"And then after the first weekend against Stanford, to get these guys to understand that they can play with anybody. But that's tough when the program's been struggling a little bit."
Fullerton baseball's five-year NCAA tournament drought was the longest in the program's history since its first postseason trip in 1975. Since the '75 season, the Titans had been to an NCAA regional 41 times, making 18 College World Series appearances, finishing as the runner-up in 1992 and winning it all 1979, 1984, 1995 and 2004.
The Titans' alumni base, which includes several players, coaches and managers in major league baseball, continues to boast that tradition. Some of Fullerton's big league alumni working just a few minutes' drive down the 57 Freeway in Anaheim include Angels manager Phil Nevin, pitching coach Matt Wise, catcher Chad Wallach and reliever Chris Devenski.
"Exciting to see them back in the postseason," Nevin said.
Nevin was the No. 1 overall pick in the 1992 amateur draft, a year in which he was also named most outstanding player of the '92 College World Series. "Jason Dietrich has done a great job of getting Fullerton back to relevance, which is nice. Where we should be. I'm looking forward to following during the regional," Nevin said.
As for what lies ahead, the Titans recognize their program's rich history and this year's team's abilities and will approach the playoffs one pitch at a time.
"We've gone to Omaha just as many times as all these big SEC schools," Connor said, referring to the site of the CWS. "In the regular season, we played all those big teams and we're ready to go against anybody.
"Everyone's 0-0 now, so the records don't really matter."

Cubs announcers rip Braves over 'absurd' play stoppage for Ronald Acuña Jr. after historic moment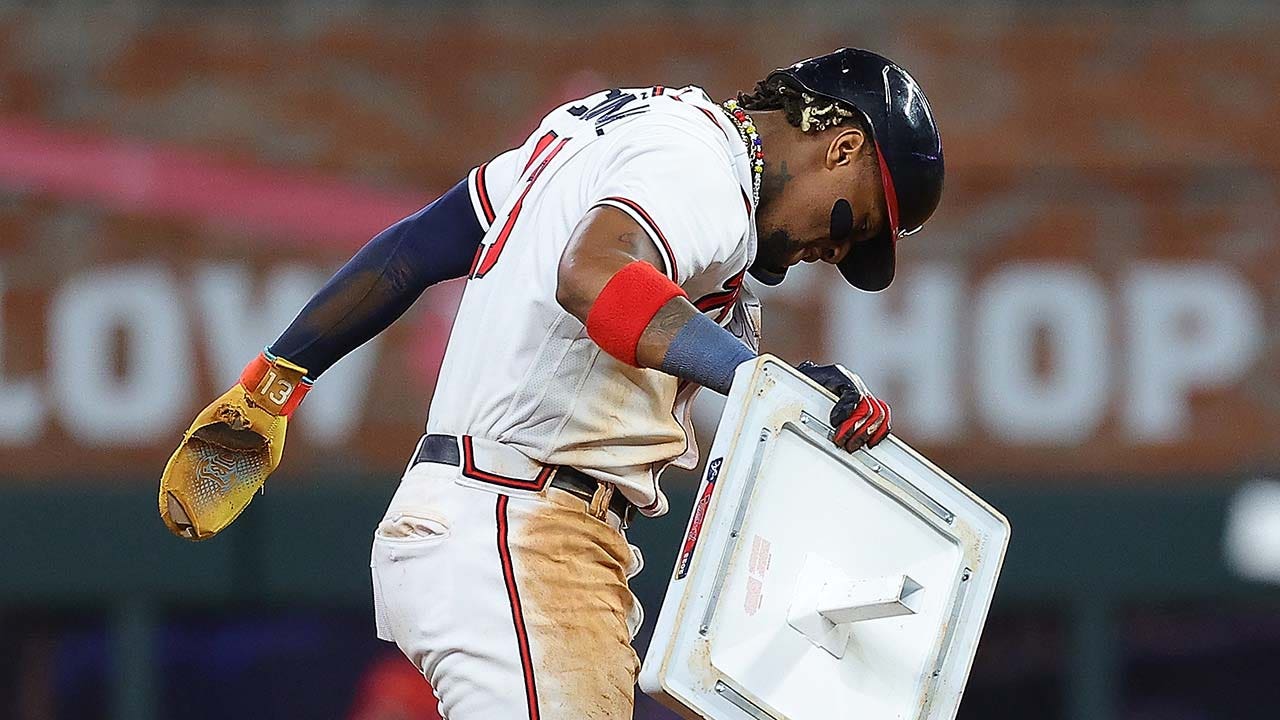 Atlanta Braves superstar Ronald Acuña Jr. continues to make history. 
In the 10th inning of Wednesday night's game against the Chicago Cubs, Acuña stole his 70th base of the season. Last week, the Braves outfielder hit his 40th home run of the season during a game against the Washington Nationals. 
Acuña became the first player in MLB history to enter the 40-70 club. 
Moments after he stole the base, Acuña grabbed the base pad from the dirt as Braves fans gave him a standing ovation. The Braves also played a short video montage on the outfield big screen. 
The Chicago Cubs' broadcasters took exception to the extended pause in the game. Announcers Jon "Boog" Sciambi and Jim Deshaies said the decision to stop the game and recognize Acuña's accomplishment was "absurd."
BRAVES' SPENCER STRIDER OFFERS SCORCHING HOT TAKE: 'GET RID OF THE FANS'
"We're really stopping the game to do a highlight montage?" Sciambi said during the Marquee Sports Network broadcast.
Deshaies then questioned the need to remove the base during the game.
"Can we get the base after the game? This is pretty absurd. I mean, it's a hell of an accomplishment, but …," Deshaies said. 
Sciambi reiterated his frustrations with the video montage. 
"Totally, but you can't stop the game to run a highlight montage," Sciambi said.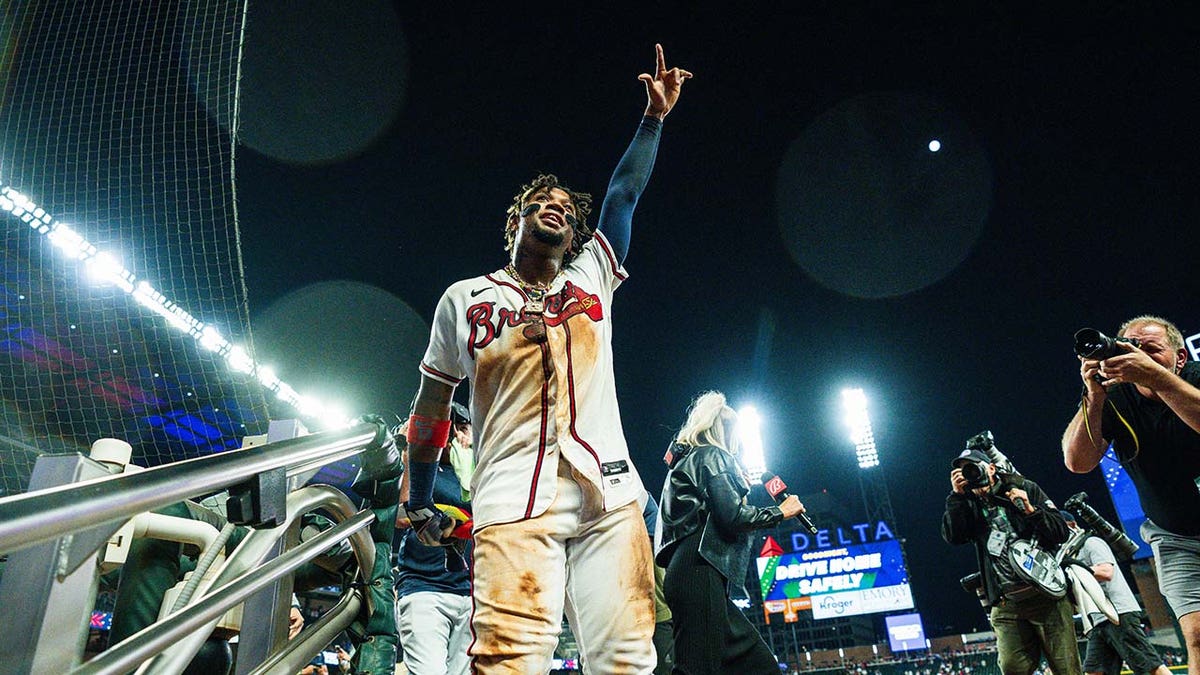 The Cubs are fighting for their postseason lives after missing the playoffs the last two seasons.
Shortly after Acuña made it safely to second base, All-Star second baseman Ozzie Albies hit a walk-off single to give the Braves a second straight one-run win over the Cubs. The loss dropped Chicago to 82-76, and the team is tied with the Marlins for third place in the NL wild-card standings.
"It's really an incredible moment," Acuña told reporters after the game through an interpreter.
Acuña has hit 41 home runs this year. Alex Rodriguez had been the only player with 40 home runs to steal more than 46 bases in the same season. In 1998, Rodriguez had 42 home runs, 124 RBIs and 46 steals.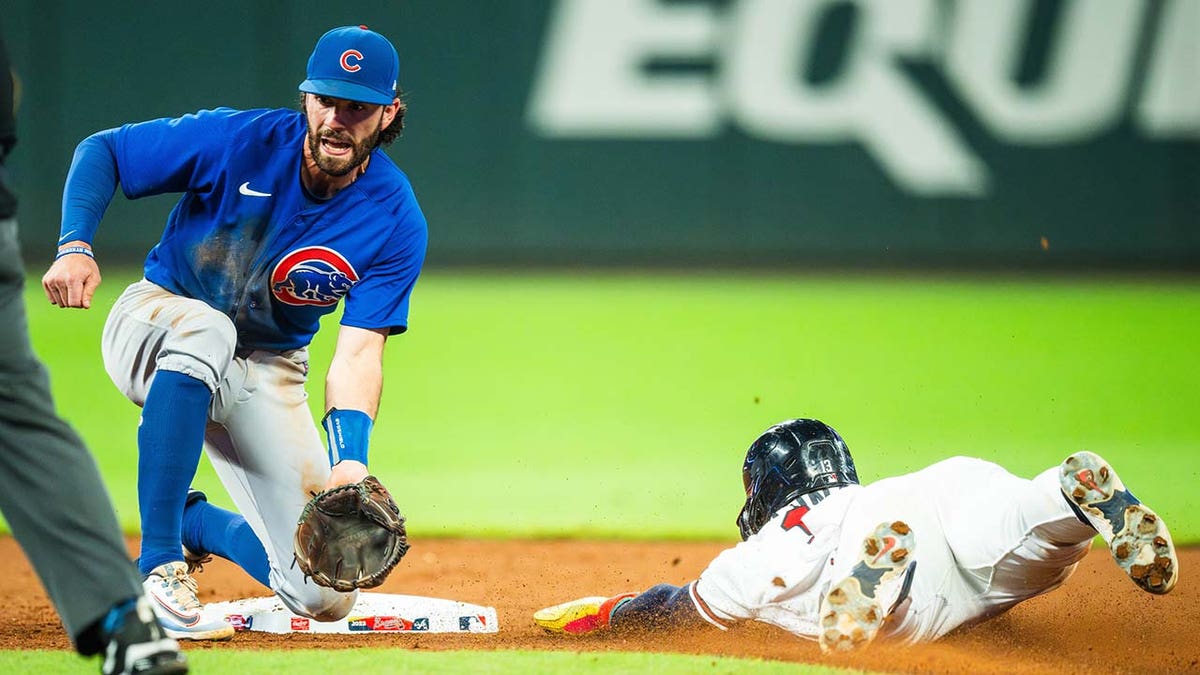 MLB added bigger bases this season to bring more base-running excitement to the game. 
Acuña and Los Angeles Dodgers star Mookie Betts are widely considered the front-runners for NL MVP.
Preakness winner heads stakes race fields as Santa Anita starts fall meet
Santa Anita opens its fall meeting Friday with higher than normal anticipation because it closes with the Breeders' Cup on Nov. 3-4. What that means is a mad dash to get in as many big races as possible in the first two weekends of its 19-day meeting. This gives the horses enough time to recover and run in the million-dollar races the first weekend of November that signal the unofficial end of the racing year.
Starting Friday there are nine stakes this weekend, including the Grade 1 $300,000 Awesome Again race that features Preakness Stakes winner National Treasure among a field of nine.
Next weekend there are six stakes over a three-day weekend that ends Monday with three races where the winners are automatically entered, all expenses paid, into a Breeders' Cup race. Of course, when you are racing at this year's Breeders Cup track, the expenses for the sanctioning group are a whole lot less.
Saturday's Awesome Again, also a win-and-your-in race for the Breeders' Cup, is the most intriguing of the weekend. It grew less interesting Wednesday when trainer Tim Yakteen decided not to enter Practical Move, winner of this year's Santa Anita Derby. The colt was all set to be one of the favorites in the Kentucky Derby but spiked a fever two days before the race and was scratched. He hasn't run since.
The entering of National Treasure was a mild surprise, but trainer Bob Baffert has been liking what he's seen of the 3-year-old colt since he returned to Santa Anita.
"I liked the way he breezed last week," Baffert said. "The Travers (finished fifth) was sort of a disaster. But I'm putting the blinkers back on. He just doesn't get into the race without it. You have to just draw a line through the Travers."
Horses are given blinkers near the outside to their eyes to help focus a horse's attention on what's in front of them and not what's going on around them. National Treasure won the Preakness with blinkers.
The Awesome Again is a 1 1/8-mile race, 1/16th of a mile shorter than the Preakness, which he won in front-running style under a masterful ride by John Velazquez. Juan Hernandez, who has been Baffert's main jockey of late with Velazquez riding at the Belmont at Aqueduct meeting, will get off Baffert's other horse, Defunded, to ride National Treasure.
The morning line disagrees with Hernandez's decision to move to the Preakness winner, making him the 4-1 third choice. Defunded is the 2-1 favorite.
Defunded is no slouch, having won this race last year. He was underwhelming in his last two races at Del Mar, a fourth in the San Diego Handicap as the odds-on favorite, and sixth in the Pacific Classic.
The 5-year-old gelding has been pretty good at Santa Anita, though, winning four of his six lifetime starts at the track. The other two races were a second and third.
"He always run his best races at Santa Anita," Baffert said. "He never looked comfortable at Del Mar. He's just a horse for the course down here. He's worked well here. We'll see if he runs his race."
Edwin Maldonado returns to ride Defunded, which he did last year when they won the Awesome Again. The 40-year-old Puerto Rico native finally is starting to get the better mounts as he keeps winning. Last year's win in the Awesome Again was his first Grade 1 win. On Saturday, he won his first $1 million race, the Grade 1 Cotillion at Parx near Philadelphia, riding Ceiling Crusher over a very sloppy track. The 3-year-old filly is based in Southern California for trainer Doug O'Neill.
The Awesome Again has a pretty good field, which includes Senor Buscador (5-1 odds), winner of the San Diego Handicap; Slow Down Andy (5-2), who always seems to be near the top in tough graded stakes; Skinner (8-1), who was getting a lot of buzz before scratching out of the Kentucky Derby the day before the race this year, and Stilleto Boy (6-1), winner of the Santa Anita Handicap but was eased and didn't finish in the Pacific Classic.
Another interesting set of matchups Saturday is in the six-furlong Grade 2 $200,000 Santa Anita Sprint Championship. Dr. Schivel, who lost the 2021 Breeders' Cup Sprint by a nose, won his last race at Santa Anita easily in May. He then finished fifth in the Met Mile at Belmont and third in the Bing Crosby at Del Mar. He is the 9-5 morning-line favorite.
The 5-year-old had to overcome a 10-month layoff after suffering some bone bruising when he ran in the Golden Shaheen in Dubai. His Santa Anita win was his comeback race.
Baffert has three contenders in the nine-horse field. Most notable among them is Arabian Lion (5-2), who recently won the Sir Barton Stakes at Pimlico and the Woody Stephens at Belmont. Baffert also has Fort Bragg (6-1), winner of the Pat Day Mile at Churchill Downs and the Dwyer at Belmont, and Speed Boat Beach (12-1), a bit of mystery in that his last three races were on the turf and his last race was in December, a win in the Cecil B. DeMille at Del Mar.
Hernandez will ride Dr. Schivel and Maldonado will handle Arabian Lion.
There are two other graded stakes Saturday, the Grade 2 $200,000 Eddie D Stakes, which is 6½ furlongs down the downhill turf course. The race is named for legendary jockey Eddie Delahoussaye. There is also the Grade 2 $200,000 City of Hope Stakes for horses going a mile on the turf.
Friday's opening day has the Grade 3 $100,000 Chillingworth Stakes for fillies and mares going 6½ furlongs on the dirt. Eda is the 4-5 morning-line favorite for the Baffert-Hernandez combination. She has won eight of 10 lifetime, despite a 13-month layoff from 2022 to this year.
Sunday's card has three graded stakes.
Travis Hunter, Henry Blackburn appear to bury hatchet after brutal hit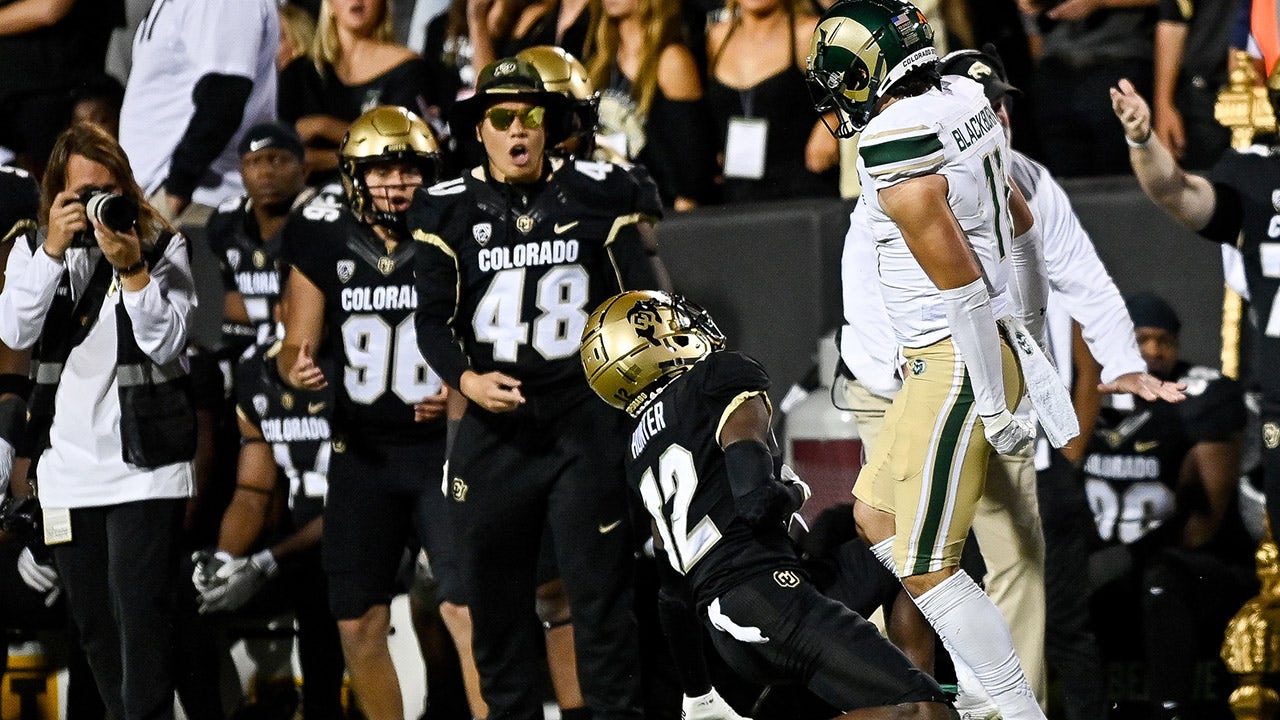 Colorado Buffaloes star Travis Hunter and Colorado State safety Henry Blackburn appeared to bury any animosity between them on Wednesday night.
Rams defensive lineman James Mitchell posted on his Instagram Stories showing Hunter and Blackburn shaking hands and meeting.
CLICK HERE FOR MORE SPORTS COVERAGE ON FOXBUSINESS.COM
"God has a bigger plan," Blackburn wrote on his Instagram Stories.
Blackburn and Hunter were caught up in controversy during their game this month. Blackburn nailed Hunter with a late hit after a pass meant for the two-way star flew over his head. He was later hospitalized – reportedly for a lacerated spleen.
"It's football at the end of the day. Stuff like that is going to happen," Hunter said in a Bleacher Report interview on the Monday after the game. "Just gotta get up and fight again. Good thing the doctors stopped me because if there was no doctors there I'd still be out there playing.
DEION SANDERS PRAISES HISTORY-MAKING FEMALE COLLEGE FOOTBALL PLAYER, CONCERNED FOR HER SAFETY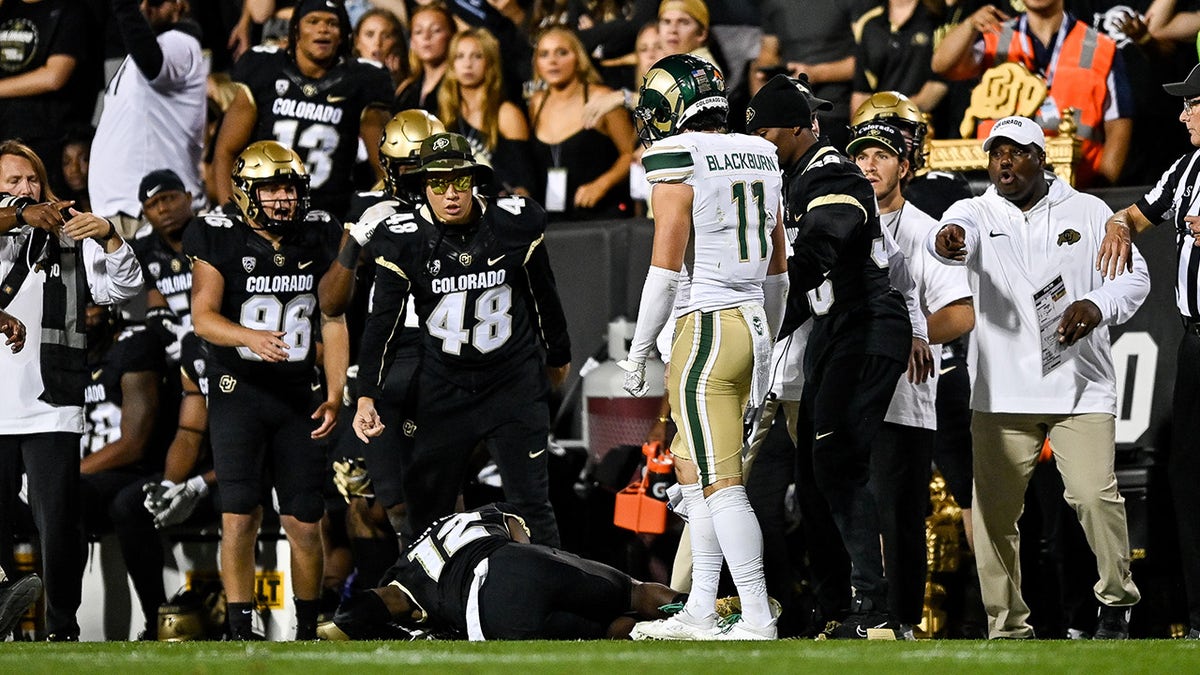 "But we're going to do what we've got do to take care of him," Sanders said. "So, I know Travis like a book, he probably is going to want to be out for two weeks, but we've got to make sure his health is more important than this game."
Blackburn reportedly received death threats over the hit.
Colorado coach Deion Sanders condemned the vitriol.
"Henry Blackburn is a good player who played a phenomenal game," Sanders said. "He made a tremendous hit on Travis on the sideline. You can call it dirty, you can call it 'he was just playing the game of football.'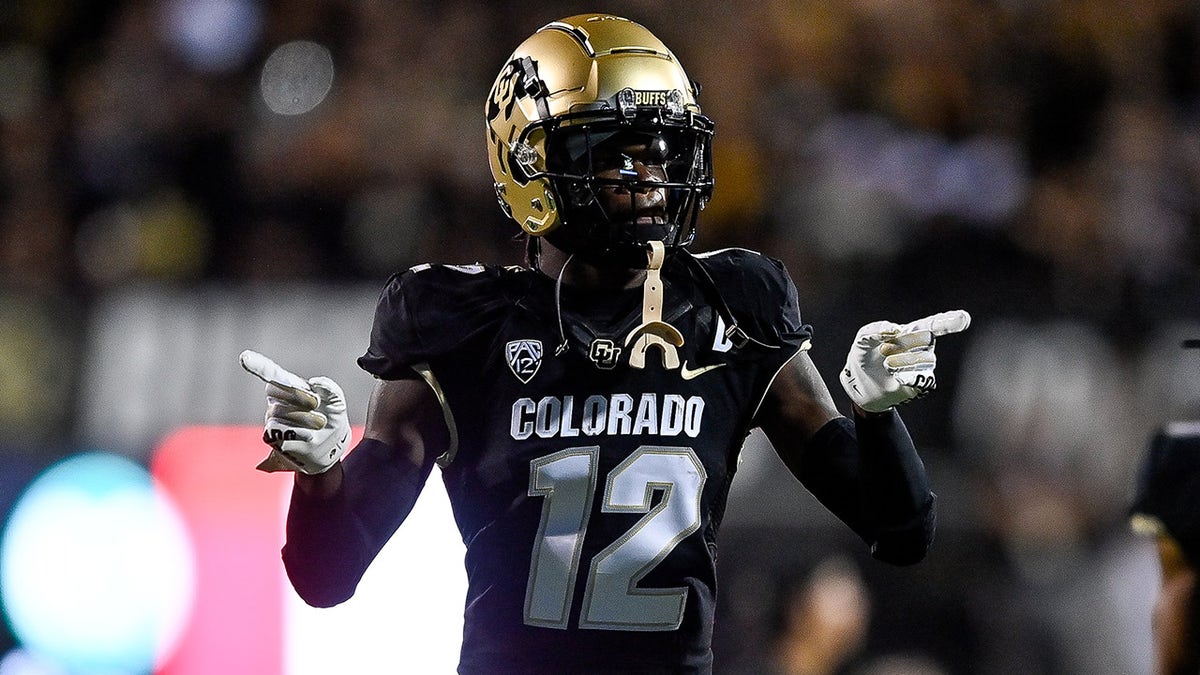 "But whatever it was, it does not constitute that he should be receiving death threats. This is still a young man trying to make it in life. A guy that is trying to live his dream and hopefully graduate with honors or a degree, committed to excellence and go to the NFL. He does not deserve a death threat over a game."
Fox News' Joe Morgan contributed to this report.