Pride month: Local governments host Drag Queen Story Hour events across country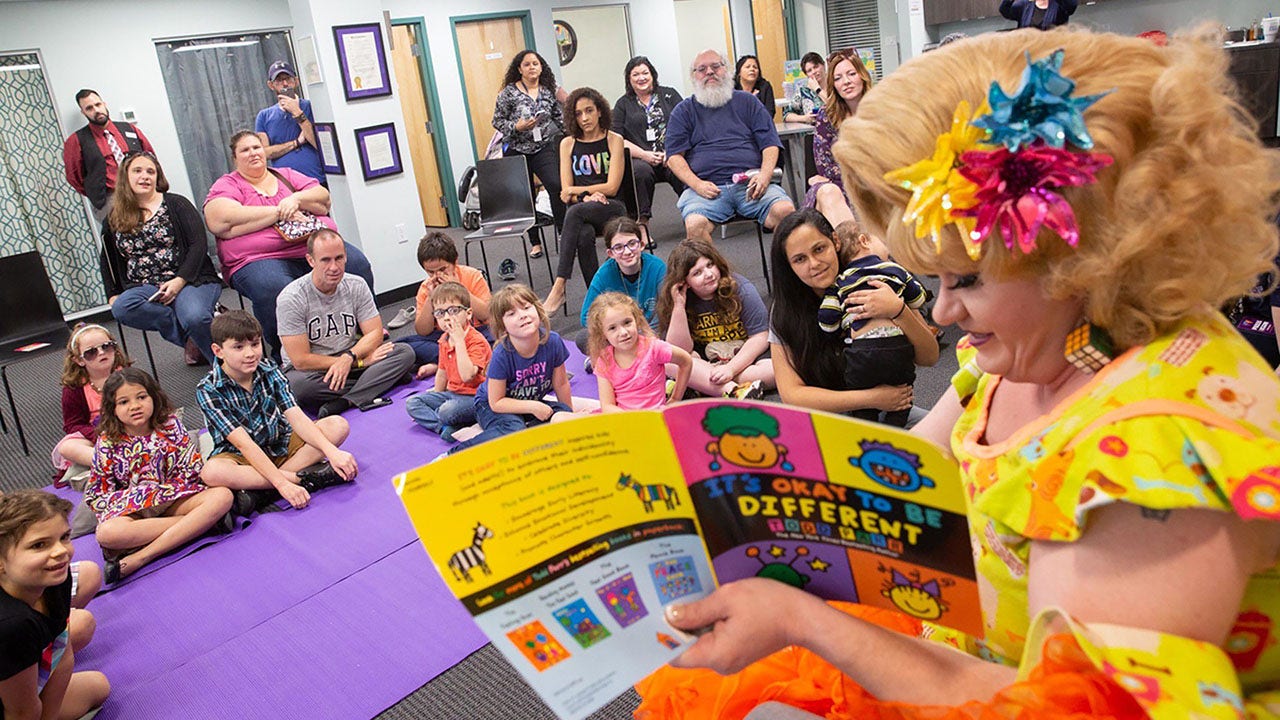 Dozens of taxpayer-funded libraries and other government agencies across the country are hosting drag queen storytime for children as young as 3 as LGBTQ Pride Month kicked off the month of June.
The DC Public Library is co-hosting a Drag Storytime with performer IttyBitty in Adams Morgan, where "children of all ages" are invited to learn about "diversity, self-love and an appreciation of others."
At the Berkeley Public Library in California, kids are invited to gather in the children's room for a "fun game of Lotería," similar to Bingo, with "drag queen and educator" Bella Aldama.
Children of "all ages" are invited to Drag Story Hour at the West Hollywood branch of the LA County Public Library, which is produced by Pickle the Drag Queen.
BELK SELLING TRANSGENDER PRIDE SHIRTS FOR TODDLERS: 'SO HAPPY TO BE ME'
The Oakland Public Library is hosting a drag queen storytime with "local Latinx non-binary storyteller Per Sia."
The Petaluma, Rincon Valley, Windsor and Central Santa Rosa public libraries in Sonoma County, California, are hosting drag story hours for infants through 6th grade.
"Books, Prizes & Events!" the event description reads. "Meet drag king Vera, who will read children's books and engage in other fun learning activities."
At the Lafayette Public Library in Colorado, children of "all ages" are invited to attend a storytime with entertainer Shirley Delta Blow.
"Come dressed in your finest!" the event description states. "Drag Queen Storytime captures the imagination and gender fluidity of childhood play and shows children that people come in all shapes, sizes, and forms!"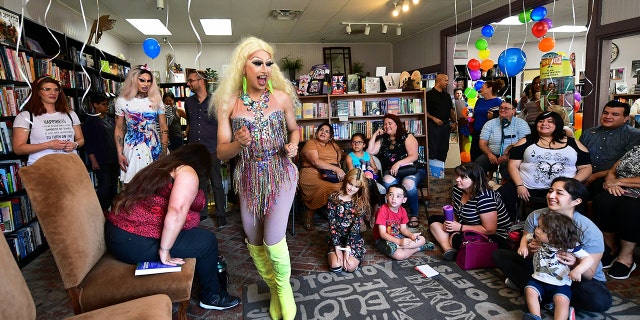 DRAG QUEEN STRADDLES GIRL AT NORTH CAROLINA PUBLIC SCHOOL, VIDEO SHOWS
At the Denver Public Library, kids as young as 5 have their pick of at least three different drag queen events at different branches, including a storytime, karaoke and Bingo with Delta Blow.
The Rowley, Haverhill, Amesbury and Wilmington public libraries in Massachusetts are co-hosting a virtual event called, "Dishing Out Drag," so that kids as young as 13 can "experience the world of drag through the eyes of popular New England Drag Queen Giganta Smalls."
The Brookline Public Library, also in Massachusetts, is hosting a drag queen story hour to promote "self-love, creativity, and literacy" for "kids ages 3-8."
The New York Public Library is holding a Drag Story Hour twice this month at the Riverside branch for children ages 3 to 12.
"Drag Story Hour is a storytelling program designed for children," the event description reads. "A local drag artist will read picture books, sing songs, and lead other age-appropriate activities."
In Connecticut, the Chappaqua Library is hosting a drag queen storytime "geared to children 3-6."
"Come meet the fabulous Angel Elektra, Drag Queen Extraordinaire, for a fun filled storytime with books and songs!" the event description reads.
The Tigard Public Library in Oregon is hosting a drag queen storytime for kids with Miss Poison Waters.
The Hoboken Public Library in New Jersey is hosting a drag queen story hour with Harmonica Sunbeam in Church Square Park, where Mayor Ravi Bhalla is also expected to participate.
Local governments are also holding all-ages Pride events that include public drag queen performances.
In Mansfield, Connecticut, all ages are invited to a drag queen story hour in Betsy Paterson Square as part of the town's Pride Month celebration.
In Fairfax, Virginia, all ages are invited to its Pride event at Old Town Hall, which will include a "dance party featuring several drag queen performances throughout the evening."
The Slover public library in Norfolk, Virginia, is hosting a Bingo pride event encouraging children of all ages to join for "an hour of fabulous BINGO fun with local drag queen legends Jennifer Warner and Sabrina Laurence."
The parks department in Montgomery County, Maryland, is hosting a virtual drag queen story hours for kids with performer D'Manda Martini.
Drag queens are even scheduled to appear at public elementary schools this month.
"Popular Seattle drag queen, Aleksa Manila will be stopping by Whittier to spend an evening with us to read stories and have some fun!" reads an event description on the Whittier Elementary School PTA website in Seattle.
"Drag Queen story time is all about love, acceptance, inclusion and gives kids glamorous, positive, and unabashedly queer role models!" it says. "During story times like this one, kids will be able to see people who defy rigid gender restrictions and imagine a world where everyone can be their authentic selves!" 
Last month, Montana became the first state to specifically ban people dressed in drag from reading books to children at public schools and libraries, part of a host of legislation aimed at the rights the LGBTQ+ community in Montana and other states.
Bills in Florida and Tennessee also appear to try to ban drag reading events, but both require the performances to be sexual in nature, which could be up for interpretation. Both bills also face legal challenges.
Montana's law is unique because — while it defines such an event as one hosted by a drag king or drag queen who reads children's books to minor children — it does not require a sexual element to be banned.
The bill, which was co-sponsored by more than half of the Republican-controlled legislature, took immediate effect after Republican Gov. Greg Gianforte signed it on Monday.
Gianforte signed the bill because he "believes it's wildly inappropriate for little kids, especially preschoolers and kids in elementary school, to be exposed to sexualized content," spokesperson Kaitlin Price said in a statement.
Drag performers who opposed the legislation said they have separate drag performances for children compared to those intended for adults.
The Associated Press contributed to this report.

Likely GOP primary voters share who had best Republican debate performance: Poll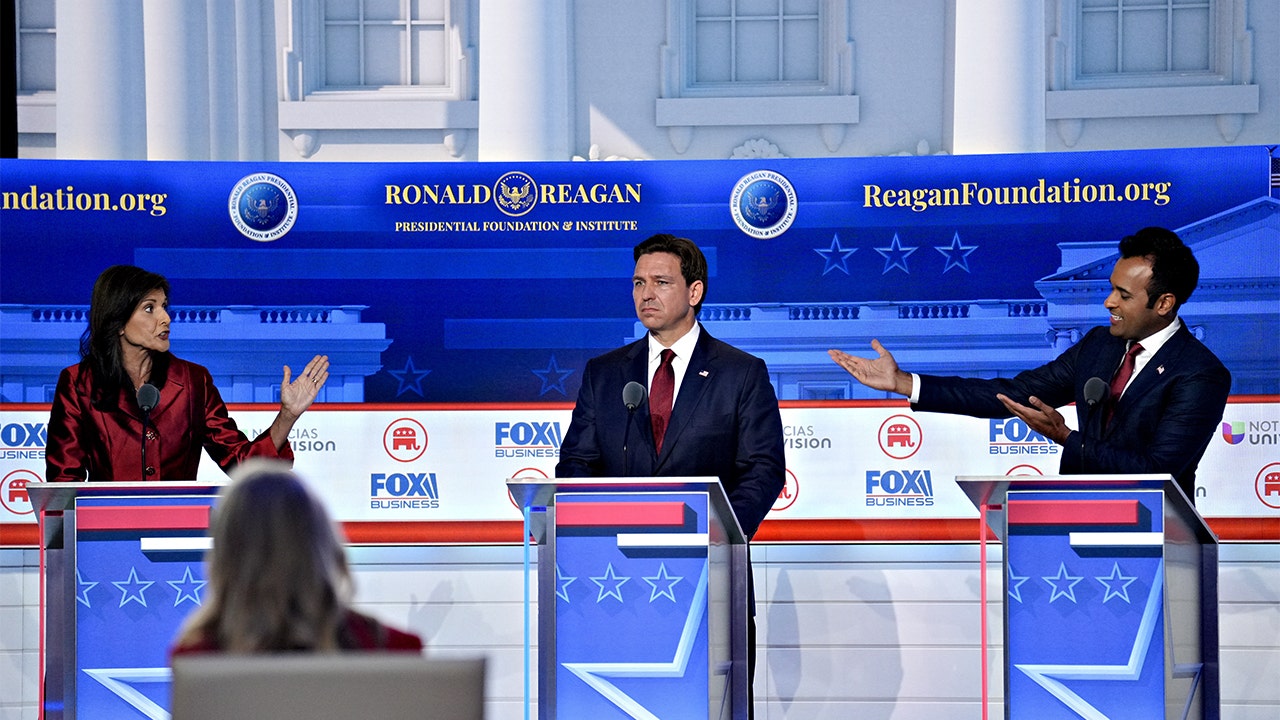 Likely Republican voters think Florida Gov. Ron DeSantis had the best performance in the second Republican debate, according to a new poll.
The poll was conducted by 538/Washington Post/Ispos and asked 2,262 likely voters in the Republican primary to grade each candidate's performance during the debate, which was hosted on Wednesday night by FOX Business in Simi Valley, California.
Prior to the debate, pollsters asked likely GOP primary voters how they thought each candidate would perform. Overall, voters thought Vivek Ramaswamy would finish ahead of the rest, closely followed by DeSantis, former South Carolina Gov. Nikki Haley and Sen. Tim Scott, R-S.C.
When polled following the debate, 33% of respondents thought DeSantis performed the best during the debate, followed by Haley at 18% and Ramaswamy at 15%.
WATCH THE FULL SECOND REPUBLICAN PRIMARY DEBATE
24% of people polled thought former New Jersey Gov. Chris Christie performed the worst and 20% thought the same of former Vice President Mike Pence. 11% of voters thought North Dakota Gov. Doug Burgum performed the worst, and 10% thought the same of Ramaswamy.
However, support among the field was largely unchanged after the debate.
Support for DeSantis increased from 51.0% to 51.9%, Haley's went from 34.0% to 36.4%, and Scott's went from 24.7% to 26.5%. In the poll, support for candidates is based on the percentage of polled voters considering voting for each individual.
DESANTIS SUGGESTS ONE-ON-ONE DEBATE WITH TRUMP: 'YOU OWE IT TO THE VOTERS'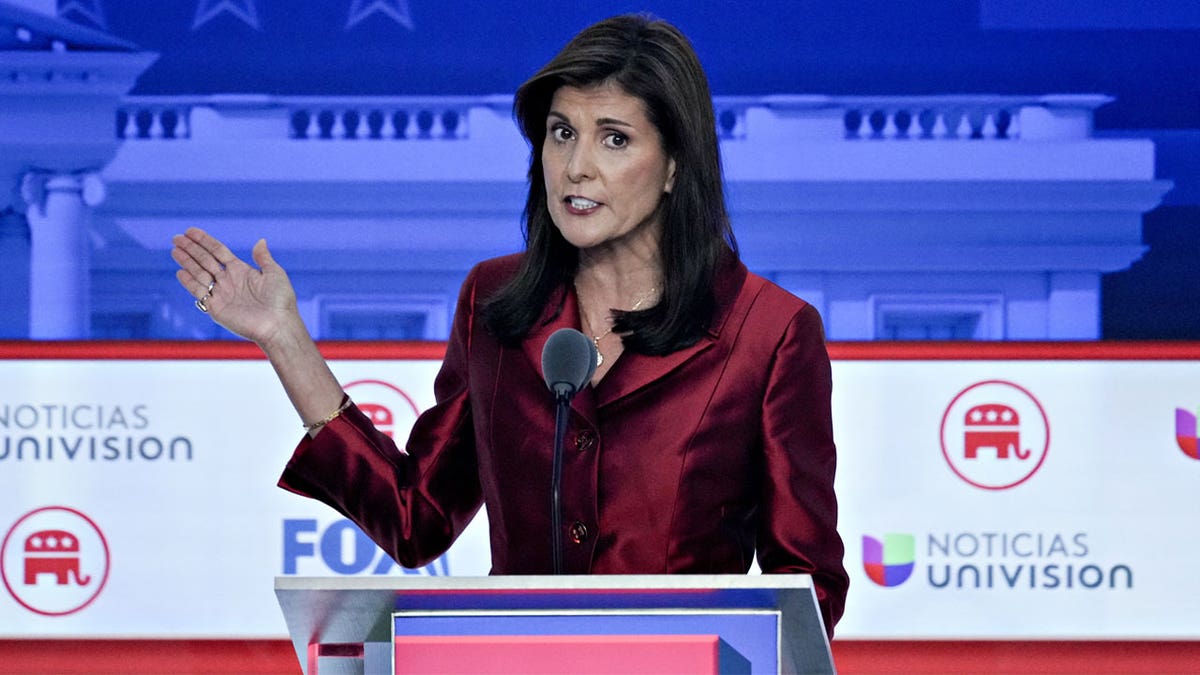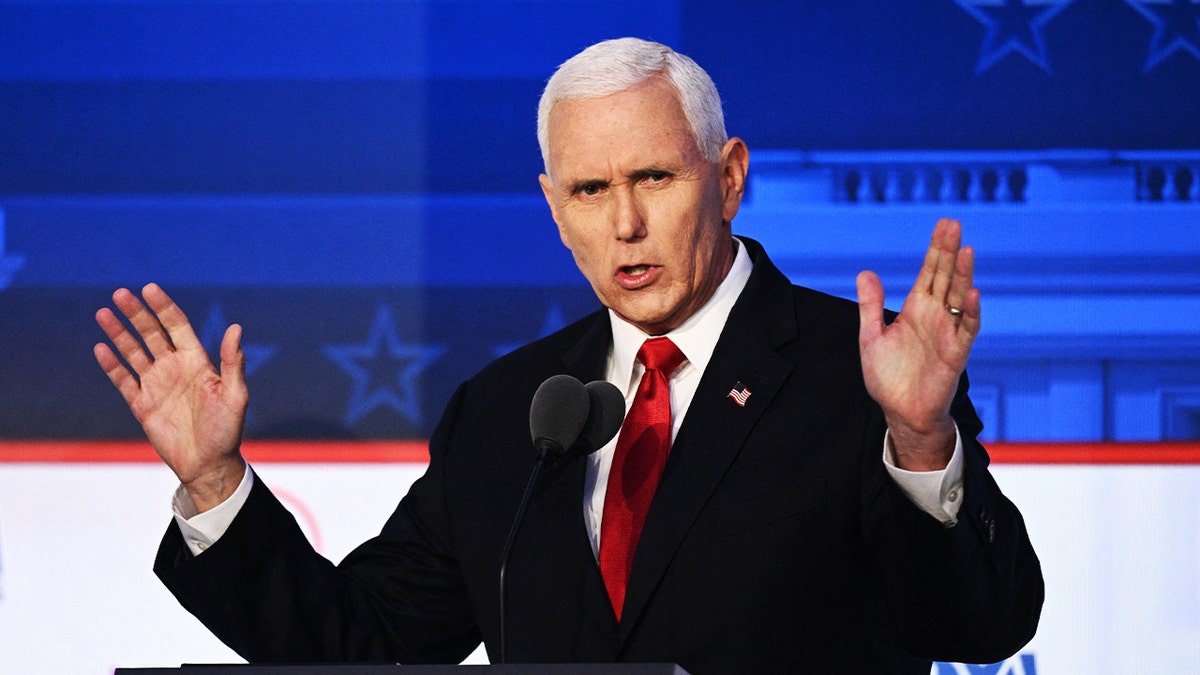 Ramaswamy slightly lost support, going from 27.2% to 28.1% as well as Pence, going from 23.4% to 24.2%.
Support for Former President Donald Trump went from 63.8% to 63.9%.
The poll also asked likely Republican primary voters what issues are most important in determining their primary vote, given the option to select up to 20 issues.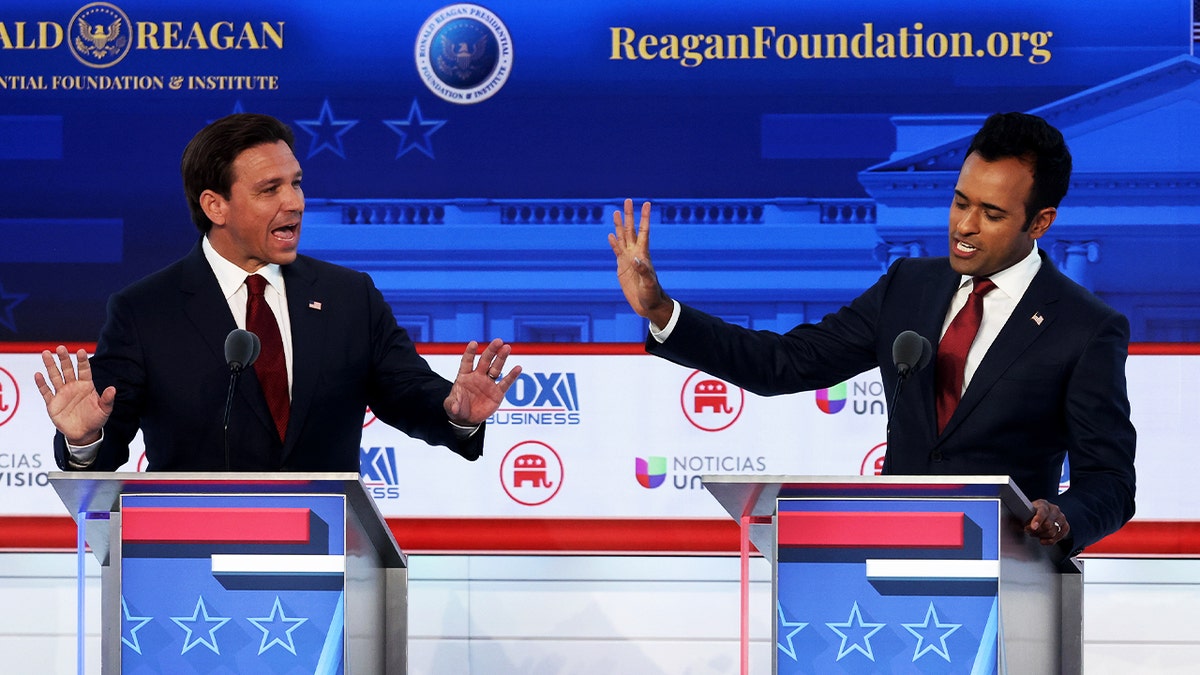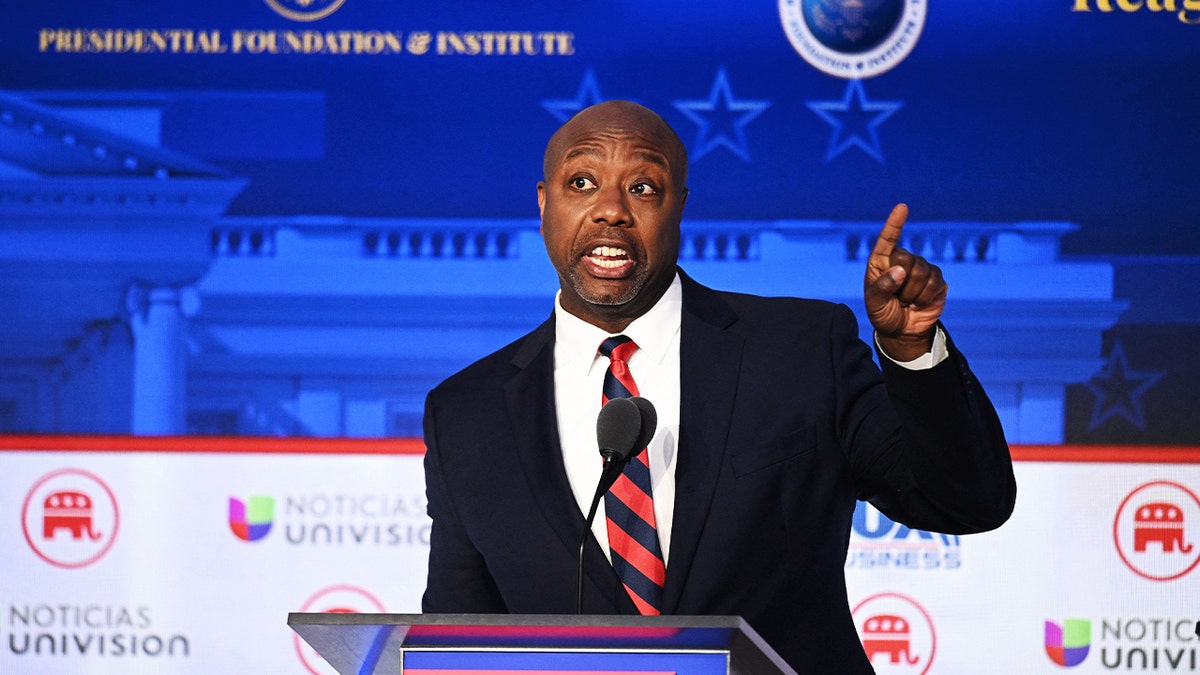 "Getting inflation or increased costs under control" was considered the most important issue to 55% of voters, "Controlling immigration" was considered a priority for 40% of voters, and "Ability to beat Joe Biden" was a priority for 24% of voters.
GOP candidates outlined sweeping anti-trans agenda at presidential debate
Two Republican presidential candidates, former Vice President Mike Pence and businessman Vivek Ramaswamy, vowed at Wednesday night's debate in Simi Valley to ban gender-affirming care — and not just for trans kids, but also for adults.
None of the other five Republicans onstage criticized Pence and Ramaswamy's proposals, which would amount to a major federal intervention in American adults' ability to work with their doctors to decide what medical treatments are appropriate for themselves and their children.
The two candidates' rhetoric is an indication of how far the Republican Party's consensus on trans rights has moved in recent years. After the Supreme Court legalized same-sex marriage in 2015, much of the national conversation around LGBTQ+ rights shifted to focus on transgender rights.
In 2016, a debate took shape over the so-called "bathroom bill" in North Carolina, which required transgender people to use public bathrooms that matched the sex assigned to them at birth. The law was eventually repealed after widespread backlash.
But since then, social conservatives have whipped up outrage and concern about gender-affirming care for trans kids. In a 2021 Fox News poll, 62% of Republicans said they saw "overly accommodating" transgender policies in schools as a major problem.
When the same question was posed to voters in April, that number had climbed to 71% of Republicans — even as only 2% of Republicans identified "wokeness/transgender issues" as the most important issue facing the country. Less than 1% of Americans identify as transgender.
In the years since the repeal of the bathroom bill, North Carolina and 21 other states have banned gender-affirming care for kids, according to Human Rights Watch — and some states, such as Oklahoma, Texas and South Carolina, have considered banning it for transgender adults. Many of the laws are entangled in legal battles.
The discussion at Wednesday night's debate was triggered by a question that moderator and FOX News host Dana Perino posed to Ramaswamy about whether parents should be notified if their kids change their gender identity at school.
"Students … have the ability to change their identity without parental notification," Perino said, noting that fellow candidate Chris Christie, former governor of New Jersey, had vowed to pass a law "protecting parental rights."
"Would you do the same?" she asked.
But rather than responding to the question, Ramaswamy took aim at transgender rights more broadly.
"I have to be very clear about this: transgenderism, especially in kids, is a mental health disorder," he said, adding, "Parents have the right to know."
"It is not compassionate to affirm a kid's confusion. That is not compassion; that is cruelty," Ramaswamy said, sharing an anecdote of two people who regretted getting double mastectomies and a hysterectomy. If he becomes president, he said, he will "ban genital mutilation or chemical castration."
Although some transgender people opt for gender-affirming medical care, many never use medication or surgery to transition. Studies have shown that few choose to detransition, or reverse the process and go back to the sex they were assigned at birth.
Former Vice President Mike Pence doubled down on Ramaswamy's proposal.
"We're going to pass a federal ban on transgender chemical or surgical surgery anywhere in the country," Pence said. "We've got to protect our kids from this radical gender ideology agenda."
Ramaswamy's and Pence's statements indicate they'd go further than former President Trump.
The frontrunner in GOP polls has said he would ban facilities that provide gender-affirming care from receiving federal funding. But since most hospitals and major medical centers depend at least in part on funds from Medicare, Medicaid or federal health and science agencies, Trump's proposal would likely dramatically reduce access to gender-affirming care nationwide.
An April poll by NBC indicated that 79% of Republicans think the nation has "gone too far" in accepting transgender people, compared with 19% of Democrats and 50% of independent voters. In a similar poll by the Pew Research Center, 66% of Republicans said the country has has gone too far in accepting transgender people, while roughly 6 in 10 Democrats said society hasn't gone far enough.
"No one should have their very right to exist debated on a national stage," Ash Orr, National Center for Transgender Equality spokesperson, said in a statement Thursday. "What we saw last night was a group of extremist politicians repeating the same tired rhetoric about transgender people, unsupported by actual facts."
"The truth is that transgender youth know who they are and deserve to be accepted, loved, and supported," Orr added. "Research shows that the onslaught of rhetoric against our community is directly harming the physical, mental, and emotional wellbeing of our community."
Orr said that political leaders should instead focus on other issues facing youth, such as underfunding of education, lack of teacher support and school shootings.
In California, several school districts have said they will notify parents if their child starts identifying differently than the gender they were assigned at birth.
In July, Chino Valley Unified School District in San Bernardino County became the first district in the state to adopt a parental notification policy, followed quickly by Murrieta Valley Unified, Temecula Valley Unified, Rocklin Unified, Anderson Union High School District and Orange Unified.
Last week, Democratic Gov. Gavin Newsom vetoed a bill that would have asked judges in custody hearings to consider a parent's support for their child's gender identity.
Video: Biden Says MAGA Movement Rejects Basic Beliefs of Democracy
new video loaded: Biden Says MAGA Movement Rejects Basic Beliefs of Democracy
transcript
Biden Says MAGA Movement Rejects Basic Beliefs of Democracy
President Biden delivered a blistering and direct attack on former President Donald J. Trump during a visit to Arizona.
There's something dangerous happening in America now. There's an extremist movement that does not share the basic beliefs in our democracy — the MAGA movement. Not every Republican, not even a majority of Republicans adhere to the MAGA extremist ideology. I know because I've been able to work with Republicans my whole career. But there's no question that today's Republican Party is driven and intimidated by MAGA Republican extremists. Their extreme agenda, if carried out, would fundamentally alter the institutions of American democracy as we know it. My friends, they're not hiding their attacks. They're openly promoting them. Attacking the free press as the enemy of the people. Attacking the rule of law as an impediment. Fomenting voter suppression and election subversion. Did you ever think we'd be having debates at your stage of your careers where banning books, banning books and burying history. Extremists in Congress more determined to shut down the government, to burn the place down than to let the people's business be done.
Recent episodes in U.S. & Politics