How to have the best Sunday in L.A., according to MC Lyte
The thing that first brought MC Lyte to Los Angeles? New York's historic Blizzard of 1996.
"I always said I wasn't going to do another winter in New York, but then when that snowstorm happened I was like, 'Oh my God. I gotta get out of here,'" the Brooklyn native recalls.
In Sunday Funday, L.A. people give us a play-by-play of their ideal Sunday around town. Find ideas and inspiration on where to go, what to eat and how to enjoy life on the weekends.
The hip-hop legend — the first Grammy-nominated female rapper — also had her sights set on pursuing an acting and voice-over career in Hollywood. She's since hosted several awards shows and starred in TV shows and films like "Girls Trip," "S.W.A.T." and "New York Undercover."
She still visits her beloved hometown on a regular basis, but says "L.A. to me is an easier way of life and it also allows me to be a little bit more introspective" and enjoy the outdoors.
This year has been a particularly celebratory — and busy — one for MC Lyte as she's been celebrating the 50th anniversary of hip-hop music. In August, MC Lyte was featured in the Netflix series "Ladies First: A Story of Women in Hip-Hop," on which she is also an executive producer. The four-part documentary, which was produced by Culture House Media, explores the often overlooked role that women have, and still play, in the genre.
"What it means to me is everything because I'm always trying to a shine the light on newcomers as well as those who have been around for a long time," says MC Lyte, who also celebrated the 35th birthday of her debut album, "Lyte as a Rock," this year.
On the Sundays when MC Lyte hasn't been traveling all weekend, she likes to pick up a cortado from one of her favorite coffee shops, go on a bike ride and listen to reggae music at the beach. Here, she takes us along on her perfect Sunday in L.A.
This interview has been lightly edited and condensed for length and clarity.
7 a.m.: Rise early and pick up a cortado
On the perfect Sunday, I'm probably waking up at 7 a.m. I like to get out before the sun really makes its move because it reminds me of home. I love the feeling of being out before everyone else is or being up at least. I'd visit a coffee shop called Games N Grounds, which I really love. It's also a game store, so you can play all different types of games. They sell board games and all sorts of card games, and things of that nature. I love the community feel of that place, so I usually go there, get a cortado or a latte if I'm feeling really frisky with the extra milk. I'd probably take my drink to go and go for a drive.
9 a.m.: Hop on a bike at the beach and explore, then get tacos
I'd drive to Santa Monica beach and rent a bike, then go past Venice to Marina Del Rey. There's a cute little Mexican spot there called Cabo Cantina that I like to get tacos and chill out there for a minute. I also like to get chips and fresh guacamole. I love the chicken and steak fajita. I'm a combo fajita girl with corn tortillas — I try to stick with if I can and then maybe a margarita. I'm a great people watcher when people are not watching me [laughs].
2 p.m.: Post up at the beach and listen to reggae
Then I'd probably get on my bike and go through a couple of streets and look at the homes because I love architecture and design. Then I may call up a friend. It depends on whether I feel like talking or listening, and if I'm not in that mood, I'll just take a seat right there on the beach or on a bench and watch the sun go down.
If it's my perfect Sunday though and it's an imaginary world, I would put a reggae band down there at the beach. Reggae music definitely takes me back home to being much younger and surrounded by so much culture. It also reminds me of just being on an island, which is always relaxing to me. It was probably one of the first genres that I became acquainted with outside of my home. You know you spend all these years being influenced by the music that your parents listened to or your older family listens to, and then finally, you get to break out and say "I like this. I want to listen to this" and that was reggae for me. So it represents independence. It represents a flow, laid back, easiness [and] laying all your cares down.
6 p.m.: Dinner at Cafe Gratitude
With a ride like that, I'd probably end it off with some more food. If I'm down in that Venice/Marina Del Rey area, I might go to Cafe Gratitude in Venice. They have so many good things on the menu. The cauliflower there, I really, really love and they have so many bowls that I get into. I like the "I Am Loving" bowl.
7 p.m. Relax at Rafi Lounge (and return rental bike)
After that, I might visit my friend Rafi's place — it's called Rafi Lounge. It's on PCH, across from Nobu and the Soho House. It's just a really chill place to be. Great vibe. Usually they have some type of programming, whether it's a band or meditation. It's something easy so that I don't really have to jump into the Sunday traffic to get back home.
8:30 p.m. Drive home to some oldies and take a bubble bath
I have a lot approaching on Monday, so I'd probably ride back home to some Isley [Brothers] — the best of — or Earth, Wind and Fire, something that kind of connects me to home, family and safety. Then maybe take a bubble bath and get into bed. On an ideal Sunday, I'd like to be in bed by 9:30 p.m.

'Anselm' documentary is a thrilling portrait of an artist at work
Every now and then you come across an artist — Aretha Franklin, say, or Marlon Brando — who radiate such raw, undeniable force that they feel as immense as the Amazon. One of them is the painter and sculptor Anselm Kiefer. The first time I saw his work in person, its sheer power all but knocked me back against the far wall.
Kiefer is the subject of Anselm, a new movie by Wim Wenders, a filmmaker who's almost his exact contemporary: They were born a few months apart in the war-ravaged Germany of 1945. Because Wenders is himself a figure of considerable gifts — he's won the top prize at Cannes, Venice and Berlin — this documentary is not a traditional "great artist" doc.
Shot in an astonishingly vivid 6K 3D — which captures art with dazzling clarity — Anselm offers both a thrilling portrait of the artist at work and, with the aid of terrific archival footage, lets us see what infuses his work with such intensity.
The movie begins with a long, gorgeous sequence at La Ribaute, Kiefer's studio/art installation in the southern French town of Barjac. Wenders' camera moves through, around and above mysterious white plaster statues of what appear to be brides — the heads are made of metal or vegetation — that are set out among trees and strangely formed buildings. Just as you fear that Wenders may be indulging his sweet tooth for beautiful imagery, the film begins exploring what gives Kiefer's art its wallop.
Kiefer was born into a country buried beneath post-World War II rubble, fostering a lifelong awareness of destruction. This helps explain why his paintings so often include actual burnt vegetation, shards of metal, hunks of earth, fragments of clothing.
In fascinating scenes, Wenders shows how the cocky, black-clad, elegantly grizzled 78-year-old artist creates his trademark effects — be it charring straw with flame throwers like the hero in a Tarantino movie or fastidiously pouring molten metal onto canvases with an elaborate contraption operated by an assistant.
Yet if Kiefer was shaped by ruin, even more decisive was his country's wilful amnesia. He grew up grasping that Germany and its artists weren't confronting the national past that led to World War II and the mass murder of the Holocaust.
Starting in the 1960s, Kiefer set about rectifying that failure, from his early photos in which he sardonically shot himself doing the Nazi salute in various European countries, to paintings that deconstruct mythic German heroes, to his staggeringly strong visions of what feel like the interior rooms of the death camps.
At once abstract and concrete, his work is all about remembering — and re-examining — a German tradition filled with pro-Nazi geniuses like Martin Heidegger and heroic witnesses like Paul Celan, whose Holocaust poem "Death Fugue" Kiefer takes as a touchstone.
This didn't exactly endear him to other Germans, who didn't like the way he was dredging up the past.
Now, Wenders has made many acclaimed fiction features — most famously Paris, Texas and Wings of Desire — yet he's also been a generous celebrant of those he admires. He's made documentaries about everyone from the aging Cuban musicians of the Buena Vista Social Club to choreographer Pina Bausch and Pope Francis. His appreciation of Kiefer feels especially personal. Wenders knows that Kiefer's work has tackled head-on subjects that he himself has ignored or only approached at very oblique angles.
Focusing on the artist, not the man, the film makes us feel Kiefer's art in all its beauty, bleakness and moral weight. Wenders doesn't get into stuff like Kiefer's marriages or discuss how, thanks to the craziness of the art market, his net worth is estimated at more than $100 million dollars and he can afford to buy tracts of land to build and display his art. He does occasionally dramatize moments from Kiefer's life and these re-creations are the film's one flaw. Not a calamitous one, but hokey and unnecessary.
What has always made Kiefer's art necessary is his sure instinct for what's essential. In what he calls his "protest against forgetting" of Germany's dark history, he got in early on the themes that people continue to explore in films like the upcoming The Zone of Interest, about a family who live happily outside the barbed wire fences of Auschwitz. If you know Kiefer's work, Wenders will show you his artistry in a way you've never before seen it, and if you don't know it, Anselm will make it clear why you should.
Selfie-Taking Tourists End Up Soaked in Venice Canal
It's another entry in the tourists behaving badly file, this time out of Venice. The Guardian reports a group ended up toppling into "a murky, cold canal" after they apparently refused their gondolier's requests that they sit down in the gondola and stop taking selfies. While directing their boat under a bridge near St. Mark's Square—a "tricky mane…
CosMc's lands in Illinois, as McDonald's tests its new coffee-centered concept
McDonald's/Screenshot by NPR
If you were alive in the 1980s, and you're nostalgic for one of the least well-known McDonald's mascot characters, the hamburger chain's new restaurant concept is calling your name: CosMc's. The company says it first "test site" is opening in Illinois this month, serving up coffee, frappes and quick bites.
In McDonald's lore, CosMc (it's pronounced like "cosmic") was a six-handed alien known for getting grabby with burgers, which he wanted to take back to his home world after visiting Earth for a "trade mission."
In its new iteration, the beverage-first McDonald's spinoff seems to be a grab at markets currently served by the likes of Starbucks and Dunkin' Donuts. The menu highlights coffee and energy boosters, and it includes at least 15 syrup flavors, from caramel to prickly pear.
"Think of it as an out-of-this-world solution for the 3 p.m. slump," the company said on Wednesday, describing the CosMc's launch in an update to investors.
The store will also sell "McPops," which are essentially donut holes filled with cookie butter, hazelnut or other flavors. The sweets have been attracting fans after seemingly originating at McDonald's operations in Spain. There's just a handful of sandwiches, centering on eggs and sausage, avocados and cheese. There isn't a hamburger in sight.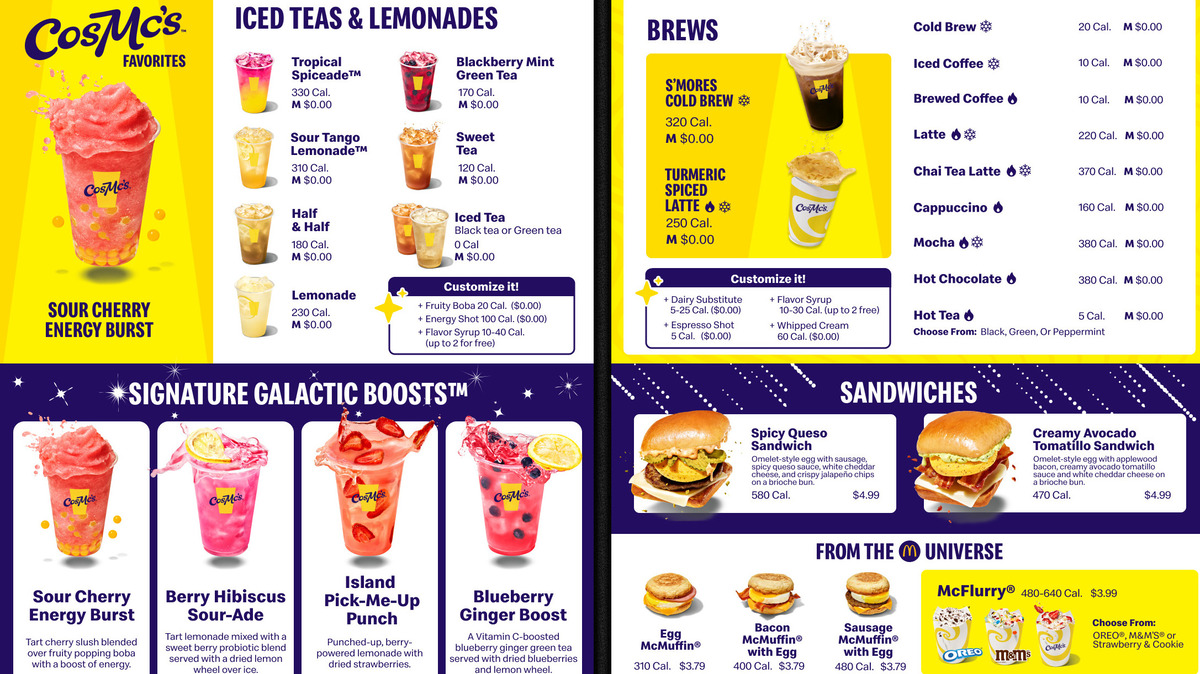 The fast-food giant says its core business is thriving, with growth of more than 30% since 2019. It wants to open thousands more stores worldwide. But the company also announced layoffs earlier this year. With its current move, McDonald's says it's looking for chances to experiment — and thus, CosMc's.
"To think … a little over a year ago, this was just an idea. This week, we're opening the first test site," Chris Kempczinski, the company's president and CEO, told investors on Wednesday.
While the concept seems to have come together quickly, the restaurant company also developed an elaborate backstory for CosMc. In the company's telling, the alien whisked food from McDonald's to a faraway galaxy. There, new innovations emerged — and now, more than 30 years later, CosMc has returned to share "galactic boosts" and other treats with humans.
It's a trick that lets the corporate titan sidestep its own massive legacy and leap into a burgeoning space in the market: While many customers in the 1980s were satisfied with a McDonald's milkshake, CosMc's now wants to cater to people seeking a colorful new category of drinks, from a Turmeric Spice Latte to a Blackberry Mint Green Tea with boba.
And as a Marketplace story notes, the drink-heavy concept promises to be cheaper and simpler to operate than a traditional, full-menu McDonald's restaurant.
The first CosMc's pilot location is in Bolingbrook, Ill., a suburb southwest of Chicago (where the McDonald's global headquarters is located). Ten more stores are set to follow, including openings planned in the Dallas-Fort Worth and San Antonio metro areas in 2024.
The store near Chicago is opening at 285 N. Weber Rd. — a location formerly occupied by a Boston Market. While some impressionable visitors might look to the heavens wondering where in the galaxy CosMc's might have come from, others won't have to look far to see its true origin: There's a McDonald's right next door, across the parking lot.