Recording of Trump Underscores Growing Evidence in Documents Case
The revelation that federal prosecutors have a recording of former President Donald J. Trump discussing a highly sensitive document in his possession after he left office underscores the weight of the evidence that the special counsel Jack Smith is assembling as he approaches a decision about whether to bring criminal charges.
The recording, according to people briefed on its contents, captured Mr. Trump in July 2021 discussing a document that he said related to military planning for confronting Iran. During the conversation, Mr. Trump signaled his awareness of his inability to declassify the document because he had already left office, they said.
If that description of the recording proves correct — and Mr. Trump's lawyers have been careful not to confirm or deny it — it would undercut one of the key defenses that Mr. Trump's advisers have offered in their effort to justify why he was allowed to hold onto some of the government's most sensitive secrets after leaving the White House. They have argued that Mr. Trump, while still in office, had declassified all the material he took with him when he left.
It would also show Mr. Trump, in his own voice, invoking a sensitive government document to settle a score. In this case, he was rebutting what he perceived as criticism from Gen. Mark A. Milley, whom Mr. Trump appointed as the chairman of the Joint Chiefs of Staff.
The precise contents of the document referred to by Mr. Trump during the recorded meeting remain unclear. And it is not known when or whether the federal government recovered the document from Mr. Trump as it sought to retrieve thousands of pages of material he took with him when he moved out of the White House in violation of the Presidential Records Act. That act makes all presidential records the property of the federal government.
But a recording demonstrating that he knew he had material that he had not declassified — and that it touched on highly sensitive national security issues — could potentially be compelling evidence that he was aware he should not have kept it even as federal officials were stepping up their efforts to recover what he had taken with him.
The federal prosecutors under Mr. Smith have been examining whether Mr. Trump — the front-runner for the 2024 Republican presidential nomination — obstructed the government's efforts and whether he violated other laws regarding the handling of national defense information and government documents. Mr. Smith is also overseeing a parallel investigation into Mr. Trump's efforts to remain in office after his defeat at the polls in 2020.
After months of back-and-forth with the National Archives, Mr. Trump eventually turned over 15 boxes of material in January of last year. They turned out to include nearly 200 documents marked as classified.
After a subsequent subpoena demanding that he return any other classified material in his possession, he gave the Justice Department a little over three dozen additional documents and a letter from his lawyer saying that a diligent search had turned up nothing more.
Then, in August, F.B.I. agents with a search warrant swooped down on Mar-a-Lago, his residence and club in Florida, and carted away additional boxloads of material, with more than 100 additional classified documents.
The meeting that was recorded was more than a year before the search and was between Mr. Trump and two people helping with a book being written by the final Trump White House chief of staff, Mark Meadows, according to three people familiar with the session. A small number of Trump aides, including Margo Martin, who routinely sat in on and recorded book interviews granted by Mr. Trump, were present as well.
Ms. Martin was subpoenaed to appear before the grand jury hearing evidence in the case in March. According to a person familiar with the situation, investigators had the recording of the meeting before Ms. Martin's appearance. Her devices were subpoenaed after the appearance, the person said.
Some of Mr. Trump's own advisers, aware of the recording's existence, have been waiting for it to become public since Mr. Trump's town hall event on CNN in May, during which he gave an equivocating answer when asked directly if he had ever shown any classified documents to people after leaving the White House. "Not really," Mr. Trump said.
A lawyer for Mr. Trump continued to take the position, in an interview on CNN on Wednesday, that his client had declassified the materials he removed from the White House and could prove it.
But even the lawyer, James Trusty, refused to say whether Mr. Trump had declassified the document he waved around at the July 2021 meeting that took place at his private club in Bedminster, N.J.
In a separate interview on CNN on Thursday, a lawyer who recently left Mr. Trump's team, Timothy Parlatore, downplayed the legal significance of the episode at Bedminster and suggested that Mr. Trump had the documents because of a "failure of process" when he left the White House.
Mr. Parlatore said the question of whether the documents had been declassified was not relevant because Mr. Trump was being investigated for "willful retention of national defense information" under statutes that did not depend on classification status.
In a town hall interview with the Fox News host Sean Hannity on Thursday night, Mr. Trump, when asked about the reports about the recording, said, "I don't know anything about it."
During the summer of 2021, Mr. Trump was infuriated at General Milley's high-profile roles in books and magazine articles. General Milley was portrayed as a last line of defense against an increasingly erratic and bellicose president in his final months in office. On the tape, Mr. Trump hit back at General Milley, according to the people familiar with its contents. He suggested that it was General Milley — and not himself — who was a dangerous warmonger. He indicated he had a document that showed General Milley wanted to go to war with Iran.
Former senior government officials who were involved in Mr. Trump's Iran deliberations said General Milley typically urged restraint against Iran. They said they knew of no document drafted by the chairman of the Joint Chiefs that matched the description suggested by Mr. Trump.
These former officials, who spoke on the condition of anonymity to describe sensitive discussions, said Mr. Trump could have been referring to summaries of deterrence options — ranging from fairly benign to highly aggressive — that were presented to him as he considered how to counter Iran.
Mr. Smith and his team have been exploring the documents case from multiple angles, including examining whether there are links between the material Mr. Trump took and his foreign business deals. They are also scrutinizing whether his employees sought to interfere with the government's attempt to obtain security camera footage from Mar-a-Lago.
But the existence of the recording opens up new questions, including what role Mr. Meadows might be playing in providing information to investigators, and highlights the extraordinary sensitivity of the material that Mr. Trump had access to as he was leaving office.
Mr. Meadows has for months been a source of suspicion and frustration among some in Mr. Trump's orbit. Mr. Trump was infuriated by Mr. Meadows's memoir, which revealed intimate details of the former president's bout with Covid in 2020. Mr. Meadows then provided something of a road map to investigators when he handed over thousands of private text messages to the House select committee investigating the Jan. 6 attack on the Capitol, leaving out only those that he believed to be protected by executive privilege.
But until now, Mr. Meadows's publicly known role in the investigations related to Mr. Trump had been mostly restricted to taking part in an expansive effort to limit the scope of the grand juries investigating his former boss with assertions of various kinds of privilege.
A lawyer for Mr. Meadows, George Terwilliger, declined to comment.

Likely GOP primary voters share who had best Republican debate performance: Poll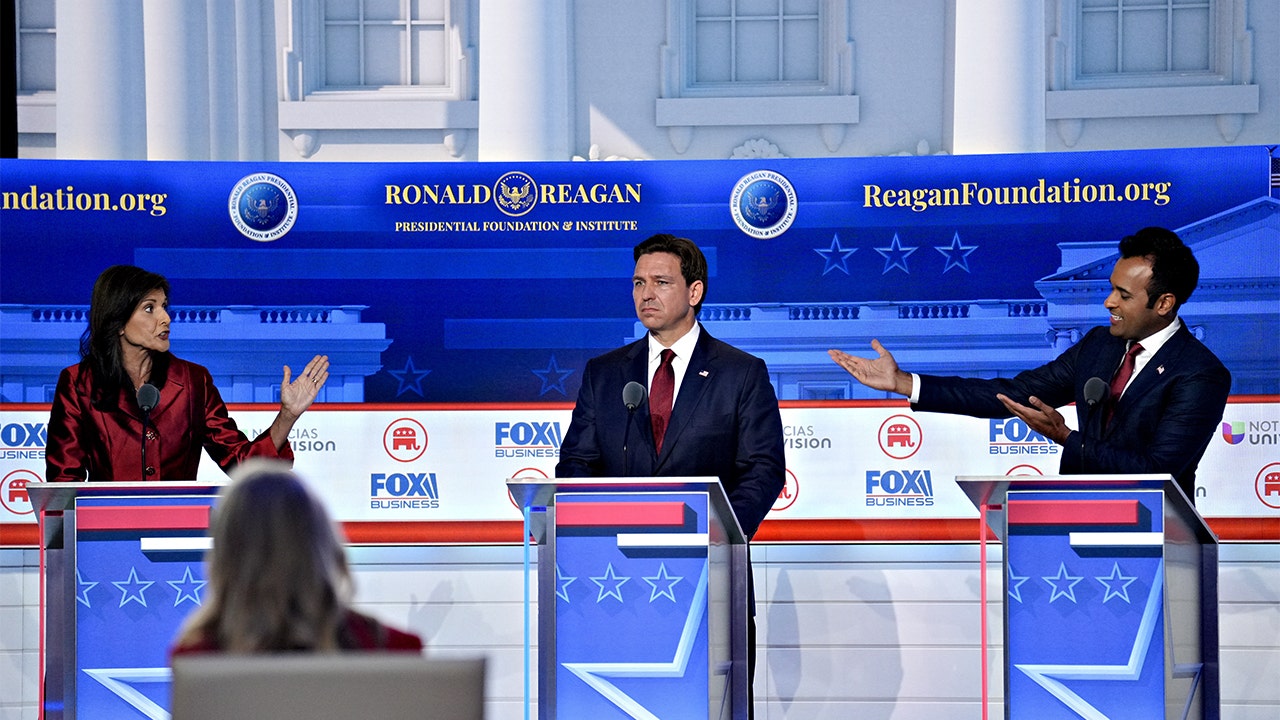 Likely Republican voters think Florida Gov. Ron DeSantis had the best performance in the second Republican debate, according to a new poll.
The poll was conducted by 538/Washington Post/Ispos and asked 2,262 likely voters in the Republican primary to grade each candidate's performance during the debate, which was hosted on Wednesday night by FOX Business in Simi Valley, California.
Prior to the debate, pollsters asked likely GOP primary voters how they thought each candidate would perform. Overall, voters thought Vivek Ramaswamy would finish ahead of the rest, closely followed by DeSantis, former South Carolina Gov. Nikki Haley and Sen. Tim Scott, R-S.C.
When polled following the debate, 33% of respondents thought DeSantis performed the best during the debate, followed by Haley at 18% and Ramaswamy at 15%.
WATCH THE FULL SECOND REPUBLICAN PRIMARY DEBATE
24% of people polled thought former New Jersey Gov. Chris Christie performed the worst and 20% thought the same of former Vice President Mike Pence. 11% of voters thought North Dakota Gov. Doug Burgum performed the worst, and 10% thought the same of Ramaswamy.
However, support among the field was largely unchanged after the debate.
Support for DeSantis increased from 51.0% to 51.9%, Haley's went from 34.0% to 36.4%, and Scott's went from 24.7% to 26.5%. In the poll, support for candidates is based on the percentage of polled voters considering voting for each individual.
DESANTIS SUGGESTS ONE-ON-ONE DEBATE WITH TRUMP: 'YOU OWE IT TO THE VOTERS'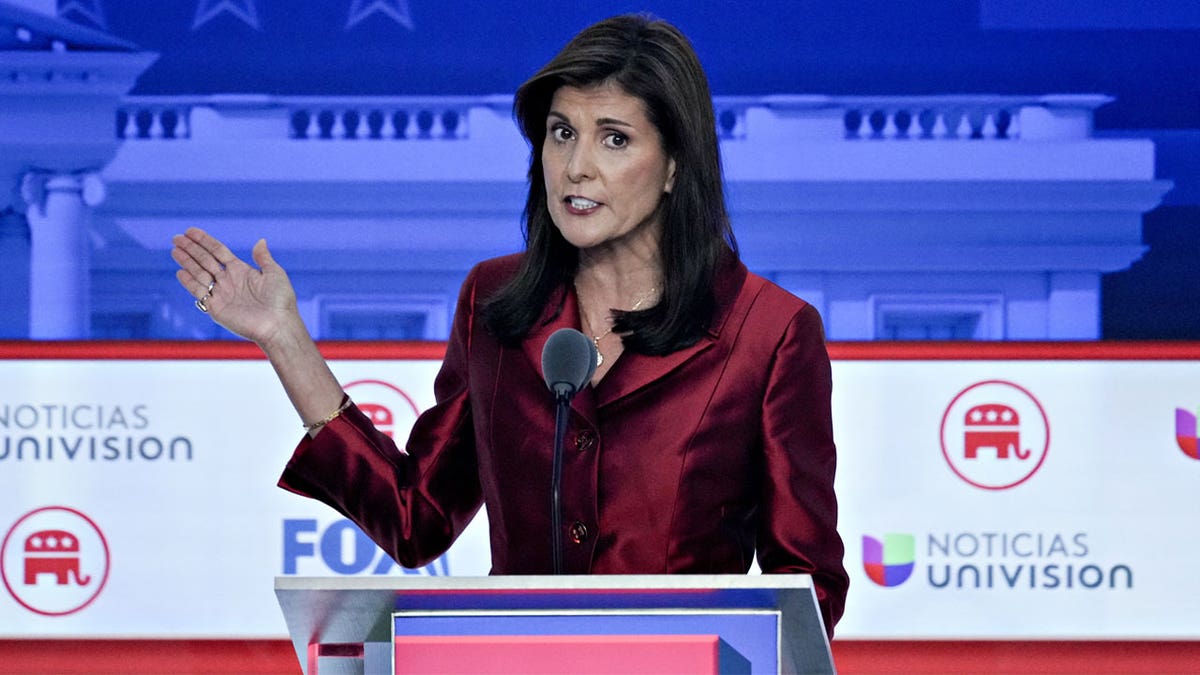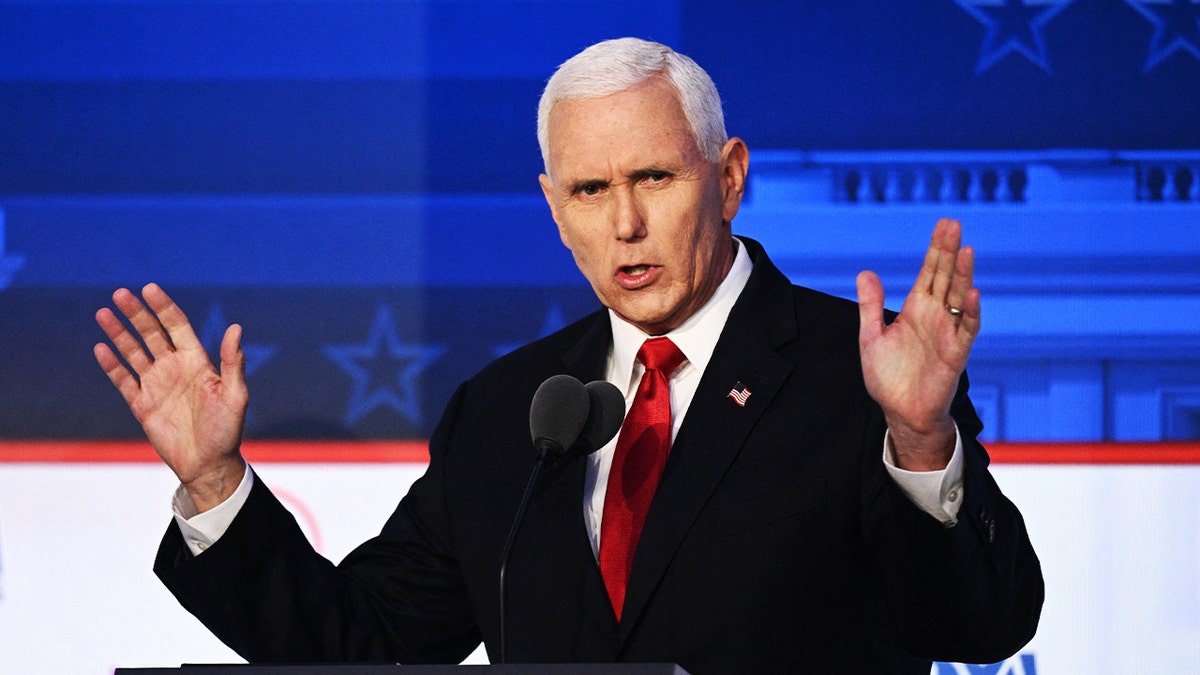 Ramaswamy slightly lost support, going from 27.2% to 28.1% as well as Pence, going from 23.4% to 24.2%.
Support for Former President Donald Trump went from 63.8% to 63.9%.
The poll also asked likely Republican primary voters what issues are most important in determining their primary vote, given the option to select up to 20 issues.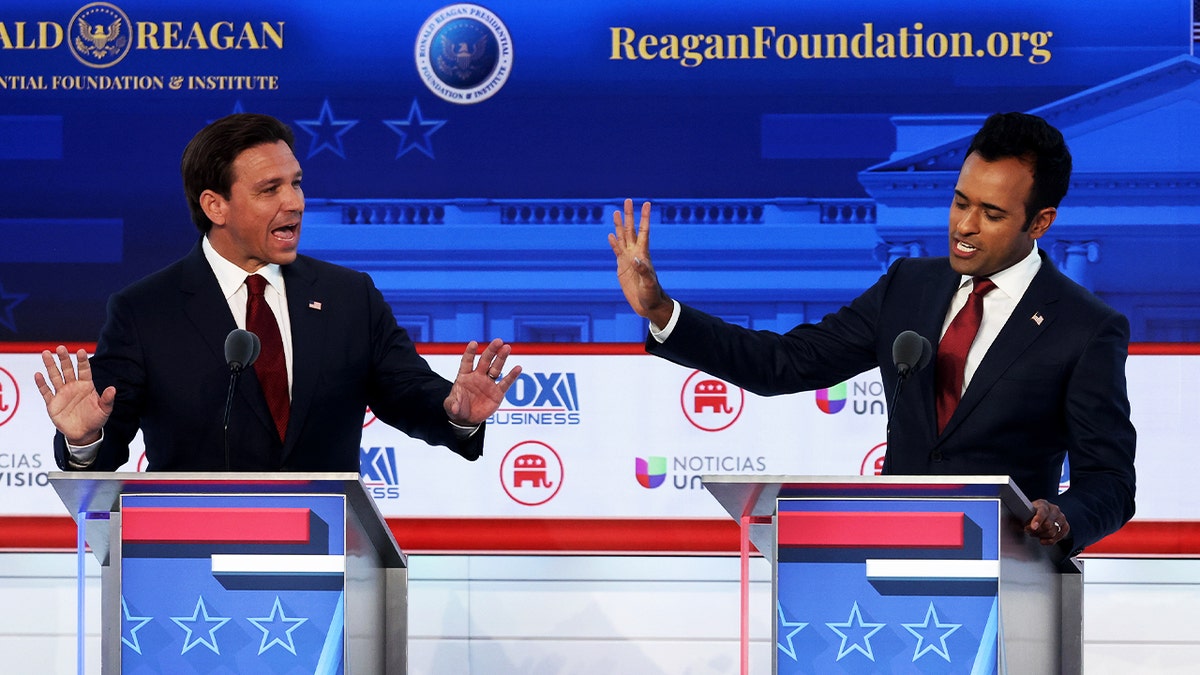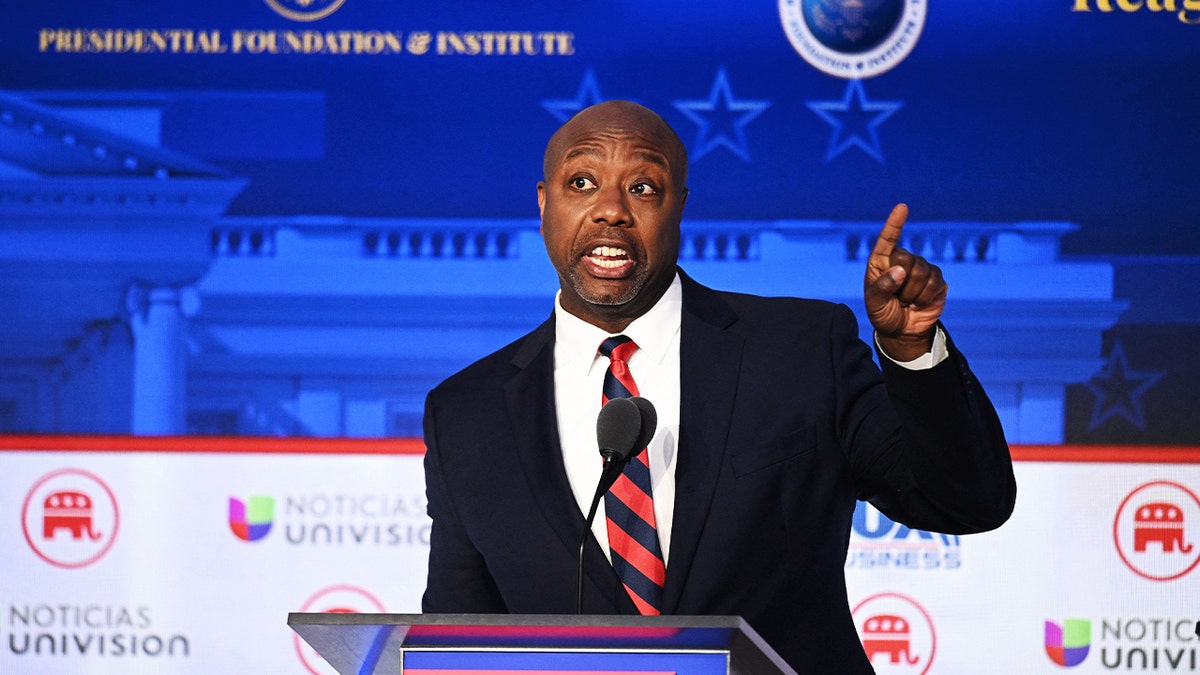 "Getting inflation or increased costs under control" was considered the most important issue to 55% of voters, "Controlling immigration" was considered a priority for 40% of voters, and "Ability to beat Joe Biden" was a priority for 24% of voters.
GOP candidates outlined sweeping anti-trans agenda at presidential debate
Two Republican presidential candidates, former Vice President Mike Pence and businessman Vivek Ramaswamy, vowed at Wednesday night's debate in Simi Valley to ban gender-affirming care — and not just for trans kids, but also for adults.
None of the other five Republicans onstage criticized Pence and Ramaswamy's proposals, which would amount to a major federal intervention in American adults' ability to work with their doctors to decide what medical treatments are appropriate for themselves and their children.
The two candidates' rhetoric is an indication of how far the Republican Party's consensus on trans rights has moved in recent years. After the Supreme Court legalized same-sex marriage in 2015, much of the national conversation around LGBTQ+ rights shifted to focus on transgender rights.
In 2016, a debate took shape over the so-called "bathroom bill" in North Carolina, which required transgender people to use public bathrooms that matched the sex assigned to them at birth. The law was eventually repealed after widespread backlash.
But since then, social conservatives have whipped up outrage and concern about gender-affirming care for trans kids. In a 2021 Fox News poll, 62% of Republicans said they saw "overly accommodating" transgender policies in schools as a major problem.
When the same question was posed to voters in April, that number had climbed to 71% of Republicans — even as only 2% of Republicans identified "wokeness/transgender issues" as the most important issue facing the country. Less than 1% of Americans identify as transgender.
In the years since the repeal of the bathroom bill, North Carolina and 21 other states have banned gender-affirming care for kids, according to Human Rights Watch — and some states, such as Oklahoma, Texas and South Carolina, have considered banning it for transgender adults. Many of the laws are entangled in legal battles.
The discussion at Wednesday night's debate was triggered by a question that moderator and FOX News host Dana Perino posed to Ramaswamy about whether parents should be notified if their kids change their gender identity at school.
"Students … have the ability to change their identity without parental notification," Perino said, noting that fellow candidate Chris Christie, former governor of New Jersey, had vowed to pass a law "protecting parental rights."
"Would you do the same?" she asked.
But rather than responding to the question, Ramaswamy took aim at transgender rights more broadly.
"I have to be very clear about this: transgenderism, especially in kids, is a mental health disorder," he said, adding, "Parents have the right to know."
"It is not compassionate to affirm a kid's confusion. That is not compassion; that is cruelty," Ramaswamy said, sharing an anecdote of two people who regretted getting double mastectomies and a hysterectomy. If he becomes president, he said, he will "ban genital mutilation or chemical castration."
Although some transgender people opt for gender-affirming medical care, many never use medication or surgery to transition. Studies have shown that few choose to detransition, or reverse the process and go back to the sex they were assigned at birth.
Former Vice President Mike Pence doubled down on Ramaswamy's proposal.
"We're going to pass a federal ban on transgender chemical or surgical surgery anywhere in the country," Pence said. "We've got to protect our kids from this radical gender ideology agenda."
Ramaswamy's and Pence's statements indicate they'd go further than former President Trump.
The frontrunner in GOP polls has said he would ban facilities that provide gender-affirming care from receiving federal funding. But since most hospitals and major medical centers depend at least in part on funds from Medicare, Medicaid or federal health and science agencies, Trump's proposal would likely dramatically reduce access to gender-affirming care nationwide.
An April poll by NBC indicated that 79% of Republicans think the nation has "gone too far" in accepting transgender people, compared with 19% of Democrats and 50% of independent voters. In a similar poll by the Pew Research Center, 66% of Republicans said the country has has gone too far in accepting transgender people, while roughly 6 in 10 Democrats said society hasn't gone far enough.
"No one should have their very right to exist debated on a national stage," Ash Orr, National Center for Transgender Equality spokesperson, said in a statement Thursday. "What we saw last night was a group of extremist politicians repeating the same tired rhetoric about transgender people, unsupported by actual facts."
"The truth is that transgender youth know who they are and deserve to be accepted, loved, and supported," Orr added. "Research shows that the onslaught of rhetoric against our community is directly harming the physical, mental, and emotional wellbeing of our community."
Orr said that political leaders should instead focus on other issues facing youth, such as underfunding of education, lack of teacher support and school shootings.
In California, several school districts have said they will notify parents if their child starts identifying differently than the gender they were assigned at birth.
In July, Chino Valley Unified School District in San Bernardino County became the first district in the state to adopt a parental notification policy, followed quickly by Murrieta Valley Unified, Temecula Valley Unified, Rocklin Unified, Anderson Union High School District and Orange Unified.
Last week, Democratic Gov. Gavin Newsom vetoed a bill that would have asked judges in custody hearings to consider a parent's support for their child's gender identity.
Video: Biden Says MAGA Movement Rejects Basic Beliefs of Democracy
new video loaded: Biden Says MAGA Movement Rejects Basic Beliefs of Democracy
transcript
Biden Says MAGA Movement Rejects Basic Beliefs of Democracy
President Biden delivered a blistering and direct attack on former President Donald J. Trump during a visit to Arizona.
There's something dangerous happening in America now. There's an extremist movement that does not share the basic beliefs in our democracy — the MAGA movement. Not every Republican, not even a majority of Republicans adhere to the MAGA extremist ideology. I know because I've been able to work with Republicans my whole career. But there's no question that today's Republican Party is driven and intimidated by MAGA Republican extremists. Their extreme agenda, if carried out, would fundamentally alter the institutions of American democracy as we know it. My friends, they're not hiding their attacks. They're openly promoting them. Attacking the free press as the enemy of the people. Attacking the rule of law as an impediment. Fomenting voter suppression and election subversion. Did you ever think we'd be having debates at your stage of your careers where banning books, banning books and burying history. Extremists in Congress more determined to shut down the government, to burn the place down than to let the people's business be done.
Recent episodes in U.S. & Politics