Calling All Foodies: It's Almost Restaurant Week In Washington, D.C.
Each summer and winter, Metropolitan Washington Restaurant Week lets you take advantage of special prices at hundreds of eateries all over the DMV—that's D.C., Maryland, and Virginia, to the uninitiated.
From August 28 to September 3, 2023, you'll have a chance to try $25, $40 or $55 brunch, lunch or dinner prix fixe menu deals. Search for restaurants by name, city, state (or district, as D.C. still isn't a state at the moment), neighborhood, or type of cuisine through the website, linked above. You can also sort options according to meal (brunch, lunch, or dinner), and whether or not you'd prefer delivery, outdoor dining or a wine or cocktail pairing. Here's everything you need to know, and which places will be participating this time around.
Maryland
From Bethesda to National Harbour, Restaurant Week deals abound.
All Set Restaurant & Bar
Cadillac Ranch
Caruso's Grocery
Era Wine Bar
Founding Farmers (Montgomery County)
J. Hollinger's Waterman's Chophouse
Lia's
Matchbox (Bethesda, Rockville, Silver Spring)
Morton's The Steakhouse (Bethesda)
Pennyroyal Station
Spanish Diner
Succotash
The Daily Dish
The Dish & Dram
The Melting Pot (Gaithersburg)
Wine Kitchen on the Creek
Northern Virginia
In this summer's rendition of Restaurant Week, several bars and restaurants located in Ronald Reagan Washington National Airport (DCA) and Dulles International Airport (IAD) were included. You'll also find the usual suspects in Alexandria, Arlington, Ballston, Clarendon, Tysons Corner, and elsewhere in Northern Virginia.
2941 Restaurant
Agora Tysons
Alta Strada Mosaic
Ambar Clarendon
American Prime
American Tap Room (DCA)
B Side
Bar Ivy
Bastille Brasserie & Bar
Bellissimo Restaurant
Bistro Atelier
Bracket Room
Buena Vida Clarendon
Carrabba's
Celebration by Rupa Vira
Chart House Restaurant
Cheesetique (Del Ray and Shirlington)
Chef Geoff's Dulles
Circa at Clarendon
Circa at The Boro
Devil's Backbone Taproom (IAD)
District Chop House (IAD)
Earl's Kitchen and Bar
El Centro (DCA)
Elle Bird
Epic Smokehouse
Evening Star Cafe
Founding Farmers (Tysons and Reston)
Grille District (DCA)
Hen Quarter
Jiwa Singapura
Joon
Josephine
Kapnos Taverna (DCA)
La Cote d'Or Cafe
Laporta's Restaurant
Legal Seafood (DCA)
Lyon Hall
Matsutake Sushi
Matchbox (Merrifield, Loudoun, McLean, Pentagon City, Reston)
McCormick & Schmick's (Crystal City)
Morton's The Steakhouse (Arlington and Reston)
North Italia (Reston and Tysons)
Osteria da Nino
Osteria Marzano
Pamplona
PassionFish
Pisco Y Nazca Ceviche Gastrobar (Reston)
Potomac Social Tavern
Reservoir (DCA)
Rustico (Ballston and Alexandria)
Ruthie's All-Day
Ser Restaurant
Sfoglina Rosslyn
Spice Craft Indian Bistro
The Capital Grille (Fairfax and Tysons)
The Liberty Tavern
The Melting Pot (Arlington and Reston)
The Salt Line (Ballston)
The Washington Burgandy and Gold Club (IAD)
The Wine Kitchen Leesburg
Trio Grill
U Street Pub (DCA)
Vermilion
Washington Pour Bar (DCA)
Whino
Wildfire (Tysons Galleria)
Wren
District of Columbia
Newcomers this season included Angolo Ristorante Italiano in Georgetown, Bar Spero in Mt. Vernon Triangle and Cafe Du Parc at the Willard InterContinental Washington, D.C. hotel, among others.
1789 Restaurant & Bar
Agora
Al Dente D.C.
Ala
Alfresco Tap and Grill
Alhambra
All Purpose Pizzeria (Shaw and Capitol Riverfront)
Alta Strada City Vista
Ambar (Barrack's Row and Shaw)
Angolo Ristorante Italiano
Annabelle
Art and Soul
Astoria's Kitchen
Bar Charley
Bar Chinois
Bar Spero
Barcode
Belga Cafe
Bindaas (Cleveland Park and Foggy Bottom)
Birch and Barley
Bistro Cacao
Bistro Du Jour
Bistrot Lepic & Wine Bar
BlackSalt
Bluejacket
Boqueria (Dupont Circle and Penn Quarter)
Boundary Stone
Boxcar Tavern
Brasserie Beck
Brasserie Liberté
Bresca
Cafe Du Parc at the Willard InterContinental
Cafe Milano
Cafe Riggs
Causa/Amazonia
Central Michel Richard
Certo
Chaplin's
Chef Geoff's (New Mexico Avenue and West End)
Chiko
China Chilcano
Chloe
Circa (Navy Yard and Foggy Bottom)
Code Red
Convivial
Cork Wine & Market
Cranes
Crazy Aunt Helen's
Cuba Libre D.C.
Cure Bar & Bistro
Daikaya Izakaya
Dauphine's
Del Frisco's Double Eagle
Destino
Dirty Habit
District Winery
Dolce Vita
Donahue
Dovetail
Due South
Duke's Grocery (Foggy Bottom, Capitol Riverfront)
El Centro
El Secreto de Rosita
El Tamarindo
Ellington Park Bistro
Equinox Restaurant
Estuary
Farmers & Distillers
Farmers Fishers Bakers
Fig & Olive
Figleaf Bar and Lounge
Filomena Ristorante
Fitzgerald's
Flavio Italian Restaurant
Flavorture
Floriana
Founding Farmers
Fred & Stilla
Gatsby
Gerrard Street Kitchen
Gogi Yogi
Gravitas
Gypsy Kitchen D.C.
Harlot D.C.
Harvest Tide Steakhouse
i Ricchi
Il Canale
Il Piatto
Immigrant Food and Immigrant Food+
Iron Gate
Ivy City Smokehouse
Jackie American Bistro
Jaleo D.C.
Joselito
Kaz Sushi Bistro
Kingbird
L'Ardente
La Bise
La Collina
Laos in Town
Le Chat Noir
Le Clou
Le DeSales
Lima Twist
Lincoln D.C.
Little Coco's
Lulu's Wine Garden
Lupo Verde Osteria
Lyle's
Maiz64
Mariscos 1133
Martin's Tavern
Mastro's Steakhouse
Matchbox (Capitol Hill, Cathedral Commons and Penn Quarter)
McCormick & Schmick's
Méli Wine & Mezze
Mi Casa Dupont
Mi Vida Restaurante (14th St., Penn Quarter and The Wharf)
Michele's
Modena
Morrison–Clark Restaurant
Morton's The Steakhouse
Nama
Nama Ko
New Heights Restaurant
Nicoletta Italian Kitchen
Nina May
North Italia
Ocean Prime
Oceanaire Seafood Room D.C.
Officina
Opal
Opaline Bar and Brasserie
Ophelia's Fish House
Osteria Morini
Ottoman Taverna
Oyamel
Palm Restaurant
Paraiso
Parlour Victoria
Pearl Dive
Perry's Restaurant
Petite Cerise
Philippe by Philippe Chow
Pinstripes
Pisco y Nazca Ceviche Gastrobar
Pizza Serata
Playa Ocho Cantina
Provost
Quattro Osteria
Rania
Rasika (Penn Quarter and West End)
Ris
RPM Italian D.C.
Sababa
Sequoia
Sfoglina (Downtown and Van Ness)
Shaw's Tavern
Shibuya Eatery / Death Punch
Shilling Canning Company
Sonoma Restaurant + Wine Bar
The Sovereign
Stable
Station 4
Succotash (F Street)
Supra
Susheria
Sushi Taro
Taberna del Alabardero
Tabla
Takara 14
Taqueria Xochi
Teddy and the Bully Bar
Thaiverse D.C.
The Bombay Club
The Delegate
The Grill
The Grill from Ipanema
The Henri
The Imperial
The Mayflower Club
The Park at Fourteenth
The Pembroke
The Point D.C.
The Royal
The Salt Line
The Smith
Tiki on 18th and The Game Sports Pub
Tonari
Tony & Joe's Seafood Place
Truluck's Ocean's Finest Seafood and Crab
Unconventional Diner
Urban Roast
Vagabond
Via Ghibellina
Via Sophia
Yasmine
Zaytinya
Zeppelin
With so many different restaurants and bars to choose from, there's something to suit every taste, palate and budget. If anything, it's a great excuse to treat yourself to a good meal, discover a new favorite spot and help support the local restaurant industry while you're at it.

Policemen injured in house explosion near Washington D.C.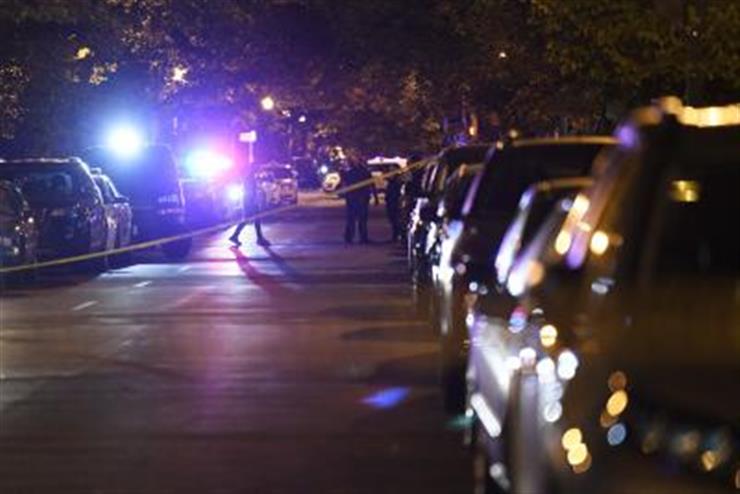 WASHINGTON: Several police officers received minor injuries following an explosion at a residential building near Washington, D.C., local media reported.
The blast occurred at about 8.20 p.m., at a house inArlington, a county in the US state of Virginia directly across the Potomac River from the US capital, where the police were conducting an investigation, Xinhua news agency quoted the local media as saying.
"As officers were attempting to execute a search warrant at the residence, the suspect discharged several rounds inside the home, " the Arlington County Police Department said on X, formerly Twitter.
"Subsequently, an explosion occurred at the residence and officers continue to investigate the circumstances of the explosion, " it added.
But it is not clear if the suspect was injured or apprehended.
A loud explosion was heard in the area and electricity was disrupted in the vicinity, according to the local media reports.
Some residents in the surrounding area said on social media they felt their homes shake.
Huge Blast Destroys Home in Washington DC Suburbs as Cops Try to Approach Armed Suspect – News18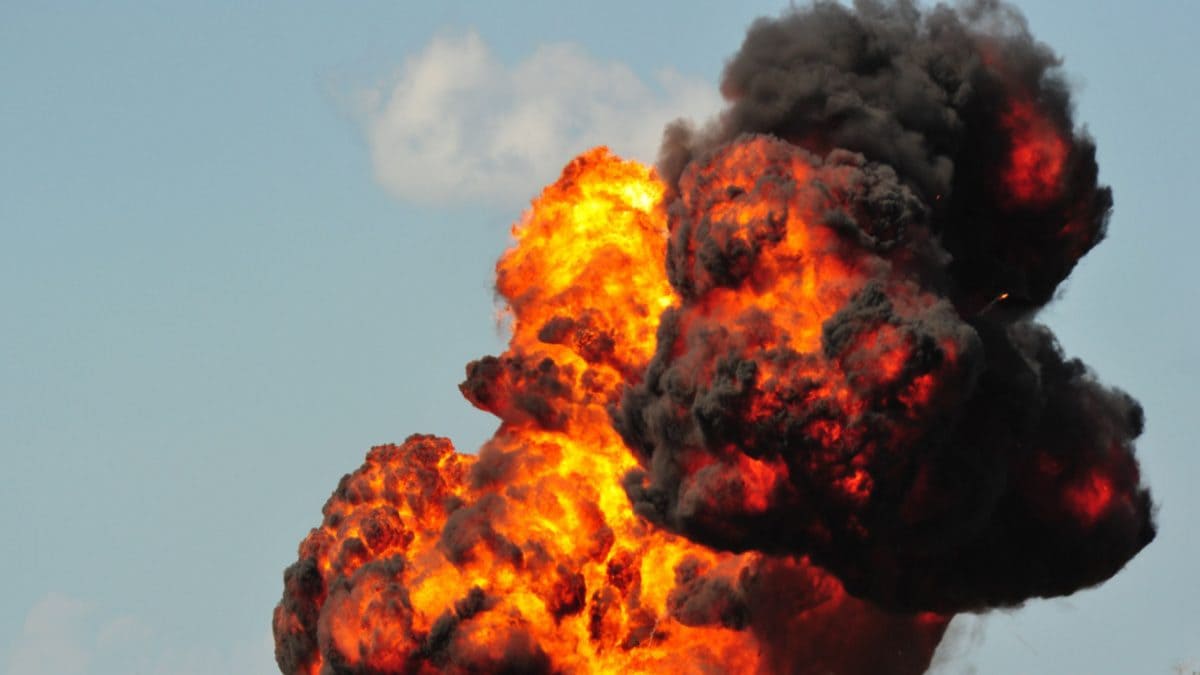 Curated By: Shankhyaneel Sarkar
Last Updated: December 05, 2023, 08:51 IST
Washington D.C., United States of America (USA)
A bomb blast was reported from a suburb of Washington DC which occurred when police surrounded an armed suspect. (Image: Shutterstock/Representative)
The cops said someone from inside the house fired shots at officers trying to enter the house with a search warrant.
One home was destroyed in a huge explosion in a suburb of Washington DC while cops were executing a search warrant. Cops in Arlington, Virginia said a person from inside the house fired shots at officers who tried to enter the house to execute the search warrant, according to a report by BBC World.
Cops reached the location to respond to reports of someone firing a flare gun from a residence. It remains unclear if there are any casualties from Monday night's blast.
The report said that officers on the scene received minor injuries. It remains clear if the suspect was apprehended or injured. People on social media said that they felt their homes shake. Officers who were present on the scene said the fire department reached the spot and the officials are trying to extinguish the blaze.
"As officers were attempting to execute a search warrant at the residence, the suspect discharged several rounds inside the home. Subsequently, an explosion occurred at the residence and officers continue to investigate the circumstances of the explosion," the Arlington County office said in a post on X.
Videos posted on social media, which News18 was unable to verify independently, showed what appeared to be a Special Weapons And Tactics (SWAT) team vehicle advancing towards the house where the blast occurred.
Police evacuated some residents and urged others to shelter in place. "You could feel the sound concussion. I've been here for 50 years and I never experienced anything like that," a man living in the area said.
The area of the incident is about a half-mile west of the Ballston-MU Metro station, north of Wilson Boulevard.
Carla Rodriguez of South Arlington said she could hear the explosion more than 2 miles (3.2 kilometres) away and came to the scene, which was roped off blocks away, to see what was happening.
"I actually thought a plane exploded," she said, while speaking to the Associated Press.
Perspective | Only way to honor Washington fans is to bring football back to D.C.
He was sympathetic and directed me to a wild route behind jersey barriers and along a private access road to get to the spot where my husband and his father had been waiting for me to pick them up after the game for two hours. Grandpa couldn't walk to any of the parking outposts that were available that day, a bad one for his mobility.
This janky system is a catastrophe — a team with an aging stadium in a part of Maryland that's a mile away from a Metro station — that Maryland Gov. Wes Moore (D) is fighting to keep and improve, and both D.C. Mayor Muriel E. Bowser (D) and Virginia Gov. Glenn Youngkin (R) are angling to get.
At stake are bragging rights, and, project boosters always insist — economic revitalization. But stadiums are a political hot potato in U.S. cities, with critics often questioning whether public investments come at the expense of a community's more urgent needs.
As the Commanders see the end of their lease in 2027 and consider a return to D.C., the city will compete with the public money Virginia and Maryland are sure to flash. Last year set records for the levels of publicly funded sports projects, from more than $1 billion to build a new home for the Buffalo Bills to roam; a $1.2 billion upgrade to the roosts of the Baltimore Ravens and Orioles; to $1.2 billion for the Tennessee Titans.
Bowser outlines vision for RFK stadium
While Moore has the most to lose in this battle with his regional colleagues, D.C. has the most to gain. (Come on, Maryland. You've got the Ravens — and voting rights in Congress. The Commanders should come home.) Often missing in debate among the DMV's power brokers are simple and fundamental questions: What would the user experience be like, and would it align with how people live and play today?
The stadiums as suburban outposts filled with RVs, tailgaters and hours of traffic — and acres of paved silence in the offseason — are the old way.
For the most part, neighbors of the Commanders agree. Landover residents see traffic and trash, but not the revitalization they were promised when the Washington team relocated to Maryland in 1997. They're getting more promises today, with a $400 million pledge of state bonds to reinvigorate the area. But they've heard that tune before.
"When the last stadium was built, we lost," Sandra Pruitt, a homeowner near FedEx Field, told my colleagues. "The people lost."
"Not only will the stadium actively work against you, you need to drive or [take the] train an annoying distance, and either walk a further annoying distance or sit in hours of traffic to experience a team that hasn't made it out of the wild card round since 2005," said Caroline Darney, managing editor at USA Today's Bet for the Win, after FedEx Field was voted the worst NFL stadium last year.
I had one good experience at FedEx Field in September, when I was invited by the law firm hosting former cheerleaders who were celebrating the end of Daniel Snyder's controversial ownership during the season opener. I cruised up to the stadium with my platinum parking pass (something that would've cost me more than $200), breezed into the stadium and was whisked up to the club level on a private elevator.
For the women who took on Dan Snyder, the ultimate #MeToo moment
Now contrast that with this past Sunday, when I tried to take my family to a game as a mere mortal, as part of a fundraiser for my son's school.
After shelling out nearly $400 for nosebleed seats, we struggled to get in and out with a less-than-nimble grandpa, without spending an additional fortune for premium parking.
More than an hour after Sunday's game, fans were still squatting on random curbs and corners, trying to get home, picking their way through the puke in the tailgating lot, jostling with hundreds of others using ride-hailing services in a chaotic parking lot. It was a disaster.
Now compare that to going to a game at Nationals Park, Audi Field or Capital One Arena. Smack in the middle of town and on the spokes of a city's transportation network is the future for any team that wants to stay relevant.
We've biked, scootered, walked and driven to games in this town, and none of that was as miserable as the times we tried (twice over 20 years) to visit FedEx Field.
The wonkville that is D.C. is a serious sports town that boasts four recent national titles (yes, because remember the Mystics and D.C. Divas also won around the time the city was celebrating Caps and Nats wins). And with Washington in its team name, folding fandom into the rhythm of life within city limits is the only way the Commanders can honor their fans.
The District of Champions forgot some champions
The possibility of a Commanders return to D.C. became more tangible this year, as the House Committee on Oversight and Accountability approved legislation for the federal government to extend the city's lease on RFK Stadium's 190-acre campus for 99 years, allowing for another residential and retail district to grow there, Nationals Park-style.
Because NFL stadiums are low use, it can actually be an open vote of confidence for the youth of D.C. as a showcase for championship games, band battles and other events on the off days.
Not all residents of Northeast Washington want a stadium there. I live on Capitol Hill and understand the impact could be extreme. But I moved there knowing I wasn't signing up for a tranquil suburb.
Right now, RFK Stadium is a sad hulk, a memory of the time D.C. football dominated with three Super Bowl championships between 1982 and 1991.
Reviving that site would be both an ode to the Washington and Washingtonians of the past, and an acknowledgment that the team wants the fans of the future.