Wisconsin volleyball sweeps Indiana in Anna Smrek's return. Rematch with Nebraska next.
Sarah Franklin returns to Wisconsin volleyball after health scare
The redshirt junior outside hitter explains the condition that sidelined her and how she recovered in time for the first day of practice.
Mark Stewart, Wochit
Anna Smrek returned to the Wisconsin lineup in impressive fashion Sunday afternoon.
The Badgers junior right-side hitter, who missed the last three matches due to an upper body injury, equaled her season high for hitting percentage in the team's sweep of Indiana in front of 2,468 at  Wilkinson Hall in Bloomington, Indiana.
Smrek finished with 10 kills and a .667 hitting percentage in the 25-19, 26-24, 25-14 victory. She also had five blocks as third-ranked Wisconsin improved to 24-3 overall and 15-3 in the Big Ten.
"It was really nice having Anna today. She was awfully good today," UW coach Kelly Sheffield said on the Badger Radio Network's post-match show.
Sarah Franklin, Izzy Ashburn have double-doubles
Senior Sarah Franklin finished with a team-high 11 kills for the Badgers and with 13 digs registered her second straight double-double. Setter Izzy Ashburn, a graduate student, also recorded a double-double (14 assists, 10 digs).
Graduate student Temi Thomas-Ailara added nine kills and a .400 hitting percentage. Sophomore Carter Booth finished with five kills, a .364 hitting percentage and a team-high eight blocks.
The contest tested Wisconsin's ability to contain one of the Big Ten's top setters, senior Camryn Haworth, and one of the league's top serving teams.
It was challenging afternoon for the Badgers on both fronts. Indiana (19-12 overall, 9-9 Big Ten) finished with four aces and fired countless other serves that UW had a hard time handling.  Haworth finished with 33 assists,
"They just have a different serving team, all six rotations, than other teams in the Big Ten," Ashburn said. " Prepping for them, it makes it tough, but I thought our passers did a good job of moving on from each ball.
"They're going to get their good serves, their aces and they're going to get us out of system, but we're just going to keep fighting and moving on together and keeping that mindset."
Badgers take control after tough second set
Wisconsin had its toughest time in the second set when Indiana aced the Badgers three times and held them to a match-low .261 percentage.
That set was the match's tightest. It featured 12 ties and seven lead changes and went to extra points. The key moment was a UW challenge that gave it a 24-23 lead. The Badgers later closed that set with kills by Smith and then Smrek.
The final set wasn't nearly as competitive. The Hoosiers trailed throughout and hit .119 while Wisconsin didn't have a error and hit a match-high .461.
The match sets up Wisconsin for its rematch with Nebraska at 3 p.m. Friday. The Cornhuskers, who clinched the Big Ten title outright with a sweep of Iowa on Sunday afternoon, are undefeated and expected to be the No. 1 seed of the entire NCAA Tournament field.
"That's a team that is playing better than anybody in the country," Sheffield said. "That's a real test to see if you're on top of your game and what you need to continue to work on during the few days that remain afterwards.
"We want to play well and we want to get on this. We want to start building some momentum. This is as healthy as we have been in a long time."

NCAA Volleyball Regional Start Times Set
LINCOLN, Neb. (Nebraska Athletics) – NCAA Volleyball Regional start times for Thursday at the Bob Devaney Sports Center have been set.
Nebraska will host Georgia Tech in one regional semifinal at 1 p.m. on Thursday on ESPN2.
Kentucky will play Arkansas in the other regional semifinal in Lincoln at 3:30 p.m. on ESPNU.
The winners will meet in Saturday's regional final at 5 p.m. on ESPNU.
A very limited number of tickets will go on sale online at Huskers.com on Sunday at 7 p.m.
Highlights from Nebraska's 2nd-round Sweep:
Click here to subscribe to our 10/11 NOW daily digest and breaking news alerts delivered straight to your email inbox.
Copyright 2023 KOLN. All rights reserved.
Huge second half powers Nebraska past Georgia Tech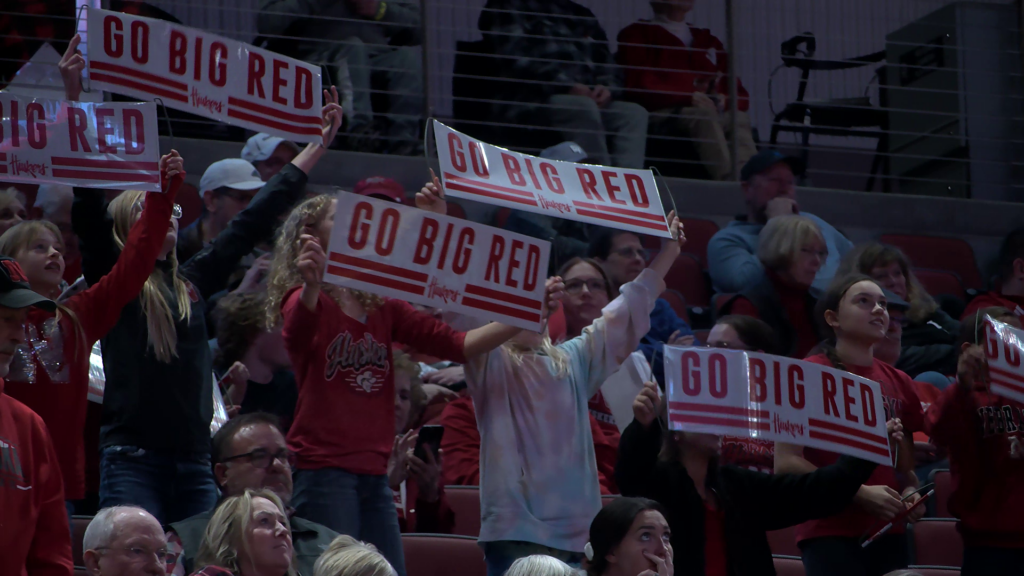 LINCOLN, Neb. (Nebraska Athletics) – Jaz Shelley erupted for season highs of 22 points and eight assists while Alexis Markowski added her third straight double-double to ignite Nebraska to one of the biggest second halves in school history on its way to an 80-72 women's basketball win over Georgia Tech on Saturday at Pinnacle Bank Arena.
The Huskers, who improved to 6-2 on the season, led 16-12 at the end of the first quarter but fell behind 32-22 at the half after going 3-for-19 from the field in the second quarter.
The Yellow Jackets, who slipped to 5-3 on the year, extended their lead to 15 points early in the third before the Big Red responded in a big way. Kendall Coley sparked the rally with back-to-back buckets in a 25-second span to cut the margin to 42-32. She finished with five points.
The Huskers went on to hit a remarkable 13-of-15 shots in the third quarter and took a 55-54 lead to the fourth after a period-ending three-pointer from Shelley.
Georgia Tech briefly regained the lead on a three-pointer from Ines Noguero, but back-to-back threes by freshman Logan Nissley put the Huskers back in front for good, matching their biggest lead in the game at the time at 61-57. Nissley finished with 11 points on 3-of-5 three-point shooting in the game, including a three-pointer before the buzzer to close the first quarter.
Natalie Potts, Markowski and Shelley then scored six consecutive points after a Georgia Tech timeout with 8:22 left to give Nebraska its biggest lead of the game at 67-57 to cap a 12-0 run that helped flip the score by 25 points in under 12 minutes of game time.
Markowski notched her fourth double-double of the season with 15 points and a game-high 10 rebounds, while Potts pitched in 13 points on 6-of-9 shooting for the game.
Georgia Tech got no closer than four points the rest of the way, as Nebraska executed well and scored in late shot-clock situations down the stretch, including Shelley's three-point, banked hook shot from near the top of the key with 1:19 left. The shot gave Nebraska 1,000 points as a Husker. She also moved into the top five in Nebraska history in three-pointers made, while climbing into the top 10 at NU in career assists.
Nebraska hit 75.9 percent (22-29) of its second-half shots including 8-of-12 three-pointers (.667) fo finish at 52.5 percent (32-61 FG) and 38.5 percent (10-26 3FG) for the game. It marked the second straight game and third time this season that the Huskers hit 10 three-pointers in a contest. NU also committed a season-low five turnovers, while dishing out 23 assists, including eight by Shelley and seven by Darian White.
Nebraska's 58 second-half points tied for the 10th most in a second-half in school history. The production came against a Georgia Tech team that held nationally ranked Creighton to 57 points in an 11-point loss to the Bluejays last week in Cancun.
Kara Dunn led Georgia Tech with 22 points, including a first-half half-court buzzer beater to send the Yellow Jackets to the locker room with a double-digit lead. Tonie Morgan added 20 points, five rebounds and six assists in a strong effort. Noguero contributed 11 points, but the Huskers held Georgia Tech stars Kayla Blackshear and Rusne Augustinaite to just six points apiece.
Georgia Tech hit 46 percent (29-63) of its shots for the game, including 8-of-26 threes (.308). Tech also won the rebounding battle, 39-29, while Nebraska was plus-eight in turnovers (13-5), outscoring the Yellow Jackets 12-4 in points off turnovers.
Nebraska wraps up its three-game home stand against UNC Wilmington on Tuesday, Dec. 5. Tip-off with the Seahawks is set for 7 p.m. (CT) with tickets available now at Huskers.com. The game can be heard across the Huskers Radio Network, and a live video stream will be available to subscribers of B1G+.
Nebraska Volleyball Meets the Missouri Tigers in the Second Round of the NCAA Tournament for an Old Big 12 Matchup
Tournament time proved to be electric in the Bob last night. Husker fans really showed up and showed out for this amazing team and it was definitely a sight to see last night. Now, we turn the page to Missouri. We have to bring the same energy as last night.
It was sort of shocking to see Nebraska down the entire set until they took the lead at 23-22. They definitely can't have off sets like this down the road in the tournament.
It was so crazy to see how excited the fans in the Devaney Center after the Huskers finished off a long rally to get to match point. It was as loud as it had been all night.
One thing that I found so fun and interesting about NCAA volleyball tournament time is that ESPN+ has a broadcast called The 5th Set.
The 5th Set is like NFL RedZone and cuts to every match going on. I recommend watching this broadcast if you want to stay updated on every match going on at that time!
Missouri played Delaware in the first match of the night at the Devaney Center last night and easily beat them 3-0 to advance. Missouri is the #8 seed in the Nebraska quarter of the bracket.
Missouri finished 7th in the SEC standings this year. They have an overall record of 18-12 and a record of 9-9 in SEC conference play. They finished exactly in the middle of their conference.
The Tigers only had two Top 25 wins all year and they both came against Auburn on October 20th and November 12th.
They did play Louisville early on in the season and lost this 3-0. During this match, they were held to hitting .057 for the match. The Huskers have to do the same thing and keep the Missouri hitters cold.
Sophomore Janet deMarrais has proved to be one of the Tigers best hitters. She is hitting .198 and is averaging 3.21 kills a set. In the first round, she had 13 kills and hit .290 for the night.
Junior Jordan Iliff is also putting in a lot of work the for the Tigers as well averaging 3.44 kills a set and is hitting .241 on the year. She also had a good match in the first round with 10 kills and hitting .286 for the match.
They also proved to be strong on defense last night against Delaware. Sierra Dudley, Dilara Gedikoglu, and Maya Sands combined for a total of 24 digs on the night.
The team had a total of 34 digs so these three had over half of the entire teams digs. They will be all over the floor tonight against the Huskers. It should be filled with long rallies and lots of nervous people in the crowd hoping Nebraska gets the point.
Missouri will come in fighting. They want to be the team to upset the #1 Nebraska Cornhuskers. Everyone wants to do this, but Missouri will look to be the ones that actually get it done.
Nebraska will need to play an all around game and not have an off set like they did last night against Long Island. Harper Murray will also need to clean up her service errors along with the rest of the team.
Even though Murray only had 3 service errors, they came at times when we didn't need them. These are just free points we are giving the other team. It also gives them momentum as well and we can't be doing this.
We will hopefully see Bekka Allick return as many speculated why she was out. Nebraska coaches said Maggie Mendelson has been doing great in practice and wanted to give her playing time.
I sort of saw it as a match that we didn't really need Allick since we do have strong girls, like Mendelson, that can take her place.
I chalked her absence up to just letting her rest before we get deep into the tournament when we will really need her to be amazing.
It will be a wait and see game on Lindsey Krause. It sounds like she could return at any moment, but they may keep her out until the big games in the tournament. Every game is a big game at this point, but we don't want to risk anything with her.
We also have strong girls like Ally Batenhorst, Merritt Beason, and Harper Murray that can carry the weight on that outside hitter position. They've been doing this since she got injured and have been doing an amazing job.
Nebraska hosts Missouri tonight at the Bob Devaney Center for the Second Round of the NCAA Tournament. The match starts at 7:00pm CST and will be streamed on ESPN+.
---
#1 Nebraska (29-1)
#2 Bergen Reilly 6'1" FR S
#5 Bekka Allick 6'4" SO MB
#6 Laney Choboy 5'3" FR DS/Libero
#7 Maisie Boesiger 5'6" SO DS/Libero
#8 Lexi Rodriguez 5'5" JR DS/Libero
#9 Kennedi Orr 6'0" JR S
#10 Caroline Jurevicius 6'2" FR OH
#11 Hayden Kubik 6'2" SO OH
#13 Merritt Beason 6'4" JR OH
#14 Ally Batenhorst 6'5" JR OH
#15 Andi Jackson 6'3" FR MB
#22 Lindsay Krause 6'4" JR OH
#27 Harper Murray 6'2" FR OH
#44 Maggie Mendelson 6'5" SO MB
Missouri (18-12)
#1 Colleen Finney 6'1" Grad Student MB
#3 Maya Sands 5'7" SO Libero
#4 Jordan Iliff 6'2" JR RS
#5 Lauren Forbes 5'8" JR Libero
#6 Kaylen Rush 5'7" FR Libero
#8 Dilara Gedikoglu 5'10" Grad Student OH
#9 Morgan Isenberg 6'0" JR MB
#12 Janet deMarrais 6'2" SO OH
#27 Sierra Dudley 6'1" FR S
---
Saturday Match-Ups From Around the Tournament – 12/2/2023
#6 Western Kentucky vs. #3 Tennessee
Minnesota vs. #3 Creighton
#8 Houston vs. #1 Stanford
#8 USC vs. #1 Pittsburgh
TCU vs. #3 Arkansas
#5 Arizona St. vs. #4 BYU
#5 Dayton vs. #4 Washington St.