What Jonathan Smith said after Oregon State's loss to Washington
The 11th-ranked Oregon State Beavers hung on until the final minutes but eventually fell short against No. 5 Washington Huskies on Saturday, losing 22-20 at Reser Stadium in Corvallis.
After the Beavers' (8-3, 5-3 Pac-12 Conference) rain-sodden defeat, head coach Jonathan Smith talked to reporters about the game.
Here's a transcript of Smith's remarks, edited for brevity and clarity.
Smith: It was definitely a tough one to swallow, you know. I appreciate our guys, our effort. This crowd was awesome tonight again, the place was packed. We just came up a couple of points short. The weather was a huge factor, I thought in the first half – and give (Washington) some credit, I thought they handled the weather better in the first half – they scored some points … But I thought we regrouped at halftime and got the early score, got the early touchdown and then just kept on chipping away at it, played our brand of football … Time of possession was huge in our favor, the whole thing. But they had two more points than us.
Q: Do you think Washington's defense is underrated?
Smith: No, they're solid – they are. They got some good players over there, their scheme is solid. I do think elements helped the defensive side tonight, but no, that team just knows how to win. Obviously, this ain't a fluke for how many wins they've ripped off in a row. I give them a bunch of credit.
Q: You've lost three games by a combined total of eight points. How do you feel like the season's going to be remembered?
Smith: It's tough to say right now. Anytime you lose and it's close like this, there's always a play or two that you'd rather have back or couldn't make type of thing. Again, I appreciate this group, this senior class. I mean, 20-some-odd of those guys guys got here the same year I did. They've been through a lot and completely changed this place, so I'm really proud of this team.
Q: Do you think the weather was a factor in the passing game football teams?
Smith: Yeah, I think for both teams. I thought they made a couple plays catching it and they dropped a few balls just like we did. The ball was on the ground for both sides. It was wet. It was definitely wet the first half, I thought it cleaned up a little in the second.
Q: Were DJ Uiagalelei and Jack Velling on the same page for OSU's final fourth down?
Smith: Yeah, Jack got on the backside of the play. We were looking at frontside progression, that was not there. DJ tried to move his feet a little bit, buy some time. I mean, again, that's why I'm going back to "not just one play" … you know, (there's) always a "could've been."
Q: This was one of the program's biggest games on paper. Did you have a moment to take that in?
Smith: I did think the atmosphere was awesome. These are the type of games we want to create – obviously, we want to come up on the other end of it. But we appreciate our crowd and the energy and we want to play big games in November but we came up two points short.
Q: The team struggled on third downs tonight. How do you clean that up?
Smith: Yeah, especially in the first half, I thought that was not the number we wanted. We gotta get into a better down distance, so 3rd and medium to short. We got in a couple of other ones that, especially with the elements in the first half, that was not gonna be in our favor.
Q: It looked like your defensive plan against Penix was to not rush for many blitzes and to play it straight and see what he could do. It seemed to be pretty effective?
Smith: We pressured him a few times on third down, that first and second down we are kind of doing what we do, counting on the crowd to help us. We got two false starts that way and those guys needed to tackle well – those (UW) guys made a few plays. But especially in the second half, it was a really good plan.
Q: Between the impact of the safety and Gould's fumble, what was the magnitude of those two plays given the final score?
Smith: Again, there's gonna be a few plays in a tight game we can point to. Obviously, we're not trying to snap it over his head. I do think Josh Green did a good job by making it only two points, not seven and give some credit to the defense, I believe when we put the ball on the ground, we held them. And so that's how we want to be responding. And there are multiple plays in this game that can result in two points.
Q: What was the strategy on the final offensive drive? Did you milk the clock a little too much?
Smith: Yeah, it's too much when you don't convert. There's no question. But yeah, we would love the idea of finishing the game with that drive and the way we moved it, we started with bad field position and obviously want to just keep converting. A field goal wins the game, so it's not like desperation. We had timeouts. We just didn't get it converted on fourth down.
Q: You talked about this senior group. Some of these players you've been with since the entirety that you've been here with this program was watching this senior group move on to the last time at least a little bit more emotional from you, just considering how long you've been with them?
Smith: Oh, I definitely appreciate them. You're just so locked in in this game and then you're digesting … but it is special. It was special watching these guys run out to Reser before the games.
Q: It's the final Pac-12 game here with the conference as we know it. How do you feel about all of that? Have you thought about it?
Smith: I really haven't thought about it. I mean, 10 minutes from taking a loss with the guys and staff real quick, and so I'm sure I'll get to a point of digesting all of that. I just haven't put a lot of thought into it.
Q: If you could set the final score aside, would you say this is one of the better defensive performances you guys have had given who you were playing?
Smith: Well, given who we were playing, yeah. I'm not trying to downplay it, I do think the weather was a factor in this thing on both sides. We played good on defense, we tackled well, all of that and again, that is a potent offense — a potent passing offense, especially. Holding those guys to 22 points is huge.
– Nick Daschel reported from Corvallis, Ore.
MORE BEAVERS COVERAGE

BoilerUpload – Oregon Sweeps Purdue Out of the Sweet 16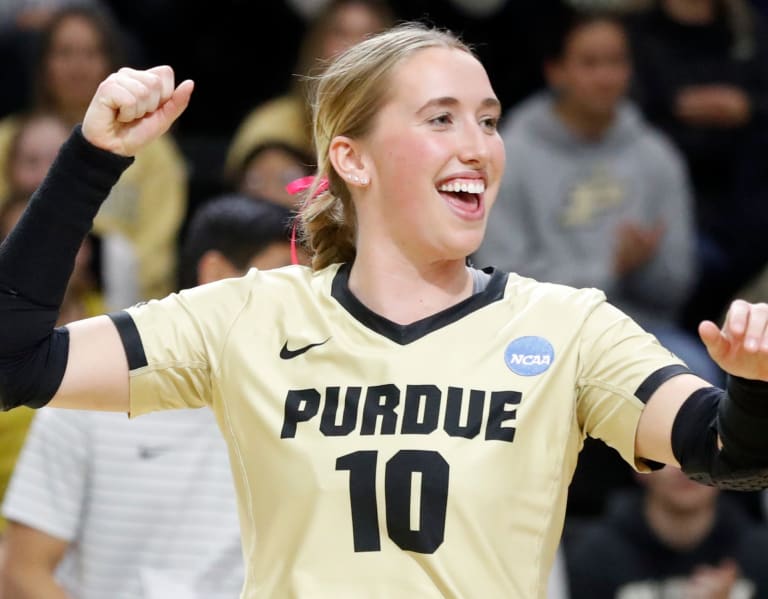 Purdue's dream of making the volleyball Final Four ran into a buzz saw Thursday night. A very strong Oregon team ended the season for Purdue with a sweep in the Sweet 16 of the NCAA Tournament.
Purdue got off to a very rough start as Oregon raced out to an 8-2 lead. The Boilers handed them two points with a pair of service errors in that stretch. The Ducks would eventually push the lead out to 11-3, then 20-8 as the Boilers struggled to gain any momentum. Oregon cruised to a 25-14 win as they hit an impressive .407 in the set while Purdue was a dismal .088.
The second set was significantly better for Purdue. Lourdes Myers helped lead the charge with a pair of kills, but Morgan Lewis and Mimi Colyer were tough to beat. Purdue was able to use a 5-0 run to open up a 13-9 lead, but Oregon ripped off and impressive tie as Colyer ripped off seven kills in a 15-4 run to make it 24-17 Oregon. Purdue fought back with a couple of points, but eventually dropped set two 25-19. Oregon finished the set with an impressive .594 hitting percentage.
Set three was Purdue's best of the match, as it featured 12 ties and was back and forth throughout. Purdue used a 5-0 run to get out to a 16-14 lead after trailing 14-11. The back-and-forth nature then continued and Purdue was able to get in front 21-20, but Colyer and Lewis once again were huge to push Oregon in front 23-21. Grace Heaney had a kill and a block to get it to 23-23 for Purdue. Purdue fought off one match point at 24-23 and appeared to have a set point at 25-24, but it was overturned on a review. Heaney then got another kill to make it 25-25 and fight off a second match point. The teams traded points and Purdue dodged a third match point on a net violation to make it 26-26. Purdue fought off a fourth match point thanks to a service error, but couldn't overcome the fifth match point before falling 29-27.
Purdue will return much of the same lineup next season, as defensive specialist Maddie Schermerhorn was the lone starter from to night that is departing due to graduation. Eva Hudson, Raven Colvin, and Chloe Chicoine were all First Team all-Big Ten selections this season and will return, along with freshman setter Taylor Anderson.
Hudson had 12 kills, but Oregon frustrated her into a .119 hitting percentage. Chicoine had 10 kills and
Purdue closes the season at 23-9.
Boiler Upload is an affiliate partner with Homefield Apparel, a premium collegiate apparel brand based in Indianapolis. They feature licensed vintage designs for over 150 different colleges and universities from the Colorado School of Mines all the way to most of the Big Ten. This, of course, includes Purdue. I can speak from experience that their Purdue line is fabulous, including the awesome 1967 Rose Bowl retro tee. Visit Homefield and use code BOILERUPLOAD for a discount on their unique designs.
Hospitals appeal judge's ruling that dismissed their case against Oregon  – Oregon Capital Chronicle
Four of Oregon's largest hospital systems announced on Thursday they have appealed a federal court ruling that dismissed their lawsuit alleging the state violates the civil rights of Oregonians with mental illnesses by giving them inadequate care. 
The four hospital systems – Legacy Health, Providence Health & Services, PeaceHealth and St. Charles Health System – filed their appeal of Judge Michael Mosman's ruling on Monday in U.S. District Court in Portland.
The case could determine the outcome for hundreds of people every year who need intensive mental health care in a residential hospital like the state psychiatric hospital in Salem. There's little room for them there because the hospital is largely tied up treating people accused of crimes who need mental health treatment to face charges. . 
The original lawsuit, filed in September 2022, alleged the Oregon Health Authority has failed to meet its legal obligation to provide adequate mental health treatment for people who are civilly committed by judges and instead warehouses them in traditional acute care hospitals that are not equipped to provide intensive and long-term behavioral health care. 
In May, Mosman dismissed the suit, saying the hospitals lacked the standing to bring claims forward on behalf of civilly committed patients.
The hospital officials said this week in their statement that they were disappointed in the dismissal because the case was filed "to advocate for the right of people with mental illness to receive treatment in the most appropriate setting and to hold the state accountable for its legal responsibilities to those individuals."
A spokesperson for the Oregon Health Authority, which oversees the Salem psychiatric facility, declined to comment because the matter involves pending litigation.
The hospital officials said the Oregon Health Authority is violating the constitutional rights of civilly committed individuals because they don't receive appropriate care to recover while in traditional hospital settings. Patients stay in hospitals for weeks or months without a treatment plan for long-term mental health needs. In appropriate mental health treatment facilities like Oregon State Hospital, patients would get the care they need, the hospital systems said.
At Portland's Unity Center for Behavioral Health, one civilly committed patient stayed for 224 days, and half of the others have been there for more than 30 days. The hospital, which is run by Legacy with backing from Kaiser Permanente, Adventist Health and Oregon Health & Science University, is the state's only mental health hospital besides the one in Salem but it's focused on emergency and short-term care. 
The other hospital systems have civilly committed patients who stay longer than 120 days, even though they are designed to care for patients an average of seven to 10 days.
"Acute care hospitals are simply not designed to provide long-term care," said Melissa Eckstein, president of Unity Center for Behavioral Health. "These patients should be in specialized long-term care facilities, such as secure residential treatment facilities or the Oregon State Hospital, where they receive levels of care designed for step-down and long-term treatment care needs."
Oregon has too few options for people who need residential mental health care, and the state hospital is perpetually full as it struggles to treat patients who are facing criminal charges. A court order mandated deadlines for so-called aid-and-assist patients to enter and leave the facility. Civilly committed patients need similar care to ensure they don't harm themselves or others.
Under state law, people can be civilly committed for involuntary treatment when they pose a danger for up to 180 days. Each year, more than 500 people with severe mental illnesses are civilly committed to the Oregon Health Authority.
UPDATED at 2:25 p.m. on Thursday, Dec. 7, 2023 with a response from the Oregon Health Authority.
GET THE MORNING HEADLINES DELIVERED TO YOUR INBOX
Oregon's new prison director views housing, jobs after release as essential – Salem Reporter
Mike Reese has been doing a lot of walking and listening as he takes over running Oregon's prison system.
Since Nov. 13, he's been in charge of 12,143 adults in custody, 3,835 employees and a billion-dollar budget.
Reese came out of retirement at the request of Gov. Tina Kotek to serve as director of the Oregon Department of Corrections.
He brings to the job a long resume in criminal justice. He served as chief of the Portland Police Bureau and then as Multnomah County sheriff, retiring from that job in 2022.
Reese was considering running for mayor of Portland when Kotek's office called.
She persuaded him to give up his political ambition to immediately take on the prison job.
"I need you," Kotek told him.
Reese agreed.
"I've spent my professional career doing everything I can to create safer communities," Reese said in an interview. "I felt like I had more to offer."
In his first days, he sat down with agency leaders and then started prison tours. He's been to Coffee Creek Correctional Facility in Wilsonville and Santiam Correctional Institution and Oregon State Penitentiary in Salem.
He's talked to prison leaders and corrections officers, who remain in short supply across the agency. He found time to talk to those in custody.
Meeting them "has been really good for my learning experience," Reese said.
"It's sad to see folks who have severe mental health issues being incarcerated in our prisons."

–Mike Reese, director, Oregon Department of Corrections
The prisons hold countless challenges.
According to Corrections Department reports, roughly 7 out of every 10 adults in the system have abused drugs or alcohol.
And about 1 out of 5, or 2,426, are classified as having severe mental health issues.
Reese wants to do something about both.
"It's sad to see folks who have severe mental health issues being incarcerated in our prisons," he said.
He noted the agency is short of professionals who can provide in-prison treatment.
Reese said he intends to work with Kotek and legislators "on alternatives to incarceration for people who are severely mentally ill."
He also wants to see improved treatment for those with substance abuse issues.
Reese said prisons weren't built to serve as mental health wards or as treatment centers.
And he was struck by one scene at the state penitentiary, eying a four-tier cell block.
"Looking at the bottom tier, every cell has a wheelchair or walker outside. We have an aging population in our institutions," Reese said.
But he's as concerned about what happens when adults are released.
"Housing matters," Reese said. "We've got to have stable housing for every single person that leaves here. I know that's a challenge."
"If you're turning people back to the streets of any city in Oregon, that's not a stable environment for them," Reese said.
Lack of a place to live makes it too easy for them to slip back into "bad habits" and "self-destructive" behavior.
He also wants to be sure they are ready to work.
"Employment matters," he said.
One of his immediate priorities is addressing staff wellness.
"We have to take care of our staff, particularly those on the front line," Reese said. "We have too many vacancies in our organization and that impacts wellness."
The Corrections Department has struggled to hire, faced with a heated labor market where criminal justice agencies are competing for employees. Currently, the agency has 403 vacancies, including 210 corrections officers and 51 ranking officers from corporal to captain.
VIDEO: Reese addresses employees
"We have to be a lot more innovative," Reese said, to draw in recruits. "Our best recruiters are folks that already work here."
He said the agency might start paying a bonus to employees who recruit an applicant and pay them another bonus if a recruited employee makes it through probation.
Reese said getting sentenced to state prison is the punishment for those convicted of crimes and they deserve to be treated humanely.
"Our job is to keep them safe, keep our community safe and provide them the resources they need to be successful when they leave custody," Reese said. "Treating people with dignity and respect can be transformative."
Contact Editor Les Zaitz: [email protected].
STORY TIP OR IDEA? Send an email to Salem Reporter's news team: [email protected].
SUPPORT OUR WORK – We depend on subscribers for resources to report on Salem with care and depth, fairness and accuracy. Subscribe today to get our daily newsletters and more. Click I want to subscribe!
Les Zaitz is editor of Salem Reporter and also serves as editor and publisher of the Malheur Enterprise in Vale, Oregon.