Louisiana's 60-foot alligator float returns to NYC to crawl in Thanksgiving parade
BATON ROUGE, La. (WAFB) – Move over turkey; the massive alligator is back! Louisiana's 60-foot "Celebration Gator" will once again crawl down the streets of the Big Apple during this year's Macy's Thanksgiving Day Parade in New York City.
Get a behind-the-scenes look at Louisiana's Celebration Gator that will roll through New York City in the 97th annual Macy's Thanksgiving Day Parade.
This year, Cajun fiddler Amanda Shaw, of Mandeville, and country singer Alex Smith, of Alexandria, will represent the state by riding on the float and performing.
Cajun fiddler Amanda Shaw and country singer Alex Smith are bringing Louisiana to the streets of NYC. They will ride on Louisiana's float for the Macy's parade.
This is the third consecutive year the Louisiana "Celebration Gator" will participate in the parade.
According to the Office of Lieutenant Governor Billy Nungesser, "Since 2021, coverage of Louisiana's float in the annual parade reached nearly 2 billion people encouraging them to experience the culture, history, food, and music that are uniquely Louisiana."
The 97th annual Macy's Thanksgiving Day Parade rolls from 9 a.m. until noon on Thursday, Nov. 23. Viewers can watch the parade from the comfort of their homes on NBC and Peacock.
Fellow Louisiana native Jon Batiste will also be performing during this year's parade.
Click here to report a typo.
Copyright 2023 WAFB. All rights reserved.

Court rules against feds in charterboat case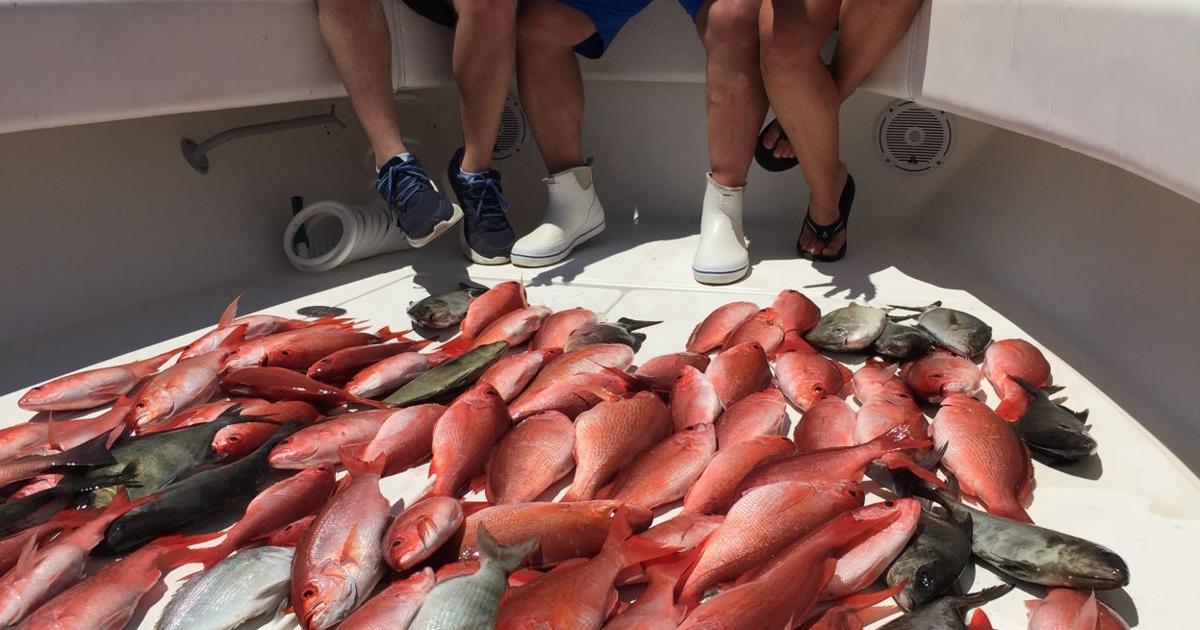 There are enough federally permitted charterboat operations in Louisiana to warrant attention from the latest ruling by the U.S. Court of Appeals for the Fifth Circuit.
The ruling turns aside a U.S. Department of Commerce regulation which demanded these charterboat operators install a constant (24-hour) GPS tracking device on their vessels and report what opponents considered to be "confidential economic data" to the National Marine Fisheries Service.
The New Civil Liberties Alliance took up the cause for the Mexican Gulf Fishing Company, et al. (meaning more than 1,300 federally permitted charterboat operations) in a plea to the courts to have the requirement declared unconstitutional on a violation of the Fourth Amendment in the Bill of Rights.
The Alliance explained their argument that the installation of an "…onboard Vessel Monitoring System tracking device that continuously transmitted its GPS location to NMFS. The rule forced charterboat captains to pay for these devices, which tracked boats whether they were being used for a charter-fishing trip or something else.
"This 24-hour surveillance was unnecessary, unduly burdensome, and violated the Fourth Amendment by searching without probable cause or a warrant.
"It also exceeded NMFS's authority under the Magnuson-Stevens Act and was arbitrary and capricious in violation of the Administrative Procedure Act. NCLA also complained the rule required reporting data that the agencies had nowhere specified in proposing the rule for comment."
The New Orleans-based firm of Gordon Arata assisted the Washington, D.C,-based Alliance in the plea that ended when the Alliance agreed to dismiss its motion for fees and the federal government agreed to pay a fee settlement of $160,000.
"This rule was a constitutional travesty from the get-go. NCLA is proud to have vindicated our clients' civil liberties," Alliance president and general counsel Mark Chenoweth said. "We will put these funds to good use in lawsuits against other federal agencies, securing Americans' civil liberties from an Administrative State that routinely fails to respect people's rights."
Flounder & specks
The season is open on Southern flounder after our state's first closed season on the species. The closed season ran from Oct. 15-Nov. 30.
A reminder about the new speckled trout regulations: 15 fish per day within a "slot" limit of 13-20 inches with an allowance to keep two trout measuring longer than 20 inches.
Red snapper
The estimated red snapper take during the two weeks leading up to Thanksgiving added up to 8,970 pounds bringing the season total to 846,247 pounds in the private recreational landings in the state's LA Creel survey.
That number is 90.6% of Louisiana's 2023 934,587-allocation. The recreational season ends Dec. 31 with 88,340 pounds left to be taken in the last 42 days of the year.
Volunteering
If you want to be involved in a growing number of Louisianans teaching about fishing, then you can attend Wildlife and Fisheries' Dec. 12 Aquatic Volunteer Instructor workshop.
The class will run from 8:30 a.m.-1:30 p.m. at the the Waddill Wildlife Refuge on North Flannery Road in Baton Rouge.
The agency's Fisheries Outreach and Education staff heads the class for certification in leading fisheries programs for youth and adults across the state.
It's a hands-on period in fish identification, fishing and casting, environment and other fisheries-related activities.
When completed, certified aquatic volunteer instructors will receive lesson plans and educational materials for grade schools and high schools along with activity guides and access to fishing equipment and games.
Preregistration is requested through the agency's website: wlf.louisiana.gov/page/aquatic-vip.
Tying the knot
It's always good to get info from the Recreational Boating & Fishing Foundation, and the latest is entitled "The five knots you need for saltwater fishing."
If you want to learn how to tie a uni knot and a double uni, an improved clinch knot, a non-slip loop knot and a palomar knot, then go the RBFF website: takemefishing.org/
Will Louisiana Tech cover the spread vs. Nicholls State? Betting Trends, Record ATS
The Louisiana Tech Bulldogs (5-2) are heavily favored (by 13.5 points) to extend a four-game home win streak when they host the Nicholls State Colonels (3-5) on Saturday, December 2, 2023 at 3:00 PM ET. The matchup has a point total of 142.5.
Place your bets on any college basketball matchup at BetMGM, and sign up with our link for a first-time deposit bonus!
Louisiana Tech vs. Nicholls State Odds & Info
Date: Saturday, December 2, 2023
Time: 3:00 PM ET
TV: ESPN+
Live Stream: Watch this game on ESPN+
Where: Ruston, Louisiana
Venue: Thomas Assembly Center
Watch live college basketball games from all over the country, plus ESPN originals and more NCAA hoops content on ESPN+!
| Favorite | Spread | Over/Under |
| --- | --- | --- |
| Louisiana Tech | -13.5 | 142.5 |
Sportsbook Promo Codes
Louisiana Tech Betting Records & Stats
Louisiana Tech's games have gone over 142.5 points just once this season (in five outings).
Louisiana Tech has had an average of 142.1 points in its games this season, 0.4 fewer than this matchup's total.
The Bulldogs are 4-1-0 ATS this season.
Louisiana Tech has been listed as the favorite three times this season and has won all of those games.
The Bulldogs have played as a favorite of -1100 or more once this season and won that game.
The oddsmakers' moneyline implies a 91.7% chance of a victory for Louisiana Tech.
Louisiana Tech vs. Nicholls State Over/Under Stats
| | Games Over 142.5 | % of Games Over 142.5 | Average PPG | Combined Average PPG | Average Opponent PPG | Combined Average Opponent PPG | Average Total |
| --- | --- | --- | --- | --- | --- | --- | --- |
| Louisiana Tech | 1 | 20% | 79.1 | 154.6 | 63 | 143.4 | 141.9 |
| Nicholls State | 3 | 50% | 75.5 | 154.6 | 80.4 | 143.4 | 145 |
Get tickets for any college basketball game this season at Ticketmaster!
Additional Louisiana Tech Insights & Trends
The Bulldogs record 79.1 points per game, just 1.3 fewer points than the 80.4 the Colonels give up.
Bet on this or any college basketball matchup at BetMGM
Louisiana Tech vs. Nicholls State Betting Splits
| | ATS Record | ATS Record Against 13.5+ Point Spread | Over/Under Record (O-U-P) |
| --- | --- | --- | --- |
| Louisiana Tech | 4-1-0 | 1-0 | 1-4-0 |
| Nicholls State | 4-2-0 | 3-1 | 3-3-0 |
Louisiana Tech vs. Nicholls State Home/Away Splits (Last Season)
| Louisiana Tech | | Nicholls State |
| --- | --- | --- |
| 9-6 | Home Record | 11-2 |
| 4-11 | Away Record | 4-11 |
| 6-6-0 | Home ATS Record | 3-5-0 |
| 8-6-0 | Away ATS Record | 4-10-0 |
| 75.8 | Points Scored Per Game (Home) | 82.3 |
| 68.5 | Points Scored Per Game (Away) | 71.7 |
| 8-4-0 | Over-Under-Push Record (Home) | 1-7-0 |
| 8-6-0 | Over-Under-Push Record (Away) | 7-7-0 |
Rep your team with officially licensed college basketball gear! Head to Fanatics to find jerseys, shirts, and much more.
Not all offers available in all states, please visit BetMGM for the latest promotions for your area. Must be 21+ to gamble, please wager responsibly. If you or someone you know has a gambling problem, contact 1-800-GAMBLER.
© 2023 Data Skrive. All rights reserved.
This small-town Louisiana radio station still does newscasts in French. It now has fans worldwide.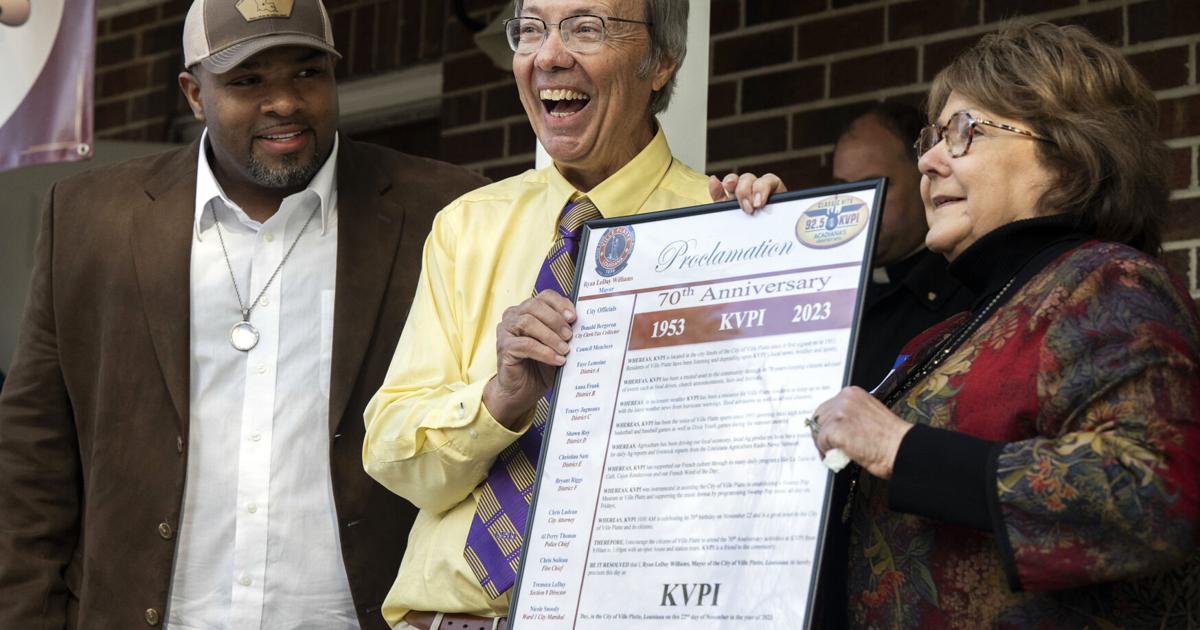 KVPI stands for "Keeping Ville Platte Informed," but through 70 years of broadcasting, this radio station has extended its reach far beyond Evangeline Parish.
Listeners from Montana, Arkansas, Germany, New Zealand, and other points around the world tune in regularly to gain unique insight into Cajun culture, in both English and French.
"We've done newscasts in French twice a day since day one," general manager Mark Layne said. "As far as I know we're the only radio station across the state still doing French news, and I'm proud of that."
The station is particularly known for "La Tasse de Cafe," a weekday morning show in which people can call in to speak French, learn about Cajun ways and practices or simply have a chat with one of the show's hosts — a rotating cast of KVPI's bilingual DJs.
John and Dottie Miller of Greenwood, Arkansas, credit La Tasse de Cafe with helping them fall in love with Louisiana.
"We'd been listening for years, and one morning nobody was calling in," John said. "We decided to call in, and the first thing they said was, 'Do you speak French?' I said, 'I don't even speak English, I'm from New York.'"
That call was in May of this year, and in June the station invited the Millers to come down for a segment about John's pre-retirement work with Arkansas bomb squads.
John said that people called in from San Diego, Germany, Montana, Florida and Rhode Island that day. "It's amazing how many people listen to La Tasse," he says. "We just love it. We've made friends with a lot of people down here, especially through KVPI. We became LSU fans and fans of the culture, people, food, music … an array of stuff. They do a really good job keeping French culture alive."
That ethos was baked into the station from the beginning, Layne said.
"Some of what we were doing in the '50s we're still doing today," he said. "Fairs, news, local sports — we still do all of that. There are no local stations doing obits. We're still doing that."
Even with an unapologetically local focus, the station has found interested listeners from all over — many who have some connection to Acadiana, and others who are simply fascinated by a unique region and language.
"We've always been committed to supporting our Cajun culture," Layne said. "Seventy years ago the first general manager was fluent in French, and today we're still taking the English news copy and translating to Cajun French for the people. There are other stations that play Cajun music, (but) I want people to hear the language."
Layne is fluent in French, with a story common to many in the region — he grew up in Mamou with parents and grandparents who spoke French, lost much of the language when he went to school but later regained it when one of the station managers he worked under encouraged him to practice.
Other bilingual employees include Jackie Miller and Ray Duplechain, who often share hosting duties on La Tasse de Cafe. Miller is also responsible for reading the morning French newscasts.
"We call it 'Frenglish,'" said Miller, speaking on the process of translating English-language news into Cajun French. "We mess it up as best we can. People need to realize a lot of these words didn't exist when we were young — crime, assaults, government stuff."
A Ville Platte native, Mille said she has been bilingual her entire life. "We'll put French accents on words, look some up. I just want to keep the French growing."
Duplechain started his post-retirement career in radio three years ago and loves sharing about his Cajun heritage.
"People want to know how we live, what we eat, the things we did growing up, how we entertained ourselves, how we worked," said Duplechain, listing frequent topics of conversation on La Tasse de Cafe. "We have people from other countries listening to us to get informed about what's happening here. They love Louisiana, and some want to come visit — like John and Dottie."
Like Layne, Duplechain also learned French as an adult. Today, he frequently fields calls from French speakers and people who are looking to learn.
"On La Tasse 50-70% of callers speak to us in French," Duplechain said. "It's a beautiful language. You can express yourself in ways that you can't in English."
Layne is proud of KVPI's market success over the past 70 years. The station has received 13 Station of the Year awards from the Louisiana Association of Broadcasters and other awards.
He says, "Anybody can stream music. There are hundreds of sources. We've won so many awards, and I think what makes us unique is our community service. Satellite won't highlight high school football, the school board meeting (or) who died."
But more than anything, station employees credit the commitment to French programming for KVPI's ongoing popularity.
"We're unique," says Duplechain. "If you want to be entertained in Cajun culture, listen to KVPI. We do it all."
Listeners can catch KVPI at 92.5 and 107.3 on the FM dial, or 1050 on AM radio for a mix of classic hits and country, Cajun music, swamp pop, English and French news broadcasts, and the award-winning "La Tasse de Cafe" morning call-in show. The station also broadcasts live from Fred's Lounge in Mamou every Saturday morning.