Missouri State football falls in season finale at No. 1 South Dakota State
Missouri State football's first season under head coach Ryan Beard ended Saturday afternoon with a 35-17 loss at FCS No. 1 South Dakota State.
The Bears finished their year with a 4-7 record. A young roster will enter an offseason with immediate questions as to who will depart to the transfer portal and who will be added. Expectations will be higher in the second year of Beard's tenure with the needed development of those who remain on the roster.
South Dakota State, the overwhelming favorite to repeat as the FCS national champs, outclassed the Bears on both sides of the ball while Missouri State kept it respectable as it entered the game a 26-point underdog.
The Jackrabbits took a 21-3 lead into halftime while holding the Bears to just 109 total yards, with 18 coming on the ground for an average of 1.5 yards per carry. SDSU scored touchdowns on each of its first three drives.
More: Missouri State basketball opens Virgin Islands trip with win over Florida Gulf Coast
MSU quarterback Jordan Pachot finished the game 23 of 35 for 261 yards and two touchdowns with Raylen Sharpe catching eight passes for 86 yards. Sharpe finished the year with MSU's single-season record for catches and second in touchdown catches and receiving yards.
South Dakota State gained 477 yards with quarterback Mark Gronowski completing 16 of 23 passes for 323 yards and two scores. Five rushers combined for 154 yards and three touchdowns with former Joplin standout Isaiah Davis leading the way with 85 yards and a score.
The Bears didn't have an answer for SDSU wide receiver Jadon Janke, who caught 10 passes for 187 yards and a touchdown. The Jacks averaged 20.2 yards per completion.
Wyatt D. Wheeler is a reporter and columnist with the Springfield News-Leader. You can contact him at 417-371-6987, by email at wwheeler@news-leader.com or X at @WyattWheeler_NL. He's also the host of the weekly "Wyatt's World Podcast" on Spotify, Apple Podcasts and other podcasting platforms

Missouri vs. Kansas State Women's Basketball Predictions & Picks – December 9
Saturday's game that pits the No. 13 Kansas State Wildcats (8-1) against the Missouri Tigers (7-3) at St. Joseph Civic Arena should be a one-sided matchup based on our computer prediction, which projects a final score of 76-61 in favor of Kansas State, who is big favorites by our model. Game time is at 6:00 PM ET on December 9.
In their most recent outing on Wednesday, the Tigers claimed an 81-63 win over Missouri State.
Watch live college basketball games from all over the country, plus ESPN originals and more NCAA hoops content on ESPN+!
Missouri vs. Kansas State Game Info
When: Saturday, December 9, 2023 at 6:00 PM ET
Where: St. Joseph Civic Arena in Saint Joseph, Missouri
Catch college basketball action all season long on Fubo!
Missouri vs. Kansas State Score Prediction
Prediction:
Kansas State 76, Missouri 61
Other SEC Predictions
Missouri Schedule Analysis
When the Tigers took down the Belmont Bruins, the No. 65 team in our computer rankings, by a score of 72-61 on November 6, it was their signature win of the year so far.
Against Quadrant 2 opponents, Missouri is 1-0 (1.000%) — tied for the 26th-most wins.
Against Quadrant 4 teams, Missouri is 6-0 (1.000%) — tied for the third-most wins.
Get tickets for any college basketball game this season at Ticketmaster!
Missouri 2023-24 Best Wins
72-61 at home over Belmont (No. 65) on November 6
81-63 at home over Missouri State (No. 239) on December 6
66-65 over Tennessee Tech (No. 275) on November 24
98-57 at home over Indiana State (No. 306) on November 9
83-72 at home over North Alabama (No. 311) on November 14
Missouri Leaders
Hayley Frank: 17.8 PTS, 7.1 REB, 47.2 FG%, 38.6 3PT% (22-for-57)
Mama Dembele: 9.2 PTS, 7.0 AST, 3.3 STL, 42.9 FG%, 35.7 3PT% (5-for-14)
Ashton Judd: 16.2 PTS, 45.8 FG%, 39.3 3PT% (22-for-56)
Grace Slaughter: 12.7 PTS, 52.0 FG%, 40.6 3PT% (13-for-32)
Abbey Schreacke: 9.3 PTS, 57.9 FG%, 51.3 3PT% (20-for-39)
Missouri Performance Insights
The Tigers outscore opponents by 14.4 points per game (posting 81.4 points per game, 28th in college basketball, and giving up 67.0 per outing, 234th in college basketball) and have a +144 scoring differential.
Rep your team with officially licensed college basketball gear! Head to Fanatics to find jerseys, shirts, and much more.
© 2023 Data Skrive. All rights reserved.
Missouri aquarium named 9th in most beautiful to visit in U.S.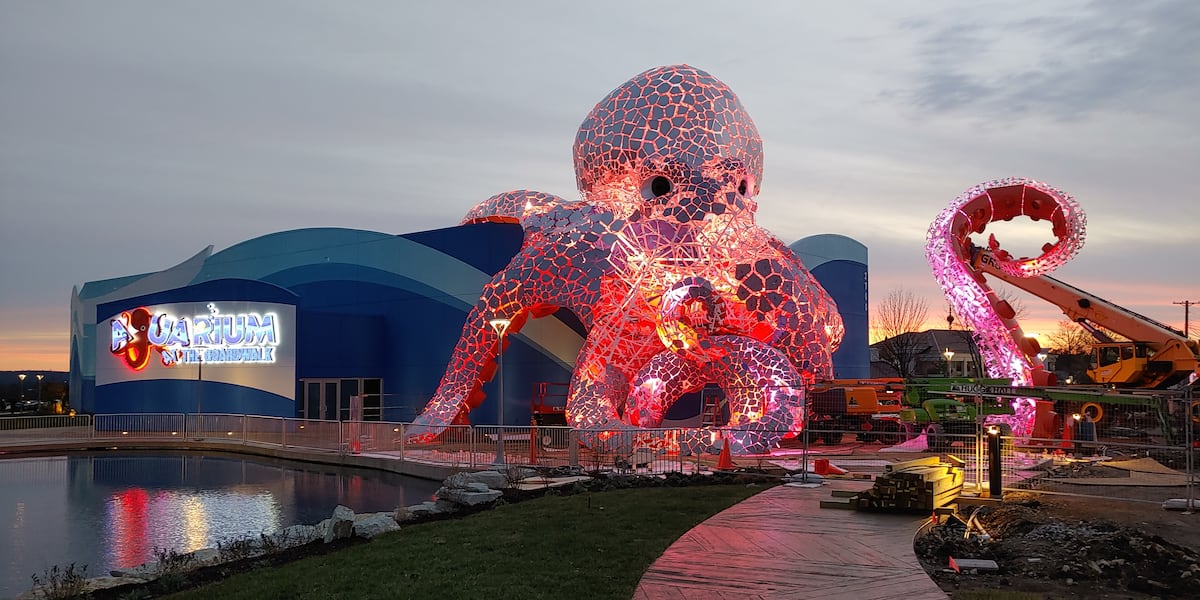 BRANSON, Mo. (KCTV) – A Missouri aquarium was recently named as the ninth most beautiful aquarium to visit in the United States.
According to a recent article published by Aquarium Store Depot, Branson, Missouri's Aquarium at the Boardwalk, was listed at number nine out of 175 analyzed and reviewed aquariums.
Reviews were based on a data search with words used as 'beautiful', 'breathtaking' and 'picturesque'. Each were then ranked based on the percentage of reviews using those keywords, to narrow down America's most beautiful aquariums.
The Aquarium at the Boardwalk has many unique ways to experience the aquatic habitats, starting with a giant Octopus display as the entrance into the aquarium.
Other attractions make for the aquarium placing ninth on the list, such as underwater tunnels with an up close view of sharks and stingrays, an interactive Jelly Infinity room that showcase jellyfish and .
The Branson Aquarium opened its doors in November of 2020 and was recently one of two named as 2023 Best Indoor Attraction.
Birch Aquarium in La Jolla, California came in third while Butterfly House and Aquarium in Sioux Falls, South Dakota placed second on the list.
The number one spot went to Belle Isle Aquarium in Detroit, Michigan with over 30 percent of visitor reviews referencing its beauty.
Copyright 2023 KCTV. All rights reserved.
Missouri cannabis workers fight to unionize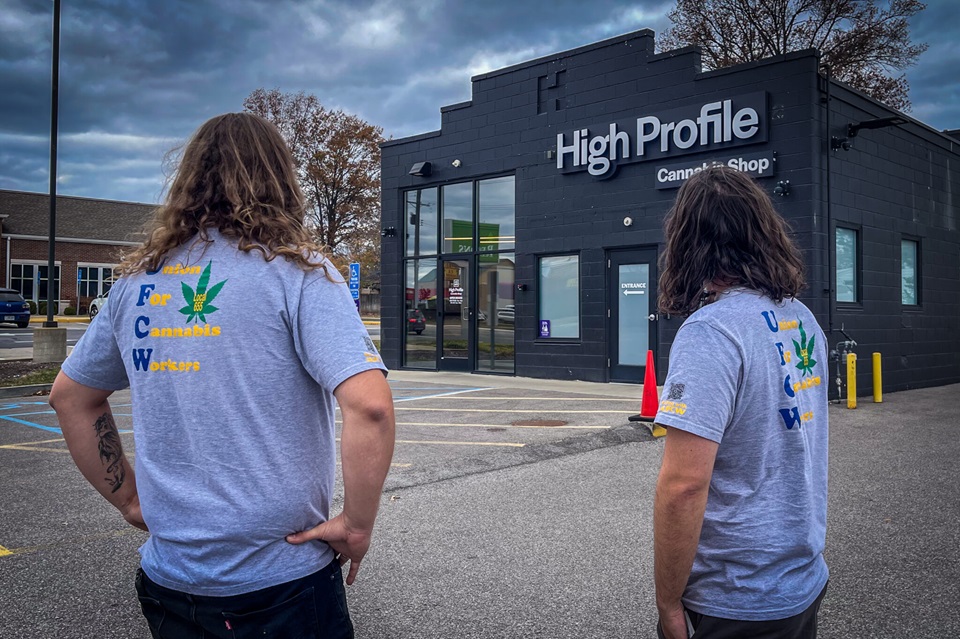 Sean Shannon, lead organizer with the United Food and Commercial Workers International Union Local 655 (left), and former budtender-turned-organizer Danny Foster visited several marijuana dispensaries in eastern Missouri in November to talk to employees about unionizing. | Rebecca Rivas/Missouri Independent
 ST. LOUIS—The first day was a breeze.
While Missouri cannabis dispensary workers see progress, marijuana manufacturing employees say they are stuck in a 'gray area,' unable to unionize because they may be considered agricultural workers.
Or so Sean Shannon and Danny Foster found out when they walked into several marijuana dispensaries around Missouri with their matching "Union For Cannabis Workers" shirts and talked to employees about the possibility of unionizing.
"The first day, there were 57 stops amongst the teams," said Shannon, lead organizer for United Food and Commercial Workers Local 655. "Reception was out-of-this-world positive. Workers were so excited."
Shannon had gathered together a dozen organizers to help Local 655 visit every one of the approximate 100 dispensaries on the eastern half of Missouri—twice.
Stirring up the excitement was the union's big win of the recent settlement, where 10 Shangri-La South dispensary workers in Columbia received a collective $145,000 after being fired following a March union organizing drive.
"They were excited to hear that Shangri La [employees] actually won," he said. "They couldn't believe people were getting their jobs back. They couldn't believe the amount of money."
But by the third day, the reception got much colder, he said. Managers had warned their counterparts at other locations that union reps might be visiting.
"Employees were basically told, 'If you talk to the union, if you take a card, if you take a sticker, you're out,'" he said.
Still, since the tour, union activity has "blown up," Shannon said.
An active campaign means the employees have signed agreements, or authorization cards, with the union authorizing Local 655 to represent them. It also means union leaders believe workers have a good shot at succeeding.
Shannon said Local 655 now has authorization to represent more than 20 locations in eastern Missouri.
The next step is filing a representation petition with the National Labor Relations Board, seeking to have the board conduct an election among employees on whether or not to unionize.
Last week, employees at Hi-Pointe Cannabis in St. Louis filed a petition—following the lead of workers at High Profile Dispensary in  Columbia and Bloom Medical Dispensary in St. Louis in early November.
In October, Homestate Dispensary employees in Kansas City voted 6-1 to have Teamsters Local 955 represent them, becoming the second unionized dispensary in Missouri. The first was Root 66 Dispensary in St. Louis, where employees voted to join UFCW Local 655 in April 2022.
A big reason for unionizing
A big reason why employees are moving towards unions, Shannon said, is because Missouri is at the point where the "canna-bliss" of working with marijuana professionally is starting to wear off.
Now the reality that workers aren't getting paid enough, are sometimes working in poor conditions and have no job stability is starting to set in, said Danny Foster, a former cannabis worker who was helping with the union's tour.
"We really weren't given the industry that we were promised," Foster said. "We all came in super excited. We love cannabis. We wanted to be able to make it a career. But as it is right now, cannabis isn't a career."
The motivation to unionize for Andrew Nussbaum, the most veteran worker at Shangri-La South dispensary in Columbia, was to ensure job security. Because he loves his job as a patient consultant supervisor.
"A lot of us just want to help people and help them find something that works for them," he said. "I've talked to people for 45 minutes to an hour to kind of get them squared away."
When he and other dispensary workers filed an NLRB representation petition in April, they encountered strong resistance.
After the bosses fired Nussbaum and nine other employees, the board swiftly and firmly sided with them and approved a settlement that awards back pay to all the "unlawfully terminated employees." It also cleared a path for them to unionize. Announcing the agreement, the board made a pointed statement about the case reflecting the "General Counsel's vision of fully restorative relief."
Nussbaum is among five of the 10 terminated employees who will  return to work in the near future. And despite it being a tumultuous year, he said he's committed to his role. He has a degree in plant biology, and he enjoys learning about how cannabis can help people.
"That's what this is all about," he said. "That's why it's so important to all of us, because this was not an easy ordeal for any of us."
One of the things that draws people to the industry is the camaraderie among employees who are passionate about cannabis, Shannon said. And that's also what makes it the perfect breeding ground for organizing.
"This is a tight-knit community that takes care of each other. They're already learning that… having a union backing you up, it's the only way to truly make a difference. I've been telling people, 'Wait till you feel that contract high.'"
But are they ag workers? That's the big barrier they confront.
A different kind of battle
Will Braddum, a post-harvest technician, faces a different kind of battle at BeLeaf Medical's Sinse Cannabis site in St. Louis. Not long after he and 17 other employees filed their petition in September, the company argued before the board that the employees aren't manufacturer workers—they're agricultural workers.
Agricultural laborers aren't protected under the National Labor Relations Act, which ensures employees have the "fundamental right to seek better working conditions and designation of representation without fear of retaliation."
But in a concession to Southern segregationist senators whose votes FDR needed for the legislation, two big groups of workers were excluded, because of race: Farm workers, who were mostly Latino, and domestic workers, who were mostly Black.
It's a frustrating "gray area" for manufacturing cannabis employees looking to unionize, Shannon said.
On Oct. 27, company representatives described the employees' job descriptions to the board, which included "a whole bunch of the cultivation side's job description," Braddum said. It was eye-opening for the employees who testified and had to refute that description, he said.
"I've never watered anything and never touched any soil," he said. "I've never touched a living plant at work. So I guess if they're gonna tell the National Labor Relations Board that we're doing agricultural work, maybe they're not necessarily on our side at all."
An attorney for BeLeaf Medical said the company was not able to comment.
It's unclear how long a decision from the board will take, but the decision will likely be reviewed closely nationwide.
Braddum has been at BeLeaf for the last year and a half, but he's been part of the legacy market since 2009.
"I just kind of segued," he said. "I went from an illegal career to a legal career without a hiccup basically."
For him, this is his career. He's seen how "cutthroat" the corporate side can be and how a human relations officer has the power to make someone lose their agent ID, or state-issued license to work in cannabis. He doesn't want that to happen to him or any of his team.
"The only way to pad myself from Human Resources is to cultivate a union movement," he said, "and talk to my co-workers about job security.
Rebecca Rivas is a multimedia reporter who covers Missouri's cannabis industry. A graduate of the University of Missouri School of Journalism, she has been reporting in Missouri since 2001, including more than a decade as senior reporter and video producer at the St. Louis American, the nation's leading African-American newspaper.
We hope you appreciated this article. At People's World, we believe news and information should be free and accessible to all, but we need your help. Our journalism is free of corporate influence and paywalls because we are totally reader-supported. Only you, our readers and supporters, make this possible. If you enjoy reading People's World and the stories we bring you, please support our work by donating or becoming a monthly sustainer today. Thank you!