Arizona to keep national parks open if shutdown occurs
PHOENIX (AP) — Arizona and Utah will keep the iconic national parks in those states open if a shutdown of the federal government threatens access to Arizona's orange-striped Grand Canyon and the sheer red cliffs of Utah's Zion Valley.
Most importantly for state budgets, visitors can keep spending their money near the parks.
A cutoff could come Sunday. The economic impact of the national parks is so important that Arizona's Democratic governor and Utah's Republican governor have decided to invest state funds in keeping Grand Canyon, Zion, Arches, Bryce Canyon, Capitol Reef and Canyonlands national parks open.
For Arizona Gov. Katie Hobbs and Utah Gov. Spencer Cox, it's a simple question of economics.
The nonprofit National Parks Conservation Association says that every $1 invested in the National Park Service annually supports more than $15 in economic activity.
The association says that every day of a shutdown could mean national parks collectively losing nearly 1 million visitors, and gateway communities losing as much as $70 million.
Hobbs and Cox say their states will pay to keep those parks operating on a basic level, cushioning tourism-dependent communities.
"We expect to be reimbursed, just as federal employees receive back pay during a shutdown, and we have communicated this to the Department of Interior," Cox said this week.
Hobbs has said Arizona Lottery funds would help keep the Grand Canyon park open.
Utah paid some $7,500 daily during the last part of December 2018 to keep Zion, Bryce Canyon and Arches running during a shutdown back then. The nonprofit Zion Forever Project committed $16,000 to pay a skeleton crew and keep bathrooms and the visitor center open at Zion, which continued drawing several thousand visitors daily.
Arizona state funds won't cover all normal operating costs during a shutdown, but they will still let people visit, said Joelle Baird, public affairs specialist for Grand Canyon National Park.
The National Park Conservation Association noted that keeping parks open during a shutdown without sufficient staff and other resources can be be disastrous.
"We witnessed unnecessary and avoidable damage, including overflowing trash and human waste, vandalism, looting and illegal use of off-road vehicles," the organization said about some sites during the 2018-2019 shutdown.
Conditions at Joshua Tree National Park were described as especially bad, with overflowing trash and portable toilets and unsupervised visitors driving off road and toppling incalculable numbers of the distinctive plants.
Arizona paid about $64,000 a week during the shutdown that stretched 35 days from late 2018 to early 2019 to cover restroom cleaning, trash removal and snow plowing at Grand Canyon. People with permits to hike in the backcountry or raft on the Colorado River could still go, but no new permits were issued during that period.
National park employees who were not furloughed had to work without pay, their lost wages repaid after a budget resolution was reached. Those expected to work in another potential shutdown include members of Grand Canyon National Park's emergency services, which has teams trained in medical services, search and rescue and firefighting.
Joëlle Baird, the park's public affairs specialist, said Arizona state funding "kept most everything business as usual" during the shutdown five years ago.
"Hotels, restaurants, pretty much everything was open," she said.
John Garder, Senior Director of Budget & Appropriations for the nonprofit National Parks Conservation Association, said funding the parks is a federal responsibility that states shouldn't have to assume.
"We understand states' interest in opening our parks when the government shuts down as they are proven economic engines, generating more than $50.3 billion and supporting more than 378,400 jobs annually." said Garder. "But ultimately, it is Congress' responsibility to keep them funded and open."
The association said the shutdown could affect more than 400 sites in 50 states, the District of Columbia, and U.S. territories such as Puerto Rico, Guam and American Samoa.
In Washington state, home to Mount Rainier and Olympic national parks, Gov. Jay Inslee has no plans to provide more funding or staff to national parks if there's a shutdown.
Inslee's office said much of the governor's discretionary spending was needed this year for cleanup and recovery after wildfires in Spokane County.
Montana Gov. Greg Gianforte's office didn't say if the state would spend money to keep Glacier or Yellowstone national parks open. But his staff said the Republican governor's budget team is working with state agencies "to prepare for a possible shutdown in the event Congress can't get its act together and keep the federal government up and running for the American people."
Most of Yellowstone is in Wyoming but three of the five entrances are in Montana.
Wyoming Gov. Mark Gordon awaiting more information from the Department of Interior and the White House to better understand the state's options, said spokesman Michael Pearlman.
"The Governor has also been in contact with the Superintendents of Grand Teton and Yellowstone National Parks," said Pearlman, adding that Gordon, a Republican, recognizes that park closures "could have significant economic repercussions to Wyoming families that live and work in our gateway communities."
California Gov. Gavin Newsom's administration said this week it doesn't plan to keep national parks open if the federal government shuts down, saying the parks are not within state jurisdiction. The Democratic governor and state lawmakers had to make difficult budgetary decisions this year as the state faced a nearly $32 billion shortfall after several years of budget surpluses.
We want to hear from you.
Have a story idea or tip? Pass it along to the KTAR News team here.

Northern Arizona vs. Abilene Christian College Basketball Predictions & Picks – December 6
Wednesday's game between the Abilene Christian Wildcats (3-5) and Northern Arizona Lumberjacks (3-5) squaring off at Teague Center has a projected final score of 72-68 (based on our computer prediction) in favor of Abilene Christian, who is listed as a small favorite by our model. The game will start at 8:00 PM ET on December 6.
There is no line set for the game.
Watch live college basketball games from all over the country, plus ESPN originals and more NCAA hoops content on ESPN+!
Northern Arizona vs. Abilene Christian Game Info & Odds
Date: Wednesday, December 6, 2023
Time: 8:00 PM ET
TV: ESPN+
Live Stream: Watch this game on ESPN+
Where: Abilene, Texas
Venue: Teague Center
Place your bets on any college basketball matchup at BetMGM, and sign up with our link for a first-time deposit bonus!
Northern Arizona vs. Abilene Christian Score Prediction
Prediction:
Abilene Christian 72, Northern Arizona 68
Spread & Total Prediction for Northern Arizona vs. Abilene Christian
Computer Predicted Spread: Abilene Christian (-4.6)
Computer Predicted Total: 140.1
Abilene Christian has a 3-5-0 record against the spread this season compared to Northern Arizona, who is 5-3-0 ATS. The Wildcats have a 6-2-0 record hitting the over, while games involving the Lumberjacks have a record of 1-7-0 when it comes to hitting the over.
Sportsbook Promo Codes
Bet on this or any college basketball matchup at BetMGM
Northern Arizona Performance Insights
The Lumberjacks put up 64.0 points per game (344th in college basketball) while allowing 73.5 per contest (236th in college basketball). They have a -76 scoring differential and have been outscored by 9.5 points per game.
Northern Arizona is 342nd in the nation at 28.1 rebounds per game. That's 5.7 fewer than the 33.8 its opponents average.
Northern Arizona makes 6.4 three-pointers per game (266th in college basketball) at a 29.5% rate (305th in college basketball), compared to the 5.0 per game its opponents make, at a 25.3% rate.
Northern Arizona has committed 13.5 turnovers per game (296th in college basketball) while forcing 14.0 (76th in college basketball).
Rep your team with officially licensed college basketball gear! Head to Fanatics to find jerseys, shirts, and much more.
Not all offers available in all states, please visit BetMGM for the latest promotions for your area. Must be 21+ to gamble, please wager responsibly. If you or someone you know has a gambling problem, contact 1-800-GAMBLER.
© 2023 Data Skrive. All rights reserved.
Accounting firm buys Arizona Republic office building in downtown Phoenix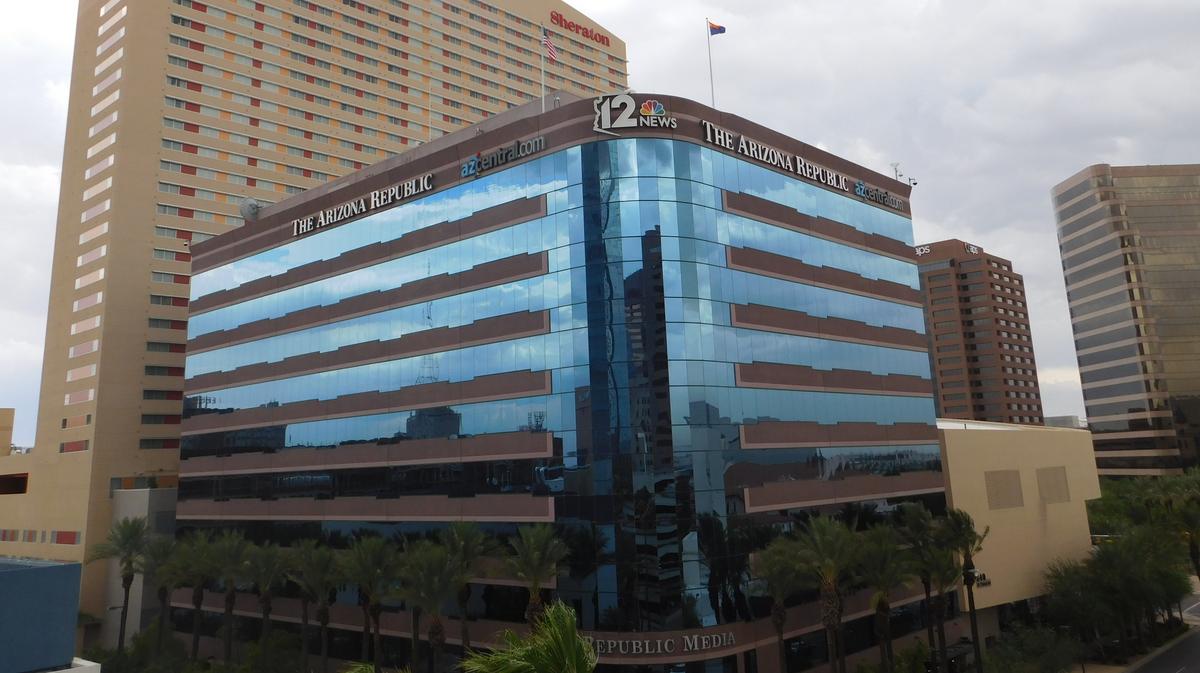 Five years after the parent company of the Arizona Republic sold the 10-story office tower, a local developer has sold off the building to a Phoenix accounting firm. Here's what the accounting firm has planned as it takes ownership of the high-profile property.
'Arizona's Beach' cut off by border closure in Lukeville
PHOENIX – Puerto Peñasco tourism screeched to a halt Monday after U.S. border officials closed the main port of entry between Phoenix and the Mexican town known as "Arizona's Beach."
U.S. officials announced plans Friday to close the Lukeville Port of Entry indefinitely so resources could be focused on dealing with a surge of illegal crossings in the area.
Keith Allen of the Peñasco Business Coalition said visitors from Arizona fled Puerto Peñasco over the weekend, before the closure went into effect, to avoid a potentially lengthy detour.
"It has only literally been hours since the border's been closed this morning, but the town of Peñasco, from what I understand, is totally dead right now," Allen told KTAR News 92.3 FM on Monday morning.
Allen, who works in Mexico as director of sales for the Encantame Towers condo development, said there's been a "slew of cancellations" for upcoming rentals, making Americans who own property in the area "very nervous."
Why is Puerto Peñasco known as Arizona's Beach?
The drive from Phoenix to Puerto Peñasco, also known as Rocky Point, typically takes about 3 hours and 45 minutes through the Lukeville crossing at the southern point of State Route 85.
Allen said a majority of the beachfront homes and condos in the Puerto Peñasco area are owned by Americans.
"It is known as Arizona's Beach," he said. "And why? Because it's so close to drive to, it's more economical."
With Lukeville closed, the next shortest drive goes through the San Luis Port of Entry, near Yuma, adding about 150 miles and 2-3 hours to the trip, depending on conditions.
On top of that, increased traffic at the San Luis crossing could create additional delays at the border. Travelers can check wait times on the U.S. Customs and Border Protection website and plan for delays. The wait was 40-50 minutes longer than average at midday Monday.
"Please be patient with us. We're doing the best we can with what we have and we're trying to assist Border Patrol as well," Edith Serrano, public affairs liaison for CBP, told KTAR News.
How does Lukeville Port of Entry closure hurt Arizonans?
The area around the desert crossing at Lukeville has become a major migration route in recent months, with smugglers dropping off people from countries as diverse as Senegal, India and China. Most of them are walking into the U.S. west of the port of entry through gaps in the wall, then head east toward the official border crossing to surrender to the first agents they see in hopes for a chance at asylum.
CBP didn't provide a timeline for how long Lukeville would be closed.
Arizona Gov. Katie Hobbs told reporters Monday morning she was "extremely frustrated" with the situation.
"This is a bad decision that impacts our border security. It hurts our economy because it's a putting a damper on trade and tourism," Hobbs said.
Allen said the economic impact of the closure will be felt on both sides of the border because so many Americans own real estate in Puerto Peñasco and rely on rental income.
"If this were to continue, people start putting their units on the market, flooding the market and devaluing everyone's equity," he said. "And, so, there's a huge ripple effect from this closure that I don't think a lot of people realize."
KTAR News 92.3 FM's Heidi Hommel and The Associated Press contributed to this report.
We want to hear from you.
Have a story idea or tip? Pass it along to the KTAR News team here.