PGA Tour and LIV Golf Agree to Alliance, Ending Golf's Bitter Fight
The PGA Tour, the dominant force in men's professional golf for generations, and LIV Golf, which made its debut just last year and is backed by hundreds of millions of dollars in Saudi money, will together form an industry powerhouse that is expected to transform the sport, executives announced Tuesday.
The rival circuits had spent the last year clashing in public, and the tentative agreement that emerged from secret negotiations blindsided virtually all of the world's top players, agents and broadcasters. The deal would create a new company that would consolidate the PGA Tour's prestige, television contracts and marketing muscle with Saudi money.
The new company came together so quickly that it does not yet even have a name and is referred to in the agreement documents simply as "NewCo." It would be controlled by the PGA Tour but significantly financed by the Saudi government's Public Investment Fund. The fund's governor, Yasir al-Rumayyan, will be the new company's chairman.
The deal, coming when Saudi Arabia is increasingly looking to assert itself on the world stage as something besides one of the world's largest oil producers, has implications beyond sports. The Saudi money will give the new organization greater clout, but it comes with the troubling association of the kingdom's human rights record, its treatment of women and accusations that it was responsible for the 2018 murder of Jamal Khashoggi, a leading critic.
The agreement does not immediately amount to a Saudi takeover of professional golf, but it positions the nation's top officials to have enormous sway over the game. It also represents an escalation in Saudi ambitions in sports, moving beyond its corporate sponsorship of Formula 1 racing and ownership of an English soccer team into a place where it can exert influence over the highest reaches of a global game.
"Everybody is in shock," said Paul Azinger, the winner of the 1993 P.G.A. Championship and the lead golf analyst for NBC Sports. "The future of golf is forever different."
Since LIV began play last year, it has used some of the richest contracts and prize money in the sport's history to entice players away from the PGA Tour. Until Tuesday morning, the PGA Tour had been publicly uncompromising: LIV was a threat to the game and a glamorous way for Saudi Arabia to rehabilitate its reputation. The PGA Tour's commissioner, Jay Monahan, had even avoided uttering LIV's name in public.
But a series of springtime meetings in London, Venice and San Francisco led to a framework agreement that stunned the golf industry for its timing and scope. Monahan, who defended the decision as a sound business choice and said he had accepted that he would be accused of hypocrisy, met with PGA Tour players in Toronto on Tuesday in what he called an "intense" and "certainly heated" exchange.
The deal, though, proved right the predictions that there could eventually be an uneasy patching-up of the sport's fractures. The PGA Tour's board, which includes a handful of players like Patrick Cantlay and Rory McIlroy, must still approve the agreement, a process that could be tumultuous.
It was only a year ago this week that LIV Golf held its inaugural tournament, prompting the PGA Tour to suspend players who competed in it. But by the end of the year, even though the circuit was locked in an antitrust battle with the PGA Tour and its stars were confronting uncertain futures at the sport's marquee competitions, LIV had some of the biggest names in golf on its payroll. Its players have included the major tournament champions Brooks Koepka, Phil Mickelson and Cameron Smith.
The players were familiar, but LIV's 54-hole events were jarring, with blaring music and golfers in shorts not facing the specter of being unceremoniously cut midway through. The PGA Tour, meanwhile, defended its 72-hole events, where low performers do not compete into the weekend, as rigorous athletic tests that adhered to the traditions of an ancient game.
The less-starchy LIV concept drew plenty of headlines, and the league won even greater attention because of its links to former President Donald J. Trump, who hosted LIV tournaments and emerged as one of its most enthusiastic boosters. The league, however, was still largely dependent on the largess of a wealth fund that had been warned that a rebel golf circuit was no certain financial bonanza. It stumbled to a television deal with the CW Network, and big corporate sponsorships were scarce.
The league accrued some athletic successes, even as its players faced the risk of eventual exclusion from golf's major tournaments, which are run by organizations that are close to, but distinct from, the PGA Tour.
Last month, Koepka won the P.G.A. Championship, which was organized by the P.G.A. of America. Koepka, Mickelson and Patrick Reed were among the LIV players who fared especially well at the Masters Tournament, administered by Augusta National Golf Club, in early April.
Within weeks of the Masters, though, after a run of mutual overtures and months of bravado, PGA Tour and Saudi executives were convening in secret to see if there was a way toward some kind of coexistence, in part, Monahan suggested, because he did not think it was "right or sustainable to have this tension in our sport." The result was an agreement that gives the tour the upper hand but is poised to make permanent Saudi Arabia's influence over golf's starry ranks.
Monahan, the tour's commissioner, is in line to be the chief executive of the new company, which will include an executive committee stocked with tour loyalists. But al-Rumayyan's presence, as well as the promise that the wealth fund can play a pivotal role in how the company is ultimately funded, means that Saudi Arabia could do much to shape the sport's future.
In a memorandum to players on Tuesday, Monahan insisted that his tour's "history, legacy and pro-competitive model not only remains intact, but is supercharged for the future."
That was hardly a consensus view. Mackenzie Hughes, a PGA Tour player, acidly noted on Twitter that there was "nothing like finding out through Twitter that we're merging with a tour that we said we'd never do that with." And Terry Strada, the chairwoman of 9/11 Families United, who had assailed the Saudi foray into golf because of misgivings about the kingdom after the 2001 terrorist attacks, said Monahan and the tour had "become just more paid Saudi shills, taking billions of dollars to cleanse the Saudi reputation."
The tour and the wealth fund both had incentives to forge an agreement, besides the prospect of concluding a chaotic chapter marked by allegations of betrayal and greed.
LIV had faced setbacks in civil litigation against the PGA Tour that threatened to drag al-Rumayyan into sworn testimony and force the wealth fund to turn over documents that could have become public. The tour has been under scrutiny from Justice Department antitrust investigators, who had examined in recent months whether the tour's tactics to counter LIV had undermined golf's labor market.
The litigation between the tour and LIV will end under the terms of the agreement announced Tuesday. The fate of the antitrust inquiry was less clear — experts said the new arrangement would not automatically immunize the tour from potential legal trouble — but LIV's standing as its leading cheerleader evaporated.
For this year, the world's professional golfers are unlikely to see seismic changes in their schedules or playing formats, with LIV and the PGA Tour expected to hold competitions as planned. There may be far more consequential changes later, though, chiefly because the new PGA Tour-controlled company will determine whether and how LIV's team-oriented format might be blended with the tour's more familiar offerings.
LIV players are expected to have pathways to apply for reinstatement to the PGA Tour or the DP World Tour, circuits from which some had resigned when faced with fines and suspensions, but they could face residual penalties for leaving in the first place. Through a spokeswoman, Greg Norman, the two-time major tournament champion who has been LIV's commissioner, declined to be interviewed on Tuesday.
No matter what comes of the LIV brand or style, Tuesday's announcement is a singular milestone in the Saudi quest to become a titan in global sports. With the deal, the kingdom can move, at least in golf, from a well-heeled disrupter to a seat of power at the establishment's table.
Saudi officials have repeatedly denied that political or public relations motives undergird their eager pursuit of sports investments. Instead, they have framed the investments as necessary for shoring up the resource-rich kingdom's finances and to enhance its standing on the world stage.
Beyond its imprint on golf, the wealth fund previously purchased Newcastle United, a potent English soccer team, and a company with close ties to the fund has eyed investments in cricket, tennis and e-sports. And Saudi Arabia has tried to become a host of major sporting events, from boxing matches to its pending bid to host the World Cup in 2030.
But when Saudi Arabia barged into golf last year, it was nearly unthinkable that al-Rumayyan would so swiftly become a formal ally of Monahan and the sport's other power brokers.
"Anybody who thought about it logically would see that something was going to have to happen," Adam Hadwin, a PGA Tour player, said on Tuesday. It was inconceivable, he suggested, that the world's best players would only compete against each other at the four major tournaments, but an armistice "happening this quick and in this way is surprising."
For much of the last year, LIV players have deflected questions about Saudi Arabia's history on human rights and other matters that helped make the kingdom's surge into golf an international flashpoint. They were, they often said, merely golfers and entertainers.
Until Tuesday, Monahan had tried to use the stain of Saudi Arabia to undercut the new league and its golfers.
"I would ask any player that has left, or any player that would ever consider leaving: Have you ever had to apologize for being a member of the PGA Tour?" he said last year.
On Tuesday, when Monahan declared that the leaders of golf's factions had "realized that we were better off together than we were fighting or apart," it was his tour's players facing questions about lucrative connections to Riyadh.
"I've dedicated my entire life to being at golf's highest level," Hadwin, the tour player, said. "I'm not about to stop playing golf because the entity that I play for has joined forces with the Saudi government."
Reporting was contributed by Andrew Das, Kevin Draper, Lauren Hirsch, Eric Lipton, Victor Mather, Ahmed Al Omran and Bill Pennington.

Cubs announcers rip Braves over 'absurd' play stoppage for Ronald Acuña Jr. after historic moment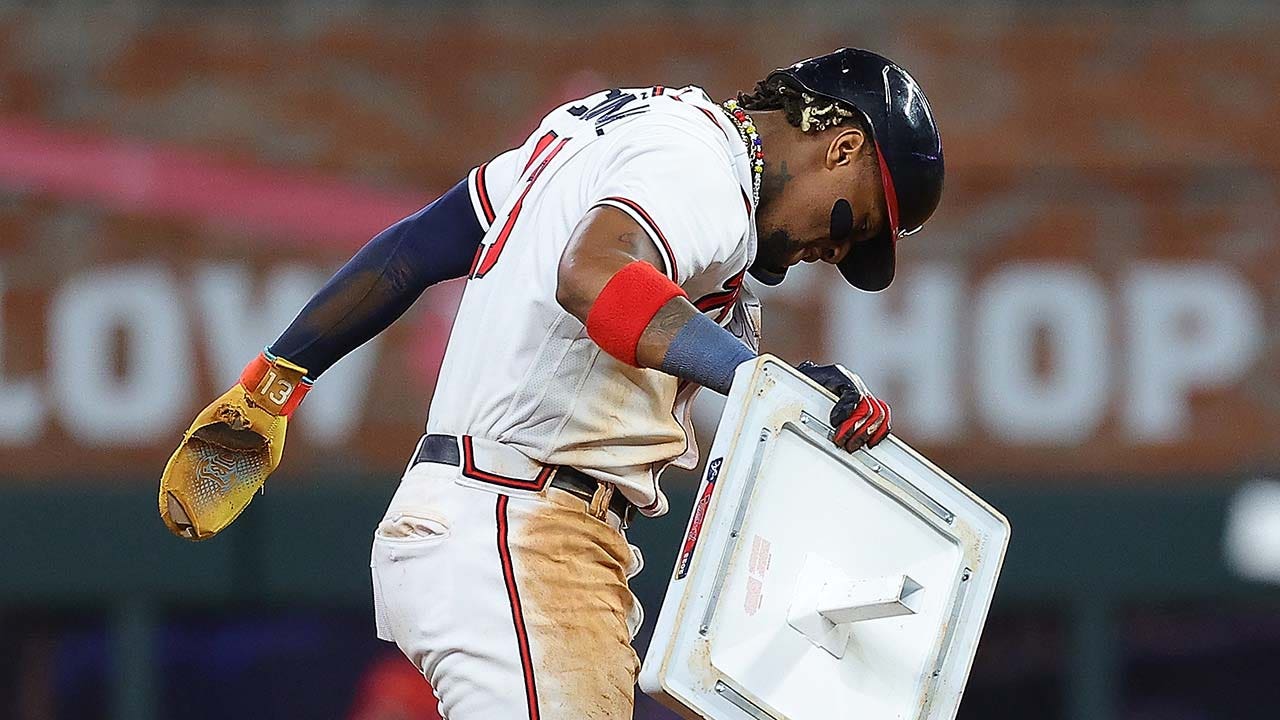 Atlanta Braves superstar Ronald Acuña Jr. continues to make history. 
In the 10th inning of Wednesday night's game against the Chicago Cubs, Acuña stole his 70th base of the season. Last week, the Braves outfielder hit his 40th home run of the season during a game against the Washington Nationals. 
Acuña became the first player in MLB history to enter the 40-70 club. 
Moments after he stole the base, Acuña grabbed the base pad from the dirt as Braves fans gave him a standing ovation. The Braves also played a short video montage on the outfield big screen. 
The Chicago Cubs' broadcasters took exception to the extended pause in the game. Announcers Jon "Boog" Sciambi and Jim Deshaies said the decision to stop the game and recognize Acuña's accomplishment was "absurd."
BRAVES' SPENCER STRIDER OFFERS SCORCHING HOT TAKE: 'GET RID OF THE FANS'
"We're really stopping the game to do a highlight montage?" Sciambi said during the Marquee Sports Network broadcast.
Deshaies then questioned the need to remove the base during the game.
"Can we get the base after the game? This is pretty absurd. I mean, it's a hell of an accomplishment, but …," Deshaies said. 
Sciambi reiterated his frustrations with the video montage. 
"Totally, but you can't stop the game to run a highlight montage," Sciambi said.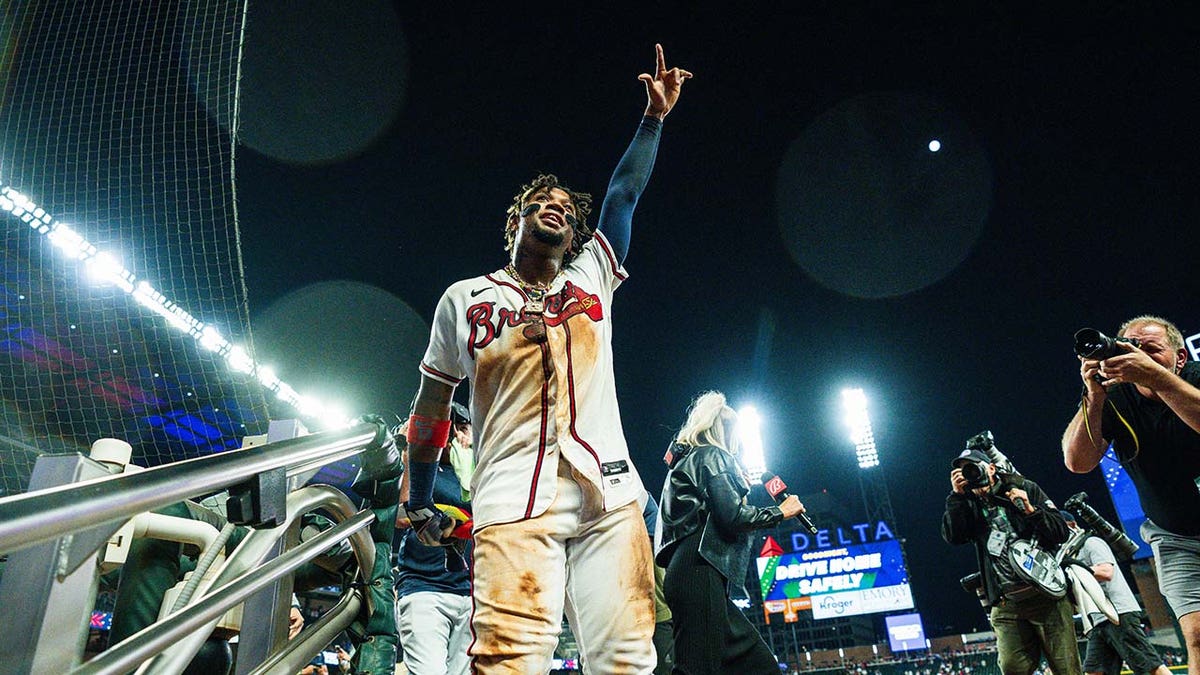 The Cubs are fighting for their postseason lives after missing the playoffs the last two seasons.
Shortly after Acuña made it safely to second base, All-Star second baseman Ozzie Albies hit a walk-off single to give the Braves a second straight one-run win over the Cubs. The loss dropped Chicago to 82-76, and the team is tied with the Marlins for third place in the NL wild-card standings.
"It's really an incredible moment," Acuña told reporters after the game through an interpreter.
Acuña has hit 41 home runs this year. Alex Rodriguez had been the only player with 40 home runs to steal more than 46 bases in the same season. In 1998, Rodriguez had 42 home runs, 124 RBIs and 46 steals.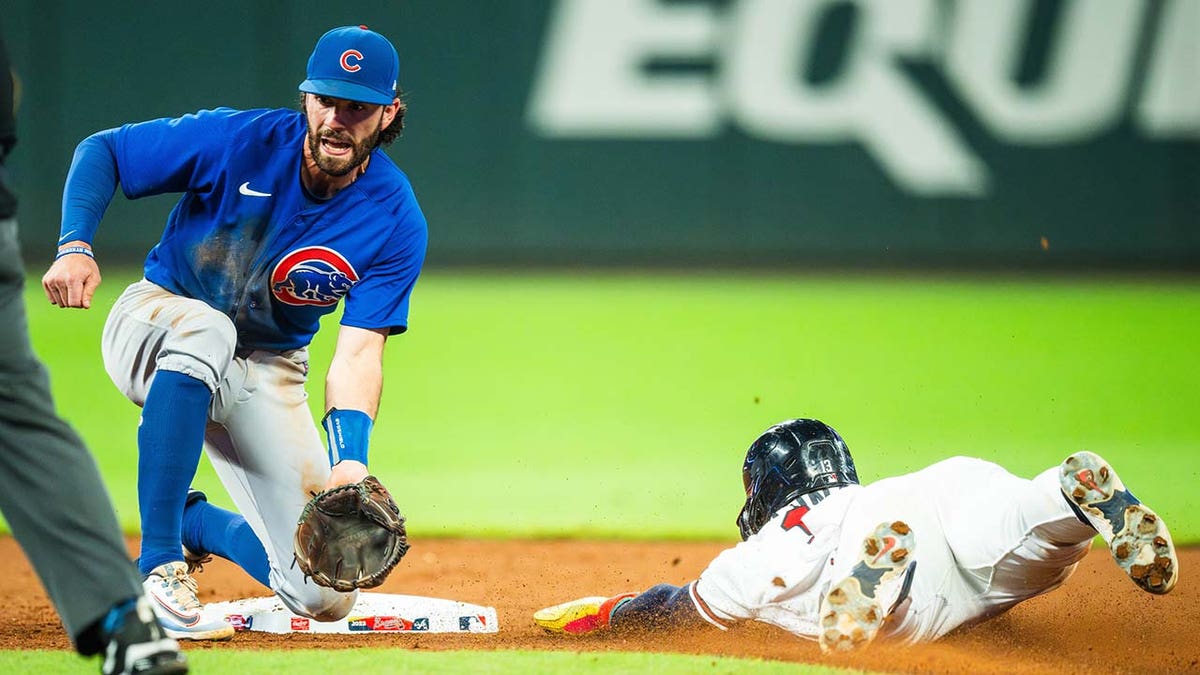 MLB added bigger bases this season to bring more base-running excitement to the game. 
Acuña and Los Angeles Dodgers star Mookie Betts are widely considered the front-runners for NL MVP.
Preakness winner heads stakes race fields as Santa Anita starts fall meet
Santa Anita opens its fall meeting Friday with higher than normal anticipation because it closes with the Breeders' Cup on Nov. 3-4. What that means is a mad dash to get in as many big races as possible in the first two weekends of its 19-day meeting. This gives the horses enough time to recover and run in the million-dollar races the first weekend of November that signal the unofficial end of the racing year.
Starting Friday there are nine stakes this weekend, including the Grade 1 $300,000 Awesome Again race that features Preakness Stakes winner National Treasure among a field of nine.
Next weekend there are six stakes over a three-day weekend that ends Monday with three races where the winners are automatically entered, all expenses paid, into a Breeders' Cup race. Of course, when you are racing at this year's Breeders Cup track, the expenses for the sanctioning group are a whole lot less.
Saturday's Awesome Again, also a win-and-your-in race for the Breeders' Cup, is the most intriguing of the weekend. It grew less interesting Wednesday when trainer Tim Yakteen decided not to enter Practical Move, winner of this year's Santa Anita Derby. The colt was all set to be one of the favorites in the Kentucky Derby but spiked a fever two days before the race and was scratched. He hasn't run since.
The entering of National Treasure was a mild surprise, but trainer Bob Baffert has been liking what he's seen of the 3-year-old colt since he returned to Santa Anita.
"I liked the way he breezed last week," Baffert said. "The Travers (finished fifth) was sort of a disaster. But I'm putting the blinkers back on. He just doesn't get into the race without it. You have to just draw a line through the Travers."
Horses are given blinkers near the outside to their eyes to help focus a horse's attention on what's in front of them and not what's going on around them. National Treasure won the Preakness with blinkers.
The Awesome Again is a 1 1/8-mile race, 1/16th of a mile shorter than the Preakness, which he won in front-running style under a masterful ride by John Velazquez. Juan Hernandez, who has been Baffert's main jockey of late with Velazquez riding at the Belmont at Aqueduct meeting, will get off Baffert's other horse, Defunded, to ride National Treasure.
The morning line disagrees with Hernandez's decision to move to the Preakness winner, making him the 4-1 third choice. Defunded is the 2-1 favorite.
Defunded is no slouch, having won this race last year. He was underwhelming in his last two races at Del Mar, a fourth in the San Diego Handicap as the odds-on favorite, and sixth in the Pacific Classic.
The 5-year-old gelding has been pretty good at Santa Anita, though, winning four of his six lifetime starts at the track. The other two races were a second and third.
"He always run his best races at Santa Anita," Baffert said. "He never looked comfortable at Del Mar. He's just a horse for the course down here. He's worked well here. We'll see if he runs his race."
Edwin Maldonado returns to ride Defunded, which he did last year when they won the Awesome Again. The 40-year-old Puerto Rico native finally is starting to get the better mounts as he keeps winning. Last year's win in the Awesome Again was his first Grade 1 win. On Saturday, he won his first $1 million race, the Grade 1 Cotillion at Parx near Philadelphia, riding Ceiling Crusher over a very sloppy track. The 3-year-old filly is based in Southern California for trainer Doug O'Neill.
The Awesome Again has a pretty good field, which includes Senor Buscador (5-1 odds), winner of the San Diego Handicap; Slow Down Andy (5-2), who always seems to be near the top in tough graded stakes; Skinner (8-1), who was getting a lot of buzz before scratching out of the Kentucky Derby the day before the race this year, and Stilleto Boy (6-1), winner of the Santa Anita Handicap but was eased and didn't finish in the Pacific Classic.
Another interesting set of matchups Saturday is in the six-furlong Grade 2 $200,000 Santa Anita Sprint Championship. Dr. Schivel, who lost the 2021 Breeders' Cup Sprint by a nose, won his last race at Santa Anita easily in May. He then finished fifth in the Met Mile at Belmont and third in the Bing Crosby at Del Mar. He is the 9-5 morning-line favorite.
The 5-year-old had to overcome a 10-month layoff after suffering some bone bruising when he ran in the Golden Shaheen in Dubai. His Santa Anita win was his comeback race.
Baffert has three contenders in the nine-horse field. Most notable among them is Arabian Lion (5-2), who recently won the Sir Barton Stakes at Pimlico and the Woody Stephens at Belmont. Baffert also has Fort Bragg (6-1), winner of the Pat Day Mile at Churchill Downs and the Dwyer at Belmont, and Speed Boat Beach (12-1), a bit of mystery in that his last three races were on the turf and his last race was in December, a win in the Cecil B. DeMille at Del Mar.
Hernandez will ride Dr. Schivel and Maldonado will handle Arabian Lion.
There are two other graded stakes Saturday, the Grade 2 $200,000 Eddie D Stakes, which is 6½ furlongs down the downhill turf course. The race is named for legendary jockey Eddie Delahoussaye. There is also the Grade 2 $200,000 City of Hope Stakes for horses going a mile on the turf.
Friday's opening day has the Grade 3 $100,000 Chillingworth Stakes for fillies and mares going 6½ furlongs on the dirt. Eda is the 4-5 morning-line favorite for the Baffert-Hernandez combination. She has won eight of 10 lifetime, despite a 13-month layoff from 2022 to this year.
Sunday's card has three graded stakes.
Travis Hunter, Henry Blackburn appear to bury hatchet after brutal hit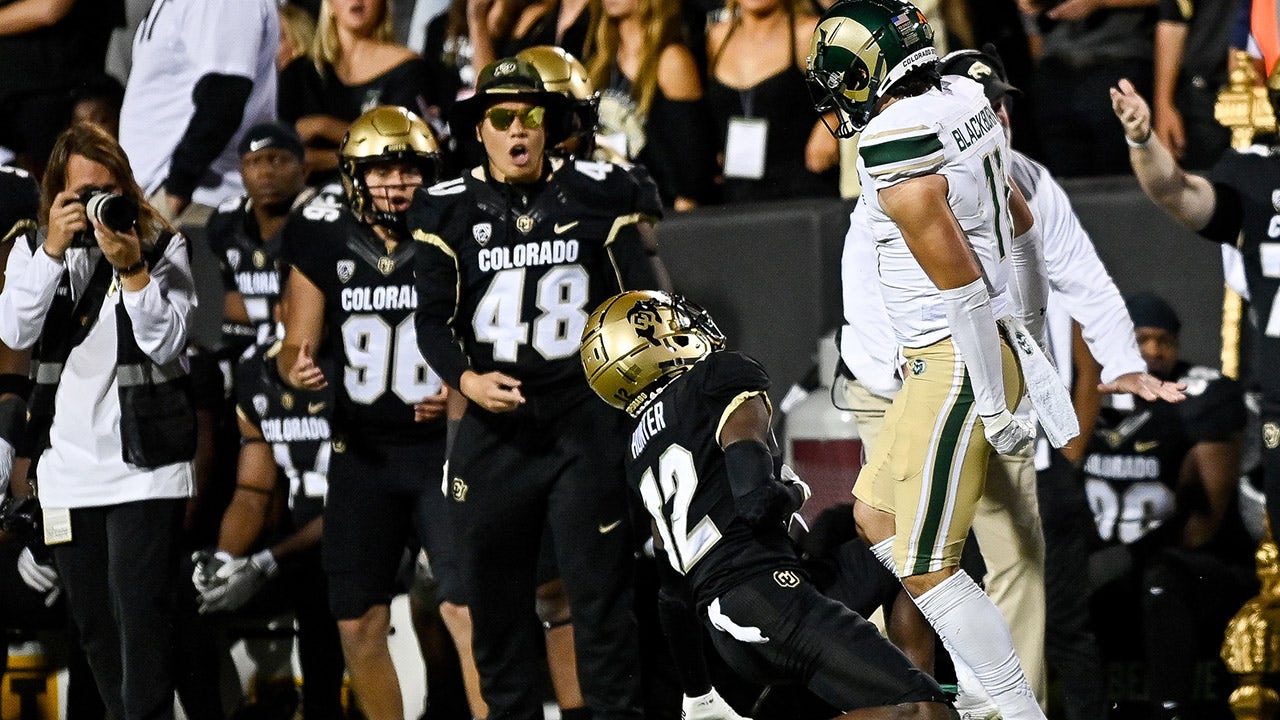 Colorado Buffaloes star Travis Hunter and Colorado State safety Henry Blackburn appeared to bury any animosity between them on Wednesday night.
Rams defensive lineman James Mitchell posted on his Instagram Stories showing Hunter and Blackburn shaking hands and meeting.
CLICK HERE FOR MORE SPORTS COVERAGE ON FOXBUSINESS.COM
"God has a bigger plan," Blackburn wrote on his Instagram Stories.
Blackburn and Hunter were caught up in controversy during their game this month. Blackburn nailed Hunter with a late hit after a pass meant for the two-way star flew over his head. He was later hospitalized – reportedly for a lacerated spleen.
"It's football at the end of the day. Stuff like that is going to happen," Hunter said in a Bleacher Report interview on the Monday after the game. "Just gotta get up and fight again. Good thing the doctors stopped me because if there was no doctors there I'd still be out there playing.
DEION SANDERS PRAISES HISTORY-MAKING FEMALE COLLEGE FOOTBALL PLAYER, CONCERNED FOR HER SAFETY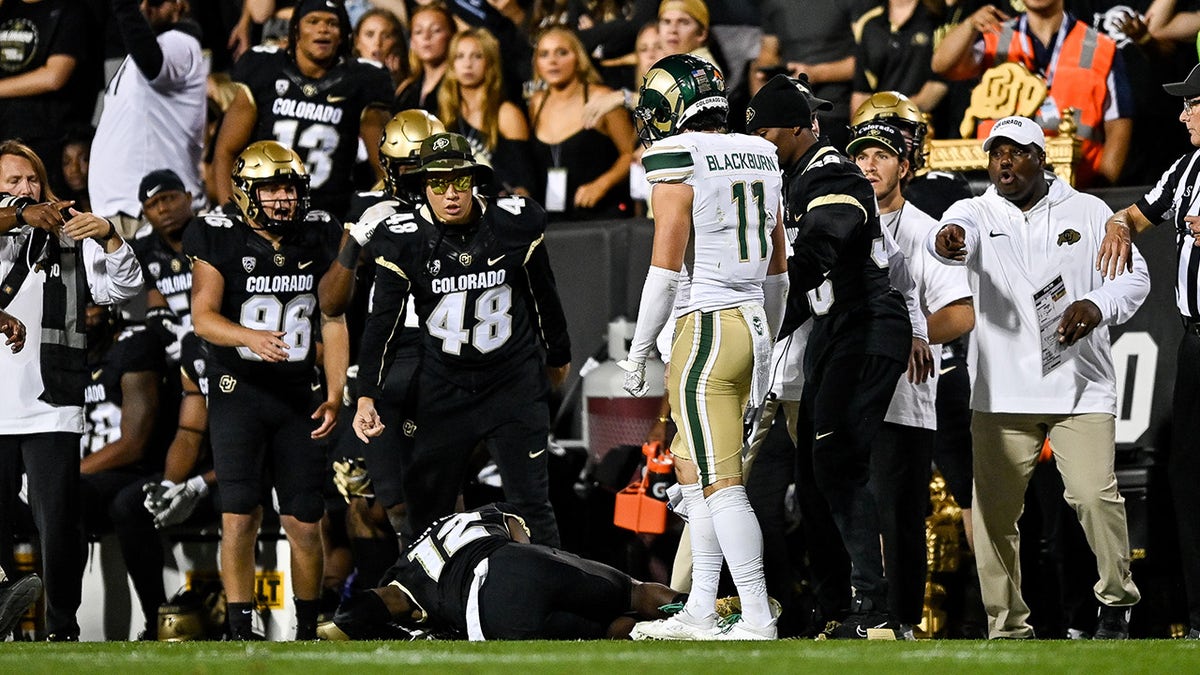 "But we're going to do what we've got do to take care of him," Sanders said. "So, I know Travis like a book, he probably is going to want to be out for two weeks, but we've got to make sure his health is more important than this game."
Blackburn reportedly received death threats over the hit.
Colorado coach Deion Sanders condemned the vitriol.
"Henry Blackburn is a good player who played a phenomenal game," Sanders said. "He made a tremendous hit on Travis on the sideline. You can call it dirty, you can call it 'he was just playing the game of football.'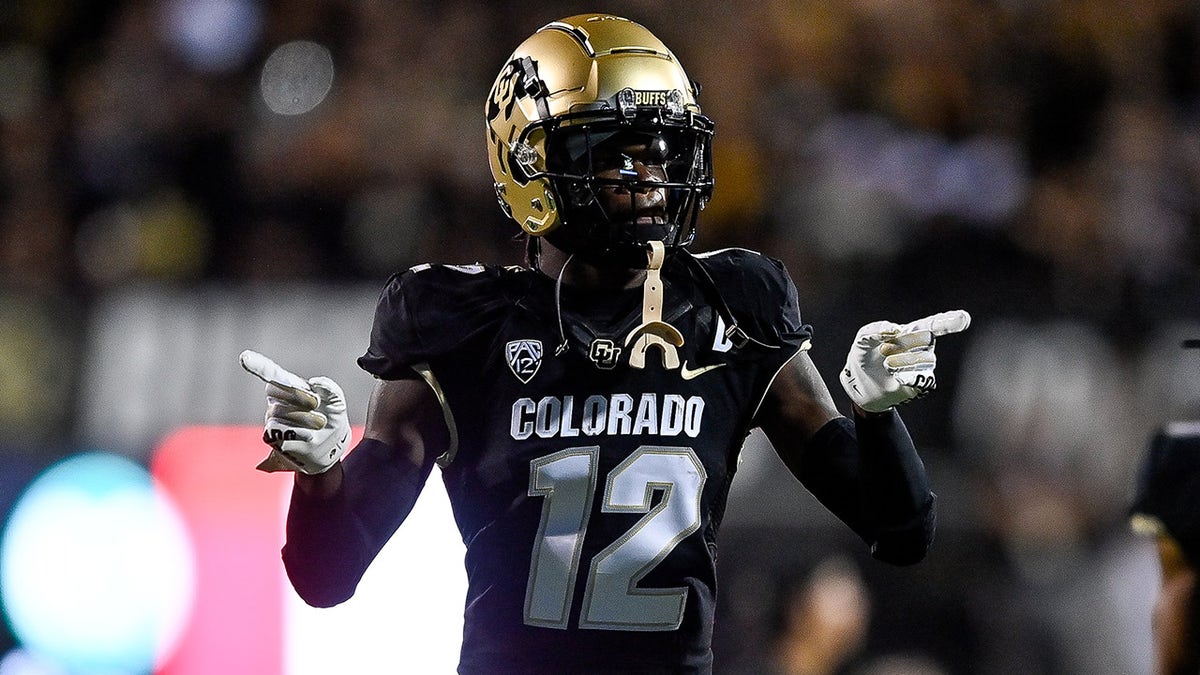 "But whatever it was, it does not constitute that he should be receiving death threats. This is still a young man trying to make it in life. A guy that is trying to live his dream and hopefully graduate with honors or a degree, committed to excellence and go to the NFL. He does not deserve a death threat over a game."
Fox News' Joe Morgan contributed to this report.