Celtics force series back to Miami as they inch closer to NBA history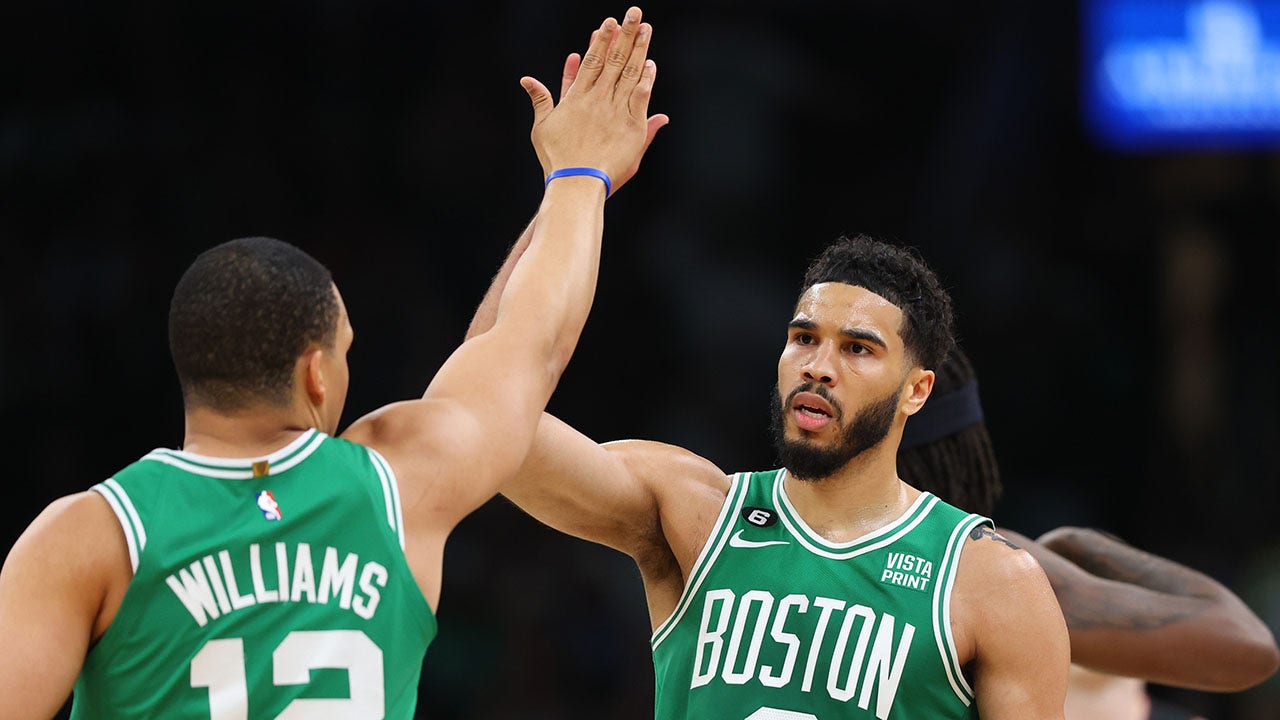 Derrick White had 24 points, including six 3-pointers, and the Boston Celtics dominated the Miami Heat 110-97 on Thursday night in Game 5 to extend the Eastern Conference finals.
Marcus Smart had 23 points and five steals. Jayson Tatum and Jaylen Brown finished with 21 points apiece as the Celtics claimed their second straight win and trimmed Miami's series lead to 3-2.
It keeps alive Boston's hopes of becoming the first team in NBA history to overcome a 3-0 deficit to win a series. Teams previously in that position are 0-150 all-time.
Game 6 is Saturday in Miami.
A day after the Florida Panthers punched the franchise's first ticket to the Stanley Cup Finals since 1996, for the second straight game the Heat were denied a spot in the NBA Finals.
Duncan Robinson led the Heat with 18 points. Bam Adebayo added 16 points and eight rebounds. Jimmy Butler had 14 points, five rebounds and five assists but sat out the final 9:47 of the game. Caleb Martin finished with 14 points.
It was Butler's lowest-scoring game of the playoffs. He had 16 points in Game 3, a blowout win by Miami.
Miami never led and had 16 turnovers.
Boston entered the day just 4-5 at TD Garden this postseason. But with a raucous home crowd behind them, the Celtics thrived on their energy.
They dove for loose balls, outfought Miami for rebounds and found each other for layups and dunks in transition as they built as much as 20 points in the first half.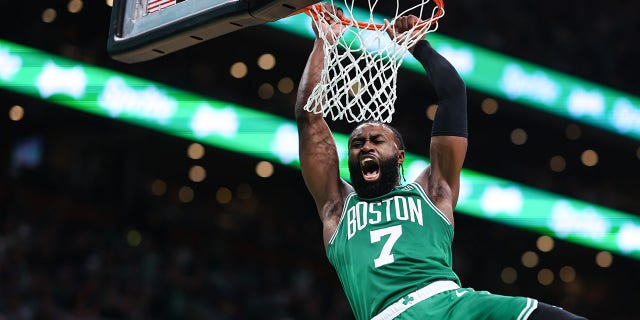 NBA LEGEND YAO MING STEPS DOWN AS CHAIR OF STRUGGLING CHINESE BASKETBALL ASSOCIATION'S BUSINESS ARM
The Heat cut into it, but Boston kept knocking down 3s and grew its edge as high as 96-72 in the fourth quarter.
Boston's fans reignited a "Beat the Heat!" chant that hadn't been prevalent since Game 1.
The Heat started Kyle Lowry at point guard after Gabe Vincent was ruled out with a sprained left ankle earlier in the day. It was Lowry's first start since Feb. 2.
Vincent, the Heat's third-leading scorer this postseason, got hurt late in Miami's Game 4 loss when he landed awkwardly while trying to save a loose ball near the Heat bench.
His presence was missed as Miami struggled early on the offensive end, swarmed by a Celtics' defense that forced the Heat into 10 first-half turnovers that led to 17 Boston points. Lowry played 31 minutes, scored five points and finished with four turnovers.
TIP-INS
Heat: Were outscored 13-0 in second-half points in the opening 24 minutes.
Celtics: Al Horford added six points and 11 rebounds. … The Celtics took a 61-44 edge into halftime. … Boston's first turnover of the game didn't come until the 8:16 mark of the second quarter.
FAST START
The Celtics got the fast start they had hoped for in front of their home crowd.
Smart stripped Adebayo on Miami's opening possession, igniting a fast break and layup on the other end by Tatum.
Then, with the game tied at 4, Tatum got free in the lane for a monstrous two-handed dunk. He hung on the rim afterward and continued his celebration when he landed, leading to a technical foul.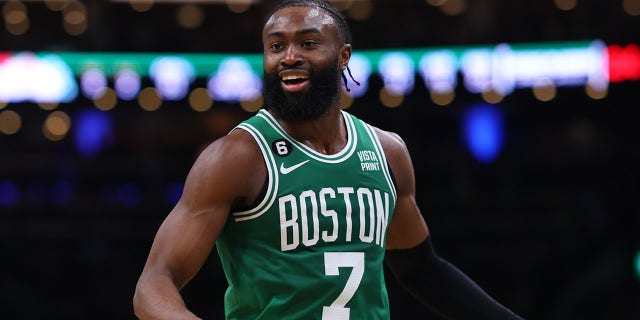 It didn't stop the Celtics' momentum, as their first-quarter lead grew as high as 23-7. Boston ended the period with a 35-20 lead, punctuated by a 3-pointer by White at the buzzer.
Tatum had 12 points in the opening 12 minutes, with the Celtics outscoring the Heat 21-6 from beyond the arc. Boston hit 7 of its 12 attempts.
VIP WATCH
Celtics Hall of Famer Paul Pierce, NCAA president Charlie Baker and New England Patriots Matt Slater and Devin McCourty were among several celebrities in the Garden.

Racing Regulators Hold Emergency Meeting to Investigate Horse Deaths
The Horseracing Integrity and Safety Authority gathered Kentucky state regulatory veterinarians, along with vets from Churchill Downs, on Tuesday to examine why 12 horses have been fatally injured at the historic racetrack in a matter of weeks and to decide whether to recommend pausing racing there.
Lisa Lazarus, the chief executive of the authority, called the "emergency veterinary summit" in Lexington, Ky., to review necropsies, toxicology reports and veterinarians' and trainers' notes on the deaths, seven of which preceded this month's Kentucky Derby. The deaths have cast a pall over the Triple Crown season, the few weeks each spring when casual sports fans have heightened focus on horse racing.
In addition, the authority has asked a longtime California track superintendent, Dennis Moore, to examine the racing surfaces at Churchill Downs in Louisville, Ky., and offer an independent analysis of the dirt and turf courses' suitability for racing.
"I have not had a single jockey or trainer tell me that they believe the track is a factor in these fatalities," Lazarus said. Most of the deaths occurred after horses broke down while racing.
Along with a review of the protocols Kentucky state veterinarians follow to make sure horses are fit to race, Lazarus said that vet records would be scoured for illegal or misused drugs. She said the authority will apply "very intense scrutiny from a testing standpoint to any horse that we're concerned about" as well as increased surveillance and attention on their trainers.
The reviews of the veterinary and medication history of each horse were led by Dr. Jennifer Durenberger, the authority's director of equine safety and welfare.
"It's basically trying to get a whole snapshot of that horse's history in the month leading up to the injury," Lazarus said. "We have to turn over every leaf, look under every stone."
She said her agency will have a recommendation from the summit by the end of the day Wednesday about whether and how Churchill should proceed with racing.
"Everyone is committed to figuring out what is happening and committed to stopping it," Lazarus said.
Lazarus acknowledged that the authority could not force Churchill Downs to stop holding races, but it could prohibit the track from sending the broadcast of its races to other courses or internet betting sites to be wagered on. That would be costly to Churchill, which receives a percentage of those bets.
"My strong view is that if we were to make a recommendation to Churchill Downs to shut down racing that they would accept that recommendation," Lazarus said.
The authority is flexing its muscles as troubles in horse racing are raising questions about how long America's oldest sport can continue to have its social license renewed.
The authority was established by Congress and is overseen by the Federal Trade Commission to ensure the health and safety of horse racing's athletes — human and equine. Its primary responsibility is to eliminate doping and abuse within thoroughbred racing.
The authority's racetrack safety program began on July 1, 2022. Its antidoping program went into effect May 22, two days after the Bob Baffert-trained colt National Treasure won the Preakness Stakes, signaling the return of the most accomplished and controversial horse trainer in America to Triple Crown racing. The victory came after Baffert's two-year ban from the Derby, the sport's premier stage, because of a doping violation, and hours after another one of his horses died competing in an undercard race at Pimlico Race Course in Baltimore.
Earlier that week, The New York Times had revealed that Forte, last year's 2-year-old champion and the favorite to win the 2023 Kentucky Derby until he was scratched the morning of the race, failed a post-race drug test in New York eight months earlier.
The colt, trained by Todd Pletcher, had tested positive for meloxicam, a potent nonsteroidal anti-inflammatory drug used to manage pain and swelling, after the Hopeful Stakes. The drug, widely prescribed to treat osteoarthritis and rheumatoid arthritis, is not approved in the United States for the treatment of racehorses in training.
New York regulators suspended Pletcher, a Hall of Fame trainer, for 10 days, fined him $1,000 and disqualified Forte.
The sport was badly rocked in 2019 after 30 horses died at Santa Anita Park outside Los Angeles in a span of six months, news that made national headlines and earned the scrutiny of California lawmakers and animal rights activists.
In response, state and racing officials strengthened regulations regarding the use of riding crops and medications for horses; education for trainers and jockeys; track safety; and recuperation policies for injured horses. Last year, 12 horses died at Santa Anita, and thoroughbred fatalities throughout California fell 54 percent from 144 in 2019 to 66 for the last fiscal year.
Asked if similar measures might be implemented not only at Churchill but nationally, Lazarus said: "Everything is on the table."
Boxer Gervonta Davis violates house arrest, will serve rest of hit-and-run sentence in jail: report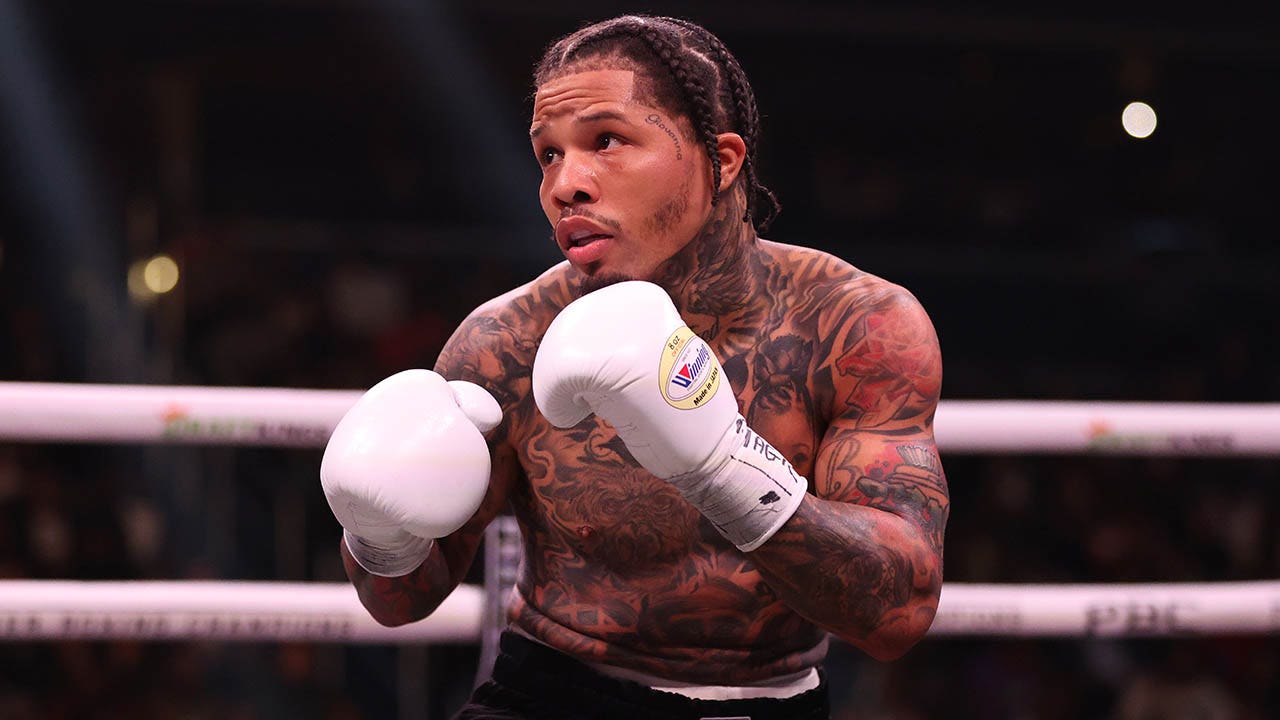 Gervonta Davis will reportedly serve the remainder of his 90-day sentence for a hit-and-run in prison after violating his home detention sentence.
Davis was taken into custody Thursday less than a month after he was sentenced to 90 days of house arrest from a November 2020 hit-and-run.
The Baltimore Banner reports there was an "impromptu hearing" at 5 p.m. Thursday, and Davis was ordered to serve the rest of the sentence in jail.
The boxer was facing over seven years in prison after being charged with 14 counts.
He faced four counts of failing to return and remain at the scene of an accident involving a bodily injury. He also was charged with failing to report an accident, driving with a suspended/revoked license and failure to stop at a red light.
The 28-year-old pleaded guilty to four traffic violations in February.
He was also ordered to serve 200 hours of community service.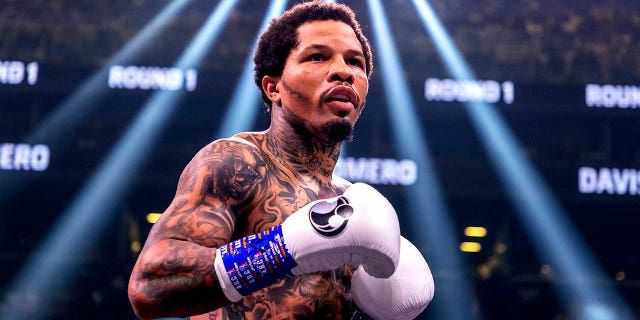 UFC STAR RECEIVES BACKLASH AFTER UNSYMPATHETIC TWEET ABOUT MISSING TEEN
This is not the first time Davis has been in legal trouble. The boxer is being sued for allegedly causing "multiple bodily injuries" after allegedly sucker-punching a parking attendant in a New York City garage in February.
He also was arrested on domestic violence charges in December, but the accusations were dropped. 
He was also charged with battery of his ex-girlfriend three years ago.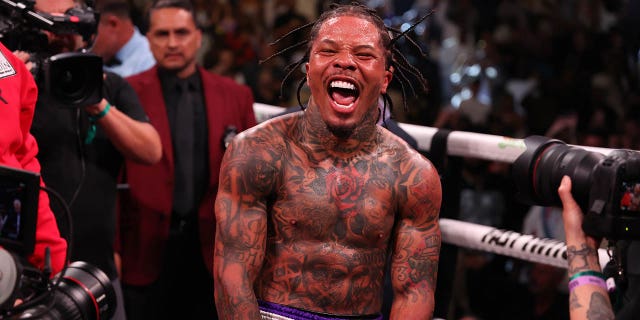 Davis (29-0) defeated Ryan Garcia, who was previously undefeated, with a seventh-round knockout at T-Mobile Arena in Las Vegas in April.
Cal State Fullerton enters NCAA regionals confident it 'can play with anybody'
The Titans took batting practice at Goodwin Field on a still, cloudy day on the Cal State Fullerton campus.
The calm before the storm, Wednesday was a typical scene in preparation for an upcoming game. Except that practice represented the Titans' final home tuneup before they were to hit the road for the Stanford Regional, the first playoff appearance for the program since 2018.
"It's pretty surreal," junior infielder Caden Connor said. "I mean, we've worked our entire time being here. It feels really good for the guys that came back, trusted the coaching staff."
Added senior infielder Zach Lew: "Fullerton has a special place in my heart and going to the postseason has definitely been a long time coming for me."
The Stanford Regional begins Friday, with the Titans playing Texas A&M (36-25) of the Southeastern Conference at 7 p.m.
The Titans (31-22, 20-10 Big West) finished second in the conference to UC San Diego (21-9). The Tritons, however, are in the midst of a four-year Division I reclassifying period and are, therefore, not eligible for NCAA playoff competition until the 2025 season.
Fullerton punched its ticket to the postseason by beating Cal Poly in its penultimate regular-season game to claim the automatic NCAA bid from the Big West. The Titans were led by second-year coach Jason Dietrich and players who identify as blue collar.
"Play the game the right way and play hard," Connor said. "We'll do anything it takes to win a baseball game. I mean, the three-hole hitter will get a bunt down if he has to."
Connor and pitcher Tyler Stultz said it was the team's first game of the season, a win against Stanford, no less, that helped set the tone for the kind of team they are. During that Feb. 17 game, the Titans went from being tied 1-1 after four innings to beating the Pac-12 school 8-1.
"The atmosphere on the field during that series was really crazy," Stultz said. "It almost felt like playoffs to open our season."
The Titans lost the three-game series with Stanford, and dropped their next multigame matchup against Michigan before taking two of three games against Texas in March, which helped bolster Fullerton's confidence.
"We were like, 'OK, yeah. We can play with anybody,'" Stultz said.
Though, in reflecting on the season, Dietrich said it was not one moment or set of games that defined Fullerton's 2023 playoff push.
"I think it's just the body of work that they've done," Dietrich said. "I knew and the coaches knew that we had a group of guys that were pretty hungry."
There are nine active Fullerton players who have an extra year of eligibility because of the COVID-19 pandemic, which canceled the season in 2020 after 16 games. Lew and Stultz are two of four players using that extra year this season. Lew's freshman season was 2019. Connor and four others could exercise the extra year to return for next season.
The 2022-23 roster also had 17 returning and 22 new players.
"Our job, we felt, was just to build chemistry, get them to know each other," Dietrich said. "And teach Titan baseball and the tradition of Titan baseball. So it was exciting to start the season to see where we're at.
"And then after the first weekend against Stanford, to get these guys to understand that they can play with anybody. But that's tough when the program's been struggling a little bit."
Fullerton baseball's five-year NCAA tournament drought was the longest in the program's history since its first postseason trip in 1975. Since the '75 season, the Titans had been to an NCAA regional 41 times, making 18 College World Series appearances, finishing as the runner-up in 1992 and winning it all 1979, 1984, 1995 and 2004.
The Titans' alumni base, which includes several players, coaches and managers in major league baseball, continues to boast that tradition. Some of Fullerton's big league alumni working just a few minutes' drive down the 57 Freeway in Anaheim include Angels manager Phil Nevin, pitching coach Matt Wise, catcher Chad Wallach and reliever Chris Devenski.
"Exciting to see them back in the postseason," Nevin said.
Nevin was the No. 1 overall pick in the 1992 amateur draft, a year in which he was also named most outstanding player of the '92 College World Series. "Jason Dietrich has done a great job of getting Fullerton back to relevance, which is nice. Where we should be. I'm looking forward to following during the regional," Nevin said.
As for what lies ahead, the Titans recognize their program's rich history and this year's team's abilities and will approach the playoffs one pitch at a time.
"We've gone to Omaha just as many times as all these big SEC schools," Connor said, referring to the site of the CWS. "In the regular season, we played all those big teams and we're ready to go against anybody.
"Everyone's 0-0 now, so the records don't really matter."