From Fisher to Fisch? Texas A&M casts wide net in coaching search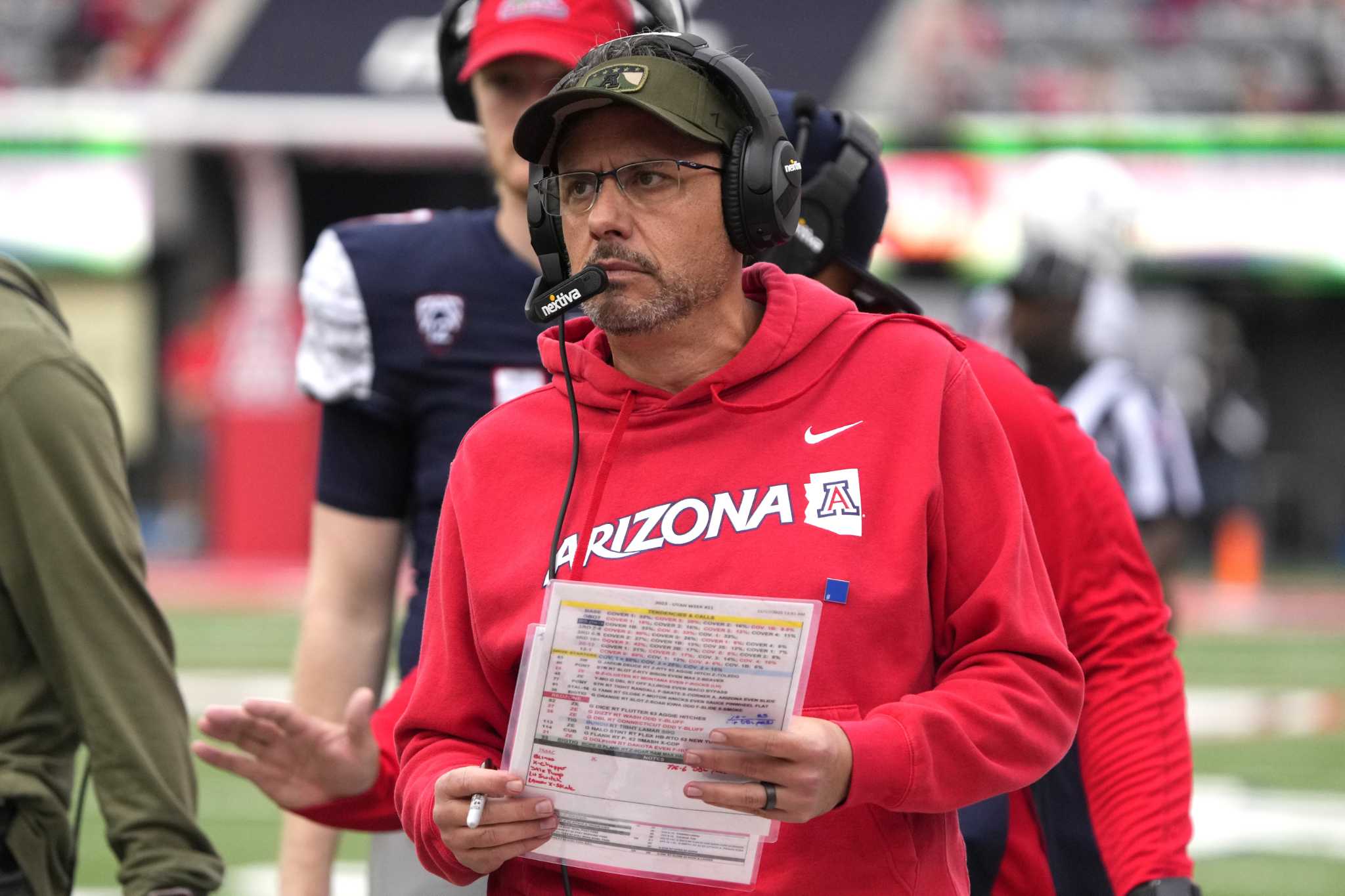 COLLEGE STATION — The irrepressible Jedd Fisch was one of the first three assistant coaches in Texans history. Now he's a candidate to become Texas A&M's 31st head coach. 
While Fisch, 47, is one of a handful of possibilities to replace the fired Jimbo Fisher, the tale of how he got to this point is a whopper — a true Fisch story.  
Based on Steve Spurrier's recommendation more than two decades ago, Texans coach Dom Capers immediately hired Fisch when Houston was getting back into the NFL business,  Fisch had worked for Spurrier at the University of Florida from 1999-2000 after pestering the coaching icon for years for a graduate assistant gig.  
Advertisement
Article continues below this ad
Fisch's first two years in the NFL coincided with the Texans' first two seasons of 2002-03. The New Jersey native has since worked for six more NFL teams, including serving as the New England Patriots' quarterbacks coach in 2020, when Cam Newton took over for the departed Tom Brady. 
"He was always very motivated and would go the extra mile to get things done," Capers once told the Detroit Free Press of Fisch's perpetual drive. "You could tell this profession meant an awful lot to him." 
Twenty years after Capers hired Fisch in Houston, the University of Arizona provided the former standout high school tennis player — Fisch didn't even play high school football, much less college — his first chance to be a head football coach. 
"Our identity is going to be toughness — mental toughness and physical toughness," Fisch said upon his hire at Arizona three years ago. "It's gonna be about a team that will never, ever, stop competing." 
Advertisement
Article continues below this ad
Fisch wasn't kidding, and he's become a hot commodity nationally based on the Wildcats' 8-3 record ahead of a rivalry game at Arizona State on Saturday to round out the regular season. Arizona still has an outside shot at playing Washington in the Pac-12 title game on Dec. 1 in Las Vegas. 
A&M athletic director Ross Bjork is searching from sea to sea for the deposed Fisher's replacement, and the innovative Fisch is among a few rising-star candidates who appear to fit Bjork's profile. 
"We need to find somebody who can build (a) sustainable tenure," Bjork said. "We need to find the next R.C. Slocum, who can be here for a long time, build it and win championships." 
Slocum, who was fired after the 2002 season, is the last A&M coach to win a league title. The Aggies won the 1998 Big 12 championship but have been shut out since in both the Big 12 and the Southeastern Conference, which they joined in 2012. 
"The ingredients for a championship are here," Bjork said. "Aggies want to do it the right way and deserve excellence in everything (they) do." 
Advertisement
Article continues below this ad
While Arizona's 8-3 record on its own is hardly remarkable, the Wildcats were 9-20 from 2018-2020 under Kevin Sumlin — who in the often-small world of coaching came to Arizona following his firing at A&M in 2017.  
"He's got that thing turned," Utah coach Kyle Whittingham said of the job Fisch has done in a short amount of time in Tucson. "He started from scratch and rebuilt it his way. … They play hard, and they've recruited well, and that's always the biggest factor. They've done a really nice job in the last three years of infusing talent into the program." 
Other potential A&M candidates include Duke's Mike Elko, Washington's Kalen DeBoer, UTSA's Jeff Traylor, Nebraska's Matt Rhule, A&M interim coach Elijah Robinson, Kansas' Lance Leipold and Ohio State's Ryan Day, although Day is considered the longest of all the shots.  
Fisch certainly has one stark memory of his Houston stint: He nearly died from an aortic dissection — a life-threatening tear in his heart that required emergency surgery in March 2003. 
"His aorta had dissected from the top of the vessel all the way down," Texans internal medicine doctor James Muntz told the Chronicle in 2003. "The aorta is the biggest blood vessel in the body, and the whole back wall of his aorta had disintegrated. He was in dire straits. Initially, they fixed the top part of the aorta and came back six days later and fixed the rest of it." 
Advertisement
Article continues below this ad
Fisch also told the Chronicle in 2003: "I'm grateful that I was in Houston. If I wasn't in Houston, forget it. We wouldn't be having this conversation." 
Now he's in the conversation for the Aggies' plum job. Fisch makes about $3 million annually at Arizona, while Fisher made three times as much at A&M. Bjork has said the Aggies' next coach will receive an incentive-based contract. He added that he hopes to have an agreement in place with a coach by the first few days of December, when the national transfer portal opens. 

Texas High School Suspends Black Student Again Over Locs
Darryl George, a Texas high school student who sued his school for discriminating against him for having locs, was placed in an in-school suspension Tuesday after returning to school. The reason this time? The length of his hair, George's spokesperson Dr. Candice Matthews confirmed.
The new disciplinary measure from Barbers Hill High School arrived immediately after he served a 48-day stay in a disciplinary alternative education program (DAEP) for supposed "multiple infractions of campus and classroom rules," according to the school.
Back in October, George's lawyer Allie Booker told Rolling Stone that Darryl's DAEP punishment is direct retaliation for his lawsuit against the Barbers Hill Independent School District. The September suit accuses George's school of targeting the Black student's hairstyle with a discriminatory dress and grooming policy. Black hair has long been an avenue for discrimination in the United States, as it is often considered unkempt or distracting by white-dominated organizations and professional environments.
On Aug. 31, George was pulled out of class and told his dreadlocks violated the school's policy. The Barbers Hill High School dress code says male students' hair cannot "be gathered or worn in a style that would allow the hair to extend below the top of a T-shirt collar, below the eyebrows, or below the ear lobes when let down." George's locs extend past his shirt collar, but are kept braided up above his lobes.
When George refused to cut his hair, the lawsuit claims he was "unethically hazed" by school staff, kept in in-school suspension, and prevented from accessing free lunch. George's attorney Booker argues that the school's actions violate the CROWN Act, a bill adopted in Texas that prohibits "discrimination based on race-based or protective hairstyles."
Following the news of his in-school suspension Tuesday, Texas Legislative Black Caucus Chair Ron Reynolds told Rolling Stone that the school was "acting in bad faith" by continuing to discriminate against Black students for their hair.
"The spirit of The CROWN Act was passed to protect students like DeAndre Arnold and Darryl George from Barbers Hill discriminating against them for their protective hairstyle regardless of length," Reynolds said Tuesday. "I will file an amendment to the bill during the next Legislative session that specifically addresses length to stop their pretextual argument to not comply with the CROWN Act."
"They are acting in bad faith to continue discriminating against African American students," he added.
Texas is one of 24 states that has passed a version of the CROWN Act, but the suit also accuses state officials of failing to enforce the law adequately. It also notes that no one commented on George's hair until Aug. 31, one day before Texas' CROWN Act went into effect.
Barbers Hill High School asked a Texas district court to specify whether the CROWN Act includes policies on hair length. In a statement to ABC13, the school district also added that they would refrain from "enhancing' Darryl's punishment while the court's ruling was pending — a statement both Booker and his mother Darresha say the school has walked back by sending Darryl to a disciplinary program.
"He feels like he's caged in, like he's in jail," George's mom Darresha told Rolling Stone in October. "It's like he's locked up. He was falling behind already. And now he's trying to play catch up and it's hard to do when you're already behind."
"His locs represent his roots, represent his soul, his ancestors, his legacy," she added. "It's his culture. He not only has his locs in his hair, he has his ancestors' hair weaved into the ends of his hair. So cutting that off is cutting them out of his life. And that's that's not fair to ask somebody to do."
Texas Woman Asks Judge For Permission To Get Abortion
Topline
A Texas woman is asking a judge for permission to terminate her pregnancy due to a severe fetal anomaly, challenging Texas' strict abortion laws that prohibit the procedure in most cases—a first-of-its-kind case since the Supreme Court allowed states to ban abortion last year.
Key Facts
Kate Cox, a 31-year-old woman with two children and a 20-week pregnancy, is suing Texas to request she be allowed an abortion after doctors told her "continuing the pregnancy puts her at high risk for severe complications threatening her life and future fertility," according to the lawsuit, filed in district court in Travis County, Texas.
Cox was told her baby has trisomy 18, which means "her pregnancy may not survive to birth, and, if it does, her baby would be stillborn or survive for only minutes, hours, or days," the lawsuit said.
Texas bans all abortions except in situations where there is "some evidence" of "substantial impairment of a major bodily function," but the state doesn't clarify what that evidence is.
Cox's request is the first lawsuit since before Roe v. Wade that asks the court to allow a pregnancy termination, according to the Texas Tribune.
If the court doesn't grant the order, Cox's doctor cannot provide the abortion—despite medically recommending it—or she would face "loss of her medical license, life in prison, and massive civil fines."
Forbes has reached out to the Texas Attorney General's office.
Crucial Quote
"I'm trying to do what is best for my baby and myself, but the state of Texas is making us both suffer," Cox said in a press release.
Key Background
Texas is one of several states to almost entirely ban abortion after the Supreme Court overturned Roe v. Wade last year, allowing states to heavily restrict or outlaw the procedure for the first time in nearly 50 years. Texas has some of the strictest abortion laws in the country, banning them in most situations and allowing private citizens to sue people who help someone get an abortion. Texas is currently facing a lawsuit from women and doctors are challenging what the state's law means for complicated pregnancies, but the state is arguing the plaintiffs don't have the right to challenge it as none are seeking abortions due to medical challenges. That led to the lawsuit filed by the Center for Reproductive Rights on behalf of Cox, who "cannot wait" for a decision to be made in the ongoing case. The pending lawsuit from women and doctors—Zurawski v. Texas—is asking for "clarification regarding the medical exceptions to Texas's bans." A Travis County District Court judge granted a temporary injunction against the law with regard to "Texans with life- or health-threatening pregnancy complications," but the state immediately appealed it, preventing the injunction from taking effect. Cox's lawsuit differs from Zurawski v. Texas in that it only requests a ruling in her situation rather than a ruling applying to the entire state, though a ruling for her could set precedent by making the state define when an abortion is allowed, according to the New York Times.
What To Watch For
A ruling in Zurawski v. Texas. According to the Center for Reproductive Rights, the Texas Supreme Court—which heard arguments in the case late last month—is expected to issue a decision soon on if the state's abortion ban applies in situations like Cox's.
Further Reading
The Texas TribuneTexas woman asks judge to let her terminate pregnancy after lethal fetal diagnosisNytimesTexas Woman Asks Court to Allow Her Abortion