Driverless trucks on California highways? Legislators don't trust the DMV to ensure safety
When Teslas are in self-driving mode, they've been recorded crossing into oncoming traffic and hitting parked cars. But what would happen if an 80,000-pound, 18-wheel driverless truck suddenly went off the rails?
That's an experiment some California legislators aren't ready to run. They argue that the state Department of Motor Vehicles has so badly mishandled the driverless car industry that it can't be trusted to oversee big rigs barreling down the highways autonomously.
AB 316 — which would wrest control of driverless truck testing and deployment from the DMV and require human drivers in the cab for at least five years while a safety record is collected — passed in the Assembly on Wednesday. The bill now goes to the state Senate and if passed will head to Gov. Gavin Newsom for his signature.
Its proponents argue that effective laws and regulations depend on shared data, institutional trust and public transparency, and that the DMV is struggling with all three.
"Ultimately, this issue is of such importance and relevance that we can't abdicate our responsibility to the DMV, and the DMV doesn't have the capacity to think about the consequences going forward," Assemblyman Ash Kalra (D-San Jose) said in an interview.
Laura Friedman, chair of state Assembly's transportation committee, explains her lack of trust in the DMV. (California State Assembly)
In a recent hearing, Laura Friedman (D-Glendale), the head of the Assembly's transportation committee, put it more plainly: "The DMV has not done a great job at regulating this space."
DMV Director Steve Gordon did not respond to a request from The Times for comment. In fact, the former Silicon Valley executive has rarely spoken with the media about anything at all since Newsom named him to the post in 2019.
The driverless truck industry, however, has pushed back hard, saying AB 316 would harm California's technological competitiveness. Meanwhile, public debate over the bill is highlighting concerns about safety and job loss, as human drivers of commercial vehicles face replacement by computer systems programmed with artificial intelligence.
How we got here
The Legislature handed driverless vehicle regulation to the DMV when it passed its first bill governing such vehicles in 2012. Hearings held at the time focused on the wonderful future ahead for driverless cars — no more crashes, no more traffic jams.
Autonomous vehicle engineers, including former Google executive Anthony Levandowski, made safety claims that went largely unchallenged. "Our data so far is showing that the technology is able to drive safer than our trained and professional drivers at the wheel," he said.
Because AI vehicles theoretically could drive at high speeds bumper to bumper, "it'll really clear up the 110 and the 405 and the 710," said Mark DeSaulnier, then the chair of the state Senate transportation committee. (DeSaulnier is now a member of Congress.)
Eleven years later, those freeways are as jam-packed as ever. And the safety information on those self-driving passenger cars? It's spotty — in large part because the DMV and the vehicle industry are working to keep key safety data out of public view.
In 2021, after a public records filing by an unidentified individual, the DMV invited Waymo to seek a court injunction to prevent the agency from releasing full crash reports.
After the injunction was granted, the DMV — with the legal assistance of California Atty. Gen. Rob Bonta — cut a deal with Waymo to keep the information concealed on the grounds of protecting company trade secrets, according to court records. The deal, approved in Sacramento County Superior Court, allows Waymo to redact most of the details of collision reports as well as information on how the company handles driverless car emergencies, for at least two years.
Although those vehicles, thus far, have not killed or seriously injured anyone in the state, news reports show they can cause plenty of problems on the road: They tend to brake suddenly; block traffic as they pause to decide what to do; cruise through construction zones; and "brick" or stall in traffic, requiring a human on the scene to move the car. They've even fled from police.
What Tesla has to do with it
Although the performance of Waymo and Cruise robotaxis operating in San Francisco concerns many legislators — including Friedman — what is especially troubling, they say, is the DMV's relationship with Tesla.
That is "what really tilted the balance for me" to support AB 316, Friedman said. At a committee hearing in March, she slammed the DMV "particularly in regard to one particular auto manufacturer and their overstated promise of what their vehicle actually is capable of doing." Friedman argued that Tesla's marketing claims are "leading to confusion from the drivers and purchasers of those vehicles and to lots of tragic accidents that could have been prevented with better oversight from the DMV and [federal] regulators."
The department allows the electric-car company to test driverless technology on California roads without a permit, while other companies are expected to conform to rules that require permits and trained test drivers. Tesla has said that the feature it calls Full Self-Driving is a technology that requires human attention, and doesn't require a permit, according to email records released under California's Public Records Act by the court transparency organization PlainSite.
Meanwhile, the DMV allows Tesla to market this technology package as Full Self-Driving. That name appears to violate the DMV's own rule — now a state law — against marketing cars as autonomous when they aren't capable of fully driving themselves. The DMV said the matter is under investigation, but that investigation has dragged on for more than two years.
"The lack of information after two years is deeply concerning," said Lena Gonzalez (D-Long Beach), who heads the state Senate's transportation committee.
When asked about the issue recently, Newsom said he had "great confidence" in Gordon and his team. The governor said he's grateful for legislative oversight. But pressed on the specific criticisms aimed at the DMV, he said: "Forgive me for not being alarmed or shocked."
What is — and isn't — at stake
The driverless technology industry, centered in Silicon Valley, is opposed to AB 316. "The economic impact of this bill is going to be devastating," said Jeff Farrah, who heads the Autonomous Vehicle Industry Assn., which represents Waymo, Cruise, Motional, Aurora Innovation and other driverless car and truck technology companies. "California will cede its position as a leader in the development of autonomous vehicles to other states that are embracing this lifesaving technology at a rapid pace."
Bill supporters regard such statements as alarmist hyperbole.
"It's easy for people to threaten to leave," said Assemblywoman Cecilia Aguiar-Curry (D-Winters), co-author of the bill, which is supported by the Teamsters union. "People aren't going to leave because of this," she said, noting the rich pool of technology talent clustered in Silicon Valley. Tesla, in fact, announced in February that it would move its Texas engineering team back to California, in part to attract and retain talented engineers.
The industry notes that states including Texas, Arizona, Georgia and Florida already allow driverless trucks on public highways. AB 316 would slow down plans to deploy driverless trucks from Southern California seaports eastward across the country.
The bill would not block driverless truck deployment at the ports themselves or on private property. Asked whether the Port of Long Beach plans to allow testing anytime soon, Anthony Otto, chief executive of the port's container terminal, said no. "It's completely a safety issue," he said.
Aguiar-Curry said for now she's happy to let companies test driverless trucks away from California's highways, citing her constituents' safety concerns.
She also contends that the trucking industry's main concern is not safety but profit.
The business case for autonomous trucks is the vast reduction in labor costs when humans are no longer needed to do the driving. Replacing the estimated 350,000 truck drivers who work in California alone would lead to huge cost savings.
Notably, driverless truck companies are not yet profitable, and cash flow is a big issue. With rising interest rates, capital is harder to come by and the companies need to show progress to attract more investment before their cash runs out. One autonomous truck company, Embark, went bust earlier this year.
Driverless truck companies are funneling millions of dollars into research and development and studies documenting their safety and reliability profile. A recent study from Waymo on collision avoidance suggests the reaction time is quicker for the AI driver than for human beings.
However, as it fights AB 316, the Autonomous Vehicle Industry Assn. continues to make debatable claims about safety.
Farrah has said: "Autonomous trucks are safer than trucks operated by humans." Former California Highway Patrol Officer Chris Childs, a paid consultant for the driverless vehicle industry group, recently told legislators that "in my opinion, autonomous technology is safer than a human driver."
Although no major crashes involving driverless trucks have been reported, data on whether AI drivers are safer than humans aren't yet able to settle the question. A paper published by the research group Rand Corp. said vehicles may have to be driven hundreds of billions of miles to make the case.
No legislator is alleging that AI-driven cars are necessarily less safe than those driven by humans. They're saying no evidence has been presented, and the technology still has enough bugs to warrant more study, particularly before it's extended to big-rig trucks.
Just having an AI semi truck stop dead on a freeway for a period of time could cause major traffic problems, said Assemblymember Laurie Davies (R-Laguna Niguel): "If something happens on [some stretches of] the 5 Freeway, there's no way of getting around it. What do you do? How long does it actually take to move something like this?"
AB 316 would "give us the opportunity to find out what are the glitches when we're looking at large vehicles like this, and how we fix them so they don't happen again," Davies said.
For its part, the driverless trucking industry contends that the Legislature lacks the expertise to adjudicate the issue correctly.
"The legislation puts the determination for very important safety and fact-based decisions in the hands of the Legislature instead of the able and experienced regulators at the DMV," said Mufaddal Ezzy, head of government relations for Aurora Innovation.
Waymo head of government relations Annabel Chang said via email: "If the legislature takes away decision-making power from these experts and creates a complicated political process to approve the operation of autonomous trucks, it will result in indefinitely delayed improvements to road safety and sustainability."
The experience level of the DMV regulators, however, is thin. The DMV official in charge of driverless car regulation, Miguel Acosta, has no prior experience in vehicle safety regulation or in motor vehicle technology. Before being named to his current job in 2018, he ran customer service for DMV vehicle registration and managed its field offices.

Video: Biden Says MAGA Movement Rejects Basic Beliefs of Democracy
new video loaded: Biden Says MAGA Movement Rejects Basic Beliefs of Democracy
transcript
Biden Says MAGA Movement Rejects Basic Beliefs of Democracy
President Biden delivered a blistering and direct attack on former President Donald J. Trump during a visit to Arizona.
There's something dangerous happening in America now. There's an extremist movement that does not share the basic beliefs in our democracy — the MAGA movement. Not every Republican, not even a majority of Republicans adhere to the MAGA extremist ideology. I know because I've been able to work with Republicans my whole career. But there's no question that today's Republican Party is driven and intimidated by MAGA Republican extremists. Their extreme agenda, if carried out, would fundamentally alter the institutions of American democracy as we know it. My friends, they're not hiding their attacks. They're openly promoting them. Attacking the free press as the enemy of the people. Attacking the rule of law as an impediment. Fomenting voter suppression and election subversion. Did you ever think we'd be having debates at your stage of your careers where banning books, banning books and burying history. Extremists in Congress more determined to shut down the government, to burn the place down than to let the people's business be done.
Recent episodes in U.S. & Politics
Former Michigan marijuana board head gets almost 5 years in federal prison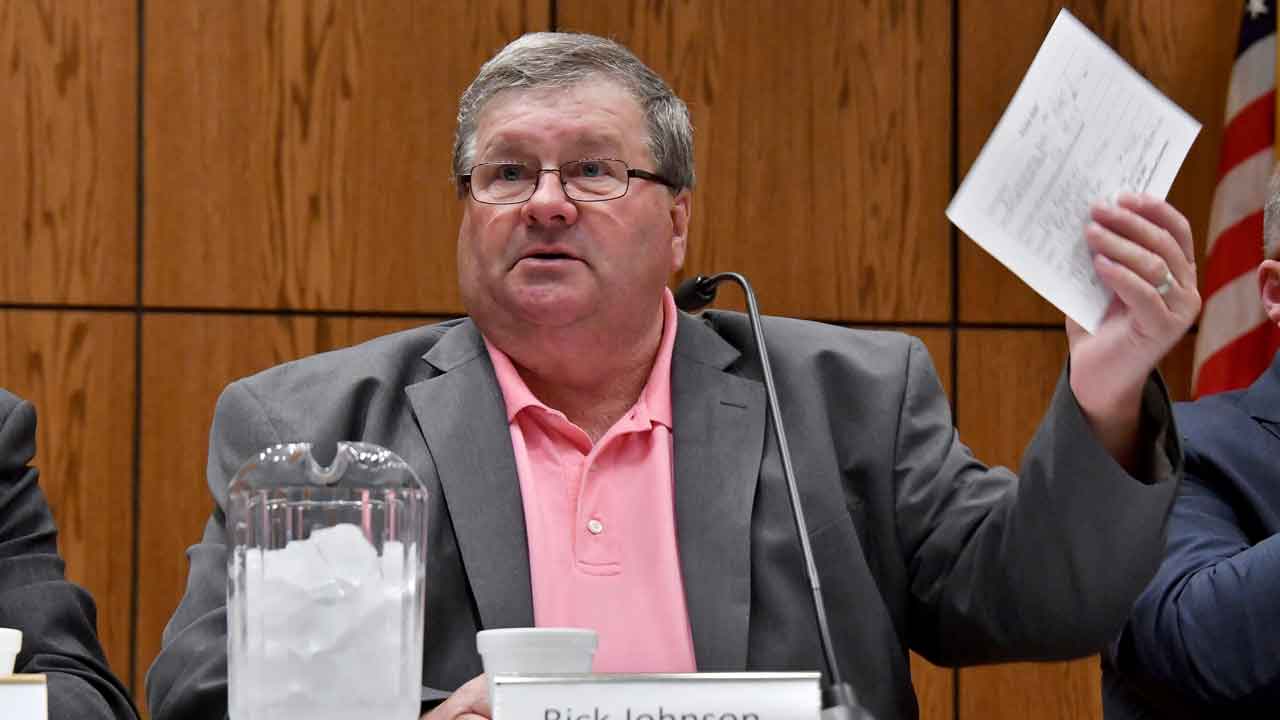 A man formerly known as a powerful Michigan lawmaker was sentenced Thursday to nearly five years in federal prison for accepting bribes as head of a marijuana licensing board.
Rick Johnson admitted accepting at least $110,000 when he led the board from 2017 to 2019.
"I am a corrupt politician," Johnson told the judge, according to The Detroit News.
FORMER HEAD OF MICHIGAN MARIJUANA LICENSING BOARD PLEADS GUILTY TO BRIBERY
Johnson was a powerful Republican lawmaker years ago, serving as House speaker from 2001 through 2004. He then became a lobbyist, and ultimately chair of a board that reviewed and approved applications to grow and sell marijuana for medical purposes.
U.S. District Judge Jane Beckering sentenced Johnson to about 4.5 years in prison.
"You exploited your power, and you planned it out even before you got the appointment," Beckering said.
Two lobbyists who referred to Johnson as "Batman" in text messages have also pleaded guilty to bribery-related charges. A Detroit-area businessman who paid bribes, John Dalaly, was recently sentenced to more than two years in prison.
FEDS LAND FIRST GUILTY PLEA IN MICHIGAN MARIJUANA BOARD CORRUPTION PROBE
Prosecutors had recommended a nearly six-year prison term for Johnson. In a court filing, they said one of the lobbyists paid for him to have sex with a woman.
"Rick Johnson's brazen corruption tainted an emerging industry, squandered the public's trust and scorned a democracy that depends on the rule of law," U.S. Attorney Mark Totten said after the hearing.
Michigan voters legalized marijuana for medical purposes in 2008. A decade later, voters approved the recreational use of marijuana.
Gov. Gretchen Whitmer abolished the medical marijuana board a few months after taking office in 2019 and put oversight of the industry inside a state agency.
Higher wages are coming for California's fast-food workers. Here's what to know about the new law
Gov. Gavin Newsom on Thursday signed into law a sweeping deal his office helped forge between fast-food companies and unions that will give workers in the industry a pay increase next year.
The legislation represent a rare peace agreement, hammered out in negotiations over the summer, that allows businesses and unions to avoid a costly statewide ballot measure fight over wages.
"I can assure you this wasn't easy," said Newsom, who signed Assembly Bill 1228 surrounded by ecstatic union workers in Los Angeles. "That was a tectonic plate that had to be moved."
Beyond the complex politics involved, the deal provides a series of benefits to workers, and some key concessions to employers, that will kick in next year.
Here's what you need to know about the agreement:
What will the new law do for workers?
The law Newsom signed Thursday has several perks for workers, including:
A pay increase to $20 per hour on April 1, which applies to California workers employed by any fast-food chain that has more than 60 locations across the country. California's minimum wage is currently $15.50 for all workers. Statewide, the increase is estimated to affect more than 500,000 workers.
The possibility of annual wage increases, beginning Jan. 1, 2025, of either 3.5% or an amount based on average changes to the consumer price index each year, whichever is lower. A council of representatives of workers and employers will work with state agencies to determine if future increases should be given and if the bumps would apply to fast-food workers statewide or in specific regions.
In addition to wages, the council can also work with state agencies to recommend minimum standards for employee hours and other working conditions.
As part of the larger agreement, the Service Employees International Union California avoids a ballot measure fight that would have cost millions of dollars and can instead redirect union workers to knock on doors and make calls in support of other labor priorities in 2024.
How is this different than the prior fast-food law that was signed last year?
Labor unions successfully pushed Assembly Bill 257, also known as the Fast Food Accountability and Standards Recovery Act, through the state Legislature last year.
The initial fast-food law, which Newsom signed last September, created a statewide 10-member fast-food council and regional councils composed of labor and employer representatives tasked with setting minimum wage, employee hours and working condition standards in California.
Under the law, the council could have increased the minimum wage up to $22 an hour in 2024 for employees of chains with more than 100 restaurants.
Fast-food companies quickly launched a successful campaign to qualify a referendum on the ballot to reverse AB 257, which paused the law from taking effect until a statewide vote in November 2024.
Under the new agreement reached between fast food companies and labor, the referendum will be removed from the ballot and the new law, AB 1228, will override AB 257 from last year.
What did fast-food companies get out of the deal?
Under the final five-year peace agreement that expires in 2029, fast-food companies won some concessions and staved off several potential burdens that unions created as incentives to convince businesses to come to the table and negotiate. Those include:
Unions agreed to pause efforts to pass a law to make fast-food franchisors legally liable for labor violations committed by franchisees, which could have increased legal costs and fines for corporations.
Localities will not be able to force fast-food companies to increase wages regionally for workers beyond bumps approved by the state.
Labor had convinced state lawmakers and the governor to revive the defunct Industrial Welfare Commission under the state budget earlier this year. The commission would have had more authority to raise wages without limits and to enact workplace conditions for fast-food and other California industries. The commission served as an insurance policy for unions if the fast-food industry's referendum on AB 257 succeeded and the original fast-food council was nullified. Lawmakers agreed to defund the IWC as part of the deal.
Fast-food companies also save millions of dollars by calling off the referendum battle over AB 257.
Who will sit on the new council?
The new Fast Food Council, which is similar to the original council created under AB 257, will consist of nine voting members:
Two representatives of the fast-food restaurant industry
Two franchisees or restaurant owners
Two restaurant employees
Two advocates for fast-food restaurant employees.
One member of the public who is not affiliated with either side and will serve as chair.
The council will also have two non-voting members from the Department of Industrial Relations and the Governor's Office of Business and Economic Development.