"All Man: The International Male Story" – Male order [MOVIE REVIEWS]
Peter Jones, an Emmy Award-winning writer, has constructed a lovely, fluffy biography of the mail order catalog that swept the 70s and 80s and changed the face (and body) of mens' fashion and fashion photography. Directed and edited by Bryan Darling at a breezy pace, "All Man: The International Male Story" tells the origin story of the racy male counterpart to "Victoria's Secret" long before Victoria had something to hide. 
Gene Burkhard, a gay man recently discharged from the Army, had stayed in Europe as a sales rep, traveling throughout the continent in his sports car and making his calls. But he was tired and was on his back to San Diego, his new home, when he made a stop in London. Walking through Soho, Burkhard was startled and intrigued by something he saw in the window of a medical supply shop. Looking curiously like a skimpy jockstrap, he bought one. Certainly the original design was medical support for down under but he was fascinated by the simplicity and comfort of this g-string for men. American designs for mens' underwear came in two shapes – boxers and tighty whities; European design added the bikini line but that was it in a nutshell (yes, I meant that). You could say that it all started with the "jock sock" and you wouldn't be wrong. In 1972, Burkhard set up shop in San Diego, redesigned his "jock sock" and commenced producing them.
Mainstream publications refused to run Burkhard's "jock sock" ads but, in a stroke of genius, he started placing them in "Playboy" magazine and his design took off like a rocket. And from this ad was born the mail order catalog "International Male." 
What started off as just Burkhard and his secretary Gloria Tomita filling orders for the sock, soon blossomed into a genuine business with photographers, buyers, sales reps and more. Buyers searched the world over for designs they could feature, designs that were far outside the norms set by American retail stores and their associated catalogs. Until "International Male," American men weren't wearing rope knit sweaters or skimpy bathing suits. Hawaiian shirts were for Hawaii and velvet vests were too Carnaby Street. And the glorification of the body! Oh my! "International Male" arrived on the scene as  "PlayGirl" magazine was taking off.
But even more than the outré fashions were the barechested, pumped male models wearing, or rather barely wearing the clothes on display. Demographically speaking, it was often women buying the fashions for their previously blandly dressed partners but it was an entirely different demographic who was cradling the catalog/magazine and cutting out the pinups. The models were pedestaled and objects of desire. More than anything, "International Male" was selling fantasy. But, gay or straight, they also sold a lot of clothes. Those orders didn't just come from major metropolitan areas but also from Kansas and Iowa and North Dakota, etc.
Shortly after launching the first issue of the catalog, they opened two stores, one in San Diego, Burkhard's home, and the other in West Hollywood, a bastion of gay pride and hospitality. The company expanded greatly, even designing and producing their own fashions when other sellers couldn't provide enough merchandise. Product flew off the shelves and catalog sales skyrocketed. Even Burkhard was surprised by his success and had the good fortune to turn over the accounts to a professional who reversed what was fast becoming a financial disaster despite the huge sales, into a success. Who was buying? As previously mentioned, young women were buying for their boyfriends and husbands. I have to admit that I bought a few things for my husband during the catalog heyday, but I'd have to say that it was a case of "win some, lose some." He took to the bathing suits, not so much to the rope sweaters, and definitely nothing in velvet. But women, like gay men, looked forward to those catalogs that had something for everyone.
Success attracts attention and soon the offers were pouring in for Burkhard to sell. The highest bidder was Horn and Hardart, famous for the automat but also a leader in catalog sales, who soon changed their company name to Hanover Direct. Burkhard and Tomita, now his Vice President of Sales, retired in 1986 hoping their longtime staff would remain intact. Alas, no. By 1988, Hanover decided that "International Male" was "too gay" and it needed to be straightened. Most of the staff was laid off and the straightening process began. Adding women as accessories was a bandaid on a problem that was never a problem to begin with. Still, with some key staff remaining, the catalog was able to attract the top male models and continue its position as a fashion leader and successful mail order catalog. Burkhard's original concept of using highly masculine men in outfits that didn't fit the traditional concept of male attire was a novel and successful approach. The sexualization of the body and clothing that originated in "International Male" was copied to great effect by others,  primarily the reincarnation of "Abercrombie and Fitch." Burkhard's creation was influential beyond his wildest dreams and changed the way women and men thought about men's fashion. They put a straight face on outrageous designs and were satirized for it, only increasing awareness of the brand. Take, for example, the puffy shirt episode of "Seinfeld." The original puffy shirt was part of the "International Male" catalog featuring their "pirate" motif. Hilariously, it served to highlight how what you see on a model with a perfect body and striking demeanor might not be the perfect fit for the Joe Average that is the rest of us.
But, alas, there's no happily ever after for "International Male," although it's not a sad ending. American male fashion finally caught up and what you could find on their pages eventually became available in retail stores. The last issue of "International Male" came out in 2007. Not a bad run, though, all things considered, although had they waited a bit longer for the tsunami of online sales, they might be still going, giving us all easy access to the soft-core porn that they championed with open shirts, low cut pants, and, never forget, the jock sock.
Opening June 6 at

Peddha Kapu 1 Review, USA Premiere Report
Final Report:
Peddha Kapu offers solid technical values and supporting cast, but the core story, emotions, and drama are lost in the confusing narration. Director Srikanth Addala's comeback is a mixed bag.
First Half Report:
Despite superb visuals and a solid score, Peddha Kapu feels a bit all over the place in the first half but still maintains intrigue. Hopefully, the second half will provide less confusion and more clarity on character arcs and the core plot.
— Peddha Kapu show started with an intense, chaotic action sequence in a village, setting up the perfect beginning for the drama. Stay tuned for the first half report.
Stay tuned for Peddha Kapu 1 Movie Review, USA Premiere Report.
Peddha Kapu 1 is directed by Srikanth Addala, marking his return after a long hiatus since "Brahmotsavam" in 2016. The film features Virat Karrna, Pragati Srivastava, Rao Ramesh, and Tanikella Bharani in lead roles. Srikanth Addala, known for his soft genre films, is making a comeback with this intense film, and the trailer has raised expectations for the movie.
Cast and crew : Virat karrna, Pragati srivasthava, Rao Ramesh, Naga Babu, Tanikella Bharani, Brigada saga, Rajeev kanakala, Anusuya, Eeshwari Rao, Naren
Producer : Miryala ravinder reddy
Director: Srikanth Addala
Dop : Chota K Naidu
Music : Mickey J meyer
Fights : Peter Hein
Editor : Marthand K Venkatesh
Art : GM Sekhar
Dance Master : Raju sundaram
This Week Releases on OTT – Check 'Rating' Filter
Believer, The | Reelviews Movie Reviews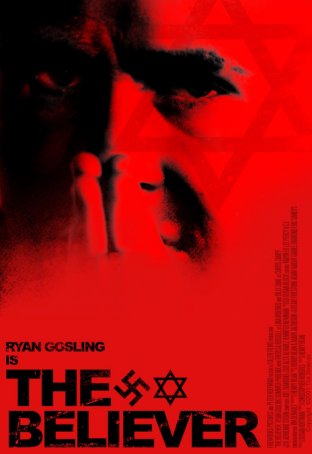 When one speaks of cultural relevance, some movies capture
it in the moment (oftentimes dating the production in the process). Others
grasp it as if looking in a rearview mirror. But there's a small group, either
through clairvoyance or happenstance, that achieve it years or decades ahead of
time. The Believer is one such film; its themes seem more relevant two
decades after its release than they did when it reached theaters in 2001.
The directorial debut of Henry Bean (who wrote the
screenplays for both Internal Affairs – the good – and Basic Instinct 2 – the bad) offers numerous challenging ideas but falls short when it
comes to character development and motivation. The narrative is scattershot –
events happen too quickly, transitions are frequently missing or truncated, and
certain aspects aren't believable. Although the movie uses flashbacks to
explore why the main character, Danny Balint (Ryan Gosling), has adopted the
philosophies he espouses, there's still something missing.
Danny grew up Jewish but, as a child, he pushed back against
orthodox interpretations of the Torah. As an adult, he has repudiated Judaism
altogether, opting to become a neo-Nazi and partnering with 21st
century fascists Curtis Zampf (Billy Zane) and Lina Moebius (Theresa Russell).
Although Curtis and Lina disagree with Danny's virulent antisemitism (they
perceive fascism as an economic and political philosophy not necessarily tied
to race), they are impressed by his passion and oratorical skills and believe
he can be an asset to the movement. After beginning a relationship with Lina's
daughter, Carla (Summer Phoenix), who is also sleeping with Curtis, Danny exhibits
conflicted emotions regarding Jewish iconography. Although he violently attacks
a Jew in the streets and attempts to shoot another, he shows a fascination for
the Torah and, at her request, begins to teach Carla Hebrew. Danny's evolving
conflict is evident in a bizarre scene where he combines a Nazi salute with a
Hagabah.
Although The Believer does an adequate job
postulating how a disaffected Jewish youth might not only repudiate his
heritage but become hostile toward it, the film does not effectively flesh out
Danny as a fully formed individual. Oftentimes, he appears more like a writer's
construct. The situation is exacerbated with Carla – a lifelong fascist, her
sudden fascination with Judaism is inexplicable and unexplained. Her character
represents one of The Believer's biggest problems because everything
about her is forced and artificial. Her motivations are as obtuse as her
feelings about Danny and Curtis. When asked by Danny why she is with him while
also sleeping with Curtis, she responds that the sex is better with Danny.
I was not as impressed with Ryan Gosling's performance as were
many of the contemporaneous critics who reviewed the film, although I agree
that there are several scenes in which his intensity is frighteningly effective,
the most notable being during a confrontation with journalist Guy Danielsen
(A.D. Miles), when Danny brandishes a gun. Overall, however, I found Gosling's
acting to be uneven, but I acknowledge that this could be more the fault of the
screenplay than the performer.