Billy Joel made history with his Madison Square Garden residency. It's ending in 2024
Billy Joel has left the building — almost.
Since beginning his residency at New York City's Madison Square Garden in 2014, the "Piano Man" singer has set performance records, sold more than a million tickets and serenaded countless fans with his classics. Now, he's ready to bring it to an end.
During a news conference Thursday, Joel announced that he would end his residency in July 2024, with his 150th lifetime performance at the venue.
"It's hard to believe that we've been able to do this for 10 years," he said. "I didn't know how long it was going to last."
He added: "I'm now 74, I'll be 75 next year. Seems like a nice number."
The Grammy winner said he was "lucky enough" to perform at the Garden every month since 2014, a gig that was only supposed to continue until demand fell off. Looking back on those first months, Joel said he thought audiences would lose interest after a while. Instead, the opposite happened, as shows kept selling, "and people keep coming."
The residency eventually led Joel to break the record for the most performances at the Garden. In June 2015, the Long Island native surpassed Elton John — who performed 64 shows — with 65 performances.
"There are a lot of venues out there but only one Madison Square Garden — my home away from home," he said then.
During Thursday's news conference, New York City Mayor Eric Adams praised the "Uptown Girl" singer.
"There's only one thing that's more New York than Billy Joel — and that's a Billy Joel concert at MSG," Adams said. "For more than 50 years, Billy's music has defined our city and brought us together."
Joel played his 100th show at the Garden in 2018, and a banner was raised to celebrate the occasion. He later told the New York Times that he didn't think he'd have "the physical wherewithal" to continue the show five years later.
Speaking with the Los Angeles Times in March, Joel said the fact that he was still performing at the Garden was "bizarre."
"At the end of every tour, I feel like that's it for me: 'OK, I'm done,'" he said. "And then some time goes by and it's like, 'Let's go out and play.'"
With his residency coming to a close next year, some fans might wonder if a Joel farewell tour (akin to John's) might be a possibility. Here's his answer: "I have a disdain for capitalizing on that.
"'Let me threaten that it'll be the end, and then I'll make a lot of money,'" he told The Times in March. "I've seen bands so many times announce their farewell tours, and then they never go away. I've seen a couple of the Who farewells at this point."

Peddha Kapu 1 Review, USA Premiere Report
Final Report:
Peddha Kapu offers solid technical values and supporting cast, but the core story, emotions, and drama are lost in the confusing narration. Director Srikanth Addala's comeback is a mixed bag.
First Half Report:
Despite superb visuals and a solid score, Peddha Kapu feels a bit all over the place in the first half but still maintains intrigue. Hopefully, the second half will provide less confusion and more clarity on character arcs and the core plot.
— Peddha Kapu show started with an intense, chaotic action sequence in a village, setting up the perfect beginning for the drama. Stay tuned for the first half report.
Stay tuned for Peddha Kapu 1 Movie Review, USA Premiere Report.
Peddha Kapu 1 is directed by Srikanth Addala, marking his return after a long hiatus since "Brahmotsavam" in 2016. The film features Virat Karrna, Pragati Srivastava, Rao Ramesh, and Tanikella Bharani in lead roles. Srikanth Addala, known for his soft genre films, is making a comeback with this intense film, and the trailer has raised expectations for the movie.
Cast and crew : Virat karrna, Pragati srivasthava, Rao Ramesh, Naga Babu, Tanikella Bharani, Brigada saga, Rajeev kanakala, Anusuya, Eeshwari Rao, Naren
Producer : Miryala ravinder reddy
Director: Srikanth Addala
Dop : Chota K Naidu
Music : Mickey J meyer
Fights : Peter Hein
Editor : Marthand K Venkatesh
Art : GM Sekhar
Dance Master : Raju sundaram
This Week Releases on OTT – Check 'Rating' Filter
'Harry Potter' cast members pay tribute to Michael Gambon: 'The world just became considerably less fun'
Tributes to Michael Gambon poured in from his former "Harry Potter" castmates following the death of the actor, who portrayed Hogwarts headmaster Albus Dumbledore in six of the eight blockbuster films. Gambon's death, at age 82, was confirmed Thursday by his publicist.
A statement from the actor's family said he died after "a bout of pneumonia."
"We are devastated to announce the loss of Sir Michael Gambon. Beloved husband and father, Michael died peacefully in hospital with his wife Anne and son Fergus at his bedside," his family said.
Daniel Radcliffe, who played the titular role in the "Harry Potter" franchise, expressed his grief over Gambon's loss in a statement to The Times.
"With the loss of Michael Gambon the world just became considerably less fun," he said. "Michael Gambon was one of the most brilliant, effortless actors I've ever had the privilege of working with, but despite his immense talent, the thing I will remember most about him is how much fun he had doing his job. He was silly, irreverent and hilarious. He loved his job, but never seemed defined by it.
"He was an incredible story and joke teller and his habit of blurring the lines of fact and fiction when talking to journalists meant that he was also one of the most entertaining people with whom you could ever wish to do a press junket."
Radcliffe shared that he grew especially close to Gambon during the filming of 2009's "Harry Potter and the Half-Blood Prince."
"The sixth film was where I got to spend the most time working with Michael and he made the hours spent in front of a green screen together more memorable and joyous than they had any right to be," Radcliffe said. "I'm so sad to hear he has passed, but I am so grateful for the fact that I am one of the lucky people who got to work with him."
Rupert Grint, who played Ron Weasley in the film series, posted a photo of Gambon in full Dumbledore attire to his Instagram following the news of the Irish actor's death.
"So sad to hear about Michael. He brought so much warmth and mischief to every day on set," Grint captioned the post. "He captivated me as a kid and became a personal role model of mine for finding the fun and eccentricities in life. Sending all my love to his family, Rupert."
Grint's onscreen sister, Bonnie Wright, also posted a tribute to Gambon on Instagram.
"I was forever in awe of Michael's presence and performance. His deep mischievous voice between scenes would vibrate through the Great Hall," wrote the actor who played Ginny Weasley. "He was Dumbledore through and through a constant, warm and guiding figure. Rest in peace Michael. Sending love to your family."
J.K. Rowling, the creator of the "Harry Potter" universe, shared in an X post her first memory of seeing Gambon perform.
"I've just heard the awful news about Michael Gambon. The first time I ever laid eyes on him was in King Lear, in 1982, and if you'd told me then that brilliant actor would appear in anything I'd written, I'd have thought you were insane," she wrote. "Michael was a wonderful man in additional to being an outstanding actor, and I absolutely loved working with him, not only on Potter but also The Casual Vacancy. My deepest condolences go to Michael's family and everyone who loved him."
Irish actor Fiona Shaw, who took on the role of Petunia Dursley, recalled Gambon's deep love of his craft.
"I will think of him as a trickster, just a brilliant, magnificent trickster. But with text, there was nothing like him; he could do anything," she told BBC Radio 4. "He just loved the precariousness of reality and unreality, and of course, that made him a very great actor. … He did once say to me in a car, 'I know I go on a lot about this and that, but actually, in the end, there is only acting.' I think he was always pretending that he didn't take it seriously, but he took it profoundly seriously, I think."
Other cast members to pay tribute included Jason Isaacs, who played Lucius Malfoy, and James Phelps, who portrayed Fred Weasley. See their tributes below.
The Associated Press contributed to this report.
Believer, The | Reelviews Movie Reviews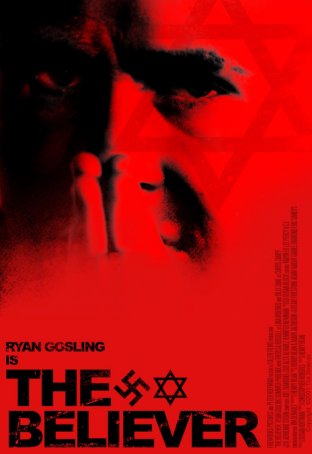 When one speaks of cultural relevance, some movies capture
it in the moment (oftentimes dating the production in the process). Others
grasp it as if looking in a rearview mirror. But there's a small group, either
through clairvoyance or happenstance, that achieve it years or decades ahead of
time. The Believer is one such film; its themes seem more relevant two
decades after its release than they did when it reached theaters in 2001.
The directorial debut of Henry Bean (who wrote the
screenplays for both Internal Affairs – the good – and Basic Instinct 2 – the bad) offers numerous challenging ideas but falls short when it
comes to character development and motivation. The narrative is scattershot –
events happen too quickly, transitions are frequently missing or truncated, and
certain aspects aren't believable. Although the movie uses flashbacks to
explore why the main character, Danny Balint (Ryan Gosling), has adopted the
philosophies he espouses, there's still something missing.
Danny grew up Jewish but, as a child, he pushed back against
orthodox interpretations of the Torah. As an adult, he has repudiated Judaism
altogether, opting to become a neo-Nazi and partnering with 21st
century fascists Curtis Zampf (Billy Zane) and Lina Moebius (Theresa Russell).
Although Curtis and Lina disagree with Danny's virulent antisemitism (they
perceive fascism as an economic and political philosophy not necessarily tied
to race), they are impressed by his passion and oratorical skills and believe
he can be an asset to the movement. After beginning a relationship with Lina's
daughter, Carla (Summer Phoenix), who is also sleeping with Curtis, Danny exhibits
conflicted emotions regarding Jewish iconography. Although he violently attacks
a Jew in the streets and attempts to shoot another, he shows a fascination for
the Torah and, at her request, begins to teach Carla Hebrew. Danny's evolving
conflict is evident in a bizarre scene where he combines a Nazi salute with a
Hagabah.
Although The Believer does an adequate job
postulating how a disaffected Jewish youth might not only repudiate his
heritage but become hostile toward it, the film does not effectively flesh out
Danny as a fully formed individual. Oftentimes, he appears more like a writer's
construct. The situation is exacerbated with Carla – a lifelong fascist, her
sudden fascination with Judaism is inexplicable and unexplained. Her character
represents one of The Believer's biggest problems because everything
about her is forced and artificial. Her motivations are as obtuse as her
feelings about Danny and Curtis. When asked by Danny why she is with him while
also sleeping with Curtis, she responds that the sex is better with Danny.
I was not as impressed with Ryan Gosling's performance as were
many of the contemporaneous critics who reviewed the film, although I agree
that there are several scenes in which his intensity is frighteningly effective,
the most notable being during a confrontation with journalist Guy Danielsen
(A.D. Miles), when Danny brandishes a gun. Overall, however, I found Gosling's
acting to be uneven, but I acknowledge that this could be more the fault of the
screenplay than the performer.