Tennessee basketball live score updates vs. Purdue in Maui Invitational
Tennessee basketball is playing for a trip to the Maui Invitational championship game.
The No. 8 Vols (4-0) face No. 2 Purdue (4-0) on Tuesday (8 p.m. ET, ESPN) in Honolulu in the tournament semifinals.
Tennessee advanced to the semifinals with a 73-56 win against Syracuse in the opener Monday. The Vols got 17 points from Dalton Knecht, and Josiah-Jordan James and Jonas Aidoo had double-doubles. Purdue topped No. 10 Gonzaga 73-63 in the second game.
MORE: Watch Tennessee basketball vs. Purdue live with Fubo (free trial)
Tennessee forward Tobe Awaka suffered a right ankle injury in the opening minutes against Syracuse and did not return.
What channel is Tennessee basketball vs. Purdue on today?
PREVIEW: Tennessee basketball vs Purdue in Maui Invitational: Scouting report, score prediction
Tennessee basketball vs. Purdue start time
Date: Nov. 21, 2023
Time: 8 p.m. ET
Tennessee basketball live score updates vs. Purdue
Tennessee basketball schedule 2023
Tennessee basketball's next five games:
vs. TBD in Maui Invitational: TBD on Nov. 22
at North Carolina in ACC/SEC Challenge: 7:15 p.m. ET on Nov. 29 (ESPN)
vs. George Mason: 6:30 p.m. ET on Dec. 6
vs. Illinois: noon ET on Dec. 9 (CBS)
vs. Georgia Southern: 7 p.m. ET on Dec. 12 (SEC Network)
Mike Wilson covers University of Tennessee athletics. Email him at michael.wilson@knoxnews.com and follow him on Twitter @ByMikeWilson. If you enjoy Mike's coverage, consider a digital subscription that will allow you access to all of it

Jonas Aidoo scores 17 points as No. 17 Tennessee ends 3-game skid, beats George Mason 87-66
KNOXVILLE, Tenn. — Jonas Aidoo scored a career-high 17 points and No. 17 Tennessee rediscovered its defense in an 87-66 victory over George Mason on Tuesday night.
Josiah-Jordan James added 15 points, Tobe Awaka added 11 and Dalton Knecht had 10 as the Vols (5-3) snapped a three-game losing streak.
"It all starts with confidence," Aidoo said, adding that coach Rick Barnes "keeps comparing me to the best bigs in the country."
Last week, Tennessee yielded 61 first-half points in a 100-92 loss to North Carolina. But the Vols held George Mason to 36% shooting in the first half to take a 39-26 lead.
Darius Maddox scored 15 points for the Patriots (7-2), whose four-game winning streak ended. Woody Newton added 13 points and Baraka OkoJie scored 11.
"I knew (the Vols) were going to play like it was their last game after three losses," George Mason coach Tony Skinn said. "They were going to come out here with their guns blazing."
The 6-foot-11 Aidoo scored eight of Tennessee's first 13 points of the second half as the Vols extended their advantage to 22 points.
"When you look up length in the dictionary, there's a picture of Jonas Aidoo," Skinn said. "He hit two 3-pointers. You can't defend that."
Barnes said Aidoo "should expect a lot from himself," adding: "I keep telling him he has know idea how dominant he can be."
The Vols had a season-best 27 assists, led by Zakai Zeigler and James with six each.
"When we play the way we move the ball, we're going to get a lot of assists," Barnes said.
THE TAKEAWAY
George Mason: The Patriots have three players (Keyshawn Hall, Amari Kelly and Maddox) averaging in double figures. But they need to get everybody involved in the offense. It's a safe bet they aren't going to see any other ranked teams on their schedule.
Tennessee: Barnes wasn't pleased with the Vols' defensive breakdowns in the first half against North Carolina. Odds are nothing like that will happen on his watch again. … Barnes' first head coaching job was at George Mason in 1987-88 after he worked as an assistant there from 1980-85.
UP NEXT
George Mason: After a break for exams, the Patriots host Loyola (Maryland) on Dec. 16.
Tennessee: The Vols will play their fourth ranked team and second Big Ten opponent Saturday, when they host No. 20 Illinois.
___
Get poll alerts and updates on AP Top 25 basketball throughout the season. Sign up here.
Proposed locations of Choice Lanes in Tennessee to be announced soon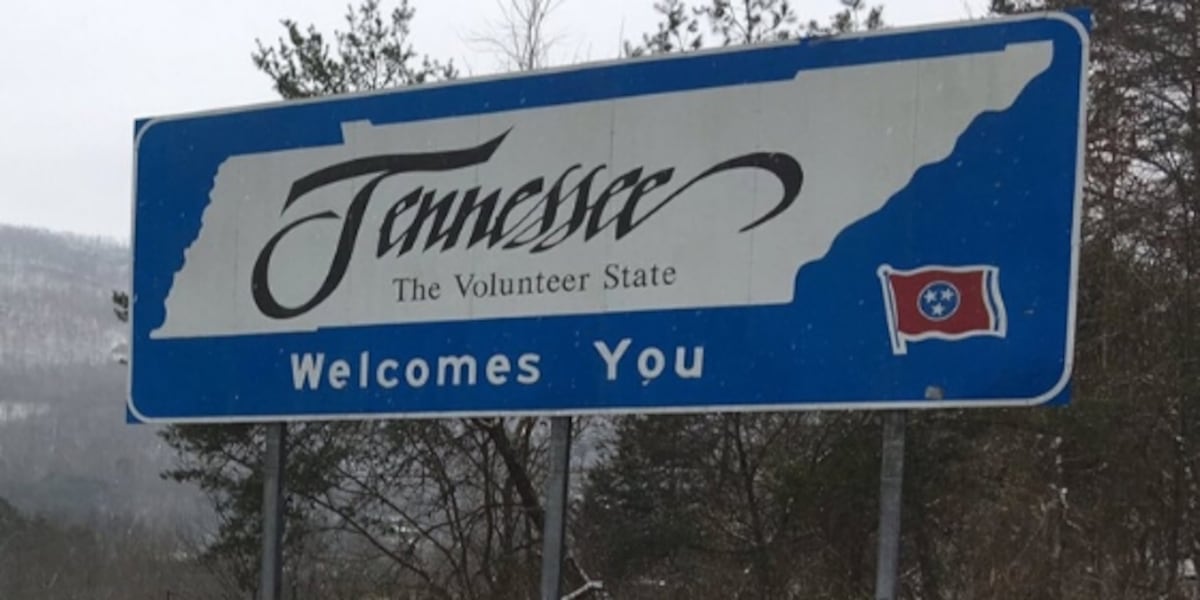 NASHVILLE, Tenn. (WSMV) – On Dec. 18, the Tennessee Department of Transportation commissioner will release the plan for Choice Lanes in the state.
Proposed locations for Choice Lanes will be included in the plans, but user fees will remain undisclosed, at least for now.
TDOT released the following statement regarding the new legislation:
"The Transportation Modernization Act (TMA) was passed by the General Assembly with broad bi-partisan support. As part of any expansion to an interstate, as required by federal law, there is extensive community engagement and feedback opportunities. As required by the TMA, in addition to the review and approval of the Transportation Modernization Board, the entire General Assembly has the opportunity to review and vote on any Choice Lane project involving the expenditure of state funds through the legislative budget process.
Choice Lanes are not traditional toll roads that require drivers pay to get from point A to point B. In fact, prior to the passage of the TMA, toll roads were allowable throughout the state. The TMA removed this provision from statute, allowing only for the addition of Choice Lanes. Just as the name suggests – people have the choice to use the additional lane. Choice Lanes are always owned by the state and are required to be added in a manner that does not reduce the number of existing general purpose lanes. The ability to utilize public private partnerships to design, build, finance, operate, and maintain Choice Lanes allows the department to deliver monumental, mega-projects on our state's most congested corridors, without raising taxes or issuing debt, while also freeing up additional funds to meet other transportation needs across the state. We want people to spend less time in traffic and more time with the people they love doing the things they enjoy."
Choice Lanes, also known as "managed lanes" in other states, are a solution proposed by TDOT to tackle traffic congestion in busy areas while also saving funds to improve rural areas. This approach involves widening interstates to three lanes, which will help to alleviate traffic congestion in hotspots.
"Under these arrangements, a private-sector partner enters into an agreement with the state DOT to design, build, finance, operate and maintain Choice Lanes," TDOT said.
TDOT said the lanes come at a cost to drivers but are optional. They will run alongside existing interstates, providing motorists with an option to bypass congestion when desired. The lanes are expected to offer more reliable trip times.
TDOT stated that Choice Lanes have reduced congestion by 60-70% and increased speed by 10-15% in Texas. On average, 70% of these lanes are constructed by local contractors.
For more information on Choice Lanes, click here.
Copyright 2023 WSMV. All rights reserved.
No. 17 Tennessee vs. George Mason: How To Watch, Betting Odds, Complete Preview | Rocky Top Insider
Tennessee basketball returns to Thompson-Boling Arena at Food City Center on Tuesday night after a three week hiatus that saw the Vols face four big six teams and three top 15 teams.
The Vols are coming off three straight losses, falling to Purdue and Kansas in the Maui Invitational and North Carolina in Chapel Hill. Tennessee is looking to get back on track as they host George Mason on Tuesday night.
Here's everything to know about the matchup.
More From RTI: Dalton Knecht Questionable Against George Mason
How to Watch – No. 17 Tennessee (4-3) vs. George Mason (7-1)
Start Time: 6:30 p.m. ET/5:30 p.m. CT
Location: Thompson-Boling Arena at Food City Center
TV: SEC Network+, ESPN+. PxP: Andy Brock. CC: Steve Hamer. Sideline: Sarah Detwiler
Online Streaming: SEC Network+. ESPN+.
Radio (Knoxville): The Vol Network/The Vol Network App
Betting Lines
Draft Kings
Spread: Tennessee -15 George Mason
Totals: Over/under 136.5
KenPom
Spread: Tennessee -15 George Mason
Total: Over/under 137
Probable Starters
Tennessee (via UT Game Notes)
George Mason (Starters from last game)
What Rick Barnes said about George Mason
On his memories coaching at George Mason
"I remember going there in 1980 and I was a part-time assistant at Davidson College. I got the call and the first thing I did, I got out the college Blue Book to look up where it was. I was surprised that it had 18,000 students, but I didn't know until I got there that they only had like 500 living on campus. It was considered the fastest-growing university in the country at the time. I was the first full-time assistant coach they had ever hired in any sport there. (George Mason coach) Joe Harrington, who hired me and gave me the opportunity, was the first full-time head coach they ever had. He told me this and it was truly a great statement: He said, 'You're going to learn more in the time here because we're going to have to build a program from the ground floor up.' I go back (and) he was right and then I stayed five years and through that time being in D.C., I got to meet a lot of people. Back then, that was — and still is — a hotbed for recruiting. I met (former Duke coach) Mike Krzyzewski and ended up interviewing for a job with him. Bill Foster was at Clemson, interviewed for a job there. Wimp Sanderson, obviously went to work there (at Alabama) for a little bit, but being there was an area that opened up contacts that I don't think I could imagine at the time. But in itself, watching the university grow to what it is today and it's a special place to me. It always will be. Both my kids were born while we were living in Fairfax at Georgetown Hospital. Some dear friends. I have one of my former players here. I guess to answer your question: He's 60 years old. So that tells you something."
On what stands out about this George Mason team
"Again, I think they play really good. Really good offensive team. They change their defenses. They're shooting I think the three maybe better than they thought they would. They're shooting the ball really well, but I still think they're more of an inside-out team. They know what they're looking for and they're gonna try to keep in balance as much as they can on the offensive end."
Team Statistics (via Sports Reference)
Tennessee:
George Mason:
Stat Leaders
Tennessee:
Points: Dalton Knecht — 20.3 PPG, 50.5 FG%, 40.5 3PT%
Rebounds: Jonas Aidoo — 7 RPG, 5.3 DRPG, 1.7 ORPG
George Mason:
Points: Keyshawn Hall — 15.1 PPG, 46.2 FG%, 36.8 3PT%
Rebounds: Keyshawn Hall — 9.4 RPG, 8.3 DRPF, 1.1 ORPG
Assists: Ronald Polite III — 3.3 APG, 1.8 TOPG, 27.4 MPG
Last Five Games