Missing 23-year-old Cleveland Heights man found dead in Lake Erie
CLEVELAND HEIGHTS, Ohio (WOIO) – Cleveland Heights police confirmed Monday a missing man was found dead over the weekend.
According to police, the body of Derrick Edward Wells Jr. was found around 3 p.m. Sunday in Lake Erie near Whiskey Island.
PREVIOUS STORY: Cleveland Heights police search for missing 23-year-old man
Wells had been missing for several weeks. His family had told 19 News the 23-year-old's car was found near the pier at Edgewater Park.
Cleveland Metroparks police are handling the investigation.
Copyright 2023 WOIO. All rights reserved.

COMETS FALL IN GAME 1 IN CLEVELAND | Utica Comets Official Website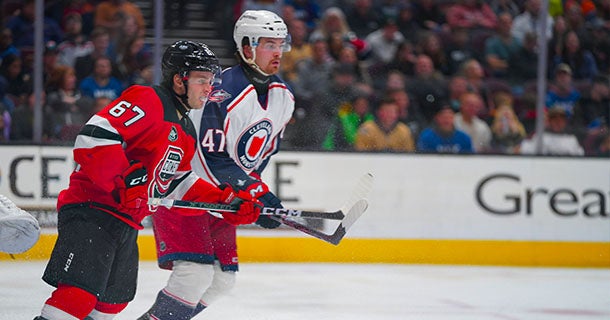 Dec 2, 2023
Cleveland, OH. — For the first time this season, the Comets played the Cleveland Monsters, the top team of the North Division. With Utica coming off three straight losses and Cleveland winning four in a row, the Comets were hoping to change the trajectory after the game ended on Saturday night on the road. Despite a valiant comeback effort in the final period, the Comets lost the contest, 4-2.
In the opening period, the Monsters struck twice to put themselves up 2-0. The first goal came from at 3:19 from former Comets forward, Brendan Gaunce and the latter goal of the period was by James Malatesta at 17:06. The end of the first twenty minutes saw Utica down by a couple goals. 
During the middle frame, the Comets punched back after Max Willmam took a pass from Arnaud Durandeau and knifed the puck passed Daniil Tarasov at 7:15 It was Willman's fifth goal of the season. Unfortunately for Utica, the Monsters scored at 14:48 after Malatesta found the back of the net for the second time in the game. As the second ended, the Comets found themselves behind, 3-1.
In the final period of regulation, Joe Gambardella scored on a blistering wrist shot over the glove side of Tarasov at 5:18. The goal was assisted by Graeme Clarke and Robbie Russo and it was Gambardella's second goal of the season. The Monsters scored with just six seconds left, the Comets allowed an empty net goal by Carson Meyer.
The Comets are back in action against the Monsters tomorrow afternoon at 12:00 PM followed by a home game on Friday night against the Bridgeport Islanders inside the Adirondack Bank Center at 7:00 PM.
Single game tickets are now available for the 2023-24 season. Visit uticacomets.com/tickets for more information. Season Ticket Memberships are also available for the 2023-24 Season. Tickets are still available. Visit www.uticacomets.com/tickets for more information.
WCLV Program Guide 12-03-2023
Classical All Day, Jazz All Night
00:00 JAZZ WITH JOHN SIMNA
Artist-Album-Track
Cory Weeds, Home Cookin', Thedia
Michael Patterson, One More – Music of Thad Jones, Mean What You Say
Thad Jones – Mel Lewis, All My Yesterdays, Back Bone
Buselli – Wallarab, Carol of the Bells, Christmas Time is, Swiss Movement Here
Emmet Cohen – Houston Person, Masters Legacy Series 5, I Let a Song Go Out of My Heart
Brad Turner, The Magnificent, The Magnificent,
Joe Alterman, Big Mo and Little Joe, The Strangler
Les McCann – Eddie Harris, Swiss Movement, Compared to What
Joel Haynes, The Return, Allure
Atley King, Unconditional, Context
Justin Kauflin – Thomas Fonnesbaek, Danish Rain, Driftin'
Jerry Bergonzi, Extra, Extra, Loudzee
Bennett Paster, Radiance, I Remember Nat
Affinity Trio, Hindsight, Bongo Beep
Diva, 30, In A Mellow Tone
Duke Ellington, Three Suites, Peanut Brittle Brigade
Duke Ellington, Three Suites, Arabesque Cookie
Bill O'Connell, Live in Montauk, Do Nothin' 'til You Hear From Me
Angela DeNiro, Swingin' with Legends 2, Hello Young Lovers
Brecker Brothers, The Brecker Brothers, Some Skunk Funk
Samara Joy, A Joyful Holiday, The Christmas Song
Walter Bishop Jr. , Bish at the Bank, If I Were a Bell
03:00 JAZZ NETWORK
Artist-Album-Track
Emily Remler, Larry Coryell Emily Remler: Retrospective volume 1 Joy Spring
Mulgrew Miller, Ira Coleman, Marvin "Smitty" Smith Landmarks Portrait of a Mountain
Gil Evans, The Gil Evans Orchestra Out of the Cool Stratusphunk
Miles Davis, Gil Evans, Studio Orchestra Sketches of Spain Concierto de Aranjuez
Gene Bertoncini, Michael Patterson, David Finck Concerti Concierto de Aranjuez/Spain
Miles Davis, John Coltrane, Wynton Kelly, Paul Chambers, Jimmy Cobb, Cannonball Adderley Kind Of Blue Freddie Freeloader
Nancy Wilson, Cannonball Adderley, Nat Adderley, Sam Jones, Joe Zawinul, Louis Hayes Nancy Wilson & Cannonball Adderley Little Unhappy Boy
Bill Evans The Solo Sessions, volume 2 All the Things You Are
Wes Montgomery, Grady Tate, Ron Carter, Ray Barretto Tequila Tequila
Chet Baker, Russ Freeman, Carson Smith, Bob Neel Let's Get Lost: The Best of Chet Baker Sings I Remember You
Vince Guaraldi, Monty Budwig, Colin Bailey Jazz Impressions of Black Orpheus Samba de Orpheus
Milt Jackson, Studio Orchestra Sunflower For Someone I Love
Phil Woods, Mike Melilo, Harry Leahey, Alyrio Lima, Bill Goodwin, Steve Gilmore Live Cheek to Cheek
Jimmy McGriff, Bernard Purdie, Red Holloway, David Newman, Mel Brown The Dream Team Fleetwood Stroll
Gary Burton, Steve Swallow, Makoto Ozone, Mike Hyman Real Life Hits The Beatles
Brad Mehldau Day Is Done Martha My Dear
Brad Mehldau, Larry Grenadier, Jeff Ballard Day Is Done She's Leaving Home
George Benson, Studio Orchestra The Other Side of Abbey Road Something
George Benson, Studio Orchestra The Other Side of Abbey Road Octopus' Garden/The End
Oscar Peterson, Harry Edision Oscar Peterson & Harry Edison You Go to My Head
Freddie Hubbard, Cedar Walton, Jymi Merrit, Art Blaker, Wayne Shorter Mosaic Arabia
Anthony Wilson Ensemble Goat Hill Junket Hell's Belles
Sarah Vaughan, Studio Orchestra Golden Hits Whatever Lola Wants
Pierre Michelot, Toots Thielemans, Pierre Blanchard, Maurice Vander, Billy Higgins Bass and Bosses A Child Is Born
Pierre Michelot, Kenny Clarke Ascenseur pour l'echafaud Visite du Vigile
Miles Davis, Bill Evans, Paul Chambers, Jimmy Cobb, John Coltrane, Cannonball Adderley Kind of Blue Flamenco Sketches
Andy Bey, Vito Leczak, Peter Washington Ain't Necessarily So All the Things You Are
Nicholas Payton, Jesse Daivs, Tim Warfield, Anthony Wonsey, Reuben Rogers, Adonis Rose Gumbo Nouveau Wild Man Blues
Al Hirt, Studio Orchestra Music to Watch Girls By Sugarlips
06:00 WCLV SUNDAY MORNING with Sam Petrey
George Frideric Handel: Messiah: Pastoral Symphony (1741)
Alessandro Scarlatti: Dixit Dominus (1720)
Johann Sebastian Bach: Cantata No. 62 'Nun komm der Heiden Heiland' (1724)
Johann Sebastian Bach: Christmas Oratorio: Pastoral Symphony (1734)
07:00 PIPEDREAMS with Michael Barone: AGO Seattle 2022 (III) – Featuring the 1965 Flentrop organ at St. Mark's Cathedral in recital and worship contexts.
MAX REGER: Toccata & Fugue in a, Op. 80, nos. 11/12.
BALINT KAROSI: Toccata in Memory of Bela Bartok James Kealey (NYACOP 1st Prize)
RACHEL LAURIN: Humoresque, Op. 77.
DAVID CONTE: Toccata Daniel Chang (2nd Prize)
JEANNE DEMESSIEUX: Etude in Octaves, Op. 5, no. 6.
CHARLES-MARIE WIDOR: Choral (ii.), fr Symphonie romane, Op. 73 Daniel Minnick (3rd Prize)
LOUIS VIERNE: Final, fr Symphony No. 6, Op. 59 James Kealey (r. 7/4/22)
08:00 WITH HEART AND VOICE with Peter DuBois: Advent 1 – The new liturgical year begins with Advent Sunday, with its themes of anticipation of the coming of the Messiah, and the beginnings of moving from darkness to light. Peter DuBois will share choral and organ music of longing and expectation as we begin the Advent journey.
09:00 IF IT AIN'T BAROQUE with John Mills
Johann Sebastian Bach: Christmas Oratorio: Part 1 (1734)
Louis-Nicolas Clérambault: Simphonia No. 2 'La Felicite' (1698)
Johann Christoph Pez: Concerto Pastorale (1700)
10:00 SUNDAY BRUNCH with Sam Petrey
Padre Antonio Soler: Sonata No. 84 in D (1765)
Padre Antonio Soler: Sonata No. 5 in F (1770)
Alexander Glazunov: The Seasons: Autumn (1899)
Ludwig van Beethoven: Rondo from Piano Concerto No. 1 (1798)
Joseph Haydn: Symphony No. 100 in G 'Military' (1794)
Georg Philipp Telemann: Concerto for Recorder & Flute (1720)
Pablo de Sarasate: Spanish Dance No. 8 'Habanera' (1878)
Giovanni Gabrieli: Canzon per sonar No. 2 (1600)
12:00 PERFORMANCE TODAY WEEKEND with Fred Child
Antonin Dvorak: Trio in E minor, Op. 90 "Dumky" Movement 6 Lento maestoso; Vivace Weilerstein Trio Album: Dvorak Trios Koch 7657
Connor Chee: Unbroken Connor Chee, piano YCMPR Diversity Recording Project
Piano Puzzler Contestant: Joseph Gewirtz calling from Harrisburg, PA
Domenico Scarlatti: Keyboard Sonata in C Major, Kk. 159 Yevgeny Sudbin, piano Album: Domenico Scarlatti: 18 Sonatas Bis 2138
Robert Schumann: Cello Concerto in A minor, Op. 129 Alisa Weilerstein, cello; Grand Teton Music Festival Orchestra; Rafael Payare, conductor Grand Teton Music Festival, Walk Festival Hall, Jackson Hole, WY
13:00 MILWAUKEE SYMPHONY with Lori Skelton – Roderick Cox, conductor; Inon Barnatan, piano
Richard Strauss: Don Juan Op 20
Ludwig van Beethoven: Piano Concerto No. 4 in G Op 58
Ludwig van Beethoven: Finale from Piano Sonata No. 6 Op 10 (encore)
Jean Sibelius: Symphony No. 5 in E flat Op 82
Antonin Dvorak: Czech Suite Op 39—Zdenek Macal, conductor
15:00 THE CLEVELAND ORCHESTRA ON THE RADIO with Bill O'Connell – Membership Campaign Edition
Leroy Anderson: A Christmas Festival (1950)
Richard Strauss: Don Juan (1888)
Engelbert Humperdinck: Hansel and Gretel: Dream Pantomime (1893)
Sergei Prokofiev: Finale from Symphony No. 5 (1944)
Traditional: Wexford Carol
C. E. F. Weyse: O Green and Shimmering Tree, Good Day (1830)
Richard Strauss: Der Rosenkavalier: Suite, Part 2 (1911)
Ralph Vaughan Williams: Fantasia on Christmas Carols (1912)
Peter Tchaikovsky: Finale from Symphony No. 4 (1878)
Alan Silvestri: The Polar Express: Suite (2004)
Richard Strauss: Till Eulenspiegel's Merry Pranks (1895)
Franz Schubert: Kyrie from Mass No. 6 (1828)
Franz Schubert: Finale from Symphony No. 9 'Great C Major' (1828)
18:00 FROM THE TOP with America's finest young musicians; recorded November 27, 2023 – We're celebrating the 50th anniversary of the Fischoff National Chamber Music Competition. Over the years, From the Top has featured the sensational winning youth ensembles of this renowned competition, and we're going to revisit some of these incredible performances. We'll also reveal the most recent grand prize winners who have yet to be featured on From the Top
The Versaille Quintet (violist Rosie Armbrust, 17, from Wayne, IL; cellist Anna Burden, 16, from Lake Bluff, IL; violinist Eunice Keem, 17, from Northfield, IL; violinist Karen Kim, 17, from LaCrosse WI; and pianist Stephanie Nilles, 17, from Wheaton, IL) Quintet in G minor, Op. 57 III. Scherzo Dmitri Shostakovich (1906-1975)
Quartet Stracciatella (violinist Erika Gray, 16, from Wilmette, IL; violinist HyunJae Lim, 14, from Seoul, South Korea, and studying in Philadelphia, PA; violist Stephanie Block, 18, from Chicago, IL; and cellist Johannes Gray, 15, from Wilmette, IL) String Quartet No. 2, "Intimate Letters" IV. Allegro Leoš Janáček (1854-1928)
Incendio Saxophone Trio (saxophonist Zachary Solomon, 18, from Tinley Park, Illinois; saxophonist Alexander Procajlo, 18, from Tinley Park, Illinois; and saxophonist Emma Phillips, 18, from Orland Park, Illinois) Crankshaft Robbie McCarthy (b. 1989), Arr. Matt Fowler
Trio Adonais (violinist Sammy Andonian, 18, from Lincoln, MA; cellist Mari Nagahara, 16, from Andover, MA; and pianist John Gibson, 18, from MA) Soliloquy Shulamit Ran (b. 1949)
The Bone Rangers (trombonist Karl Kirkpatrick, 18, from Mundelein, Illinois; trombonist Omar Tlatelpa-Nieto, 18, from Lansing, Illinois; trombonist Jonah Blake, 16, from Chicago, Illinois; and trombonist Rafael Noriega Jr., 15, from Chicago, Illinois) Canzona Biagio Marini (1594-1663)
FaMa Quartet (violinist Ella Eom, 17, from Palisades Park, NJ; violinist Julie Kim, 17, from Northvale, NJ; violist Jasper Sewell, 18, from Chattanooga, TN; and cellist Ari Peraza-Webb, 18, from Cincinnati, OH)
String Quartet in G Minor, Opus 10 I. Animé et très décidé Claude Debussy (1862-1918)
The Favrile Quartet (violist Lauren Chipman, 17, from Lake Forest, IL; pianist Christopher Falzone, 15, from Richmond, VA; cellist Deanna Talens, 18, from Appleton WI; and violinist Russ Stewart, 17, from Middleton, WI) Piano Quartet No. 1, Op. 25 IV. Rondo all Zingarese. Presto Johannes Brahms (1833-1897)
19:00 SYMPHONY AT SEVEN with John Simna
Sir Arnold Bax: The Garden of Fand (1916)
Franz Schmidt: Symphony No. 3 in A (1928)
Sergei Prokofiev: Symphony No. 5 in B-Flat (1944)
21:00 INNOVATIONS with Mark Satola – featuring works by Cleveland area composers, presented in cooperation with the Cleveland Composers' Guild
Halim El-Dabh: Sweet and Prickly Pear (2002) Jameson Cooper, violin; Halim El-Dabh, derabucca
Margaret Brouwer: Quintet for Clarinet in A and String Quartet (2005) Daniel Silver, clarinet; Maia String Quartet
Nicholas Underhill: Caprice (1999) Nicholas Underhill, piano
Edwin London: Gypsy Heirs (1997) Laura Martin, violin; Mark George, piano
22:00 CITY CLUB FORUM – recorded Friday at The City Club of Cleveland, a citadel of free speech – The Future of Higher Education: A Conversation with Cleveland's College Presidents – Michael A Baston, Dr. Laura Bloomberg, Eric Kaler
23:00 QUIET HOUR with Rob Grier
Claude Debussy: Preludes Book 1: Danseuses de Delphes (1910)
Henryk Wieniawski: Légende (1859)
Wolfgang Amadeus Mozart: Andante from Divertimento for Strings K 136 (1772)
Franz Schubert: Andante from Piano Sonata No. 21 (1828)
Johann Sebastian Bach: Violin Partita No. 1: Sarabande & Double (1720)
Benjamin Britten: A New Year Carol (1934)
Henri Büsser: Le sommeil de l'Enfant Jesus (1920)
Dmitry Bortnyansky: Choral Concerto No. 2 'Let my Prayer Arise' (1800)
Franz Gruber: Silent Night (1818)
Clarice Assad: A Tale of Living Water (2010)
NOACA endorses bills that would repeal requirement for I-71 interchange in Brunswick
The Northeast Ohio Areawide Coordinating Agency has joined many residents around Brunswick and Strongsville in supporting two bills that would repeal part of a law requiring an interchange for I-71 around the cities.
On Friday, NOACA adopted a resolution supporting HB 276 and SB 155, which would remove language added to the Transportation Budget earlier this year.
In March, Strongsville State Representative Tom Patton, who is also the chair of the House Finance Subcommittee on Transportation, added language to the transportation bill requiring limited access on and off ramps every 4.5 miles on the interstate between cities with more than 35,000 people when at least one of the cities is in a county with more than one million people.
Some believe the inclusion was tailor-made to create highway access on Boston Road between Strongsville and Brunswick. At the time, Patton told News 5 that such a project would help alleviate heavy traffic and safety concerns on Route 82 in Strongsville.
"As I mentioned to the governor, I said this will be the poster child for this safety project," Patton said earlier this year.
A feasibility study partially funded by the City of Strongsville pointed to high crash rates at the Route 82/I-71 interchange, projecting that intersections in the area will reach "unacceptable" levels of service in the coming decades.
The study looked at several options for creating highway access at Boston Road. All of the combinations of on and off-ramps found it would likely be necessary to widen the 2-lane residential street and relocate a fuel pipeline on the road.
It also confirmed the fears of many who live near Boston Road: homes and neighborhoods would likely be displaced by a partial or full interchange project.
"It's heartbreaking. It's literally heartbreaking," Tom Helderman told News 5 during an interview for a follow-through report in October. He is a Strongsville resident whose home is among the closest to I-71 on Boston Road. "It's devastated what we have worked for to raise our family for the last 24 years in our home. For what? For a few minutes of someone sitting in traffic?"
Watch our follow-through report below:
Boston Road neighbors share concerns about proposed interchange
Boston Road neighbors share concerns about proposed interchange in statehouse testimony
A feasibility study completed earlier this year showed that additional highway access points would reduce some congestion, but backups would still likely occur on Route 82.
The NOACA's endorsement of HB 276 and SB 155 adds more support to the two bills, both of which have sat in committee since September.
We Follow Through
Want us to continue to follow through on a story? Let us know.