Mangalavaaram Movie Review | Ajay Bhupathi, Payal Rajput, Ajaneesh Loknath | Telugu Movie Reviews
Mangalavaaram stands as Ajay Bhupathi's improved work compared to his previous films, aligning well with its subject and genre
Published Date – 08:21 PM, Sun – 19 November 23
Hyderabad: Mangalavaaram is a technically superior film with strong performances. It stands as Ajay Bhupathi's improved work compared to his previous films, aligning well with its subject and genre. While a stronger flashback could enhance its impact, the film remains an impressive outing.
---

Anavarana Movie Review: Sickly love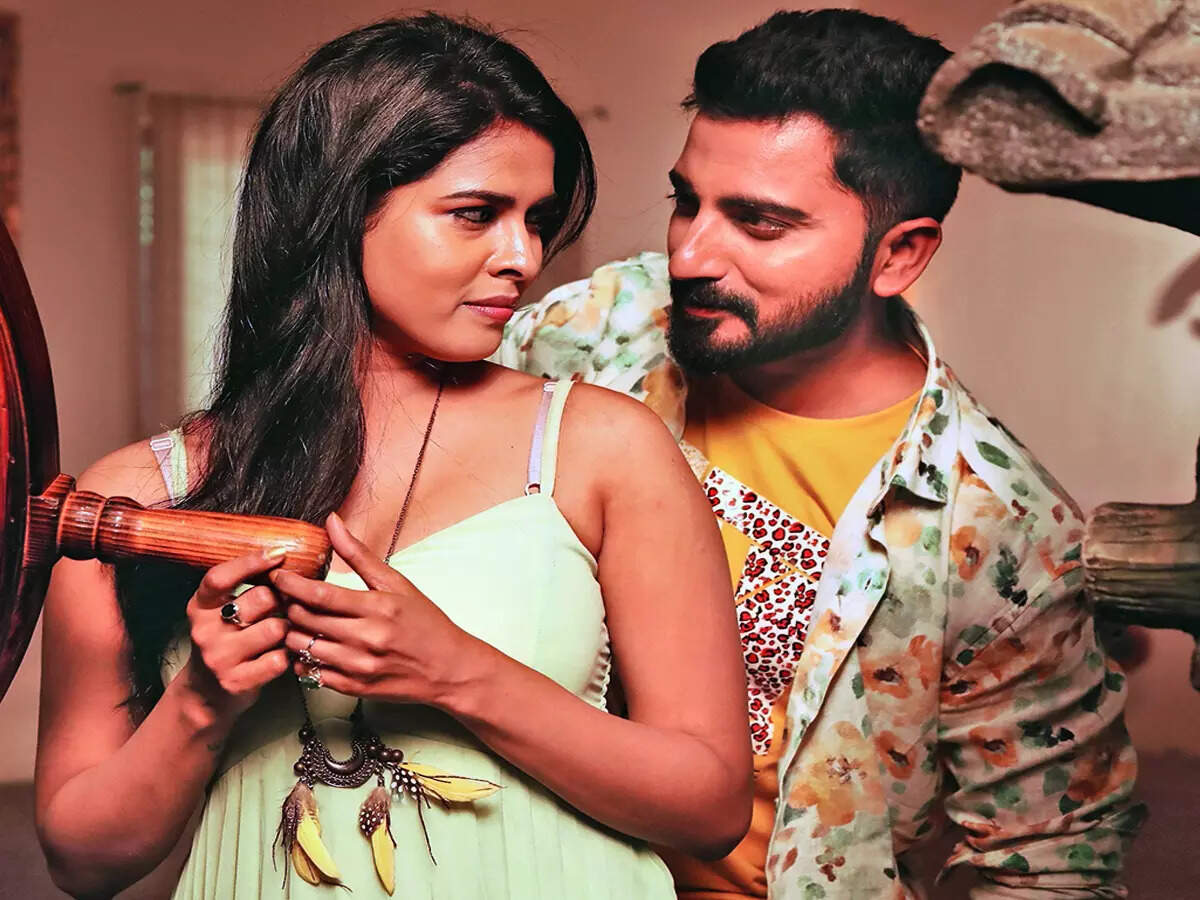 Anavarana
, helmed by two directors, is about how people with obsessive love disorder (OLD) trouble others. But some sequences, make it clear that there was no coordination between the two directors.
The movie begins with a boy finding a woman's dead body at an isolated place. Police Inspector Rakshan Appachira (Nandagopal) visits the spot. The police suspect the deceased is Nyja (Sarika Rao), the wife of Nishanth (Arjun Yogi) who works as an architect at a private company.
While the police inspector is busy with the investigation of Nyja's murder, one more murder takes place. The police inspector successfully nabs Bhimesh, a newspaper boy who is addicted to cricket betting, for the murder of that woman, who used to live alone. Later, the police inspector meets Nishanth as part of the investigation of Nyja's murder. Nishanth claims that his wife Nyja is alive. What happens to Nishanth, who the deceased is and who is the killer is what Anavarana is all about.
The main drawback of the movie is poor cinematography. Comedy scenes do not serve any purpose as they fail to tickle the funny bones. The directors could even have cut out some unnecessary characters, like that of a police constable and his wife. Action scenes are too over the top too.
As far as the performance go, Arjun Yogi has acted well. His acting, as a good human being and concerned husband, is good. Sarika Rao, who plays a double role – as Nyja and Maya, looks beautiful. Gaurish Akki is convincing as a villain. Honnavalli Krishna and Aravind provide good support.
If crime dramas are your thing, go for it!.
'Renaissance' reviews are officially in: Here's what fans think about the concert film
In less than a week since its debut in AMC theaters, "Renaissance: A Film by Beyoncé" has garnered great reviews from audiences worldwide.
On Dec. 1, Beyoncé released her film which gives fans an intimate look at her life as a global icon on her "Renaissance" tour. Not only did viewers get to see Beyoncé's incredible work ethic behind the scenes, but they also learned how Blue Ivy became a part of the tour and started dancing with her mom on stage.
If anything, "Renaissance: A Film by Beyoncé," which according to Variety earned $5.1 million in previews on Nov. 30, truly showed all the hard work that Beyoncé puts into her shows — and to no surprise her efforts didn't go unnoticed.
On X, formerly known as Twitter, one fan said they couldn't believe how amazing the film was.
"Just finished the Renaissance film. I seriously do not understand anybody who questions Beyoncé's talent or work ethic. Anyone who says she's "over rated"…She is unmatched. Just when I thought she couldn't top herself, I watch this s— & am in awe like I JUST discovered her," they said.
Another fan, who shared videos from Nigeria and South Africa, gave Beyonce her flowers, saying the "Break My Soul" singer "did what needed to be done with the RENAISSANCE movie."
This fan wasn't the only one who shared video reactions about the concert film. Some took to the theaters to capture the exhilarating moment, with some of them posting videos of themselves dancing and singing along to the movie with other people in the theater.
In a clip shared on X, fans are seen standing up from their seats and clapping along to the music in the film.
In another video shared on X, theater attendees are seen dancing and singing along to the concert film. "Babyeeee RENAISSANCE: A FILM BY BEYONCÉ was a whole experience. This was definitely the best cinema experience ever! They even gave us glow sticks," the user captioned the video.
Kelly Rowland, Beyoncé's former Destiny's Child bandmate, also raved about the film when she went to the Nov. 30 London premiere of her friend's long-awaited project.
On Instagram, Rowland said, "The Renaissance film is NOT TO BE MISSED PERIOD! Truly inspired! #I'm so proud of you BB!"
Other stars who attended the premiere were Beyoncé's husband, Jay-Z, Taylor Swift, Blake Lively, Michelle Williams, Chloe and Halle Bailey, Issa Rae and more.
In fact, when Rae talked about her experience at the premiere during a recent appearance on TODAY With Hoda & Jenna,
Rae said that the dress code for the evening was "cozy opulence" and that's why she didn't go above and beyond with her outfit. For the evening, Rae decided to wear a shimmery black dress with matching heels.
"Everyone was opulent. I was in the middle," she said. "I was like, I really just want to see this movie and eat popcorn. Let me just take something out of my closet. And people said that about me. They were like, she looked like she just showed up to watch the movie, and I did!"
This article was originally published on TODAY.com
Countdown To Christmas Movie Review: My Norwegian Holiday
My Norwegian Holiday wasn't what I thought it was going to be. Now, I had to say that first, because honestly, wasn't even close to what I thought it would be. Is that a good thing? I think so. Is it a bad thing? Not sure.
I know that when it comes to movies, television, or anything really – everything is subjective. It's all about your personal taste. For me, I love movies that are so bad that they are good and I love movies that are cheesy. If you ask me to watch a movie that is Oscar worthy, chances are, it's not for me.
Why?
Because I like movies that one can relate to. My Norwegian Holiday does just that. It gives so much that a person can relate to, somethings that are a cautionary tale, somethings that I wish would have been fleshed out more, and somethings that just brought a smile to my face.
Now, as with so many Countdown to Christmas movies this season, I have to say, I still don't think that Christmas needed to be in there to make the movie good. But what I do love about this movie is learning about Christmas in another culture (though I do wish there was more of it).
Lets dive into it.
WHAT IT'S ABOUT: A last-minute holiday trip to The Land of the Midnight Sun leads PhD candidate JJ Johnson (Fish) to clues that might help her solve the decades-old mystery surrounding a carved troll figurine that her grandmother loved and passed on to her. While there, JJ is warmly welcomed and accepted by the family of world-class skier Henrik Strom (Elsendoorn), who has finally returned home following a career-ending injury. As JJ unravels the mystery of the troll she discovers a life-changing family secret, and Henrik comes to terms with the end of his competitive career. With love now blooming between JJ and Henrik just as JJ's holiday trip comes to a close, JJ must decide whether to return to Minneapolis or completely open her heart to love and a newfound family in Norway.
WHAT IT'S GIVING: A big a** caution sign
STANDOUT PERFORMANCE: Deirdre Monaghan. I would like Astrid as my Grandma, please. She was just too great and too funny. Everything is an acquired taste will forever make me LOL.
GRINCH-ISH THOUGHTS: One thing that I have loved about Hallmark these days is that they are taking steps forward to charge up storylines. This one was an attempt to do just that, but TBH, it was a lot of things happening for one movie.
JJ meets Henrik by chance – he's at a coffee shop and fighting with what we think is his girlfriend. She doesn't want to go to Norway and is a little irritated that he just assumed that she would go. She gets more peeved when she thinks that he's ordered her the wrong drink. But the reality is he had taken JJ's drink.
It just so happens that she has the same name as JJ.
Henrik is a sweet guy. He tries to make things up to JJ, for stealing her drink and then for her dropping papers that she graded all over the ground. As she leaves, he finds one more paper that she didn't grab. He tracks her down at the school she works at.
Now, I will say this, I did appreciate that Hallmark showed JJ's reaction of thinking that this is weird. They weren't afraid to call themselves out in this movie with all of the things that are suspect and just flat out a red flag. Sometimes movies and television shows are not willing to do just that and it makes the show loose credibility.
But in this movie, they embrace the things that should make a person run. It feels like they stop and go, well people will call this out so lets just embrace it. As a person that watches so many of these movies, I wish that more did just that. It's doing that, which reminds us to take it for what it is – a movie that we're supposed to be able to pull ourselves out of.
Through twists and turns, JJ ends up going to Norway with Henrik. I mean, sure, why not hop on a plane to a foreign country with a stranger. Then why not stay with his grandma. Makes complete sense (it doesn't, but in an ideal world it would be).
Henrik's family embraces JJ for who she is. They take her in and help her on her quest to figure out who it was that carved this troll that quite frankly will give me nightmares. I am a little taken a back on how Henrik is and what he's doing. He seems so nice – too nice. I am waiting for him to be a serial killer. Yet, that's not what he is. He's a nice guy who wants to be there for others.
And there is something about JJ that makes him feel alive. He forgets the bad – even though everywhere it is plaguing him. He thinks because he injured himself and decided not to ski anymore, that everyone in Bergen hates him. Sure, there may be some, but like that's everywhere in life. There are bullies everywhere.
The thing that I love about JJ and Henrik's relationship is that they bring something out of the other person. They feel at ease with each other, which allows us, the viewer, to feel at ease with them. Whatever they are going to go through, they will make it.
Henrik's Grandmother is the star of the show though. She's taken JJ in like she's her own and pays attention to everything. When JJ tells Astrid that she found initials on the troll, Astrid immediately knows who carved it. This leads JJ to finding out that her Grandmother had been in Norway, that she left pregnant, and that Henrik's ski coach is her Grandfather.
Now all of this may be a lot and when JJ's Grandad comes to Christmas and gives her a key, telling her that it's time to come home – I cried and laughed. Because instantly, Astrid and him were fighting over where she'd stay.
JJ thought that she had no family and in a matter of two weeks, she found a lot of family (both chosen and genetic). She also found love.
The kissing scene in this movie may be my favorite thing ever. Seeing JJ react to the people who are bullying Henrik – I legit fell off my bed laughing.
While I don't think that My Norweigan holiday is a Christmas classic, it definitely was an escape. I do think had they taken the Christmas out of it and focused more on time with JJ and Henrik together, as well as her finding family, it would have been a lot better.
While it didn't melt my Grinch heart, I will say it was a good movie. Just the right amount of cheese for this girl.
CHRISTMAS CHEER: 🎄 (but if it was just a regular movie i'd give it ⭐️⭐️⭐️)
'Sweet Home' 2×01 Review: When the Humans Are Clearly the Monsters
Sweet Home 2×01 is basically a serving up of pain and blood …
Fangirlish Feels of the Week: November 24 – December 1
We watch so many TV/movies and listen a lot of things so …