Libyan foreign minister suspended over talks with Israeli counterpart
Hundreds of people demonstrated overnight in Libya's capital and other provinces, angered by reports that the country's foreign minister met with Israel's top diplomat last week in Rome.
Videos circulated on social media showed protesters demonstrating in front of the foreign ministry building in Tripoli on Sunday night, calling for Najla al-Mangoush's dismissal.
Some protesters also called for the resignation of Prime Minister Abdul Hamid Dbeibeh, gathering at his residence in Tripoli and setting fire to it. It was not immediately clear if Dbeibeh was at the residence.
Al Jazeera's Malik Traina said there is widespread anger in Libya over al-Mangoush's meeting, with protests starting late on Sunday across the west of the country.
"Protesters in al-Zawiya were calling for the downfall of the entire government due to this meeting, and people were closing down roads and burning tyres in Tajoura and Soug al-Jumaa. We saw other protests in Misrata," he said, speaking from Tripoli.
Dbeibeh announced al-Mangoush's "temporary suspension", replacing her with Fathallah al-Zani, the current youth minister, as interim foreign minister. He added that al-Mangoush would be subject to an "administrative investigation".
Traina said both legislative bodies, the Tripoli-based High Council of State and the Tobruk-based House of Representatives (HoR), have condemned the meeting and called for an emergency session to discuss it, with the HoR describing the meeting as a "crime committed against the Libyan people".
An announcement a week later
The political row broke out Sunday after Israel's foreign ministry said the two countries' foreign ministers had met the previous week in a meeting hosted by Italian Foreign Minister Antonio Tajani.
"I spoke with the foreign minister about the great potential for the two countries from their relations," Israeli Foreign Minister Eli Cohen said in a statement from Israel's foreign ministry, adding that it was the first such diplomatic initiative between the two countries.
Cohen said they discussed "the importance of preserving the heritage of Libyan Jews, which includes renovating synagogues and Jewish cemeteries in the country", and that "Libya's size and strategic location offer a huge opportunity for the state of Israel".
However, the Libyan foreign ministry said al-Mangoush had "refused to meet with any party" representing Israel.
"What happened in Rome was a chance and unofficial encounter, during a meeting with his Italian counterpart, which did not involve any discussion, agreement or consultation," the ministry said in a statement.
It also accused Israel of trying to "present this incident" as a "meeting or talks".
The ministry underlined that it "completely and unequivocally rejects normalization with the Zionist formation" and reiterated "in a clear and unambiguous manner Libya's position regarding the Palestinian cause".
The North African country does not recognise Israel and does not have diplomatic relations with Tel Aviv. Under a 1957 Libyan law, dealing with Israel is punishable by up to nine years in prison.
Path to normalisation?
Earlier on Sunday evening, Libya's Presidential Council asked the government for "clarifications", according to Libya Al Ahrar TV, citing spokesperson Najwa Wheba.
The Presidential Council, which has some executive powers and sprang from the UN-backed political process, includes three members representing the three Libyan regions.
Their request said the meeting "does not reflect the foreign policy of the Libyan state, does not represent the Libyan national constants and is considered a violation of Libyan laws which criminalise normalisation with the 'Zionist entity'".
It asked the head of government "to apply the law if the meeting took place".
According to The Associated Press, an anonymous Libyan government official said the normalisation of relations between Libya and Israel was first discussed in a meeting with Dbeibah and CIA Director William Burns, who visited the Libyan capital in January.
According to the official, Burns proposed that Dbeibah's government, which is recognised as Libya's internationally backed government, join the group of four Arab countries that normalised relations with Israel under the US-brokered Abraham Accords in 2020.
The Libyan premier gave initial agreement but was concerned about public backlash in a country known for its support for the Palestinian cause, the official said.
On Monday, an Israeli official told the Reuters news agency that the meeting between al-Mangoush and Cohen was agreed in advance "at the highest levels" in Libya and lasted more than an hour.
Separately, Israel's former foreign minister and prime minister Yair Lapid criticised Cohen for going public with the sensitive meeting.
"Countries of the world this morning are looking at the irresponsible leak of the meeting of the Israeli and Libyan foreign minister and asking themselves: Is it possible to manage foreign relations with this country? Is it possible to trust this country?" Lapid said in a statement.
Israel has normalised relations with some Arab countries in recent years as part of US-backed deals known as the Abraham Accords.
However, Prime Minister Benjamin Netanyahu's hardline government has come under intense criticism from Arab states because of surging violence in the occupied West Bank and for backing the expansion of Jewish settlements in the occupied territory.

Israel strikes in and around Gaza's second largest city in an already bloody new phase of the war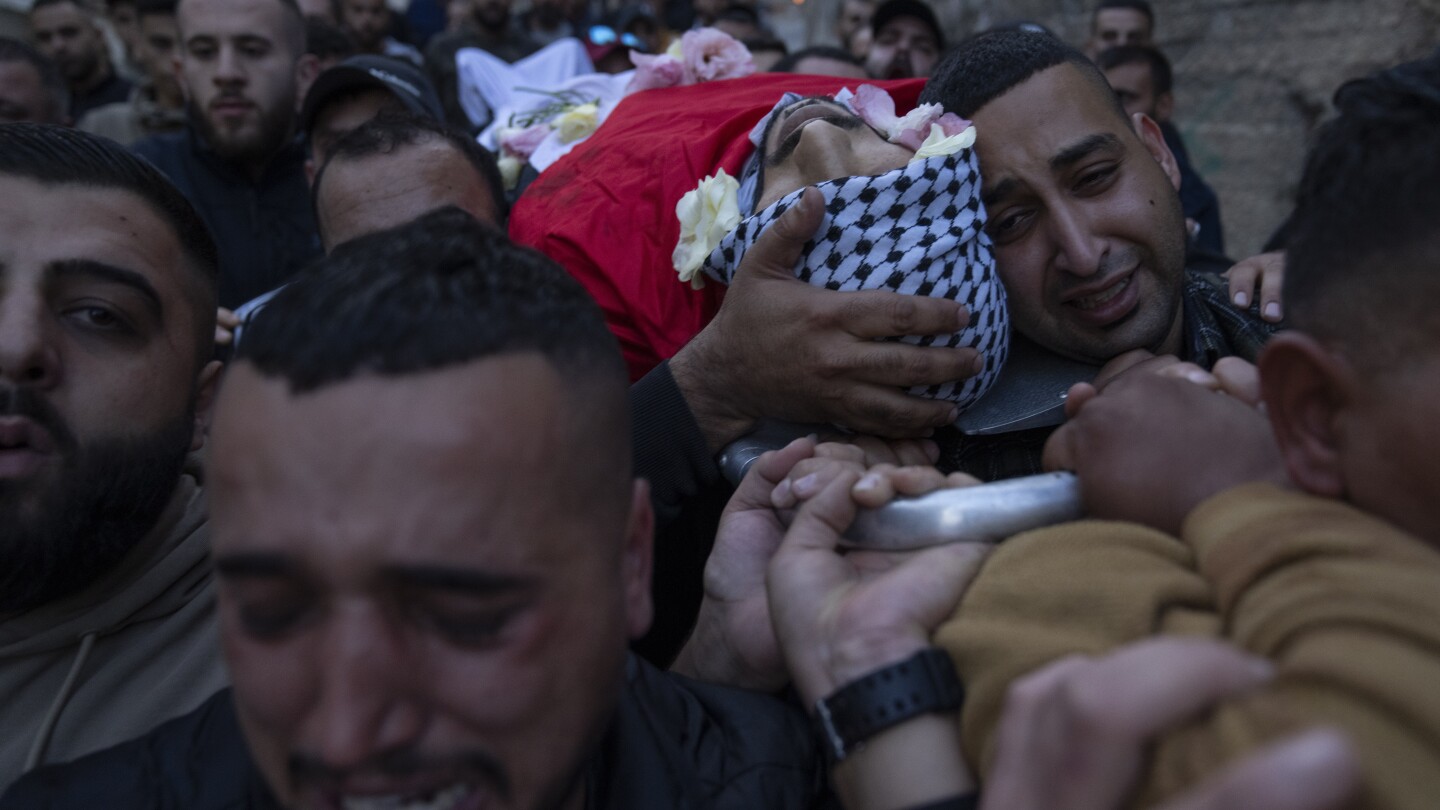 KHAN YOUNIS, Gaza Strip (AP) — Israel intensified its bombardment in and around Gaza's second largest city early Tuesday, as ambulances and private cars came racing into a local hospital carrying people wounded in a bloody new phase of the war in Gaza.
Under U.S. pressure to prevent further mass casualties, Israel says it is being more precise as it widens its offensive into southern Gaza after obliterating much of the north. Aerial bombardment and the ground offensive have already driven three-fourths of the territory's 2.3 million people from their homes.
At the Nasser Hospital in Khan Younis, ambulances brought dozens of wounded people in throughout the night. At one point, a car pulled up and man emerged carrying a young boy in a bloody shirt and whose hand had been blown off.
"Where is the Red Cross? … where is the United Nations?" a woman screamed outside the emergency department. "My children, since 10 p.m., are still under the rubble."
Satellite photos taken Sunday showed tanks and troops massing outside Khan Younis, the latest target of the offensive, which was home to more than 400,000 people before the war.
Israel has ordered people out of nearly two dozen neighborhoods instead of the entire region, as it did in the north. But with most of Gaza's population already packed into the south, cramming U.N. shelters and family homes, there are few places left to go. Israel has barred people who fled the north earlier in the war from returning.
Palestinians say that as Israel continues to strike across the besieged territory, there are no areas where they feel safe, and many fear that if they leave their homes they will never be allowed to return.
THE QUEST TO ELIMINATE HAMAS
Israel says it must dismantle Hamas' extensive military infrastructure and remove it from power in order to prevent a repeat of the Oct. 7 attack that ignited the war. The surprise assault through the border fence saw Hamas and other Palestinian militants kill about 1,200 people, mostly civilians, and capture some 240 men, women and children.
The Israeli military says it makes every effort to spare civilians and accuses Hamas of using them as human shields as it fights in dense residential areas, where it has a labyrinth of tunnels, bunkers, rocket launchers and sniper nests.
But the militant group is deeply rooted in Palestinian society, and its determination to end decades of open-ended Israeli military rule is shared by most Palestinians, even those opposed to its ideology and its attacks on Israeli civilians. That will complicate any effort to eliminate Hamas without causing massive casualties and displacement.
Even after weeks of unrelenting bombardment, Hamas' leaders in Gaza were able to conduct complex cease-fire negotiations and orchestrate the release of more than 100 Israeli and foreign hostages in exchange for 240 Palestinian prisoners last week. Palestinian militants have also kept up their rocket fire into Israel, both before and after the truce.
The fighting has meanwhile brought unprecedented death and destruction to the coastal strip.
The Health Ministry in Gaza said the death toll in the territory since Oct. 7 has surpassed 15,890 people – 70% of them women and children — with more than 42,000 wounded. The ministry does not differentiate between civilian and combatant deaths. It says hundreds have been killed or wounded since the cease-fire's end, and many still are trapped under rubble.
An Israeli army official provided a similar figure for the death toll in Gaza on Monday, after weeks in which Israeli officials had cast doubt on the ministry's count. The official said at least 15,000 people have been killed, including 5,000 militants, without saying how the military arrived at its figures. The military says 84 of its soldiers have been killed in the Gaza offensive.
White House national security adviser Jake Sullivan said Monday that it was too soon to pass judgment on Israeli operations, but that it was unusual for a modern military to identify precise areas of expected ground maneuvers and ask people to move out, as Israel has done in Khan Younis.
"These are the kinds of steps that we have asked them to undertake." he said. "These are the conversations we're having day in, day out."
The U.S. has pledged unwavering support to Israel since the Oct. 7 attack, including rushing weapons and other aid to the country.
Airstrikes and the ground offensive in northern Gaza have reduced large swaths of Gaza City and nearby areas to a rubble-filled wasteland. Hundreds of thousands of residents fled south during the assault.
Now around 2 million people — most of the territory's population — are crowded into the 230 square kilometers (90 square miles) of southern and central Gaza. Since the truce's collapse, the military has ordered the population out of an area of about 62 square kilometers (24 square miles) in and near Khan Younis, according to the evacuation maps issued by the Israeli military.
That further reduces the space available for Palestinians by more than a quarter.
KHAN YOUNIS IN THE CROSSHAIRS
Satellite photos from Sunday, analyzed by The Associated Press early Tuesday, show around 150 Israeli tanks, armored personnel carriers and other vehicles just under 6 kilometers (3.7 miles) north of the heart of Khan Younis. The army did not respond to a request for comment and rarely publicizes troop deployments.
Constant bombardment on the edge of Khan Younis lit up the sky over the town Monday evening.
Over the past few days, Israeli strikes have been "on a ferocious scale," said Mohammed Aghaalkurdi, an aid worker with the group Medical Aid for Palestinians in Khan Younis.
He said neighborhoods and shelters were emptying as people fled. Leaflets dropped by the Israeli military warn people to go south toward the border with Egypt, but they are unable to leave Gaza, as both Israel and neighboring Egypt have refused to accept any refugees.
Adding to the chaos, phone and internet networks across Gaza collapsed again Monday evening, the Palestinian telecom provider PalTel said. It was the latest of several outages that have complicated rescue efforts. Communications were restored hours later.
The area that Israel ordered evacuated covers about a fifth of Khan Younis. Before the war, that area was home to some 117,000 people, and now it also houses more than 50,000 people displaced from the north, living in 21 shelters, the U.N. said. It was not known how many were fleeing.
Israeli media also reported intense fighting between Israeli troops and Hamas militants in northern Gaza — in the Jabaliya refugee camp, a built-up urban area, and in the Gaza City district of Shijaiya, both of which have seen intense bombardment and battles in recent weeks.
___
Magdy reported from Cairo. Associated Press writer Jon Gambrell in Dubai, United Arab Emirates, contributed.
___
Full AP coverage at https://apnews.com/hub/israel-hamas-war.
Zelenskyy to address US senators during classified briefing on stalled military aid to Ukraine, Israel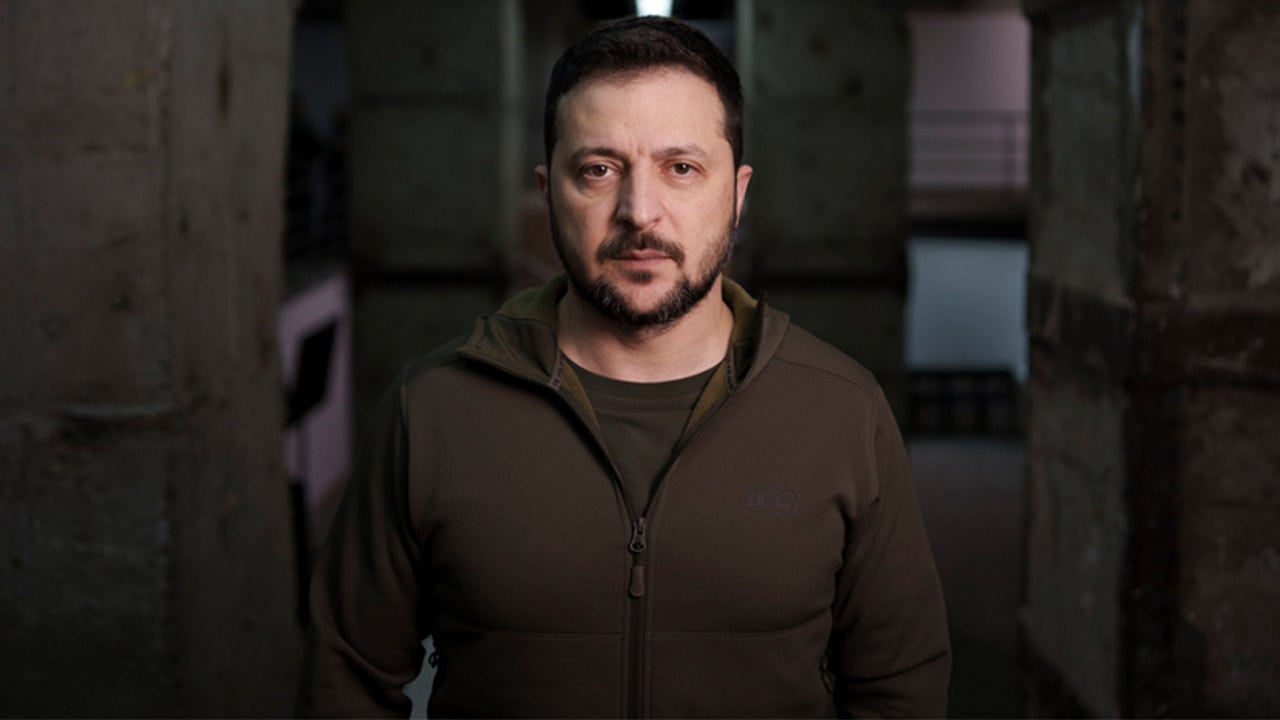 Ukraine President Volodymyr Zelenskyy is expected to address U.S. senators Tuesday during a classified briefing. 
The briefing, which will include secretaries of Defense, State and other top national security officials, comes as the Biden administration has been pushing Congress to pass a $106 billion aid package for the wars in Ukraine, Israel, and other security needs. 
Senate Majority Leader Chuck Schumer on Monday highlighted the need for further assistance to Ukraine, saying Kyiv's war effort to defend itself from Russia's invasion may grind to a halt without it.
Office of Management and Budget Director Shalanda Young has also warned lawmakers that the U.S. will run out of funding to send weapons and assistance to Ukraine by the end of the year.
But Biden's $106 billion aid request is facing deep skepticism from GOP lawmakers wary about continued support of Ukraine's war efforts at the expense of the U.S.-Mexico border. 
Many Republicans supportive of the funding are insisting on border policy changes to halt the flow of migrants as a condition for the assistance.
HOUSE PASSES BILL TO STOP FEDERAL FUNDS BEING USED TO HOUSE ILLEGAL IMMIGRANTS
Negotiations over the border security package broke down over the weekend as Republicans insisted on provisions that Democrats dismissed as Draconian, such as pressing for "indefinite detention" of asylum seekers and granting the executive branch power to "shut down" the asylum system. Talks are expected to resume this week.
Congress already has allocated $111 billion to assist Ukraine, including $67 billion in military procurement funding, $27 billion for economic and civil assistance and $10 billion for humanitarian aid. Young wrote that all of it, other than about 3% of the military funding, had been depleted by mid-November. 
Meanwhile, the GOP-controlled House has passed a standalone assistance package for Israel as it fights the war with Hamas in Gaza, while the White House has maintained that all the priorities must be met.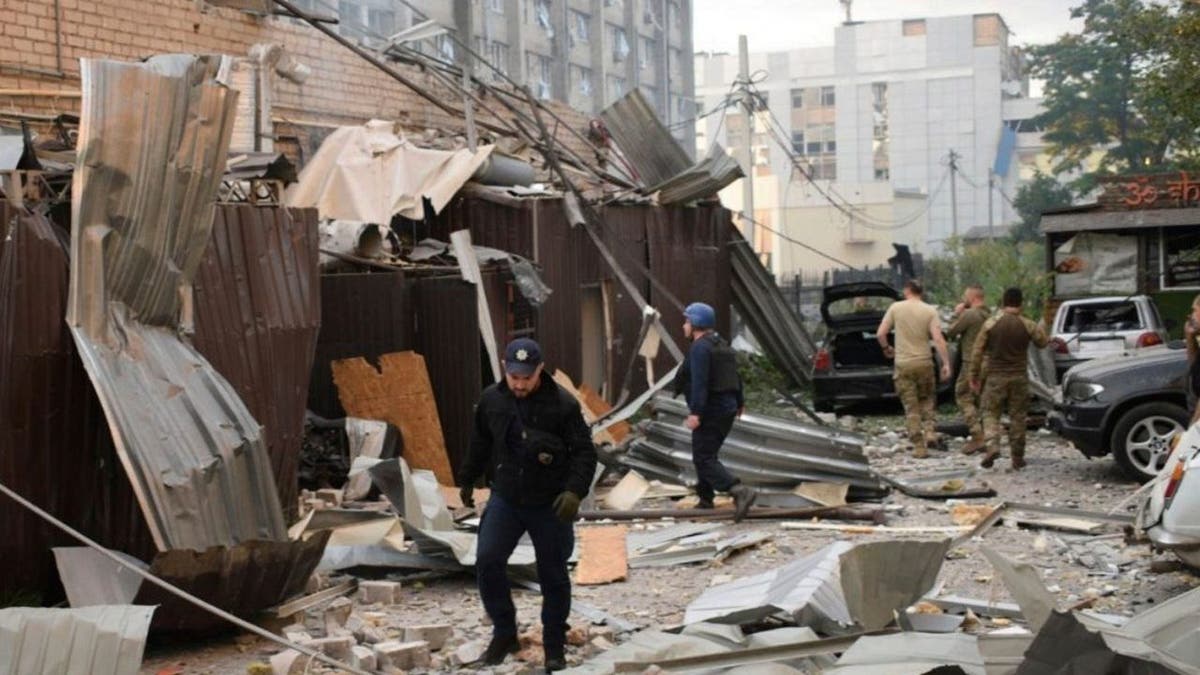 The new package proposes an additional $61 billion for Ukraine, $14.3 billion for Israel, which includes $10.6 billion for weaponry, nearly $14 billion for border security, along with aid for the Asia-Pacific region and other U.S. national security provisions.
House Speaker Mike Johnson reiterated Monday that House Republicans will insist on border policy changes as part of a Ukraine assistance bill. He argued Biden has "failed to substantively address any of my conference's legitimate concerns about the lack of a clear strategy in Ukraine, a path to resolving the conflict, or a plan for adequately ensuring accountability for aid provided by American taxpayers."
Schumer is expected to push forward Biden's supplemental funding package this week, but Republicans are threatening to block its passage with a filibuster as they insist on border security provisions.
The Associated Press contributed to this report.
Double-decker bus slams into tree in Thailand, killing 14
Long-distance coach was travelling from Bangkok to the country's far south when it veered off the road at about 1am.
A double-decker bus has smashed into a tree in southern Thailand, killing at least 14 people and injuring 32 others, police have said.
The long-distance coach was travelling from Bangkok to the country's far south when it crashed at about 1am on Tuesday.
The bus was transporting 46 passengers from the capital's Southern Bus Terminal to Nathawi district in Songkhla when it veered off a road in Prachuap Khiri Khan province.
Photos published in Thai media showed the front of the vehicle split in two, with the tree jammed into the chassis.
Transport Company, the state-owned bus operator, said in a statement that all of the injured were being treated in a hospital and the company was investigating the cause of the crash.
Police told the AFP news agency they were looking into whether the driver may not have had enough sleep and if the victims included any foreign nationals.
Thailand has one of the world's highest road fatality rates, with about 20,000 people killed in traffic accidents each year, according to the World Health Organization.
In July, four people were killed and 34 others injured when their bus veered off a mountain road in the country's northeastern Phu Sing district.
In 2014, at least 15 people, most of them school students, were killed when their bus collided with an 18-wheeler truck in the eastern district of Prachinburi.