Here's the bitcoin outlook for September as crypto industry turns focus on Washington
Bitcoin is poised to end August on a down beat despite the crypto industry scoring a milestone win on the regulation front. The cryptocurrency could be mired in a range during September, market participants say. The cryptocurrency is on pace for a 10% decline this month, according to Coin Metrics. Bitcoin recently jumped 7% after a federal appeals court sided with Grayscale over the U.S. Securities and Exchange Commission in a key crypto exchange-traded funds case. However, that wasn't enough to lift the flagship crypto back to the $29,000 level. Investors are grappling with thin trading volumes and liquidity. While crypto investors have a lot to cheer about, it hasn't been reflected in prices, and bitcoin could remain rangebound throughout September. "If bitcoin can get some follow through, we should see price retesting resistance at 29.5-30k in the coming weeks," Rob Ginsberg, analyst at Wolfe Research, said in a note Wednesday. "We ultimately expect it to shoot through that level and begin a new leg higher, but failure to successfully punch through and we will likely be discussing that crucial $25,000 support level once again." "These drawdowns YTD have been saved by swift legs higher, largely driven by catalysts," he said. "We saw the latest one [Tuesday] with Grayscale's favorable bitcoin spot ETF ruling. This should open the door for large institutions to get more involved, which further bolsters our long-term bullish view." Will Tamplin from Fairlead Strategies said the initial jump higher is associated with upturns in the firm's short-term indicators. He added that it supports "follow-through in the coming days within the context of bitcoin's trading range." In the medium term, bitcoin could see more consolidation similar to its May and June down moves. Tamplin said he sees the next key level to test at $28,800. After that, $31,900 would be the level to watch. Bitcoin has been drifting between $25,000 and $30,000 since the banking crisis fueled a rally in March , with brief moves above $30,000 that have failed to hold. Although individual regulatory developments have served as upward baby steps, the overall lack of regulatory certainty continues to hold the market back. "Also, keep in mind September has historically been a down and volatile month for the equity markets and crypto has mostly followed that pattern," said Cantor Fitzgerald's Elliot Han. Han noted that bitcoin's biggest loss came in the September before the 2020 halving . Bitcoin's halving cuts the reward for mining the cryptocurrency, and it's expected to take place again in spring 2024. "Any beneficial news on U.S. regulation will be positive, but aside from the ETF applications, none is expected," he added. "This doesn't mean we cannot get surprised to the up or downside though." All eyes on Washington September kicks off with an anticipated update from the SEC on at least one spot bitcoin ETF application. The SEC is expected to give responses to filings from Bitwise, BlackRock, Fidelity, VanEck and others as early as September. On Thursday afternoon, the agency delayed its decisions on bitcoin ETF applications from WisdomTree and Invesco. "The regulatory landscape is really important for this next phase because the institutions that are looking at this want to see more regulation than currently exists on the books today," said Kristin Smith, CEO of the policy-focused Blockchain Association. "They're worried about if they jump in too soon without the right framework in place that it'll end up coming back to bite them." "This kind of legislative progress has really caught the attention of traditional finance institutions and maybe they had been looking at this before and they were putting it on the backburner, but this is forcing them to want to be in place when legislation ultimately does come into law," she added. — CNBC's Michael Bloom contributed reporting.

Rookie Parker Washington comes through for the Jaguars after injury to Christian Kirk
Parker Washington was sorely needed by the Jacksonville Jaguars on offense Monday against the Cincinnati Bengals after Christian Kirk went down in the first quarter with a groin injury.
Washington, a sixth-round draft pick from Penn State, came through, especially on his first NFL touchdown in the third quarter and a clutch fumble recovery to preserve a drive that ended in Brandon McManus' game-tying field goal.
Washington's efforts and that of the rest of the offense went for naught as the Bengals won 34-31 in overtime on a 48-yard field goal by former Florida Gator Evan McPherson — the second time McPherson has beaten the Jaguars on a walk-off field goal.
He kicked a 36-yarder on the final play of regulation in 2021 to beat the Jaguars 24-21 in Cincinnati on a Thursday night game.
Bengals 34, Jaguars 31: Jags lose Trevor Lawrence to ankle injury, fall to Bengals on MNF
"It was a tough loss … definitely wanted to get that one," said Washington, who caught six passes for 61 yards, highlighted by his 14-yard TD reception that tied the game 21-21. "I just had to step up tonight. [Kirk] got hurt. I just wanted to help the team the best I could."
Parker Washington had to step in early
Kirk was injured on the Jags' first offensive play of the game, coming down hard after catching a 26-yard pass from Trevor Lawrence. On the next possession, Washington caught his first pass as a pro, for a modest 6 yards.
Washington's first NFL touchdown came on a third-and-nine with 5:26 left in the third period. He motioned right, swept around the corner into the end zone and caught a pass that Lawrence floated over defender Dax Hill.
Washington reached out for the ball with his left hand, bobbled it for a split-second, then gathered it in while falling to the ground near the back of the end zone. He landed with both knees inbounds.
When asked what he was thinking when the ball was in the air, Washington said: "I can't let this one … it's an opportunity. Those don't come around a lot. I just want to make a play."
He wasn't sure he was inbounds until he saw an official raise his arms.
"I got the signal," he said. "I got the signal and I was like, 'let's go …' so it was exciting."
Washington's fumble recovery kept a drive alive
However, Washington made another big play that didn't involve being a wide receiver or a returner (where he has been filling in for the injured Jamal Agnew).
When the Jaguars started their final drive in regulation with 2:28 left, backup quarterback C.J. Beathard scrambled for a 6-yard gain. Cincinnati linebacker Logan Wilson stripped Beathard of the ball, cornerback D.J. Turner II had a chance to recover it, but let the ball slip through his fingers, and Washington finally pounced on it.
It kept the possession alive and Washington later caught an 8-yard pass three plays before McManus sent the game into overtime.
"We're coached to be around the football," Washington said. "I didn't know if it was a fumble or not. But being around the football saves the game."
Washington has had a rough start to rookie year
Washington has been waiting a long time to contribute for the Jaguars.
He was inactive for the first three games of the season, then made his NFL debut against Buffalo in London. Washington injured his knee on his first NFL touch, a punt return, and spent four weeks on injured reserve.
Washington played against Tennessee with no stats and showed some spark with a 22-yard punt return against Houston.
But being a rookie, he still made some mistakes — which he readily admitted.
Washington tried to return a kickoff out of the end zone, and made it only to the Jags' 16-yard line. However, that was the possession that ended in his touchdown reception.
Washington also muffed a punt near the end of the third quarter but fell on the ball.
"I made a couple of mistakes out there," he said. "I just need to be ready to work and get better and continue to grow."
1 of 3 Washington officers charged in death of Black man Manuel Ellis testifies in his own defense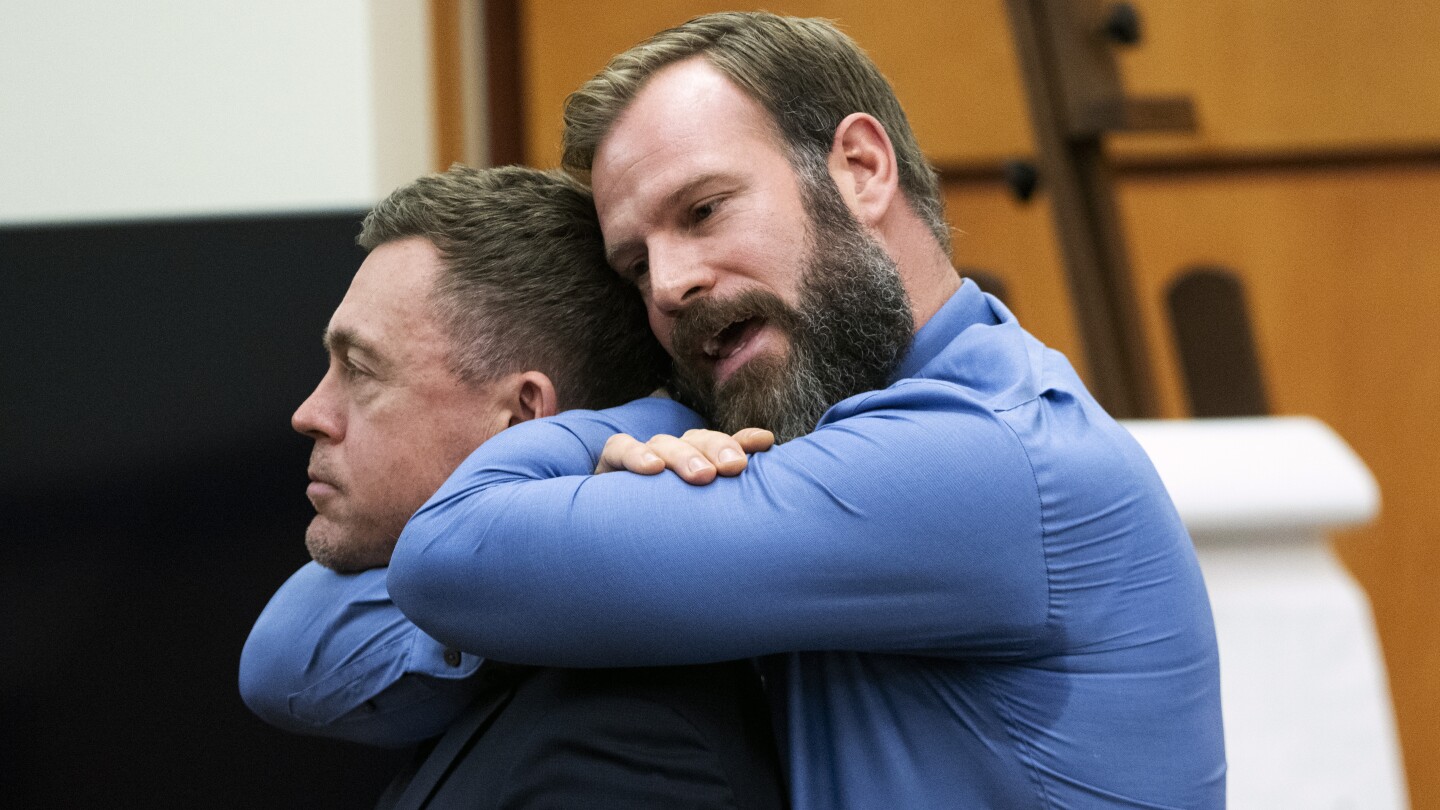 TACOMA, Wash. (AP) — One of the three police officers charged with killing Manuel Ellis, a Black man whose death in 2020 as he pleaded for air became a touchstone for racial justice protesters in the Pacific Northwest, took the witness stand in his own defense Monday, saying he lamented Ellis' passing but wouldn't have done anything differently.
The testimony from Tacoma police officer Matthew Collins came as the more than two-month trial draws toward closing arguments.
Collins, 40, and Christopher Burbank, 38, have been charged with second-degree murder and manslaughter, while Timothy Rankine, 34, is charged with manslaughter. All three officers have pleaded not guilty, are free on bail and remain on paid leave with the Tacoma Police Department.
Ellis was shocked with a Taser, beaten and restrained face down on a Tacoma sidewalk, with police on top of him, as he pleaded for breath. The Pierce County medical examiner ruled Ellis' death a homicide caused by oxygen deprivation, but lawyers for the officers say a high level of methamphetamine in Ellis' system and a heart irregularity were to blame.
Witnesses — one of whom yelled for the officers to stop attacking Ellis — and a doorbell surveillance camera recorded video of parts of the encounter the night of March 3, 2020. The video showed Ellis with his hands up in a surrender position as Burbank shot a Taser at Ellis' chest and Collins wrapped an arm around his neck from behind. It also caught Ellis addressing the officers as "sir" as he told them repeatedly he couldn't breathe.
Collins testified that he never heard Ellis say that and wouldn't have done anything differently even if he had.
"Anything that someone would say to us until they're complying with us, with hands behind their back (to cuff), would be irrelevant to me," Collins said, according to a pool report from the trial by The Seattle Times.
In cross-examination, special prosecutor Patty Eakes confronted Collins with part of the recording where he used an expletive when telling Ellis to shut up after Ellis asked for breath. Collins said he only heard "animal noises" from Ellis and was experiencing "auditory exclusion" – failure to hear sounds during a stressful situation.
Collins hewed closely to his earlier statements about the fatal encounter: that Ellis initiated it by lifting Collins off the ground and throwing him through the air to land on his back.
Nobody else interviewed by detectives witnessed that, including Collins' co-defendant, Christopher Burbank. Eyewitnesses testified that Collins and Burbank were the initial aggressors.
Collins called Ellis' death "the worst thing that can happen" for police.
"In this case, undoubtedly Manny was in the wrong, but at the end of the day his mother lost a child, his sister lost a brother," Collins said.
He also said the incident changed his life in ways he couldn't imagine. "I didn't think in my wildest nightmares that the state would come after us for this," he said.
Their trial marks the first courtroom test of a voter-approved police-accountability measure in Washington state that removed legal barriers to charging police officers for on-duty deaths.
Collins and Burbank said in statements to detectives that Ellis threatened to punch Burbank and slammed his hand against their police cruiser, so Burbank knocked Ellis to the ground with his car door, starting what Collins described as a "melee."
Rankine and his partner were the first backup officers to arrive on the scene. Rankine told detectives he sat on Ellis' back until medics arrived, even after Ellis said he could not breathe.
On the stand Monday, Collins said he interpreted Ellis' "body language" to mean he was focusing aggressively on Burbank, who was sitting in the passenger's seat of the patrol cruiser Collins was driving. So Collins said he got out to confront Ellis.
"As soon as I get to the front of the vehicle, he takes his focus off of Burbank and comes right at me and picks me up by my vest and throws me back in the intersection," Collins said, describing what nobody else at the scene has testified to seeing. He claimed Ellis also struck him, something no witnesses reported seeing. Photos of Collins after the incident did not show any injuries.
By the time paramedics arrived, Ellis had been struck by fists and elbows, placed in a neck hold, jolted three times with a Taser, handcuffed with ankle hobbles strapped to his wrists behind his back, had a nylon spit hood placed over his face and was knelt or sat on by multiple officers. Collins testified that he never expected Ellis to die on the night they struggled.
Tru Washington Named Mountain West Freshman of the Week
COLORADO SPRINGS, Colo. – For the third consecutive week, a Lobo has been named Mountain West Freshman of the Week. Tru Washington earned the recognition on Monday, following back-to-back awards for JT Toppin the previous two weeks. Washington was honored after helping the Lobos to wins over Louisiana Tech and New Mexico State last week.
In the Lobos' wins over the Bulldogs and Aggies, Washington averaged 15.5 points, 4.5 rebounds and 4.5 assists per game, while shooting 60% (9-15) from the floor, 71% (5-7) from three and 80% (8-10) from the line.
In the victory over Louisiana Tech, Washington scored all 10 of his points in the first half as UNM built a seven-point lead at the break, en route to a 74-65 victory. He shot 4-8 from the floor (2-3 3FG) and had four rebounds and three assists.
In the 106-62 win over New Mexico State, Washington set career highs of 21 points and six assists, while also grabbing five rebounds. He shot 5-7 from the floor, including 3-4 from deep, and set career highs from the line with an 8-10 performance.
For the season, Washington is averaging 11.0 points, 5.0 rebounds and 1.8 assists per game. He has scored in double figures in each of the past four games.
New Mexico (7-1) concludes a three-game homestand on Wednesday when it hosts UC Santa Barbara (4-2) at The Pit. Game time is 7 p.m. and tickets are on sale at GoLobos.com/tickets.