These eight legacy stores are fueling the western wear revival in Austin
Austin, by virtue of being the capital of Texas, is inextricably tied to Western culture, and as young professionals flock to the city they have embraced the many unique aspects of the Lone Star state. 
One of the ways this has materialized is through a boom in Western wear that is present in Austin, but has also spread across the country as cultural figureheads like Beyoncé and Harry Styles experiment with Western looks. 
With a seemingly endless amount of Western stores to choose from in Austin, it can feel overwhelming to figure out where to start your Western wear journey. That being said, here are eight of Austin's most iconic Western wear locations. 
Tecovas 
1500 South Congress Ave.
Perhaps the trendiest brand on this list, Tecovas was founded in 2015 by Paul Hedrick, an entrepreneur and boot lover who sought to create a more inclusive western wear experience for all customers. 
This included an emphasis on first-time boot buyers, and with a recent western wear resurgence boosting the industry, Tecovas claims it is the fastest-growing boot company in the world. All of Tecovas' boots are handmade and manufactured in Leon, Mexico — an iconic boot-making city. The store is also a popular tourist spot as it is just one of many boot and Western wear shops located on South Congress. 
Gomez Western Wear
6700 South Congress Ave.
Gomez Western Wear has been selling hand-made boots for over 20 years in Texas and in that time has been able to grow into 17 separate locations across the state. 
Another brand steeped in boot-making tradition, Gomez Western wear has all of its boots made in Leon, Mexico. However, despite a dedication to boots, the brand also offers a variety of hats, belts, wallets, mochilas and purses. 
Tiny's Western Wear
8403 Research Blvd.
Opened in 1958, Tiny's Western Wear has served as Austin's Western wear hole in the wall specializing in Western attire other than boots — although they do sell them. If you are looking to buy a bolo tie, this might be the place you are looking for. 
The original owner, 'Tiny,' sold the store to its current owners about 20 years ago, and since then it has become a staple in its current location where each of the exterior walls are adorned with red paint that truly gives the store an old Austin vibe. 
Callahan's General Store 
501 South Highway 183.
Each of the businesses on this list brings something different to the table, however, in the case of Callahan's it's hard to argue that it isn't the most unique addition. Truly making use of the "general store" distinction, Callahan's offers anything from belt buckles to feed to live animals.
The Austin cornerstone was opened in 1978 by the late Earl and Lucy Callahan. Like any western wear store, you will find boots, belt buckles and hats at Callahan's, but the store is perhaps best enjoyed as an immersive western retail experience as it offers a long list of products. 
Allens Boots
1522 South Congress Ave.
Another South Congress staple, Allens Boots truly makes an effort to create an experience for its customers. Because of this, among the piles of hats and countless rows of boots, customers can expect live music or other events to be going on while they shop. 
The boot store opened its doors on South Congress in 1977, and has specialized in hats and hand made boots ever since. The store also has a second location in Round Rock if the hoopla of downtown Austin isn't your speed. 
La Herradura Western Wear
737 Montopolis Dr.
Another store that doesn't just specialize in boots, La Herradura is a good place to check out if you are looking for practical western wear and work wear. 
The store features Western staples like Ariat, Durango, Cinch and Hooey, while also offering more modern Western products like Western-influenced loafers. 
Maufrais
1512 South Congress Ave.
If you aren't looking to buy boots but still have a craving for western flair, Maufrais might be the perfect place. The only store on this list that doesn't sell boots, Maufrais specializes in custom hat shaping while also being run as a coffee shop. 
The store offers various products that capture the essence of the American west like incense, candles, rocks, glassware and a whole host of other vintage goods. This is also another store located on South Congress and could be a good addition to a western store binge should you be in the area. 
Heritage Boot Co. 
1714 South Congress Ave.
The last store on this list is also another located on South Congress as Heritage Boot Co. is an in-person-only custom boot company that prides itself on making the best quality boots available. 
Acknowledged in the past by Forbes as "the best handmade cowboy boots you can buy right now," Heritage Boot Co. works with each of its customers to ensure the best possible boot is made or available.
Beck Andrew Salgado covers trending topics in the Austin business ecosystem for the American-Statesman. To share additional tips or insights with Salgado, email Bsalgado@gannett.com.

75-foot Spurs vela mural lights up downtown San Antonio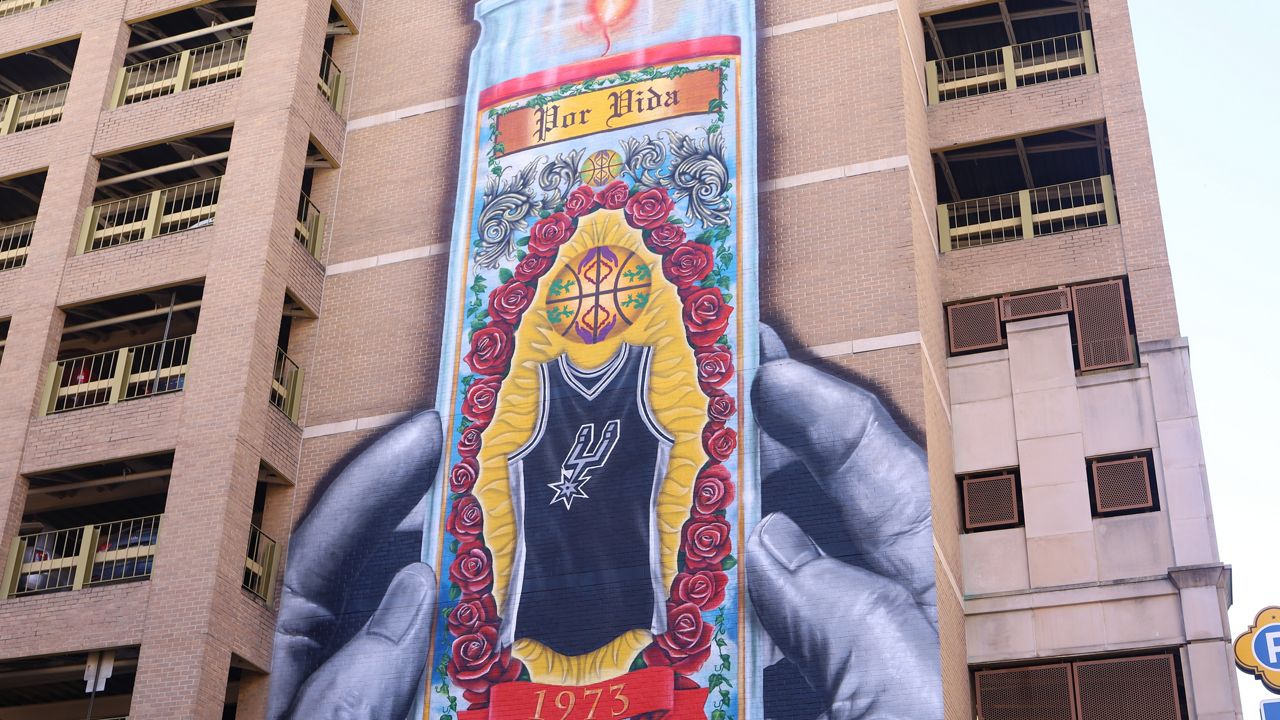 SAN ANTONIO — Nik Soupè can't believe he gets paid to do the very thing he used to get in trouble for. 
"As I got into junior high and high school, I got in trouble for coloring on walls, but I stuck with it and I got a little bit better," Soupè said. "Now it's my life and my career." 
He's known all over the world for his spray-painted Spurs murals in San Antonio. 
His next masterpiece is this 75-foot Spurs mural of a vela, a candle, propped up by giant hands with intricate details reflecting San Antonio's Mexican American culture. This $100,000 project, titled "Por Vida," was funded by Centro San Antonio's Art Everywhere initiative. 
"A project like this, we had such an incredible deadline. It's like, 'OK, can we make this happen?'" Soupè said. 
Mural coordinator and artist Andy Benavides says this project is another example of Spurs rookie Victor Wembanyama creating opportunities for artists even though Wemby isn't necessarily on the mural.
Soupè says the big budget sets the standard for how artists should be compensated and that this opportunity is thanks to the Spurs being in demand. 
"This mural is very much a tribute to my mom, and my tias as well, who are looking down at us from heaven," Benavides said. 
The mural garnered the attention of tourists and resonated with locals. 
"Puro San Anto carnal," a man admiring the mural said. 
This project, like the Spurs' success, required a team. 
Benavides and Soupè expect to see more projects like these in the city moving forward. 
While the mural wrapped up, Benavides approached an old woman who couldn't take her eyes off of the vela. He told her in Spanish the mural is a gift for her, as she waited for her bus. 
"I'm religious and superstitious enough that I don't see it coincidental — that light, illumination of sunlight is on that mural at this particular moment," Benavides said. 
Big 12 committed to title game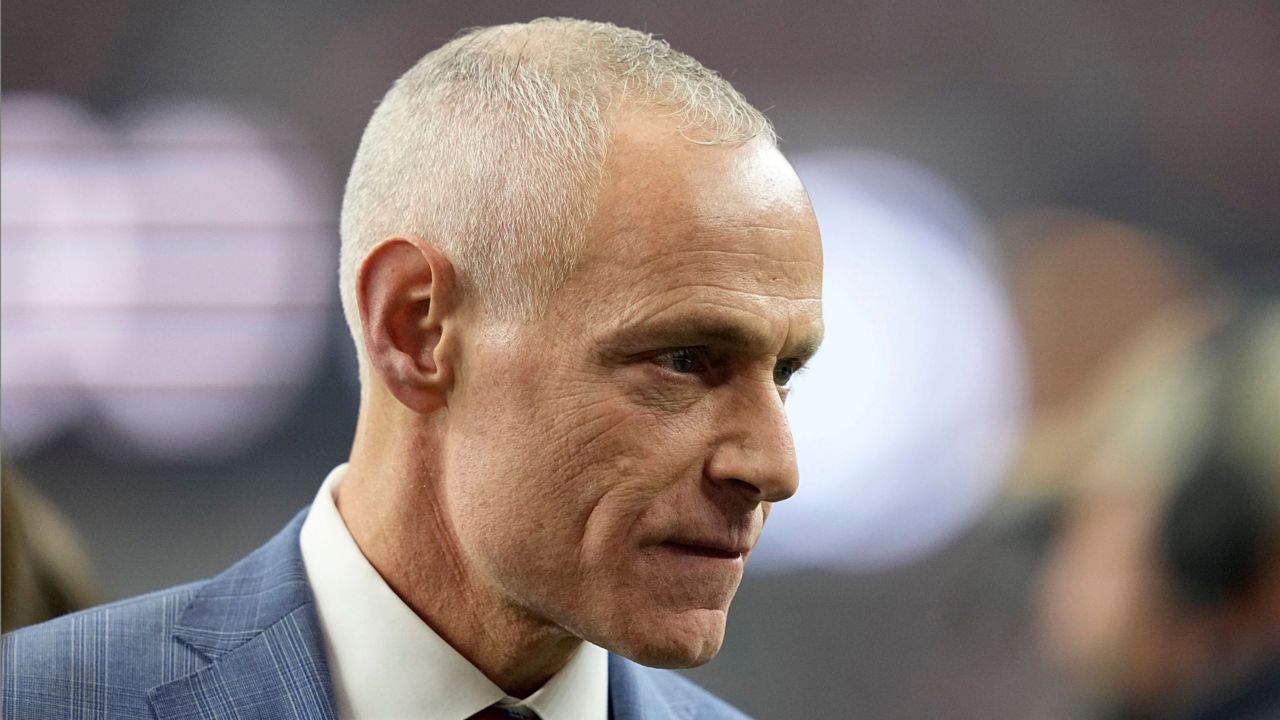 ARLINGTON, Texas — Big 12 Commissioner Brett Yormark said his still-evolving conference remains committed to having a championship game even as the College Football Playoff expands from four to 12 teams after this season.
"This is a tentpole event. Everything leads up to this moment, it creates a wonderful narrative for this conference. It's a showcase event, and something I'm committed to," Yormark said before Saturday's title game. "I know there's been a lot of discussion amongst the commissioners about what that might look like, but as it relates to the Big 12, we love this game. We love being at AT&T (Stadium). … It lets the world know who we are and where we're going."
Seventh-ranked Texas, the Big 12's last hope to get into the final four-team version of the playoffs, played No. 19 Oklahoma State at the home of NFL's Dallas Cowboys, where it has a contract to play its championship game through 2031.
Texas is leaving along with Oklahoma for the Southeastern Conference next season, when the Big 12 will add departing Pac-12 schools Arizona, Arizona State, Colorado and Utah to grow to 16 members. Texas and Oklahoma, the only remaining members that have won national championships, already had revealed their intentions to leave the Big 12 before Yormark became commissioner during the summer of 2022.
"We thank them for getting us where we are today for being pillars in this conference and for creating a great history and legacy and we wish them well," Yormark said. "I have no emotion about it. … As I've often said, there's never been a better time than right now to be part of this conference."
Yormark was in Austin a week ago when the Longhorns won 57-7 over Texas Tech in their final Big 12 regular-season game. Late in that game, video was played in the stadium of Yormark's remarks to a crowd of Texas Tech fans about a week before when he told Red Raiders coach Joey McGuire they "better take care of business" like last year when beating Texas.
Some Longhorns fans booed and chanted at Yormark when he was walking off the field into a tunnel before the Big 12 championship game. The commissioner smiled when he looked up and waved his arms as to encourage and acknowledge them.
"I never look back. I enjoyed my time in Austin," Yormark said. "One thing I love about the fans in college sports, because as you know, I've only been in for 16 months, I love the passion, and they're showing their passion and I love it."
Yormark said he was passionate about the Big 12, and he was rooting for both teams in the championship game. He said the Longhorns would certainly deserve consideration for a CFP spot with a win.
The title game for the first time included a Super Bowl-like halftime show featuring a performance by Nelly, with the bands from both schools also taking part. The game broadcast was being streamed live in New York's Times Square in what the commissioner hopes becomes an annual event.
There is also a collaboration with WWE, including on-field logos and the presentation of a custom-made title belt to the game's most outstanding player to be presented by WWE star The Undertaker. Yormark said the partnership is a differentiator for the Big 12 because of the wrestling organization's 150 million social media followers.
"As many of you know, I come from a bit of a marketing background," said Yormark, who before joining the Big 12 was a CEO for Jay-Z's Roc Nation. "So as much as the game is all about what unfolds on the field, there's a lot of different things around it."
Texas leaders speak out on Sandra Day O'Connor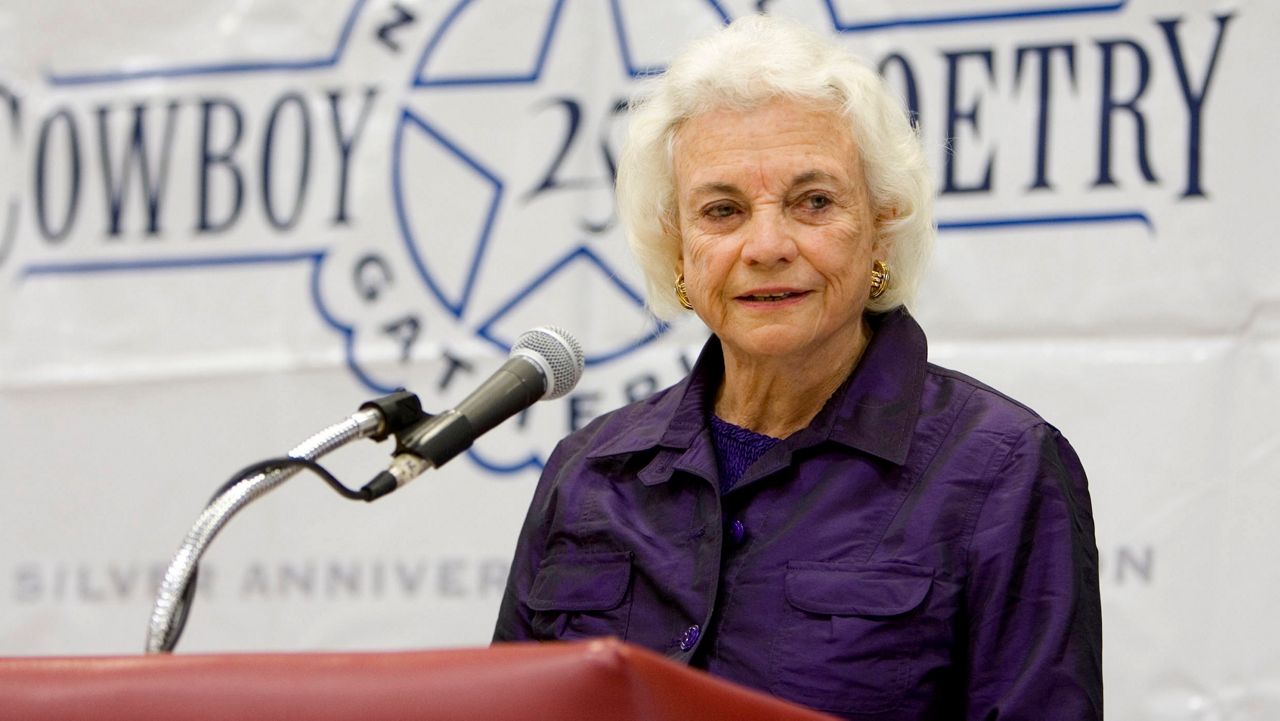 TEXAS —  The country lost a trailblazer on Friday. Retired Supreme Court Justice Sandra Day O'Connor, the first woman to serve on the nation's highest court, died. She was 93.
Born in El Paso, Texas, on March 26, 1930, her ties to the Lone Star State were strong throughout her remarkable career.
A moderate conservative, she was appointed to court by President Ronald Reagan in 1981 and served until 2006.
She attended Austin High School in El Paso, later graduating from Stanford Law School.
Several Texas leaders took to social media on Friday to eulogize her.
Texas Gov. Greg Abbott, who argued a case before the Supreme Court when he was the state's attorney general, called her "an American trailblazer and inspiration."
Sen. Ted Cruz, R-Texas, called her a "trailblazer & a patriot."
Rep. Veronica Escobar, D-El Paso, wrote the following:
"I'm so saddened to hear about the passing of Supreme Court Justice and El Pasoan, Sandra Day O'Connor. Justice O'Connor's trail-blazing legacy as the first woman to serve on our nation's highest court will live on in the minds of women and girls across our nation."
El Paso Mayor Oscar Leeser issued the following statement:
"Justice O'Connor was El Paso's daughter – attending Radford School for Girls and Austin High School – and a trailblazer in this country. We will always remember her, and now we will cherish her incredible legacy. May she rest in peace."
Former President George W. Bush called O'Connor "a pioneer who lived by the code of the west."
"Laura and I are saddened by the passing of former Supreme Court Justice Sandra Day O'Connor. It was fitting that Sandra became the first female appointed to our highest court, because she was a pioneer who lived by the code of the west.
"She was determined and honest, modest and considerate, dependable and self-reliant. She was also fun and funny, with a wonderful sense of humor. Justice O'Connor was thorough and thoughtful in her opinions, and Laura and I are grateful for her principled service. We send our condolences to her family and friends."