Big second half gives BYU Sweet 16 victory over Michigan State
BYU's offense came alive in the second half of its Sweet 16 match with fifth-seed Michigan State Saturday night at South Field, as the Cougars picked up a 3-1 victory over the Spartans.
The No. 1 seeded Cougars scored all three goals after intermission, propelling them into the Elite Eight.
"I'm proud of the way we battled," BYU coach Jennifer Rockwood said. "It wasn't an easy game for us. We were out of our comfort zone a little bit because of Michigan State's pressure and their ability to move the ball, but the girls, I thought, stuck with it."
After BYU scored 11 goals in its three contests leading up to the NCAA tournament, the nation's No. 1 goal scoring offense had slowed down a bit.
The Cougars had used a pair of shutouts and just three goals in the first two rounds to advance to the Sweet 16. On Saturday, the Cougars did not secure a shutout, but they didn't need it.
Neither team got on the board in the first half, going into the break tied at zero. Both schools had opportunities to score in the opening half but were unable to capitalize on them.
BYU had three shots on goal and earned three corner kicks, while Michigan State had two shots on goal and no corner kicks in the first half.
In the second half, all of that changed. Michigan State drew blood first, getting a 1-0 lead in the 52nd minute on a right-footed dart from senior midfielder Gabby Mueller.
"I think everyone (on our team) believed that we would find a way to score," Rockwood said. "We've been scoring all year long."
BYU did just that, evening the match just minutes later on senior forward Brecken Mozingo's penalty kick in the 55th minute.
Mozingo said she was motivated to help her team play a better second half after a scoreless first.
"There's two different periods and I wanted to make sure that we as a team came out and had energy to win that next period," she said.
The senior from Sandy wound up being huge to the Cougars winning the second half. After that first goal, Mozingo got BYU on top with a steal and a second goal in the 60th minute — this time finding the back of the net from the top of the box.
"Postseason soccer's a fragile thing," Michigan State coach Jeff Hosler said. "Once you give a team like BYU that many chances, they're going to find ways to capitalize."
An experienced Cougars squad took advantage of their chances Saturday, just two days after squeaking past No. 8 seed USC to advance to a third consecutive Sweet 16.
Last year, it wasn't so sweet as BYU fell to North Carolina in Chapel Hill. This year, playing in front of a sold-out, Cougar-friendly crowd of 3,695, BYU had a much different result from a season ago.
"Last year we were one of the top teams in the country in creating opportunities, we just weren't putting those in," Rockwood said. "We have players coming off the bench who can score. We can score in lots of different ways. … I believe we have the deepest bench we've ever had on a BYU team."
The Cougars' third goal came from reserve sophomore forward Ellie Walbruch, who headed in a Mozingo corner kick in the 80th minute. From there, BYU held on for the two-score victory.
The win gives the Cougars their fifth all-time Elite Eight appearance, with three of those now coming in the last five seasons.
BYU awaits a familiar foe, no matter the result between No. 3 seed North Carolina and No. 2 seed Texas Tech, which battle Sunday for a chance to meet the Cougars at South Field.
BYU will face the victor Friday at 6 p.m. with a berth in the national semifinals on the line.

Bowl projections: Texas gets College Football Playoff bid over Alabama with Michigan moving to No. 1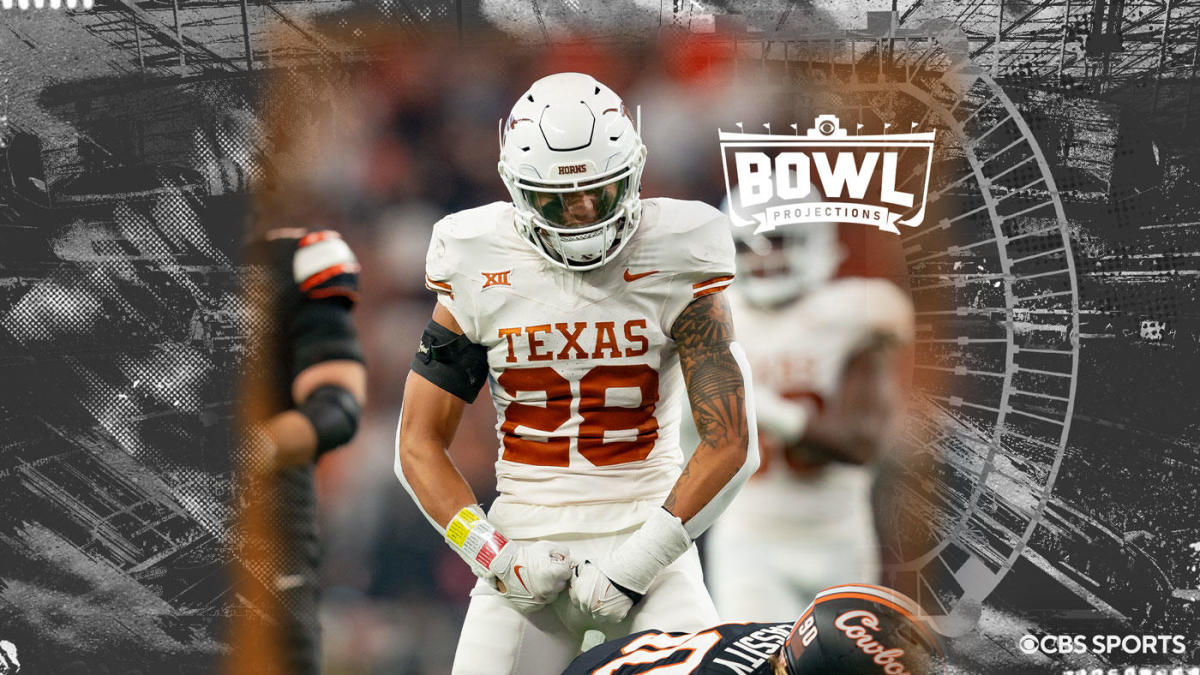 It has already been a wild Championship Week — and there are still two games to go. No. 8 Alabama taking down No. 1 Georgia in the SEC Championship Game has all but punted the Bulldogs from competing for a third straight national championship — barring some more upsets — and put the Crimson Tide in a head-to-head debate with the one team that defeated them this season, No. 7 Texas.
The Longhorns, which thoroughly took down the Tide by 10 points on the road at Bryant-Denny Stadium back in Week 2, completed their campaign with a dominant 49-21 win over No. 18 Oklahoma State in the Big 12 Championship Game.
With only three undefeated Power Five teams remaining following the Georgia loss, Texas is now projected as the fourth seed in the playoff over Alabama by virtue of the 'Horns head-to-head victory back on Sept. 9.
The CFP Selection Committee will use criteria including championships won, strength of schedule, head-to-head results (if applicable) and comparative outcomes against common opponents in making its determinations. Texas and Alabama both won conference titles Saturday, and while the 'Horns have a tougher strength of schedule, the Tide have more wins over CFP-ranked teams — four (including over No. 1) vs. three.
The SEC has sent at least one team to every playoff since the event's inception; however, no program has made the playoff when placed No. 7 or lower in the penultimate CFP Rankings. Both Texas and Alabama will look to buck the latter trend.
The Tide's best remaining path to ensuring themselves a spot in the playoff is a loss by Michigan (vs. Iowa) or Florida State (vs. Louisville) in their respective conference title games Saturday night.
Another significant development took place in determining the Group of Five representative in the New Year's Six. SMU upset No. 22 Tulane in the AAC Championship Game on Saturday, handing the Green Wave their second loss of the season, while No. 24 Liberty remained undefeated with two-touchdown win over New Mexico State on Friday in the Conference USA Championship Game.
As such, I project Liberty to jump Tulane in the final CFP Rankings, emerging as the top Group of Five team and earning a spot in the Fiesta Bowl against Missouri.
We are breaking down (live) each team's path to the College Football Playoff later this week with two league title games underway, and we will update these bowl projections after the conclusions of the Big Ten and ACC games.
College Football Playoff
Jan. 8

National Championship
Houston

Title game
Semifinal winners
Jan. 1
Rose Bowl
Pasadena, Calif.
Semifinal
(1) Michigan  vs. (4) Texas

Jan. 1

Sugar Bowl
New Orleans

Semifinal

(2) Washington vs. (3) Florida State
New Year's Six bowl games
Don't see your team? Check out Jerry Palm's bowl projections updating live as Championship Week progresses.
Body of Michigan traveling nurse found in California after two-week search
The body of a traveling nurse from Michigan who went missing two weeks ago has been found in California.
Ann Herford, 66, of Elkin, west of Bad Axe in the Thumb region, was reported missing Nov. 15 after not showing up for work at Adventist Health in Sonara, Calif., the Calaveras County Sheriff's Office said in a Facebook post.
Herford had last been seen near a trailhead of the Arnold Rim Trail, a densely forested area in Arnold, California.
Her body was found Thursday morning north of where her car was originally parked, not within the trail system, in a "35-degree sloped hillside beneath heavy tree canopy and dense foliage," the sheriff's office said.
Due to the terrain, her body was transported by a California Highway Patrol aircraft, the sheriff's office said.
Herford's family told authorities she enjoyed hiking but lacked wilderness survival skills and never planned to hike for more than a few miles at a time.
The Air National Guard, U.S. Army Aircraft, numerous state and county departments and volunteers assisted in air and ground searches.
The Calaveras County Sheriff's Office said detectives are still investigating the incident, but the circumstances of Herford's death do not appear suspicious.
Big Ten Championship preview: Will the Iowa under streak stop against Michigan?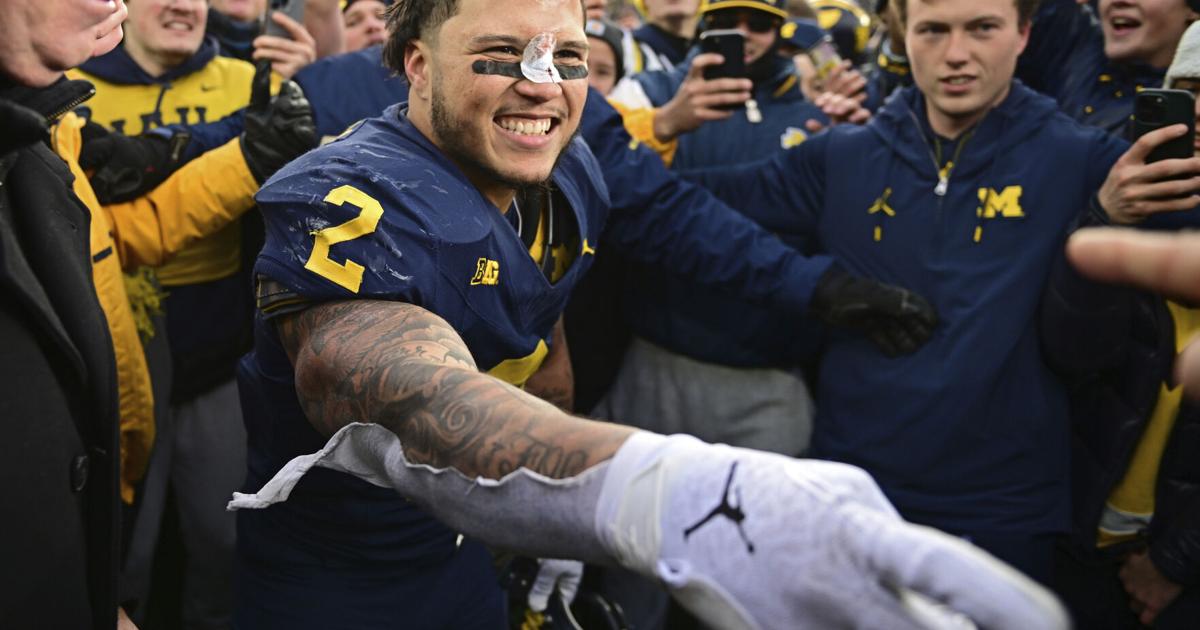 For the second time in three years, the Michigan Wolverines and the Iowa Hawkeyes will meet in the Big Ten Championship Game at Lucas Oil Stadium in Indianapolis, Indiana. The Wolverines (12-0), are currently second in the College Football Playoff rankings; they are looking for their third consecutive Big Ten title and trip to the playoff.
Iowa (10-2) won the Big Ten West division for the third time since 2015 and the Hawkeyes are looking for their first outright Big Ten title since 1985 (they won a share of the Big Ten title in 1990, 2002 and 2004). The No. 16-ranked team in the country has never won the Big Ten Championship Game.
Sign up at Caesars Sportsbook and if your first bet of up to $1,000 loses, get it back as a Bonus Bet!
Two years ago Michigan beat Iowa 42-3 in the Big Ten final and the Wolverines have won three straight over the Hawkeyes. They hold the series edge 44-15-3. 
Last week, Michigan knocked off Ohio State 30-24 in a battle of unbeatens. The Wolverines never trailed in the game and they made timely plays to keep the Buckeyes at arm's length. Blake Corum rushed for 88 yards and two touchdowns while J.J. McCarthy threw a 22-yard touchdown to Roman Wilson. The defense forced Buckeyes quarterback Kyle McCord into two interceptions.
Iowa beat Nebraska 13-10 to keep the Cornhuskers from reaching bowl eligibility. It was a game with little offense and key turnovers. Deacon Hill scored a rushing touchdown for the Hawkeyes and linebacker Ethan Hurkett had an interception with a minute remaining in regulation to help set up a 38-yard field goal from Marshall Meeder as time expired.
Caesars Sportsbook, the official odds partner of Bet.NOLA.com, is favoring the Wolverines by more than three touchdowns with an over/under of 35.
Iowa Hawkeyes vs. Michigan Wolverines
Time/TV: 7 p.m CT (Fox)
Spread (from Caesars Sportsbook): Michigan -21.5
Over/Under: 35
Moneyline: Michigan -3500, Iowa +1350
Analysis: How bad is Iowa's offense? It's 120th in scoring offense (18 points per game) and 133rd in total offense with 247.3 yards per game. For context, there are only 133 teams in FBS college football.
The Hawkeyes' ability to win 10 games with very minimal production from one side of the ball is worth respect. Iowa was 5-1 in one-score games and 6-2 in games it scored 20 points or less.
The bottom line is Iowa doesn't score much. Michigan doesn't give up many points either.
The Wolverines had the No. 1 scoring defense in the country this year and they were second in total defense, behind only Penn State. Penn State beat Iowa 31-0 this season, so expect much of the same Saturday. Take Michigan and the points, keep an eye on the under as well.
Prediction: Michigan 28, Iowa 3 (Under 35)