RH CEO talks potential Miami expansion: 'It's the most significant capital contribution we've ever made'
Gary Friedman, CEO of upscale home design and hospitality firm RH, elaborated on the company's plans to purchase a large Miami restaurant and entertainment venue in a Friday interview with CNBC's Jim Cramer.
Formerly known as Restoration Hardware, RH announced its bid to buy One Ocean Drive in a Wednesday press release, expecting to spend between $150 million and $170 million on the venture as it expands into hospitality development.
"It's a magnificent opportunity, I think, for the community of Miami, and it's the most significant capital contribution we've ever made," Friedman said.
Friedman detailed RH's plans for the site, including a 90,000 square foot public park, a sculpture garden, a beach club and a design studio with an architecture and design library. RH is one of four companies bidding for the property, the Real Deal reported.
"We believe Miami is one of the most key global cities in America," Friedman said. "Look, there's New York, there's Los Angeles and there's Miami Beach. And those are the three iconic places in North America. It's a bridge to South America, and it's a global city."
RH is also expanding its presence globally, Friedman added. The company launched a London gallery in June and plans to open galleries in Paris, Milan and Madrid.

3 airlifted to hospital after Miami Gardens crash possibly involving officer
MIAMI GARDENS, Fla. – Three people were airlifted to Jackson Memorial Hospital's Ryder Trauma Center Tuesday morning after being involved in a crash in Miami Gardens, Miami-Dade Fire Rescue officials confirmed.
The crash, possibly involving a police officer, occurred in the area of Northwest 27th Avenue and 167th Street.
Sky 10 was above the scene around 6 a.m. and spotted a white SUV in the area with extensive damage to its front and driver's side.
No details about the crash were immediately released by police.
Watch Local 10 News or refresh this page for updates.
Copyright 2023 by WPLG Local10.com – All rights reserved.
Free Miami shuttle service could potentially patch holes in county transportation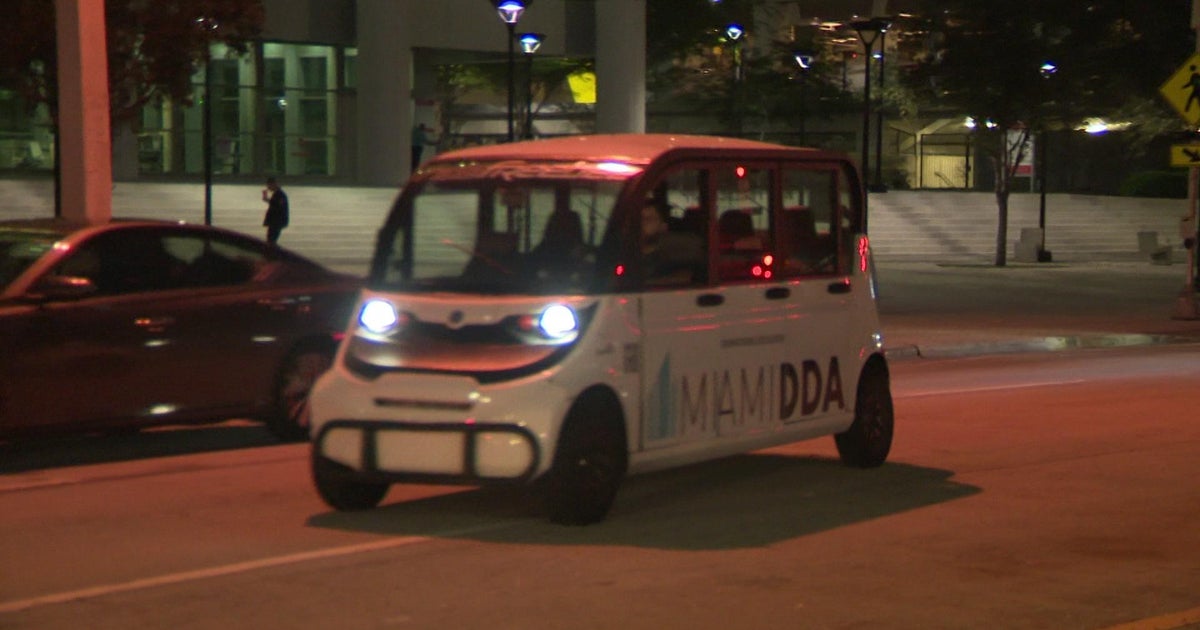 MIAMI – There are new, free rides roaming downtown Miami. Those behind it think their shuttle could take care of complaints about long walks to work or home and potentially patch holes in Miami-Dade County transportation.
"We want to move as many as we can," Manolo Reyes, City of Miami Commissioner and Chairman of the Miami Downtown Development Authority.  "We're starting with this and I don't know where we're going with this. It's a good start."
Miami DDA partnered with the company FreeBee to run electric-powered shuttles with room inside for at least five people.  The downtown circulators roll around downtown 11- to 13-hours a day, seven days a week.  It is a fixed route that passes by parking lots, Government Center and Biscayne Boulevard's brightest lights.
"It's a good thing," Alex Paccini, a visitor from France said.  "When you are a tourist, (it is) perfect."
Reyes expects residents and downtown workers to benefit most.  In the long term, Reyes expects long walks from the bus or parking lots to be history. 
It comes as the county offers free bus fares through the end of the year as part of the rollout of Miami-Dade County's Better Bus Network.  It changed schedules for 26 routes and discontinued 33 others including the 115 Mid-North Beach Connector in Miami Beach.
In October, some riders complained.
"It's not good for the workers," one rider told CBS News Miami in October. 
Miami-Dade County's then-Assistant Director of Transportation Carlos Cruz-Casas told CBS News Miami that Metro hoped to find partners.
"One of the things we need to start moving forward with is understanding what are those elements, what are those smaller gaps that we need to fill and start looking (at," he said.  "What are options we have available? (The City of) Miami Beach is a great example. Miami Beach has a strong municipal trolley service and a strong on-demand transportation service with Freebee and there's an opportunity for us to work collectively here and to start enhancing the experience here regardless of jurisdictional boundaries."
Reyes thinks Miami DDA's pilot program could help squash wait times with the circulator downtown.
"No more than 10 minutes, 10 (to) 15 minutes and it could be faster," he said.
The shuttle is a week old.  However, already wait times for passengers are off the mark.  CBS News Miami tried to use it Monday night.  It took 28 minutes for a pickup.
That is twice as long as Deyondre Whipple spends waiting for buses downtown.
"Honestly, I feel like that's a little bit too much of a wait time, though," Whipple said.  "It should be there at least five or 10 minutes."
So far, Miami DDA's fleet includes three shuttles. 
"We're getting information," Reyes said.  "If we have to tweak it here, tweak it there, it will be tweaked to make it as efficient as possible."
He is confident service will improve and perhaps become a model that Metro and other communities copy.
Bold thieves snatch safe from inside northwest Miami-Dade jewelry store
MIAMI-DADE COUNTY, Fla. – A pair of thieves were caught on surveillance video inside a South Florida jewelry store. While they tried to conceal their faces, they couldn't hide their bold actions.
The crooks carelessly shoved items to the floor and went right for a large safe with pricey valuables inside.
"We figure it's around a million dollars, it could hit a million or a little more," said C4G Jewelers employee Adrianna Prieto.
Prieto and several co-workers were cleaning up the mess left behind at their business, located at 7580 NW 186th St. in Miami-Dade County's Country Club area, after a gaping hole was left through the front.
In the video timestamped at around 6:35 a.m. Monday, the thieves can be seen using some sort of steel cable attached to a hook, that cable likely connected to a vehicle outside.
Once the safe was attached to the hook, it was yanked outside for what can only be described as a clean getaway.
It's clear even to detectives that the major heist had been a planned operation, considering the crooks bypassed the alarm system.
"It looks like they brought a device to cut off the signals of the cell phones," said Prieto. "Right now nobody has a signal in there, and that's why the alarm didn't go off. They turned off the alarm like that."
Anyone with information is urged to call Miami-Dade Crime Stoppers at 305-471-TIPS.
Copyright 2023 by WPLG Local10.com – All rights reserved.