UN General Assembly kicks off with leaders raising alarm on climate change, refugees crisis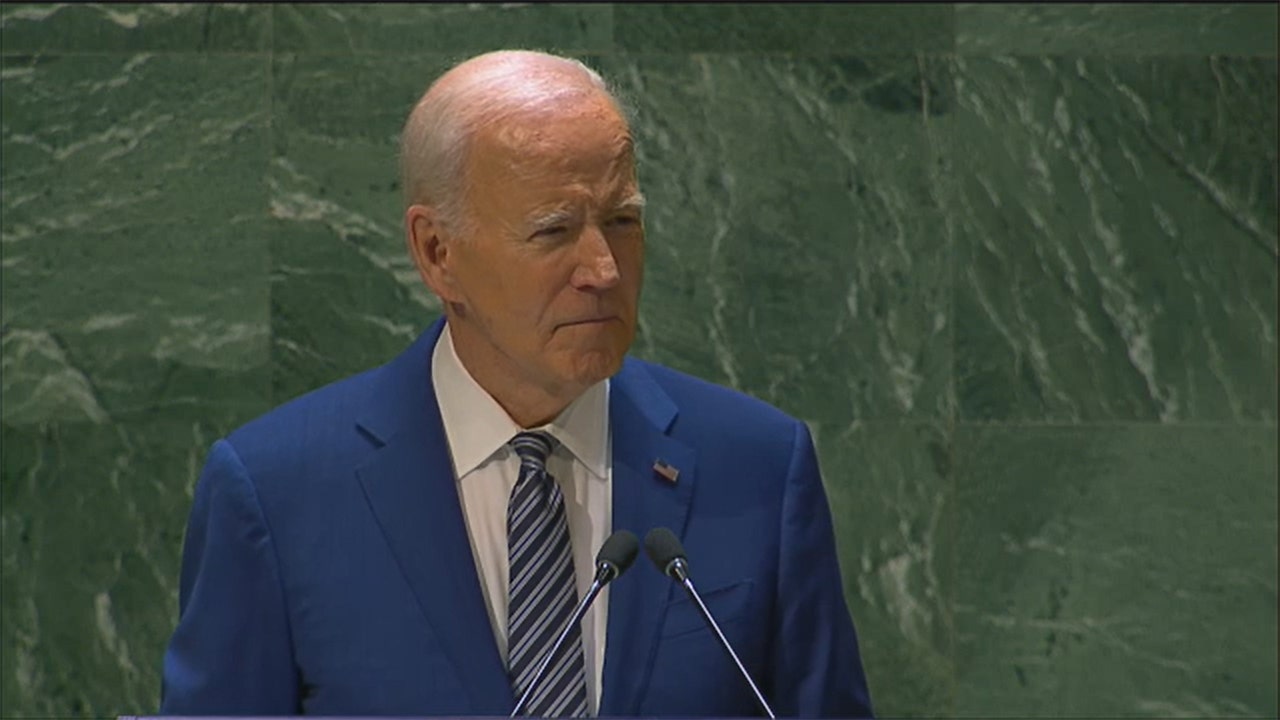 The first day of the United Nations General Assembly meeting kicked off in downtown Manhattan Tuesday, bringing in speakers from around the world to discuss the globe's most pressing challenges. 
Leaders spoke of the many global crises presently faced, including the climate crisis, rampant inequality, Russia's ongoing war in Ukraine, and geopolitical instability. 
Here are some highlights of the leaders who spoke on Day 1:
UN SECRETARY-GENERAL
UN Secretary-General António Guterres evoked the recent floods in Libya which – according to estimates from government officials and aid agencies – caused between 4,000 and 11,000 deaths. Guterres echoed the conclusions of scientists who have said that climate change made the devastating storm 50% more intense.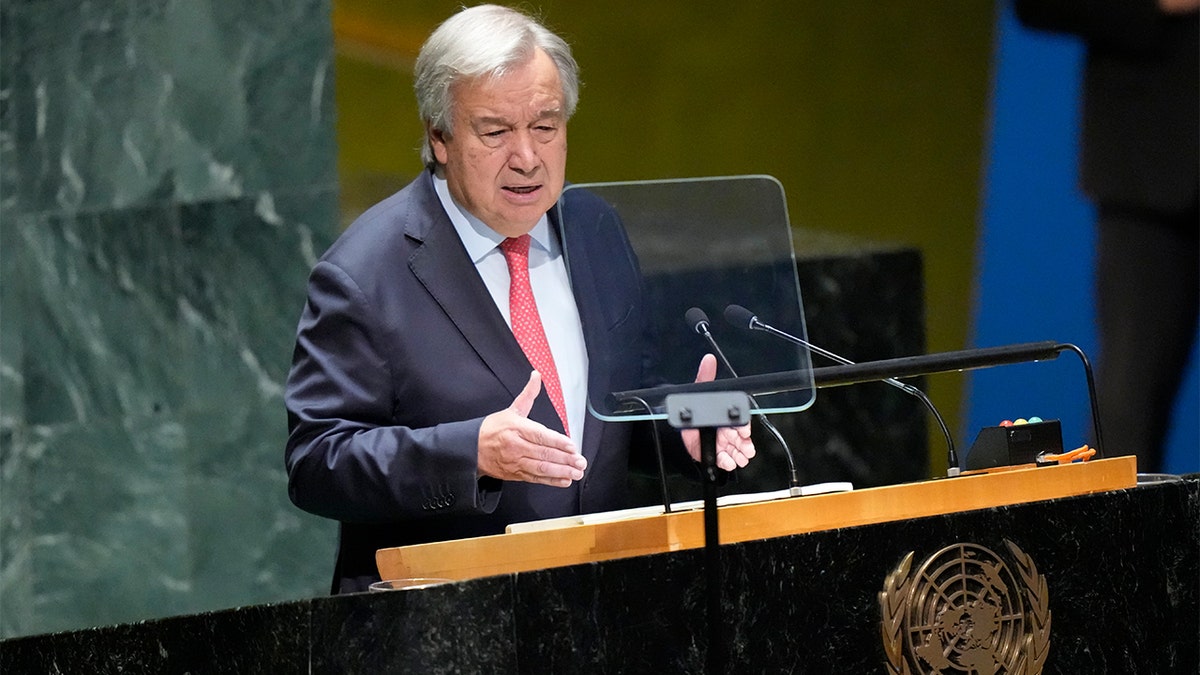 "In the face of all these challenges and more, compromise has become a dirty word. Our world needs statesmanship, not gamesmanship and gridlock. As I told the G20, it is time for a global compromise. Politics is compromise. Diplomacy is compromise," he said. "Effective leadership is compromise. Leaders have a special responsibility to achieve compromise in building a common future of peace and prosperity for our common good."
PRESIDENT OF THE GENERAL ASSEMBLY
Dennis Francis, the president of this year's U.N. General Assembly, said a common, global approach is needed now more than ever as the global faces geopolitical conflicts, climate change, debt, energy and food crises, as well as poverty and famine.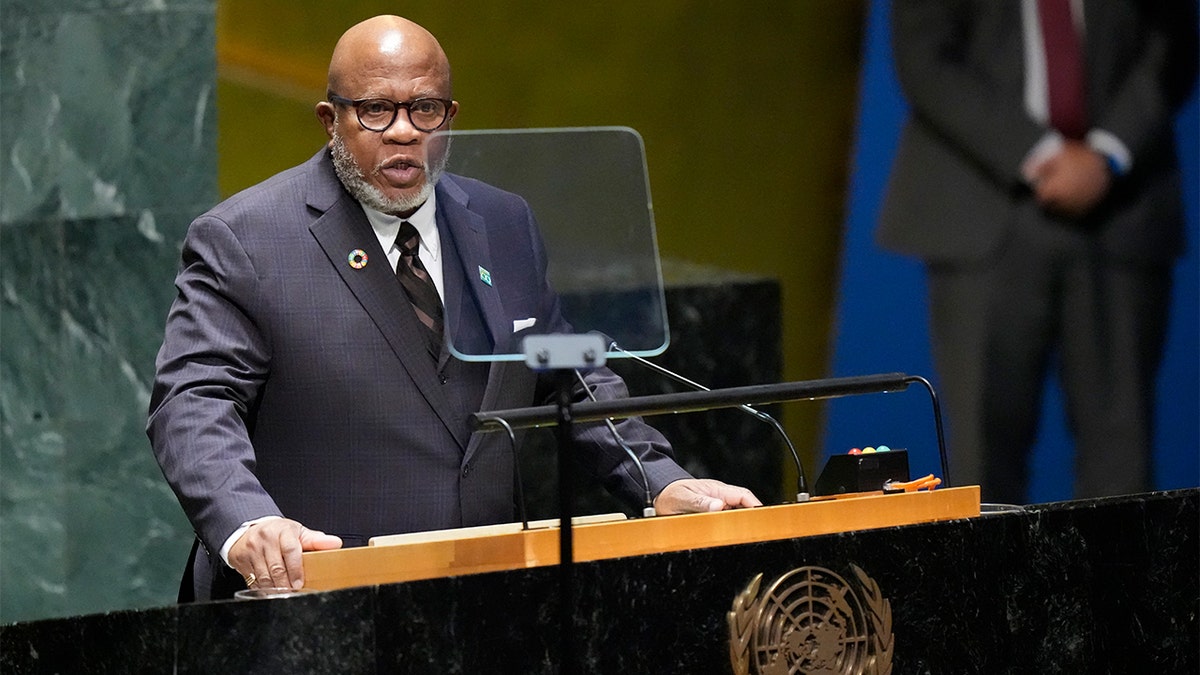 "This year our imperative is clear: to unite the nations, to be united in conviction of common purpose and in solidarity of action," Francis said. 
BRAZIL
Brazilian President Luiz Inácio Lula da Silva proclaimed that "Brazil is back," drawing a distinction with his predecessor, Jair Bolsonaro, who showed little interest in geopolitics or diplomacy during his four years in office.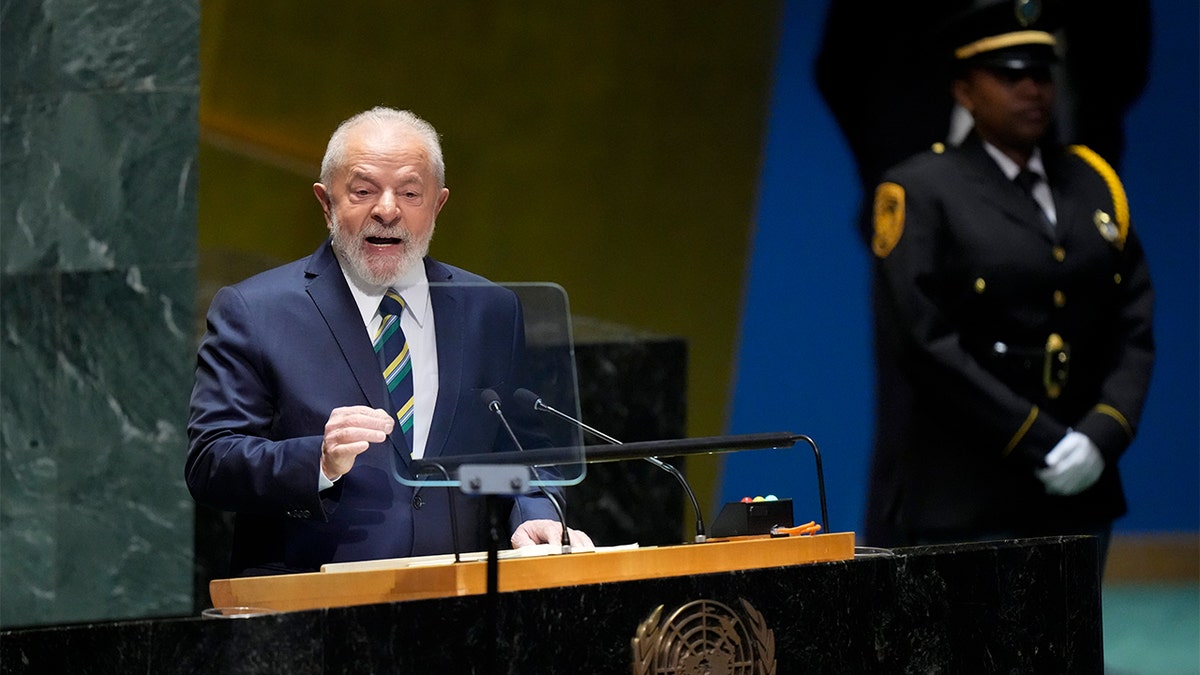 "Brazil is reencountering itself, the region, the world and multilateralism," Lula said. "As I never tire of saying, Brazil is back. Our country is back to give our due contribution to face the world's primary challenges." 
Last year, the left-wing president narrowly won the election before Bolsonaro supporters stormed the capital in protest.  
UNITED STATES
U.S. President Joe Biden made his case before the General Assembly that the world must stand united behind Ukraine as it battles Russian aggression.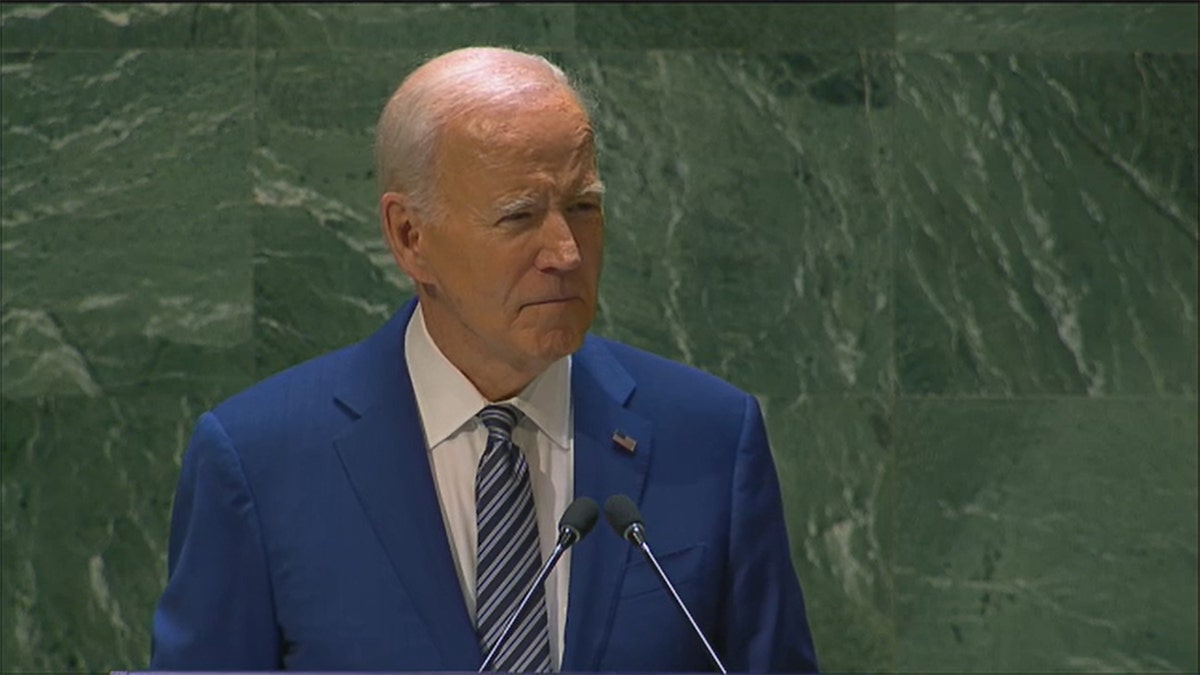 "I ask you this: If we abandon the core principles of the United States to appease an aggressor, can any member state in this body feel confident that they are protected?" Biden said in his address. "If we allow Ukraine to be carved up, is the independence of any nation secure?
COLOMBIA
Columbian President Gustavo Petro painted a dark picture if the nations of the world do not address climate change. 
With grandiose language, Petro said the past year was one that "humanity lost" as it "advanced the times of extinction."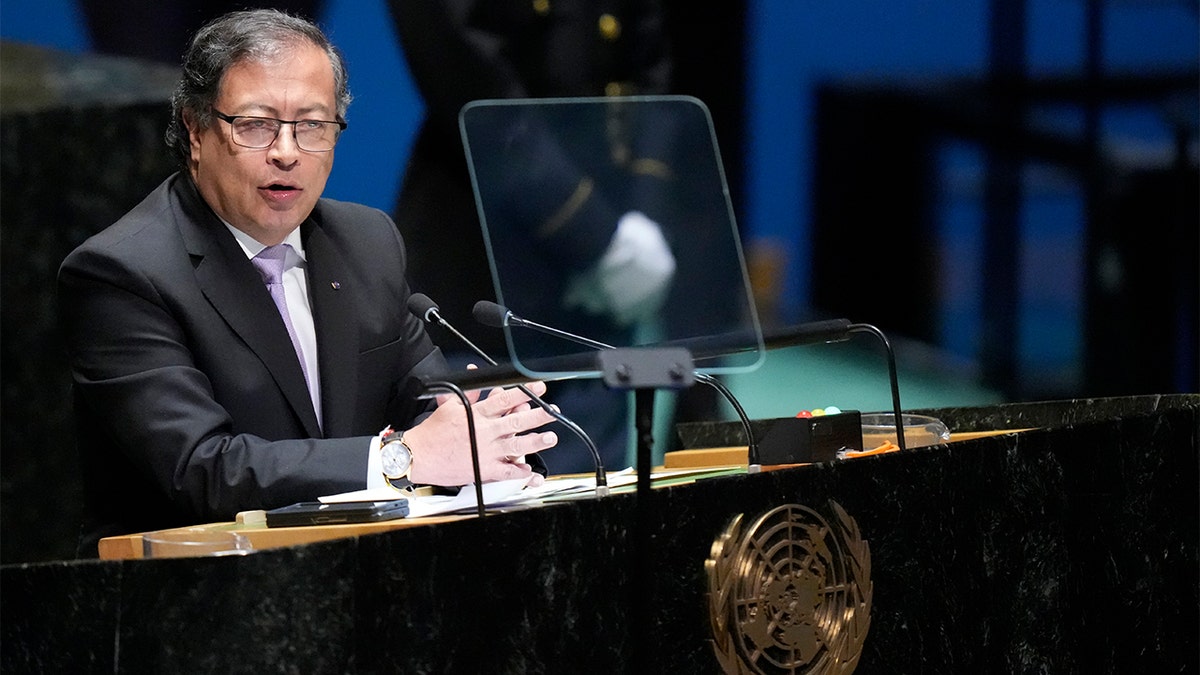 He warned that the climate crisis has exacerbated the refugee crisis, warning that in the next half-century, climate refugees could reach 3 billion. 
JORDAN
Jordan's King Abdullah touched on the refugee crisis, saying his country does not have the ability to host, nor care for more Syrian refugees.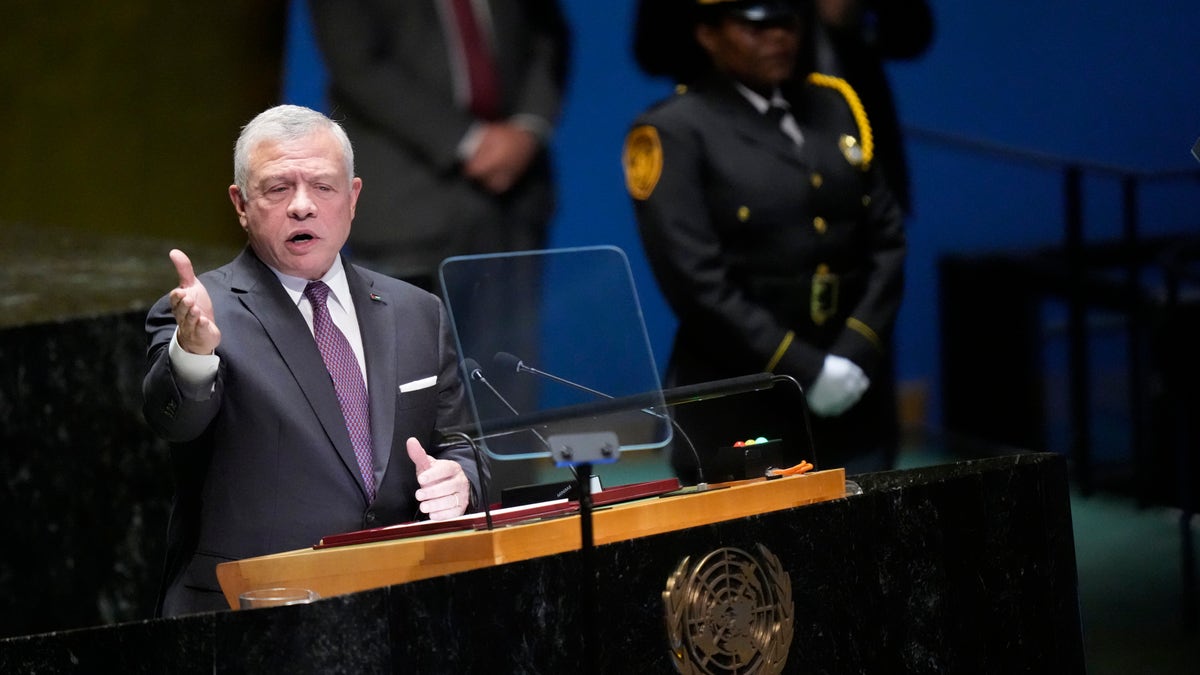 "Syrian refugees' future is in their country, not in host countries," he said. "But until they are able to return, we must all do right by them." 
EMIR OF QATAR SAYS SPORTS CAN PLAY A ROLE IN 'BUILDING BRIDGES' BETWEEN PEOPLES
POLAND
Polish President Andrzej Duda likened the Russian invasion of Ukraine to the World War II occupation and partition of his own country by Nazi Germany and the Soviet Union. He urged the world to hold Moscow accountable for its "barbaric actions."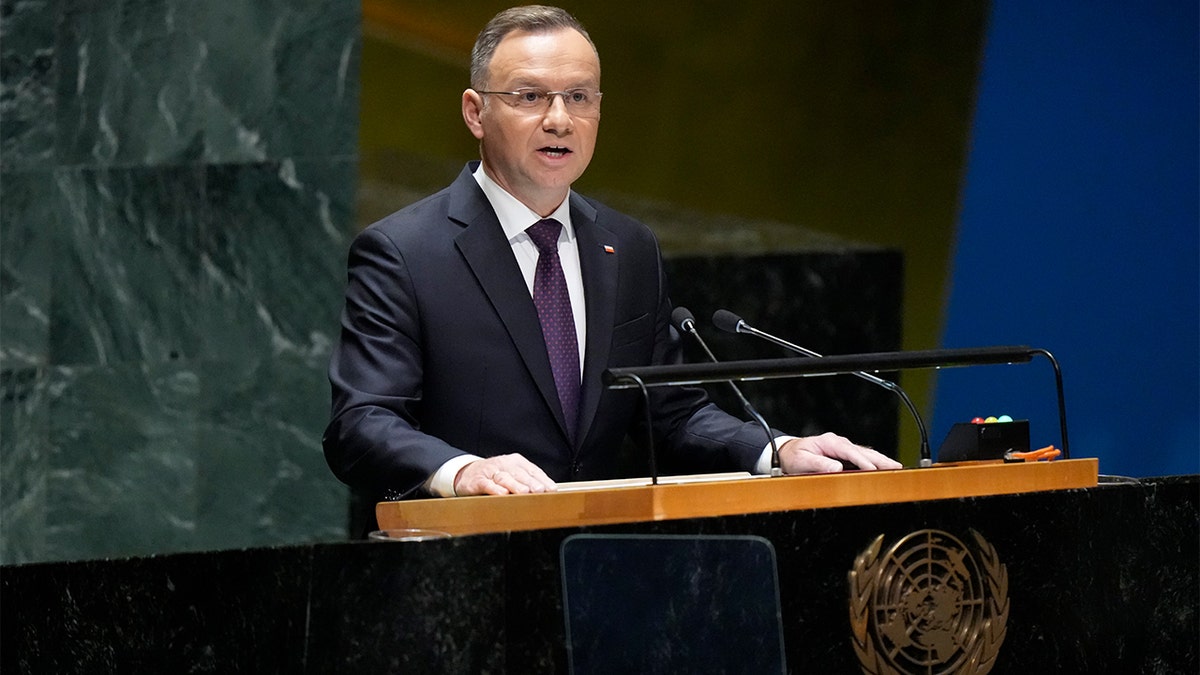 "Poland lost its independence, was wiped (off) the map of the world, and subjected to an extremely brutal occupation. This is precisely why we understand the tragedy of Ukraine better than any other country," Duda said.
CUBA
Cuban President Miguel Díaz-Canel took aim at the U.S., calling its foreign policy with some countries – including his own – "unilateral" and "coercive." His speech was noticeably absent, any mention of Russia, which supports the island nation.  
Díaz-Canel said U.S. sanctions "today also affect Venezuela, Nicaragua and, before and after, they have been the prelude to invasions and (the) overthrow of uncomfortable governments in the Middle East."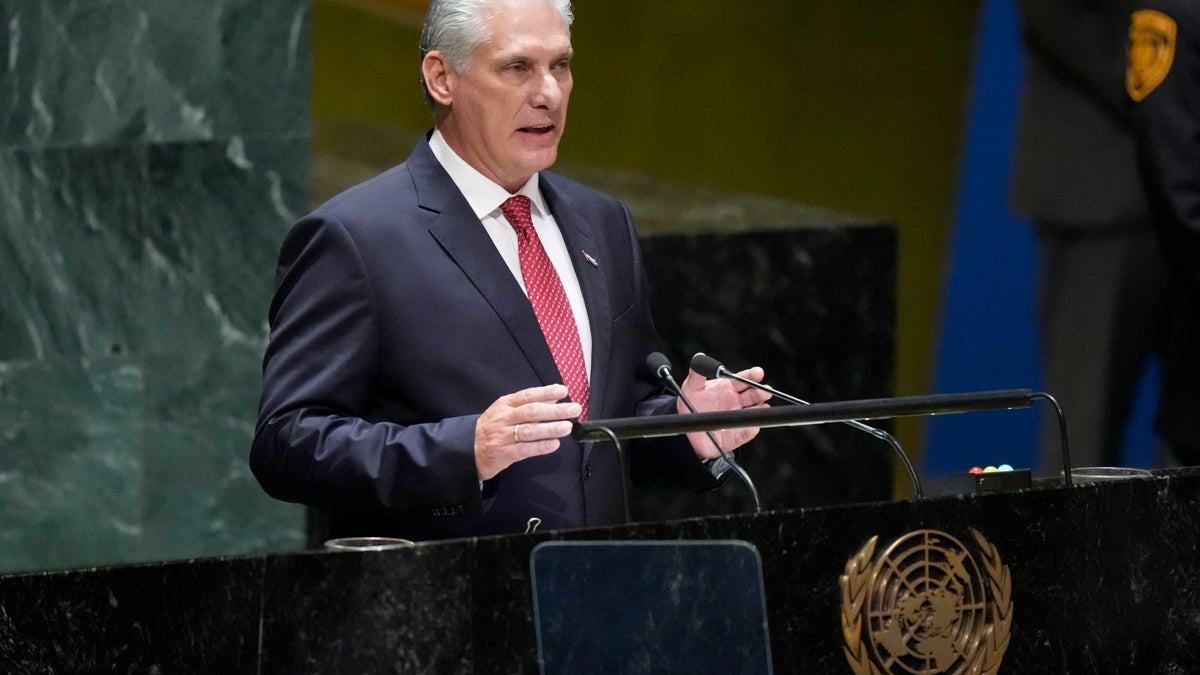 "We reject the coercive and unilateral measures imposed on countries like Zimbabwe, Syria, the Democratic Republic of Korea and Iran, among many other countries whose people suffer the negative impact of these," he said. 
His comments come days after he and Brazilian President Lula reignited ties between the countries at the G77 summit in Havana, with the former lamenting the U.S. embargo of Cuba. 
TURKEY
Turkish President Recep Tayyip Erdoğan called for peace in the Caucasus region amid renewed fighting in a war-torn Nagorno-Karabakh region.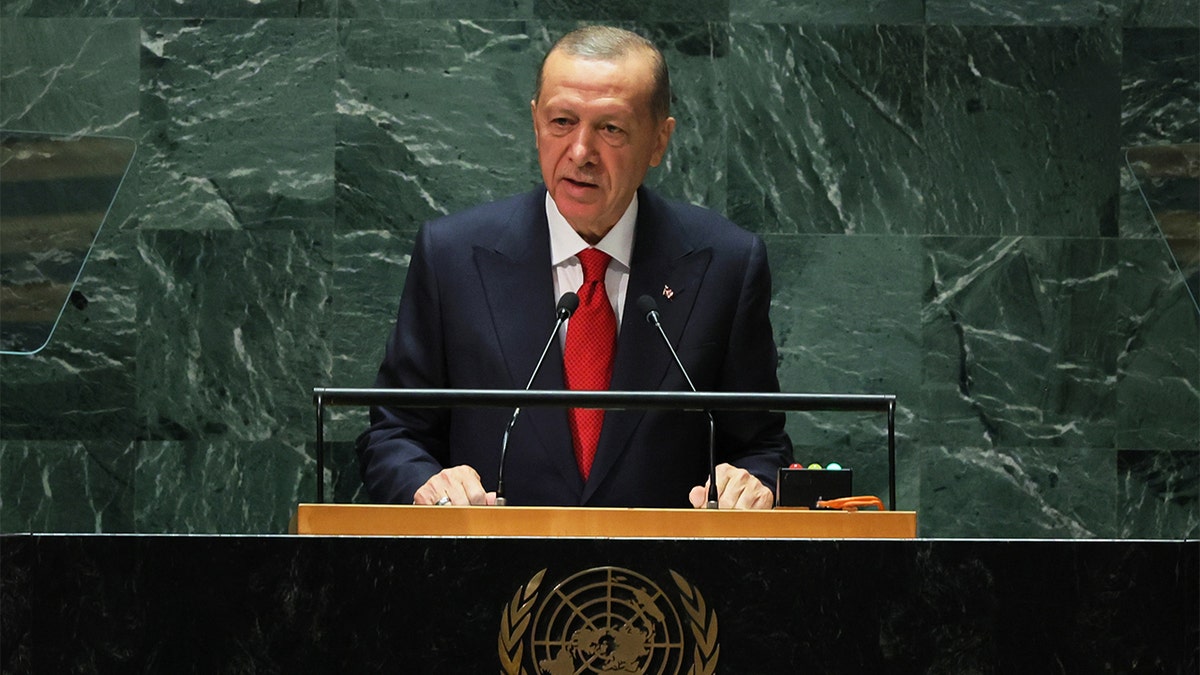 "In order to make use of this opportunity we attach importance to the normalization of our relations with Armenia," Erdogan said. "From the outset we always supported diplomacy between Azerbaijan and Armenia. Unfortunately, we see that Armenia cannot make use of this historic opportunity."
PORTUGAL
Portugues President Marcelo de Sousa stressed the need for more action and less talk on global inequality, climate change, and reforming international institutions in the wake of the war in Ukraine.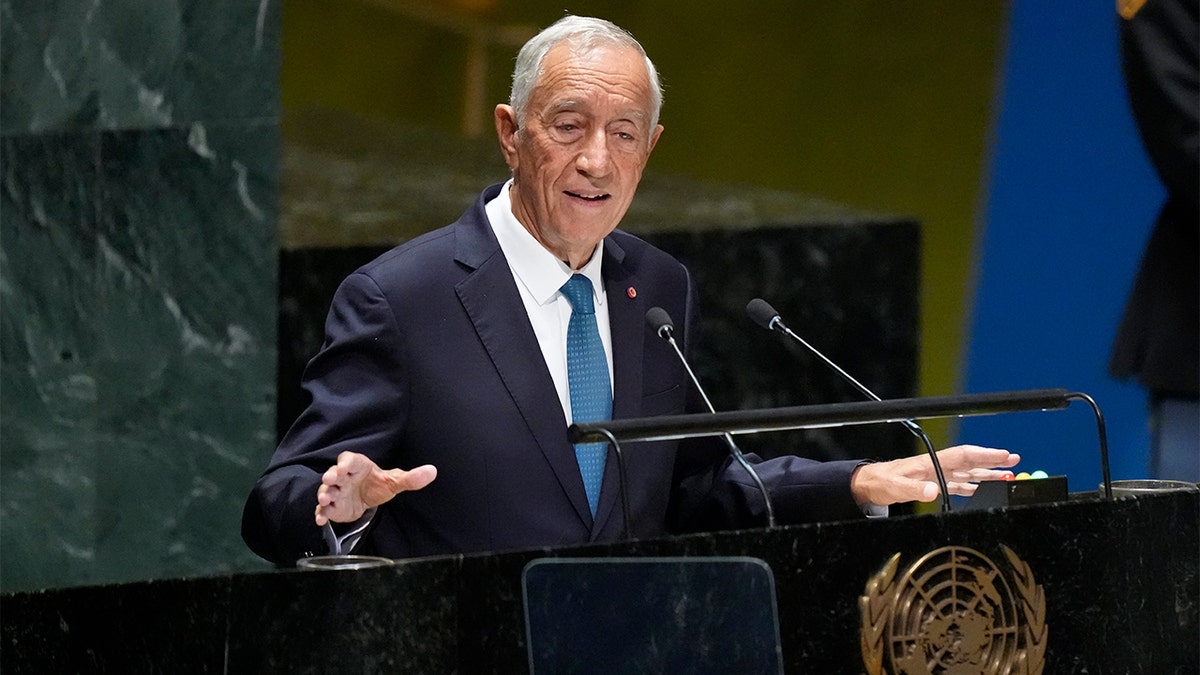 "Year after year, we promise. It's time to fulfill," he said, warning that without reform: "there is no multilateralism possible, there is no lasting cooperation, there is no peace, all over the world." 
QATAR
Sheikh Tamim bin Hamad al-Thani, the emir of Qatar, said Tuesday that sports can play a role in uniting different peoples and cultures across the world.
At the United Nations General Assembly, Sheikh Tamim touted the "tremendous potentials and opportunities" that belong to his small Arab country, which hosted the soccer World Cup last fall.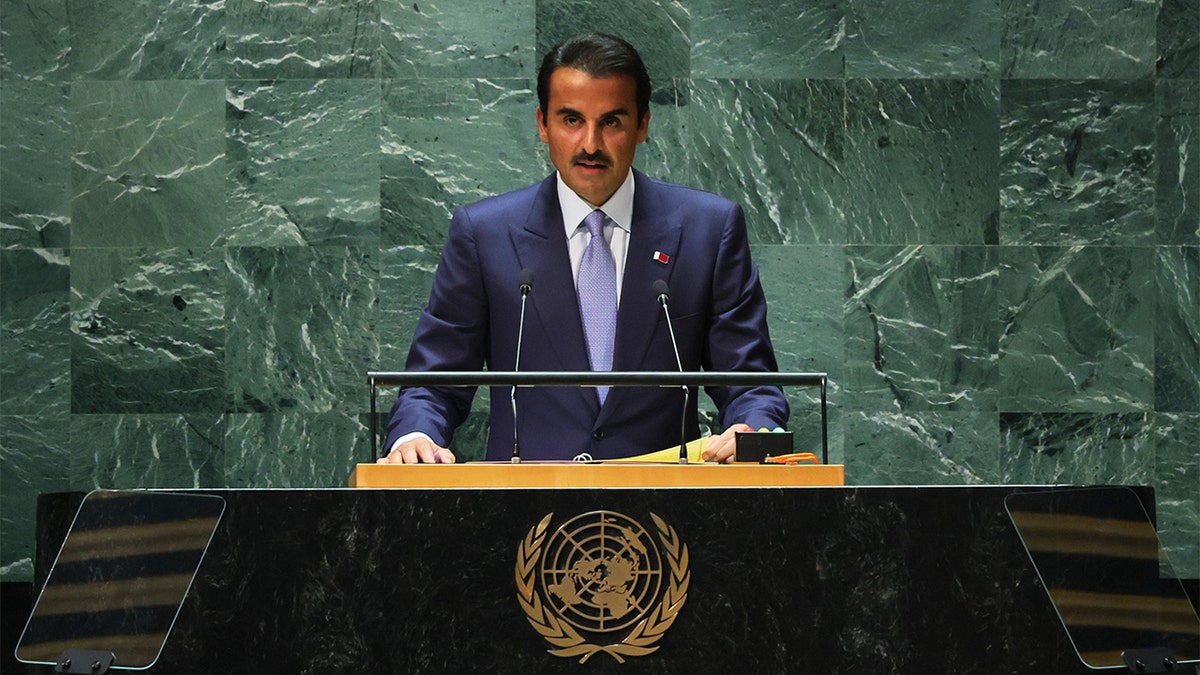 "During the 2022 World Cup in Qatar, there was an opportunity for interaction between peoples, and it was an opportunity for the world to see our people as they are and to learn about our culture and values," Sheikh Tamim said, calling Qatar a "global destination and nexus between East and West." 
SOUTH AFRICA
South African President Cyril Ramaphosa acknowledged the over-representation of men in the room, asking: "Where are the women of the world?"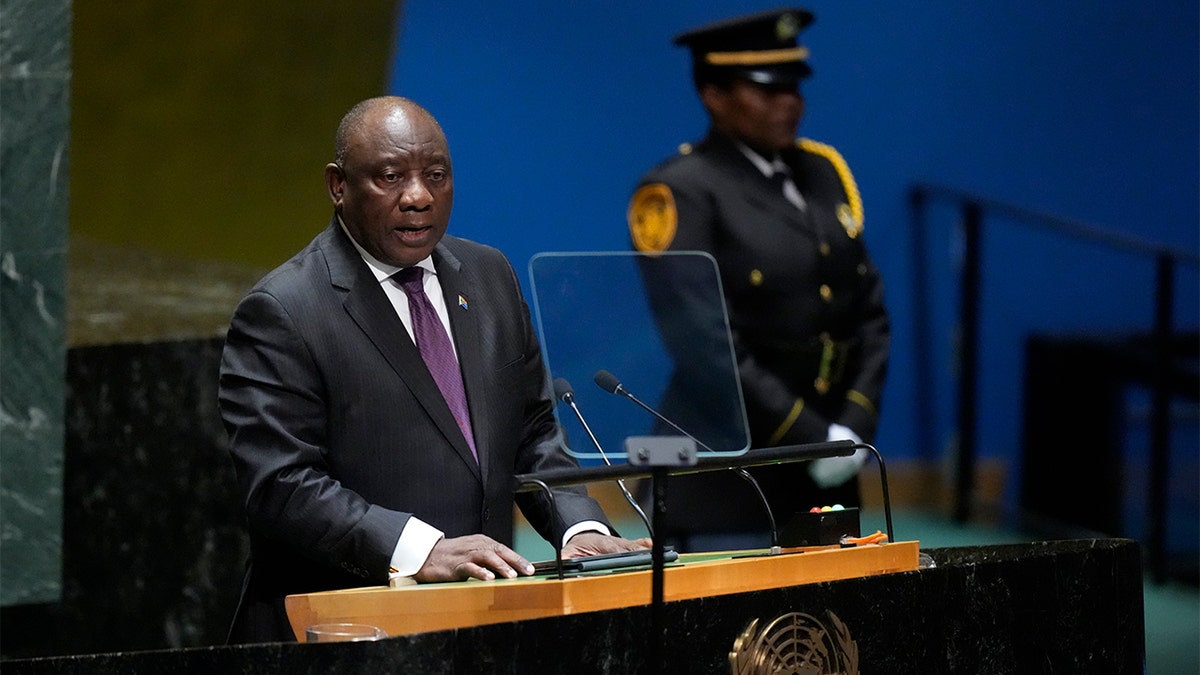 In his speech, he stressed the need to empower women and have them participate equally in decision-making. Fifty percent of cabinet members in South Africa are women, and Ramaphosa said he was accompanied by an all-female delegation to the United Nations.
TURKMENISTAN
President of Turkmenistan Serdar Berdimuhamedow called for multilateralism, as the world faces "very serious challenges out of multiple regions."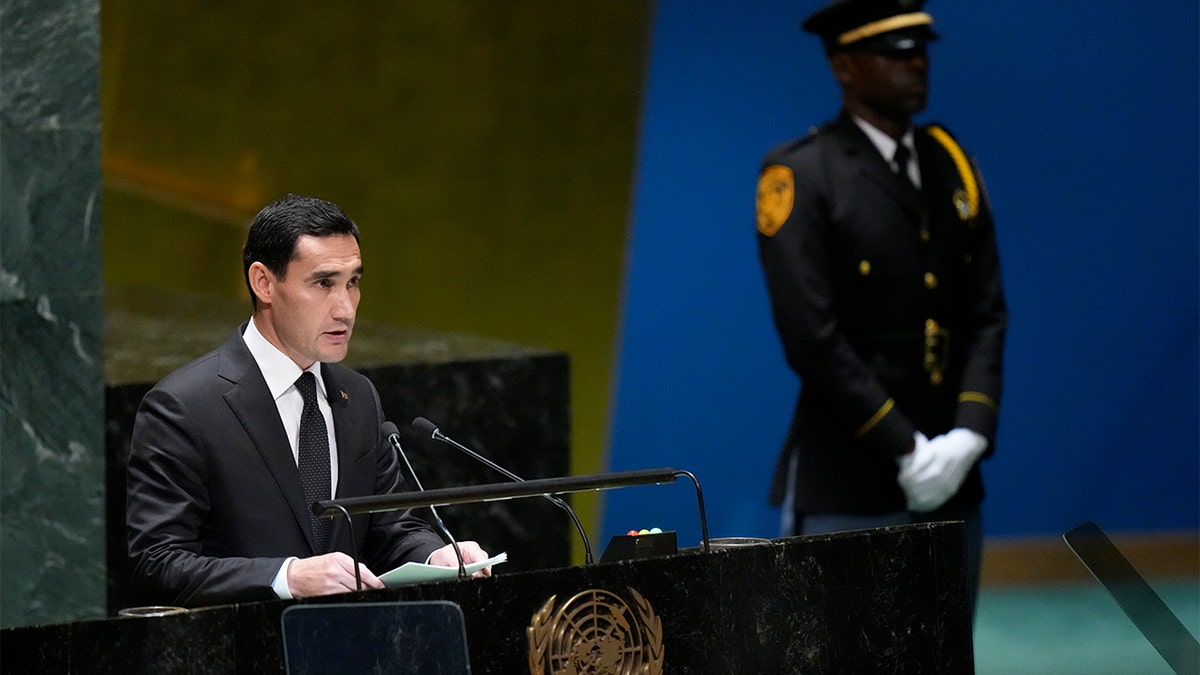 "All of them, despite their difference in appearance, influence the course of interstate relations, [to] a greater or lesser extent," he said. 
UKRAINE
Ukraine President Volodymyr Zelenskyy accused Russia of "weaponizing" everything from food and energy to abducted children in its war against his country. 
He warned world leaders that the same thing could happen to them.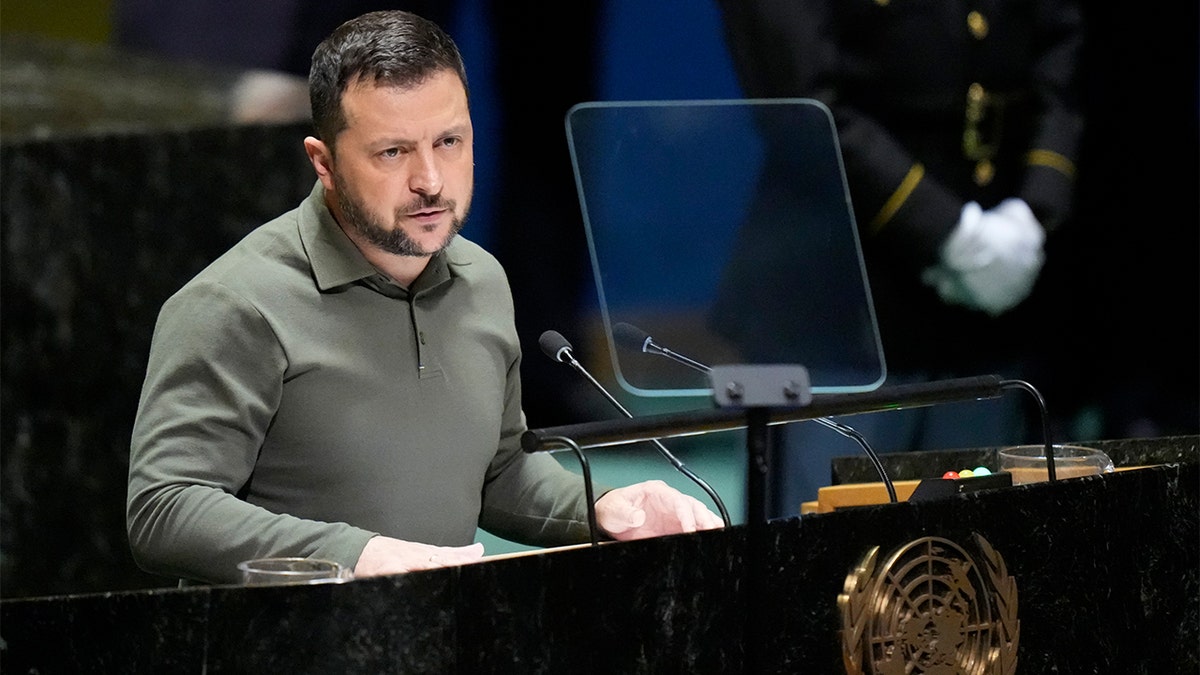 "When hatred is weaponized against one nation, it never stops there," he said at the U.N. General Assembly's annual top-level meeting. "The goal of the present war against Ukraine is to turn our land, our people, our lives, our resources into weapons against you — against the international rules-based order."
GUATEMALA
In his last speech to the United Nations, Guateleman President Alejandro Giammattei promised he would step down come January 14, after appealing the electoral victoria of his opponent Bernardo Arévalo.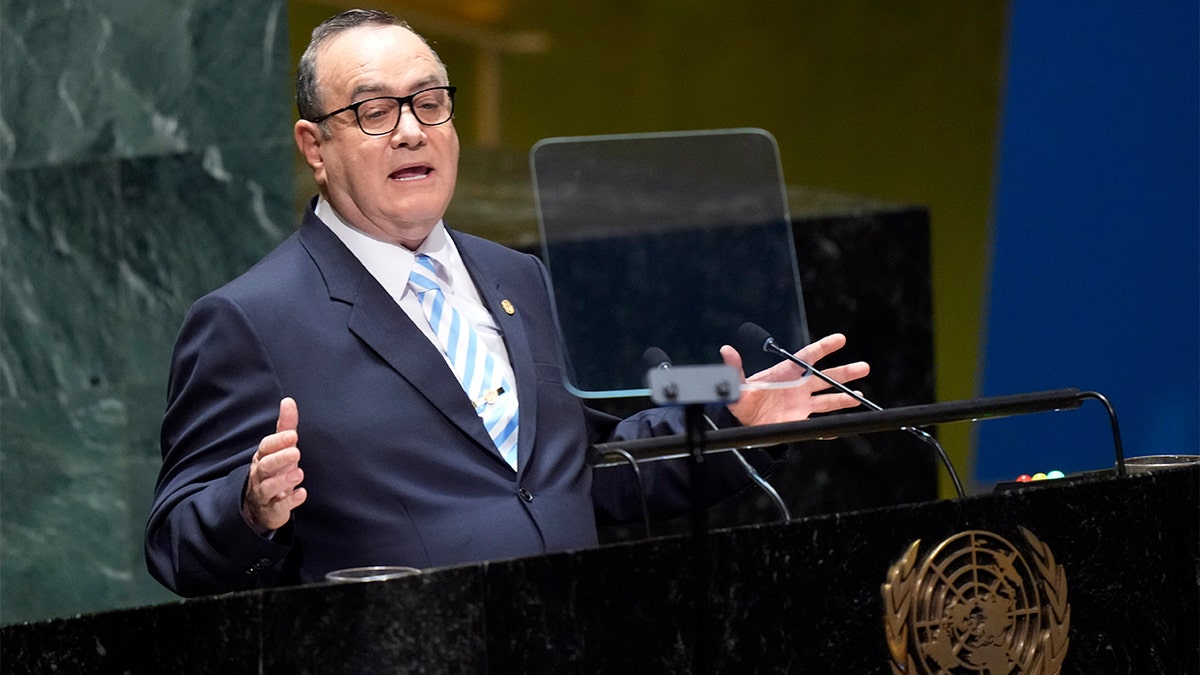 "Different from the lack of truth that we have heard today on this podium, I will hand over power to whoever was elected by the sovereign majority will of the people of Guatemala on January 14, when my constitutional mandate is fulfilled," Giammattei said, criticizing "international organizations" for carrying out an "unnecessary" intervention" in Guatemalan elections. 
HUNGARY
Hungarian President Katalin Novák spoke of the need to support Ukraine, as well as strengthening families, and the importance of parental freedom.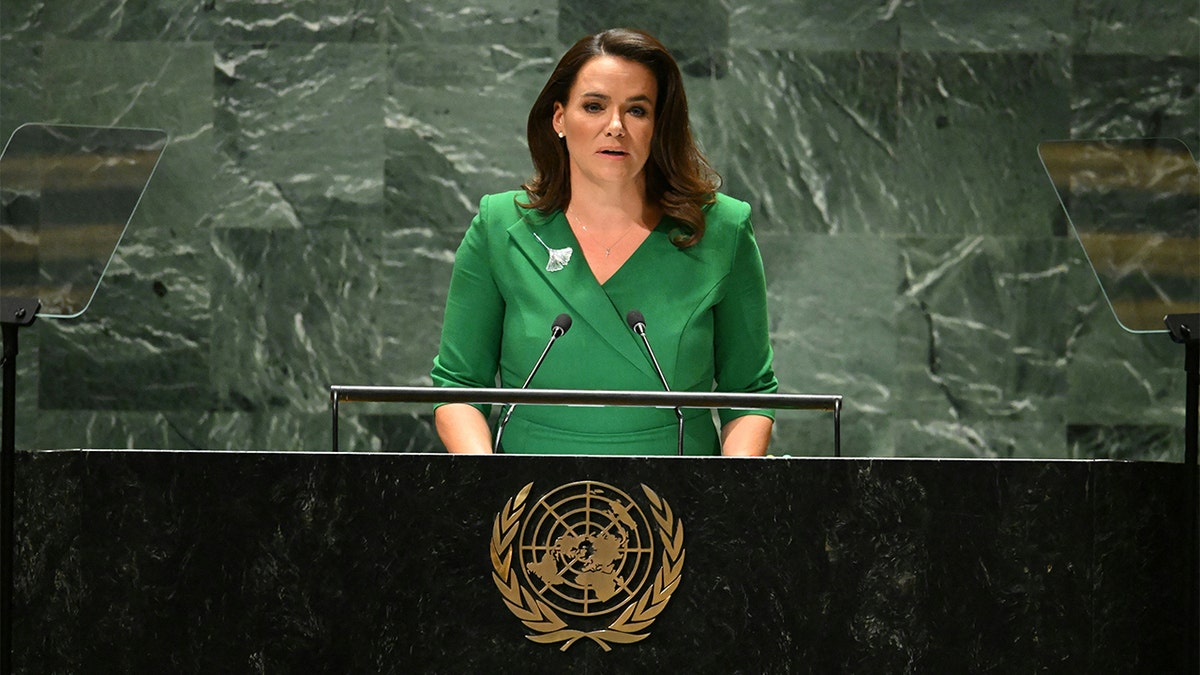 SWITZERLAND
Swiss President Alain Berset said: "In the context of armed conflicts, the lack of access to basic services claims many more lives than confrontations because it depends on inequalities."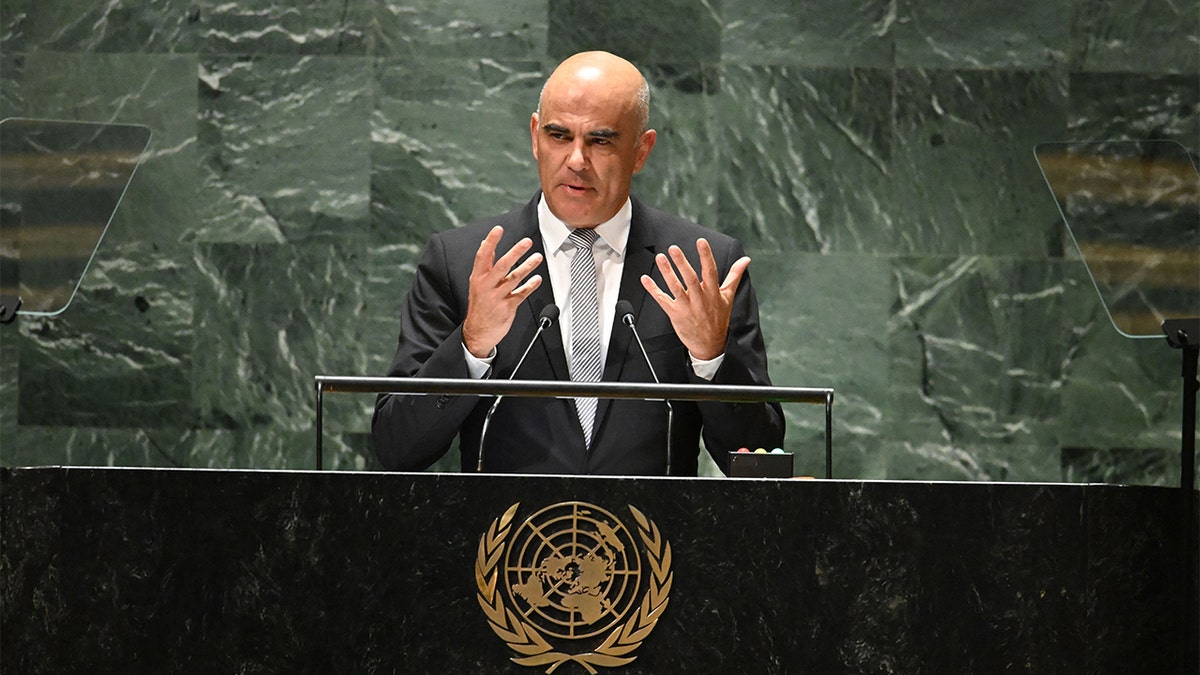 SLOVENIA
Slovenian President Nataša Pirc Musar warned that "business as usual is not working if it's failing us all."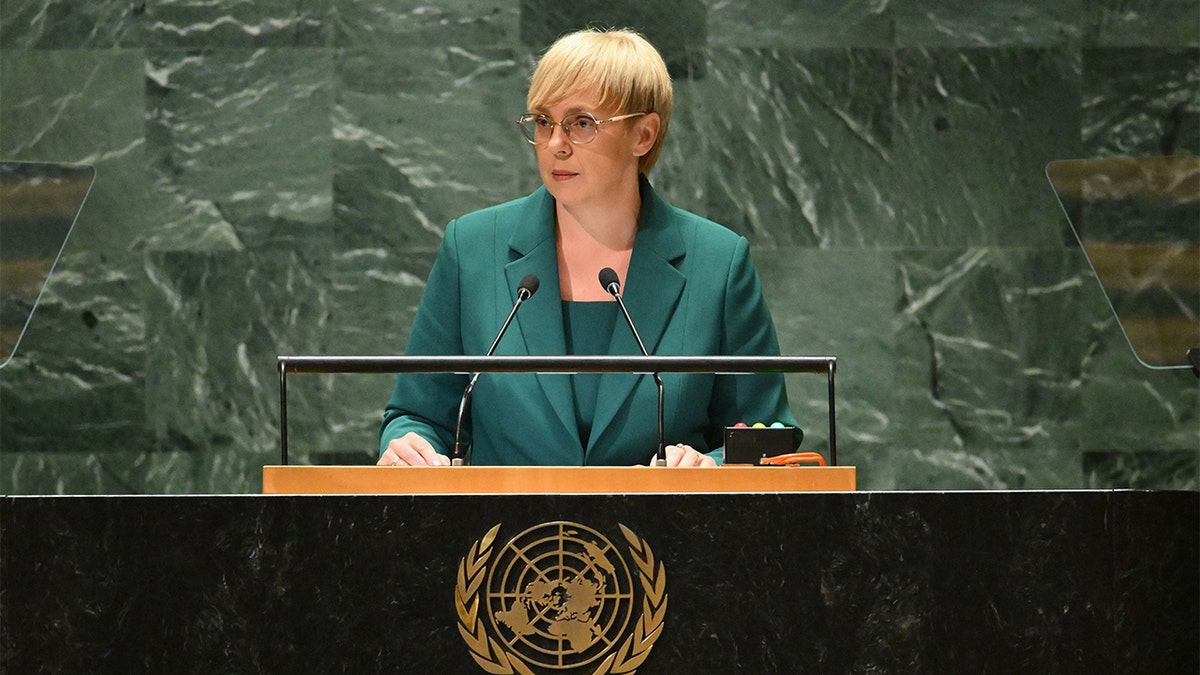 "Climate change is the greatest challenge of our time. The catastrophic floods that hit Slovenia in August are just one more event among the many, many events around the world that prove the point. I trust that we will be able to overcome the consequences of the floods." 
UZBEKISTAN
Uzbek President Shavkat Mirziyoyev spoke out against forced child labor.
"Our experience shows that it is possible to put an end to this," he said.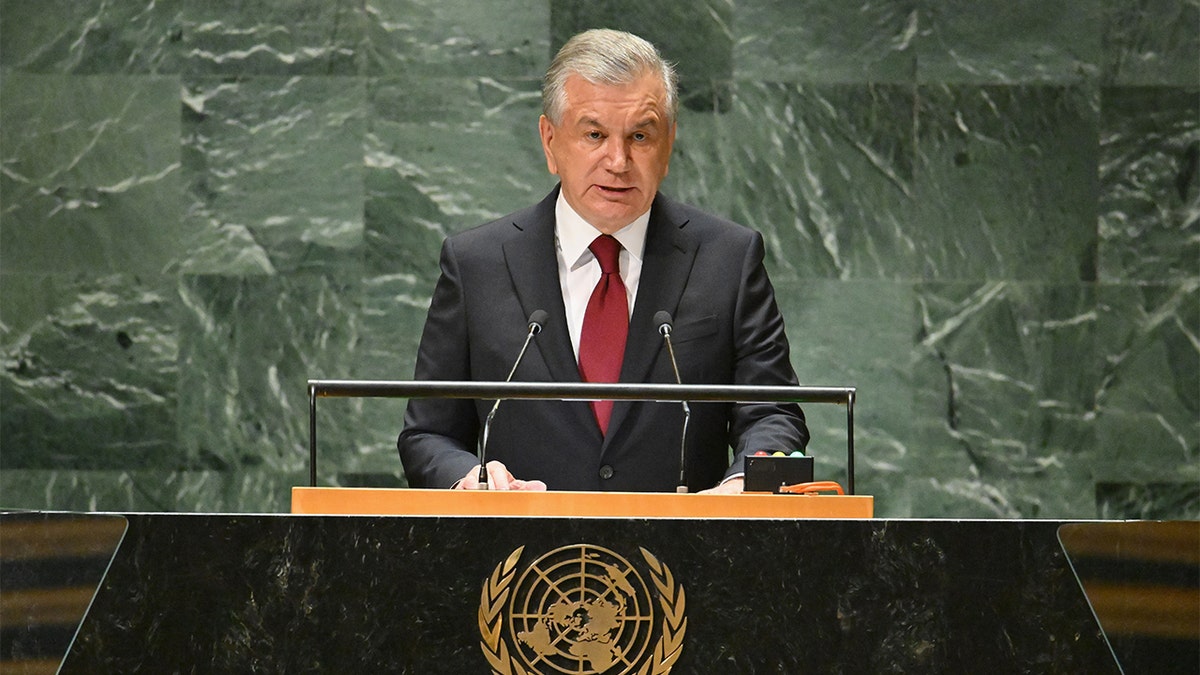 Mirziyoyev highlighted the need to expand education and create jobs, saying such things were instrumental in eradicating poverty. 
BOLIVIA 
Bolivian President Luis Arce spoke out forcefully against capitalism which, he argued, exacerbated global inequality. He also spoke of the "suffering" of the Palestinian people and criticized sanctions as ultimately hurting civilians.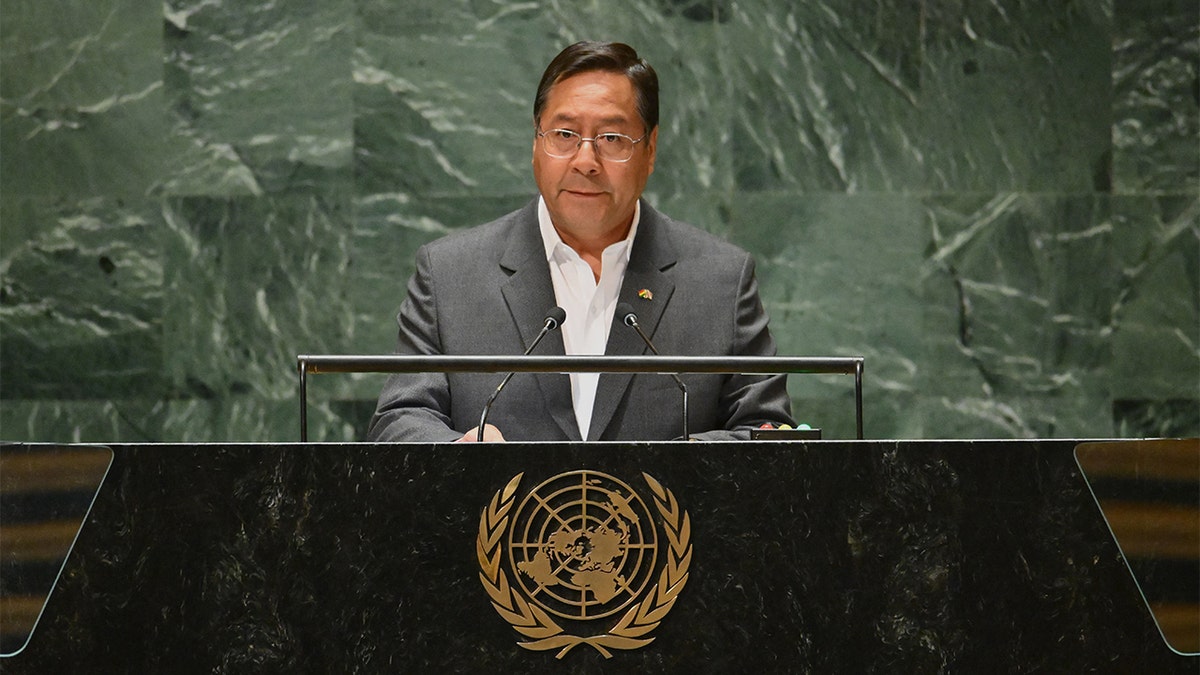 He lamented that "peacekeeping" has become more unattainable amid increases in wartime spending. 
KAZAKHSTAN 
Kazakh President Kassym-Jomart Tokayev proposed nuclear disarmament, noting that his country gave up its arsenal some 30 years ago. At the time, Kazakhstan had the fourth-largest number of nuclear weapons.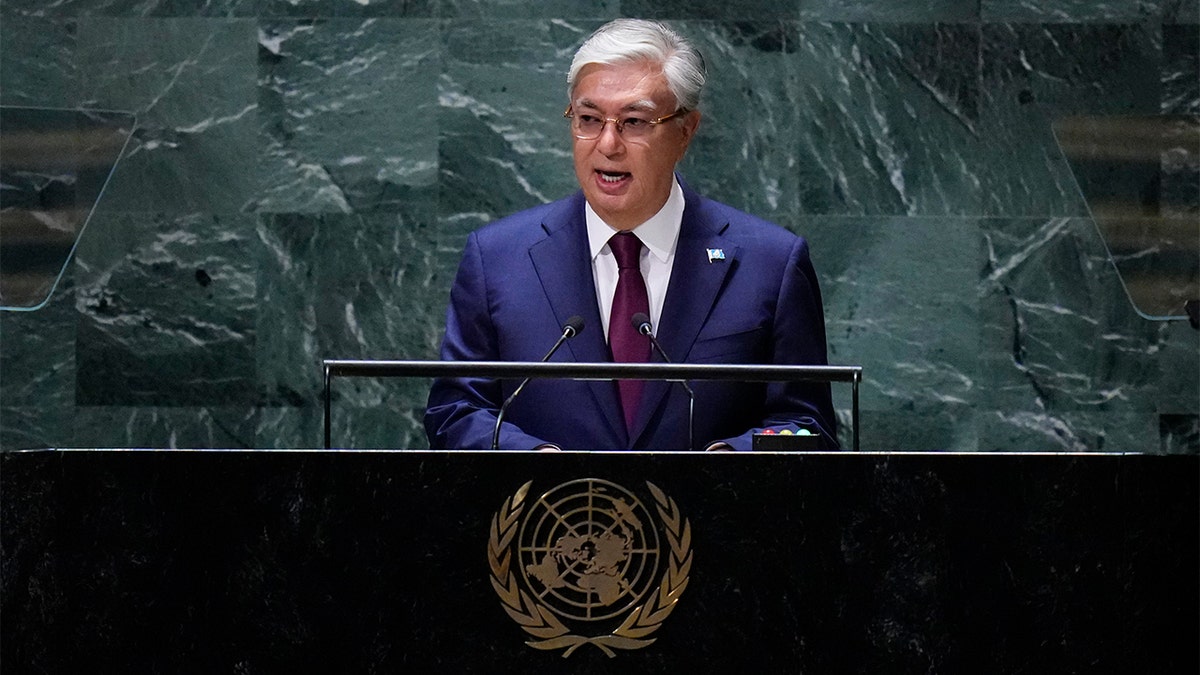 IRAN 
Iranian President Ebrahim Raisi took shots at the West, saying certain nations "are attempting to incite conflicts in different regions employing a cold war mentality." 
Reading from the Koran, Raisi said Iran "has played a significant role in defeating the global arrogance."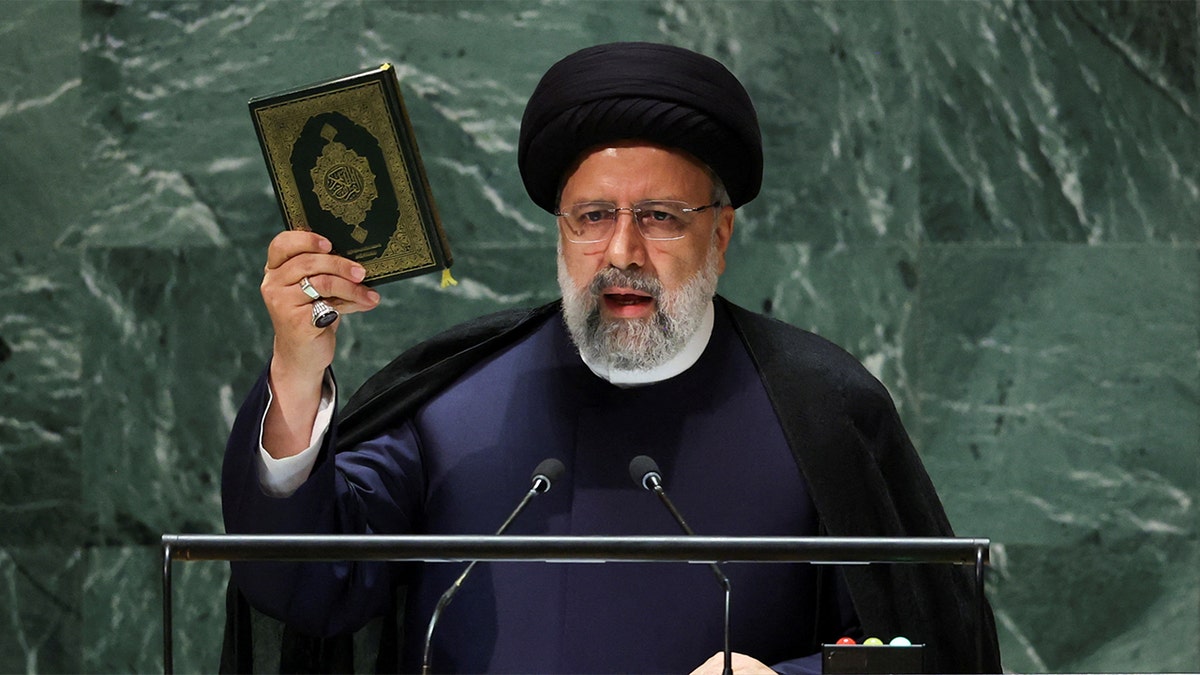 His appearance at the UN General Assembly meeting brought mass protests, with demonstrators denouncing his appearance. Israel's Ambassador to the UN Gilad Erdan left the meeting in protest. 
ALGERIA
Algerian President Abdelmadjid Tebboune homed in on the plight of the Palestinians. He called upon the UN to grant Palestine permanent member status.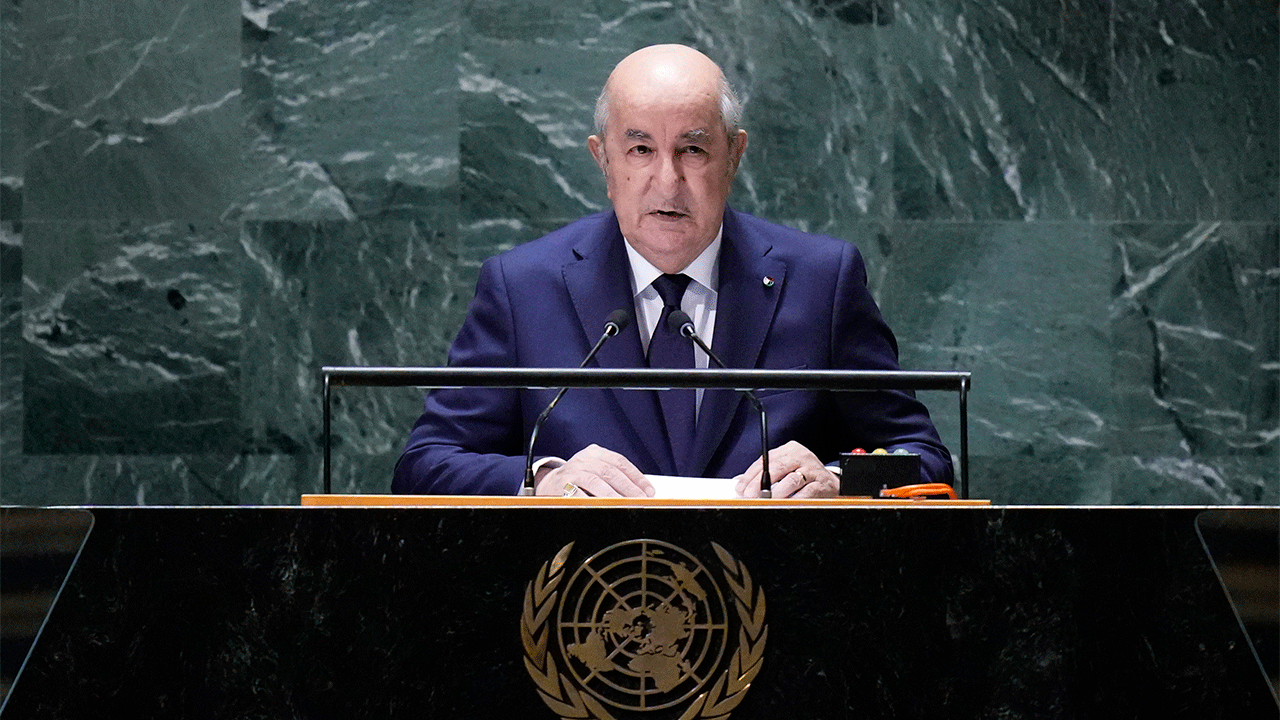 ISRAEL'S AMBASSADOR TO UN DETAINED AFTER LEAVING GENERAL ASSEMBLY TO PROTEST IRANIAN PRESIDENT'S SPEECH
ARGENTINA
President Alberto Fernández referenced the recent flare-up in Azerbaijan, where military forces have started to take control of the contested Nagorno Karabakh region.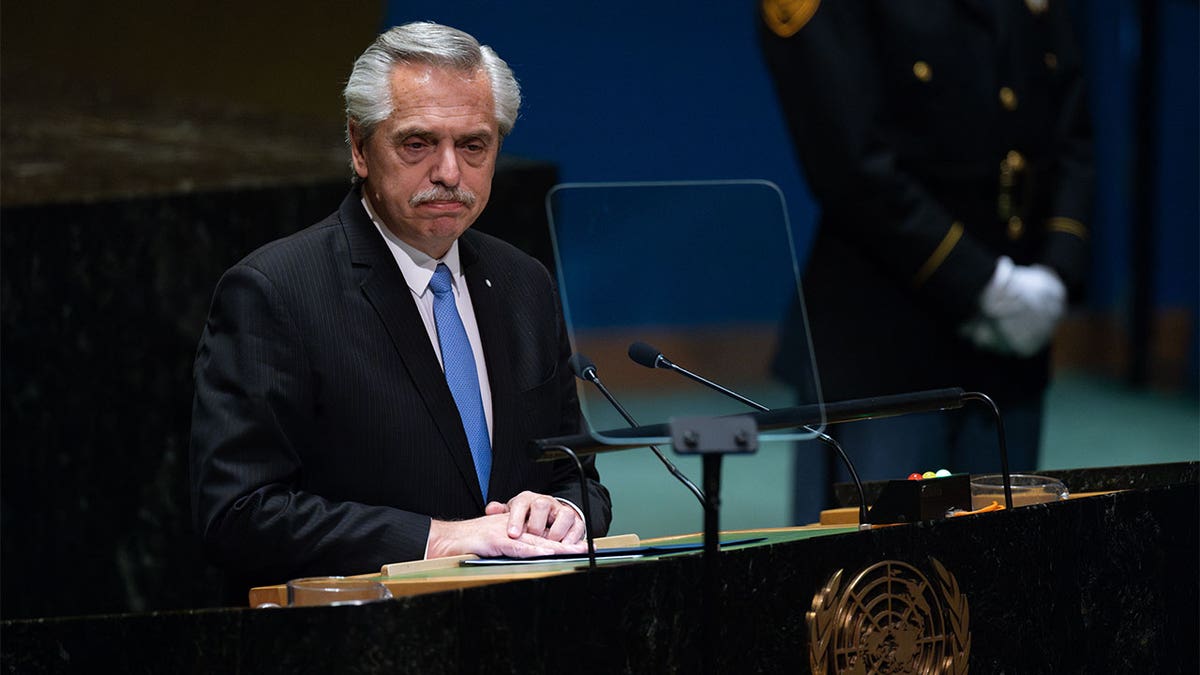 "The international community cannot remain indifferent to this reality," he said. "It must act preventively to avoid new ethnic, racial, religious, or political persecution." 
EL SALVADOR
El Salvadoran President Nayib Bukele touted his country's success in tackling its gang problem.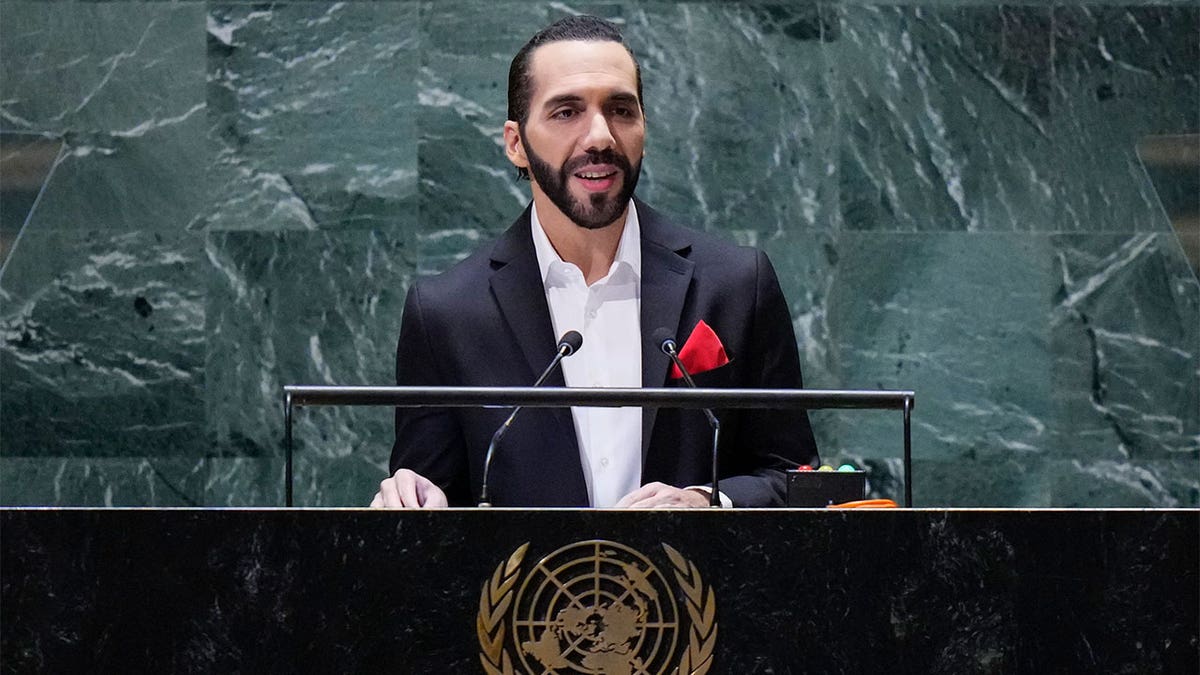 "El Salvador went from being literally the most dangerous country in the world, to being the safest in Latin America," he said. 
KYRGYZSTAN
Kyrgyz President Sadyr Zhaparov said the world was "at a turning point" and that the "negative" changes in the world order were becoming apparent.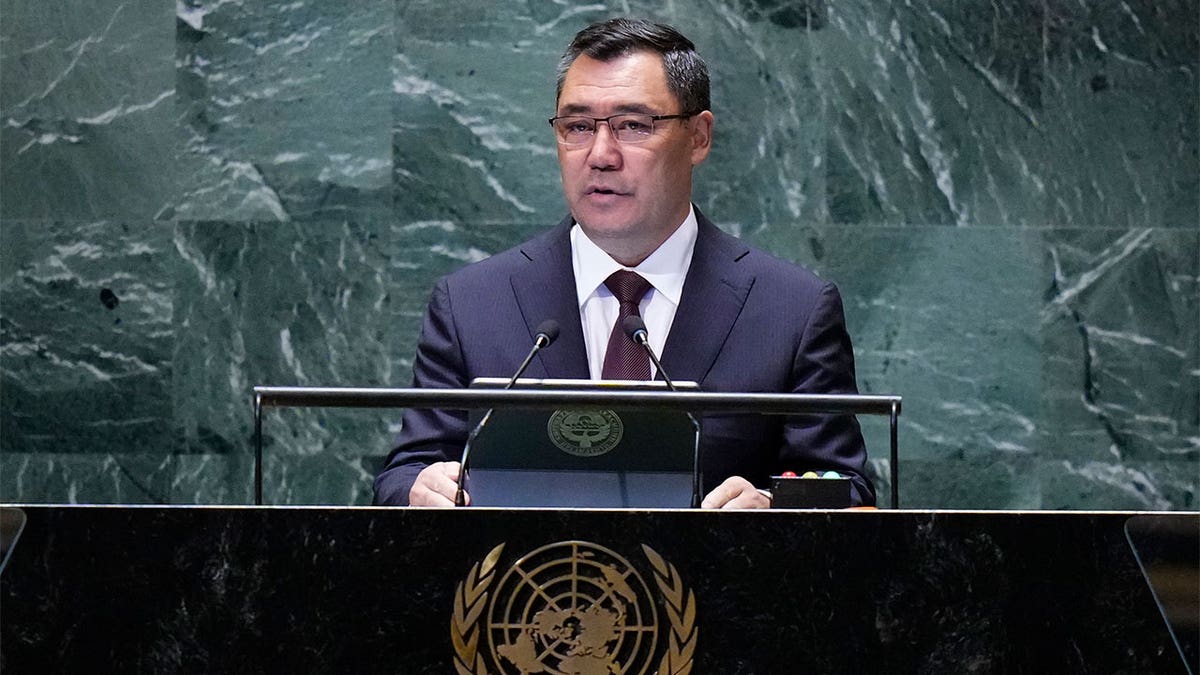 "Geopolitical tensions are moving to the fact that the world is moving towards fragmentation, into regional, sub-regional, financial blocs and systems," he said. "It is also obvious that the governments of various countries will be compelled or forced to make economic, technological, and geopolitical choices." 
PARAGUAY
Paraguayan President Santiago Peña Palacios warned that multilateralism faces "very visible challenges in terms of efficacy and legitimacy."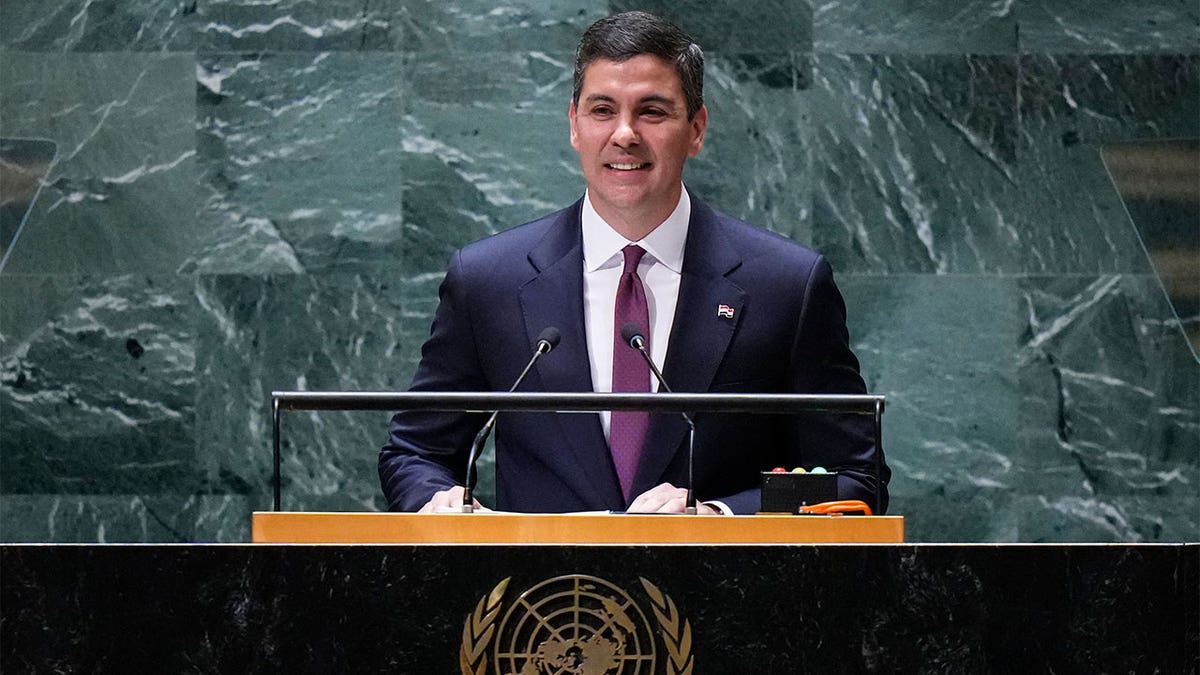 "In a world of so much wealth, levels of poverty and inequality continue to be stubbornly high," he said, adding that current institutions were ill-equipped to tackle the migration crisis, climate change, and transnational climate.  
PERU 
Peruvian President Dina Ercilia Boluarte Zegarra touted her humble upbringing that led her to become the first female president of Peru. 
She said her administration has managed to restore order after an unsuccessful self-coup attempt by her predecessor in December.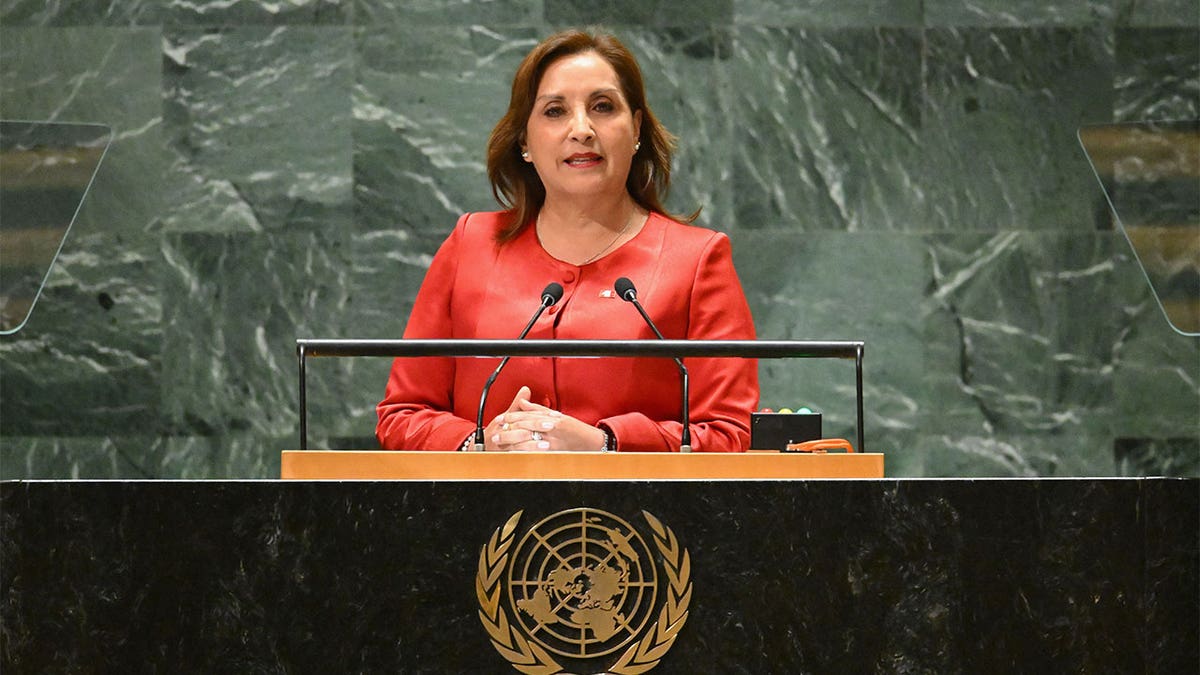 "Eradicating poverty is the greatest challenge facing the world and constitutes an essential prerequisite for sustainable development," she said. "This is the main objective of my government and it is why we are committed to the implementation of the sustainable development goals of the 2030 agenda." 
MOZAMBIQUE
Mozambican President Filipe Nyusi said the world continues to be faced "with interconnected crises that undermine" the Assembly's sustainability goals.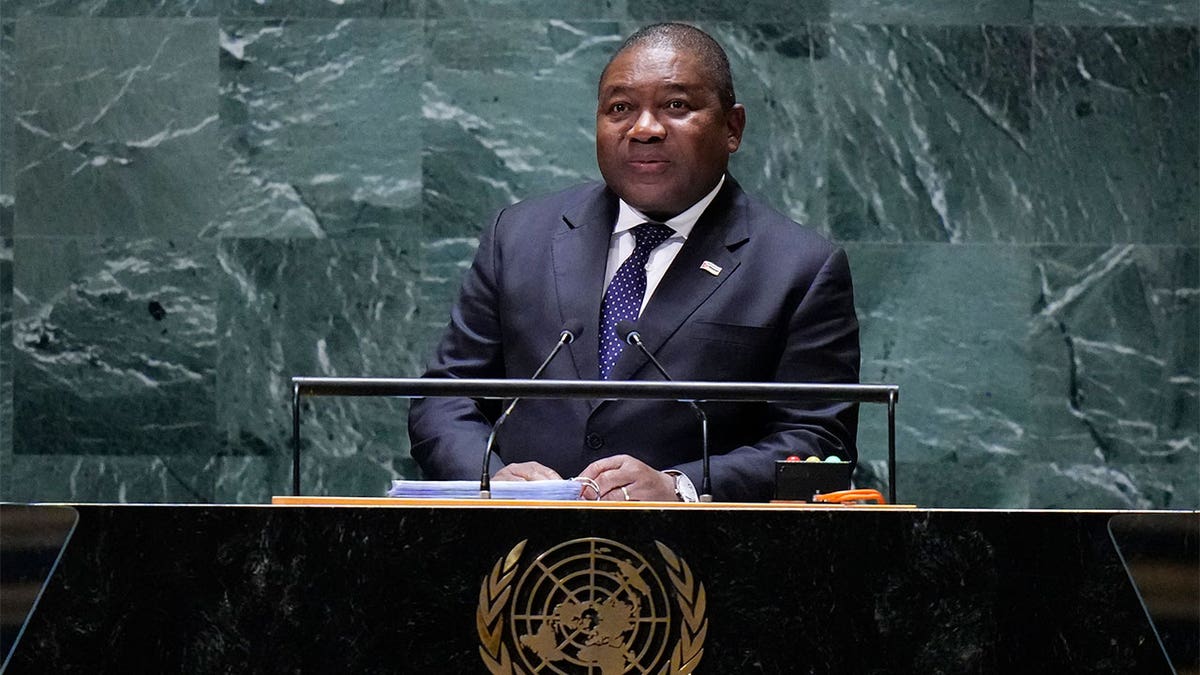 "Indeed the COVID-19 pandemic, natural disasters rising from climate change, and armed conflicts including terrorism [and] violent extremism causes millions of people to continue living in poverty without adequate food and without access to education and health services," he said. 
PANAMA
Panamanian President Laurentino Cortizo Cohen reiterated his country's commitment to the 2030 agenda and its 17 sustainability goals. He said his government was pursuing measures to tackle poverty.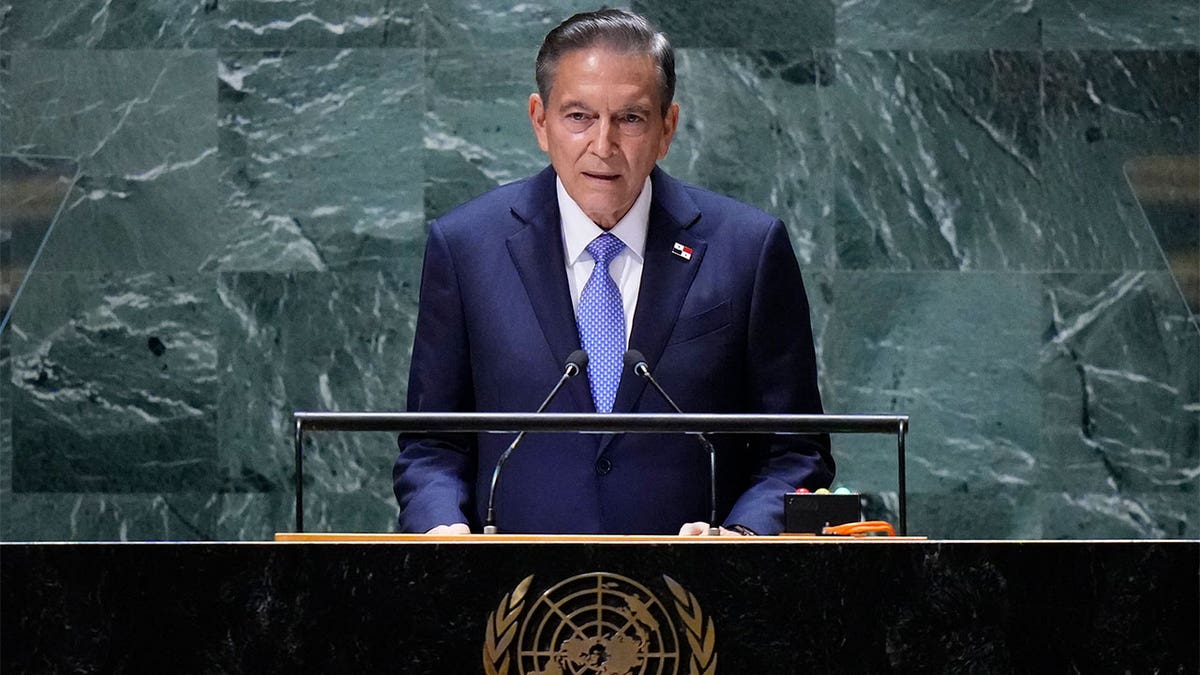 He noted his country's particular vulnerability amid rising sea levels from climate change. 
NIGERIA 
President Bola Tinubu lamented that "many proclamations have been made, yet our troubles remain close at hand." 
He railed against "exploitation" from abroad, saying such practices have exacted a heavy toll on Africa's ability "to progress."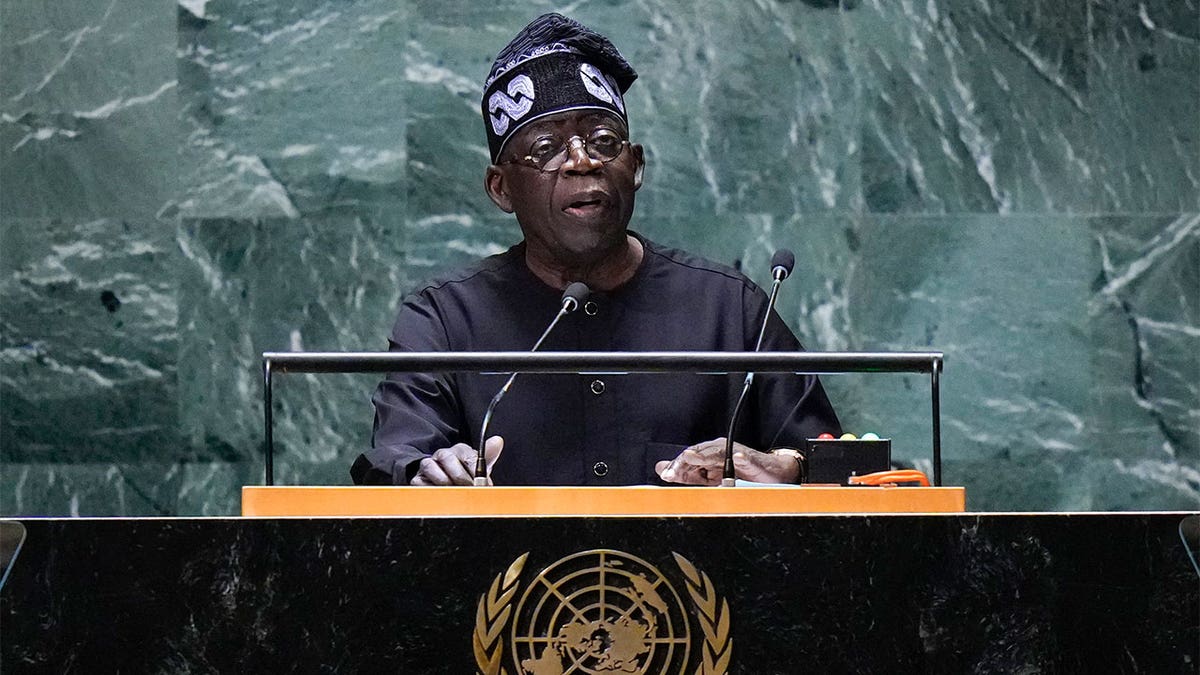 "If this year's theme is to mean anything at all, it must mean something special, particularly to Africa," he said. 
URUGUAY 
Uruguayan President Luis Lacalle Pou said the nations of the well-being of the nations of the world were "intrinsically linked to the common good." 
"We need to be aware of this, accept it, and act as a result," he said. 
He ended his speech by urging nations to condemn Russia's war against Ukraine and stand with the Ukrainian people.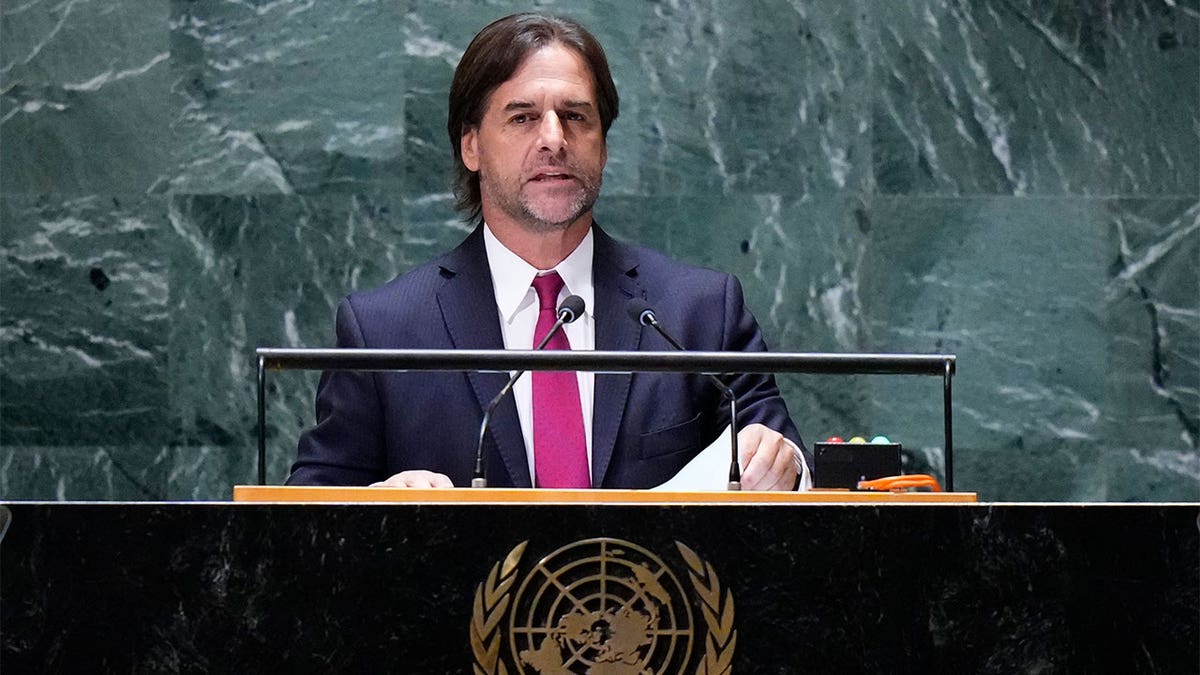 CZECHIA 
Czech President Petr Pavel denounced Russia's aggression against Ukraine, recounting his experience touring war-ravaged areas.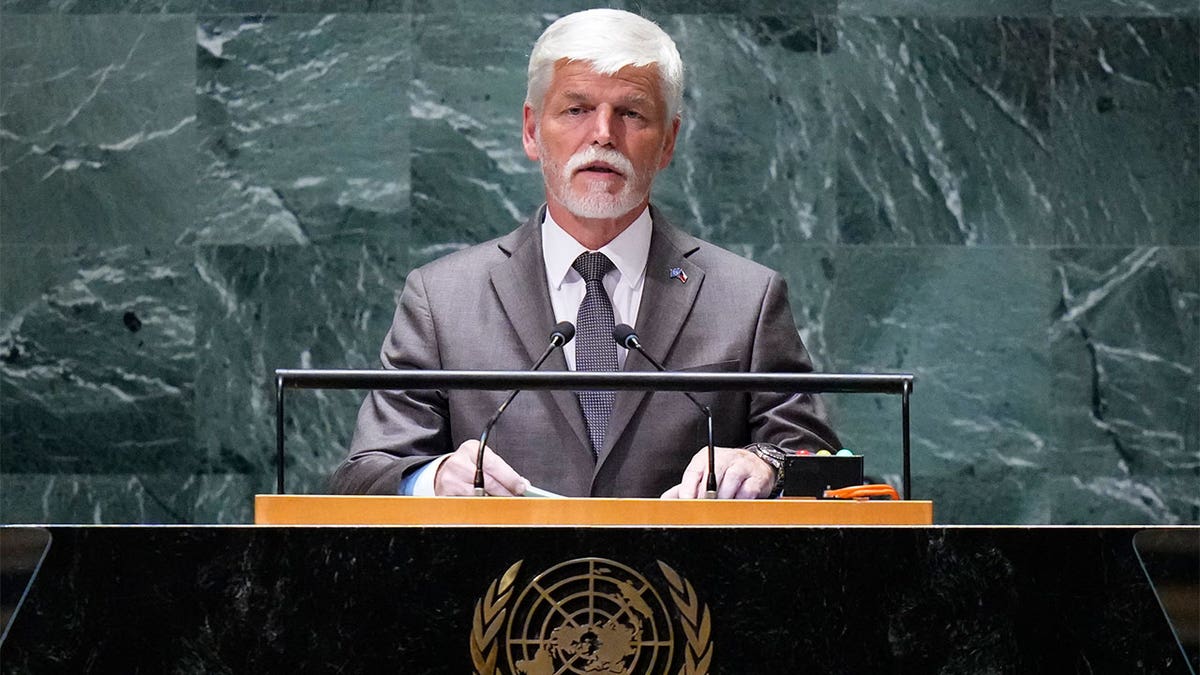 "Russia must unconditionally withdraw all troops from the entire territory of Ukraine within its internationally recognized borders. Russia's leaders must be held accountable for the crime of aggression against its neighbor," he said. 
PALAU
Palauan President Surangel Whipps, Jr. said his nation was struggling under the twin issues of climate change and the high cost of imported food.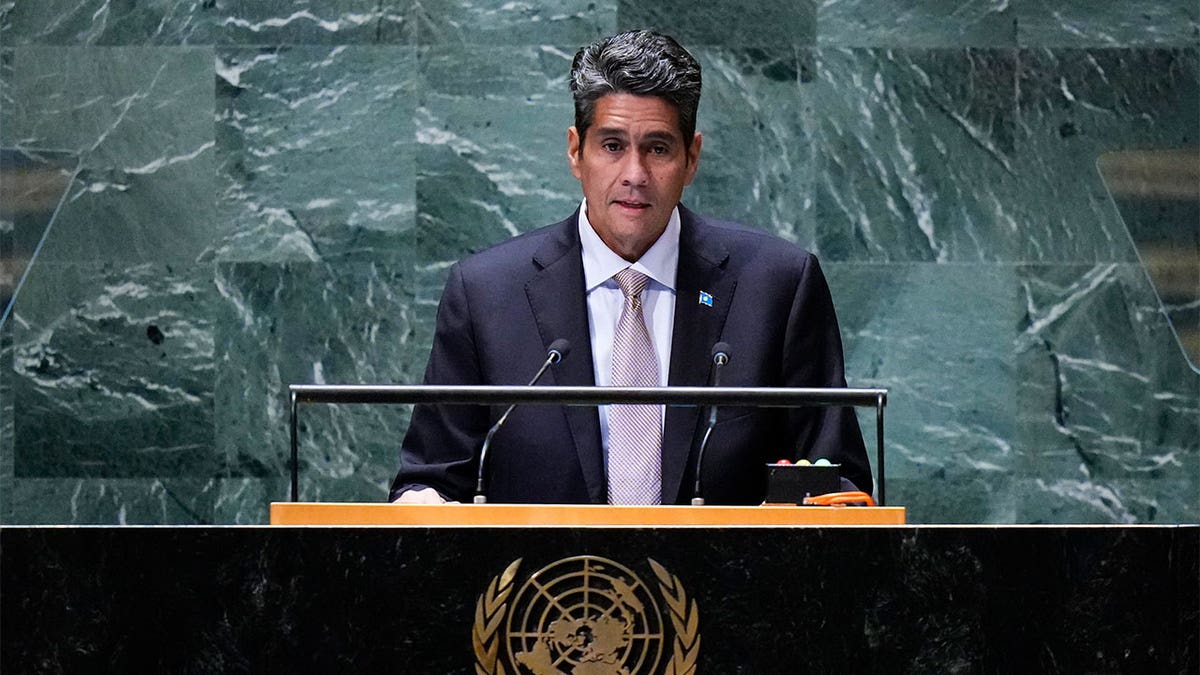 "Like other [Small Island Developing States] Palau is working to build a diverse and resilient economy," as he recounted his nation's struggles with a downturn in the economy, heavily reliant on tourism. 
SENEGAL
Senegalese President Macky Sall said that since the General Assembly's last session, "the state of the world has not improved." 
"For millions of people, daily life is one of fear, violence, poverty, and inequalities," Sall said, noting the social and economic impact from the COVID-19 pandemic.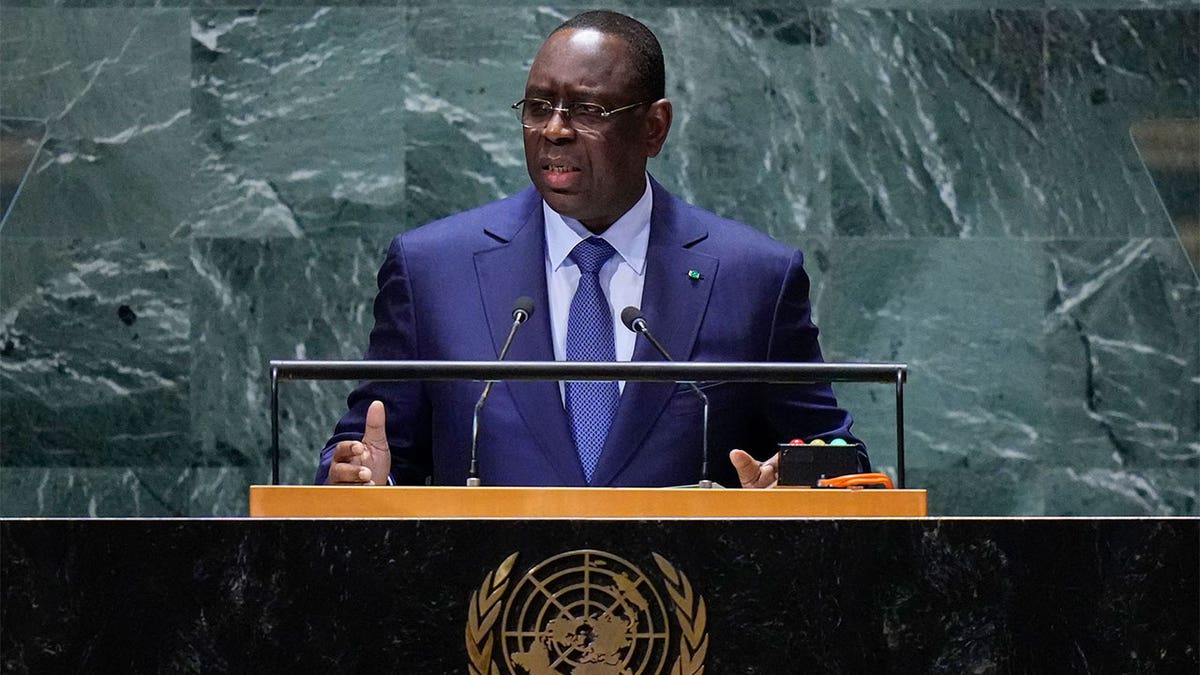 "Climate change has reached an unprecedented level. The tragedy of illicit migration reminds us of the need to implement the global compact for safe, orderly, and regular migration." 
GERMANY
Germany Chancellor Olaf Scholz invoked his own country's divisive history and eventual reunification to underscore the importance of collaboration.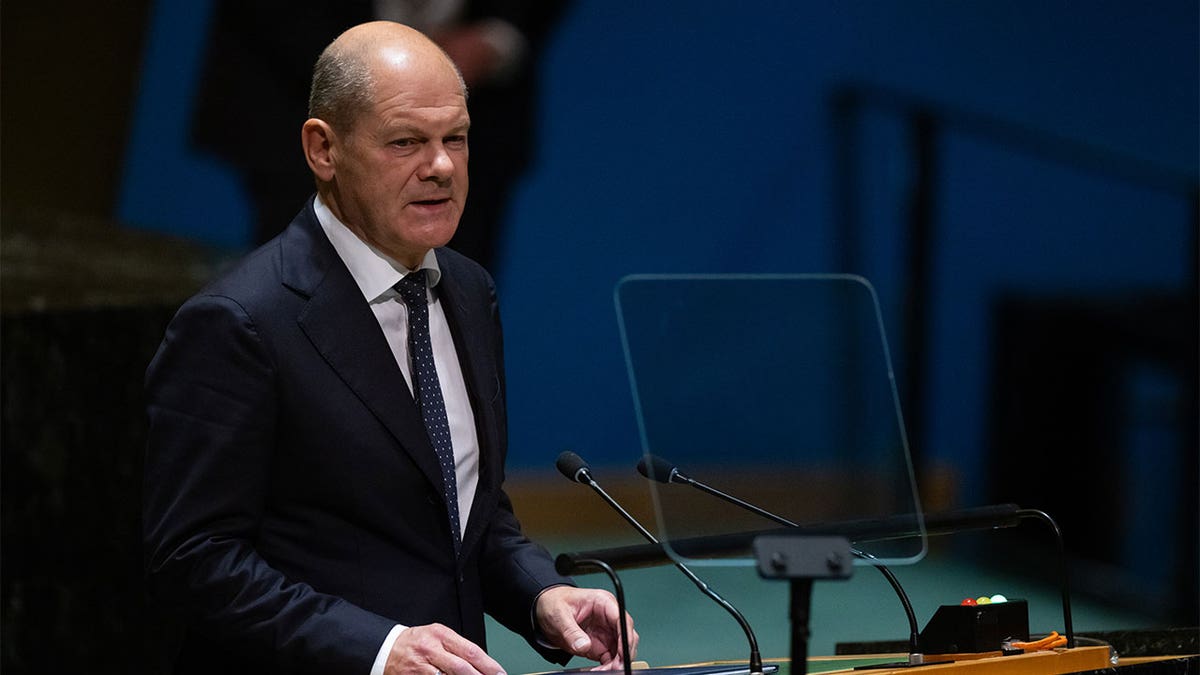 "In a world in which we are increasingly dependent on each other, a policy for peace must not stop at our own doorstep." 
JAPAN 
Japanese Prime Minister Fumio Kishida said the world stands at a "historical inflection point."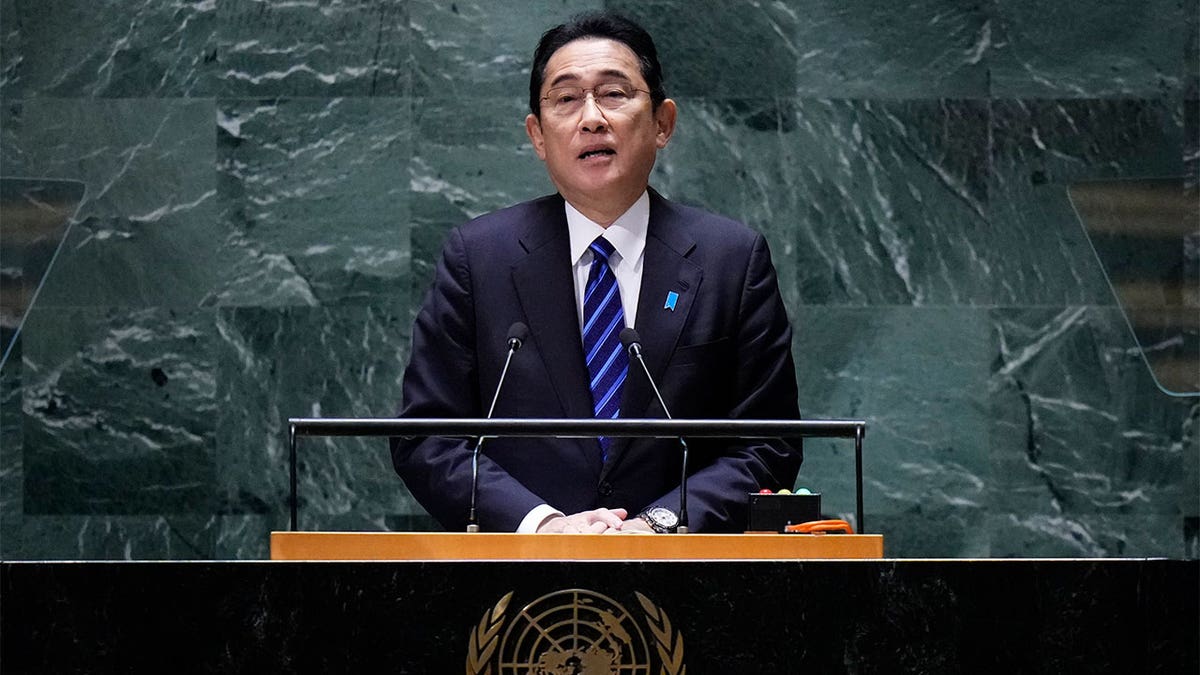 He said the global community should respond to "please of vulnerable people seeking help and work towards a world filled with cooperation and not division and confrontation."
"This is my message to all the leaders of the member states," he said. 
Fox News Digital's Chris Pandolfo and The Associated Press contributed to this report.

Cleveland Browns tight end David Njoku burned on face, arm in home accident while lighting fire pit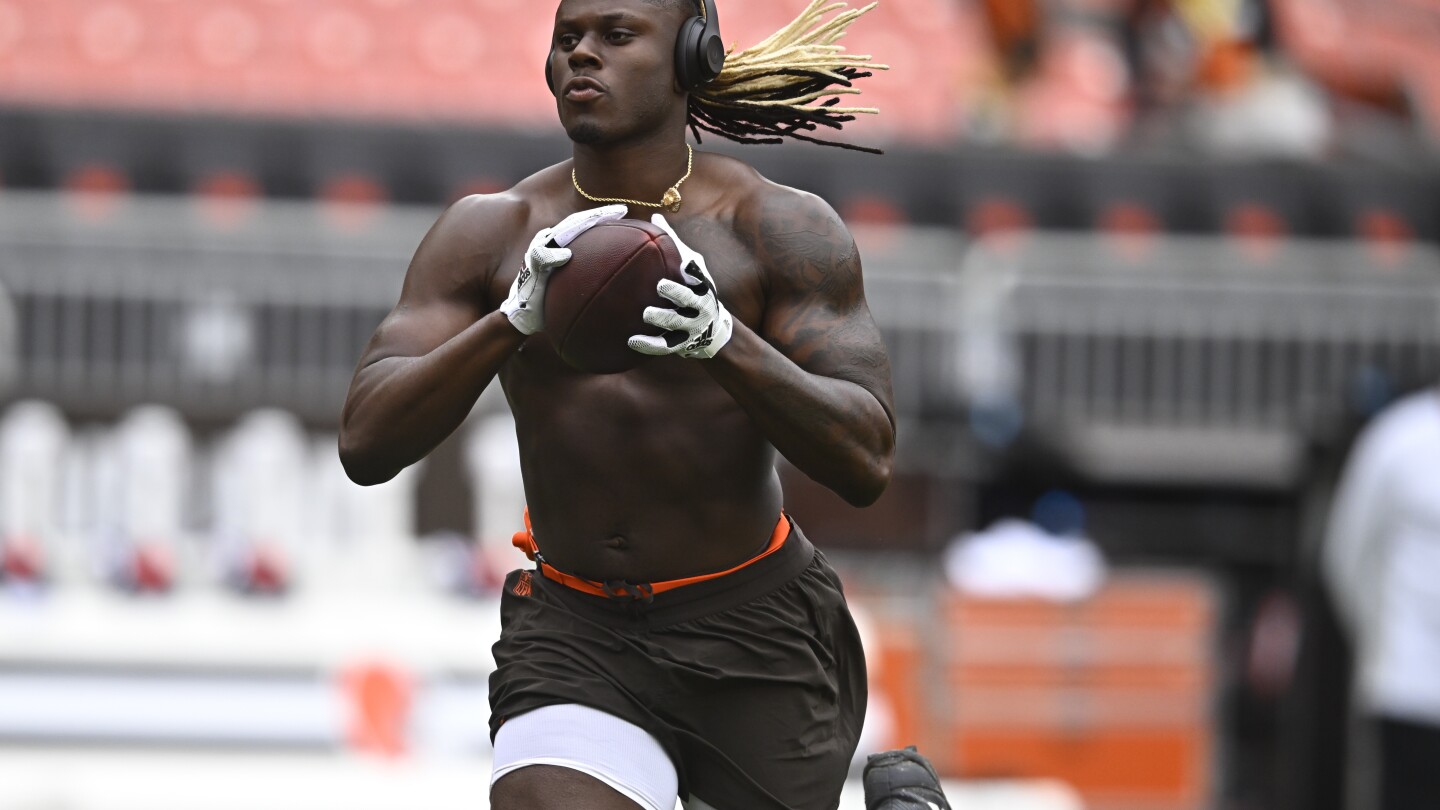 CLEVELAND (AP) — Cleveland Browns tight end David Njoku suffered burns to his face and arm in an accident at home while lighting a fire pit.
Njoku was added to the injury report on Saturday and listed as questionable for Sunday's home game against the Baltimore Ravens.
It's not immediately known when the accident took place or the severity of Njoku's injuries. However, his agent Malki Kawa, posted on social media that the 27-year-old tight end "is OK." Kawa thanked "everyone for reaching out."
Njoku, who is in his seventh season with Cleveland, has 10 catches for 92 yards this season. He's a solid blocker and coach Kevin Stefanski noted that Njoku has been a major contributor on several big plays through three games.
Njoku's injury further complicates things for the Browns (2-1), who could be without starting quarterback Deshaun Watson against the Ravens. Watson was limited in practice this week with a shoulder injury and is also questionable.
If Watson can't play, rookie Dorian Thompson-Robinson, a fifth-round pick from UCLA, will make his first NFL start. Thompson-Robinson, who had a strong training camp and preseason, took the majority of snaps with Cleveland's starting offense this week.
The Browns elevated tight end Zaire Mitchell-Paden from the practice squad in case Njoku is inactive.
Quarterback P.J. Walker was also brought up from the practice squad as insurance for Watson's situation.
___
AP NFL: https://apnews.com/hub/nfl
Russian Paralympians cannot use flag at Paris games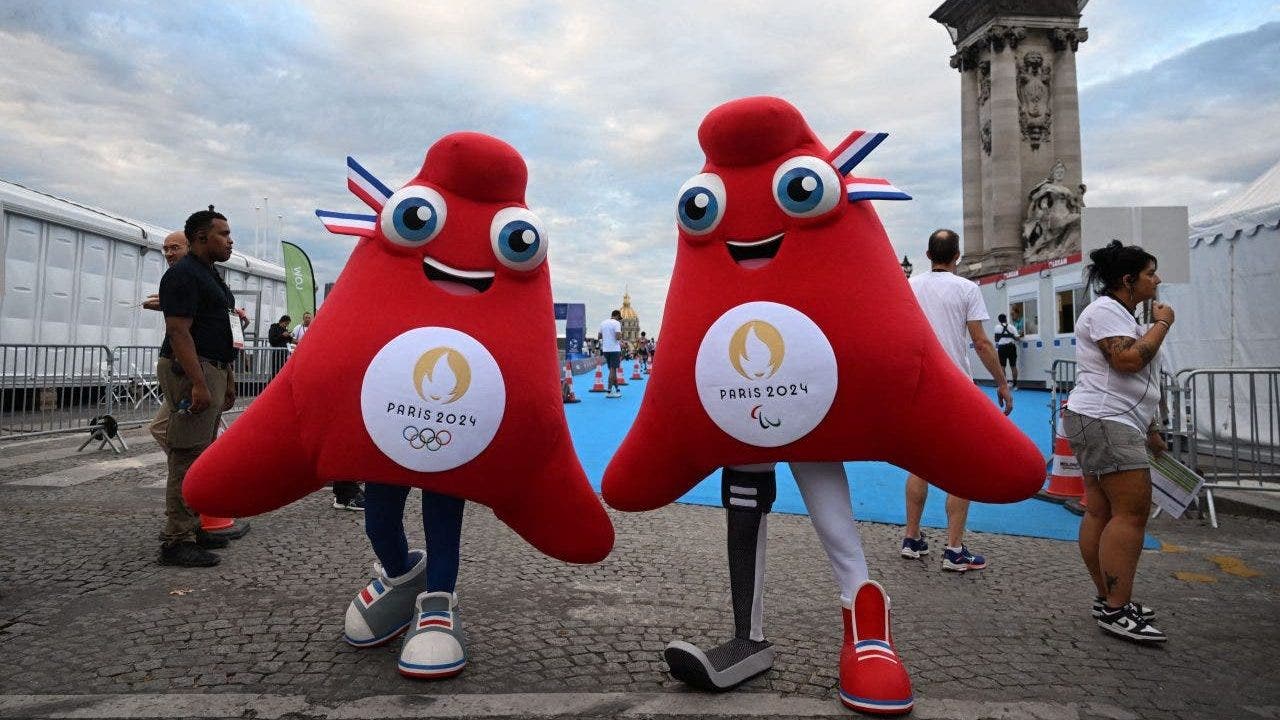 Russian athletes competing at the 2024 Paralympics in Paris will not be allowed to use their nation's flag. 
The International Paralympic Committee (IPC) voted Friday on the eligibility of Russian athletes, allowing individuals to compete under neutral banners. 
Russia has been banned from the Olympic and Paralympic communities since the invasion of Ukraine in 2022. 
The specific parameters for athletes from Russian ally Belarus are also yet to be decided. 
RUSSIA, BELARUS NOT OFFICIALLY INVITED TO 2024 PARIS OLYMPICS, IOC SAYS
The IPC voted Friday not to fully ban Belorussian athletes but has not yet decided if they can compete representing their country.
The Russian Olympic Committee is not boycotting the Paris games and has voiced support for athletes wishing to compete as neutral individuals.
INTERNATIONAL PARALYMPIC COMMITTEE OVERTURNS SUSPENSION OF RUSSIA, BELARUS MEMBERSHIPS, ATHLETES STILL BARRED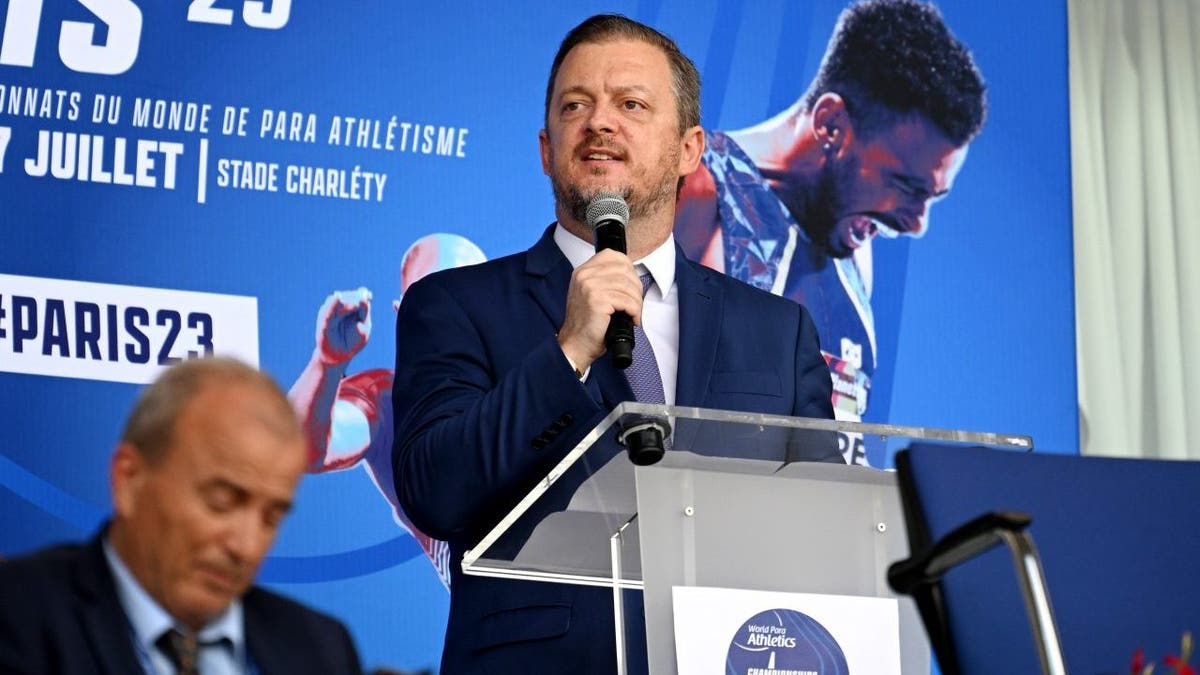 "Boycotting the Games leads to nowhere," said Russian Olympic Committee President Stanislav Pozdnyakov, according to The Moscow Times.
He added, "We live together in a free state. Every person can, if they so wish, take the path."
International bodies have struggled to accommodate Russian and Belorussian athletes' participation in the games since their ban was imposed.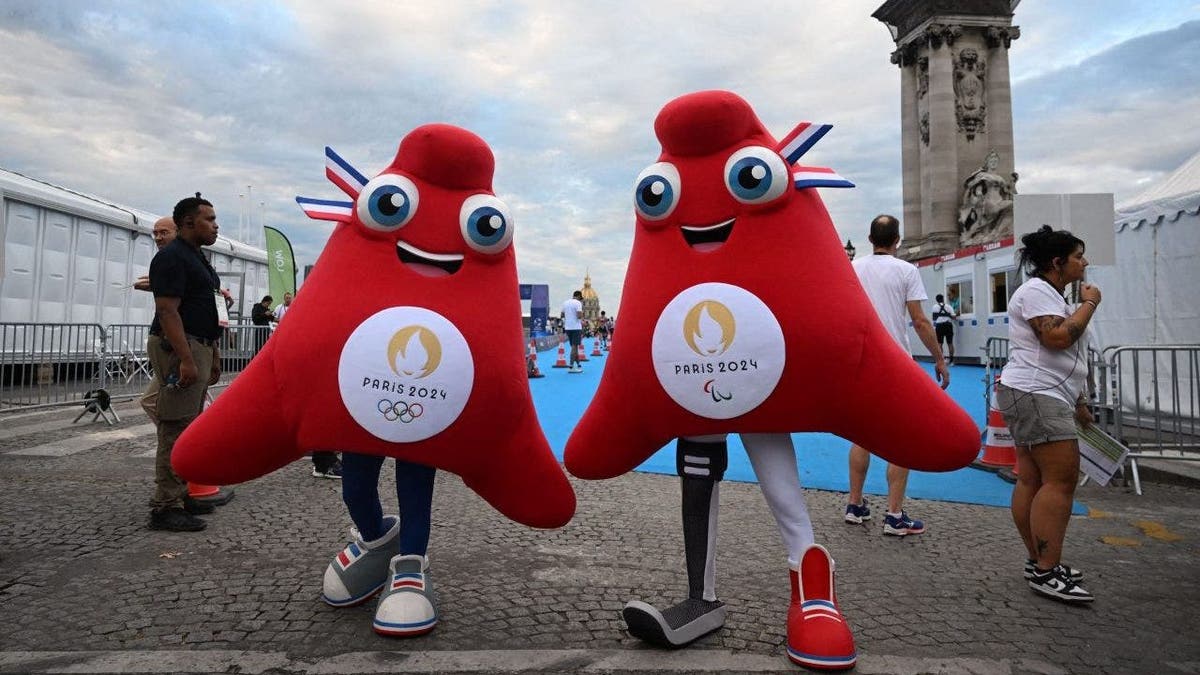 In anticipation of the Olympic and Paralympic games, the Ukrainian government loosened restrictions on participating in sporting events with Russian athletes.
In a July decision, the Ukrainian government said it would be narrowing the focus of its ban on sports matches against Russian competitors.
Moving forward, Ukrainian athletes will be allowed to compete against Russian athletes not representing their home country.
More than 80 percent of ethnic Armenians flee Nagorno-Karabakh
An ethnic Armenian exodus has nearly emptied Nagorno-Karabakh of residents since Azerbaijan attacked and ordered the breakaway region's fighter groups to disarm, the Armenian government has said.
Nazeli Baghdasaryan, the press secretary to Armenian Prime Minister Nikol Pashinyan, said on Saturday that 100,417 people had arrived in Armenia from Nagorno-Karabakh, which had a population of approximately 120,000 before Azerbaijan reclaimed the region in a lightning offensive last week.
A total of 21,043 vehicles have crossed the Hakari Bridge, which links Armenia to Nagorno-Karabakh, since last week, Baghdasaryan said. Some lined up for days because the winding mountain road that is the only route to Armenia became jammed.
"The speed of it has caught everyone, including the Armenian authorities and the UN by surprise," said Al Jazeera's Bernard Smith.
The departure of more than 80 percent of Nagorno-Karabakh's population raises questions about Azerbaijan's plans for the enclave that was internationally recognised as part of its territory.
"[In Nagorno-Karabakh] we're seeing scenes of eerie silence, empty streets, empty shops, and vacant homes," said Al Jazeera's Osama Bin Javaid, reporting from Horadiz. "Just a fraction of the population remains in this enclave where people have been assured that they will not be persecuted by Azerbaijani forces as they take control of these areas."
The region's separatist ethnic Armenian government said Thursday it would dissolve itself by the end of the year after a three-decade bid for independence.
'Ethnic cleansing'
Pashinyan has alleged the ethnic Armenian exodus amounted to "a direct act of an ethnic cleansing and depriving people of their motherland".
Azerbaijan's Ministry of Foreign Affairs strongly rejected the characterisation, saying the mass migration by the region's residents was "their personal and individual decision and has nothing to do with forced relocation".
However, Luis Moreno Ocampo, a former ICC chief prosecutor, told Al Jazeera that it is "obvious" what is happening is ethnic cleansing, saying that "the legal description is called genocide."
"It's an excuse that the Azerbaijan government saying, 'oh, [leaving] was voluntary' after they were bombing them and were starving them to death for months," Ocampo said.
During three decades of conflict in the region, Azerbaijan and the separatists backed by Armenia have accused each other of targeted attacks, massacres and other atrocities, leaving people on both sides deeply suspicious and fearful.
While Azerbaijan has pledged to respect the rights of ethnic Armenians in Nagorno-Karabakh, most are fleeing because they do not trust Azerbaijani authorities to treat them humanely or guarantee their language, religion and culture.
"None of the people we've spoken to have confidence in the Azerbaijan government's claim that their security would be guaranteed if they decided to stay," said Smith, Al Jazeera's correspondent in Yerevan.
"They're frightened because they fear, despite Azerbaijan's assurances, they fear they will be treated as the losers and the Azerbaijanis will come in as the victors," he said.
The office of Italy's prime minister said on Saturday that Armenia has asked the European Union for assistance to help it deal with refugees arriving from Nagorno-Karabakh.
Years of fighting
Azerbaijan's Ministry of Defence said later on Saturday that one of its servicemen was killed by sniper fire from Armenian forces in the border district of Kalbajar, but the alleged incident was swiftly refuted by Armenia.
Interfax news agency cited the Armenian Ministry of Defence as saying the report was incorrect, without giving further details.
After six years of separatist fighting ended in 1994 following the collapse of the Soviet Union, Nagorno-Karabakh came under the control of ethnic Armenian forces backed by Armenia. Then, during a six-week war in 2020, Azerbaijan took back parts of the region in the South Caucasus Mountains along with surrounding territory that Armenian forces had claimed earlier.
In December, Azerbaijan blocked the Lachin Corridor, the only road connecting Nagorno-Karabakh with Armenia, accusing the Armenian government of using it for illicit weapons shipments to the region's separatist forces.
Weakened by the blockade and with Armenia's leadership distancing itself from the conflict, ethnic Armenian forces in the region agreed to lay down arms less than 24 hours after Azerbaijan began its offensive. Talks have begun between officials in the Azerbaijani capital of Baku and Nagorno-Karabakh's separatist authorities on "reintegrating" the region into Azerbaijan.