Man pleads guilty to smuggling-related charges over Texas deaths of 53 migrants in tractor-trailer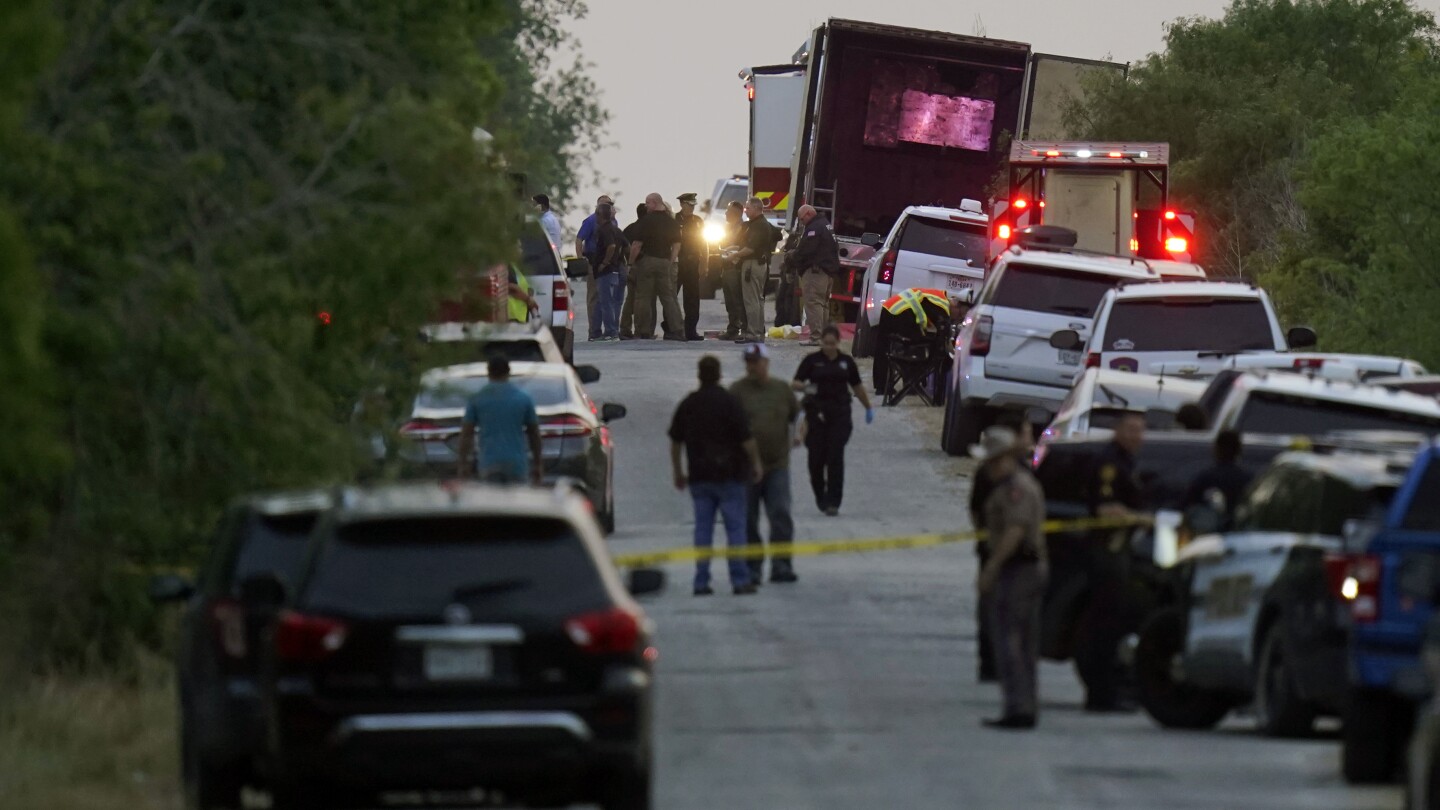 SAN ANTONIO (AP) — One of six men charged in Texas over 53 migrants who died last year in a sweltering tractor-trailer has pleaded guilty for his role in the nation's deadliest human smuggling attempt from Mexico, federal prosecutors said Wednesday.
Christian Martinez, 29, is the first conviction for the U.S. government over the tragedy in San Antonio, where the truck was found on a remote back road in June 2022. The dead included eight children who were riding inside the trailer that had no air conditioning in the sweltering Texas heat.
Martinez pleaded guilty to four smuggling-related charges and faces up to life in prison. Court records show his sentencing is set for Jan. 4.
David Shearer, an attorney for Martinez, declined comment.
Prosecutors said Martinez, who lived in suburban Houston, took the driver of the trailer to San Antonio to pick up the vehicle before it made its way to the U.S. border city of Laredo. Once there, Homero Zamorano Jr. allegedly loaded the migrants into the trailer and made his way back north while Martinez and four other men passed messages and made each other aware of the trailer's progress.
Zamorano and the other defendants are still awaiting trial. Zamorano has pleaded not guilty.
An indictment unsealed in June alleged that the men worked with human smuggling operations in Guatemala, Honduras and Mexico. They allegedly shared routes, guides, stash houses, trucks and trailers, some of which were stored at a private parking lot in San Antonio.
The truck had been packed with 67 people, and the dead included 27 from Mexico, 14 from Honduras, seven from Guatemala and two from El Salvador, authorities in Mexico said.
Migrants paid the organization up to $15,000 each to be taken across the U.S. border. The fee would cover up to three attempts to get into the country, according to the indictment.

Brussels asks airlines to agree on standard luggage sizes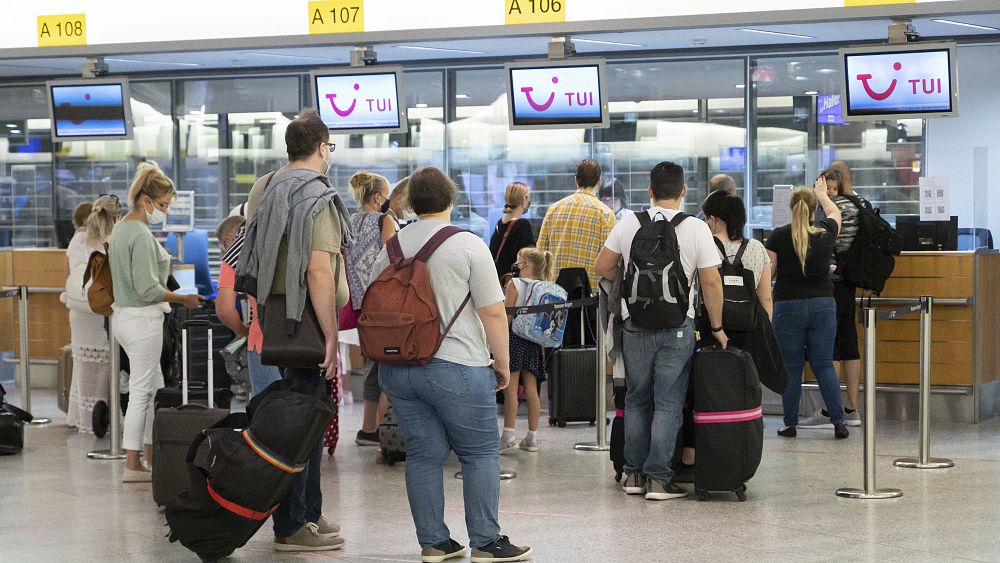 The European Commission has asked airlines to standardise their luggage sizes in order to make things simpler for travellers.
A lack of common measures often causes confusion among airlines' customers and leads to hidden extra costs.
Many people find it difficult to understand what size items are allowed on board for free, prompting the Commission on Wednesday to make the request to airlines. 
Earlier this year, the European Parliament asked for a standardisation of airlines' carry-on luggage rules. But instead of proposing measures, the Commission said it prefers to let the industry come up with the rules itself.
"This information should be provided to the travellers from the very beginning to know exactly when you buy a ticket what you are actually buying and what kind of luggage you can bring either on board or in the haul?" Adina Vălean, the European Commissioner for Transport told reporters in Brussels.
"That being said, we reserve our right that, if nothing happens in a reasonable amount of time, we will step in." 
At the same time, the Commission also proposed a series of measures to reinforce passengers' rights legislation, with a special focus on the reimbursement of delayed or cancelled trips, after it discovered gaps when it comes to intermodal trips.
One way the Commission is trying to solve this is via a standard EU-wide reimbursement and compensation form. 
But it will also try to help passengers be more aware of their rights, especially if they are travelling by different means of transport or booked the trip through an intermediary.
Nordic Crime Novel 'Big Brother' Set to be Adapted for TV by Act 4 (EXCLUSIVE)
Icelandic production company Act 4 is set to turn Skuli Sigurdsson's award-winning Nordic crime novel "Big Brother" ("Stóri bróðir") into a TV drama.
Act 4, founded earlier this year by a group of top Icelandic industry execs, has optioned Sigurdsson's chilling debut novel with actor, producer and Act 4 co-founder Olafur Darri Olafsson ("The Tourist") on board as showrunner and executive producer.
"Big Brother" tells the story of a detective and an investigative journalist who set out to solve a "mysterious case," according to the logline. "Men are being severely beaten on every full moon by what seems like the same perpetrator. But the story is also told from the perspective of the perpetrator, who considers his crimes an act of retribution for old wrongdoings."
The story asks tough questions of its audience when it comes to crime and punishment as well as being a critique of society's failure to properly deal with sexual violence.
"I read 'Big Brother' last summer after hearing good things from multiple source," said Olafsson, who is next set to appear in Season 2 of Apple TV+ hit "Severance." "I was immediately drawn to the book, it is fantastically written, fast-paced and just felt so right to develop into a series. Our team at Act 4 is really excited about bringing Skuli's book to the big screen and we know that fans of crime dramas will love it. It's been a long time since I read such a fantastic debut novel as 'Big Brother.' I would also suggest that people watch out for Skuli's books in the future as he just released his sophomore novel, 'The Man from São Paulo.'"
Sigurdsson said: "I am most pleased and honored that Act 4 will be making a television series based on my novel 'Big Brother.' This has been in the works for some time and it is a pleasure to begin the journey. It's an honour to work with a production firm as excellent as Act 4. Their vision for 'Big Brother' is strong and I look forward to the undertaking with Olafur Darri and company."
As Variety exclusively reported, Act 4 was launched in January by Olafsson, Hörður Rúnarsson ("Black Sands"), Jónas Margeir Ingólfsson ("The Minister") and Birkir Blær Ingólfsson ("Thin Ice") after they joined forces with a group of international investors to develop, finance and produce high-end Nordic content.
Imprisoned US Marine vet Paul Whelan assaulted over 'political differences,' Russian news agency reports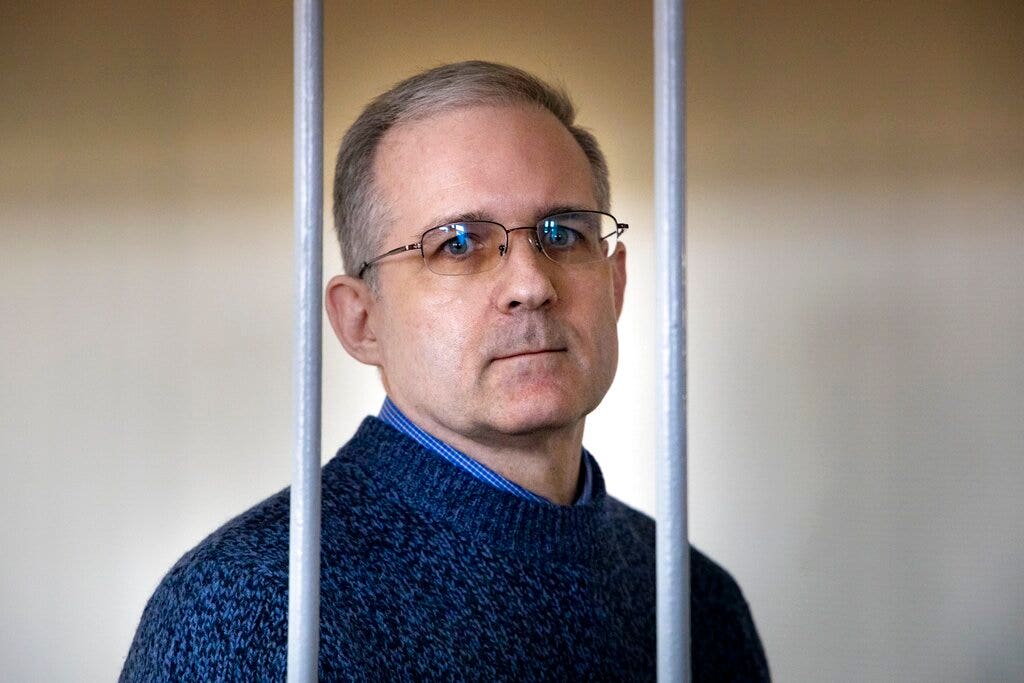 New details have emerged after imprisoned U.S. Marine veteran Paul Whelan was allegedly assaulted by another inmate in a Russian prison.
Whelan, whose family insists he is being held on false charges, suffered an eye injury in a quarrel with another convict, the Mordovian Federal Penitentiary Service told Russian news agency Interfax. 
The agency reported Whelan's assailant is a "convict from Turkey" who allegedly struck the U.S. national "on the basis of political differences." 
"Employees of the institution immediately stopped the illegal actions and took the participants in the conflict to the medical unit," the Federal Penitentiary Service said, according to Interfax. Whelan is reported to have an abrasion under his eye. 
US MARINE VETERAN PAUL WHELAN JAILED IN RUSSIA ATTACKED IN PRISON, FAMILY SAYS
According to the report, the incident was recorded through video surveillance, and an investigation is being conducted for review by police in Mordovia. 
The Whelan family said Paul was assaulted at a labor camp on Tuesday afternoon. David Whelan said his brother was working at a sewing table when a new inmate blocked part of the production line and Paul asked him to move out of the way.
"After repeated requests, the prisoner hit Paul in the face, breaking Paul's glasses in the process, and attempted to hit him a second time," David Whelan said in an email statement. "Paul stood up to block the second hit and other prisoners intervened to prevent the prisoner continuing to attack Paul."
David Whelan said his brother has asked local prosecutors to investigate the alleged attack. 
BIDEN PRISONER EXCHANGE FOR BRITTNEY GRINER LEAVES BEHIND MARINE VETERAN PAUL WHELAN — AGAIN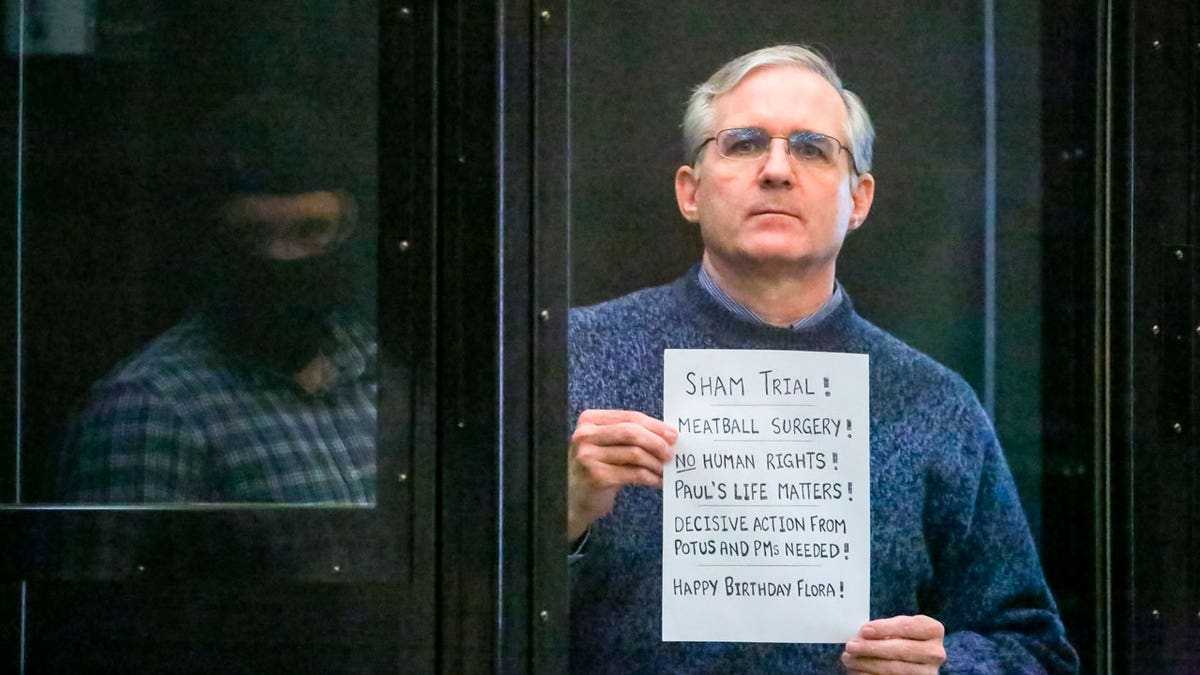 "He is also concerned that these sorts of attacks can occur any time and, due to the various sharp implements in the workshop including the shears the other prisoner was holding today, could escalate into a far more serious attack," David Whelan said. "Paul is a target because he is an American and anti-American sentiment is not uncommon among the other prisoners."
The U.S. State Department told Fox News Digital the U.S. Embassy in Moscow has been in contact with Paul and understands he is receiving medical treatment. 
The State Department also called on Russia to release Whelan and to ensure all U.S. citizens being detained there are safe. 
Whelan was arrested in December 2018 on charges of espionage and spying for the U.S. government and sentenced to 16 years. He and the U.S. have denied the charges as the 53-year-old remains imprisoned at a labor camp in Russia's Mordovia republic.
WHO IS VIKTOR BOUT, RUSSIA'S 'MERCHANT OF DEATH' FREED IN PRISONER SWAP FOR BRITTNEY GRINER?
On Dec. 28, 2018, while staying in a hotel in the Moscow area, Whelan was arrested by the Russian Federal Security Service. At the time, he had reportedly arrived in the Russian capital to attend the wedding of a friend and act as a travel guide for the groom's family. However, Russian officials claimed that Whelan had met with an unnamed Russian citizen who gave the former Marine a USB drive containing classified material.
He was left out of the highly publicized prisoner exchange between the U.S. and Russia last year in which WNBA player Brittney Griner was freed from Russian custody for the release of Russian arms dealer Viktor Bout, nicknamed the "Merchant of Death."
Fox News Digital's Louis Casiano contributed to this report.