German-Italian riff thwarts EU deal on new rules for migration crises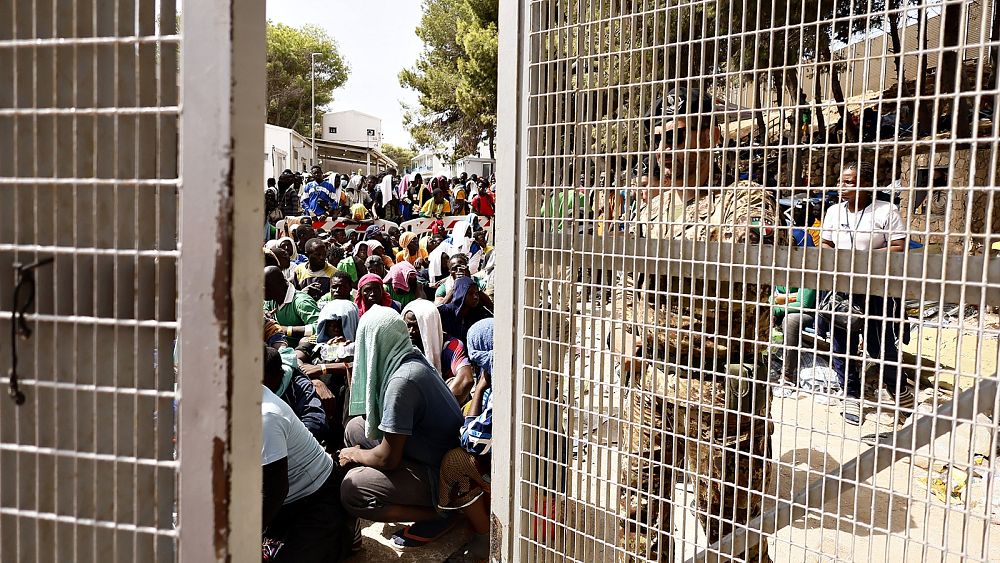 A disagreement between Germany and Italy frustrated on Thursday a highly anticipated deal on the last piece of the European Union's migration reform.
The dispute centred on the humanitarian aid and the search-and-rescue services provided by NGO vessels in the Mediterranean Sea, according to several diplomats with knowledge of the negotiations.
The Italian government considers these vessels to be a "pull factor" that attracts a larger number of asylum seekers to European shores. Germany contests this characterisation and says the boats are indispensable in saving lives at sea.
The quarrel made it impossible to solidify the necessary qualified majority to strike a provisional deal on the so-called Crisis Regulation at the end of a meeting of interior ministers in Brussels, despite multiple statements during the day that suggested a positive outcome was within reach. The regulation foresees exceptional rules to collectively manage mass influxes of migrants.
Spain, the country that currently holds the rotating presidency of the Council of the EU, tabled a new compromise text after Germany signalled it would no longer abstain on the regulation, as it had previously done.
But the unexpected clash with Italy over the wording on NGOs dashed the hopes, leaving ministers without an announcement to make. 
"We're almost at the finish line. There's only a difference around a nuance that involves all member states," said Fernando Grande-Marlaska, Spain's acting interior minister after the meeting. "I don't like to single out individual countries. We just need a bit more time."
Grande-Marlaska said member states had made "important" and "significant" progress over the past few days and that a deal would materialise "in the coming days."
"There are no main political obstacles," said Ylva Johansson, the European Commissioner for Home Affairs. "We will reach an agreement."
Marlaska and Johansson said work would now continue at the ambassadorial level.
Times of exceptional pressure
Under the proposed Crisis Regulation, member states would be allowed to apply tougher measures when a sudden influx of migrants threatens to overwhelm the EU's asylum system.
Governments would be able to keep asylum seekers at the border for longer periods of time while their requests for international protection are being examined. The detention of rejected applicants could also be extended beyond the legal maximum of 12 weeks until the process of return is completed.
The proposed derogations have been criticised by NGOs who believe they could lead to large-scale confinement, degrade the quality of the asylum procedure and increase the risk of refoulement (sending migrants to countries where they face serious harm).
On the other hand, the Crisis Regulation foresees the possibility of fast-tracking the asylum requests of people who are fleeing a particular situation of extraordinary danger, such as an armed conflict. The special scheme would effectively bypass the conventional asylum system, which tends to be cumbersome and time-consuming, and grant refugees immediate access to residence, employment, education and social assistance.
This would resemble the Temporary Protection Directive that was triggered for the first time ever in March last year to provide an accelerated pathway for the millions of Ukrainians who fled Russia's war of aggression and sought shelter in the EU.
During Thursday's meeting, ministers unanimously agreed to extend the Temporary Protection Directive until 4 March 2025.
Germany's U-turn
Until Thursday, four countries were opposed to the Crisis Regulation – Austria, the Czech Republic, Hungary and Poland – while another three were considered abstentions – Germany, the Netherlands and Slovakia.
Berlin's doubts were based on the potential impact the legal derogation could have on human rights, particularly the rights of children and family members, and had so far blocked the qualified majority required to approve legislation in the field of migration.
But a sharp rise in irregular crossings along the border with Poland and the Czech Republic, coupled with upcoming elections in Bavaria and Hesse and a surge of the far-right in opinion polls, ushered a change in the thinking of the ruling coalition.
"If we aren't able to finalise this work, we'll still see misery and deaths in the Mediterranean. We're not going to allow this. We have to act together," said Nancy Faeser, Germany's federal interior minister, who hails from Hesse.
"Even though we feel there's a need for greater change," Nancy Faeser went on, referring to the protection of minors and family members, "we will be assuming our responsibility and today we will accept this compromise brokered by Spain."
Berlin's shift came as a surprise. In fact, Spain had not originally envisioned a formal vote on the Crisis Regulation during the meeting but reacted quickly to seize the opportunity and circulated a new compromise text on Wednesday evening, hoping to get as many countries on board as possible.
The Council's position on this file is the only one missing from the puzzle which is the New Pact on Migration and Asylum.
The Pact is a comprehensive proposal presented by the European Commission in September 2020 that replaces the ad-hoc crisis management of the past decade with a set of clear-cut rules applicable to all member states.
The reform's central piece is a system of "mandatory solidarity" that offers countries three different options to manage migration flows: accept in their territory a number of relocated asylum seekers, pay €20,000 for the return of those whose applications are rejected, or finance operational support, such as infrastructure and personnel.
This system, which was preliminarily agreed upon in a breakthrough moment in early June, is supposed to function on a regular basis while the Crisis Regulation would be triggered only in extraordinary situations that pose a risk to the EU's asylum system.
The text also introduces special rules to deal with episodes of instrumentalisation of migrants, like the border crisis that Belarus orchestrated in the summer of 2021.
The impasse around the Crisis Regulation had become a glaring omission in the bloc's efforts to reform its migration policy and caused the frustration of the European Parliament, which last week decided to pause negotiations on two separate elements of the New Pact until member states unlocked the remaining piece.
"The Spanish presidency is the window of opportunity to conclude the Pact on Migration: it's now or never," Juan Fernando López Aguilar, the socialist MEP who acts as rapporteur for the Crisis Regulation, told Euronews.

'Irish Lives Matter' graffiti in Belfast, signs against 'rehousing' illegal migrants spark hate probe: report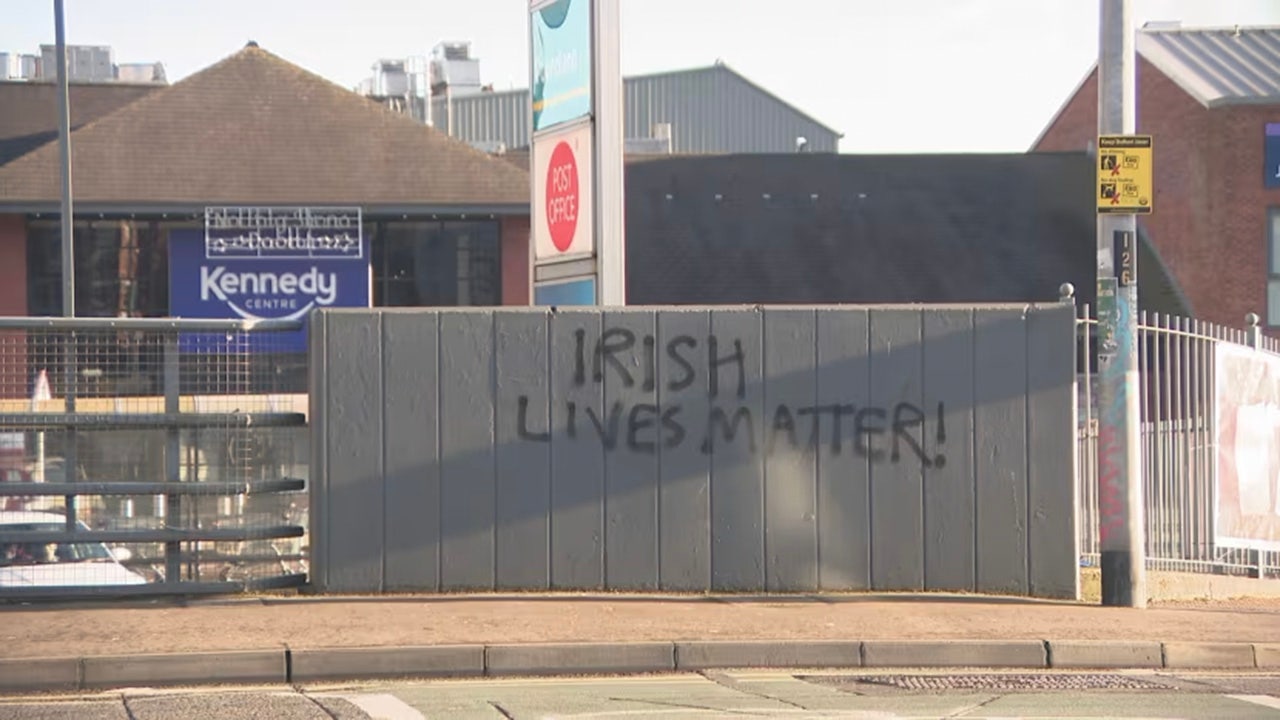 The message "Irish Lives Matter" scrawled in Belfast, Northern Ireland, as well as a sign posted saying one neighborhood would "no longer accept the rehousing of illegal immigrants" are reportedly being investigated by local police as hate-related incidents. The BBC, which also shared photos of the messaging, first reported about the investigation Wednesday. 
People Before Profit's Gerry Carroll, whose social media profile contains various images showing support for the Black Lives Matter movement, condemned the incident in a statement. 
"Vile, intimidatory signs were erected in the Suffolk area calling for immigrants not to be housed there. Meanwhile, 'Irish Lives Matter,' was scrawled on a wall at the Kennedy Centre on Falls Road overnight," Carroll wrote. "Nefarious and far-right elements are seeking to blame migrants, asylum seekers, and refugees for the problems caused by the rich and governments who protect and bolster corporate profits at all costs." 
"We are under no illusions that 'Irish Lives Matter' is a racist slogan which is directly counterpoised to movements against the oppression faced by black people and other ethnic minorities," he said. "In recent days we have seen the chilling effect that the growth and intervention of far-right forces in the South can have on communities who are marginalized," Carroll added, referring to the riots that unfolded across Dublin, the capital of the Republic of Ireland, in response to the stabbing of several people, including a woman and three children, outside a primary school in the city center. Local reports identified the suspect as an Algerian man who had become an Irish citizen after living on welfare in the country for decades. 
IRELAND ANTI-HATE LAW PUSHED IN WAKE OF DUBLIN RIOTS COULD CRIMINALIZE MEMES, POSES FREE SPEECH CONCERNS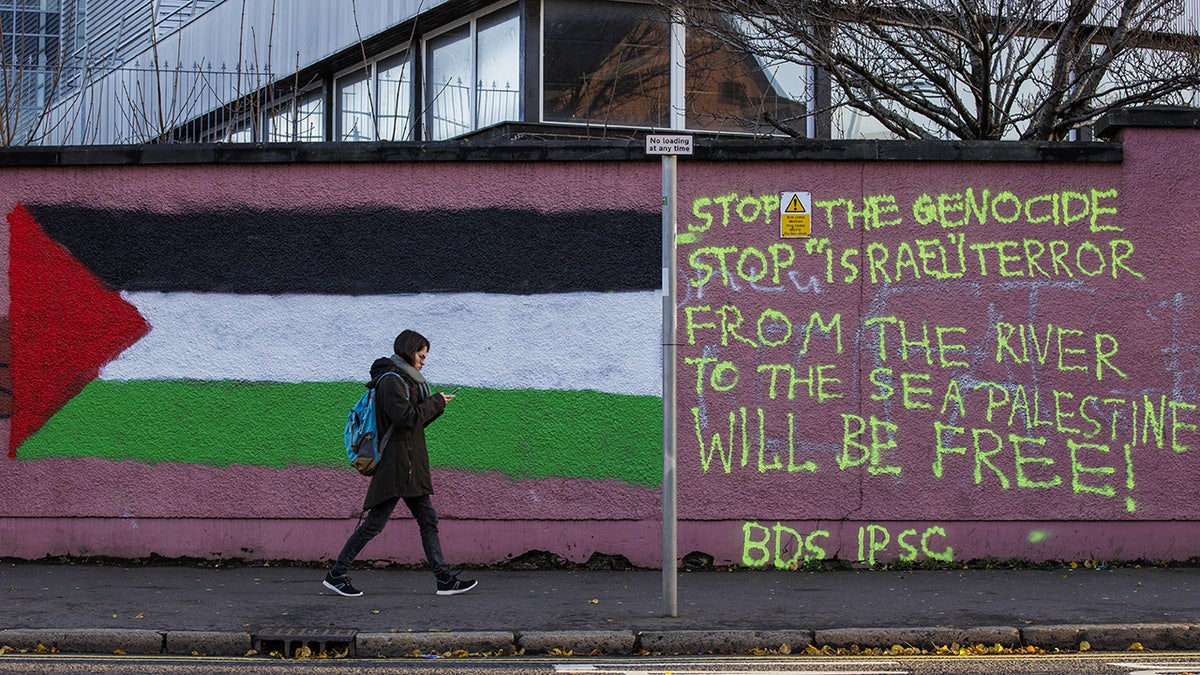 Sinn Féin MP Paul Maskey condemned the signs as "disgraceful," claiming they had been "erected in an attempt to create fear and intimidate people," the BBC reported. 
A BBC photo of one sign posted in the Tildarg Avenue area had a word blurred out, but the outlet said it displayed an "an offensive term while referring to 'other communities'." 
"Political and community leaders must stand together to continue building a safe, welcoming and inclusive society for all," Maskey said.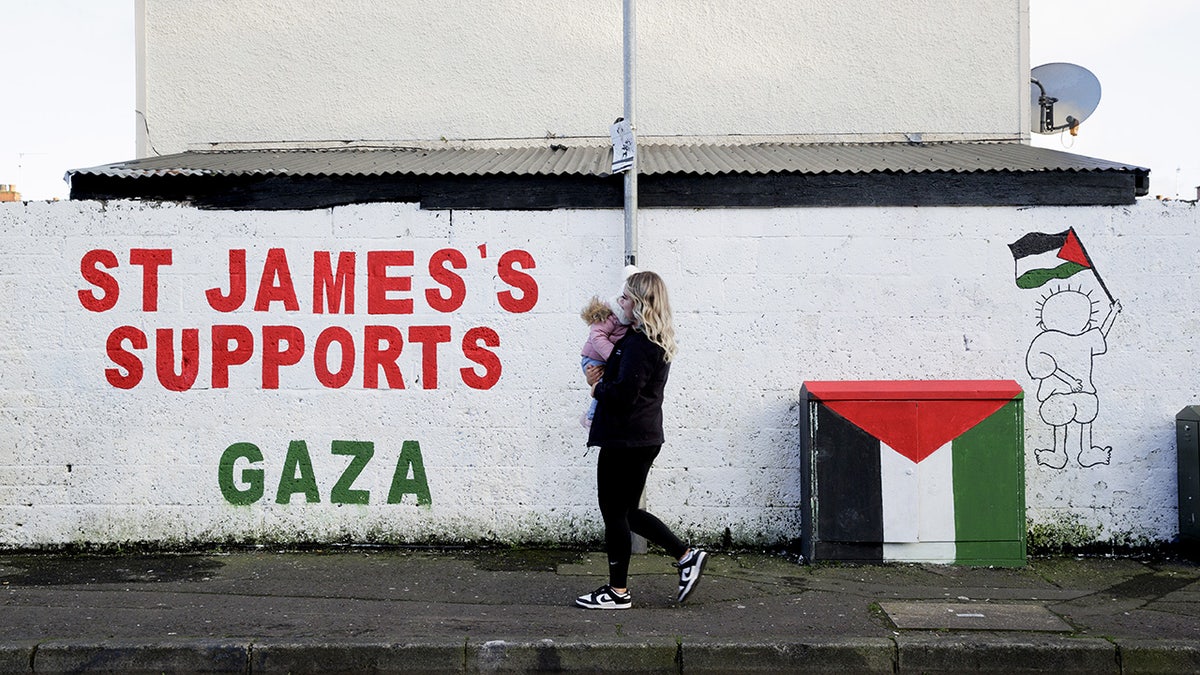 In response to the Dublin riots, fueled by concerns over mass immigration into the country battling a housing and cost-of-living crisis, Irish Prime Minister (Taoiseach) Leo Varadkar vowed to "modernize laws against hatred," pushing legislation widely considered by critics as a radical affront to free speech. 
PROTESTS OVER FRENCH TEEN'S FATAL STABBING LEAD TO CALLS FOR CRACKDOWN ON 'FAR-RIGHT'
The proposed anti-hate law notably criminalizes the possession of material "likely to incite violence or hatred," and could reportedly punish individuals for merely having memes saved to their phones that some may consider politically offensive.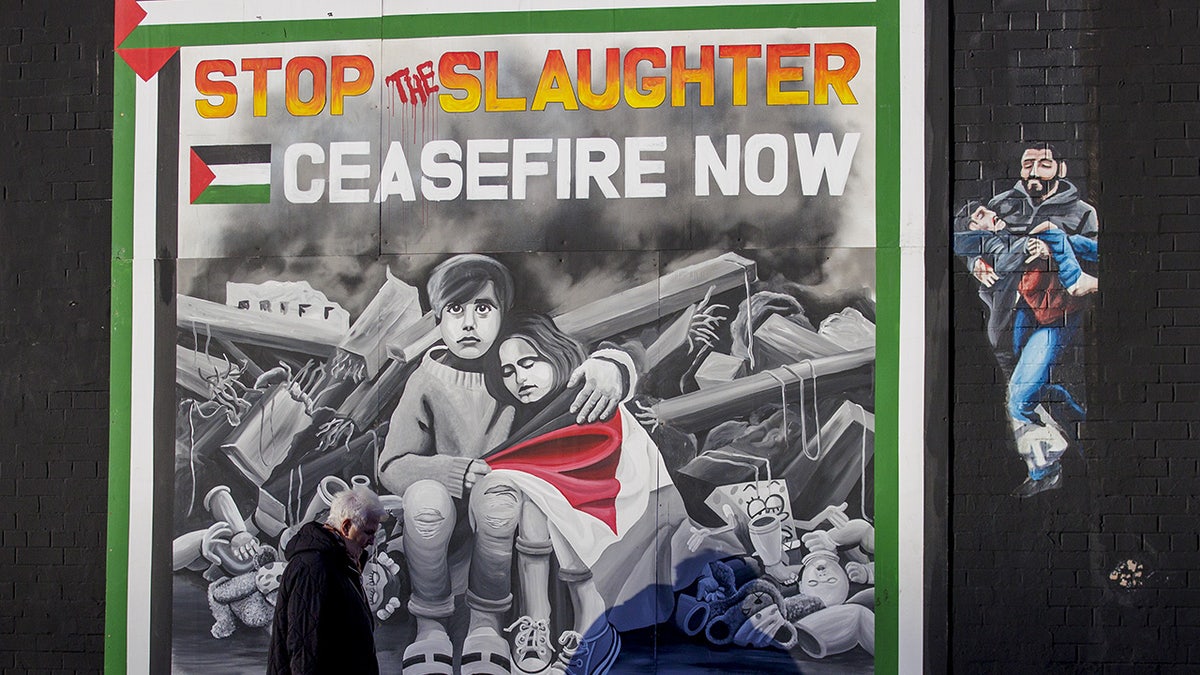 Meanwhile, the streets of Belfast, a part of the United Kingdom, have been photographed with murals, flags and graffiti in support of Palestinians in recent weeks amid the Israel-Hamas war. Some of the signage contains messages calling for a ceasefire in Gaza, and one mural even displays the antisemitic slogan, "from the river to the sea," calling for the annihilation of Israel, painted along the same Falls Road in Belfast where the "Irish Lives Matter" message was also found.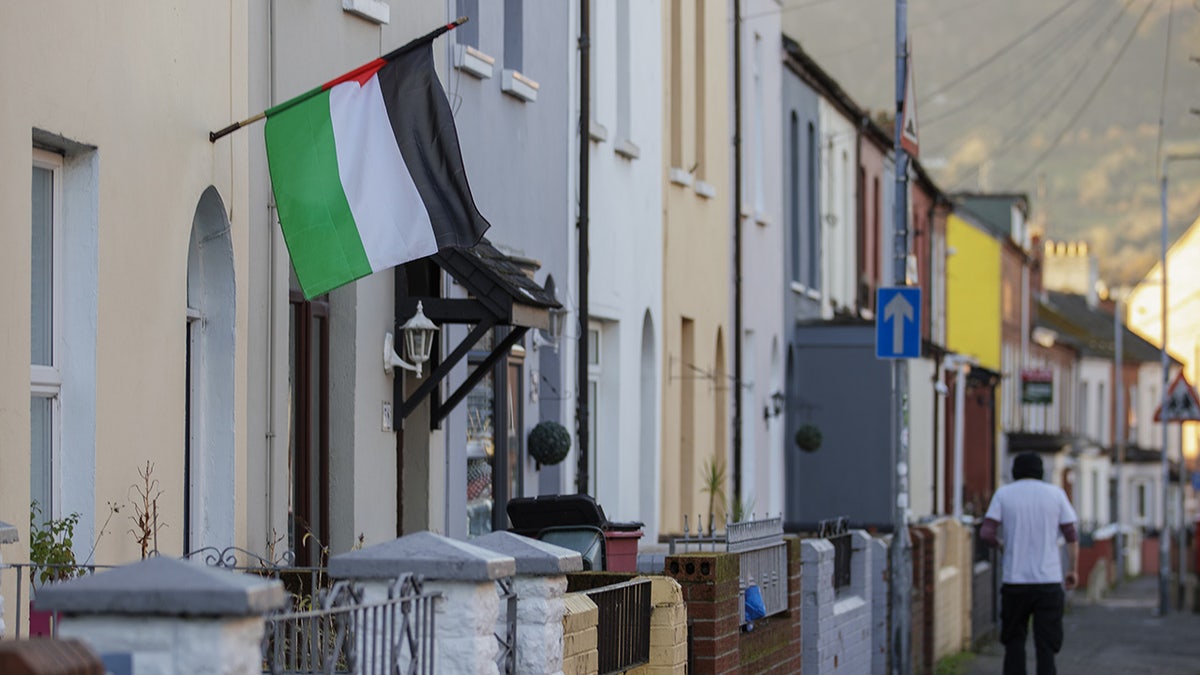 Earlier this month, Britain's interior minister accused the country's largest police force of being more lenient toward pro-Palestinian demonstrators than other groups, deepening a political feud sparked by the Israel-Hamas war. In a highly unusual attack on the police, Home Secretary Suella Braverman said London's Metropolitan Police force was ignoring lawbreaking by "pro-Palestinian mobs," decrying demonstrators calling for a cease-fire in Gaza as "hate marchers."
The Associated Press contributed to this report. 
Brussels asks airlines to agree on standard luggage sizes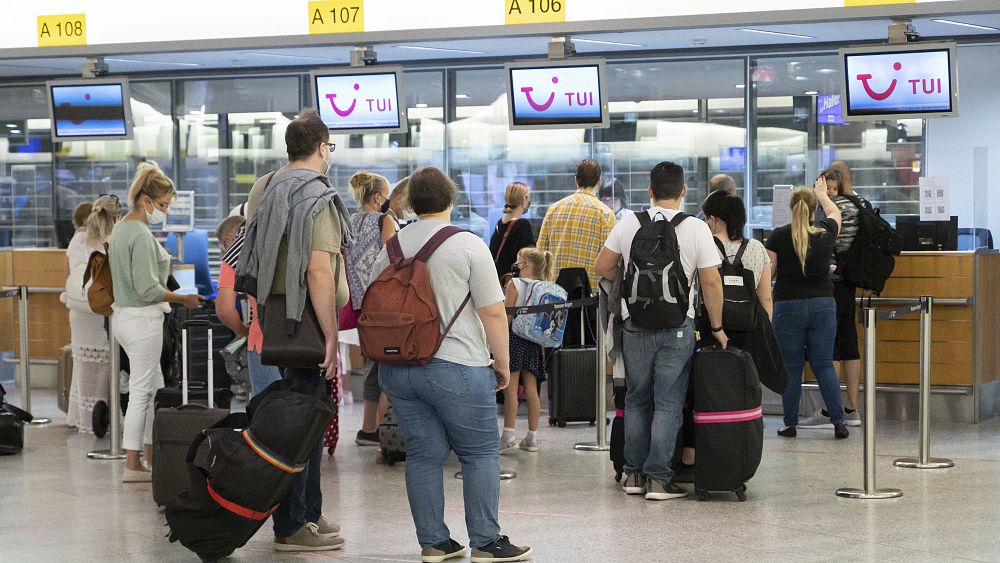 The European Commission has asked airlines to standardise their luggage sizes in order to make things simpler for travellers.
A lack of common measures often causes confusion among airlines' customers and leads to hidden extra costs.
Many people find it difficult to understand what size items are allowed on board for free, prompting the Commission on Wednesday to make the request to airlines. 
Earlier this year, the European Parliament asked for a standardisation of airlines' carry-on luggage rules. But instead of proposing measures, the Commission said it prefers to let the industry come up with the rules itself.
"This information should be provided to the travellers from the very beginning to know exactly when you buy a ticket what you are actually buying and what kind of luggage you can bring either on board or in the haul?" Adina Vălean, the European Commissioner for Transport told reporters in Brussels.
"That being said, we reserve our right that, if nothing happens in a reasonable amount of time, we will step in." 
At the same time, the Commission also proposed a series of measures to reinforce passengers' rights legislation, with a special focus on the reimbursement of delayed or cancelled trips, after it discovered gaps when it comes to intermodal trips.
One way the Commission is trying to solve this is via a standard EU-wide reimbursement and compensation form. 
But it will also try to help passengers be more aware of their rights, especially if they are travelling by different means of transport or booked the trip through an intermediary.
Nordic Crime Novel 'Big Brother' Set to be Adapted for TV by Act 4 (EXCLUSIVE)
Icelandic production company Act 4 is set to turn Skuli Sigurdsson's award-winning Nordic crime novel "Big Brother" ("Stóri bróðir") into a TV drama.
Act 4, founded earlier this year by a group of top Icelandic industry execs, has optioned Sigurdsson's chilling debut novel with actor, producer and Act 4 co-founder Olafur Darri Olafsson ("The Tourist") on board as showrunner and executive producer.
"Big Brother" tells the story of a detective and an investigative journalist who set out to solve a "mysterious case," according to the logline. "Men are being severely beaten on every full moon by what seems like the same perpetrator. But the story is also told from the perspective of the perpetrator, who considers his crimes an act of retribution for old wrongdoings."
The story asks tough questions of its audience when it comes to crime and punishment as well as being a critique of society's failure to properly deal with sexual violence.
"I read 'Big Brother' last summer after hearing good things from multiple source," said Olafsson, who is next set to appear in Season 2 of Apple TV+ hit "Severance." "I was immediately drawn to the book, it is fantastically written, fast-paced and just felt so right to develop into a series. Our team at Act 4 is really excited about bringing Skuli's book to the big screen and we know that fans of crime dramas will love it. It's been a long time since I read such a fantastic debut novel as 'Big Brother.' I would also suggest that people watch out for Skuli's books in the future as he just released his sophomore novel, 'The Man from São Paulo.'"
Sigurdsson said: "I am most pleased and honored that Act 4 will be making a television series based on my novel 'Big Brother.' This has been in the works for some time and it is a pleasure to begin the journey. It's an honour to work with a production firm as excellent as Act 4. Their vision for 'Big Brother' is strong and I look forward to the undertaking with Olafur Darri and company."
As Variety exclusively reported, Act 4 was launched in January by Olafsson, Hörður Rúnarsson ("Black Sands"), Jónas Margeir Ingólfsson ("The Minister") and Birkir Blær Ingólfsson ("Thin Ice") after they joined forces with a group of international investors to develop, finance and produce high-end Nordic content.