China hosts major meeting with Saudi Arabia, Egypt, Jordan, Palestinian diplomats to discuss Israel-Hamas war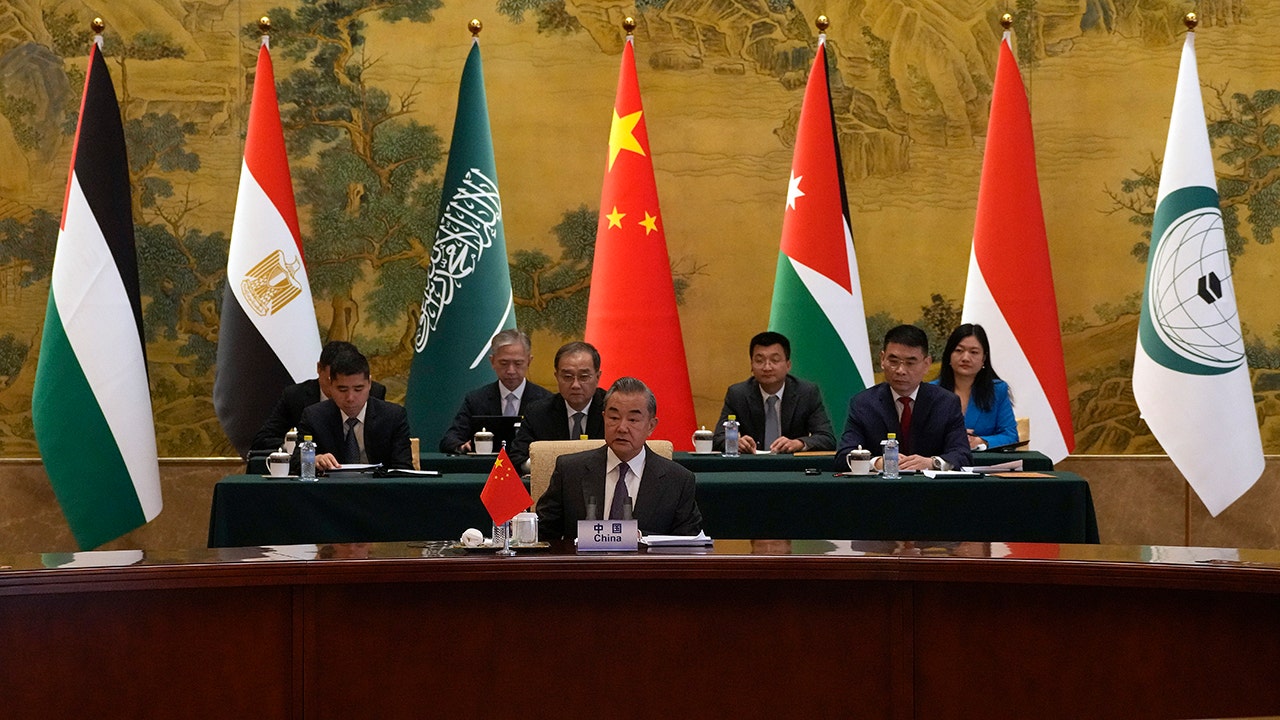 China is flexing its diplomatic muscle with a major meeting in Beijing on Monday, welcoming foreign ministers from the Middle East in an attempt to exert its influence over the Israel-Hamas war.
Its top diplomat hosted ministers from Saudi Arabia, Egypt, Jordan, the Palestinian Authority and Indonesia, saying his country would work with "our brothers and sisters" in the Arab and Islamic world to try to end the war in Gaza as soon as possible.
Chinese Foreign Minister Wang Yi told the foreign diplomats that their decision to visit Beijing shows their high level of trust in his nation.
"China is a good friend and brother of Arab and Islamic countries," Wang said in opening remarks at a state guest house before their talks began. "We have always firmly safeguarded the legitimate rights and interests of Arab (and) Islamic countries and have always firmly supported the just cause of the Palestinian people."
BIDEN ADMIN TO MEET WITH SAUDI DEFENSE MINISTER THIS WEEK IN BID TO EASE TENSIONS: REPORT
The meeting is a testament to both China's growing geopolitical influence and its longstanding support for the Palestinians and a Palestinian state.
China has long supported Palestinians in Gaza and the West Bank and often denounces Israel for its settlements in the territories. Notably, China has not criticized the initial Hamas attack on Oct.7 — which killed about 1,200 people, mostly civilians — while the United States and others have called it an act of terrorism.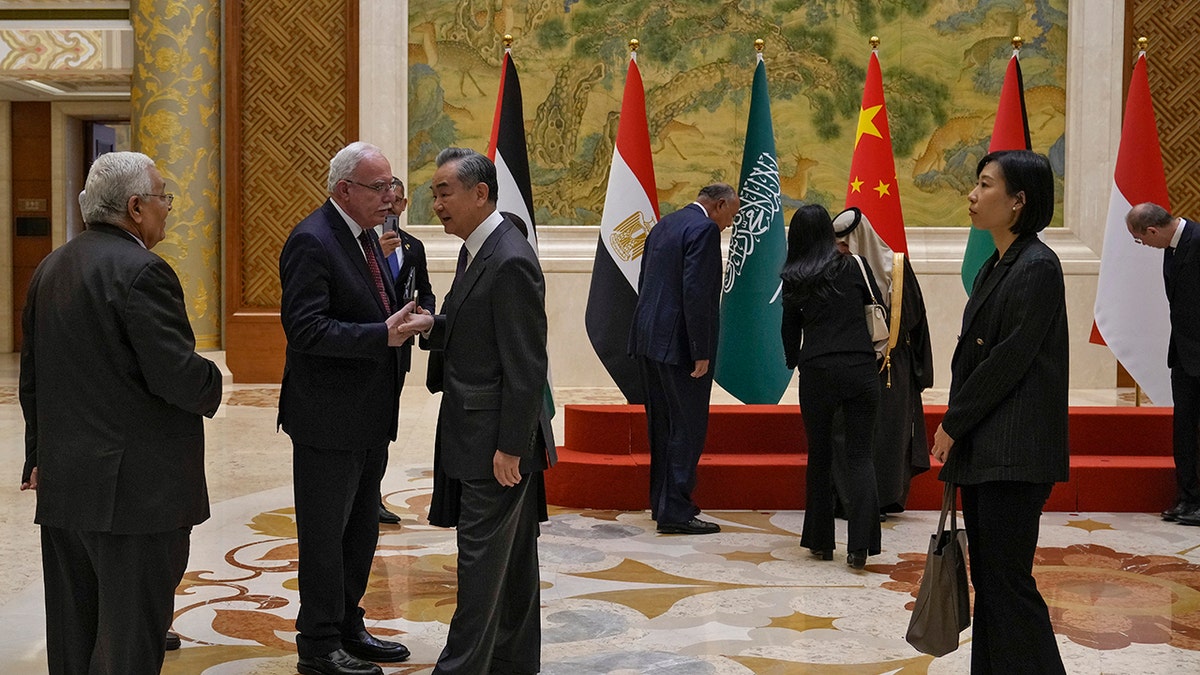 The five foreign ministers will visit a number of capitals in an effort to pursue a cease-fire, get aid into Gaza and end the war, Prince Faisal said last weekend. The secretary general of the Organization of Islamic Cooperation, Hissein Brahim Taha, is also accompanying them to Beijing.
BIDEN HANDS CHINA BIG WIN WITH MILITARY DEAL, EXPERTS SAY: 'INCREDIBLY POOR DECISION'
Notably, while China is publicly supporting the Muslim leaders and their respective countries in the Middle East, a United Nations report released in 2022 found the Chinese government has committed "serious human rights violations" in its detention of Uyghurs and other mostly Muslim ethnic groups in Xinjiang, a western region in China.
The 48-page U.N. report warned that the "arbitrary and discriminatory detention" of such groups in Xinjiang, stripped them of "fundamental rights …  [which] may constitute international crimes, in particular crimes against humanity."
It cites "patterns of torture" inside what Beijing called vocational centers, which were part of its economic development plan in the region. The report also points to "credible" allegations of torture or ill-treatment, including cases of sexual violence.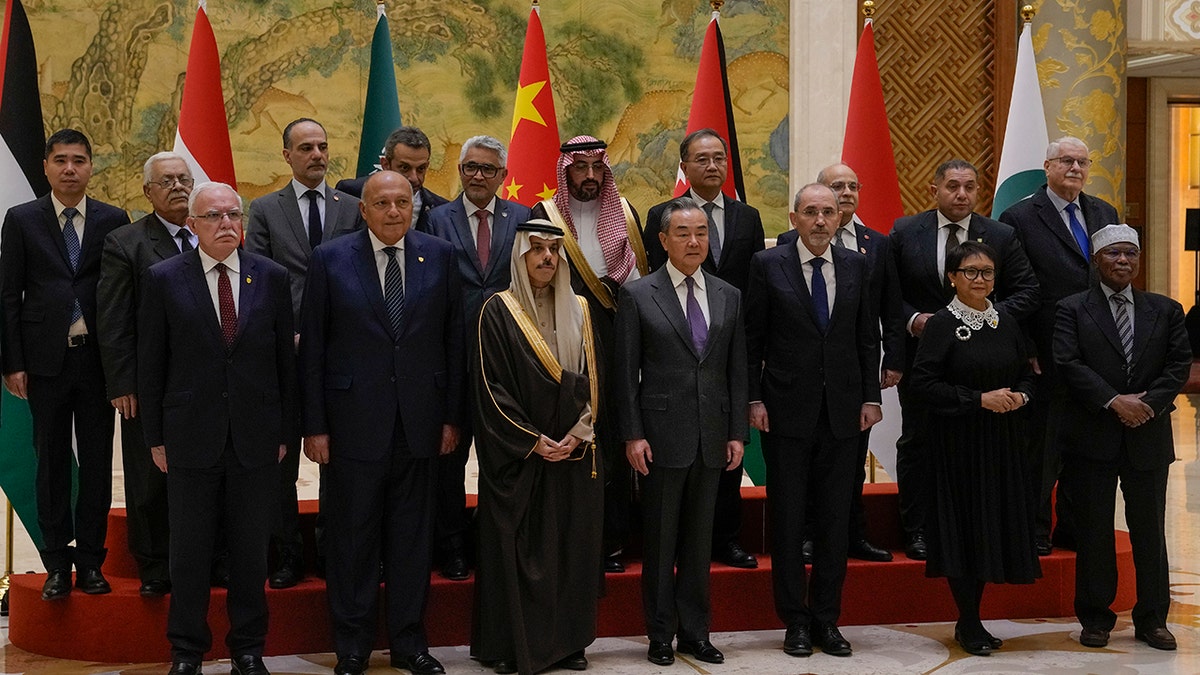 During Monday's talks, the Saudi foreign minister called for an immediate cease-fire and the entry of humanitarian aid and relief to the Gaza Strip.
"There are still dangerous developments ahead of us and an urgent humanitarian crisis that requires an international mobilization to deal with and counter it," Prince Faisal bin Farhan Al Saud said.
He said they appreciated the United Nations Security Council resolution calling for urgent and extended humanitarian pauses in Gaza, "but we still need more efforts and cooperation."
Israel's ambassador to China, Irit Ben-Abba, said Monday that her country is allowing sufficient humanitarian aid into Gaza in collaboration with international organizations and that "putting pressure on Israel in this regard is politically motivated and is not conducive to the humanitarian assistance which is needed."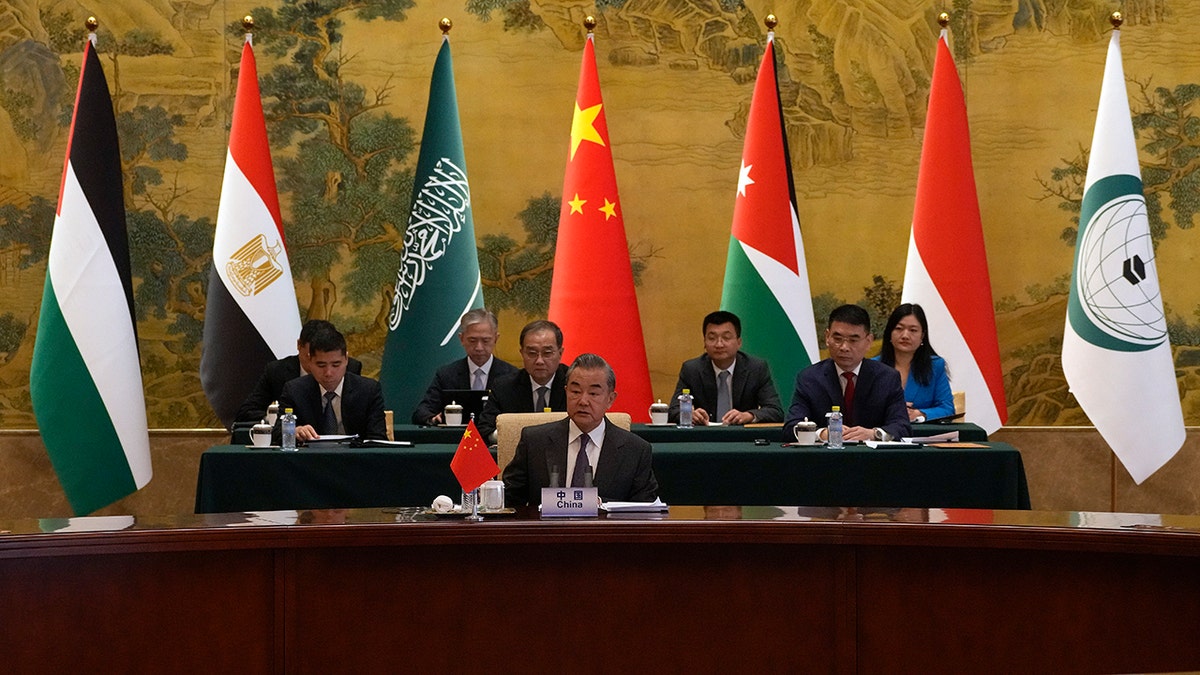 China — the world's second-largest economy after the U.S. — has become increasingly outspoken on international affairs and even gotten directly involved in some recently.
In March, Beijing helped broker an agreement that saw Saudi Arabia and Iran re-establish ties after seven years of tension. The deal placed China squarely in the position of international deal maker, a spot held by longtime global heavyweights like the U.S. and Russia.
Fox News' Bradford Betz and The Associated Press contributed to this report.

Armenia and Azerbaijan announce deal to exchange POWs and work toward peace treaty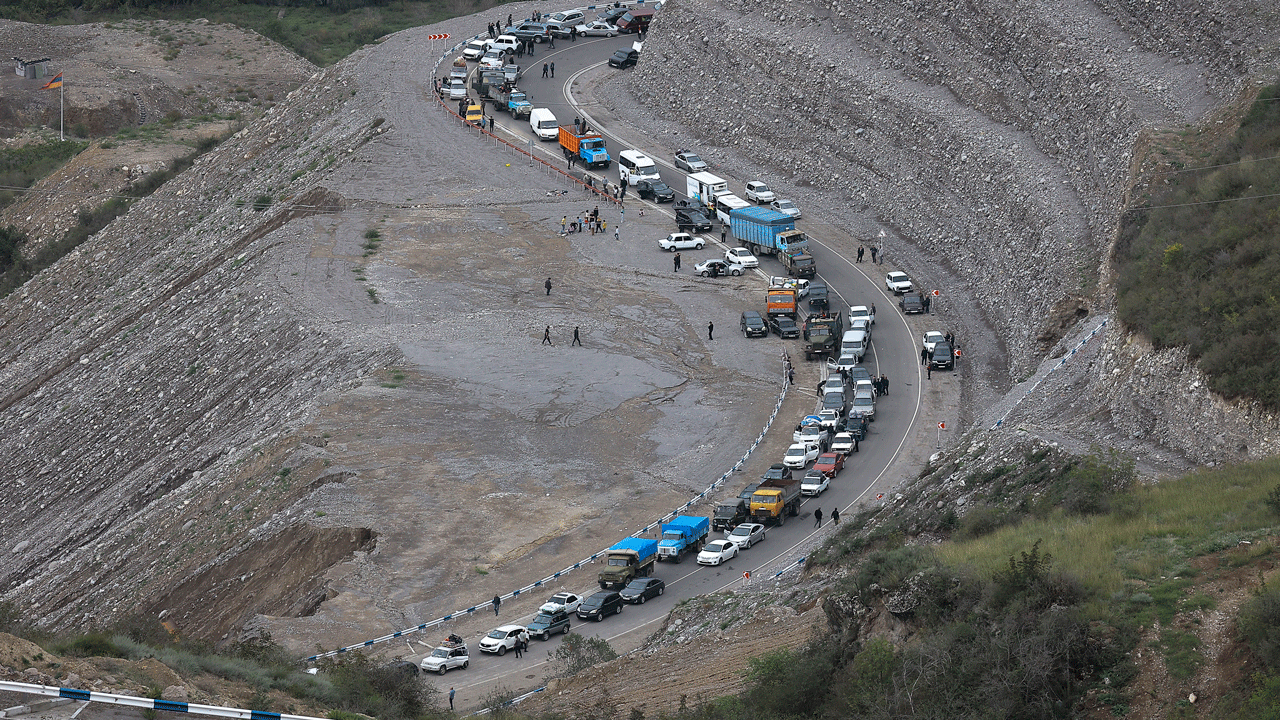 YEREVAN, Armenia (AP) — Armenia and Azerbaijan agreed Thursday to exchange prisoners of war and work toward signing a peace treaty in what the European Union hailed as a major step toward peace in the long-troubled region.
The two countries said in a joint statement they "share the view that there is a historical chance to achieve a long-awaited peace." They said they intend "to normalize relations and to reach the peace treaty on the basis of respect for the principles of sovereignty and territorial integrity."
THOUSANDS OF ARMENIANS FLEE NAGORNO-KARABAKH AS AZERBAIJAN RECLAIMS SEPARATIST REGION
Azerbaijan waged a lightning military campaign in September in the separatist region of Nagorno-Karabakh. The offensive ended three decades of rule there by ethnic Armenians and resulted in the vast majority of the 120,000 residents fleeing the region, which is internationally recognized as part of Azerbaijan.
Until Thursday's announcement, the two countries had bitterly argued on the outline of a peace process amid mutual distrust.
As part of the deal, Armenia agreed to lift its objections to Azerbaijan hosting next year's international conference on climate change.
Countries had been unable to agree on an eastern European host for the 2024 climate talks, with Russia vetoeing EU countries and Azerbaijan and Armenia nixing each other. A decision on the meeting's location and presidency is due within the next week.
The joint statement said that "the Republic of Armenia supports the bid of the Republic of Azerbaijan to host the 29th Session of the Conference of Parties (COP29) to the UN Framework Convention on Climate Change, by withdrawing its own candidacy."
European Council President Charles Michel praised the agreement as a major breakthrough, saying on X that he particularly welcomes the deal to release detainees and make an "unprecedented opening in political dialogue."
Michel called on Armenia and Azerbaijan to finalize a peace deal as soon as possible.
The U.S. government also welcomed the deal, saying the swapping of POWs was an "important confidence building measure as the sides work to finalize a peace agreement and normalize relations."
"The United States will continue to strongly support efforts to reach a durable and dignified peace," added the statement from State Department spokesman Matthew Miller.
Armenia and Azerbaijan said in their statement that talks between Azerbaijan's presidential administration and the office of Armenia's prime minister led to an agreement "on taking tangible steps towards building confidence between two countries."
Azerbaijan said it would release 32 captured Armenian military servicemen, while Armenia will release two Azerbaijani soldiers.
The two countries said they will continue their discussions "regarding the implementation of more confidence building measures" and called on the international community for support "that will contribute to building mutual trust between two countries."
Netanyahu warns Hezbollah after cross-border attack kills Israeli civilian
Israeli PM says Hezbollah will turn Beirut, southern Lebanon into Gaza and Khan Younis if Iran-backed group's attacks on Israel continue.
Israel has said that a guided missile attack from Lebanon killed an Israeli civilian in the north of the country, prompting Prime Minister Benjamin Netanyahu to warn that Beirut would be turned "into Gaza" if Hezbollah started an all-out war.
The Israeli military said on Thursday that fighters from the Lebanese Shia group carried out an antitank attack in northern Israel.
Hezbollah, which supports the Palestinian group Hamas, said one of the 11 attacks it carried out on Thursday targeted an Israeli barracks in Mattat, a village abutting the Lebanese border.
The Israeli army said its jets struck a Hezbollah command and control centre in response to the Iranian-backed group's attack.
"If Hezbollah chooses to start an all-out war then it will, by its own hand, turn Beirut and southern Lebanon, not far from here, into Gaza and Khan Younis," Netanyahu said while visiting troops near the border.
It was not immediately clear if Netanyahu's comment was linked to the most recent Hezbollah strike.
'Farmer killed'
Israel's public broadcaster Kan said the man killed was a farmer and the country's ambulance service said he was 60 years old.
Hezbollah said Thursday's assault was in support of Palestinians in Gaza.
The Israel-Palestinian conflict started on October 7 after a deadly attack by Hamas into southern Israel was followed by Israel's massive air and ground offensive on the Gaza Strip.
Since then, Israel and armed groups in southern Lebanon – some 200km (124 miles) from the Gaza Strip, particularly Hezbollah, have engaged in frequent back and forth exchanges across the United Nations-patrolled Israel-Lebanon border.
More than 17,100 Palestinians have been killed in Gaza since October 7, according to the authorities in the enclave.
Israel says its death toll stands at about 1,150.
Twisted Metal Renewed for Season 2 — Watch Peacock's Announcement Video
ad