Anna 'Delvey' Sorokin Failed to Pay Over $150,000 in Legal Fees, Her Former Attorney Claims
Anna Sorokin—the fake German heiress who used the name "Anna Delvey" to defraud an estimated $275,000 from hotels, friends, and banks—is now reportedly facing a lawsuit from her former lawyer. 
Sorokin hired Audrey A. Thomas in 2020 to help her in an immigration case and to appeal her conviction, Insider reported citing documents from the lawsuit. In April 2022, Sorokin fired Thomas. However, Sorokin has failed to deliver payment on more than $152,000 in legal services. 
Thomas says her former client lied to get out of paying "astronomical legal fees" by filing false allegations against her to the grievance committee. "The false statements by [Sorokin] against Plaintiffs' interest were made for the sole purpose of causing injury to Plaintiffs and to damage Plaintiffs' reputation and standing, in the community," the complaint stated.
It is not clear what those false allegations were. Thomas and Sorokin did not respond to Robb Report inquiries. 
New York Post has reported that Thomas herself faces criminal prosecution after being accused of stealing from an elderly client. She was disbarred over the incident in November. The complaint stated that the disbarment "was not related to the facts or circumstances that gave rise to this lawsuit." 
Sorokin's four-year con allowed her to enjoy to live at luxury hotels and frequent New York City's elite social circles. She was convicted in 2019 of grand larceny and theft of services. She served nearly four years in prison and is currently under house arrest in an East Village apartment, according to Insider. Her story was depicted in the Netflix series Inventing Anna, starring Julia Garner.
Earlier this year, CBS News reported that Sorokin will launch a podcast called "The Anna Delvey Show." Sorokin says in a trailer for the Audio Up and Reunion Audio production: "You might recognize my name as a character in a Netflix series, but now, you get to meet the real me." She added that the show "will dive into the concept of rules and talk with the people who create or break them, from art, politics, fashion, tech, finance, law and more."

How to Watch Sound of Freedom, Starring Jim Caviezel, at Home
ad
Netanyahu warns of potential 'eruption of AI-driven wars' that could lead to 'unimaginable' consequences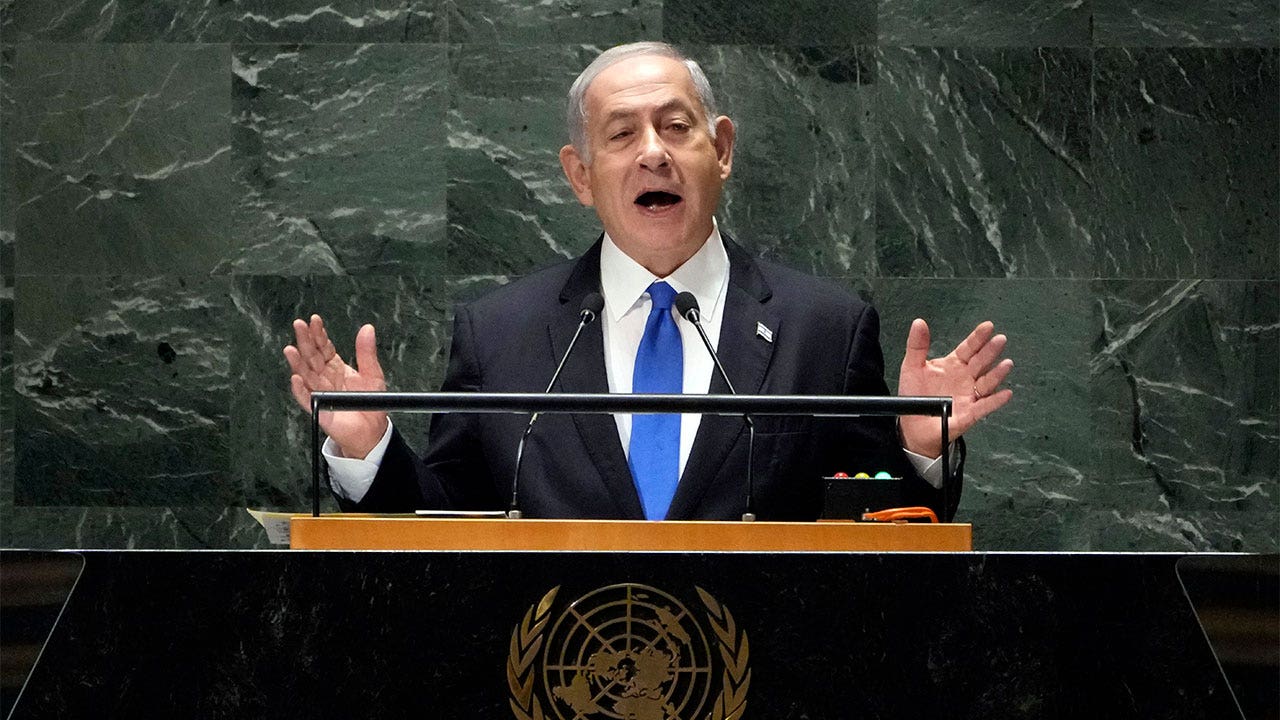 Israel Prime Minister Benjamin Netanyahu warned the world is on the cusp of an artificial intelligence revolution that could launch nations into prosperous times or lead to all-out destruction fueled by devastating high-tech wars. 
"The AI revolution is progressing at lightning speed," Netanyahu said during his U.N. General Assembly speech last week. "It took centuries for humanity to adapt to the agricultural revolution. It took decades to adapt to the industrial revolution. We may have but a few years to adapt to the AI revolution."
Talk of artificial intelligence at the U.N. was hardly common just a few years ago. But after the release of ChatGPT's wildly popular chatbot that can mimic human conversation and other AI-powered platforms, AI has become a hot topic among world leaders. 
Netanyahu's speech focused on building a peaceful "new Middle East," and cited relations between Israel and Saudi Arabia as evidence of this intention. He devoted the latter half of his speech to the future of AI and the "perils" the technology poses. 
EXPERTS WARN ARTIFICIAL INTELLIGENCE COULD LEAD TO 'EXTINCTION'
"The perils are great, and they are before us: The disruption of democracy, the manipulation of minds, the decimation of jobs, the proliferation of crime and the hacking of all the systems that facilitate modern life," he said. 
"Yet, even more disturbing is the potential eruption of AI-driven wars that could achieve an unimaginable scale," Netanyahu said. "Behind this perhaps looms an even greater threat, once the stuff of science fiction — that self-taught machines could eventually control humans instead of the other way around."
TECH EXPERTS OUTLINE THE FOUR WAYS AI COULD SPIRAL INTO WORLDWIDE CATASTROPHES
Netanyahu's remarks at the U.N. echo concerns from other world leaders and experts who have warned AI could be used by bad actors or global adversaries during war, which could lead to more death. Earlier this year, Fox News Digital asked ChatGPT to provide examples of "scary AI," and even the chatbot cited AI-powered weapons used in war.
"An example of 'scary AI' is an advanced autonomous weapon system that can independently identify and attack targets without human intervention," the chatbot responded. "These systems, often referred to as 'killer robots' or 'lethal autonomous weapons,' raise ethical concerns and the potential for misuse or unintended consequences."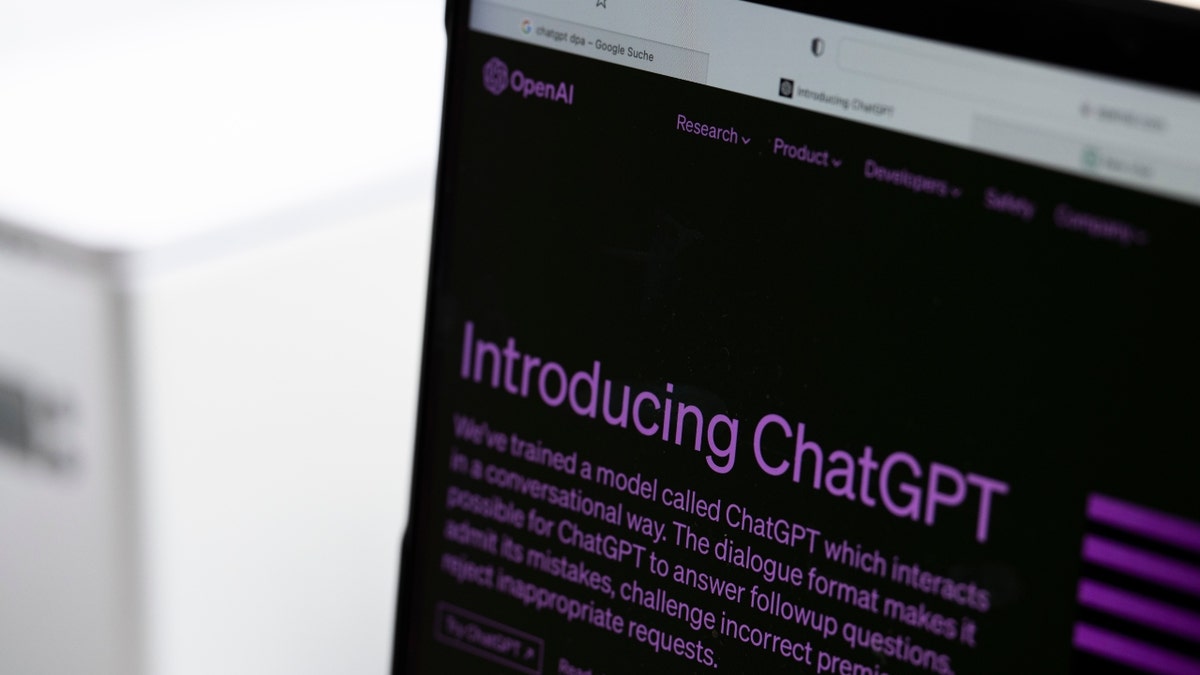 Researchers at the tech nonprofit Center for AI Safety published a study earlier this year detailing four ways AI could spiral into worldwide catastrophes, including an AI race between nations that could translate to "more destructive wars, the possibility of accidental usage or loss of control and the prospect of malicious actors co-opting these technologies for their own purpose." 
WHAT IS AI?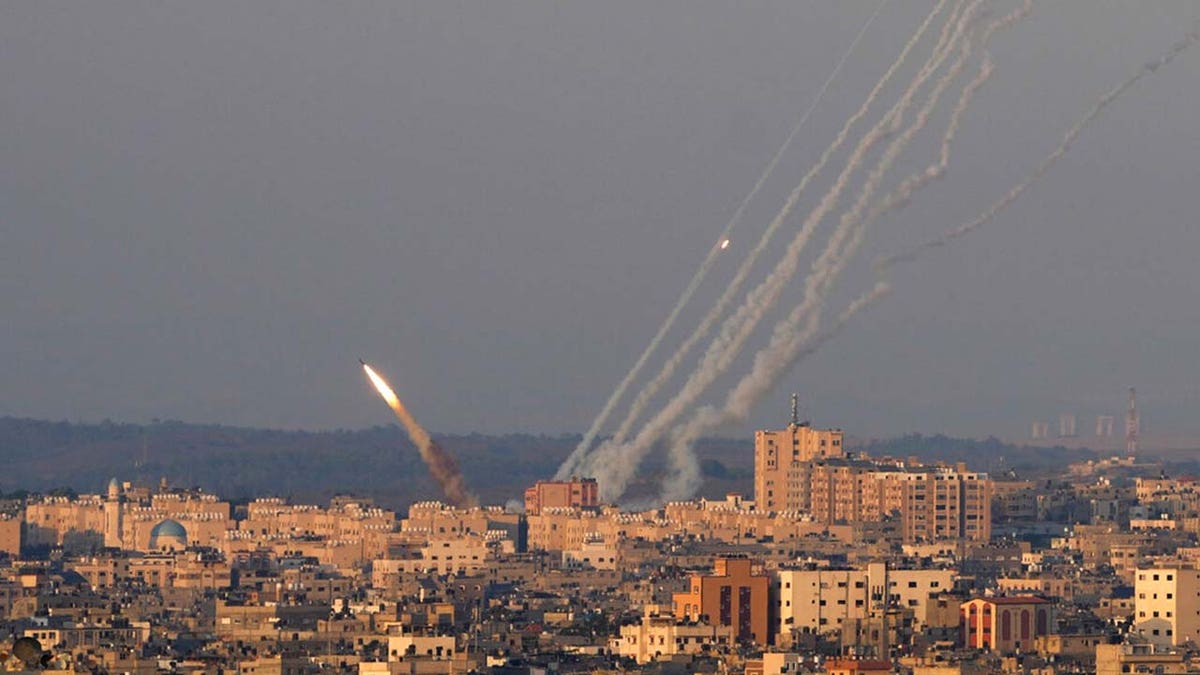 "Although walking, shooting robots have yet to replace soldiers on the battlefield, technologies are converging in ways that may make this possible in the near future," the researchers explained.
NEXT GENERATION ARMS RACE COULD CAUSE 'EXTINCTION' EVENT: TECH EXECUTIVE
Netanyahu called on other nations to address such concerns about a future where "self-taught machines could eventually control humans" and to ensure "that the promise of an AI utopia does not turn into an AI dystopia."
On the flip side, the Israeli prime minister called on people to "imagine" various scenarios of a more prosperous and efficiently run world by using AI in day-to-day tasks. 
"Imagine robots helping to care for the elderly," Netanyahu said, joking that his speech sounded like "a John Lennon song." "Imagine the end of traffic jams with self-driving vehicles on the ground, below the ground and in the air. Imagine personalized education that cultivates each person's full potential throughout their lifetime."
WHAT IS CHATGPT?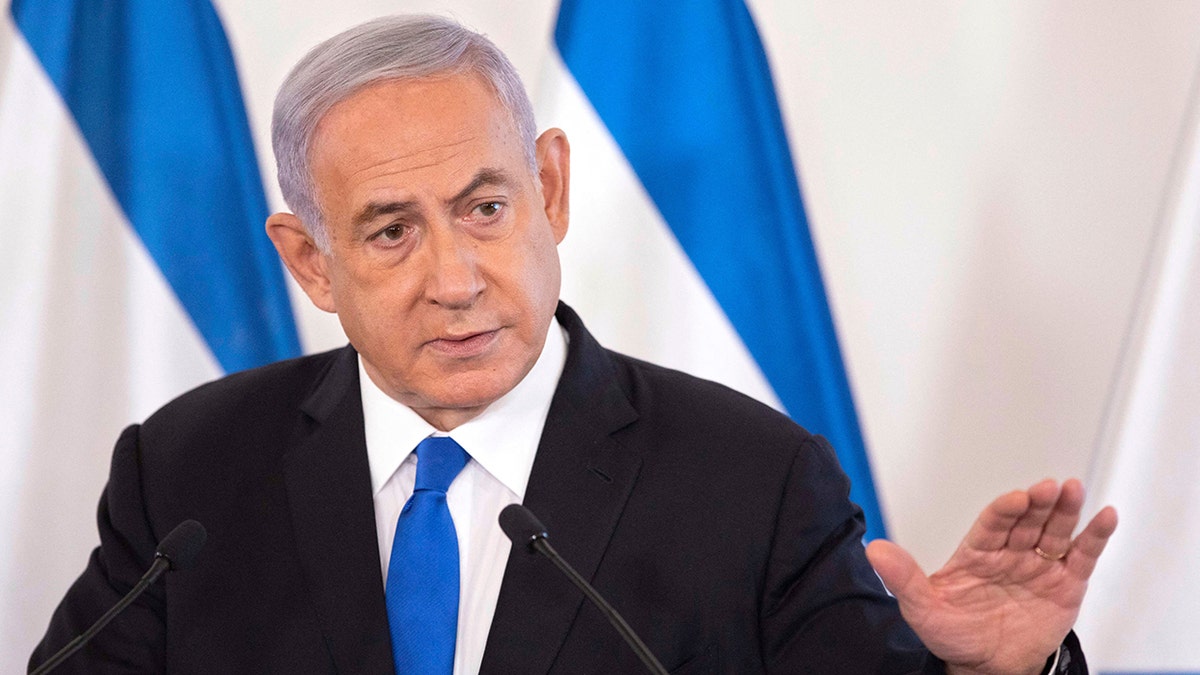 Following his visit to the U.S., where he delivered his U.N. speech and also met with tech leader Elon Musk and President Biden, Netanyahu said he plans to make Israel the "No. 3 country in the world" for AI. 
"For several months now, I have been formulating a national plan," Netanyahu said Wednesday, according to The Jerusalem Post. ."Soon I will appoint a project manager on the subject, and I will also submit the national plan to the government and the public.
"Artificial intelligence is an area that is much stronger than cyber, immeasurably stronger than cyber, and we have set the goal of turning the State of Israel into the No. 3 country in the world in this field, a very ambitious goal," he added. 
Russian power substation hit in latest Ukrainian drone wave attack
Moscow's Ministry of Defence reports downing more than a dozen Ukrainian drones in latest attacks on Russian territory.
A combat drone dropped explosives on an electricity substation in a Russian village near the border with Ukraine, while Russia's Ministry of Defence reported shooting down more than a dozen Ukrainian drones over the Russian regions of Belgorod, Kursk and Kaluga.
In the Russian village of Belaya, located less than 25km (16 miles) from the border, "a Ukrainian drone dropped two explosive devices on a substation", Kursk regional governor Roman Starovoyt said on the Telegram messaging app early on Friday.
"One of the transformers caught fire. Five settlements and a hospital were cut off from power supply. Fire crews rushed to the scene," he said.
"Power will be restored as soon as it is safe to do so."
Russian authorities said earlier that two Ukrainian drones were destroyed over the neighbouring Belgorod region.
The Defence Ministry in Moscow said the first drone was "thwarted" at about 5pm local time (14:00 GMT) on Thursday. A second drone was brought down about four hours later.
Russia's state-run TASS news agency later reported, citing Russia's Defence Ministry, that 10 Ukrainian drones were brought down over the Kursk region overnight and one over the Kaluga region.
Ukraine has intensified its attacks on Russian territory in recent weeks, with regions of the country now regularly subject to waves of Ukrainian drone attacks that have sporadically damaged buildings, including in Moscow.
While Russian officials have downplayed their significance, Ukrainian President Volodymyr Zelenskyy reiterated this week that attacks on targets in Russia would increase.
"We clearly see the areas where pressure on Russia needs to be increased so that terrorist capabilities do not grow," he said in his nightly address on Tuesday.
"Sanctions are not enough. There will be more. There will be more of our own – Ukrainian actions against the terrorist state. As long as Russia's aggression continues, Russia's losses must be tangible," he said.