Much Of Wyoming Can Expect Thanksgiving From Hell Weather-Wise
A winter storm is inviting itself to Thanksgiving dinner across the region, and Wyoming's expected to get the worst of it.
The Cowboy State's forecast for the four-day Thanksgiving weekend includes several inches of snow, strong winds and significantly colder temperatures. The National Weather Service Office in Riverton has issued a Winter Storm Watch from Thursday evening to Friday morning for most of north and central Wyoming.
"Thursday through Sunday is going to be a whole lot colder than it's been," said Cowboy State Daily meteorologist Don Day. "And the snow will be falling Thursday, Friday and Saturday morning."
North-South Snowstorm
Day said every Wyoming community can expect snow on Thanksgiving, but the start of the snowfall will vary by location. The winter weather pattern is coming in from the north and will make its way south throughout the day.
Residents in northern Wyoming can expect to wake up to snow Thanksgiving morning. Central Wyoming will see its first flakes around noon, and southern Wyoming can expect snow by sundown.
"The whole state will be under very cold temperatures and areas of light snow on Friday," Day said. "By Saturday morning, most of the snow will be over. But the cold is going to stay into the weekend."
How Much And How Deep?
With any winter storm, the first questions are about the depths of the expected snow and the subzero temperatures. Day wishes he could give a universal response, but Wyoming doesn't work that way.
"The frustrating thing about Wyoming snowstorms is they never affect everyone the same. There's always winners and losers," he said.
High and low temperatures are easier to predict. Day expects that most of Wyoming will have daytime highs in the teens and 20s on Friday and Saturday. Daytime lows will be in the teens or possibly single digits.
Predicting snowfall is much trickier and varies by location. Day is confident that every community will get snow, and likely several inches of it.
"Places like Sheridan, Buffalo, Kaycee to Casper, and Casper to Lusk and Lander are likely to see 6 or more inches of snow," he said. "I can see up to 10, 11, 12 inches in some of those locations. Those will be the most impacted."
Day said this particular weather pattern tends to hit Lander hard, along with the east slopes of the Wind River Mountains and any mountain range running east-west.
Southern Wyoming communities, like Cheyenne and Laramie, will experience light to moderate snow, no more than 4 inches. As always, different areas will get different amounts of snow, but Day said there's no escaping it this time.
"It's going to snow on everyone," he said.
As for accumulation, Day said the ground has stayed cool enough for the snow to stick to the ground. This will likely be the foundation for the season's snowpack.
Even so, it won't stick until it sticks. That's where holiday travelers need to pay attention.
Trials For Traveling Turkeys
While the ground is cool enough for sticky snow, Wyoming's highways aren't there yet. Day said the first round of snow probably won't stick on the highways, making Thanksgiving weekend travel more hazardous.
"The snow is going to melt at first," he said. "But the arctic air that comes in will ice things up. There's going to be melting, then freezing, then snow accumulating on top of that."
Since weekend temperatures will likely stay below 30 degrees, ice on Wyoming's roadways will melt very little. Conditions will remain icy for the entire weekend and probably the beginning of next week.
While many Wyomingites drive to their Thanksgiving dinners, many others catch flights. Nothing's worse than a delayed or canceled flight on Thanksgiving weekend, historically the busiest travel weekend of the year.
Day said this weather pattern will impact the entire Intermountain West. Airports in Eastern Idaho, northern Utah and the westernmost parts of Nebraska and South Dakota will have to contend with snow and ice.
Beyond that, Day said there shouldn't be significant travel impacts for the rest of the United States. The Midwest, Great Lakes and part of New England will get snow from this storm, but not much.
Furthermore, a weather system causing rain delays to airports in the southeastern U.S. will be gone by Thanksgiving. The most likely delays will be at regional airports in Wyoming and Colorado.
Wyoming Gets The Worst
There's no denying it. Wyoming will have the worst weather this Thanksgiving.
"The biggest problems for travel will be right here," Day said. "That's not to say Chicago, Detroit and parts of the Northeast won't have winter weather. But we're ground zero for the worst weather in the nation."
The "one good thing" about this winter storm is a guest for the Thanksgiving holiday. Day said that any travel impacts should be minor and manageable by the time the weekend arrives and travelers start trekking home.
"The worst weather is going to be Thursday and Friday, the least-traveled days," he said. "The weather does get better on Saturday and Sunday. If you're flying out then, things will be better. Hopefully."

A New Tasty Coffee Found In Casper, Wyoming
In the mid-2000's my dad went on vacation to Montana and bought me a 6-pack of assorted beer from the Big Sky Brewing Company. One of those beers was Moose Drool brown ale. From that moment on, Moose Drool has been my all-time favorite beer.
I've lived in different parts of the country since then and was able to get Moose Drool while living in Iowa, when visiting South Dakota, Wyoming & Montana and of course now living in Wyoming, it's readily available at multiple locations. There's a pretty good chance you can find this brown nectar in my refrigerator if you were to inspect it.
You will also never find my kitchen without a container full of coffee.
If you've driven around Casper at all, you'll know that coffee is a hot item around town. Multiple coffee shops, and even multiple coffees are roasted right here. No doubt that we have lots of great local coffee and everyone has their favorites.
Many times, when people find a coffee they like, they don't want a different brand, roast or flavor. If you walk into any grocery store, you'll find one whole isle that is dedicated to coffee.
Why? The answer to that question is easy.
A study done by Drive Research shows that 3 in 4 American's (74%) drinks coffee every day and 1/2 of those people drink up to 5 cups of coffee per day, contributing to the 2.5 BILLION cups of coffee drank on a daily basis.
Coffee is the kickstart that lots of us need to get the day rolling.
I've found that in my years of drinking coffee, I can always rely on Folgers to help me get started. So I always have an extra Folgers can in the house, God knows you don't want to catch me on a 'no coffee' morning.
Sometimes though, I like to change it up. Find a coffee to try that will give me a break from Folgers, so I don't burn out and continue to enjoy it.
Folgers may have competition in my kitchen now.
Walking through the Natural Grocers on 2nd St in Casper, I turned the corner into the coffee isle and nearly took out two other shoppers when I saw this…
My favorite beer brand, also has a coffee flavor.
Moose Drool coffee is roasted by Hunter Bay, a coffee company founded in Missoula, MT which also happens to be where the Big Sky Brewing Co. and my beloved Moose Drool is located.
From the Hunter Bay website, they describe this greatness.
Developed in cooperation with Big Sky Brewing, Hunter Bay's Moose Drool is a pleasing combination of opposites — a dark roast coffee with a smooth, mild aftertaste; rich, thick and stout but also naturally sweet with a hint of brown sugar, caramel and spice; suitable to drink everyday with breakfast and to serve alongside a rich dessert after dinner.
The brew masters at Big Sky Brewing enjoy a strong cup of dark roast coffee as they begin their work day brewing Moose Drool Ale, and the coffee we developed for them quickly became one of our most popular blends. Hunter Bay's Moose Drool is naturally sweet with a long, extra-smooth aftertaste, a coffee that is wonderful served black or with a touch of sugar and cream.

 

Moose Drool coffee from Hunter Bay. You can't forget the unique name and you won't forget the unique flavor of this mellow dark roast coffee.
Waking up today was much easier, knowing there was something new brewing. I was so excited to leap out of bed and try my NEW favorite. All-the-while knowing that I could be let down and the coffee wouldn't be as good as I expected….
Luckily, that's not the case.
100% satisfied and happy I stepped into a store I rarely visit, to find something I didn't even know I needed…Moose Drool Coffee.
Moose Drool may end up being like a wife for me. Spend the evening with it (beer) and wake up with it (coffee).
Wyoming's 40 Favorite Coffees To Make At Home
Wyomingites have quite the broad tastes in coffee.
Do Wyomingites Actually Wash Their Coffee Mugs?
Wyoming woman vanishes during cross-country trip with ex-boyfriend, daughters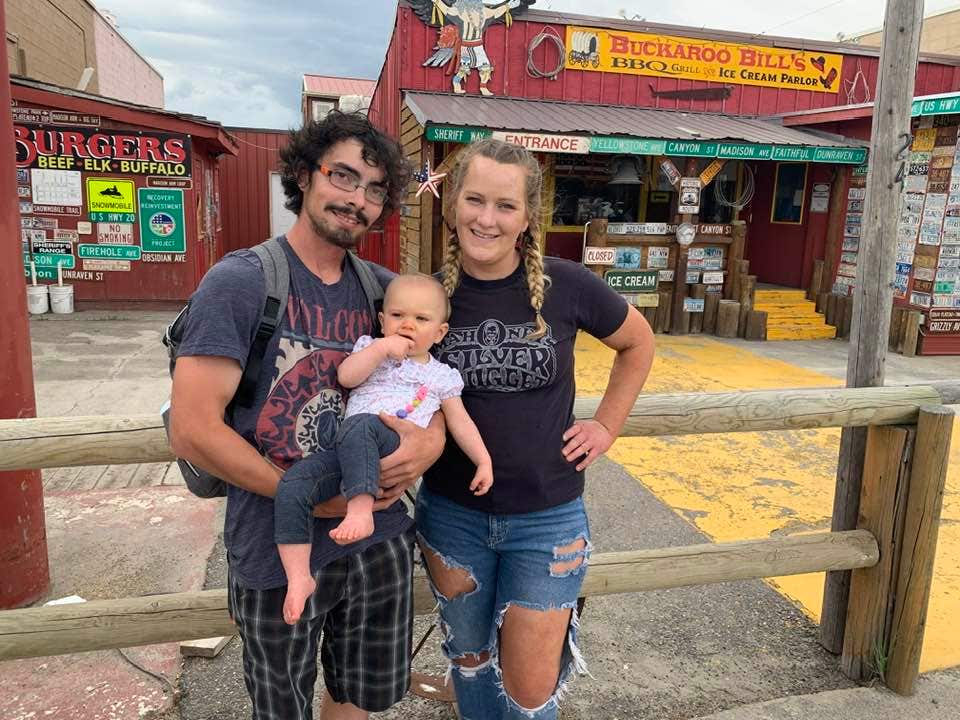 A mom of two vanished during a cross-country trip from Alabama to Wyoming while she was with her ex-boyfriend, who has been charged with an unrelated federal crime.
Katie Ferguson, 33, hasn't been seen alive since October, and was officially reported missing to police in Cody, Wyoming, on Nov. 2, but her family fears she was gone long before that. 
Her disappearance is especially unnerving because she was having issues with her ex-boyfriend, Adam Aviles Jr., whom she broke up with in May to move to Alabama to be with her mom.
Meanwhile, Aviles is being held in jail on a federal charge of being a felon in possession of ammunition. He pleaded not guilty, and trial has been set for Jan. 24. 
MURDER SUSPECT BUSTED IN POLICE STATION AFTER INCRIMINATING HIMSELF WHEN DETECTIVES LEFT ROOM: COPS
"I never in a million years thought (Aviles) would do something to her, I didn't. But now I think he did, and I think it was really bad," Katie's sister Nicole Ferguson told Court TV. "I don't think she's alive. I really don't."
Aviles's lawyer, David Weiss, didn't immediately return Fox News Digital's request for comment.
REAL-LIFE 'CONJURING' CRIMINAL CASE 'SCARED US S—LESS': LAWYER
Ferguson has two young daughters – ages 4 and 11 months – and her stepmom, Angela Ferguson, wrote in a Facebook post that she and her family will give her kids the life Katie never had.
"I have Covid, but my chest is extra heavy from the disappearance of my stepdaughter," Angela Ferguson wrote in a Nov. 11 Facebook post. "I just want to humanize Katie. She is just not a report on a missing person list. 
"She loves her kids more than anything. They are her everything. She kept her kids clean & well cared for. She has a way of making people laugh. Her siblings can attest to her goofiness."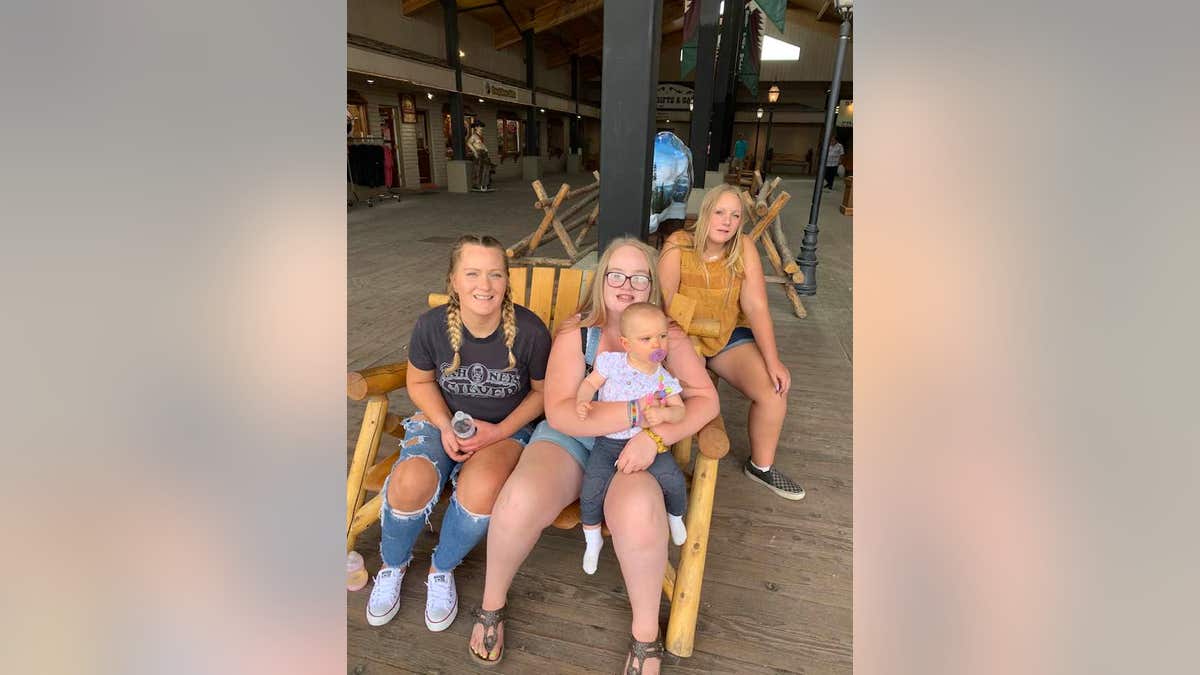 In August, Katie asked Aviles to get her and their daughters from Alabama, and they started driving back in October, according to the federal court documents reviewed by Fox News Digital. 
Katie was last seen in Trumann, Arkansas, around Oct. 5, according to the court documents, which noted there "was no projectile hole in the passenger side door."
Four days later – on Oct. 9 – Aviles was pulled over by Texas State Patrol, which was when law enforcement found a "projectile hole" in the passenger side door, and Katie wasn't in the car, according to the indictment.
SHOOTINGS AROUND COLLEGE CAMPUSES LEAVE STUDENTS, FAMILIES ON EDGE: 'EVERYONE IS AT RISK'
He was pulled over again in Colorado, and he was the only adult in the car, the federal complaint says.
Aviles and the girls returned to Wyoming, without any sign of Ferguson.
He allegedly told officers that Katie "was not missing, but she just does not want contact with her mother," court documents allege. 
READ FULL FEDERAL COMPLAINT
Suspicious evidence found in Aviles' truck
On Nov. 4, Aviles' 1999 Dodge Durango, which he drove during the cross-country trip, was found in the Oregon Basin area near Cody. 
Federal investigators executed a search warrant two days later, and allegedly found dried blood, which was confirmed by a crime lab, and three "fired projectiles" consistent with a .45-caliber round inside the passenger side and two stuck in the door, the indictment alleges.
CLICK HERE FOR MORE TRUE CRIME FROM FOX NEWS
The front seat was missing, and a "large portion" of the truck's trim was removed and stuffed in trash bags in the back seat, according to the indictment.
"It all points in a very tragic direction, and so it's hard. It's hard to hear the rumors, to hear what might have happened to her. It's just unfathomable," Angela Ferguson told local news outlet ktvq.com. "It's devastating. It's the most tragic, awful thing."
The family continues to wait to hear from investigators about potential DNA on clothing and other items investigators found in the truck. 
"I just really hope he, Adam, will talk and just really say what happened," Nicole told the local news outlet. "I love her and I don't want to be negative, but I don't think she's coming home, but I at least want her to be found."
CLICK HERE TO GET THE FOX NEWS APP
The family has set up accounts at Big Horn Federal Bank and U.S. Bank under the Katie Ferguson Memorial Fund to go toward any searches or memorials in the near future.
WYDOT To Wyoming Drivers: Quit Running Into Our Snowplows!
The Wyoming Department of Transportation had all hands on deck over the Thanksgiving weekend as the first serious winter storm of the season hammered southcentral Wyoming. But even WYDOT's plow trucks weren't safe from the hazardous conditions created by other drivers on the icy pavement.
Over a four-day period, three WYDOT plow trucks were hit by other vehicles, all in District 1, which includes the stretch of Interstate 80 between Rawlins and Cheyenne.
"Two of (the incidents) involved a hit-from-behind," said WYDOT spokesperson Jordan Young. "The other was more of a sideswipe situation. So, it involved someone coming up from behind realizing they are going too fast for conditions and not being able to avoid the collision in time."
Damage Done
Young said the three vehicles involved in the crashes were a semitruck, a regular passenger sedan and a pickup. One of the three impacted plow trucks was able to continue plowing and sanding after a delay, but the other two were damaged to the point that they were taken out of commission for repairs.
"A plow that's no longer able to operate is a plow off the road," Young said. "So, it definitely had some different challenges for us to try to overcome."
None of the WYDOT employees driving the trucks were hurt in the crashes. Employee safety is paramount, and crashes that are serious enough to injure drivers are especially detrimental to WYDOT's plowing efforts, Young said.
"Our employees hear about one of their co-workers or friends being involved in a collision. (Then) we must find someone to fill in that space, especially on somewhere like I-80, which is a 24-hour road. We must have plows on there 24 hours a day," she said.
It's not only a problem for WYDOT. The Wyoming Highway Patrol also responded to the accidents, which added to the deluge of calls the agency received and responded to during the storm.
In 48 hours, Wyoming Highway Patrol troopers investigated 125 crashes, cleared 64 road hazards, assisted 145 stranded motorists and responded to numerous 911 calls for service.
Slowly When Snowy
Young said the consistent factor in all three crashes was driver speed and inattention. Amid a severe winter storm, it's doubly important for people to drive according to conditions and remove anything that may distract them from the road.
"No matter the weather or the season, it's important to not look at your phone and not get distracted by anything in or outside of your vehicle. Those are major behavioral impacts that can make driving safer for everyone year-round," she said.
Being aware of the weather is one thing, but being aware of a plow truck's weather is enough. Young said plow trucks create their own snow clouds as they do their work, which can create further hazards for anyone who gets too close.
"The texture of our snow makes it prone to being whipped up with the wind and the plow movement," she said. "Despite the bright flashing lights on the back, it can be hard to see them if the storm is still really going hard. So, we ask folks that if visibility isn't good, slow down, wait till visibility is better, especially, you know, before driving fast and making sure to give themselves time to pass."
All Wyomingites are encouraged to download the Wyoming 511 app for up-to-date information on state and federal highway conditions. The app was continuously updated during the storm, alerting drivers when highways were partially or completely closed and providing any estimated time for reopening.
Young doesn't fault anyone who needed to travel during the storm for any reason they had. When travel Is essential during a storm as intense as this recent event, drivers are responsible for being as safe and proactive as possible before and during their drive.
"We know that sometimes travel is really essential," she said. "But there's a lot to be said for driving according to the conditions you're experiencing. And not looking at the speed limit as the minimum instead of the maximum."