Utah's Afghan arrivals stuck in legal limbo
SALT LAKE CITY — Nearly two years after they arrived in the U.S., many Afghans who fled persecution still face an uncertain future in this country. That's because the documents that allow them to live and work lawfully will soon expire.
In the final episode, the KSL podcast When Stranger Becomes Neighbor explores how that added stress is impacting families already living in extremely stressful situations.
"Nobody has the answer and it's just a waiting game," said Baran, a teenager who escaped Afghanistan in 2021 and does not want her full name to be identified because she fears for the safety of her family still in Afghanistan.
KSL Podcasts launches 'Stranger Becomes Neighbor: Afghan Arrivals'
Afghan refugees were granted humanitarian parole for 24 months, but the special immigration visa application process can take up to 34 months.
"Immigration is so overwhelmed," said Aden Batar, Director of Migration and Refugee Services for Catholic Communities Services. "Close to 80,000 Afghans came into the U.S. at once."
Baran and her older sister Mina have been left to care for their niece alone in Salt Lake City because the rest of their family didn't escape when the Taliban seized control of Kabul in 2021.
"We don't like talking about her parents because if I talk to her, she always asks, 'When are my parents coming?' but we don't tell her," Baran said.
For the last two years, KSL podcast host Andrea Smardon has followed the stories of some of the Afghan families who resettled in Utah.
"It's been really surprising to see the way things have unfolded. There's been a lot of difficult challenges, and there's also been these really life changing relationships that have happened."
Salt Lake resident Kerry Wickman is responsible for one of those life changing relationships — helping her new neighbors with everything from grocery shopping to immigration forms and becoming like family along the way.
"We just call mom, I need you. She come or her husband come for everything. They help us," Mina said.
"She had a moment when she shared some of the trauma she had been through and that was a turning point for me," Wickman said.
"Those relationships are critical with neighbors, with regular people around you," Smardon said.
Baran was recently granted asylum, but her older sister Mina is still waiting.
The Biden administration is allowing qualifying Afghans to renew their parole status but there are barriers for Afghan refugees who don't understand the process, English or have access to computers.
Congress is debating the Afghan Adjustment Act which would speed up the process for permanent legal status. It would also create a process to bring over eligible family members still in Afghanistan.
When Stranger Becomes Neighbor: Afghan Arrivals is available on KSL Podcasts.com or wherever you listen to your podcasts.

Utah State quarterback McCae Hillstead exits UConn game with injury
Utah State true freshman quarterback McCae Hillstead is out with an injury early in the third quarter of the Aggies' contest against UConn Saturday.
The Skyridge High standout was escorted off the field to the locker room, sans helmet, after spending time in the medical tent following an injury incurred on roughing the passer penalty early in the third quarter.
UConn defensive lineman Eric Watts was called for the penalty after hitting Hillstead late on a play where Hillstead found wide receiver Jalen Royals for a 31-yard highlight reception.
Hillstead struggled early in the game against the Huskies, throwing an interception on his first two pass attempts of the game.
The signal caller settled down late in the first half, however, and found wide receiver Colby Bowman for a 63-yard touchdown just before the end of the half to pull the Aggies with 10 points of the Huskies.
Following Hillstead's exit early in the third quarter, QB Cooper Legas led the Aggies down the field for another touchdown — a 15-yard pass to Royals — cutting the UConn lead to just three points.
This story will be updated.
UConn vs. Utah State updates: Live NCAA Football game scores, results for Saturday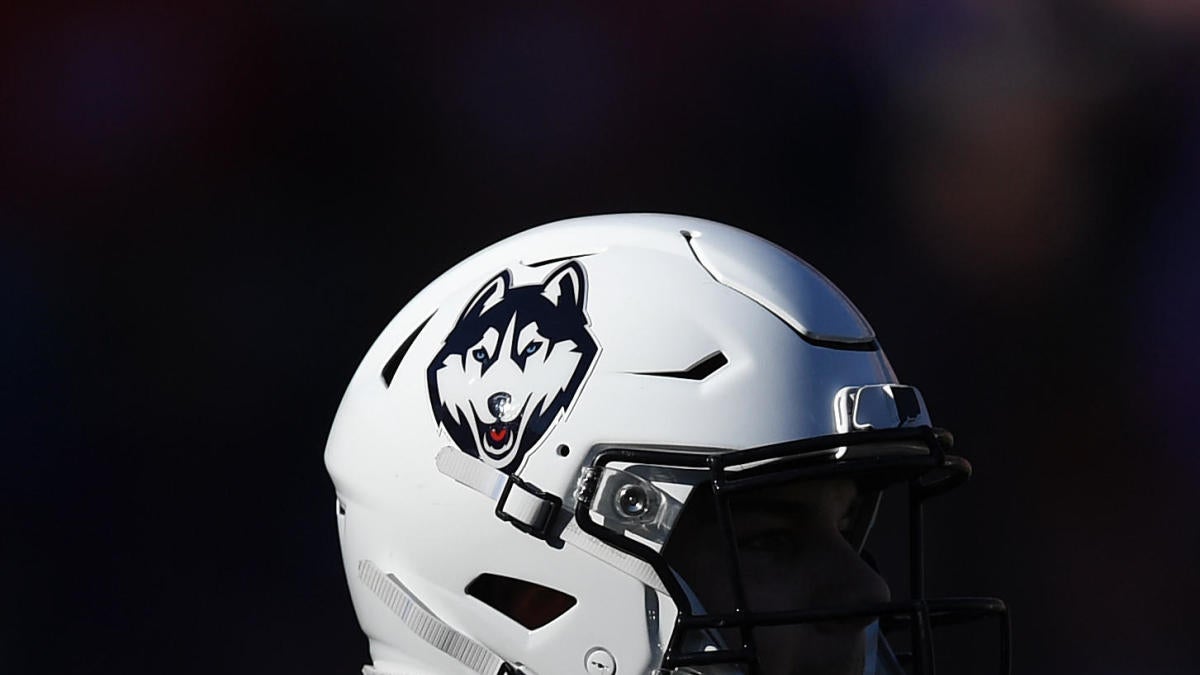 UConn is on a four-game streak of home losses, Utah State a three-game streak of away losses, but someone's luck is about to change. The UConn Huskies will take on the Utah State Aggies at 12:00 p.m. ET on Saturday. UConn is limping into the game on a 6-game losing streak.
Last Saturday, UConn was pulverized by Duke 41-7. UConn was in a tough position after the first half, with the score sitting at 27-0.
Meanwhile, Utah State pushed their score all the way to 38 on Saturday, but even that wasn't enough to win. They fell 45-38 to James Madison.
The losses dropped UConn to 0-4 and Utah State to 1-3.
In addition to losing their last games, both the two teams failed to cover the spread. Looking ahead, Utah State is the favorite in this one, as the experts expect to see them win by five points. This will be their first time playing as the favorites on the road this season.
UConn came up short against Utah State in their previous matchup back in August of 2022, falling 31-20. Thankfully for UConn, Logan Bonner (who threw for 281 yards and three touchdowns) won't be suiting up this time. Will that be enough to change the final result? There's only one way to find out.
Utah's offense hits a low point in loss at Oregon State
CORVALLIS, Ore. — Utah's offensive struggles reached a new low as the Utes were handed their first loss of the season at Reser Stadium.
The Utes gained just 198 yards of offense and scored just seven offensive points for the second time in as many games in a 21-7 loss Friday night that sent the orange-clad fans streaming onto the field.
"We had one touchdown and not even 200 yards of offense. You win exactly zero games doing that," Utah coach Kyle Whittingham said.
"We had one touchdown and not even 200 yards of offense. You win exactly zero games doing that." — Utah coach Kyle Whittingham
For the second time this season, Utah made an in-game quarterback change, as Nate Johnson was pulled early in the third quarter with a stat line of 3 of 11 for 35 yards. His last pass, which was low to an open Jaylon Glover, sent out the punt team yet again and may have been the final straw that triggered the switch.
Bryson Barnes, who was pulled in the fourth quarter of Utah's win at Baylor, was in the game on Utah's ensuing drive. He led the most promising drive of the game, completing four of five passes to get the Utes, down 14 points, into the red zone for the first time of the evening.
After a pass interference call, Utah had the ball five yards away from pay dirt.
Then disaster struck.
Barnes was sacked on first down, fumbled a low snap and recovered it for a loss of 12 yards, then threw an interception on third-and-23.
That just about sums up the night for the Utes offense.
Utah narrowly avoided its first shutout since a 27-0 loss at UNLV in 2007 thanks to a 41-yard Johnson to Thomas Yassmin touchdown pass. Oregon State missed a tackle and Yassmin rumbled 41 yards to the end zone to cut the lead to 14 with five minutes left, but that was about the only bright spot for the Utes when they had the ball.
Even after a defensive stop following the Yassmin score that gave Utah a slim chance, Johnson — who went back in the game in the early fourth quarter after Barnes was injured after a hit that was ruled targeting — had four straight incompletions (Utah got a first down via a defensive holding penalty) and took a sack to end the game.
Johnson did not play well, finishing 8 for 23 for 101 yards and a touchdown. He had a few big missed reads, where he had what looked like a lane for the first down and more if he ran, but he passed instead. A portion of his passes just were off the mark; he had six straight incompletions to end the first half.
"We just couldn't get things done. Some easily missed throws, missed blocks, protection breakdown. It was a struggle tonight. Credit to their defense," Johnson said.
The redshirt freshman split reps 50-50 in practice with Cam Rising, who was out again, but Whittingham said that wasn't an issue.
"Nate got plenty of reps," Whittingham said. "That was no factor in the performance."
This loss was not all on the quarterback play.
Johnson endured some key drops by his receivers, the offensive line did not have a good game (a Michael Mokofisi false start on a play that looked to be a possible touchdown — Landen King was wide open — killed perhaps Utah's best scoring chance in the first half), and Oregon State followed the lead of Utah's other opponents, stacking the box.
The offensive line never got enough push to establish the run game with Jaylon Glover as the lead back — Ja'Quinden Jackson, who has been dealing with a lingering ankle injury, did not dress on Friday night. Glover finished with 16 carries for 58 yards.
There's plenty of blame to go around after another dismal offensive showing.
"We're just not getting it done. We're not in sync, we're not productive, we're not doing anything well on offense right now other than taking care of the football," Whittingham said.
As for Utah's defense, a few cracks started to show as the night wore on.
"We had a lot of missed tackles. That's something we got to clean up," safety Cole Bishop said.
To be fair, the defense has been asked to do a lot through five games thanks to an ineffective offense. The defense is pretty much the only reason the Utes are at 4-1 with a tough schedule.
Utah allowed 21 points and 358 yards of offense, not terrible numbers. With the 2022 version of Utah's offense, the Utes would have been right in that game and would have had a good chance to win. This year's offense is lightyears away from that Cam Rising-led offense, though.
"Defense, decent performance, not the outstanding performance we've been delivering the last few games or really all season," Whittingham said.
Oregon State ran the ball with relative ease on its first drive of the game, racking up 50 yards on an uncharacteristic drive for Utah that included a few missed tackles — a big one on third down. After that, the Utes' defense settled in for the remainder of the first half. Jonah Elliss had two sacks and Utah held the Beavers to no points after the 65-yard touchdown drive to start the game.
In the second half, however, Oregon State scored on two consecutive drives.
On DJ Uiagalelei's 27-yard touchdown pass early the in third quarter, JaTravis Broughton missed a tackle and Sione Vaki got hit with a nice juke move as Silas Bolden went untouched into the end zone.
In the early fourth quarter, Bolden took a pitch from Uiagalelei and ran 45 yards into the end zone. It was the dagger on a night where Utah couldn't move the ball.
Utah didn't get gashed in the run game (allowing 131 yards), but the secondary got beat too many times on Friday, allowing completed passes of 40, 28 and 27 yards.
Already injury-plagued entering the game, Utah suffered more on Friday. Defensive end Logan Fano left the game after what looked like a leg injury and running back Charlie Vincent was lost early.
Barnes, who was the recipient of two targeting fouls by the Beavers, took a big shot to the chest that knocked him out of the game and sent him to the hospital.
"He's in a hospital right now, very concerned about his health," Whittingham said.
Whittingham also said it doesn't look good for Fano or Vincent.
The bye week couldn't come at a better time for the Utes, who are as banged up as they've ever been.
"Very welcome," Whittingham said. "It's going to be the opportunity to regroup and see where we're at and see what the roster looks like."
.