Patrick Kinahan: Utah's beloved Pac-12 football sadly dies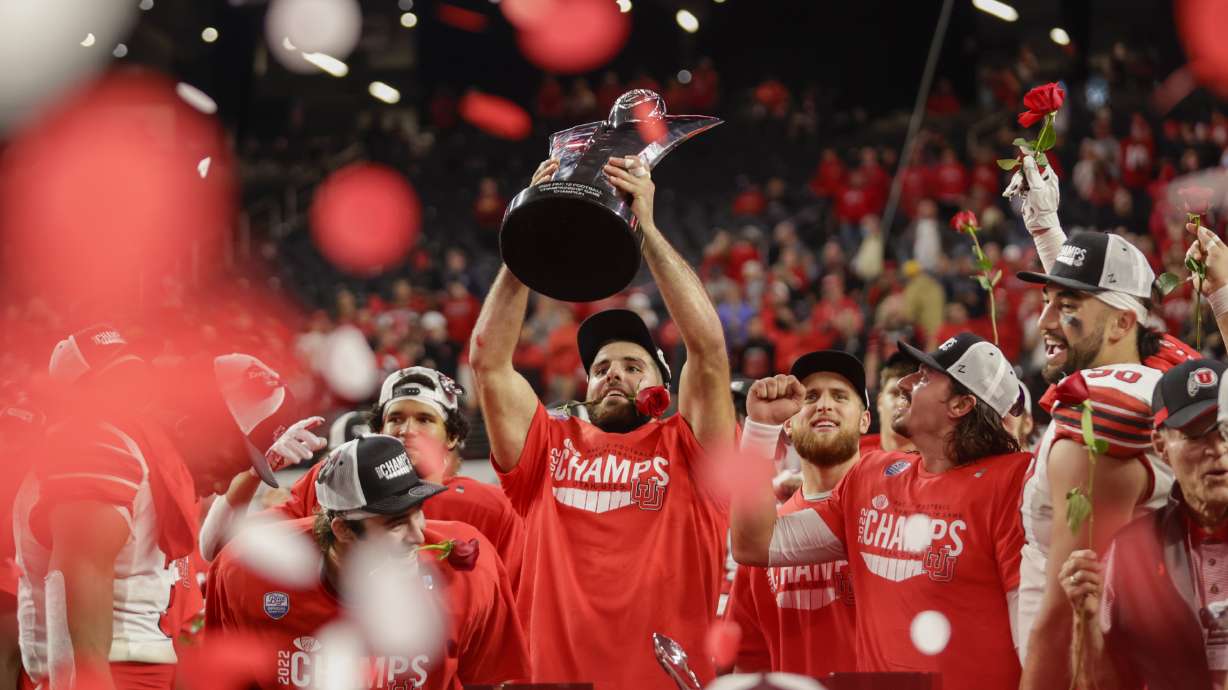 Estimated read time: 3-4
minutes
SALT LAKE CITY — Like all bittersweet goodbyes, the impending divorce impacts literally millions of people connected to the long-term relationship.
More than 100 years of history, filled with countless outstanding memories, prematurely largely ends this weekend. For many, emotions run raw.
Pac-12 football, long recognized as the best conference in the west, concludes with the final slate of regular-season games and then next week with the championship game most likely between Oregon and Washington. With it goes deep associations through multiple configurations that extend back several generations.
In a familiar refrain, greed killed it. And for that pursuit, we metaphorically weep.
The well-documented demise began 15 months ago with the stunning announcement of UCLA and USC joining the Big Ten in time for the 2024 football season. For much of the next year, multiple remaining conference administrators went to great lengths to proclaim the Pac-12 intended to stay intact with the existing 10 athletic programs and potentially look to add another two members.
But it crashed last summer.
Colorado was the third program to bolt, returning to the Big 12 Conference it left to join the Pac-12 along with Utah in 2011. Dissatisfied with the ongoing television negotiations, Utah, Arizona and Arizona State jumped to the Big 12, and the Big Ten snatched up Oregon and Washington.
Unable to legitimately compete for a national championship in football, Utah enthusiastically welcomed the opportunity to join the Power Five when the Pac-12 sought a partner to join Colorado in increasing the conference by two.
The entire Utah community was ecstatic at the invitation, as fans celebrated the formal acceptance on the steps of the state capitol and plastered Pac-12 stickers on cars and any other surface they would stick.
Included in the glee was leaving behind bitter rival BYU, which chose to become an independent to get the desperately needed exposure in football.
After a few years of transition, Kyle Whittingham's program has become a consistent force in the conference and now closes the beloved affiliation with one final game against Colorado this week before moving to the Big 12 next season.
At the time in August, Utah's university and athletic administration put a happy face on the move even as the preference was to stay put. The truth is, once the conference began crumbling around them, the Utes had no choice.
"After this game's over with, the Pac-12 is over with," Whittingham said. "It's sad. I'm not going to try to spin it any other way."
Not that it had to be this way. Conference officials overestimated its worth during television negotiations and rejected a deal that ultimately went to the Big 12.
Smelling blood in the water, Big 12 commissioner Brett Yormark acted quickly to poach four schools and effectively kill the Pac-12. With Stanford and Cal leaving for the ACC, only Oregon State and Washington State remain.
"It's a tremendous loss," Fox college football analyst Joel Klatt said during an interview on The Zone. "It's been such a storied conference — conference of champions. I hate the fact that it's going away, and at the same time it's nobody's fault but their own. The leadership of that conference did this to themselves. They had a deal on the table and didn't take it.
"Once they didn't take it and that deal went to the Big 12, then the media landscape changed and the dollars changed. The bottom line is, media dollars are not infinite and you've got to understand where your place is in the market and go and get the dollars that you think is necessary. And I don't think the Pac-12 did that. Unfortunately, because of that, the conference is going to split up because these teams and programs had to go where they are going. They had no other choice."
Farewell, Pac-12.
×
Most recent Utah Utes stories
More stories you may be interested in

Utah Jazz vs Los Angeles Clippers preview: start time, channel, injury report
The Utah Jazz return home from a miserable night against the Dallas Mavericks and Luka Dončić to another tough test against the .500 Los Angeles Clippers back in Salt Lake City. Following an expletive-led assessment of the team, Coach Will Hardy will have to refocus the team as they welcome 3 sure-fire hall of famers.
Coming off a victory against the Denver Nuggets, the Clippers, who have gone 7-8 since the Harden trade after a 0-6 start, are finding their feet with this new line-up. The collection of talent the Clippers have make them a real threat in the West – with only the Timberwolves having a better record in the last 10 games.
Both Ochai Agbaji and rookie Taylor Hendricks hit 50% from beyond-the-arc and double-digit points with 21 and 10, respectively. The Jazz will be hoping they are able to bring this form back to Salt Lake after such a disappointing loss.
As Lauri Markkanen nears his return to fitness as footage of his practice was released, this would likely see minutes for Hendricks or Yurtseven drop – especially if Kelly Olynyk is in line to return too.
Given the depth of their team, the Clippers have players who can step up on any given night, last time out was Paul George as he led the team with 25 points as 4 other players hit double-digits. They did give up another Jokić triple-double on their way to a 111-102 victory.
---
Game Info
Tip-off: 8:00 p.m. MT
Location: Delta Center (Salt Lake City, UT)
TV Broadcast: ESPN
Radio: 97.5 FM/ 1280 AM The Zone
Uniforms: City Edition
---
Injury Report
The Jazz will be hoping to see the return of the top two offensive players in Lauri Markkanen and Jordan Clarkson, alongside the ball movement that Kelly OIynyk can provide. Olynyk and Clarkson appear to be close to coming back, and may even play in this one, while Lauri Markkanen will be out once again.
Jazz Injury Report:

OUT – Josh Christopher (G League)

OUT – Johnny Juzang (G League)

OUT – Lauri Markkanen (left hamstring strain)

OUT – Micah Potter (G League)

OUT – Brice Sensabaugh (G League)

QUESTIONABLE – Jordan Clarkson (right thigh contusion)

QUESTIONABLE – Kelly… pic.twitter.com/TrRbOC6Bhg

— Utah Jazz (@utahjazz) December 8, 2023
Utah Sen. Mike Lee wants to defund the United Nations
Sen. Mike Lee introduced a bill Wednesday that would see the United States stop payments to and give up membership in the United Nations.
"No more blank checks for the United Nations. Americans' hard-earned dollars have been funneled into initiatives that fly in the face of our values — enabling tyrants, betraying allies, and spreading bigotry," said the Utah senator in a press release.
The Disengaging Entirely from the United Nations Debacle Act, or the DEFUND Act, would repeal federal laws — like the U.N. Participation Act of 1945 and the United Nations Headquarters Agreement Act — that tie the U.S. to the U.N.
Not only would it stop financial support from flowing into the global organization, but it would also prohibit the U.S. from getting involved in the U.N.'s peacemaking operations and formalize a withdrawal from U.N. conventions like the World Health Organization.
"With the DEFUND Act, we're stepping away from this debacle. If we engage with the UN in the future, it will be on our terms, with the full backing of the Senate and an iron-clad escape clause," Lee said.
Sen. Lee: 'UN has become a tool of antisemitism'
His proposed legislation follows the global organization's refusal to condemn Hamas for the attack on Israel. Instead, several U.N. agencies have increasingly called for a humanitarian cease-fire, which earned criticism and pushback from Israel.
Israel's foreign minister Eli Cohen has said U.N. Secretary-General Antonio Guterres is unfit to lead the U.N. since he refuses to hold Hamas accountable. Initially, Guterres said the terrorist attacks of Oct. 7 didn't happen "in a vacuum" since Palestine has been "subjected to 56 years of suffocating occupation." More recently, Cohen said he decided to revoke U.N. Humanitarian coordinator Lynn Hastings' residence visa to travel to Israel for not condemning Hamas.
In a post on X, formerly known as Twitter, Tuesday, Lee wrote, "The UN has become a tool of antisemitism." He called it "an enemy of Judeo-Christian beliefs," adding that the U.S. perpetuates the international peacekeeping organization's "anti-American agenda" by giving it nearly $20 billion a year.
Rep. Chip Roy, R-Texas, alongside Rep. Mike Rogers, R-Ala, is introducing companion legislation in the House. "This year, the United Nations' corruption, and its despicable, brazen political agenda have been on full display," the Texas representative said.
"From (U.N. Relief and Work Agency) actively protecting Hamas and acting against our ally Israel, delayed condemning Hamas, to China being elected to the 'Human Rights Council,' to the propagation of climate hysteria, covering for China's forced abortion and sterilization programs," he said, "the UN's decades-old, internal rot once again raises the questions of why the United States is even still a member or why we're wasting billions."
Other GOP lawmakers and officials push to defund U.N.
Other Republicans, like Rep. Anna Paulina Luna of Florida, have also expressed interest in defunding the U.N. She introduced the Stand with Israel Act, which, Luna said, would first cut funding from the United Nations Human Rights Council.
She wrote in a Newsweek op-ed that the council was concerned about what was happening in Israel while appointing Iran to chair the Human Rights Council Social Forum "just a few weeks after Iranian 'morality police' reportedly beat to death a 16-year-old girl for not wearing a hijab."
Republican presidential candidate Nikki Haley has also vowed to defund the international organization "as much as possible" if elected. But she fell short of saying she supported the U.S. leaving the U.N.
"The only thing is we would defund the U.N. as much as possible," the former U.N. ambassador told Fox News host Sean Hannity last month. "The only reason, Sean, you don't get out of the U.N. is we're one country of five that has a veto."
"The number of things we were able to stop China, Russia and Iran from doing with that veto matters, and so you keep bad things from happening," she said.
"But," Haley added, "we don't have to pay at the level that we're paying, and we don't have to be in any of those other organizations."
[VIDEO] 3 Backflips in Utah For The End of the "300" Project – SnowBrains
Report from December 6, 2023
Yesterday I met up with Noah Gaffney & Jack at Alta with one goal in mind:  backflips.
I really wanted to land a backflip in the last days of this project.
Yesterday was ski day #304 – the 2nd to last day of the project.
My cut-off in December 8, 2023.
Noah was a gem and had already build a jump off the Wildcat cattrack by the time I arrived.
I rolled up, threw my boots on, road up Wildcat and it was backflip time.
Noah went first and stomped one of his signature, legs together backies.
I was next and I was nervous, but not too bad.
The jump was small to medium in size and just about perfect for backflips.
I was all in and luckily I landed right on my feet!
I was elated.
I skied down to Noah and hugged him and hugged Jack once he arrived.
We went right back up and Noah did a flat spin and I did another backflip.
Then we saw the traverse under Mt. Baldy opened so we traversed and hiked and sidestepped into the Bad News cliffs where I'd broken my face in 3 places back in 2011…
Noah did the Bad News Double and I hit a little rocky cliff.
We hiked back up to Bad News from the Wildcat side and hit another fun air and skied some pow.
I decided to go for one more Backflip before heading home.
I was able to stomp all 3 and it felt very right.
3 backflips for the 300 project on ski day #304.
I raced home to record a SnowBrains Podcast with legendary Alaska heli-ski guide Harlan Sheppard.
Yesterday was a full and terrific day.
Thanks so much to Noah and Jack for all their support yesterday and thanks, Utah!
You might also like: