Smoke caused by electrical fire pours from café in Seattle's South Park
SEATTLE — Firefighters say a fire that damaged a café in Seattle's South Park neighborhood on Sunday night was likely caused by "faulty electrical."
Seattle Fire said it was 8:54 p.m. when dispatchers received 911 calls about smoke coming from the windows and doors of a two-story business on 14th Avenue South near South Cloverdale Street.
Crews arrived at the Good Voyage Café and as they entered through the front door, they were met by thick smoke. Though they had poor visibility, firefighters were able to locate the place where the fire started, near the back of the first floor.
They quickly worked to knock down the flames and had the fire under control by 9:24 p.m.
No one was inside the café during the fire and no one was hurt.
The fire was completely out by 9:42 p.m.
It was ruled as accidental and was "likely caused by faulty electrical."
©2023 Cox Media Group

Devils Grind Out 2-1 Win in Seattle | GAME STORY | New Jersey Devils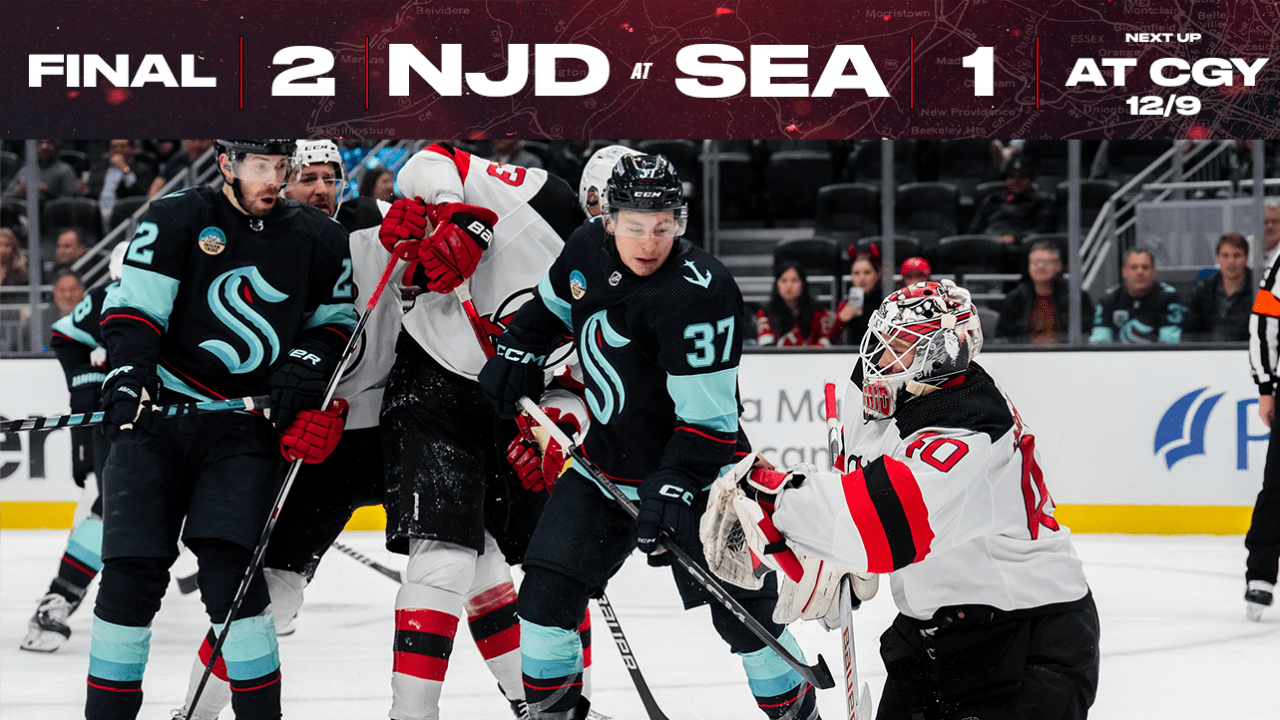 "Finally, we found a way to win," Palat said of the tight game where they protected a lead for over 30 minutes. "We've got to be comfortable with those types of games. Schmid stood on his head. It wasn't our best but we need to win those types of games."
Devils head coach Lindy Ruff was happy with what he saw, despite the team giving up 39 shots. 
"We did a good job of staying inside. First two periods, besides a couple turnovers on puck play just inside the blue line we defended really well," he stated, adding that he liked what he saw from his goaltender. "Solid performance. Helped us win a hockey game. There's a couple times they could have gained some momentum but he made some saves for us."
Akira Schmid liked how his team played in front of him.
"We made some timely blocked shots," said Schmid. "Most shots came from the outside. Once we got inside they did a good job getting sticks on it or clearing rebounds."
After a back-and-forth opening period, the Devils struck for the game's first goal. Nico Hischier sent the puck cross-ice to John Marino at the right face-off circle. His blast was redirected in front by Ondrej Palat to make it 1-0.
"Good play by Nico and Johnny," said Palat. "Great pass to me and it hit my skate. Lucky enough, it went in."
Shots on goal after one were 10-7 for Seattle.
Devils had a series of chances in the opening few minutes of the second period but could not convert. Alex Holtz had the puck at the top of the crease and goaltender Philip Grubauer out of position but the puck just wouldn't go in.
The Kraken tied the game seven minutes into the second. Alex Wennberg from behind the net spotted Tye Kartye in front at the hashmarks and Kartye quickly fired it past Akira Schmid.
Two minutes later, the Devils regained the lead. Jesper Bratt took the puck around the Kraken net and found Simon Nemec between the circles. Nemec made no mistake, whipping the puck in for his first career NHL goal.
"I didn't think I did a celly or something," smiled Nemec. "I didn't look happy but I was."
Nemec added that he was very happy with how he played overall in this one. 
"It's good for me to play big minutes. I didn't expect it. The coaches trust me. I feel good in this role and I try to do my best."
Ruff really liked what he saw from Nemec on the night. 
"Another strong game," said Ruff. "He was able to jump in, find a lane and get a shot. His hockey sense and ability to pick the right time has been good."
"First goal is always something you'll remember forever."
Erik Haula was called for tripping with 8:42 to go in the second, giving Seattle its first power play but it only lasted six seconds before Kailer Yamamoto was whistled for slashing.
After 40 minutes, shots on goal were 22-14 for the Kraken.
Through the first nine minutes of the final frame, the Kraken had five shots and the Devils had none. Brendan Smith then took a penalty to give the Seattle power play a chance to tie the game.
Devils killed off the penalty but by the time the minor had concluded, shots on goal were 10-0 for the home side in the third.
With 4:24 to go in the third, Brian Dumolin tripped up Palat along the boards in the Kraken zone to give the Devils power play a chance to take some time off the clock. Unfortunately for the Devils, the best scoring chance on the man advantage went to Seattle who had a two-on-one. Schmid managed to bat away a wrist shot from Jared McCann at the right face-off circle.
Shots on goal in the third period were 17-3 for Seattle; 39-17 in the game overall.
Seattle collector claims many of his cars have been stolen over the years
A Seattle man says many cars he has owned over the years have been stolen and he spoke with KIRO 7′s Ranji Sinha to see if anything could be done.
Larry Kemp collects cars. He says his black Nissan Maxima was stolen in the last two years and another car was snatched right off the street.
A 1990 blue Mustang was stolen just last week.
He called the police and checked cameras on the street, all in hopes of getting his car back.
"Drove the car home, parked it went in the house took a nap getting ready to go to work, come out… car's gone," Kemp said.
Kemp spoke to KIRO 7 in 2020 when his red 1988 Nissan was stolen.
"I like to collect older cars," Kemp said. "1990 Ford Mustang, I'm thinking nobody going to want that that's just going to be a collector's item."
Kemp suspects the blue Mustang featured in one of the Fast and Furious films made it desirable.
For the past few years car thefts — especially Kias and Hyundais — have skyrocketed, once a viral hack showed how easy it is to steal them.
Considering Kemp's luck he admits he's probably never going to buy those brands.
"I don't have nothing to do with that!," Kemp chuckled.
Locally KIRO 7 has seen stolen vehicles used in smash-and-grab style robberies.
Numbers from the Puget Sound Auto Theft Task Force show that King and Pierce County combined to average 71 car thefts a day in September — November's numbers could include Kemp's latest loss.
Kemp says his insurance is going up. He said insurance asked him to maybe find a better place to store his cars — which he is trying to do.
He says the Mustang was meant to be a gift for his son, so he would love to get it back, but he's forced to wonder if it will just get taken again.
©2023 Cox Media Group
GeekWire Gala recap: Seattle community dances, sings and parties at annual bash
A frosty night inside Seattle's Showbox Market warmed our geeky hearts on Wednesday as the tech community came together to celebrate the holidays at the annual GeekWire Gala.
More than 600 attendees turned out for a night of networking, dancing, singing and partying as a winter theme took over the historic venue in downtown Seattle.
Partygoers packed the dance floor and the "Geekaroke" karaoke lounge; a select few took the stage for a fierce holiday fashion contest; they sipped specialty cocktails and munched on tasty treats; they posed all night in the glittery photo booth; had their caricatures drawn; took home airbrushed tattoos; and more.
In a special program before the official party kicked off, we paid tribute this year to the region's "Uncommon Thinkers" — Seattle-area inventors, scientists, technologists and entrepreneurs transforming industries and driving positive change in the world.
The honorees included: University of Washington professor and entrepreneur Shwetak Patel; Brinc founder and CEO Blake Resnick; MagniX CTO Riona Armesmith; USAFacts President Poppy MacDonald; Seattle Children's Hospital attending anesthesiologist Dr. Elizabeth Hansen; and Boundless co-founder and CEO Xiao Wang. (Click on each name to read GeekWire profile stories on the winners, and check back Saturday for GeekWire Podcast interviews with some of them.)
A big thanks to Greater Seattle Partners for their support of this new awards program.
The GeekWire Gala was presented by First Tech Federal Credit Union.
Thanks to our additional gold-level sponsors: Greater Seattle Partners & RSM, US LLP; silver level: Pilot Capital, Tito's Handmade Vodka, SolluCIO, Prime Team Partners, Remitly, Submittable, Sigma Computing, Cohesity, and Xenomode; and supporting level: World Trade Center Seattle, Hal9, Lexion, American Diabetes Association, and Sonic Symphony World Tour.
And thanks to everyone for making our party your party. Happy holidays!
Keep scrolling for more photos from the 2023 GeekWire Gala: