Bucs Depart for 49ers | Departure Gallery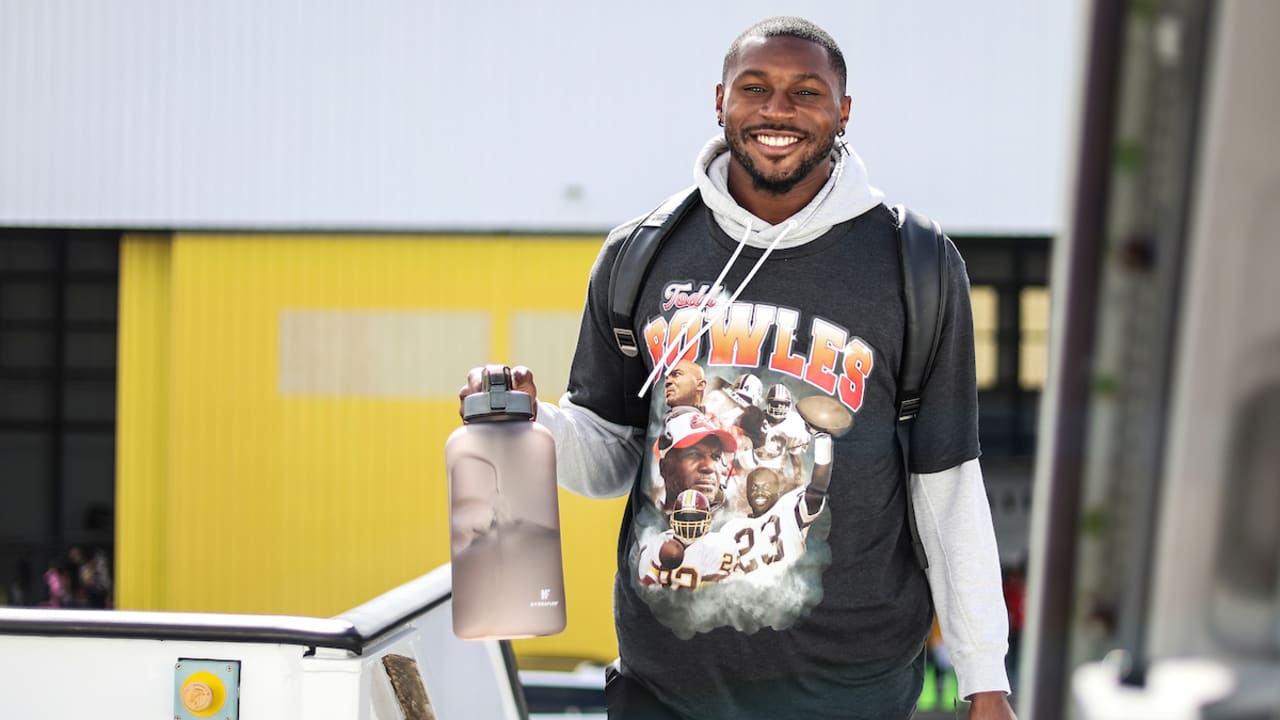 TAMPA, FL – November 18, 2023 – Defensive Lineman Deadrin Senat #56 and Outside Linebacker Anthony Nelson #98 of the Tampa Bay Buccaneers of the Tampa Bay Buccaneers depart before the game against the San Francisco 49ers. Photo By Tori Richman/Tampa Bay Buccaneers

Crash Injures Two, One Critically, In SF's Mission District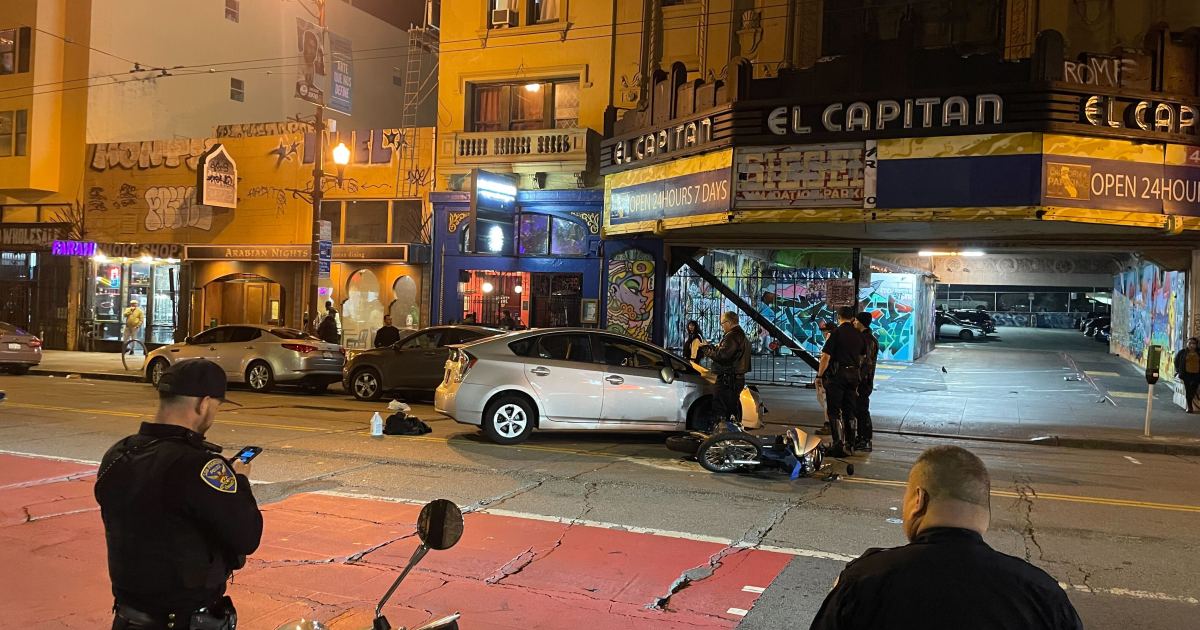 A crash in San Francisco's Mission District has wounded two people, including one who is critically injured, officials said.
The crash was reported at 6:13 p.m. on Mission Street between 19th and 20th streets, according to the San Francisco Fire Department. Two people were sent to a trauma center as a result, with one in stable condition and the other in critical condition, authorities added.
A photo taken by a reporter between 19th and 20th streets shows a car and motorcycle were involved in the crash.
The San Francisco Police Department has yet to respond to The Standard's request for comment.
San Francisco Makes 'Top Five' Of Most Fun Cities In America
Americans spend over $3,400 annually on entertainment, according to the Bureau of Labor Statistics, but exactly how we get our fix of fun differs from person to person – and city to city. For example, Las Vegas is the most fun city overall, according to a new report by the personal-finance website WalletHub, which analyzed 65 key indicators across three dimensions: entertainment and recreation, nightlife and parties, and costs. Orlando, Florida at number two, was followed by Miami, Florida; Atlanta, Georgia; and San Francisco, California in the top five spots.
"Las Vegas, the most fun city overall, naturally has the most casinos of any city. For those who aren't gamblers, Vegas has an especially high number of music festivals and music venues, as the city is renowned for its performers," said Cassandra Happe, WalletHub Analyst. "Sin City is an especially attractive place for partiers, given that it's one of the only cities that allows public drinking in most or all places, and it has a very late last call."
Sixth through tenth on the list were New Orleans, Louisiana; Austin, Texas; Chicago, Illinois; Honolulu, Hawaii and New York, NY. Ranked number 11 through 20 were Cincinnati, Ohio; Denver, Colorado; Portland, Oregon; St. Louis, Missouri; Washington, DC; San Diego, California; Tampa, Florida; Fort Lauderdale, Florida; Houston, Texas and Los Angeles, California.
For the full report, visit: https://wallethub.com/edu/most-fun-cities-in-the-us/23455
Key Stats
Miami has the most restaurants (per square root of population), 7.5234, which is 17.9 times more than in Pearl City, Hawaii, the city with the fewest at 0.4199.
Boston has the highest share of the population with walkable park access, 99.74 percent, which is 3.1 times higher than in Indianapolis, the city with the lowest at 32.50 percent.
New York has the most playgrounds (per square root of population), 13 times more than in Hialeah, Florida, the city with the fewest.
San Francisco has the most dance clubs (per square root of population), which is 80.6 times more than in Henderson, Nevada, the city with the fewest.
Milwaukee, Wisconsin, has the lowest average beer price (per six-pack), $8.06, which is 1.6 times lower than in Miami and Hialeah, Florida, the cities with the highest at $12.88.
Fargo, North Dakota, has the lowest movie cost, $6.24, which is 2.8 times lower than in Oxnard, California, the city with the highest at $17.40.
Each of the most fun cities has its own charms. Second-place Orlando unsurprisingly leads the nation when it comes to theme parks, hosting iconic locations like Disney World and Universal Studios. Miami – one of the most famous spring break cities – boasts attractive beaches and parkland, with over 88 percent of the city's residents living within half a mile of a park. Atlanta, renowned for its music culture, ranks as the best city for dance parties.
"Finding a city that matches your own unique brand of fun is important," noted Happe. "All cities have a variety of activities, but some shine more than others when it comes to things like parks and beaches, live music and comedy, partying, sports culture or fine dining. Picking a city to spend a weekend in is easy, but moving to a city where you'll have fun on a regular basis requires more research."
There are a few steps you can take when trying to determine whether a city you're considering moving to will offer you an adequate amount of fun.
Spend as much time as possible before committing to a move. Spending a few days in a city can give you a brief glimpse of what its culture and entertainment are like, but that's only a small sample size, and the glamor may wear off with a longer stay. The more time you spend in a city, the better idea you will have about whether you'd like to stay long-term. Try visiting without attending a specific event – that will challenge you to seek out ways to have fun on the fly.
Talk to locals. No one knows how to have fun in a city better than the people who live there. Talk to people about your interests and ask them what opportunities the city has for pursuing them.
Look for a city that has a good mix of activities. If you want to have a well-balanced social life, look for cities that have an abundance of indoor and outdoor activities, with good daytime options and a robust nightlife. That way, you can vary the ways you have fun so you won't get bored.
Embrace the culture. Look for cities with a diverse cultural and entertainment scene. Consider the availability of theaters, live music venues, art galleries, museums, and other cultural attractions. A city with a rich cultural environment often provides a wide range of entertainment options. You'll also be able to meet people from different walks of life who may introduce you to activities you never knew you'd be interested in.
Bob Lee Murder: Defense Lawyers Say Politics Damaged Case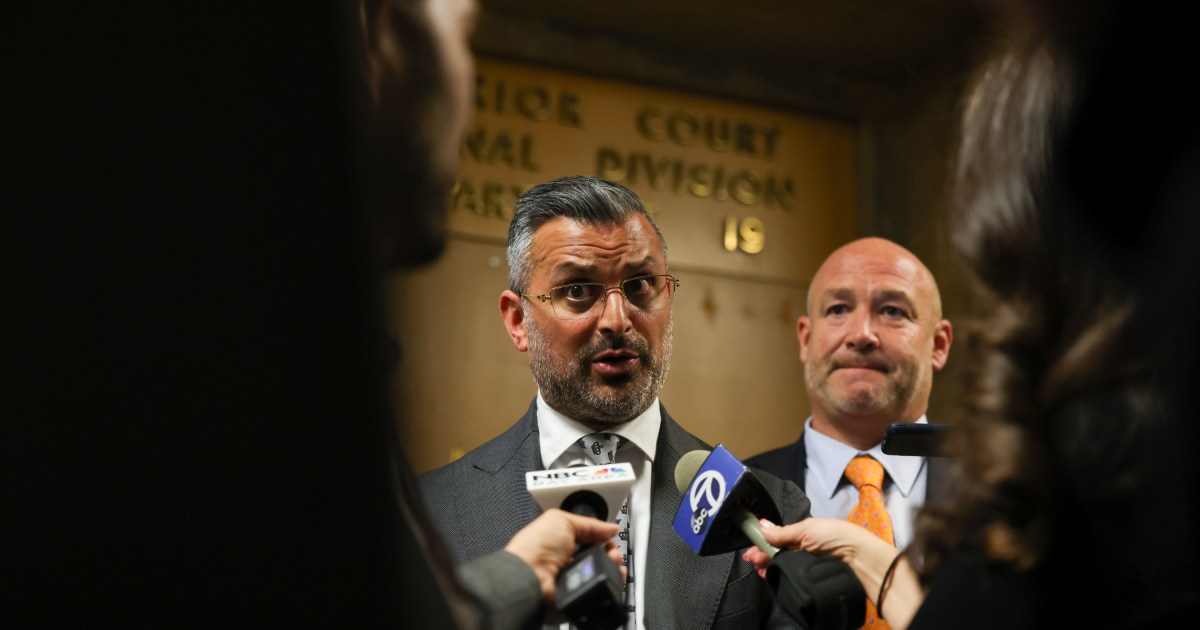 Attorneys for the accused killer of tech executive Bob Lee say their client can't get a fair trial in San Francisco because his former lawyer was influenced by one-time Mayor Willie Brown to change her tactics—an assertion she denies.  
The allegations are part of a new Nov. 30 filing by Nima Momeni's legal team seeking to have his trial moved out of the city. In the motion, Momeni's lawyers put forth a wide variety of reasons why they contend that finding an impartial jury here is impossible.
Besides Brown's alleged influence, the attorneys point to extensive media coverage that has focused on Momeni's family and their private lives, as well as his roots in Iran. They also cited the fact that hundreds of thousands of people in the Bay Area work in tech and supposedly revered Lee, who is best known for his work developing the mobile money transfer platform Cash App. 
But chief among the complaints are the legal team's "troubling and worrisome" experiences with local lawyers who were initially involved in the case, and an "apparent political nexus that appears to be a driving force in some very unusual situations."
Momeni, who has been charged with murder, is alleged to have fatally stabbed 44-year-old Lee under the Bay Bridge on April 4 over a dispute involving Momeni's sister, Khazar. From the start, the case has been characterized by bombastic rhetoric, big personalities and intense media coverage. 
The latest filings by defense attorneys imply that Momeni's initial attorney, Paula Canny, may have been influenced by Brown to change her legal strategy, and that another attorney briefly involved in the case, Douglas Horngrad, insulted the new defense team and urged them to strike a plea deal with prosecutors. 
Both Canny and Horngrad denied the allegations. Brown, who was a former civil rights lawyer before he entered politics, did not respond to a request for comment.
"The family advised me that Mrs. Canny had met with former Mayor Willie Brown to discuss this case. After this meeting, the family indicated that Mrs. Canny's perspective of the case shifted dramatically," said the motion, which was filed by the legal team headed by Saam Zangeneh and Bradford Cohen. 
Canny withdrew from representing Momeni in May and was replaced by Cohen and Zangeneh, who are based in Florida and do not regularly practice law in California. They are being assisted by Tony Brass, a San Francisco attorney. 
The motion claimed that Canny undercut the new legal team on day one by not waiting for their representative to appear in court before a hearing ended. It also claimed that she handed over Khazar Momeni's cell phone to police without a warrant, court order or a request from the district attorney.
Canny denied those allegations. 
"If they want to vilify me, ok, because they know that I'm never gonna comment beyond what I said about it not being true," she said. 
The motion argues that Horngrad, who frequently meets with Brown, insulted Cohen and Zangeneh and opined that Momeni should seek a plea deal. 
Horngrad was introduced to Momeni's family by Canny as a potential lawyer for Dr. Dino Elyassnia, Khazar Momeni's husband, the filing said. After that introduction, Horngrad expressed interest in joining Momeni's new legal team, even appearing at the group's first court hearing on June 13. 
After Cohen and Zangeneh decided that Horngrad was not a good fit, according to the filing, he responded with "a series of angry, inflammatory, and accusatory emails. …The last one was so venomous that he accused me of 'doing a first-class job of elevating a manslaughter to a murder.' He then ended the email by calling me 'an obvious prick.'"
"The email is threatening in nature, as it suggests that we should plead out the case to a manslaughter even though Mr. Horngrad had not reviewed the evidence or ever spoken to the client," the attorneys said in their motion. 
Horngrad did not reply specifically to the allegations in the motion but told The Standard: "I will address them in the proper forum." 
The motion's other argument for why the trial should be moved listed the extensive local news coverage of the case, which detailed the lives of Nima Momeni and Lee and went far beyond simply informing the public. 
The motion contends that such stories were "written to inflame the local public as to introduce non-admissible evidence to a local jury pool." For instance, the motion claimed The Standard's publication of photos of Nima Momeni in jail was "cataclysmic." (Momeni's attorneys were aware of the photos prior to publication, and refused to comment to The Standard about them. They did not request that they not be published.)
It also claimed that stories noting Momeni's Iranian birthplace were prejudicial. 
"The local media has used Nima's Momeni's and undersigned counsel's ethnicity to create a negative sphere associated with the current Iranian regime," the motion contended.
The filing expands on statements made by the legal team last week after a hearing in San Francisco Superior Court by Momeni's lead attorneys, Zangeneh and Cohen. 
Judge Loretta Giorgi set a trial date for March but is scheduled to make a ruling on the change of venue motion on Jan. 25.