San Diego boasts 71 percent diversion rate in 2022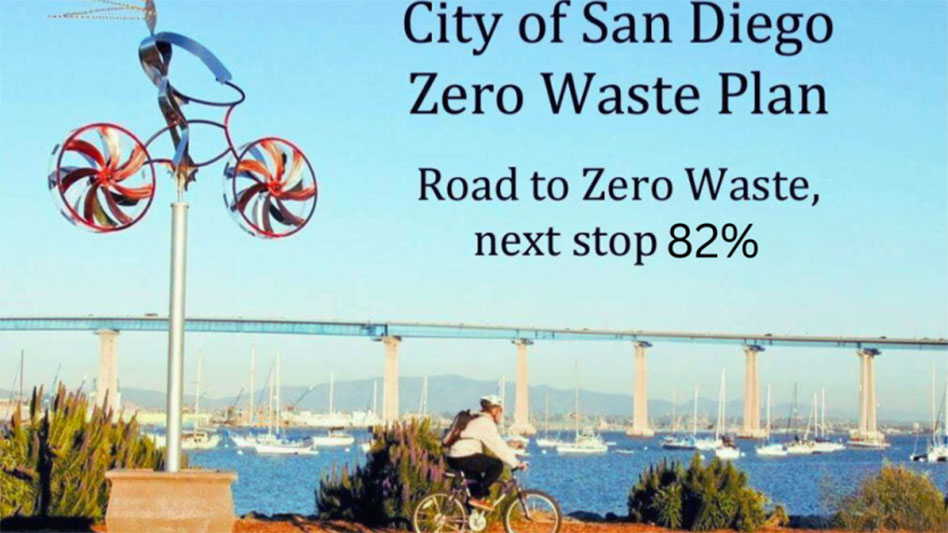 Calling it a "significant milestone in efforts to encourage recycling and limit waste," the city of San Diego says it achieved a 71 percent diversion rate for the amount of material diverted from landfills in 2022.
"According to data provided by CalRecycle, the diversion rate of 71 percent for 2022 was based on all waste generated by those who live, work and play within the city limits of San Diego," says the city's Environmental Services Department (ESD), calling that rate the highest it has ever been. 
"The city's diversion rate is a clear signal that San Diegans are embracing recycling and are dedicated to meeting our climate goals," says city  council member Joe LaCava, chair of the city's Environment Committee.
"This positive shift toward zero waste is the product of hard work by city staff to educate the public about the impact of waste diversion," adds LaCava. "It is in partnership with residents and businesses—who recognize the importance of recycling and the urgency to eliminate harmful greenhouse gases (GHG)—that we will continue to see these diversion rates rise in the coming years."
The ESD says San Diego's previous highest waste diversion rate was 68 percent in 2012. The rate for 2021 was 63 percent, and the rates from 2013 to 2020 were in the 64 percent to 67 percent range.
San Diego is close to reaching an initial Zero Waste Plan goal of 75 percent, adds the department. "Looking ahead, the next goals are 82 percent by 2030 and 90 percent by 2035, with the ultimate goal of zero waste by 2040," states the city.
The ESD describes zero waste as a principle that calls for handling discarded materials as commodities for reuse rather than for disposal, and conserving those commodities through waste prevention, recycling, composting and other technologies. The city of San Diego Zero Waste Plan is a road map to diverting almost all solid waste from going into landfills, states the department.
San Diego introduced curbside residential organics collection this year, and is planning a larger composting facility to handle some of that material.
"We are very encouraged by our progress in 2022, and believe that 2023 will prove to be even better, after a full year of San Diegans participating in the city's new Organic Waste Recycling Program by diverting their food scraps, food-soiled paper and yard waste into green bins," says Renee Robertson, director of the ESD. 
"Diverting waste from our landfills is a crucial part of the city's overall climate action goals, and we are delighted to see the progress to date," says Shelby Rust Busó, chief sustainability officer with the Sustainability and Mobility Department. "We are grateful to all San Diegans who are decreasing their carbon footprint by recycling and reusing materials on a daily basis." 

2 Earthquakes Near Ocotillo Rattle San Diego County
SAN DIEGO, CA — Two earthquakes rattled San Diego's rural East County Tuesday night.
A 3.5 magnitude quake was reported at 8:11 p.m. about 7 miles east of Ocotillo, a census-designated place in neighboring Imperial County, according to the U.S. Geological Survey. The quake had a depth of more than 4 miles.
Less than 20 minutes later, a 3.7 magnitude quake was reported at 8:30 p.m. nearly 7 miles east of Ocotillo, according to the USGS. The quake had a depth of more than 5 miles.
Residents in Lakeside and San Diego reported feeling the second quake, according to the USGS's "Did You Feel It?" map.
There were no immediate reports of damage or injuries from the quakes.
The earthquakes come after a series of quakes that shook that same area last week.
New County Supervisor Sworn Into Office
A new member of the San Diego County Board of Supervisors was sworn in Tuesday at the County Administration Center.
Supervisor Monica Montgomery Steppe will represent the Fourth Supervisorial District for the remainder of the current term ending in January 2027.
Supervisor Montgomery Steppe was sworn in by her father-in-law Cecil Steppe and joined by her husband Steve while reciting her oath. She becomes the county's first Black woman supervisor.
"We know that today marks a momentous occasion in our county's history, filled with promise, filled with hope and filled with progress," Supervisor Montgomery Steppe said. "As I stand before you, deeply humbled and immensely grateful, l am acutely aware of the weight of responsibility and the honor to be chosen by the people as the first Black woman to serve on the San Diego County Board of Supervisors in the history of this county. I am truly honored."
District 4 voters selected Montgomery Steppe to fill the vacant board seat during the Nov. 7 special election. She previously served as a council member for the City of San Diego.
"This moment also belongs to every person who dared to dream, who fought against adversity and believed in the possibility of a more inclusive and equitable future for our community," Supervisor Montgomery Steppe said. "I stand on the shoulders of countless individuals who paved the way, breaking barriers and clearing the path for diversity, representation and for change.
District 4 includes the following areas: Alta Vista, Azalea Park, Balboa Park, Bankers Hill, Bay Park, Bay Terraces, Birdland, Broadway Heights, Casa de Oro – Mount Helix, Chollas Creek, Chollas View, City Heights, City of La Mesa, City of Lemon Grove, Civita, Clairemont Mesa, College Area, El Cerrito, Emerald Hills, Encanto, Hillcrest, Kensington-Talmadge, Lincoln Park, Linda Vista, Lomita Village, Mid-City, Middletown, Mission Hills, Mission Valley, Montezuma Mesa-SDSU, Morena, Normal Heights, North Bay Terraces, North Clairemont, North Park, Oak Park, Old Town, Paradise Hills, Portions of Grantville, Portions of Kearny Mesa, Portions of Spring Valley, Rancho San Diego, Rolando, Serra Mesa, Skyline, University Heights, Valencia Park, and Webster.
A Bar Fixture in North Park Gets a Boost From Cocktail Veterans
Gilly's Bar was bound for change. Earlier this year a buyer was lined up for the venue, but when the initial deal fell through the opportunity was brought to the attention of two veterans of the San Diego cocktail scene.
Renamed as Gilly's House of Cocktails, the bar is now co-owned by Erick Castro (Polite Provisions, Raised by Wolves) and Jacob Mentel (Youngblood, Wormwood), who aim to offer a balance of well-made drinks and value. Many original elements of Gilly's remain in place — there's only so much change that could've happened in the two weeks they shut down to shine up the space. "You can't buy carpet like this," Castro says as he gestures toward his feet.
Erick Castro and Jacob Mentel

Kelly Bone
"A lot of people think we are backed by people, we're not," states Mentel. He and Castro took on the space with sincere intentions to keep most things status quo, without pressure to make the bar anything but what it already is: a refuge for locals.
The new proprietors say they invited the entire staff to stay on. Some did, others didn't. Familiar faces, like Elih who has spent more than 20 years behind the bar, are still there serving rounds of Coors Light to patrons as they play bar games. Money is now earmarked for the staff's continuing professional education along with funding health insurance and mental health resources (a keen passion of Mentel's).
Fresh coat of paint and upholstery.

Kelly Bone
Working as partners has come easy. "We are both diagnosed with ADHD. We understand each other's chaotic minds. It helps us to see each other and understand where we are coming from," explains Mentel. Both will work some shifts behind the bar, with Castro attending to ownership duties while Mentel acts as general manager and runs the cocktail program.
The duo has designed their business for returning regulars, with prices on par with before times. Well drinks and shots will run 5 dollars, with a beer and a shot pairing coming in at 10 dollars; the updated cocktail menu tops out at 12 dollars and includes some familiar recipes like Castro's famous boozy vegan eggnog.
The bar and pool tables.

Kelly Bone
No food will be prepared on-site, but customers are welcome to grab takeout from —and only from— restaurants on the block like Gnarly Girl Pizza, Pomegranate, and Flavors of East Africa. Mentel and Casto say they're also happy to recommend neighboring bars to customers passing through. "At the end of the day, this industry shouldn't be about competition, it's about us as an industry bringing each other up. It's about the next 15 years, not the next year."
On opening night, a gentleman from across the street who has been a frequent customer since 1989, stared at the wall behind the bar where the TV had been taken down to reveal a mirror etched with the name Joni's, surrounded by a white heart. "She made this place," he tells nearby customers. Not all change erases the past.
A drink and the tribute to Joni.

Kelly Bone