Live updates | Europe sweeps foursomes 4-0 for its best ever start to a Ryder Cup
GUIDONIA MONTECELIO, Italy — 
Europe made its best ever start to a Ryder Cup, sweeping the opening foursomes 4-0 in a stunning response to its record loss to the Americans at Whistling Straits two years ago.
Rory McIlroy and Tommy Fleetwood completed the morning shutout at the Marco Simone club by winning the heavyweight final match 2 and 1.
Minutes earlier, Sepp Straka tapped in at the par-3 17th to secure a 2-and-1 victory with Shane Lowry over Rickie Fowler and Collin Morikawa.
The U.S. was never ahead in any match. None of the four matches got to the 18th hole, making it one of the most dominant sessions ever at a Ryder Cup.
___
The Europeans are halfway to a blowout in the opening foursomes at the Ryder Cup.
They now lead 2-0 after Viktor Hovland and rookie Ludvig Åberg secured a 4-and-3 win over Max Homa and Brian Harman in the second match out.
Europe has never won every match of the opening session at a Ryder Cup. The Americans swept the Friday morning foursomes at Hazeltine in 2016.
___
Jon Rahm and Tyrrell Hatton have put the first point on the board at the Ryder Cup for Europe.
It was a blowout, too, as Europe's fiery pairing won 4 and 3 in the lead match against Scottie Scheffler and Sam Burns on a day when blue was filling the boards at the Marco Simone club.
The anchor match had been the closest but Rory McIlroy and Tommy Fleetwood have moved 2 up against Xander Schauffele and Patrick Cantlay.
Europe is at least 2 up in every remaining match.
___
The Europeans are in position to sweep the opening session of the Ryder Cup for the first time.
Europe is at least 3 up in three matches and 1 up in the other against the favored Americans in the foursomes, a traditional strength of the European team.
In the lead match, Jon Rahm and Tyrrell Hatton are 4 up on top-ranked Scottie Scheffler and Sam Burns after 12 holes and could soon clinch the first point of the Ryder Cup. Rahm got one of the biggest cheers of the morning by chipping in from off the green to halve the 10th hole.
The Scandinavian pairing of Viktor Hovland and Ludvig Åberg are 3 up against Max Homa and Brian Harman after 11 holes. Shane Lowry and Sepp Straka have the same lead after 10 holes against Rickie Fowler and Collin Morikawa.
The anchor match is giving the Americans the most hope. It is through nine holes, with Xander Schauffele and Patrick Cantlay reducing the deficit to Tommy Fleetwood and Rory McIlroy to 1 down.
___
All the foursomes matches are on the course. All the boards are filled with European blue.
Jon Rahm and Tyrrell Hatton are 2 up in their match with Scottie Scheffler and Sam Burns. Rahm holed a birdie putt from off the green at No. 2 and he nearly made a hole-in-one on the par-3 seventh hole when his tee shot struck the base of the pin.
The excitement has come from Viktor Hovland. The Norwegian star holed a brutally tough pitch off a tight lie on the fringe and over a ridge at the first hole. He hit the pin on another chip. And then he hit a chip that stayed in the rough.
Europe was up in three of the matches. The anchor match is tied through two holes. That one has the most star power — Rory McIlroy and Tommy Fleetwood against Xander Schauffele and Patrick Cantlay. The American tandem has never lost in foursomes.
Fleetwood went 4-0 in France with Francesco Molinari, the famous "Moliwood" partnership. Now he's part of Fleetwood Mac.
___
Two of golf's best players finally got the sport's biggest spectacle started Friday at the Ryder Cup.
Scottie Scheffler, the world's No. 1 player, hit the opening tee shot at Marco Simone, the golf ball disappearing in a thick collar of rough down the left side of the fairway. Masters champion Jon Rahm found the right side of the fairway.
Anticipation from the two-year wait was evident in the pre-dawn darkness as thousands upon thousands of fans poured through the gates. And it didn't take long for the home crowd to remind the Americans they weren't in the comfort of home.
"You stink, Scottie," one fan shouted as he was about to tee off. Another told Sam Burns to lay up when he was playing from the rough. That's nothing unusual from home fans at a Ryder Cup, the most raucous event in golf.
The Americans are coming off a 19-9 victory at Whistling Straits two years ago. They have not won on European soil since 1993.
___
AP golf: https://apnews.com/hub/golf

San Diego State at Grand Canyon odds, picks and predictions
The Grand Canyon Antelopes (6-1) welcome the San Diego State Aztecs (7-1) to GCU Arena Tuesday. Tip is set for 9 p.m. ET. Below, we analyze FanDuel Sportsbook's lines around the Grand Canyon vs. San Diego State odds, and make our expert college basketball picks, predictions and best bets.
Grand Canyon beat the Texas-Arlington Mavericks 76-69 Saturday at home, but failed to cover as an 11.5-point favorite. It has failed to cover 2 in a row,  but is 4-0 straight up and 3-1 against the spread (ATS) at home. Its lone battle against a Power 5 school was a 75-68 loss as a 4.5-point underdog on a neutral court to the South Carolina Gamecocks.
The Aztecs beat the UC San Diego Tritons 63-62 on the road Friday. They did not cover as a 13.5-point favorite. They are 7-1 straight up but just 2-5 ATS. San Diego State is 0-2 ATS in true road games and 1-4 ATS away from home in general. Its lone loss was a 74-65 road loss to the BYU Cougars as a 2-point road underdog.
– Rankings courtesy of the USA TODAY Sports Coaches Poll.
Stream select live college basketball games and full replays: Get ESPN+
San Diego State at Grand Canyon odds
Provided by FanDuel Sportsbook; access USA TODAY Sports Scores and Sports Betting Odds hub for a full list. Lines last updated at 1:09 a.m. ET.
Moneyline (ML): San Diego State -152 (bet $152 to win $100) | Grand Canyon +126 (bet $100 to win $126)
Against the spread (ATS): San Diego State -2.5 (-110) | Grand Canyon +2.5 (-110)
Over/Under (O/U): 143.5 (O: -112 | U: -108)
San Diego State at Grand Canyon picks and predictions
Prediction
Grand Canyon 72, San Diego State 68
Moneyline
PASS.
Grand Canyon is a good play here, but with both teams having struggled against quality opponents, this should be a tight game. The value is on the spread instead.
Against the spread
BET GRAND CANYON +2.5 (-110).
Grand Canyon has covered 3 of 4 games at home and does have a quality 76-72 neutral-court win over the San Francisco Dons on Nov. 17. With 6-foot-10 F Duke Brennan, it should have the size to battle with the Aztecs in the paint.
The Aztecs have failed to cover 5 of their last 6 games that featured a spread. In true road games, they are 1-1 straight up and 0-2 ATS. They beat UC San Diego by 1 despite shooting better from the field and deep in their last outing. San Diego State doesn't have the offensive prowess to blow out the Antelopes, and it has struggled as a favorite, just 1-4 ATS.
Back GRAND CANYON +2.5 (-110).
Play our free daily Pick'em Challenge and win! Play now!
Over/Under
BET UNDER 143.5 (-108).
San Diego State has scored 76 or fewer in 3 straight games, and it has scored just 63 and 65 in road games. It is 5-2 O/U on the season but is 0-2 O/U in its two road games.
Grand Canyon is 4-3 O/U, but has gone Under in 2 straight games as well. It has yet to allow more than 75 points in a game this season and has yet to allow more than 71 in a home game. The Antelopes have gone Under in every total that is 145 or higher (0-3 O/U in those battles).
Take UNDER 143.5 (-108).
For more sports betting picks and tips, check out SportsbookWire.com and BetFTW.
Follow @nathanbeighle_ on Twitter/X. Follow SportsbookWire on Twitter/X and like us on Facebook.
College sports coverage from USA TODAY Sports Media Group:
Alabama / Arkansas / Auburn / Clemson / Colorado / Florida / Georgia / Iowa / LSU / Michigan / Michigan State / Nebraska / North Carolina / Notre Dame / Ohio State / Oklahoma / Oregon / Penn State / Rutgers / Tennessee / Texas / Texas A&M / USC / Wisconsin /
College Sports Wire: Men's hoops / Women's hoops / High School
San Diego intelligent expert weighs in on Houthi attacks in Red Sea
SAN DIEGO (KGTV) — U.S. warships remain on high alert following a series of attacks against an American warship and multiple commercial ships in the Middle East.
These attacks happened on Sunday when Iran-backed Houthi militants fired a series of ballistic missiles at commercial vessels in the Red Sea.
SEE Pentagon says US warship, commercial ships attacked in Red Sea
10News spoke with Bryan Stern, founder and CEO of Project Dynamo, a non-profit organization based in Tampa, Florida, on how these attacks can affect San Diego.
Project Dynamo aids international search and rescue in disaster areas and conflict zones worldwide, where the U.S. government has no access or presence.
Stern is a career intelligence officer who has spent 25 years serving at the national level. He was also a 9/11 first responder, Navy and Army veteran.
"We're now in a position where bad actors are not only attacking us but thinking they can get away with it," Stern said.
The Houthis also launched drones, which were shot down by a US Navy Destroyer, according to U.S. officials. Stern said he expects military training protocols to reflect "the current threat environment."
With an increasing number of commercial ships under threat, San Diego businesses could also feel the effects of the attacks, especially when it comes to shipped goods, according to Stern.
"We've survived global shipping problems all through COVID, and we all know how that worked out…it wasn't very good," Stern said. "When the ceilings are under duress or threat, manufacturing gets complicated. Shipping gets complicated. Commercial business gets complicated."
No. 25 San Diego St. streaks back into rankings, faces Grand Canyon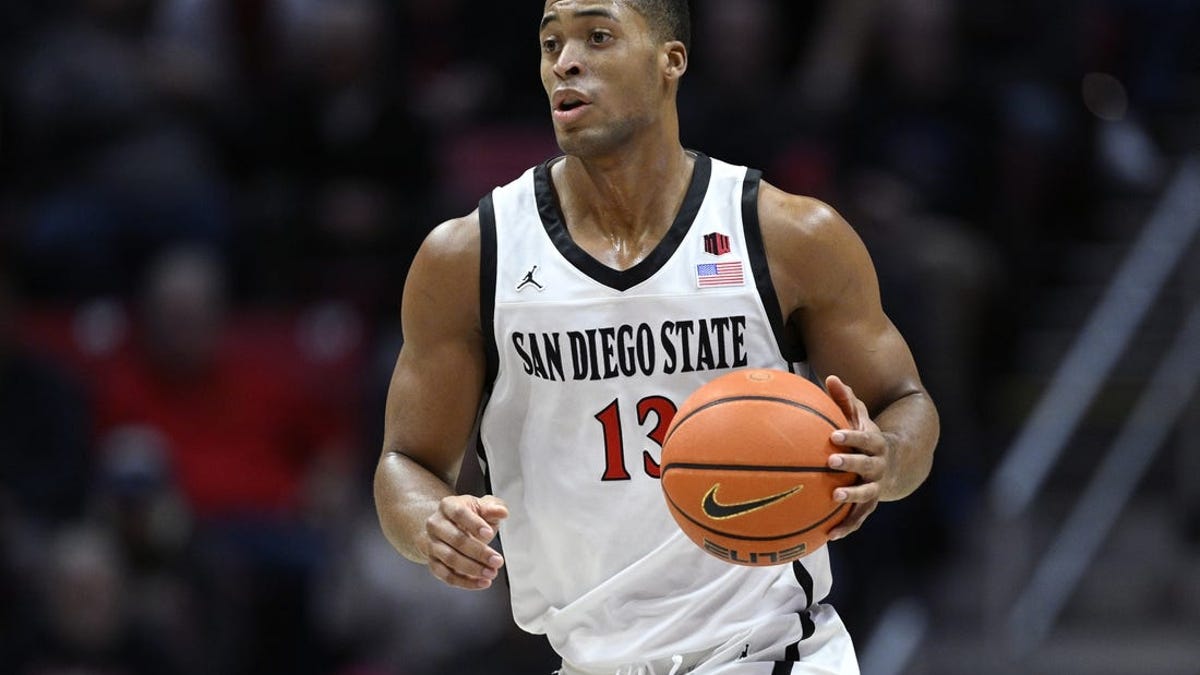 Before heading to Phoenix to play Grand Canyon on Tuesday, San Diego State jumped back into the Top 25 poll.
Is the NFL scripted? The Chiefs-Packers game made it seem like it
The No. 25 Aztecs (7-1) have won six consecutive games since losing at BYU on Nov. 10.
The latest was a 63-62 victory over crosstown rival UC San Diego on Friday night.
Micah Parrish (15 points and 10 rebounds) and Jaedon LeDee (13 points and 10 rebounds) each recorded double-doubles in the game. LeDee had a layup with 38 seconds left to play and hit the game-winning shot as time expired following an offensive rebound.
"It's a game we knew we were going to get," San Diego State coach Brian Dutcher said. "I've played enough of these crosstown rivalry games against USD (University of San Diego) and now UCSD (UC San Diego) and we knew it was going to be like this. It was going to be an incredible environment. They were going to play at their absolute best.
"They did and we found a way to make enough timely plays to get a victory."
As part of its six-game winning streak, San Diego State has overtime victories against Pac-12 schools Washington and Cal.
"We've got a good program, we're able to learn lessons as we win," Dutcher said. "Most programs are going to take an L (loss) or two L's and learn a hard lesson. We're learning lessons, but we're still finding a way to win games."
Grand Canyon (6-1) has won three consecutive games and is 4-0 at home this season.
The Antelopes are coming off a 76-69 win over UT Arlington on Saturday at home.
That victory and the 79-69 win at UT Rio Grande Valley last week has Grand Canyon at 2-0 in the WAC for the fourth straight year under coach Bryce Drew.
Grand Canyon entered the game against UT Arlington with the third-most free-throw attempts per game (29.5) in the nation. The Antelopes took just four free throws in the first half before going 25-for-32 at the line in the second.
That allowed Grand Canyon to win despite shooting 37.5 percent from the field or worse and committing 14 turnovers — its first such victory in its 11 years in Division I.
"When you're not shooting it well, you've got to find other ways to win," Grand Canyon coach Bryce Drew said. "Credit our guys for getting to the line, rebounding the basketball. And defense, I thought our deflections, especially those last eight minutes, getting our hands on balls, really helped us."
Grand Canyon closed the game on a 15-3 run to pull out the comeback win.
Tyon Grant-Foster led the Antelopes with 21 points and 10 rebounds for his second consecutive double-double, the first two double-doubles of his collegiate career. Gabe McGlothan added 16 points and nine rebounds against UT Arlington.
Grant-Foster averages 22.3 points per game to lead Grand Canyon. Ray Harrison adds 14.4 ppg and McGlothan provides 9.9 points and a team-best 7.9 rebounds per contest.
—Field Level Media