Oregon judge rules that voter-approved Measure 114 gun safety law violates the state constitution
A Harney County Circuit Court judge ruled Tuesday that Oregon's new gun laws, approved by voters last year under ballot Measure 114, violate the state constitution.
The provisions, passed in November 2022, had been blocked from taking effect by Judge Robert Raschio since last December, pending a full trial. With his new decision, the ruling in a six-day trial held in September, those laws are blocked from taking effect unless a higher state court overturns his decision.
"Oregon citizens have a right to self defense against an imminent threat of harm, which is unduly burdened by Ballot Measure 114," Raschio wrote, saying the restrictions diminish public safety.
Video: Oregon Measure 114, the gun control measure, explained
Oregon Attorney General Ellen Rosenblum pushed back Tuesday afternoon.
"The Harney County judge's ruling is wrong," she wrote in an emailed statement. "Worse, it needlessly puts Oregonians' lives at risk. The state will file an appeal and we believe we will prevail."
Measure 114, which passed by a slim margin, would require anyone who wants to purchase a firearm to take a safety course and pass a test to receive a permit to make the purchase. It also requires a completed background check for purchases and bans magazines holding over 10 rounds of ammunition.
Raschio said all of those provisions are unconstitutional.
Oregon's new laws were challenged almost immediately after their passage in both federal and state courts. Earlier this year, U.S. District Judge Karin Immergut ruled the law is legal under the U.S. Constitution. That decision has been appealed to the U.S. Ninth Circuit Court of Appeals.
Because the Oregon Constitution only protects firearms that were in common use at the time the state Constitution was passed in 1859, or that are a clear modern day equivalent, much of the state trial focused on the history of firearms in Oregon around that time.
Lawyers for the two men suing the state to block Measure 114 called witnesses who testified about some of the advanced firearms people had access to in the mid-19th century.
Ashley Hlebinsky, a former curator at the Cody Firearms Museum in Wyoming, testified that there were many early firearms capable of firing multiple rounds without needing to be reloaded, and several makes and models that held over 10 rounds or used magazine-style feeding devices. But many of those firearms, she later said, were very rare in the U.S. at the time.
Raschio wrote in his ruling that he found her testimony convincing — that multi-shot firearms had been tested for centuries and that it was something firearms companies were striving for in the mid-1800s. By contrast, Immergut wrote that Hlebinsky was not an expert and was not a reliable witness.
"Ms. Hlebinsky lacks background and training as a historian," U.S. District Judge Karin Immergut wrote in her July ruling deeming Measure 114 federally constitutional. "More troubling to this Court, Ms. Hlebinsky has both professional and personal ties to pro-gun groups and the firearms industry, which this Court finds limit her ability to serve as a neutral expert in this case."
Attorneys for the Oregon Department of Justice defending the new laws called two professors steeped in the history of firearms in late 18th- and 19th-century America. They said that while the colonies — and later the United States — were the best-armed society in the world, repeating firearms and firearms capable of holding multiple rounds were "extremely uncommon" and "vanishingly rare."
Bryan DeLay, a University of California, Berkeley history professor who has studied the arms trade in Revolutionary War Era America, said he has a hard time imagining that the framers of Oregon's constitution could have anticipated the future of firearms technology.
"Semiautomatic technology and automatic technology are such profound ruptures in the history of firearms technology, that I find it very difficult to believe that anybody — even someone very well informed — in the late 1850s could have predicted the emergence of smokeless powder, detachable cartridges, automatic reloading," he said. "That seems hard for me to imagine."
Raschio wrote that Oregon's constitutional delegates were certain to have known about the technological advancements happening in firearms.
Two sheriffs and the Oregon State Police superintendent testified for the plaintiffs about the importance of high-capacity magazines over the objection of the state's attorneys who argued their testimony was irrelevant because Measure 114 exempts law enforcement from the magazine ban.
Union County Sheriff Cody Bowen and Harney County Sheriff Dan Jenkins both said their jurisdictions cover large geographic areas where response times can be lengthy. They also said their deputies have often relied on armed civilians to provide cover for them during incidents and that residents and deputies use their firearms to protect themselves, their families and their livestock from predators including bears, wolves and coyotes.
In his decision, Raschio said Bowen "demonstrated definitively citizens cannot rely on law enforcement to respond quickly to their needs if they are subject to a break in or threat of deadly physical harm.
"Victims can be left without a law enforcement response for hours," he wrote. "A citizen's need to protect themselves, their loved ones and their property is immediate as there is no one else (who) will be there to do it for them."
During the trial, Raschio had tense exchanges with Tufts University epidemiologist Dr. Michael Siegel, who has studied the effectiveness of different firearms laws in the county.
Siegel testified that since 2001, firearm homicides in Oregon increased 310% and that when large capacity magazines are used in mass shootings, casualties more than double.
Raschio said the total number of people killed in mass shootings is "staggeringly low in comparison to the media's sensationalized coverage of the events."
He said Siegel's testimony didn't appear to be scientific under Oregon's evidence laws and said that unless Siegel's research could demonstrate decisively that high capacity magazine bans resulted in fewer gun deaths, he would not consider it when making his ruling.
"Essentially, the defendants wanted to come to court, say this person is an expert, and have the expert assert their legal conclusions as scientific evidence without the proper showing to the court of the scientific validation for the process or the way the process was used to come to that conclusion," Raschio wrote in his decision.
Measure 114 banned magazines holding over 10 rounds and any magazine that can be "readily" modified to hold additional rounds. Throughout the trial, lawyers sparred over what "readily" means. The plaintiffs called experts who showed they can easily modify a 10-round magazine using a screwdriver, belt sander or epoxy. State attorneys called witnesses who similarly testified the vast majority of 10-round magazines on the market require additional tools to expand their capacity.
Special Assistant Attorney General Harry Wilson explained in his closing argument that under Measure 114′s magazine ban, a person must be able to promptly make a magazine capable of holding more than 10 rounds at the time they are alleged to be violating the law.
"It is not enough that a person might be able to obtain an extension at a store in the future," he explained. "A person must actually have an extension in their personal possession."
It's an argument Immergut bought.
"A ten-round capacity magazine is not readily convertible until the individual removes the baseplate of the magazine — without removing the baseplate, the magazine cannot be extended," Immergut wrote. "A statute is not void for vagueness merely because an individual could take affirmative steps to come close to breaking the law."
Raschio was unswayed by the nearly identical testimony, writing that firearms components, including the magazine, are protected under the state constitution.
"Without a magazine, the remaining components of a gun are not a firearm," he wrote. "The Constitutional delegates and voters of 1857 would be impressed by the advancement in today's firearms technology, but they would understand our current stock of firearms as direct descendants of those they possessed, including multi-shot and repeater technologies."
His decision means the new laws remain blocked from taking effect. It is likely to be appealed to the Oregon Court of Appeals and Supreme Court.

Oregon State, Washington State's case to control of Pac-12 gets put on hold by state Supreme Court
The Washington state Supreme Court on Tuesday granted a request by the University of Washington and the Pac-12 to put on hold a lower court's ruling that gave Oregon State and Washington State control of the conference until the high court can make a full review.
Two weeks ago, a judge in Whitman County, Washington, granted Oregon State and Washington State a preliminary injunction, making the Pacific Northwest rivals the only two schools with voting rights in the conference.
They argue the other 10 schools relinquished the right to determine the future of the conference when they announced they would be leaving for other Power Five leagues.
"The decision effectively ensures that all 12 current members will have an equal voice in determining how the revenue our schools earned this year is distributed and utilized while the Court considers our arguments," the departing schools said in a statement.
The defendants appealed the ruling the next day and the Supreme Court kept in place a temporary restraining order the lower court had granted Oregon State and Washington State in September when they first took the conference and departing schools to court.
The latest ruling keeps the status quo in place longer — any decisions in the conference must be made by unanimous vote — and gives the Supreme Court more time to make a full review of the lower's court's decision.
The court said briefs are to be filed by the parties by Dec. 12.
The case is about an interpretation of the Pac-12's bylaws that cover schools leaving the conference and what qualifies of notification of withdrawal.
"In my view the provision is poorly written and possibly ambiguous," Washington Supreme Court Commissioner Michael Johnston wrote in the court's decision. "It gives no guidance as to what constitutes a formal notice of withdrawal and it seemingly makes it impossible to give notice of withdrawal before its August 1, 2024, expiration date without invoking its penalties; that is, the penalties are triggered even if a school announces that it plans to withdraw but intends the withdrawal to be effective only after that date."
Oregon State and Washington State claim the conference's previous actions show that schools have been removed from the board of directors after announcing plans to switch conferences.
"We are disappointed in the Washington Supreme Court Commissioner's decision to temporarily allow the departing schools to have veto power over Pac-12 board matters while they appeal the superior court's well-reasoned decision to grant Oregon State's and Washington State's request to govern as the Pac-12's sole remaining members," the schools said in a statement.
The 10 departing schools are concerned that Oregon State and Washington State, given full control of the conference, would withhold hundreds of millions in revenue the conference will generate this school year.
Meanwhile, Oregon State and Washington State continue to work on a scheduling arrangement with the Mountain West that would allow the schools to operate a two-team Pac-12 for at least one season.
The immediate need is for football scheduling, but the schools and Mountain West also are talking about expanding the arrangement to other sports.
___
AP college football: https://apnews.com/hub/ap-top-25-college-football-poll and https://apnews.com/hub/college-football
Oregon vs. Washington Prediction, Preview, and Odds – 12-1-2023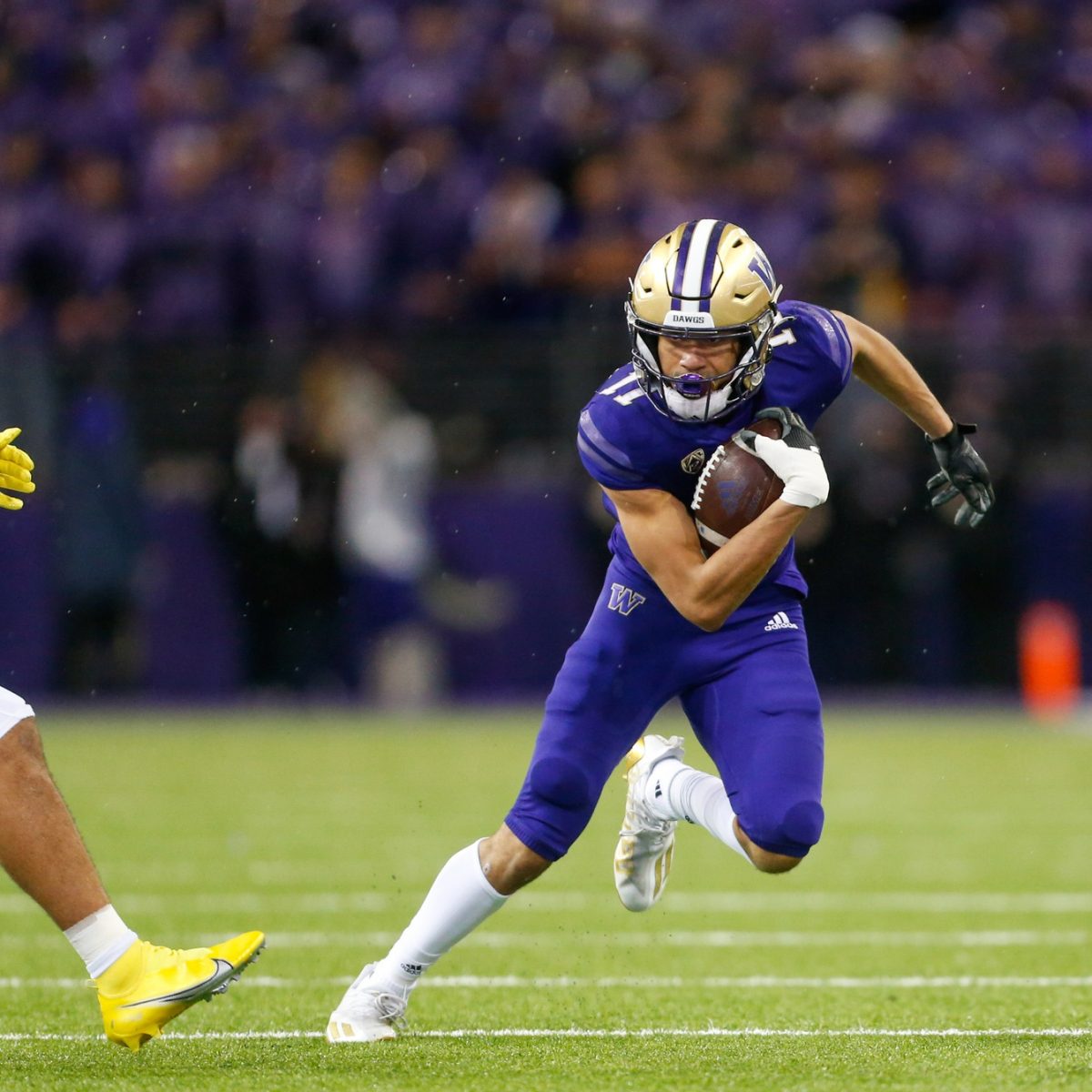 The Oregon Ducks and Washington Huskies will square off on Friday for the Pac-12 Championship. Kickoff from Allegiant Stadium is at 8:00 p.m. ET.
The Ducks are 9.5-point spread favorites and the game total is 66.5 points.
Oregon (11-1 SU, 10-2 ATS, 5-7 O/U) has won six straight since losing to Washington (12-0 SU, 5-6-1 ATS, 6-6 O/U) on October 14. In that 36-33 Huskies win, QB Michael Penix Jr. passed for 302 yards and four TDs and Oregon QB Bo Nix passed for 337 yards and two scores. The Ducks outgained UW 541-415 and held the football for nine more minutes, but the 115th matchup between the rivals still went the Dawgs' way.
Injury Report
Oregon: WR Gary Bryant Jr. (26 receptions for 380 yards and three TDs) is probable.
Washington: No injuries to report.
Get to Know Me!
Mike Briggs is your trusted football capper at W&W! You don't want to miss his next premium play, so take a look at Briggs' daily packages and seasonal subscriptions for all his best bets and NCAAF picks. You should also follow him on Twitter!
Oregon is playing its best football of the season
Oregon lived up to the hype this season, winning by an average of 32.2 points per game (26.7 vs. Pac-12 opponents). During the Ducks' six-game win streak, QB Bo Nix transformed into a Heisman front-runner, finishing with four straight 360-yard passing performances and 20 total touchdowns. Defensively, Oregon held four of its last five opponents under 20 points. Will UO get its revenge with a complete performance against UW?
The Ducks scored 45.3 points per game (2nd) and averaged 541.1 total yards (2nd), including 351.4 passing yards (1st) and 189.7 rushing yards (24th). They converted 52.7 percent of their third-down attempts (3rd) and scored at least a field goal on 85.7 percent of their red zone trips (49th).
Oregon's defense surrendered 15.9 points (7th) and 306.9 total yards (15th) per game, including 214.3 passing yards (48th) and 92.6 rushing yards (8th). The Ducks accumulated 32 sacks and 10 interceptions. Oregon's opponents converted 33.3 percent of their third downs (25th) and scored at least a field goal on 81.8 percent of their red zone trips (55th).
Top Cappers – Last 7 Days
Just Parlays, 2-7, $1757

Ben Hayes, 22-12, $888

Brandon Katz, 15-8, $620
Does Washington have one more close win in it?
Washington endured several close calls en route to an undefeated season, winning its last two games by five combined points. It hasn't had a double-digit win since September 23. Like the Ducks, the Huskies are led by a Heisman front-runner, QB Michael Penix Jr., who accounted for 35 total touchdowns. Does UW have one last trick up its sleeve to escape from Las Vegas unscathed?
The Huskies scored 38.0 points per game (11th) and averaged 468.1 total yards (12th), including 345.5 passing yards (2nd) and 122.6 rushing yards (105th). They converted 45.8 percent of their third-down attempts (20th) and scored at least a field goal on 84.4 percent of their red zone trips (66th).
Washington's opponents averaged 23.0 points (48th) and 400.1 total yards (96th) per game, including 265.2 passing yards (124th) and 134.9 rushing yards (42nd). The Huskies racked up 19 sacks and 15 interceptions. Their opponents converted 40.6 percent of their third downs (86th) and scored at least a field goal on 82.5 percent of their red zone trips (60th).
Need more help with College Football? Try these NCAAF Free Picks and cash in!
Best Bets for this Game
Full-Game Side Bet
Insiders Status:


Rating:



The Ducks need to win to make the College Football Playoff, and after Friday's game, I believe it will be clear they were the clear champions of the Pac-12.
After falling short in the regular-season matchup between these teams, Oregon went on a dominant run. Washington, meanwhile, barely scraped by. The momentum is on UO's side, and I'm confident it will be on a mission to finish the job, putting the Huskies away with a comfortable lead even UW can't come back from.
Oregon's defense will be the difference in this game, as it will pressure Penix (32 sacks) often and make it challenging for the Huskies to move the chains (25th in opponent third-down conversion percentage). It has been especially stout against the run, which should make UW too one-dimensional.
Nix will pick apart Washington's 124th-ranked pass defense, cementing his Heisman legacy. This is Oregon's game to win, and it will get the job done with a convincing revenge victory.
Prediction: Oregon -9.5
Want a second opinion on this pick?
Full-Game Total Pick
Insiders Status:


Rating:



Washington has won its last three games by only one possession and its passing game should be limited by the Ducks' pass rush (26th nationally in sacks). I'm also expecting the Ducks' run defense to make it difficult for the Huskies to get in gear on first and second down, forcing Penix to make some questionable decisions on third-and-longs.
While some bettors are expecting a back-and-forth game, I'm less confident in that outcome, as I believe this game could get out of hand earlier than expected. Oregon's ground game is explosive, as it features two legit backs in Bucky Irving (6.4 YPC) and Jordan James (7.1 YPC). While the focus will be on Nix, the Ducks' backs will get their fair share of credit for their ability to churn out yards and slow down the pace later in the game with the lead. This will prevent Washington from mounting another comeback.
I'm wagering four units on a bit more defense than anticipated — bet the under at 66.5 total points!
Prediction: Under 66.5
Oregon State promotes DC Bray to head coach
Oregon State promoted defensive coordinator Trent Bray, a former Beavers linebacker who dramatically improved the team's defense over the past two-plus seasons, to head coach on Tuesday night.
Bray, 41, replaces Jonathan Smith, 44, who was introduced earlier Tuesday as Michigan State's head coach. Bray joined Smith's staff at Oregon State in 2018 as linebackers coach but began making his mark when Smith elevated him to coordinator in 2021. After the defense performed well down the stretch, Bray earned the permanent coordinator title before the LA Bowl. Bray also served as an Oregon State assistant from 2012 to 2014 under Mike Riley before joining Riley at Nebraska, where he served as interim head coach after Riley's firing in 2017.
"After interviewing several qualified candidates, we realized our top choice, Trent, has already been a mainstay at the Valley Football Center and Reser Stadium," Oregon State athletic director Scott Barnes said in a statement. "He's been a part of Beaver Nation for a long time and love for this place is real. The connection and trust he has built with our student athletes is unmatched. His energy and determination as head coach will be a catalyst for continued program success."
Bray will be introduced at a news conference Wednesday afternoon.
Oregon State is 20-9 with Bray as its D-coordinator, and it led the Pac-12 in points allowed and yards allowed in 2022.
According to sources, the school considered several candidates with previous head-coaching experience, including San Jose State's Brent Brennan and Paul Chryst, an offensive analyst at Texas and a former Oregon State offensive coordinator who went on to coach Pitt and Wisconsin.
The Beavers finished the regular season 8-4, and they are ranked No. 20 in the latest CFP standings as they await a bowl berth this weekend.
Bray played for Oregon State from 2002 to 2005, earning first-team all-conference honors in his final season. He was an assistant at Arizona State in 2010 and 2011 before returning to his alma mater.
"I've been a part of Oregon State for a long time, as a coach and a student-athlete, and know how special Beaver Nation is," Bray said in a statement. "I'm excited to lead an outstanding group of men our fans can be proud of."
He takes over at Oregon State during a time of transition and uncertainty, as the Pac-12 is set to dissolve. Oregon State and Washington State, the two Pac-12 members who didn't find homes in other conferences, are seeking full control of the Pac-12's governing board and finances. The Washington Supreme Court on Tuesday stayed a lower court's ruling from earlier this month that granted control to the two schools.
Oregon State and Washington State still must finalize their 2024 football schedules and other key matters.
Bray's hire provides Oregon State with a chance to maintain continuity with its roster, including key players such as star running back Damien Martinez, who has said he plans to remain with the program.