Everything to know for No. 6 Oregon vs. No. 7 Washington State volleyball
These two programs are both on the cusp of breaking into the AVCA top 5 — and Sunday's matchup just might determine who will.
The Cougars and the Ducks are known for their power swinging. The two rank in the top 10 nationally for team hitting percentage, with Washington State taking third at a .316 average and Oregon three spots behind, posting a .303.
Although all of Washington State's ranked wins have been pushed to four sets this season, the Cougars have swept eight opponents in 2023. Leading the defensive effort is fifth-year middle blocker Magda Jehlárová, who has 61 blocks so far this season, at 1.42 per frame.
In this match, however, eyes will be on Oregon setter Hannah Pukis, who transferred from Washington State. On Friday, the redshirt senior put up her 10th double-double this season with 47 assists and 10 digs. She additionally tacked on four kills, four service aces and three blocks en route to the Ducks' 3-1 win over Washington. When Oregon played Washington State in November 2022, Pukis posted a then-season-high of 58 assists against her previous school. Thus, it's safe to say that her caliber of competition will be as elevated as ever on Sunday.
Oregon currently posts the third-longest home winning streak in the country with 20 consecutive wins at Matthew Knight Arena. Washington State is 4-1 on the road, dropping its only contest of the season against Louisville in August — the Cougars are currently riding on a 12-match win streak.
Whose streak will be broken? Who will get the chance to crack the top five? Tune in this Sunday to find out.
"Their intensity and the energy they bring when they get going is everything for our team … It's awesome how present they've been."@michellachester chats withs No. 6 @OregonVB's setter @hannahpukis post win against Washington 🦆#NCAAWVB pic.twitter.com/ph9KMbeq3u

— NCAA Women's Volleyball (@NCAAVolleyball) September 30, 2023

Oregon State edges Cal Poly in double overtime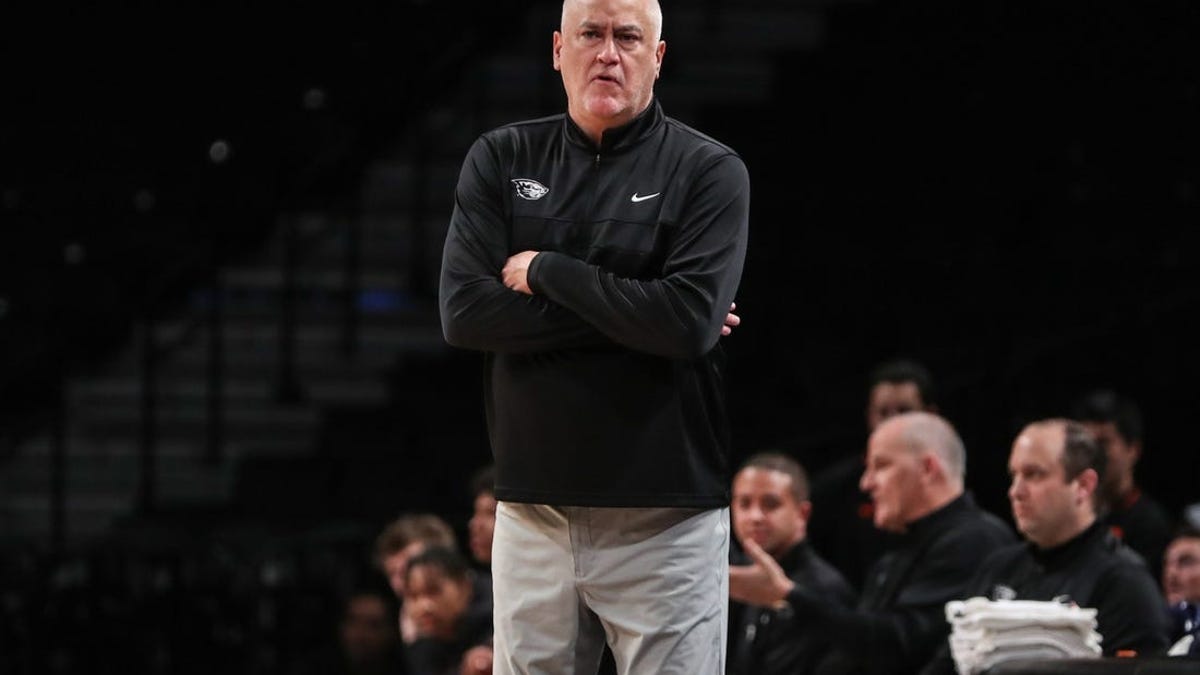 Michael Rataj matched his career high of 18 points and grabbed a career-best 10 rebounds to help Oregon State notch a 70-63 double-overtime victory over Cal Poly on Monday night in Corvallis, Ore.
Is the NFL scripted? The Chiefs-Packers game made it seem like it
KC Ibekwe added 14 points and eight rebounds for Oregon State (5-3), which outscored the Mustangs 10-3 in the second extra session. Tyler Bilodeau had 11 points and Jordan Pope added 10 despite 5-of-20 shooting.
Quentin Jones scored 21 points and Kobe Sanders added 19 for the Mustangs (3-6), who dropped to 0-5 on the road.
Pope's jumper with 2:40 left in the second overtime gave the Beavers a 64-62 lead and they never trailed again. Ibekwe made consecutive baskets later in the period to make it a five-point margin and Oregon State closed it out to improve to 5-0 at home.
In the first overtime, Sanders converted a layup to give the Mustangs a 58-57 lead with 42 seconds left.
Josiah Lake II made two free throws to give the Beavers a one-point edge with 29.5 seconds to play. Lake later split two free throws with 14.2 seconds to play before Sanders drove for a basket to tie it at 60 with 3.8 seconds remaining.
Late in regulation, Rataj scored on a driving hoop with 1:11 left to tie the score at 49. Cal Poly's Jarred Hyder missed a 3-pointer with one second left.
Oregon State shot 43.1 percent from the field but missed all 10 of its 3-point attempts. The Beavers held a 49-32 rebounding advantage.
Cal Poly made 34.4 percent of its attempts and was 6 of 23 from behind the arc (26.1 percent).
Sanders scored seven straight points in 19 seconds to give Cal Poly a 46-43 lead with 5:07 remaining.
Sanders started the burst with a 3-pointer with 5:26 left. Oregon State's Justin Rochelin was called for a technical foul for contact away from the ball and Sanders went back to the line and made two free throws.
The Beavers then were awarded possession of the ball due to the technical and Sanders drove for a layup as the Mustangs went ahead by three.
Cal Poly later led 49-47 after a 3-pointer by Hyder with 2:58 remaining.
Jones scored 16 points on 6-of-7 shooting in the first half as Cal Poly led 28-25 at the break. Bilodeau had 11 in the half for Oregon State.
—Field Level Media
Oregon receiver Josh Delgado enters transfer portal
A third Oregon receiver has entered the transfer portal.
Josh Delgado, a fifth-year junior who did not play this season, entered the transfer portal on Monday.
Delgado appeared in 12 games in 2022 and had one catch for 12 yards, one kickoff return for 21 yards and two punt returns for seven yards.
He redshirted in 2021 and had three catches for 36 yards and returned one kickoff and two punts in 2020. As a freshman in 2019, Delgado had 11 receptions for 147 yards.
He's the third Ducks receiver to enter the portal this offseason, joining Ashton Cozart and Kris Hutson.
MORE DUCKS COVERAGE
Winter road maintenance will continue with $19 million promise from Kotek, Oregon Legislature – Oregon Capital Chronicle
Oregon's top elected officials pledged to spend millions of dollars on winter road maintenance after dire warnings from the state Department of Transportation that highways would go unplowed because of a budget shortfall. 
Gov. Tina Kotek, Senate President Rob Wagner and House Speaker Dan Rayfield announced Monday that the state would commit $19 million to make up the shortfall and allow the department to buy snow plows, purchase sand and salt for deicing roads and fix potholes and damaged pavement next spring.
"It's critical that all Oregonians have a safe, reliable transportation system to get to work, school, and play," said Rayfield, D-Corvallis. "Thanks to the work our transportation and budget leaders have invested to understand the safety and functional needs of our communities, we are able to ensure a safe winter season and ultimately, a more sustainable, equitable system."
The announcement follows the first serious snowfall of the season. Major ski areas, including Timberline Lodge on Mount Hood and Mount Bachelor near Bend, opened temporarily this weekend, but warmer weather and heavy rain washed away much of the snow. More snow is expected in mountain passes this weekend. 
The state transportation department warned in October that it would cut back on road maintenance, including plowing some roads once a day or less instead of four times a day. Agency leaders cited looming budget shortfalls caused by decreases in gas tax revenue tied to Oregonians driving more fuel-efficient vehicles or driving less. 
The department can begin using the money now, and it will be officially approved by the Legislature in the 2024 session. 
Kotek said in a statement she plans to find long-term solutions to ensure highways meet the needs of Oregon residents, businesses and visitors. The Legislature will work on a major transportation funding package in the 2025 legislative session.
"In the meantime, I greatly appreciate Senate President Wagner and House Speaker Rayfield for prioritizing this funding now so that Oregonians can have safer road conditions this winter," Kotek said. 
The $19 million commitment includes $8 million for buying materials like deicer and salt and lifting the agency's restriction on overtime. That would allow staff to work longer hours during storms and their aftermath. 
Another $4 million would go toward replacing 10 trucks primarily used for snow plowing. The department has approximately 400 trucks, many of which are beyond service life. The new trucks will be on the road by next winter because it takes a long time to order and purchase them. 
The final $7 million would be used mostly for spring repairs to roads damaged by winter freeze cycles. The agency will get $4.5 million to patch pavement and fix potholes throughout the state and $2.5 million to retrace edge lines on highways with 3,000 or fewer daily drivers next spring. 
"Whether it's July or January, Oregonians need to be able to travel safely on our highways," said Wagner, D-Lake Oswego. "This commitment from myself and Speaker Rayfield — in coordination with our budget co-chairs — guarantees critical funding to keep Oregonians safe throughout the year."
GET THE MORNING HEADLINES DELIVERED TO YOUR INBOX