Watch: Dangerous dust storm swallows interstate at California-Nevada border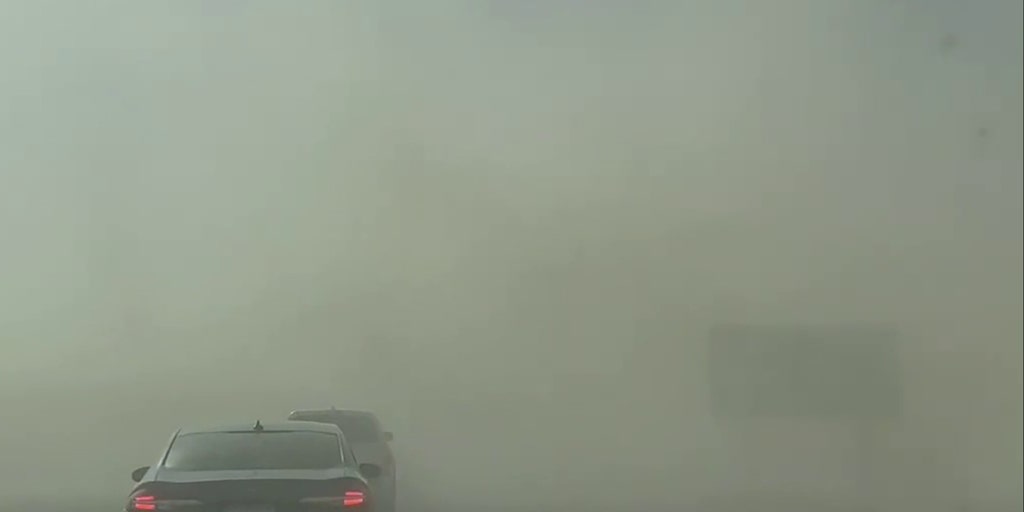 WHEATON SPRINGS, Calif. – A dangerous dust storm swept across the California-Nevada border on Sunday, creating hazardous driving conditions on Interstate 15.
The National Weather Service in Las Vegas issued a Dust Storm Warning for north-central San Bernardino County and southwestern Clark County, including Interstate 15 near Primm, Nevada, as visibility was near-zero at times.
Video filmed by Ada Monzon shows hazy conditions on the road as dust towering over cars blows across the freeway. 
WATCH: MASSIVE ROCKFALL AT ZION NATIONAL PARK COVERS PARKING LOT IN DUST CLOUD
The California Highway Patrol was later forced to close a section of the freeway to prevent any potential accidents.
Wind gusts in the Las Vegas Valley ranged between 35 and 45 mph, with occasional gusts exceeding 50 mph, the NWS reported. The North Las Vegas Airport recorded the strongest gust at 62 mph.

Republicans gaining with Hispanics in Nevada
---
December 6, 2023
---
CNN reports Republicans made gains with Nevada Hispanics in 2020 and 2022, and "it is not hard to find signs of an opening for further Republican gains in 2024."
"Surging crime, skyrocketing gas prices and extreme 'Bidenomics' have left Nevadans hurting. Nevada families demand solutions, not more of the same failure from Dina Titus, Susie Lee and Steven Horsford." – NRCC Spokesperson Ben Petersen
---
Nevada Preps Girls Athlete of the Week: Spring Valley's Mia Ervin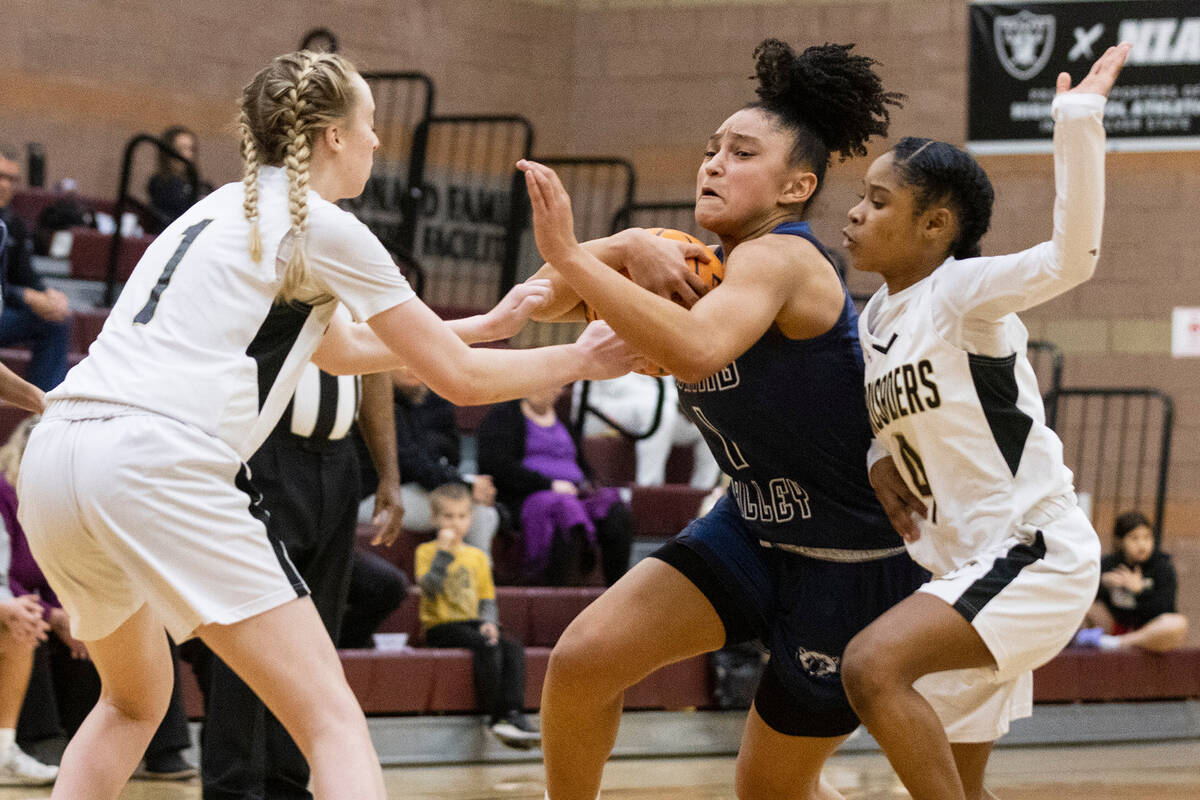 Spring Valley's girls basketball team is 4-0 entering Tuesday, with junior guard Mia Ervin giving the Grizzlies an offensive spark during their perfect start.
Ervin scored 26 points as Spring Valley held on for a 55-52 win over Arbor View on Friday. She was named Nevada Preps Girls Athlete of the Week for her efforts.
"We stuck to the game plan our coaches gave us and we closed the game at the end," Ervin said. "It was a tight game but we came together and closed it out."
Ervin added a team-high 16 points in a 67-18 win over Durango on Nov. 29.
Let's get to know this week's girls athlete of the week. (Note: Answers have been edited for clarity and length.)
Nevada Preps: Who's a basketball player you look up to?
Ervin: "A'ja Wilson and Donovan Mitchell. I love the way Donovan Mitchell (plays), his game style. He can hoop and he doesn't care what other people think about him. And A'ja, she's a dog and just really nice, too."
NP: What's been your favorite memory in your basketball career thus far?
Ervin: "It's to have an opportunity to meet new people all the time and be able to travel all around, meet new coaches and players and … being able to be in a different environment. I would say Chicago (was my favorite place to play). I like Chicago."
NP: Do you listen to any music before the game?
Ervin: "Throughout the day I listen to gospel music. Right before the game I usually listen to hype music, like Rod Wave, Lil Baby and artists like that."
NP: If you weren't playing basketball, what sport would you probably play?
Ervin: "I'd probably try flag football or track. In track, you have to have a different mindset to be good at what you're doing, and flag football is just for fun."
Contact Alex Wright at awright@reviewjournal.com. Follow @AlexWright1028 on X.
NV near the top of a bad list: Children without health insurance – Nevada Current
About 55,000 children in Nevada were without health insurance in 2022, according to Census Bureau data. 
In 2022 Nevada tied with Arizona, Alaska and Wyoming as states with the second-highest percent of children without health insurance, at 8%. Only Texas, at 11%, had a higher percentage of uninsured children, according to recently updated data from the Annie E. Casey Foundation.
Nationally, 5% of children were uninsured.
Nevada's uninsured children rate was been steady at 8% from 2017 to 2022, with the exception of 2021 when it was 9%.
Massachusetts and Rhode Island shared the nation's lowest percentage of uninsured children, at 2%. California, Oregon and Washington along the West Coast were among several states at 3%.
Health care coverage for children improves development and success in school where they're more likely to finish high school and attend college and earn higher wages, according to a Georgetown University Center for Children and Families analysis on health care access. 
The Nevada Division of Insurance (DOI) regulates health insurance and ensures the state is compliant with state and federal regulations, but it notes that the cost of insurance even with subsidies and the lack of providers plays a role in children being uninsured.
"The reasons for high national rankings for Nevada uninsured children are unlikely to be any different than the reasons for high uninsured rankings for the Nevada population in general. Cost will always be a factor," Elizabeth Martins, the public information office for DOI, said in an email to the Current. "Despite the premium subsidies that are available based on income, lower-income families still need to make the decision to insure their children." 
The impact on Nevada children isn't felt equally across income brackets. For children from households with incomes below $34,304, the uninsured rate is 7.7%. For children from households with incomes between $34,306 and $62,147, the rate is 9.1%.  Children from households with incomes of $62,150 or above have a lower uninsured rate of 6.5%, according to the Georgetown analysis.
It is also not equal across race. Hispanic/Latino populations have the highest uninsured children rate in Nevada at 10.3%. Black and multi-racial children have rates at 6.9% and 9.9%, respectively, with both rates increasing from 2017 to 2022, according to the analysis.
The Asian/Native Hawaiian/Pacific Islander population has the lowest rate of uninsured children at  5.2% followed by white Nevadan children at 6.1 %. The Nevada Department of Insurance and the Nevada Department of Health and Human Services did not respond to requests for comment about the state's rankings in the study.