Oakland A's snubbed by Nevada Legislature: the T-Shirt Rebellion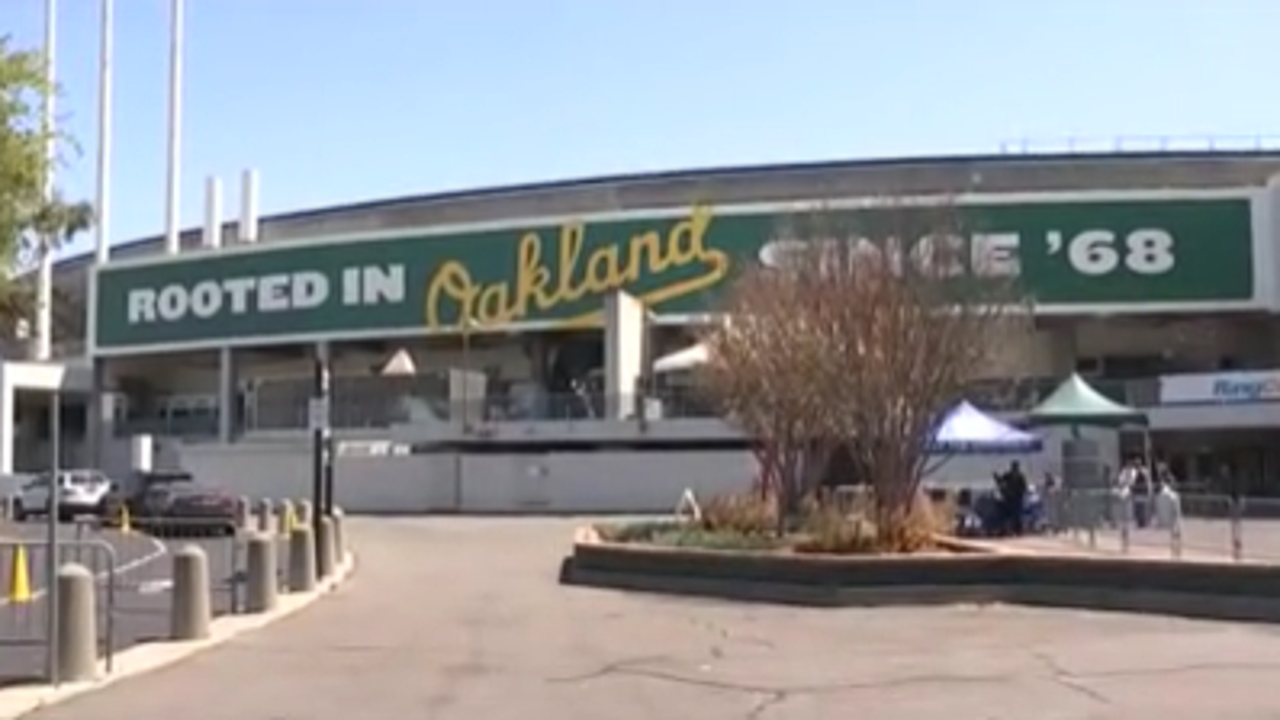 Oakland, California – Having lost last night's bid to get more than a third of a billion dollars from the Nevada state legislature for a new Las Vegas ballpark, the Oakland A's activist fan base is stepping up the pressure to convince team owner John Fisher, that he should sell his team to an owner who truly wants the A's to be rooted in Oakland. 
Like yesterday, Tuesday, the 13th may prove to be another unlucky day for Oakland A's ownership.  
A t-shirt has become the symbol of what fans are calling a "reverse boycott" of the Oakland A's. A small online cottage industry of such shirts has sprung up, energized by Monday's snubbing of the A's by the Nevada legislature on the team's request for $380 million to help finance an A's Las Vegas ballpark. 
"I'm not surprised that the legislators did not pass this and it's my understanding as well that the only thing they'll be bringing back is budgeted items," said Oakland Mayor Sheng Thao.
The move is now mired in politics pitting education and local public service needs against a billionaire's wants. 
"The Assembly is Democratically controlled. Right. Republic Governor, Democratic controlled,. You have these major quality of life issues," said Save Oakland Sports Co-Founder Chris Dobbins.
Oaklandish, a store that sells everything Oakland, still has the A's gear and keeps the faith. But, the fact is, there simply isn't much call for it anymore. Activist fans say, they're changing tactics to save the A's. "Staying away from the games, which is what I've been doing along with, you know, the vast majority of A's fans is really working against our best interest if we want to keep the team in town," said Stu Clary, an Oakland68s Member and A's fan.
Those attending the A's June 13 evening game with the Tampa Rays, will get a free shirt from the nonprofit A's booster club, the Oakland 68s, in hopes that thousands attend on usually slow Tuesday night. They bear "in your face" admonition to owner John Fisher, to sell the A's to better, more Oakland-friendly owners. "There's a decent fan base here. There's a lot of people who do care about the team. They've just been disrespected and treated like crap for so long, they're not showing up anymore," said Oakland68s Member and A's fan Dennis Biles. "I think it's a great idea. We're gonna…Save Oakland Sports is gonna be out there supporting. We'll be wearing 'Sell' shirts as well," said Save Oakland Sports' Chris Dobbins.
The boosters say, it will also show Major League Baseball that the fault lies solely with team owner John Fisher. "When you double prices and allow the stadium to fall into disrepair and trade away all the best players," Stu Clary.
As has become their custom, neither the A's nor Fisher responded to our inquiries.

Legal Aid Center of Southern Nevada announces new $30 million complex, expansion of services
LAS VEGAS (KTNV) — Legal Aid Center of Southern Nevada announced the development of a second building near its headquarters and the expansion of services Thursday.
Officials said the new building, Legal Aid Center of Southern Nevada Advocacy & Justice Complex, will be located at 801 E. Charleston Boulevard. Currently sitting at the location is a vacant former U.S. bank, but officials say because of its age and lack of meeting ADA requirements, it will be replaced with a new structure.
Officials said the new building will have three levels, totaling 40,000 square feet, and a dedicated parking garage. It's expected to be complete in 2025, costing about $30 million.
According to a media release, two-thirds of the funds were raised. Officials say it will be the first statewide service campus "where any Nevadan who has experienced devastating trauma of violent crime can find justice and begin to heal."
"We are excited for this growth opportunity to both expand legal aid to the most vulnerable in our community as well as to create a resource and referral center for survivors of violent crime," said Barbara Buckley, Esq., executive director of Legal Aid Center of Southern Nevada. "Whether it's providing support to survivors of violent crimes, providing advocacy to victims of domestic violence, helping abused or neglected children navigate through the foster care system, or offering a helping hand, the new Legal Aid Center of Southern Nevada Advocacy & Justice Complex will allow us to move into the future, providing help and hope to those in need."
The non-profit organization aims to ensure equal access to justice through free legal advice and representation for those who cannot afford to hire an attorney.
Officials said the growth is necessary, "over the past ten years, the number of clients Legal Aid Center of Southern Nevada serves has nearly quadrupled."
The center provides many services, including the Family Justice Project, Guardianship Advocacy Project, Children's Attorneys Project and the Vegas Strong Resiliency Center, now Resiliency & Justice Center, serving survivors of the 1 October shooting.
Channel 13 anchor Abel Garcia talked with Mynda Smith. She lost her sister in the October 1 tragedy and says the organization provided a shining light during a very dark time.
"Everyday is hard, everyday there is something that reminds of the hell we went through, everyday reminds me of the loss that we have of her," Smith told Garcia. "My parents have struggled losing their daughter, I have struggled losing my sister but we are trying to move forward together."
Helping families with the grieving process is one of the goals for the Legal Aid Center of Nevada.
"Without justice, crime echoes through generations, we want to construct a beacon of hope to provide that justice," Barbara Buckley, executive director of Legal Aid of Southern Nevada, told us.
The nonprofit says it's expanding its services to all survivors of violent crime.
"In addition to the new Complex, the Vegas Strong Resiliency Center, born from the 1 October shooting on October 1, 2017, will expand its services to all survivors of violent crime. In the hours and days following the shooting on October 1, 2017, Legal Aid Center of Southern Nevada worked closely with Clark County, local police, courts, social services organizations, schools, nonprofits, and medical and mental health facilities to provide services to those directly and indirectly affected by that event," the nonprofit said. "Since then, the Vegas Strong Resiliency Center has continued to provide aid to those individuals by offering free legal advice; assisting survivors in accessing the Victims of Crime Compensation program; assisting with mental health navigation; and cutting through court and government bureaucracy."
GOP presidential candidate announces Las Vegas rally
Republican presidential candidate Vivek Ramaswamy announced Thursday that he will conduct his first rally in Las Vegas.
"The path to victory in 2024 runs through states like Nevada, which is why I'm thrilled to be making our first major campaign stop in the state this weekend," Ramaswamy said in a news release.
The event will be held Sunday at Stoney's Rockin' Country, 6611 Las Vegas Blvd. South, Suite 160, in Town Square Las Vegas. Doors will open at 3 p.m., with the program scheduled to begin at 4 p.m.
On Saturday, Ramaswamy and former president Donald Trump committed to the Nevada presidential caucus instead of the state-operated presidential primary election.
Ramaswamy says this will be the first of many events for his campaign in Nevada.
"Earlier this month, I was the first Republican candidate to file for Nevada's 'First in the West' Caucus because I'm in this for the long haul, and we're going to be making many more stops in The Silver State in the months ahead," Ramaswamy said in the release.
Contact Tony Garcia at tgarcia@reviewjournal.com or 702-383-0307. Follow @TonyGLVNews on X.
Nevada High School Football Schedule, Live Streams in Lyon County This Week
If you're searching for how to stream high school football in Lyon County, Nevada this week, we've got what you need below.
Follow High School Football this season on the NFHS Network! Keep tabs on your family or alma mater and tune in!
Other Games in Nevada This Week
Washoe County
Eureka County
Clark County
Elko County
Humboldt County
Lyon County, Nevada High School Football Games This Week
Fernley High School at Churchill County High School
Game Time: 7:00 PM PT on September 29
Location: Fallon, NV
Conference: 3A Northern – East
How to Stream: Watch Here
Dayton High School at Hamilton High School – Hamilton City
Game Time: 7:30 PM PT on September 29
Location: Hamilton City, CA
How to Stream: Watch Here
© 2023 Data Skrive. All rights reserved.