Cobre Panama Additional Operations Update and Revised Franco-Nevada Guidance
(in U.S. dollars unless otherwise noted)
TORONTO, Nov. 20, 2023 /PRNewswire/ – Franco-Nevada Corporation ("Franco-Nevada") (TSX: FNV) (NYSE: FNV) notes that its partner, First Quantum Minerals Ltd. ("First Quantum"), has issued an update reporting the following in respect of the Cobre Panama mine ("Cobre Panama"):
First Quantum's subsidiary, Minera Panama S.A. ("MPSA"), has further ramped down operations at Cobre Panama to one remaining ore processing train
Ongoing illegal blockades of small boats at the Punta Rincon port continue to prevent the delivery of supplies that are necessary to operate the on-site power plant. Without shipments arriving at the Punta Rincon port, MPSA expects to run out of supplies for the power plant during the week commencing

November 20, 2023

If the illegal actions continue to prevent the delivery of supplies necessary to operate the power plant, MPSA will ramp down the remaining processing train this week and temporarily halt production
With respect to the unconstitutionality challenges of Law 406 that have been admitted by the Supreme Court of

Panama

, the Secretary General of the Supreme Court of

Panama

has stated that plenary sessions of the court will sit from

November 24, 2023

and remain in session until a ruling is delivered in the shortest possible timeframe
MPSA, in accordance with its contractual obligations to the Republic of

Panama

, made a tax and royalty payment on

November 16, 2023

of

$567 million

for the period from

December 2021

to

October 2023
For more detailed information, please refer to First Quantum's press release dated November 20, 2023.
Given the recent curtailment of operations at Cobre Panama and the risk of further disruptions at the mine, Franco-Nevada is adjusting its guidance for 2023. Franco-Nevada's original guidance was 490,000 to 530,000 Precious Metal GEOs and 640,000 to 700,000 Total GEOs. Franco-Nevada is revising its guidance to 480,000 to 500,000 Precious Metal GEOs and 620,000 to 640,000 Total GEOs. The revised guidance assumes the following prices for the remainder of the year when reflecting revenue earned from gold, silver, platinum, palladium, iron ore, oil and gas commodities to GEOs: $1,925/oz Au, $22.50/oz Ag, $900/oz Pt, $1,100/oz Pd, $115/tonne Fe 62% CFR China, $85/bbl WTI oil, and $2.75/mcf Henry Hub natural gas.
For more information, please go to our website at www.franco-nevada.com
Forward-
Looking
Statements
This press release contains "forward-looking information" and "forward-looking statements" within the meaning of applicable Canadian securities laws and the United States Private Securities Litigation Reform Act of 1995, respectively, which may include, but are not limited to, statements with respect to Franco-Nevada's revised GEO guidance for 2023, MPSA's approach to operations, the effect of continued blockades on Cobre Panama and the constitutionality challenges to Law 406. The outcome of these matters could have a material adverse impact on the revenue Franco-Nevada derives from its streaming arrangements relating to Cobre Panama and on Franco-Nevada's results of operations and financial condition. There can be no assurance that such forward-looking statements will prove to be accurate and actual results and future events could differ materially from those anticipated in such statements. Investors are cautioned that forward-looking statements are not guarantees of future performance. Accordingly, investors should not place undue reliance on forward-looking statements due to the inherent uncertainty therein.
For additional information with respect to risks, uncertainties and assumptions relating to Franco-Nevada's business and assets, please refer to Franco-Nevada's most recent Annual Information Form filed with the Canadian securities regulatory authorities on www.sedarplus.com and Franco-Nevada's most recent Annual Report filed on Form 40-F filed with the SEC on www.sec.gov. The forward-looking statements herein are made as of the date of this press release only and Franco-Nevada does not assume any obligation to update or revise them to reflect new information, estimates or opinions, future events or results or otherwise, except as required by applicable law.
SOURCE Franco-Nevada Corporation

Remembering Pearl Harbor and the 'unsinkable' USS Nevada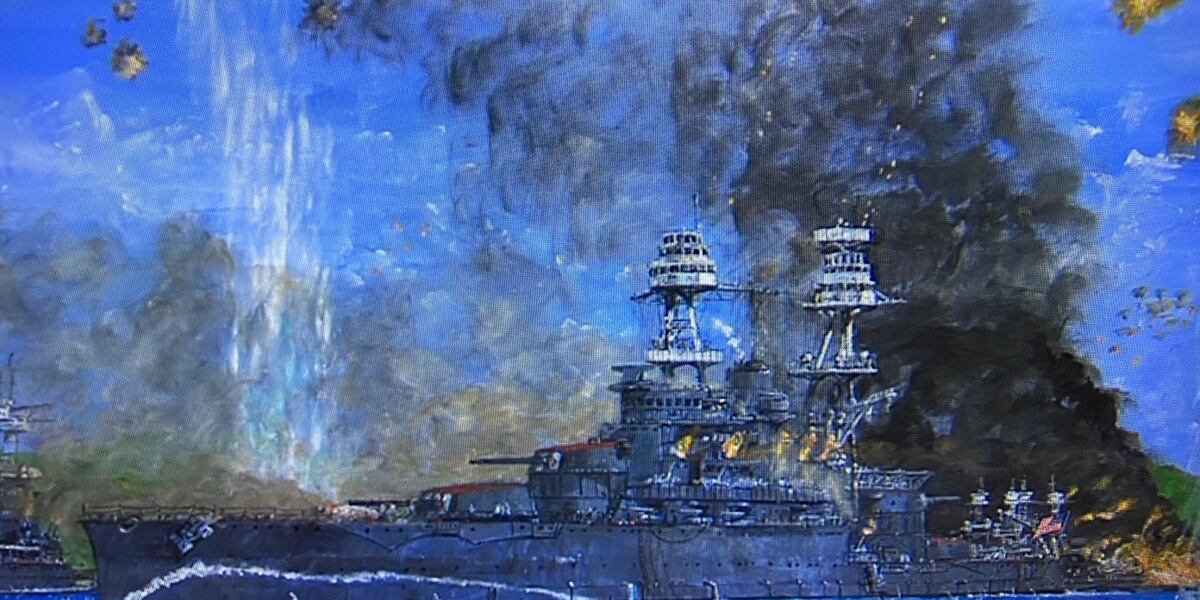 RENO, Nev. (KOLO) Eighty-two years ago, a sneak attack on the Pacific fleet at Pearl Harbor killed thousands and thrust the U-S suddenly into a global war. One battleship got underway that morning, starting a remarkable career that spanned both the Atlantic and Pacific theaters in World War 2 forging an 'unsinkable" legend, the USS Nevada.
At her launching in 1914 Governor Tasker Oddie promised the Nevada's career would be closely followed by every citizen of the state with close personal interest and for decades she was. The Nevada began her career as the fastest battlewagon in the world. She spent World War 1 in patrol duty in the Atlantic and saw no action.
Twenty-four years later found her berthed at Pearl Harbor with the rest of the battleships in the Pacific fleet. The Japanese attack caught the Nevada with her senior officers ashore. Lieutenant Commander Frank Thomas, the highest ranking officer on board, rallied his crew, and incredibly got the ship underway.
Already damaged by a torpedo, the Nevada made a run for the open sea, fighting as she went, her guns downing some of the first enemy planes of the war, It seemed she might make it, until the second wave of bombers struck. Hit by several bombs she was heavily damaged. Japanese planes swarmed around her. If she sank in the channel, she would bottle up the harbor for months. So, her crew beached her. The only U-S battleship to get underway that day ended it resting on the sandy bottom at Waipaio Point.
Two of the ships crew received Medals of Honor, the first of the war. thirteen the Navy Cross,
Her war was just beginning. She was refloated, repaired and refitted and having survived the war's tragic beginning wrote a new storied chapter in Naval history. At Normandy, her accurate gunnery earned her a mention by name from a frustrated German commander as an excuse for the failure to repel the landing at Utah Beach. German return fire left her unscathed.
Later in the Pacific at Iwo Jima her officers ran her close to shore, shielding others from enemy batteries, returning fire. Off Okinawa, she survived a Japanese kamikaze attack that killed a dozen of her crew. The Nevada's unsinkable reputation grew
After the war she was used as a target for an atomic test at Bikini atoll and survived.
Two years later, she was towed southwest of Hawaii to be scuttled. Heavy explosive placed aboard failed to sink her. Guided missile "bat bombs" were fired at her. The battleship Iowa and three cruisers then shelled her. She stayed afloat. Finally Navy torpedo bombers sent her to the bottom. Her wreckage was discovered in 2020 at a depth of 15 thousand feet.
All in all, a stirring story of American Naval history, one rediscovered decades later by students of the Gifted and Talented program at Vaughn Middle School. With the 50th anniversary of Pearl Harbor approaching they campaigned to get the Nevada's flags out of the state museum in time for Nevada Day in the process correcting a long time oversight gaining medals won, but never received for a USS Nevada veteran and, finally campaign to build a monument to the ship behind the state capitol, a tribute to the survivor of the date which will live in infamy' the unsinkable Nevada. –
Copyright 2023 KOLO. All rights reserved.
Nevada indicts six individuals for acting as 'fake electors' in the 2020 presidential election
Nevada Attorney General Aaron Ford announced Wednesday that six individuals have been indicted by a Nevada grand jury for falsely representing themselves as electors in the 2020 election.
The six individuals, all members of the Republican party, were charged after falsely portraying themselves as electors for the state of Nevada and producing false voting records for the state. All six were charged with two felony counts for Offering a False Instrument for Filing and Uttering a Forged Instrument. 
In his announcement to the public, Ford condemned the actions of the individuals:
When the efforts to undermine faith in our democracy began after the 2020 election, I made it clear that I would do everything in my power to defend the institutions of our nation and our state….We cannot allow attacks on democracy to go unchallenged. Today's indictments are the product of a long and thorough investigation, and as we pursue this prosecution, I am confident that our judicial system will see justice done.
The indictment comes on the heels of the ongoing criminal conspiracy case against former President Donald Trump for his alleged interference in the 2020 election. Since the case began, several states have begun investigation into election fraud. On Wednesday, in a civil suit in Wisconsin, ten "fake electors" admitted to participating in a conspiracy to overturn the victory of President Joe Biden. Nevada marks the third state to pursue criminal action against false electors for their role in the 2020 election scandal, following Michigan and Georgia.
6 'fake electors' for Trump indicted by Nevada grand jury
A Nevada grand jury indicted six Republicans on Wednesday for pledging Nevada's electoral votes to Donald Trump after Biden's 2020 presidential victory.
The six so-called fake electors were indicted in their effort to overturn President Joe Biden's 2020 election win against former President Donald Trump.
All six Republican electors, including the head of the Nevada Republican party, face two felony charges each. They include Nevada Republican Party Chair Michael McDonald, Jim DeGraffenreid, Jesse Law, Durward James Hindle III, Shawn Meehan and Eileen Rice.
In a statement, Nevada Attorney General Aaron Ford said attacks on democracy can not go unchallenged.
"When the efforts to undermine faith in our democracy began after the 2020 election, I made it clear that I would do everything in my power to defend the institutions of our nation and our state," he said. "We cannot allow attacks on democracy to go unchallenged. Today's indictments are the product of a long and thorough investigation, and as we pursue this prosecution, I am confident that our judicial system will see justice done."
This indictment makes Nevada the third state to prosecute fake electors, after Georgia and Michigan indicted multiple people earlier this year. It also comes as several so-called fake electors reached a settlement in Wisconsin.