Naomi Biden Secret Service shooting: Crime plague spreads to presidential granddaughter's neighborhood
WASHINGTON, D.C. – Secret Service agents protecting Hunter Biden's daughter opened fire on a group of suspects early Sunday – and it's not the first time that the elite agency has been involved in a law enforcement action in the vicinity.
The president's 29-year-old granddaughter, Naomi Biden, lives with her husband in Georgetown, a historic waterfront stretch of D.C. packed with trendy bars and restaurants, scenic sidewalks and a handful of foreign embassies.
The incident comes amid a rash of car break-ins in the upscale community, according to neighbors. Signs posted around the tree-lined streets warn drivers not to leave any valuables in their vehicles.
SECRET SERVICE AGENT FIRES GUN AMID CAR BREAK-IN WHILE PROTECTING BIDEN GRANDDAUGHTER
Just steps away from what neighbors identified as her home and the scene of Sunday's shooting, an off-duty officer two years ago thwarted a robbery in progress and engaging in a shootout with the suspects, according to police.
"The officer intervened in an ongoing armed robbery where two suspects, one armed, approaches a vehicle occupied three times with three victims, demanding either the vehicle or cash or other belongings from these individuals," DC Police Executive Assistant Chief Ashan Benedict said at the time. "The officer engages the armed suspect – shots were fired."
REP. HENRY CUELLAR SPEAKS OUT AFTER CARJACKING: DC 'MORE DANGEROUS' THAN MY BORDER DISTRICT
The Secret Service assisted in arresting one of the suspects in that incident, Benedict said.
It was not immediately clear whether the Secret Service was present on behalf of Biden during that incident – uniformed division officers also patrol near the city's foreign embassies and routinely come to the aid of city police when needed. 
"While our primary focus is to ensure the highest levels of safety and security for our protectees and our protected sites, the Secret Service Uniformed Division also has an excellent working relationship with the DC Metropolitan Police Department," said Anthony Guglielmi, the Secret Service's chief of communications. "Our agencies work together every day in various operational capacities and the DC Police Department also supports our protective mission in many ways, and we are grateful for the hand in glove relationship."
Washington, like many U.S. cities, is struggling to combat rising crime.
Another Georgetown shooting, this one in January 2022, left a 27-year-old man from Alexandria, Virginia, dead in the street, according to FOX 5 DC.
WHITE HOUSE BLOCKS REPORTERS FROM COVERING NAOMI BIDEN WEDDING: 'DEEPLY DISAPPOINTED'
Police statistics show increases in both the thefts of vehicles and of property inside vehicles this year. Even U.S. Rep. Henry Cuellar, D-Texas, fell victim when a group of masked men he described as "punks with guns" carjacked him near his Washington apartment building.
In Washington's Second District, which includes Georgetown, more than a thousand additional property crimes have been reported year to date in 2023 compared to 2022. The area has seen 399 stolen vehicles, 1,207 thefts from inside vehicles and nearly 3,000 other types of theft.
"She can choose anywhere she wants to live, and we would just do our best to keep her safe – and our vehicles safe," said Thom Bolsch, a former agent who now runs a range in Texas. "You're running out of good, clean safe areas to live."
Secret Service agents are bound by the same rules of engagement as other law enforcement officers, Bolsch told Fox News Digital.
"The only reason you're allowed to discharge your weapon is your life, you feel your life is in danger, or someone else is in danger and you want to protect them," he told Fox News Digital. "Maybe they can articulate that. If they just randomly shot at people running away from them, that's not how it's supposed to be done."
WATCH: Texas Rep. Henry Cuellar discusses his own DC carjacking
The security team would have had cameras and surveillance in place around the protectee's residents and would be monitoring constantly.
If the agent who opened fire on the would-be thieves feared for his life, or the life of someone else, he would have been justified in the shooting. Authorities have revealed few details, although the Secret Service said in a statement there was no threat to its protectees.
City police said no one was hurt in the incident and three suspects fled in a red car.
Bolsch, who no longer lives in Washington, said Georgetown used to be considered very safe but that crime has been "creeping" into nicer neighborhoods in the wake of widespread anti-police protests demanding departments be defended around the country.
CLICK TO GET THE FOX NEWS APP
"With defund the police, they don't have enough officers," Bolsch said. "Small, petty crimes are what they don't have the ability to enforce, and then when you do arrest somebody they get out by the time you finish the paperwork."
City police are conducting a routine investigation into law enforcement's use of force in connection with the shooting near Biden's home.


Read the full article from Here

Las Vegas 'lone wolf' terror attack foiled by FBI, police
A teenager promised "lone wolf operations in Las Vegas" in support of ISIS before his alleged terror plot was foiled, according to law enforcement.
"Peace be upon all brothers who see this. I am here to announce that I will be starting lone wolf operations in Las Vegas against the enemies of Allah," the suspect allegedly wrote in a Nov. 28 social media post.
"I ask you to make Dua for victory. I am a supporter of the Islamic State, and I will make sure the Zionists in this city know it."
That was allegedly posted on Tuesday. By Friday, the 16-year-old suspect was arrested, and federal agents found components to build an explosive device and terrorist propaganda, Dori Koren, deputy chief Homeland Security and Special Operations Division, said. 
EX-CON'S EERIE LETTERS TO LAS VEGAS SHOOTER REFERENCED MASSACRE: 'PLEASE DON'T GO ON ANY SHOOTING RAMPAGE'
The social media post also included the ISIS flag and words in Arabic, Koren said during Friday's press conference. 
The FBI Joint Terrorism Task Force and the Las Vegas Metropolitan Police Department counter-terrorism division quickly mobilized and identified the suspect and his location "within hours" of the post, Koren said.
FAMILY OF MISSING WYOMING WOMAN REVEALS 'DISTURBING' MESSAGES, RED FLAGS BEFORE SHE VANISHED
Law enforcement – including SWAT teams – executed several warrants to foil the alleged plot, and take the suspect into custody, Koren said.
"It's important to note that we believe this is an isolated threat that we were able to quickly mitigate," Koren said. "There's no indication at this time that there are additional threats to our community."
They recovered a handmade ISIS flag, headband and patches; ISIS and Al Qaeda propaganda; guidance for conducting a terrorist attack; and, self-portraits of the suspect surrounded by ISIS propaganda, he said.
Even more troubling was the recovery of components to build improvised explosive devices, bomb-making recipes and instructions, Koren said. 
WEALTHY CAR DEALER PAID EX-IDF, MARINES TO KILL ESCORT, BLACKMAILER OVER THREATS THEY'D EXPOSE SEX TRYSTS
The suspect was not identified because he is a minor, but he was charged with terroristic threats, attempt to further an act of terrorism, providing material support to a terrorist organization and five counts of possession of explosive components. 
All the charges are felonies, and the case will be prosecuted by the Clark County District Attorney's Office in Nevada. 
The investigation remains ongoing, and more information about the case will be released in the coming weeks, he said.
Anyone with any information connected to this case, or general suspicious activity, is asked to call the Southern Nevada Counter-Terrorism Center at 702-828-7777. 
Read the full article from Here
Crash Injures Two, One Critically, In SF's Mission District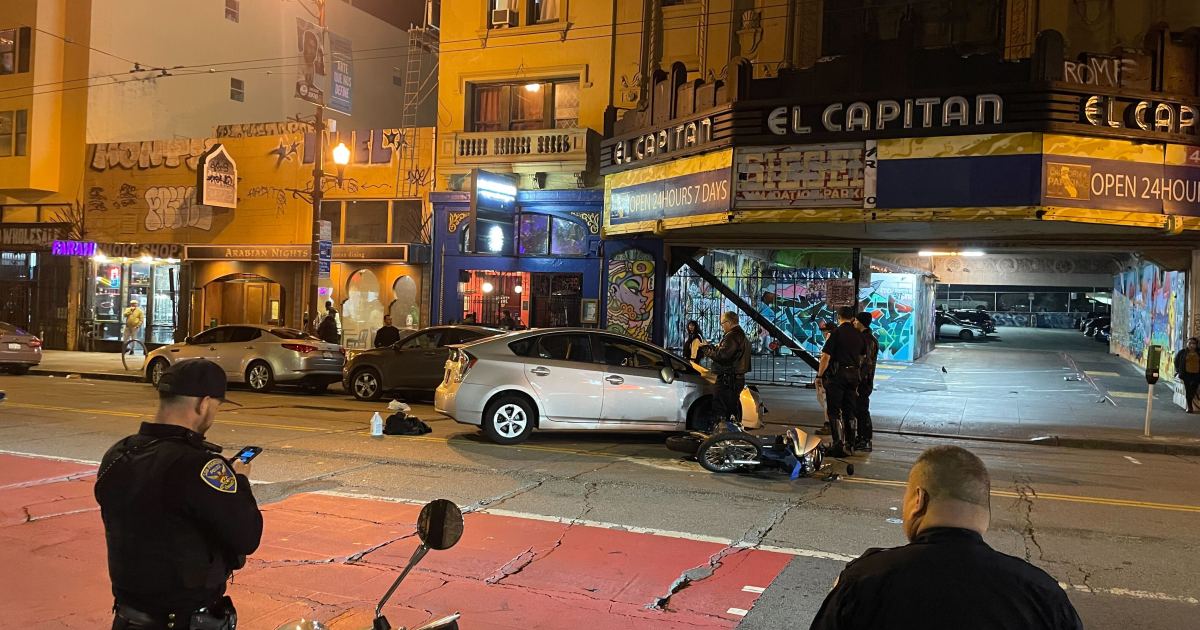 A crash in San Francisco's Mission District has wounded two people, including one who is critically injured, officials said.
The crash was reported at 6:13 p.m. on Mission Street between 19th and 20th streets, according to the San Francisco Fire Department. Two people were sent to a trauma center as a result, with one in stable condition and the other in critical condition, authorities added.
A photo taken by a reporter between 19th and 20th streets shows a car and motorcycle were involved in the crash.
The San Francisco Police Department has yet to respond to The Standard's request for comment.
Market Report: How Denver is capitalizing on leisure travel
In the heart of the Rocky Mountains, Denver is navigating the fluctuating landscapes of a post-pandemic world. | The city's travel and tourism blueprint involves combining robust infrastructure investment and development with a leisure scene.