Mexico's president praises Biden for not building border walls
Mexico's President Andrés Manuel López Obrador on Friday praised President Biden for being the "first president in the United States in recent times who has not built walls."
López Obrador made the remark while meeting with Biden in San Francisco, adding that "we wish to assist the people in their countries of origin when they are forced to migrate." 
"I would like to also take this opportunity to greet our paisanos, the Mexican migrants who are living and making a life and working in the United States," he continued. "Around 40 million people have made the United States their second home, their second country, and I would also like to inform those who may not be aware of this that in recent years there are many American citizens who are moving to Mexico to stay there or to live in Mexico."
"So welcome, because we are brotherly countries," López Obrador added. 
BIDEN ADMINISTRATION APPROVES $950 MILLION IN CONTRACTS FOR BORDER WALL REPAIR, UPGRADES 
Biden said while sitting next to Mexico's president, "We're working side by side to combat arms trafficking, to tackle organized crime and to address the opioid epidemic, including fentanyl." 
The meeting comes two weeks after Fox News Digital reported that the Biden administration approved $950 million in contracts to repair and upgrade part of existing border wall construction in Arizona, California and Texas, using money from Trump-era congressional appropriations. 
NEWS PHOTOGRAPHER SHOT DEAD IN CARTEL-DOMINATED MEXICAN BORDER HUB 
In court documents, first reported by the New York Post, the Department of Homeland Security said that Customs and Border Protection (CBP) has awarded contracts for repair work and "system attribute installation" in the San Diego, El Centro, El Paso and Tucson Sectors. 
Remediation work includes closing gaps, installing gates and improving roads and drainage systems. "System attribute installation" includes putting in cameras, roads and detection technology to enhance the border wall. Other contracts include installing anti-climb features on the wall in San Diego, IT support and environmental planning. None of the money was awarded for additional wall construction.
Fox News' Adam Shaw contributed to this report. 
Read the full article from Here

'Cult mom' Lori Vallow pleads not guilty to Arizona murder conspiracy charges
Lori Vallow Daybell has pleaded not guilty in Arizona to charges of conspiring to kill her estranged husband and her niece's ex-husband.
In 2019, Lori Vallow Daybell, then living in a Phoenix suburb, was estranged from her fourth husband, Charles Vallow, who was later shot and killed by her brother, Alex Cox, claiming self-defense.
The five-minute arraignment hearing took place in a Phoenix state court, with a trial scheduled for April 4.
A woman sentenced to life in an Idaho prison for murdering her two youngest children and another woman has pleaded not guilty to charges in Arizona of conspiring to kill her estranged husband and her niece's ex-husband.
Lori Vallow Daybell, dressed in an orange jail uniform, stated her name and birthdate when a judge asked her to do so during a five-minute arraignment hearing Thursday in state court in Phoenix. Her trial is scheduled for April 4.
LORI VALLOW TRIAL: 'CULT MOM' SENTENCED IN MURDERS OF 2 OF HER CHILDREN, HUSBAND'S FIRST WIFE
Keith Terry, Vallow Daybell's attorney, did not immediately return a phone call and email Thursday morning after the hearing seeking comment on his client's behalf.
In 2019, Vallow Daybell still lived in a Phoenix suburb with her children, 7-year-old Joshua "JJ" Vallow and then-16-year-old Tylee Ryan. She was estranged from her fourth husband, Charles Vallow, at the time, and he had written in divorce filings that she claimed to be a goddess sent to usher in the Biblical apocalypse.
'CULT MOM' LORI VALLOW APPEALS CONVICTION AFTER BEING FOUND GUILTY OF MURDERING HER 2 CHILDREN
Charles Vallow was shot and killed by Vallow Daybell's brother, Alex Cox, that summer. Cox told police he acted in self-defense and he was never charged. Cox died later that year of what investigators said were natural causes.
Shortly after Charles Vallow died, Vallow Daybell and her kids moved to Idaho. Prosecutors said she made the move to be closer to her then-boyfriend, Chad Daybell, and that together the two plotted to remove any obstacle to their happiness.
Chad Daybell has also been charged in the murders of the two kids and his late wife. He has pleaded not guilty and is awaiting trial.
Over the next several weeks, Vallow Daybell's two children disappeared and Chad Daybell's then-wife, Tammy Daybell, died of what was initially believed to be natural causes. But authorities became suspicious when Lori Vallow Daybell and Chad Daybell married just two weeks later, and determined Tammy Daybell had been asphyxiated.
LORI VALLOW VERDICT: IDAHO JUROR SAYS 'CULT MOM' HAD 'NO HINT' SHE WAS DESTROYING 'SO MUCH AROUND HER'
Extended family members had also grown worried about the missing kids and police launched a multi-state investigation looking for the children. Their bodies were later found buried in Chad Daybell's yard.
Meanwhile, another person connected to the family reported an attempted shooting. Brandon Boudreaux, who had recently divorced Vallow Daybell's niece, said someone driving a Jeep had shot at him outside his home. The Jeep matched the description of one that had been purchased by Charles Vallow before his death.
Read the full article from Here
San Francisco business owner seriously injured in attack outside shop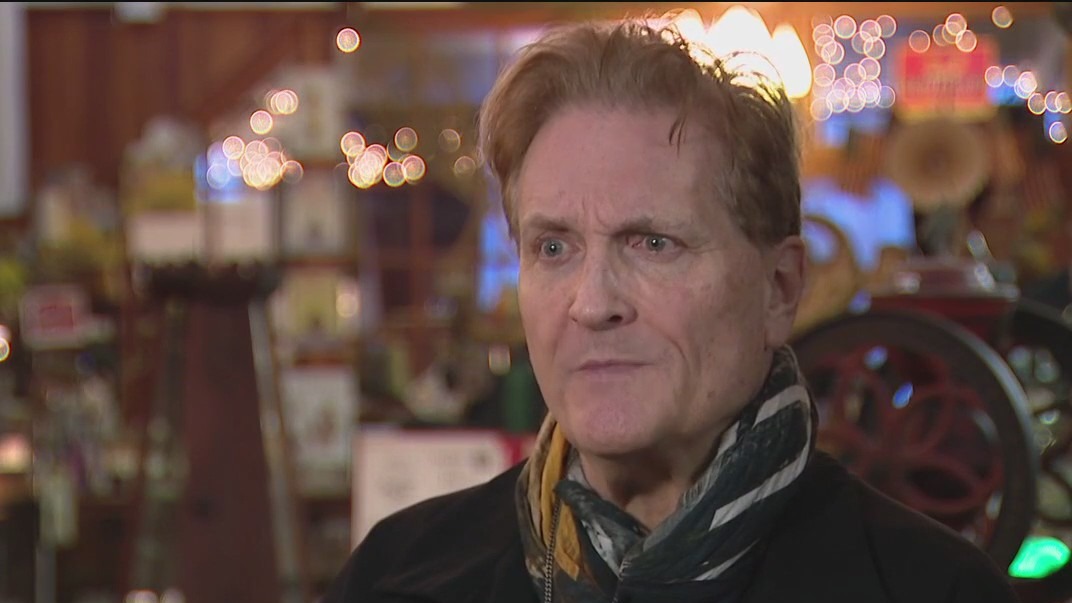 SAN FRANCISCO – A San Francisco business owner is suffering from serious injuries after being attacked outside his shop in SOMA.
The brazen encounter is caught on camera.
Mark Sackett owns the building at the corner of Howard and Moss, built in the 1920s, where the San Francisco Examiner was once printed.
He has a collection of printing presses.
Today, the historic building is home to The Box SF, which includes an antique store and an event venue.
But the neighborhood comes with its share of problems.
"We're dealing with crap every day," Sackett said.
Sackett's surveillance camera captured a man wearing a pink hoodie, who had just left his soup container in front of the business.
"I says, 'hey man. If you're going to leave, do you mind just tossing that in the garbage can?" Sackett asked. "And he just turns, and he's like 'f. you."
The man in pink then went right for Sackett.
"And then he throws the soup towards me," Sackett said, but after being stabbed about two years ago nearby, he wasn't taking any chances. "I'm not waiting for somebody to punch me or cut me with a knife again. I've been through that already down here."
Sackett sprang into action and tried to push the guy away.
But the 66-year-old had a boot on his leg for a broken foot.
"We both go down," Sackett recalled.
The soup slinger got right back up and started swinging.
Sackett's friend stepped in and they both wrestled the guy to the ground and held him there until police arrived.
"And they said, 'we think he's really high or drunk, we don't know which."
But Sackett said police did not arrest the man, instead police called his significant other to take him home. 
"I'm like, that's it?" Sackett said.
He knows the recurring crime which has his employees keeping pepper spray handy isn't going away.
According to San Francisco Police, between the SOMA and Tenderloin districts from May 29 to December 4, officers made nearly 1,700 arrests through the Drug Market Agency Coordination Center, and took 110 kilograms off the streets, including nearly 60 kilograms of fentanyl.
"We have got to get the drugs off the street and the drug dealers off the street," Sackett said. "I think that's paramount above everything else."
As far as his injuries are concerned, x-rays reveal two of the steel rods in his foot broke in half during the sidewalk attack, which will require surgery to fix. He also had cuts, bruises, and a lump on the back of his head.
Should the Broncos try the air attack again in Week 14?
Sure, relying on Russell Wilson's arm didn't work last week for the Denver Broncos. However, is the passing game the best way to attack the Los Angeles Chargers in Week 14? Cecil Lammey and Andrew Mason break it down on Orange and Blue Today.