Hawaii Senate Panel Approves Supreme Court Nominees
Lisa Ginoza and Vladimir Devens advanced to a final vote by the full Senate on Tuesday.
Backed by overwhelming public testimony in support of their nominations, the state Senate Judiciary Committee on Monday voted unanimously to approve Lisa Ginoza and Vlad Devens to serve on the Hawaii Supreme Court.
The nominees await a full 25-member Senate vote Tuesday that is likely to be a formality.
Ginoza, who currently serves as chief judge for the Intermediate Court of Appeals, received 45 letters of written testimony strongly supporting her elevation to the high court. Much of the testimony came from past and present members of Hawaii's legal community.
Devens, who currently serves as principal at the Law Offices of Vladimir P. Devens, received a similar volume and level of support. Backers included a half dozen major labor union leaders, and only a single person testified in writing against him, without offering a reason.
Both nominees were deemed "qualified" for the high court by the Hawaii State Bar Association, and both were hailed for their local roots in Kailua. 
Ginoza has served on the ICA since 2010 and as chief judge since 2018. She was the first deputy attorney general for the state from 2005 through 2010.
Her private practice experience includes civil litigation for 14 years with the law firm of McCorriston Miller Mukai MacKinnon, where she became a partner. Ginoza received her juris doctor degree from the University of Hawaii Manoa William S. Richardson School of Law.
Ginoza was widely praised by her peers for her character, merit and intelligence.
"From our first year of law school, it was apparent that Judge Ginoza operated on a different plane of understanding and knowledge above and beyond our classmates," testified Peter Kubota, judge for the Third Circuit Court on Hawaii island.
"She could see the 'bigger picture' of legal precedent, as they were being taught," he added. "Her wisdom, clear and fair thinking, leadership and practicality, make her well-suited to serve Hawaii as a Supreme Court justice."
Sen. Brandon Elefante, a member of the judiciary committee, asked Ginoza during the confirmation hearing Friday about her view on impartiality in terms of legislation that might come before her.
Ginoza noted that judges don't get to "pick and choose" the issues that come before them.
"Our role as judges, when we are applying statutory law, it's absolutely clear our role is to discern the intent of the Legislature in passing this statute, whatever statute we may be looking at — or statutes, often — and to apply them faithfully to the facts in the particular case before us," she said.
Devens earned his juris doctor degree from the University of California, Berkley School of Law. He has been a partner at the law firms of Meheula, Devens and Winer, and Meheula and Devens.
According to Gov. Josh Green's administration, Devens has litigated cases at all levels of the state court system, including the Hawaii Supreme Court, the ICA, the Circuit Court, District Court, Family Court and federal courts.  Devens' administrative agency work includes work for the Disability Compensation Division and the Hawaii Labor Relations Board.
The fact that Devens has never worked as a sitting judge or justice was not seen as a liability but rather an asset.
"It is unfortunate that some have raised the issue of whether Vlad's lack of judicial experience becomes a disqualifying factor for a nomination to the state's highest court," testified Colleen Hanabusa, a former Senate president and U.S. representative. "It does not; and in fact, I believe some confuse 'judicial temperament' with judicial experience."
"Over the years, I have concluded that you know when someone has the proper judicial temperament. It is defined by the American Bar Association as 'common sense, compassion, decisiveness, firmness, humility, open-mindedness, patience, tact and understanding,'" sh added. "Vlad has these traits. In fact, one of the primary reasons why I believe he should be on the Supreme Court is due to these traits."
Clayton Hee, a former Senate Judiciary chair, testified that other Supreme Court justices without prior or much bench experience include William S. Richardson, Edward Nakamura, James Duffy and current Chief Justice Mark Recktenwald.
Sen. Karl Rhoads, the judiciary chair, asked Devens how he might address a constitutional amendment that he personally might find "morally repugnant." Would he enforce it?
"You'd have to still deal with the issue," Devens replied. "I mean, you can't run away from it. And you have to apply the same interpretation principles that were bound to apply that you would be as a judge, and you would have to deal with it in the normal course."
"And the difficulty is that we're required and we have to have the discipline to set aside our own feelings," he added. "You may agree or disagree with a law, but if it passes all the tests and the muster, then you have to uphold it. That's what you swear to do."
Green chose Ginoza and Devens from a list of six people recommended by the Judicial Selection Commission. If confirmed, they will replace former Associate Justices Mike Wilson and Paula Nakayama, who retired earlier this year upon reaching the mandatory retirement age of 70.
There are five members on the Hawaii Supreme Court. If Ginoza is confirmed, Green will have the opportunity to name her replacement to lead the ICA.




Sign up for our FREE morning newsletter and face each day more informed.



Hawaii Lobbyist Pleads Guilty To Illegal Drug Possession At Vet Clinic
Alicia Maluafiti faces up to a year in prison.
The politically connected former president of an Oahu veterinary clinic has admitted she improperly obtained drugs for animals using the credentials of an unknowing veterinarian who no longer worked there.
Earlier this year, Alicia Maluafiti was charged with 27 counts of using a Drug Enforcement Administration registration issued to another person, a felony. If convicted, Maluafiti would have faced up to four years in prison for each count. 
But on Wednesday, prosecutors agreed to dismiss that indictment in exchange for Maluafiti pleading guilty to a misdemeanor possession charge. The penalty for that offense is no more than a year in prison, a fine between $1,000 and $100,000 and mandatory supervised release for up to one year.
In a plea agreement, Maluafiti admitted that "at the defendant's direction," the clinic used the vet's registration number to obtain controlled substances including ketamine and diazepam. This occurred on at least 27 occasions between 2018 and 2020, the agreements states.
"The defendant knew that she unlawfully possessed those controlled substances, which were stored at premises that she maintained and controlled," the plea agreement states.
A message left with Maluafiti on Thursday evening was not returned. Her attorney Megan Kau declined to comment.
A longtime lobbyist for influential organizations, Maluafiti's clients included genetically modified food and pesticide companies, the Hawaii Board of Realtors and the Hawaii Medical Service Association. She was also a frequent donor to political campaigns, giving more than $56,000 to candidates since 2007, according to campaign finance data.
Maluafiti even ventured into politics herself, running for state Senate in 2018. Although she lost, her campaign was supported by Senate President Ron Kouchi, who called Maluafiti a "friend," and Senate Vice President Michelle Kidani.
Both Kidani and former state Rep. Ryan Yamane have sat on Poi Dogs & Popoki's board, according to its tax filings. And the organization received tens of thousands of dollars in taxpayer money.
At the time of Maluafiti's crime, she was a member of the Hawaii Board of Veterinary Medicine. Former Gov. David Ige twice appointed her to that group, the state body in charge of licensing veterinarians.
In an interview with Civil Beat earlier this year, Maluafiti acknowledged she continued to use a vet's credentials even after he left the nonprofit practice. However, she claimed she had his permission. The vet, Richard "Jim" Brown, denied this.
Nevertheless, Maluafiti said she didn't know it was wrong and that the drugs were necessary to help animals in need of spay and neuter services.
"This is all about my love of animals," she said. "I don't profit from any of this."




Sign up for our FREE morning newsletter and face each day more informed.


Buy Tickets for Hawaii Rainbow Warriors Basketball Games
The Hawaii Rainbow Warriors (6-1) will next be in action at home against the Hawaii Pacific Sharks, on Sunday, December 10 at 10:00 PM ET.
If you're looking to see the Hawaii Rainbow Warriors in person, head to Ticketmaster to buy your tickets!
Upcoming Hawaii games
| Date | Opponent | H/A | Time (ET) | Tickets |
| --- | --- | --- | --- | --- |
| Sun, Dec 10 | Hawaii Pacific | H | 10:00 PM | Get tickets for this game at Ticketmaster |
| Sun, Dec 17 | Nevada | H | 10:00 PM | Get tickets for this game at Ticketmaster |
| Thu, Dec 21 | Portland | H | 11:30 PM | Get tickets for this game at Ticketmaster |
| Sat, Dec 30 | CSU Fullerton | H | 12:00 AM | Get tickets for this game at Ticketmaster |
| Thu, Jan 4 | CSU Bakersfield | A | 10:00 PM | Get tickets for this game at Ticketmaster |
| Sat, Jan 6 | CSU Northridge | A | 8:00 PM | Get tickets for this game at Ticketmaster |
| Thu, Jan 11 | UC Irvine | H | 12:00 AM | Get tickets for this game at Ticketmaster |
| Sat, Jan 13 | UC Riverside | H | 12:00 AM | Get tickets for this game at Ticketmaster |
| Thu, Jan 18 | Long Beach State | A | 10:00 PM | Get tickets for this game at Ticketmaster |
| Sat, Jan 20 | UCSD | A | 7:00 PM | Get tickets for this game at Ticketmaster |
| Thu, Jan 25 | UCSB | H | 12:00 AM | Get tickets for this game at Ticketmaster |
| Sat, Jan 27 | Cal Poly | H | 12:00 AM | Get tickets for this game at Ticketmaster |
| Thu, Feb 1 | CSU Fullerton | A | 10:00 PM | Get tickets for this game at Ticketmaster |
| Sat, Feb 3 | UC Irvine | A | 10:00 PM | Get tickets for this game at Ticketmaster |
| Thu, Feb 8 | UCSD | H | 12:00 AM | Get tickets for this game at Ticketmaster |
Find tickets for these or any college basketball game at Ticketmaster!
Hawaii's next matchup information
Opponent: Hawaii Pacific Sharks
Day/Time: December 10, 2023 at 10:00 PM ET
Location: SimpliFi Arena at Stan Sheriff Center
Broadcast: Spectrum Sports
Can't make it to the game? Watch college basketball this season on ESPN+, Fubo and Max!
Sportsbook promo codes
Check out the betting offers for Hawaii's next game across these sportsbooks.
Top Hawaii players
Shop for Hawaii gear at Fanatics!
| Name | Games Played | PTS | REB | AST | STL | BLK | FG% | 3P% |
| --- | --- | --- | --- | --- | --- | --- | --- | --- |
| Noel Coleman | 7 | 17.3 | 2.7 | 1.6 | 1.1 | 0.1 | 51.9% (41-79) | 44.7% (17-38) |
| Justin McKoy | 7 | 12.0 | 7.0 | 1.9 | 0.6 | 0.4 | 49.2% (31-63) | 40.0% (12-30) |
| JoVon McClanahan | 7 | 9.7 | 2.1 | 3.3 | 1.0 | 0.1 | 45.8% (22-48) | 53.8% (7-13) |
| Juan Munoz | 7 | 9.6 | 1.3 | 2.3 | 0.7 | 0.1 | 51.2% (21-41) | 45.2% (14-31) |
| Bernardo da Silva | 7 | 9.3 | 5.7 | 1.1 | 0.6 | 0.9 | 58.5% (24-41) | – |
Not all offers available in all states, please visit BetMGM for the latest promotions for your area. Must be 21+ to gamble, please wager responsibly. If you or someone you know has a gambling problem, contact 1-800-GAMBLER.
© 2023 Data Skrive. All rights reserved.
LIVE: Marking 82 years since Pearl Harbor attack, Hawaii remembers 'legacy of hope' left behind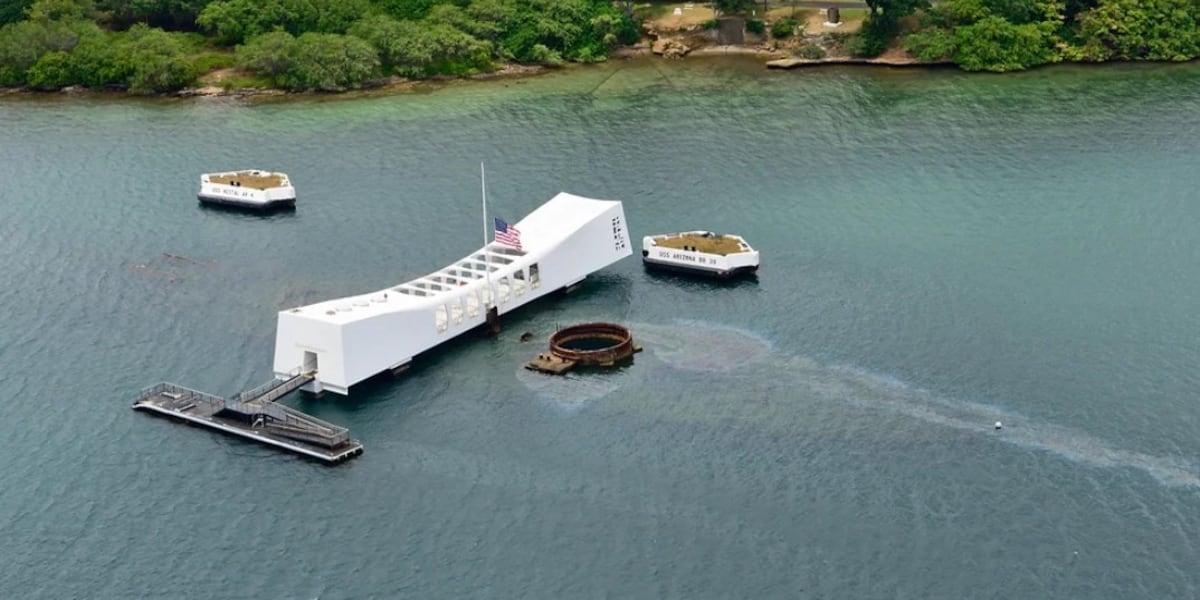 HONOLULU (HawaiiNewsNow) – Dec. 7, 1941 is the day Japan bombed Pearl Harbor and propelled America's entrance into World War II.
Just before 8 a.m. on that Sunday, Japanese planes started a historic assault on Pearl Harbor that would leave 2,403 Americans dead and 21 ships sunk or damaged.
The lives lost and the significance of that day will never be forgotten.
Marking eighty-two years since the Dec. 7 attack on Pearl Harbor, Hawaii remembers the veterans who were lost and honor those who survived the dark moment in history.
Organizers say this year's theme is "Legacy of Hope" which they say serves as a reminder not to just embrace the victory of arms that came with the war, but the "expression of hope for the realization of a lasting peace" that the veterans held onto tirelessly.
The commemoration ceremony will begin around 7:30 a.m. at Pearl Harbor National Memorial.
A moment of silence will then be observed at 7:55 a.m., the exact moment the Japanese attack on Pearl Harbor began. A missing man flyover will follow.
The event is open to the public. Pearl Harbor survivors and veterans will be in attendance on site.
Hawaii News Now will carry the Commemoration Ceremony on its digital platforms.
PREVIOUS COVERAGE:
'I owe them': At 103, Pearl Harbor survivor makes trip to honor comrades lost in Dec. 7 attacks
The story of the attack on Pearl Harbor … told by photos taken on that infamous day
Among those in attendance includes "Ike" Schab, the last survivor from Navy Band 13 and among the ranks of a shrinking number of servicemembers.
The 103-year-old was determined to make it back to Honolulu for this year's ceremony.
Another one of the survivors many are remembering is Jack Holder, who was a 19 year-old Navy sailor on Ford Island when the attack began.
Holder passed away earlier this February. He was 101.
In one of his accounts, Holder said he took shelter in a ditch that was being dug for a new sewer pipe. He survive and worked tirelessly to keep the memory of his fallen comrades alive.
As part of the commemorative events happening on Thursday, some of Holder's ashes will be scattered at the USS Utah Memorial at 2:30 p.m.
Other commemorative events happening this week that are open to the public include:
USS Oklahoma Ceremony: Dec. 7 at 1 p.m. at USS Oklahoma Memorial
USS Arizona Live Dive: Dec. 9 at noon at the Pearl Harbor National Memorial.
For more information on the events, click here.
Copyright 2023 Hawaii News Now. All rights reserved.