Amid busiest holiday travel season ever, Hawaii travel still soft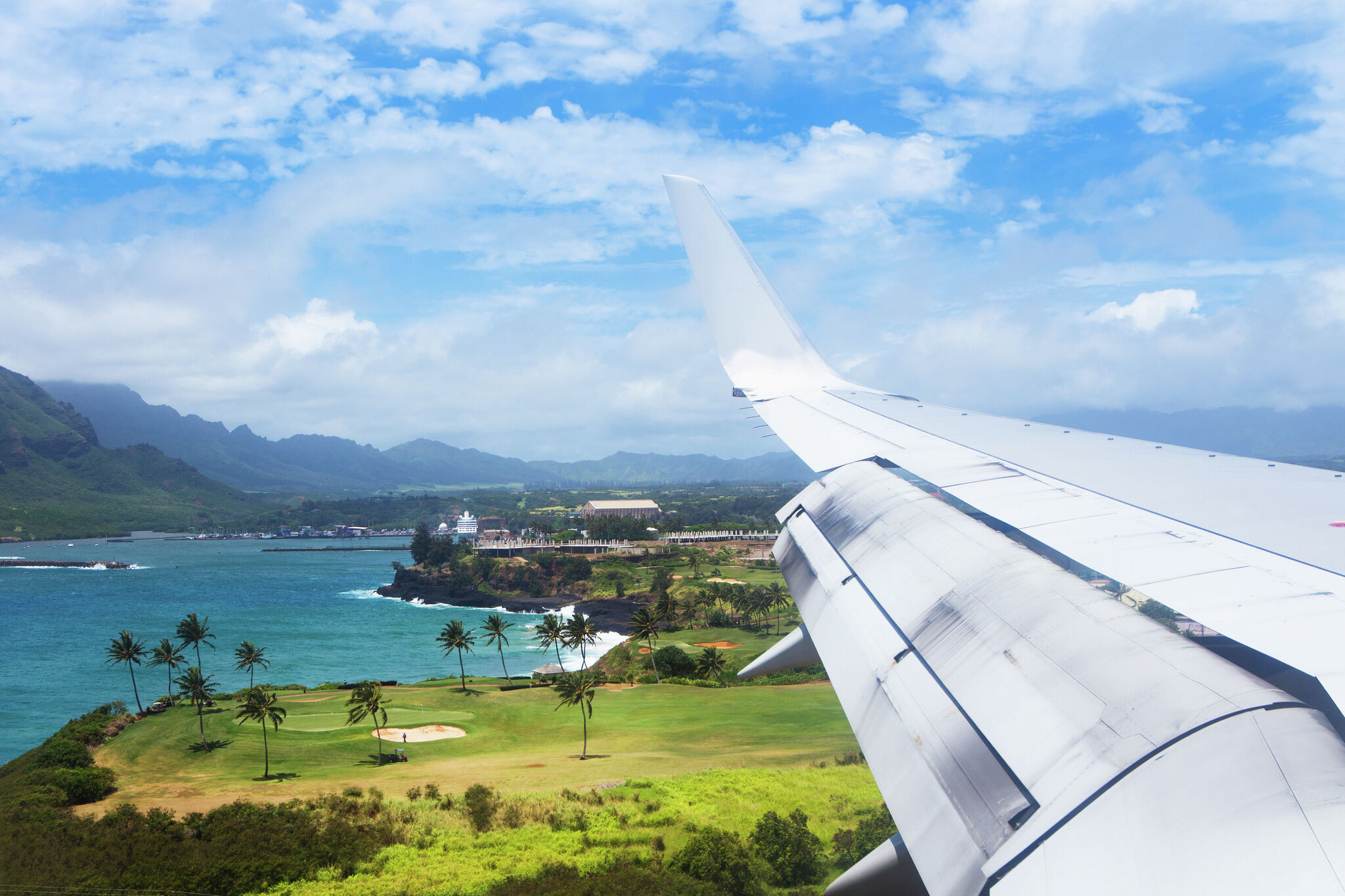 The Transportation Security Administration anticipates that this holiday travel season will be the busiest ever and is working closely with the airlines and airports to be better prepared. But Hawaii travel, which began seeing a softening travel demand prior to the Maui fires, is expected to be down from years' past.
So far, daily Hawaii passenger arrival statistics are trending down; daily travel was down almost 4% on Saturday, Nov. 18, compared with last year, and as much as 7.2% on Sunday compared with last year. Compared with 2019, Saturday's travel was down 9.9%, and Sunday's was down 12.1%, according to the Department of Business, Economic Development and Tourism.
"Thanksgiving is a little slower than normal. We are off a few points from last year," Jerry Gibson, president of the Hawaii Hotel Alliance, told West Hawaii Today.
Still, Hawaii's airports are preparing for the rush of travelers, and the Hawaii Department of Transportation told SFGATE there will be no runway closures over the Thanksgiving holiday.
"Based on reporting from the airlines, there are no major increases in the number of flights at Hawaii airports compared to last Thanksgiving," a spokesperson for the Hawaii Department of Transportation told SFGATE in an email. "However, flights are expected to be fuller, meaning the airports will be busier, especially during peak times between 10 a.m. and 2 p.m. The busiest travel day is expected to be Wednesday, followed by Sunday."
The HDOT recommends that travelers arrive at least two hours prior to their scheduled departure flights to the continental U.S. and international destinations; and 90 minutes prior for interisland flights.
"Check with your airline on the status of your flight, including any delays, gate assignments and baggage claim area if you're picking up arriving passengers," the HDOT spokesperson said.

Governor reflects on a challenging first year in office as he outlines future priorities
HONOLULU (HawaiiNewsNow) – It was exactly one year ago Tuesday that Gov. Josh Green and Lt. Gov. Sylvia Luke were sworn into office.
To mark the anniversary, the governor spent the day highlighting his administration's successes — while political onlookers noted there have been some setbacks.
Green began his term after an overwhelming election victory, with a substantial budget surplus and resulting high hopes. But reality, politics and crisis compromised his plans.
He began his term with an inaugural address that proclaimed, "There is absolutely no challenge that the people of Hawaii can't meet when we pull together."
WATCH FULL ADDRESS:
That aspiration was tested beyond imagination by the Maui wildfires and in smaller ways by political and economic headwinds.
So Tuesday's anniversary speech, just 15 minutes and streamed online, was muted.
"We've been through so much, and we've accomplished so much just in one year," Green said.
In address on first year in office, Green pledges ongoing aid to Maui
In the address, Green ticked off his accomplishments: Tax relief for lower income families, a plan for multiple homeless tiny home villages called kauhale, plans for accelerated public housing contracting, raises and bonuses for teachers, coordinated Maui fire relief, the defueling of Red Hill, incentives to attract medical professionals and reformed tourism marketing.
University of Hawaii Political Science Professor Colin Moore gave the governor a positive assessment of the past year.
"I think it's been very successful," Moore said. "I don't think Green has made any major errors. I think his approval ratings are still fairly high."
Moore says Green was willing to compromise when he had overly ambitious plans.
House Minority Leader Lauren Matsumoto saw a similar pattern, especially in Green's use of emergency orders to reduce legislative and regulatory oversite.
"I think he had really high expectations coming in," Matsumoto said. "And sometimes it's difficult when you come in and say you're going to build 50,000 houses and then realize that might be an unrealistic goal. You know, that's a hard thing for any politician to do."
Green backed off his proposals for a climate impact fee on visitors and middle-class tax cuts, stumbled in an effort to speed up stadium development and his high-profile housing emergency offended environmentalists and Native Hawaiian groups.
Those conflicts led to the rejection or withdrawal of four high level appointees.
But Moore said he thinks Green has learned from his experience.
"I think you see someone who is in some ways, a little bit humbled a little more modest about what can be accomplished," Moore said. "I think that's a good thing."
Matsumoto encouraged Green to work better with the Legislature.
"Coming into this next year, really focusing on that collaborative effort, less than focusing on things like some of those emergency proclamations would be really helpful," she said.
The new year will bring expectations that Green support Maui's recovery, redesign tourism, build homes, address climate change and energy dependence and diversify the economy — challenges on which the Green administration will ultimately be judged.
Copyright 2023 Hawaii News Now. All rights reserved.
Hawaii's Maui Locals Speak Out Against Tourism Amid Housing Shortage
Skift Take
Hawaii and Maui won't see a full tourism recovery if the public perceive them as responsible for leaving the wildfire victims homeless.
Maui locals voiced their frustration with tourism promotion at a community meeting held by the Hawaiian Tourism Authority on Monday. Participants were upset about accommodating tourists as wildfire survivors are still in need of housing.
"Tourism has added to the trauma by adding to the fear of the displaced being kicked out of the hotels where they have been staying since losing their homes," said one Lahaina resident at the meeting. 
The housing situation of the displaced residents was a lightning rod. Thousands lost their homes to the August 8 wildfire and then were housed in hotels. 
Local relief agencies and the government have yet to find a long-term housing solution for the displaced. The entire island was opened to tourism on November 1.
"We're worrying about what's going on tomorrow while these people galavant about and have a good time," said one resident.
Tourism is vital to Maui's economy. About 70% of every dollar generated in the island comes directly or indirectly from the visitor industry, according to the Maui Economic Development Tourism Board.
Maui Struggles to Recover Tourism: Latest Data
Tourists spending in Maui down by over $100 million. Visitor spending was $326 million in October, down from $436 million last year.
20,000 fewer tourists in Maui per day. Daily visitor count in October totaled 36,000, down over 59,400 from last year.
2024 demand is underperforming. Flight and hotel bookings are "lower than usual compared to a year ago," said Ilihia Gionson, public affairs officer of Hawaii Tourism Authority.
Many tourists are still confused about whether it's okay to travel to Maui due to inconsistent, sometimes conflicting, messaging, according to a survey by the Hawaii Tourism Authority.
Over 5,000 were unemployed for the week of Thanksgiving. That's down from the peak of 8,800 in mid-September, but that could be because people moved out of Maui to find work elsewhere, said Gionson.
Over a third of wildfire survivors say employment and financial recovery is their most pressing need, according to the Hawaiian government.
Alaska Airlines CFO Sees a Recovery Next Year
"I think that's going to happen in due time. It's got to be right for the community," said Shane R. Tackett, Alaska Airlines' CFO in a call with investors about the proposed merger with Hawaiian Airlines.
"But we just know that's a destination people are going to want to travel to over the long term. I don't think it's a several-year process. I think there's a lot of demand already starting to show up that wants to go back to Maui."
Bunkie Magnet cheerleader to perform in Pearl Harbor Memorial Parade in Honolulu, Hawaii
Bunkie Magnet High School cheerleader Brooke Hollingsworth will perform with Varsity Spirit's top-tier All-Americans in the Pearl Habor Memorial Parade in Honolulu, Hawaii, this Thursday (Dec. 7). 
"I feel so honored to be an All-American Cheerleader on such a significant day in our history," Hollingsworth said in a press release issued by Varsity Spirit Special Events. "Both my great-grandfathers made significant contributions in the war effort." 
According to a Dec. 7, 1941, article in The Town Talk, the Japanese launched a surprise aerial attack on Honolulu on the same date 82 years ago. More than 2,403 people died in the attack, according to a May 12, 2023, article in USA Today, with Navy servicemen making up the largest number of casualties at 2,008. U.S. Army soldiers, Marines and civilians also were among the causalities. The attack resulted in the U.S. declaring war on Japan and entering World War II. 
"Additionally, this trip to Pearl Harbor is particularly meaningful to Brooke because both her great grandfathers were a significant part of the war effort," her mother, Julie Hollingsworth, said in an email. "One of her great-grandfathers, Bill Shirley, was a bombardier or bomb-aider for the Navy, riding as a guide in the planes over Japan to sight the bomb-targets for accuracy. Her other great-grandfather, JD Simpson, built Liberty Ships for the Merchant Marines, who supplied troops overseas as a direct result of the devastating loss to the U.S. fleet of ships at Pearl Harbor." 
The release states that "Liberty Ships were mass-produced at an unprecedented scale as part of the Emergency Ship Building Program enacted by the U.S. President. The Liberty ship became a symbol of American determination and fight during war time." 
Athletes also will have the opportunity to enjoy a traditional Hawaiian luau and a trip to the Pearl Harbor Memorial and the USS Missouri Battleship, according to the release.