Coast Guard searching for woman 'swept by current off beach' in Washington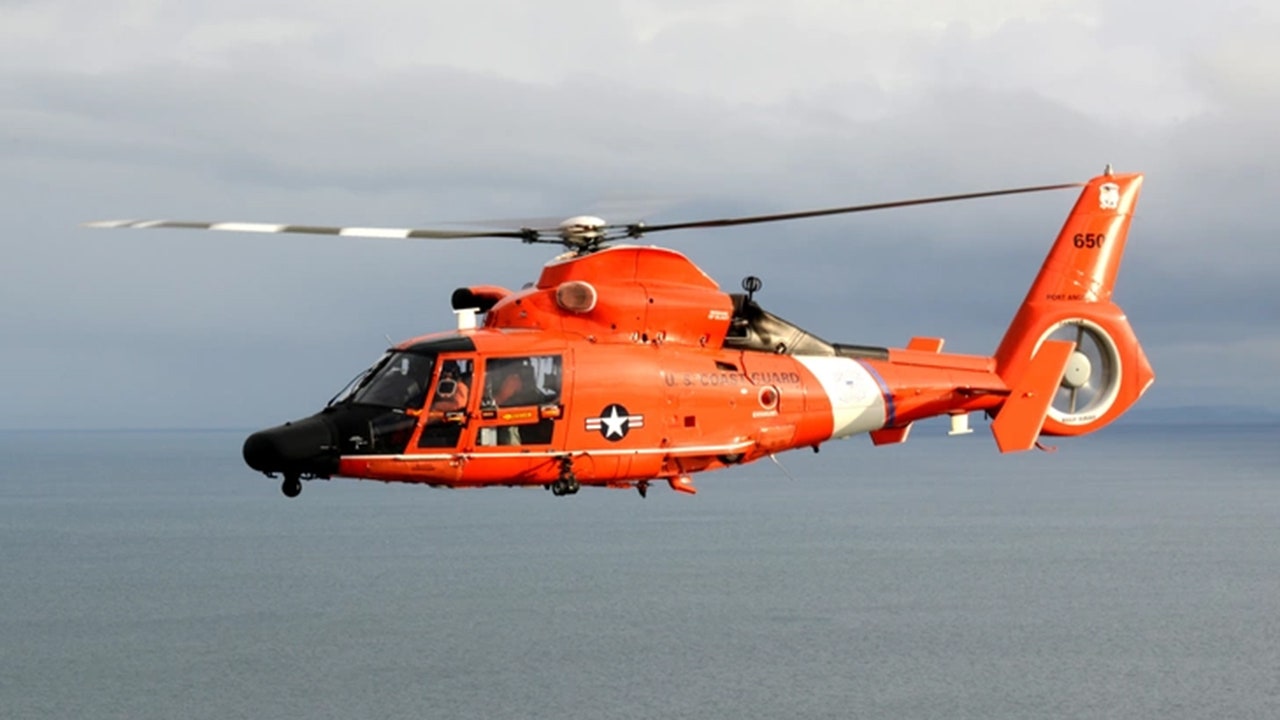 The Coast Guard is searching for a missing woman who it says was "reportedly swept by currents off Rialto Beach" in Washington state's Olympic National Park. 
The agency said in a statement Monday that "Watchstanders at Coast Guard Sector Puget Sound received a report at 10:50 a.m. of a 26-year-old woman, who was swept from the beach." 
"The missing person was described to be wearing a pink sweater and black pants," it added. "Coast Guard Watchstanders directed the launch of two helicopter aircrews and one land search party to search for the missing person." 
The woman has not been publicly identified. 
AVID FISHERMAN'S BODY FOUND AFTER VANISHING OFF MICHIGAN COAST 
Involved in the search is an MH-60 Jayhawk helicopter aircrew from Coast Guard Air Station Astoria in Oregon, an MH-65 Dolphin helicopter aircrew from Coast Guard Air Station Port Angeles in Washington, a land search party from Coast Guard Station Quillayute River in Washington, the Clallam County Sheriff's Office, the La Push Tribal Police Department and the Olympic National Park Search and Rescue Team, according to the Coast Guard. 
COAST GUARD SAVES 4 PEOPLE, DOG FROM SINKING BOAT MOMENTS BEFORE IT CAPSIZES
The National Weather Service currently has a small craft advisory in effect in the area on Tuesday.
The agency reported that "a powerful system is bringing heavy rain, a wintry mix at higher elevations, and gusty winds to the Northwest."
Read the full article from Here

Reality is Seattle Seahawks have no choice but to be playoff team
You might read this as a sugarcoating of the Seattle Seahawks' season, but consider it instead a dose of reality.
We need to talk about where the Seahawks are this season.
Seattle Seahawks' third straight loss brings playoff hopes into question
Seattle is 6-6 and on a three-game losing streak. That skid doesn't seem likely to end with an upcoming game Sunday against the San Francisco 49ers, a team that just dealt a wildly lopsided loss to the NFC-leading Philadelphia Eagles.
It's been a disappointing run so far. Few expected Seattle to topple San Franisco for the West, but they did expect improvement. And why not? Seattle was 10th in scoring on offense last year despite third-down struggles, and it added a first-round wide receiver and another running back to the mix. The defense was 30th against the run but saw the development of promising young corner Riq Woolen and an offseason that brought a complete facelift for the defensive line.
Oh, and they had the No. 5 overall pick – the highest ever under head coach Pete Carroll and general manager John Schneider – and used it to add a tough, physical cornerback (Devon Witherspoon) to a group that was going to get safety Jamal Adams back healthy.
So yes, expectations were rightfully high in and outside of the building.
As you know now, they haven't been met.
NFL standings
Those third-down struggles have only been made worse with shuffling and injuries along the offensive line. For a good chunk of the season, Geno Smith looked less like the quarterback who won Comeback Player of the Year and more like the inconsistent version fans saw late last year. One of the better receiver tandems in football hasn't been able to deliver, and a team that wants to run the ball hasn't done so consistently. And that defense injected with new talent struggled mightily against the Dallas Cowboys in a Week 13 loss.
But despite all of that, the Seahawks are not and cannot be in rebuild mode.
There's no answer at quarterback coming to save your team (mind you, Smith just threw for three touchdowns and ran for another against a tough Dallas defense). With six wins already, there's no No. 1 overall pick in your future. You've traded a second-rounder for a defensive lineman who might not be with you next season (Leonard Williams). You've invested money in Adams, Quandre Diggs, Tyler Lockett and DK Metcalf, and they're only getting older as another year goes by.
I'm not telling you the Seahawks are a playoff team because I want them to be or need you to believe it; I'm telling you they're a playoff team because they have no choice but to be one.
It's what makes this upcoming game against the 49ers – one you may have, fairly, already written off as a loss – so hugely important. It's what makes the primetime Eagles game to follow a huge opportunity. It's also why it's so vitally important that the Seahawks push to complete their plan to get to the playoffs and see just how far they can go.
They don't look like a Super Bowl team. But they've won some games. And spent. And traded. So they've made their bed.
More on the Seattle Seahawks
• Bumpus: How DK Metcalf had big game for Seahawks in Dallas
• Huard: Seahawks' defense 'on its heels' and has 'significant' issues
• Rost: Seattle Seahawks' investment in defense still not paying off
San Diego State at Grand Canyon odds, picks and predictions
The Grand Canyon Antelopes (6-1) welcome the San Diego State Aztecs (7-1) to GCU Arena Tuesday. Tip is set for 9 p.m. ET. Below, we analyze FanDuel Sportsbook's lines around the Grand Canyon vs. San Diego State odds, and make our expert college basketball picks, predictions and best bets.
Grand Canyon beat the Texas-Arlington Mavericks 76-69 Saturday at home, but failed to cover as an 11.5-point favorite. It has failed to cover 2 in a row,  but is 4-0 straight up and 3-1 against the spread (ATS) at home. Its lone battle against a Power 5 school was a 75-68 loss as a 4.5-point underdog on a neutral court to the South Carolina Gamecocks.
The Aztecs beat the UC San Diego Tritons 63-62 on the road Friday. They did not cover as a 13.5-point favorite. They are 7-1 straight up but just 2-5 ATS. San Diego State is 0-2 ATS in true road games and 1-4 ATS away from home in general. Its lone loss was a 74-65 road loss to the BYU Cougars as a 2-point road underdog.
– Rankings courtesy of the USA TODAY Sports Coaches Poll.
Stream select live college basketball games and full replays: Get ESPN+
San Diego State at Grand Canyon odds
Provided by FanDuel Sportsbook; access USA TODAY Sports Scores and Sports Betting Odds hub for a full list. Lines last updated at 1:09 a.m. ET.
Moneyline (ML): San Diego State -152 (bet $152 to win $100) | Grand Canyon +126 (bet $100 to win $126)
Against the spread (ATS): San Diego State -2.5 (-110) | Grand Canyon +2.5 (-110)
Over/Under (O/U): 143.5 (O: -112 | U: -108)
San Diego State at Grand Canyon picks and predictions
Prediction
Grand Canyon 72, San Diego State 68
Moneyline
PASS.
Grand Canyon is a good play here, but with both teams having struggled against quality opponents, this should be a tight game. The value is on the spread instead.
Against the spread
BET GRAND CANYON +2.5 (-110).
Grand Canyon has covered 3 of 4 games at home and does have a quality 76-72 neutral-court win over the San Francisco Dons on Nov. 17. With 6-foot-10 F Duke Brennan, it should have the size to battle with the Aztecs in the paint.
The Aztecs have failed to cover 5 of their last 6 games that featured a spread. In true road games, they are 1-1 straight up and 0-2 ATS. They beat UC San Diego by 1 despite shooting better from the field and deep in their last outing. San Diego State doesn't have the offensive prowess to blow out the Antelopes, and it has struggled as a favorite, just 1-4 ATS.
Back GRAND CANYON +2.5 (-110).
Play our free daily Pick'em Challenge and win! Play now!
Over/Under
BET UNDER 143.5 (-108).
San Diego State has scored 76 or fewer in 3 straight games, and it has scored just 63 and 65 in road games. It is 5-2 O/U on the season but is 0-2 O/U in its two road games.
Grand Canyon is 4-3 O/U, but has gone Under in 2 straight games as well. It has yet to allow more than 75 points in a game this season and has yet to allow more than 71 in a home game. The Antelopes have gone Under in every total that is 145 or higher (0-3 O/U in those battles).
Take UNDER 143.5 (-108).
For more sports betting picks and tips, check out SportsbookWire.com and BetFTW.
Follow @nathanbeighle_ on Twitter/X. Follow SportsbookWire on Twitter/X and like us on Facebook.
College sports coverage from USA TODAY Sports Media Group:
Alabama / Arkansas / Auburn / Clemson / Colorado / Florida / Georgia / Iowa / LSU / Michigan / Michigan State / Nebraska / North Carolina / Notre Dame / Ohio State / Oklahoma / Oregon / Penn State / Rutgers / Tennessee / Texas / Texas A&M / USC / Wisconsin /
College Sports Wire: Men's hoops / Women's hoops / High School
What's Next for the Alaska-Hawaiian Airline Merger
Skift Take
Today's podcast looks at the Alaska Air-Hawaiian Air combo, American Air's tussle with travel agents, and an investment in Travelport.
Good morning from Skift. It's Tuesday, December 5. Here's what you need to know about the business of travel today.
Listen Now
🎧 Subscribe
Apple Podcasts | Spotify | Overcast | Google Podcasts | Amazon Podcasts
Episode Notes
Alaska Air Group said it would buy Hawaiian Airlines in an all-cash transaction valued at $1.9 billion, including Hawaiian's debt. The parent company of Alaska Airlines and regional Horizon Air said it would continue to operate Hawaiian as an independent brand, reports Edward Russell, editor of Skift publication Airline Weekly. 
The proposed merger isn't a sure thing, given that it faces antitrust review by the Biden Administration. Analysts noted that JetBlue recently attempted to merge with Spirit Airlines, but that deal has since been mired in legal review. 
Given that the route networks of Alaska and Hawaiian wouldn't lead to the same concentration as the networks of JetBlue and Spirit, the probability is higher that the Alaska-Hawaiian deal will go through, reports Russell.
Next, the American Society of Travel Advisors (ASTA) and American Airlines are going head-to-head in a complaint before the U.S. Department of Transport (DOT). 
The debate hinges on whether American Airlines has been wrong to withhold about 40% of fare inventory from travel agencies that fail to adopt its preferred booking technology, reports Selene Brophy, Skift's experiences reporter.
Last month, American Airlines defended itself to regulators about its assertive push of the so-called new distribution capability while accusing travel agents of standing in the way of innovation. 
Skift asked ASTA for the group's response, which it published on Monday exclusively. ASTA said, "What's lacking from American Airlines's response is how atrocious their workflow is for new reservations." 
"We fully support the adoption of modern retailing methods when the necessary technologies are ready and in place, and we're thankful for other airline partners who recognize that and have taken a more responsible approach."
The complaint is under review by U.S. regulators, with a response expected next year.
Finally, Travelport said Monday that it had raised $570 million in new equity from investors, writes Skift tech reporter Justin Dawes. 
The world's third-largest travel technology company will add new major backers, including Davidson Kempner Capital Management and Canyon Partners, to its existing equity stakeholders, Siris Capital and Elliott Investment Management.
With this new investment, Travelport will have a stronger balance sheet with the least debt amongst its peers, it said. Travelport competes with larger peers Amadeus and Sabre in helping travel agencies book flights from airlines. Once again, as with the other two stories of the day, the travel industry waits for regulators to decide what to do.