California woman roars at approaching bear, cubs on Sierra Madre hiking trail: video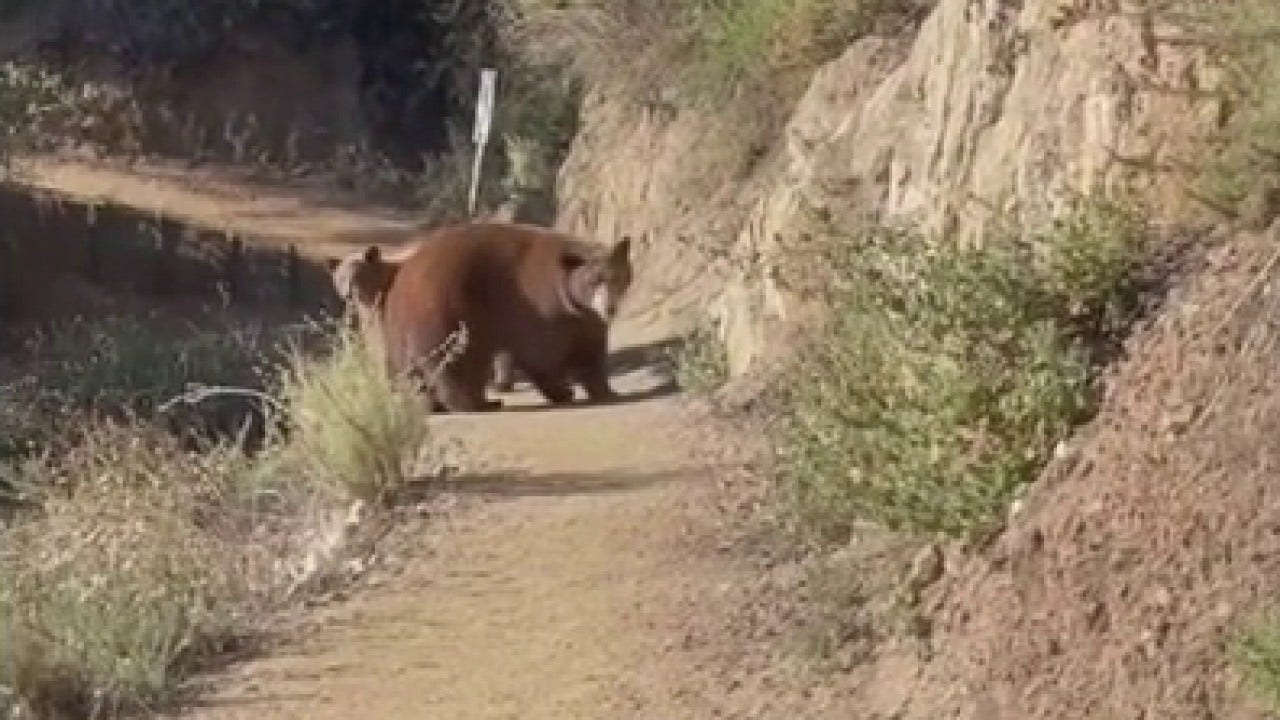 A California woman running on a mountainous trail bumped into an adult brown bear and two cubs in a frightening encounter caught on video earlier this month.
The heart-pounding footage was taken along a narrow hiking trail in Sierra Madre on Nov. 8.
"While I was trail running alone, I was about 5 inches from hitting momma bear after turning a tight blind corner," Laura Gold wrote on social media.
The video shows Gold turning the corner and stopping after spotting the bears. She slowly backed away and could be heard roaring and whistling to try to scare the bears. The trio, however, continued to follow her along the trail.
YELLOWSTONE NATIONAL PARK FINDS 1ST CASE OF FATAL BRAIN DISEASE AFTER DEER CARCASS TESTS POSITIVE
"I used every trick in the book (except bear spray) and nothing worked," Gold wrote. "Momma bear continued to move towards me until another hiker came from behind me and helped scare them away."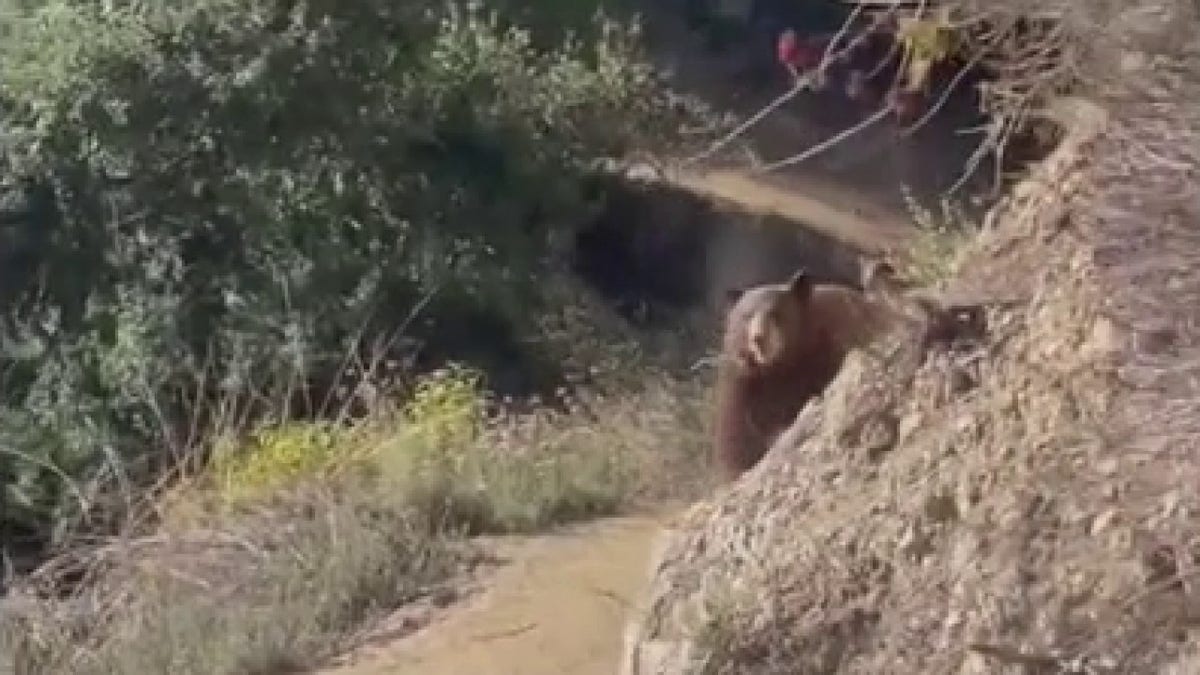 Gold wrote that the trail behind the bears splits and that both paths lead down the mountain.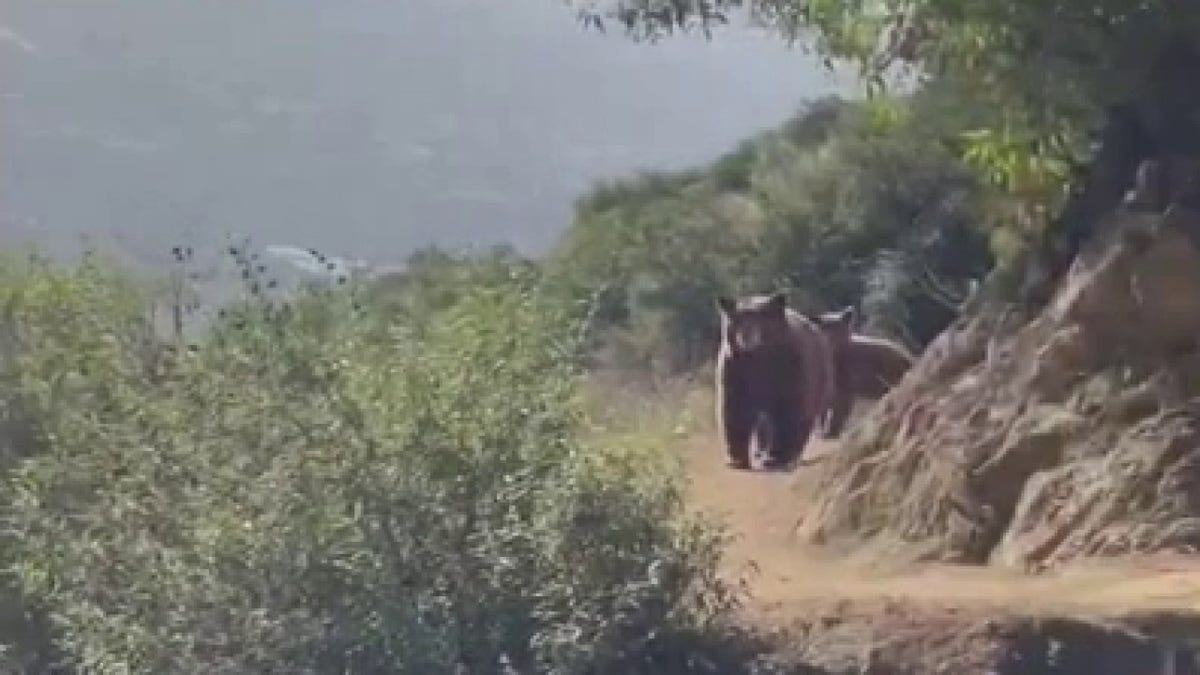 WILDEBEEST FIGHTS FOR ITS LIFE AS DETERMINED CROCODILE ATTACKS – ALL CAUGHT ON VIDEO BY TOUR GUIDE
Officials with California State Parks say that when encountering a bear, you should make yourself appear as large as possible, stay calm and quiet, and slowly back away. However, if the bear actually approaches you, officials said to make noise and yell at the animal.
CLICK TO GET THE FOX NEWS APP
Sierra Madre is located in the San Gabriel Mountains near the Angeles National Forest in Los Angeles County.

The unintended consequences of California's new minimum wage for healthcare workers
Senate Bill 525, aimed at raising the minimum wage for healthcare workers, is undoubtedly well-intentioned. The goal of ensuring fair compensation for those working tirelessly in the public and private healthcare sector is commendable. However, it's essential to consider the potential longer-term negative effects this new law may have on public and private employers in the healthcare industry. 
This wage increase places an immense cost on healthcare providers while hospitals across the state are dealing with significant financial losses. The original version of this bill, which would have immediately moved the healthcare worker minimum wage to $25 an hour, would have cost private sector hospitals an estimated $8 billion. It was only after tense, late night negotiations several days before adjournment that an agreement was made by unions and hospitals to gradually raise pay, with most workers increasing to $25 in 2027 or 2028. There are serious concerns on the effects this will have on the fiscal health of our healthcare system in California. 
In fact, when Gov. Gavin Newsom signed this bill into law, the bill's analysis had a warning about its cost to California taxpayers as well as the private health care industry and its customers: "Fiscal impact unknown." Now, five weeks after the Governor signed the bill, his administration has projected a cost for this wage hike for public health care employees: $4 billion in the 2024-25 fiscal year alone. SB 525 is one of the most costly laws the state has seen in decades. This is during a time where the state is facing a projected $14 billion budget deficit, which could grow even larger if revenue projections continue to fall short. 
First and foremost, it's crucial to recognize that private hospitals and healthcare industry businesses lack unlimited financial resources. 
Like any other sector, they operate within budgets and must balance their expenditures with their revenues. The effects of taxes, state regulations and inflation are already straining these businesses' ability to maintain their operations. SB 525, with its mandate to increase wages, could further exacerbate these challenges, leading to adverse consequences such as layoffs, downsizing and even bankruptcy. 
Many hospitals have ended up like the MLK Community Hospital in Los Angeles, which is hanging by a thread financially, or Madera Community Hospital in Madera which shuttered its doors in January. This wage increase would only further jeopardize hospitals' ability to keep their doors open. 
Ironically, SB 525 may inadvertently create a situation where good intentions result in negative outcomes. Here's why:
Cost burden:  Wage increases, mandated by state law, place a considerable financial burden on healthcare employers. Most of these businesses already operate on slim profit margins due to the high costs of healthcare delivery. This law will affect an estimated 469,000 private health care workers, which means that managers and their supervisors will also demand pay increases as well.   Hospital workers may face layoffs if hospitals seek out-of-state solutions to reduce costs. 

Limited flexibility: Wage hikes mandated by legislation do not account for the variability and complexity of the healthcare industry. Healthcare providers may have to divert resources from essential services or investments in technology and infrastructure, compromising patient care and innovation.  The increased cost of labor forces spending cuts across operations.  This not only threatens the livelihoods of their employees but also compromises access to essential healthcare services for local communities.

Impact on Public Healthcare Agencies: While the intent of SB 525 is focused on private healthcare providers, State-funded institutions are covered under this new law. They are responsible for delivering crucial public health services and often operate with constrained budgets. Mandating higher wages without offsets by additional funding sources could strain these agencies, leading to a ripple effect on public health programs and the overall efficiency of state healthcare services.
The unintended consequences of this law will be higher costs of medical care across the board.
Those hit the hardest will sadly be seniors on fixed incomes, which will result in a significant cost increase for their care, and for many will be unaffordable. 
These important impacts are relevant yet lacking in the overall fiscal analysis of the proposed legislation, now law.
To ensure a balanced approach to wage increases and quality health care, my fellow policymakers in Sacramento must carefully consider the broader economic implications of these proposals and seek ways to support healthcare providers and patients, without compromising their financial stability. 
Costly laws remind us of the law of unintended consequences.
Diane Dixon represents the 72nd State Assembly District. 
California cities and farms will get 10% of requested state water supplies when 2024 begins
SACRAMENTO, Calif. — California water agencies serving 27 million people will get 10% of the water they requested from state supplies to start 2024 due to a relatively dry fall, even though the state's reservoirs are in good shape, state officials said Friday.
The state's Department of Water Resources said there was not much rain or snow in October and November. Those months are critical to developing the initial water allocation, which can be increased if conditions improve, officials said.
"California's water year is off to a relatively dry start," Karla Nemeth, director of the Department of Water Resources, said in a statement. "While we are hopeful that this El Niño pattern will generate wet weather, this early in the season we have to plan with drier conditions in mind."
El Niño is a periodic and naturally occurring climate event that shifts weather patterns across the globe. It can cause extreme weather conditions ranging from drought to flooding. It hits hardest in December through February.
Much of California's water supply comes from snow that falls in the mountains during the winter and enters the watershed as it melts through spring. Some is stored in reservoirs for later use, while some is sent south through massive pumping systems.
The system, known as the State Water Project, provides water to two-thirds of the state's people and 1,172 square miles (3,035 square kilometers) of farmland. The Metropolitan Water District of Southern California, which services Los Angeles and much of Southern California, relies on the state for about one-third of its water supply.
California officials make initial water allocations every year on Dec. 1 and update them monthly in response to snowpack, rainfall and other conditions.
This year's allocation, while low, is still better than in recent years when the state was in the depths of a three-year drought. In December 2021, agencies were told they would receive no state supplies to start 2022, except for what was needed for basic health and safety. That allocation eventually went up slightly.
A year ago, the state allocated 5% of what agencies requested. By April, though, the state increased that allocation to 100% after a drought-busting series of winter storms that filled up the state's reservoirs.
Currently, most of the state's reservoirs are above average, including Lake Oroville, the agency's largest.
Adel Hagekhalil, general manager of the Metropolitan Water District of Southern California, said allocations will hopefully increase, but there's no counting on it and the state is wise to proceed with caution.
"We must be prepared for the possibility that these dry conditions will continue," Hagekhalil said in a statement.
Top California politicians are condemning video of Oakland council meeting on Gaza. Is it fair?
OAKLAND — The approach behind Oakland's resolution calling for a ceasefire in Gaza was intended to be "mild" and "moderate," its author said — a simple plea for U.S. leaders to help secure lasting peace in a region trapped in a traumatic cycle of violence and death.
But as Israel resumed airstrikes in Gaza after a temporary truce deal expired Friday, top Democrats in California were condemning the city.
The lawmakers piled on after a video went viral that showed speakers at the City Council meeting on Monday — where the ceasefire resolution was unanimously adopted — offering strong opinions about Hamas, a U.S. designated-terrorist organization that targeted civilians in Israel during an Oct. 7 attack.
Most cities in the U.S. have resisted signaling support for Palestinians in Gaza or taking any other position on the Gaza situation. While ceasefire resolutions have been approved in Detroit, Atlanta and Seattle, plus Akron, Ohio, and Providence, Rhode Island, other major jurisdictions have not followed suit.
As the backlash toward Oakland might indicate, adopting such a proposal comes with enormous risks for any city, including the possibility of having the proceedings cut-and-pasted to reflect any number of views aired by ceasefire supporters.
"The potential for blowback is enormous — even people who are highly critical of Israel would draw the line at expressing any kind of sympathy for Hamas," said Jack Pitney, a political scientist at Claremont McKenna College.
Even Berkeley, known to be one of the Bay Area's most liberal cities, has refused to endorse a resolution such as Oakland's, with the City Council there ending two meetings early in recent weeks amid bedlam among pro-Palestine advocates in attendance.
"These resolutions will not end the violence abroad, but they do fan the flames of hatred here at home," Berkeley Mayor Jesse Arreguín wrote in a statement formally opposing a call for ceasefire.
At Oakland's City Council meeting, one speaker claimed, for instance, that Israeli troops were the ones responsible for the Hamas terrorist attack that killed 1,400 people and led to the capture of 240 hostages. Another referred to Hamas as the "armed wing of the unified Palestinian resistance," while a third suggested that Zionist speakers in attendance were "old white supremacists."
"Hamas is a terrorist organization," wrote Gov. Gavin Newsom in a social media post responding to the video. "They must be called out for what they are: evil."
U.S. Rep. Adam Schiff, running to represent California in the Senate against Rep. Barbara Lee, among others, was one of the earliest supporters of a Gaza ceasefire. "It's shocking to see people continue to downplay, deny, or even seek to justify their October 7th attacks," he wrote.
Lt. Gov. Eleni Kounalakis described the comments as "deeply disturbing," while state Sen. Scott Weiner seized on Oakland's ceasefire resolution itself, noting that the City Council had declined to include a condemnation of Hamas, which governs in Gaza.
The smattering of public comments was just a few of around 250 made Monday that were largely far more mainstream, with most showing support for Palestinians who have seen between 13,000 and 15,000 civilians killed in Israel's extended retaliation.
In scrambling to distance themselves from the comments in the video, the lawmakers also shifted the focus from Oakland's actual resolution, which offers mostly a neutral call for peace.
"Gaza is in a dire humanitarian crisis that is getting worse with each passing day," reads the resolution, authored by Councilmember Carroll Fife, who defended it as mild and moderate in its provocations given its withholding of more direct criticism of Israel.
The resolution did not ultimately condemn Hamas, but in a further show of neutrality, it also contains hardly a mention of Israel. The country's name appears in the language just once, in a clause listing the number of people killed in the Oct. 7 attack by Hamas that sparked Israel's attacks.
The video that sparked the outcry was compiled by the Jewish Community Relations Council's Bay Area chapter, but it went viral after an influential social media user reposted it — leading some of the state and country's most powerful Democrats to set their sights on Oakland.
The Bay Area chapter of Jewish Voice for Peace, an anti-Zionist group, addressed the backlash in a statement, saying the video was part of a "malicious, misleading propaganda campaign that seeks to undermine the (ceasefire) resolution."
While the organization "does not agree with every single comment made throughout the course of the evening, overall the hearing was a peaceful gathering of residents from across the diverse city of Oakland," the statement read.
Oakland Councilmember Dan Kalb tried unsuccessfully to add condemnations of Hamas to the council's ceasefire resolution, including one that blamed the group for "repression and violence" against Palestinians.
His proposal was voted down 2-6 after the council's president, Nikki Fortunato Bas, said adding such language would necessitate further context — namely that "this conflict did not start on Oct. 7," she said, referring to Israel's repeated expansion into the West Bank.
In an interview, Kalb doubled down on his statements, noting that Weiner had called him after Monday's meeting to offer support. Kalb, who voted for the ceasefire resolution itself, is campaigning to fill a vacant seat in the state Senate — a race that will pit him against Arreguín.
"What was disappointing and, to me, shocking, is how many of the people who made public comments tried to legitimize, condone or even support the actions of Hamas on Oct. 7," Kalb said.
Meanwhile, the broad range of opinions expressed Monday — the majority of which aligned far more closely with Bas' view — appear to have been lost in the social media frenzy. Bas could not be reached for comment.
Oakland's statement demands an immediate ceasefire, the "release of all hostages" and the "restoration of food, water, electricity, and medical supplies" that have been cut off by Israel during the country's prolonged retaliation to the Oct. 7 attack.
The carefully-worded language, in this case, did not appear to be enough to stave off political fallout.
"Those commenters have a right to free speech," said Tyler Gregory, CEO of the Bay Area's chapter of the Jewish Community Relations Council's Bay Area chapter, which published the viral video. "But those council members have a right to call (the statements) out as not consistent with the values of Oakland. And they didn't do that."